INDIANAPOLIS — It shouldn't be too long before Aaron Rodgers is back atop the NFL quarterback pay scale.
Green Bay Packers president Mark Murphy told ESPN on Tuesday there has already been progress made toward a new contract for the two-time NFL MVP even though he's signed through the 2019 season.
Murphy said new general manager Brian Gutekunst and executive vice president/director of football operations Russ Ball both have been involved in the process.
"We've had discussions with his representative," Murphy said at the NFL scouting combine. "I have a lot of confidence in Brian and Russ and Aaron as well. We want to create a win-win."
Rodgers still has two seasons left on the five-year, $110 million extension he signed in 2013, but that deal has become outdated. At the time, he was the NFL's highest-paid player based on the $20 million average per year. He has slipped to No. 6 on the pay scale after the latest quarterback deal — the five-year, $137.5 million contract Jimmy Garoppolo signed with the 49ers.
Rodgers' undervalued contract has been an issue for at least a year. Last summer, he said: "I know my value in this league, and I know the team appreciates me. I'm going to continue to make myself an indispensable part of this roster. When you do that, when your time comes up to get a contract, you usually get a contract extension."
Rodgers, 34, has said he would like to play until he's at least 40. He was off to one of his best starts last season with 13 touchdowns and three interceptions, and the Packers were off to a 4-1 start when Rodgers broke his collarbone. The Packers finished 7-9 and missed the playoffs for the first time since 2008. Earlier this offseason, Rodgers expressed frustration over losing quarterbacks coach Alex Van Pelt, whose contract was not renewed. On ESPN Radio, he said the move was made "without consulting me."
Rodgers is scheduled to make $20.9 million this season and $21.1 million in 2019. His salary-cap figures are similar. The Packers are expected to have at least $16 million in salary cap space when free agency opens next month.
Urban Meyer to keep health in mind as new Jacksonville Jaguars coach
JACKSONVILLE, Fla. — Urban Meyer is older and wiser, which he says should help keep him healthier as he tries to turn around one of the NFL's worst franchises.
Meyer's health scares while he was the head coach at Florida and Ohio State — which were exacerbated by the stresses of running major programs and the immense pressure he put on himself to win — forced him to step away from the game. But the Jacksonville Jaguars' new head coach says he has learned from those experiences and a new approach will help him avoid further problems.
Not that losing still won't bother immensely, though.
"If you're asking me if I'm going to enjoy losing, I think we all know the answer to that," Meyer said Friday. "I'm older. It's something I'm going to be very conscientious of. It's something I'm going to watch very closely. I will be the head coach, but I'm going to hire great coaches that are going to be expected to do their job. I'm not going to be running around like a nut on the practice field. Those days are gone.
"I know what it's supposed to look like, and I want to be very demanding of everyone. It's something I'm going to watch very closely."
Meyer, 56, was diagnosed in January 2010 with esophageal spasms, which caused the severe chest pains he had been experiencing and sent him to the hospital the night after the 2009 SEC championship game. He began taking medication, made significant lifestyle changes, took a short leave of absence and eventually resumed coaching at Florida at the start of spring practice in March 2010. However, one day after the Gators' final regular-season game in 2010 — a 31-7 loss at Florida State — Meyer announced he was resigning for good and that his final game would be the Outback Bowl.
Meyer took the Ohio State job in November 2011 and over the next several years began experiencing severe headaches, which were related to an ongoing issue with a congenital arachnoid cyst in his brain that was first discovered when he was an assistant at Notre Dame in 1998. He had surgery in 2014 to drain some fluid tied to the cyst, and that helped for a while.
However, the severe headaches returned, and one forced him to his knees on the sideline during a game against Indiana in 2018. Meyer eventually announced on Dec. 4, 2018, that he was retiring from coaching after that season's Rose Bowl for health reasons.
Now he's back in the game, this time at the highest level and tasked with fixing a franchise that has lost 10 or more games nine times in the past 10 years. Owner Shad Khan is going with a coach-centric model, which means Meyer will have input on the hiring of the general manager, and Khan is having Meyer do a complete reevaluation of the organization.
First up is assembling a staff — Meyer called the next week a "critical time for the Jacksonville Jaguars organization" — and then evaluating the current roster and prepping for free agency and the draft.
Ryan Stamper, an Ohio State assistant athletic director who was a two-time captain for Urban Meyer as a player at the University of Florida, is joining Meyer's staff as a director of player assessment, a source told ESPN's Jeremy Fowler. Stamper spent nine years at Ohio State, and Jacksonville is his hometown.
Coaching in the NFL is a grind even in the offseason, especially if you're making significant changes and trying to learn how things operate at the same time. That's why questions about Meyer's health and whether his body can handle the stress better than it did at Florida and Ohio State will persist for as long as he's coaching. But he said he has consulted with his family, physicians, colleagues and friends and believes he's come up with an approach that will allow him to stay healthy.
"I'm very curious about the preventative [approach he can take], and that's what I've looked into in great detail," Meyer said. "I'm talking about the headache issues that I've dealt with. That's something that I'm going to watch closely. I've had long, detailed conversations with people that have helped me through that [as well as] physicians that are very close to me."
As for his family, which had not been shy about sharing concerns about his health at his other coaching stops, Meyer said they're on board with his decision to get back into coaching.
"We've had deep conversation, and they're all-in," Meyer said of wife Shelley, daughters Gigi and Nicki, and son Nate. "They've all got their Jaguars T-shirts. They're all grown now. That's the biggest difference. To me, that's a huge difference. You're not missing as much. The difference is I got two grandkids that I plan to shuttle back and forth as much as I can. That's very important to me. But the better part of my marriage is that's essential.
"So they're all-in and they're all Duval now."
Meyer's hiring has already had an impact on the Jaguars' season-ticket sales. Chad Johnson, the team's senior VP of sales and service and chief content officer, said that half of its total season-ticket deposits came in on Thursday after Meyer was hired (it was announced at 6:42 p.m. ET), and the team is eight times ahead of last year's pace at this point in the year.
Police in Colorado investigating Denver Broncos LB Von Miller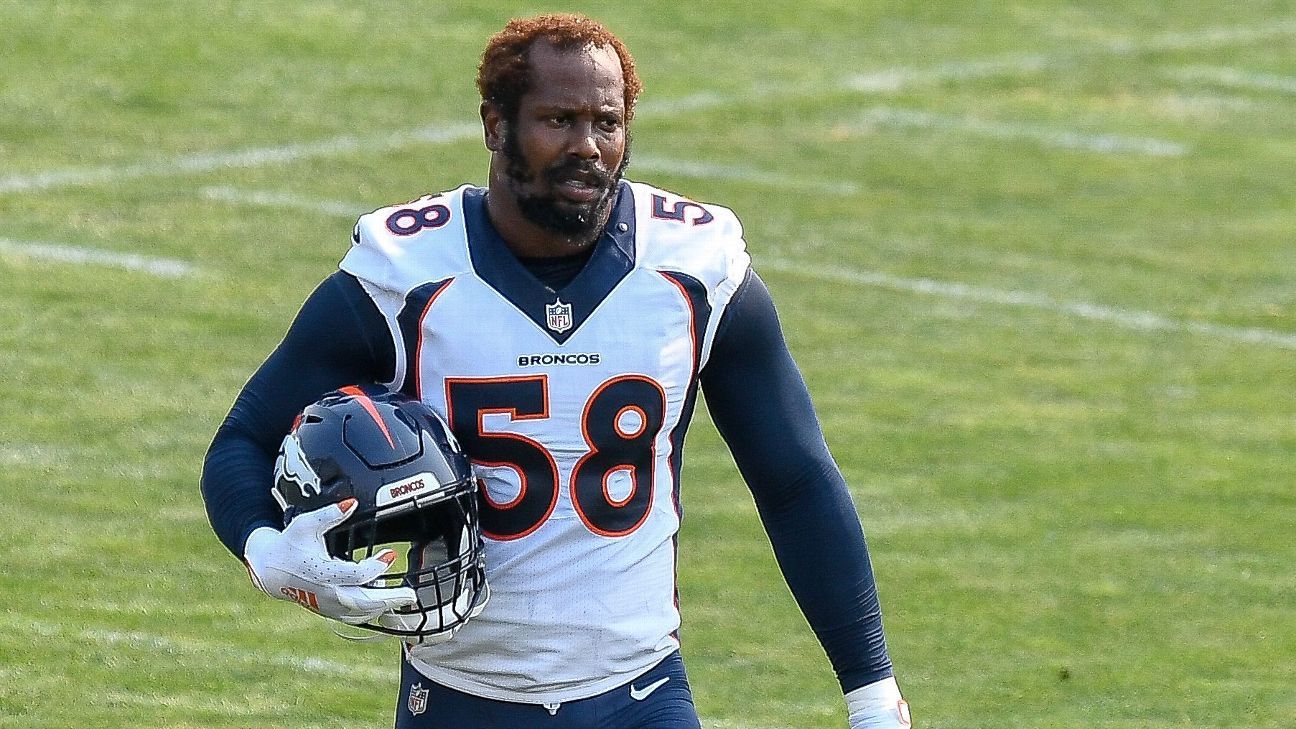 ENGLEWOOD, Colo. — Denver Broncos linebacker Von Miller is the subject of a police investigation in Parker, Colorado.
Police in the southeast suburb of Denver confirmed Friday that Miller is under investigation, saying that "if the investigation determines a crime has occurred charges will be submitted to the DA's office for their review."
Miller did not respond to requests for comment. As of Friday afternoon, the Broncos had not publicly acknowledged the investigation. George Paton was hired to be team's general manager earlier this week.
Miller missed the 2020 season after he suffered an ankle injury in practice just days before the opener.
The 31-year-old Miller has largely stayed away from off-the-field issues since 2013, when he was suspended for six games for violating the league's substance abuse policy and had an arrest warrant issued that summer after failing to appear in court for multiple traffic violations.
In August, Miller said that what happened in 2013 "really made me take a look, like a real look, like you look in the mirror and really look at what's there."
The Broncos had already faced a decision about Miller's future with the team. He is headed into the final season of the six-year, $114.5 million deal he signed in 2016. The Broncos have until the day before the new league year begins in March to pick up the option that would engage the 2021 season on the deal and guarantee $7 million of Miller's base salary.
If the Broncos release Miller, they would face a dead-money charge of $4.125 million against the salary cap for the 2021 season, though that would be far less than Miller's scheduled $22.125 million cap charge if the Broncos pick up the option.
Best buds Sean McVay, Matt LaFleur lock horns when Rams play Packers – Los Angeles Rams Blog
THOUSAND OAKS, Calif. — The lively back-and-forth between Sean McVay and Matt LaFleur inside the meeting room at the Los Angeles Rams' practice facility made for explosive offense and a lively environment.
As the head coach and playcaller, McVay wanted to install a play into the game plan one way. LaFleur, the offensive coordinator, would insist on some sort of variation. And after the fact, LaFleur wouldn't hesitate to criticize McVay if he made a bad call.
Neither coach would easily yield, so the banter would continue.
"He and I never battled each other — just kidding," LaFleur deadpanned this week. "Every day was a battle."
"He told me what I needed to hear, and it was good," McVay said. "Even though sometimes we wanted to choke each other out."
That was 2017. When McVay and LaFleur arrived in L.A. to lead an offensive juggernaut that turned a stagnant franchise into a division winner.
Three seasons later, McVay and LaFleur will battle it out again Saturday, but from opposite sidelines, when the Rams (10-6) play LaFleur's NFC top-seeded Green Bay Packers (13-3) in a divisional-round playoff at Lambeau Field (4:35 p.m. ET, Fox) in their first battle as head coaches.
"That's one of my closest friends in life," LaFleur said about McVay, who will turn 35 later this month. "I love him like a brother."
The feeling is mutual.
"I love him," McVay said. "He's like my big brother, and we've been close for a long time."
The two met in 2010 with the Washington Football Team, where they worked as assistants under head coach Mike Shanahan and offensive coordinator Kyle Shanahan. LaFleur knew the first time he met McVay that he had a bright future.
"I'll never forget when Coach Shanahan and Kyle were interviewing him," LaFleur said. "My office kind of butted up to the offensive staff room, and I could kind of hear them through the wall and just the excitement and enthusiasm and energy he had in his voice."
Together for four seasons in Washington, their relationship grew beyond the confines of the practice facility. They lived across the street from each other, and McVay often would drop in on LaFleur and his wife, BreAnne, for meals.
"I'd come third-wheel it with them a lot," McVay said. "They kind of took me under their wing."
Their paths diverged when LaFleur departed to become the Notre Dame quarterbacks coach in 2014, then took the same job for two seasons with the Atlanta Falcons. When McVay was named coach of the Rams in 2017, he snagged LaFleur to join him.
"[LaFleur] did a great job with me in that second year, really pouring into me and giving me everything he had," said Rams quarterback Jared Goff, referencing his second NFL season, when he passed for 3,804 yards and 28 touchdowns with seven interceptions. "That's what I've always appreciated from him, is how hard he coached me and how hard he worked me and how much he believed in me."
Goff smiled when he thought about the dynamic of the McVay-LaFleur relationship.
"They're really close and would get after each other a little bit sometimes," Goff said. "But I know they're as close as anyone, and I think that's just how it works. You guys all have brothers and sisters, you know how it gets sometimes."
"It [was] a great match being with them," Rams wide receiver Robert Woods recalled. "High-energy guys, competitive practices, but really just pushing our offense to be the top offense."
However, after one season in L.A., LaFleur departed for the Tennessee Titans, where he'd have the same title and be able to call plays. After just one season, the Packers named LaFleur head coach.
"Definitely saw it coming with his offensive mind," Woods said about LaFleur's head coach potential. "But really my experience with him was just his connection with the pass game, encouraging his players, building confidence and really encouraging guys to be at the top of their game."
The 41-year-old LaFleur has now coached the Packers to back-to-back playoff appearances, earning the NFC's top seed this year. Behind future Hall of Fame quarterback Aaron Rodgers, the Packers have the NFL's top-ranked offense, scoring an average of 30.81 points per game.
The Rams this season have been plagued by inconsistencies on offense and, since Week 17, uncertainty at quarterback, as Goff continues to recover from Dec. 28 surgery on his throwing-hand thumb.
But the Rams likely won't have to rely on scoring at an aggressive pace if their top-ranked defense, which is allowing an average of 18.5 points per game, can affect Rodgers, slow down receiver Davante Adams and score. Since Week 12, the Rams' have scored five defensive touchdowns, the best in the NFL.
This will be the fifth matchup between the top-ranked scoring offense and the top-ranked scoring defense in the past 20 postseasons, and the defense has won three of the past four matchups, according to ESPN Stats & Information.
McVay and LaFleur anticipate they'll see some familiar looks from each other's offense.
"I joke with him about running plays that we ran the previous week the next week, and I'll steal from him, too," McVay said.
But both insist Saturday's matchup is the Rams versus the Packers, nothing more. After all, playing old friends has become old hat for each.
Both have faced their former boss from Washington, Kyle Shanahan — the head coach of the San Francisco 49ers — multiple times, and he's gotten the best of them.
Shanahan's squad has won four straight over McVay and the Rams, while the 49ers routed the Packers in the regular season last year, then delivered a knockout in the NFC Championship Game.
"He's a great friend of mine," LaFleur said about McVay, "but the gloves will be off on Saturday."