Entering Year 4, it's up to Marcus Mariota to reach tantalizing potential – Tennessee Titans Blog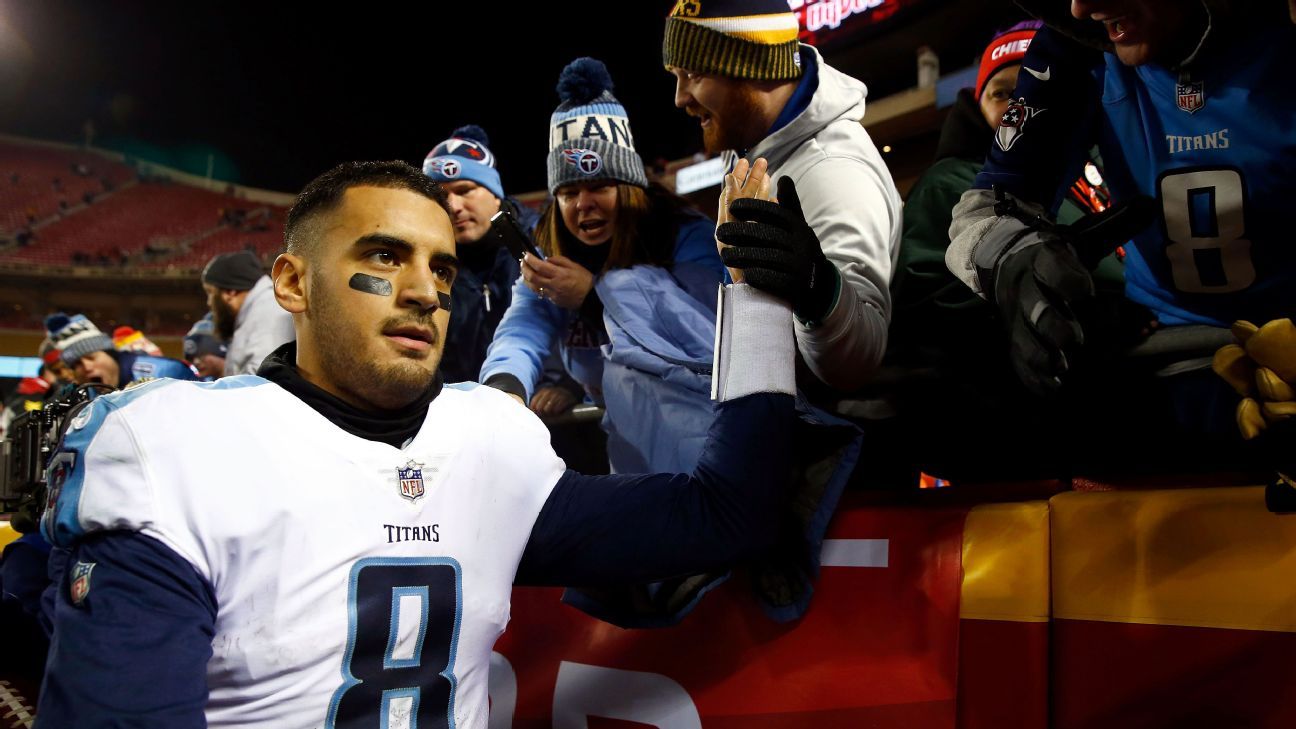 NASHVILLE, Tenn. — Even with new coaches and heightened expectations, the Tennessee Titans still revolve around quarterback Marcus Mariota.
Maximizing Mariota has been the Titans' top goal this offseason, and an inability to do so in 2017 played a role in the firing of former head coach Mike Mularkey last month.
"Marcus is a very football-smart player, tough guy, team is very important to him. I think he has a very high ceiling," Titans general manager Jon Robinson said. "He's done a lot of good things for us. We can put him in a position to be even better."
Multiple league sources believe that the Titans' offensive coaching staff was a bigger issue in Mariota's Year 3 struggles than the QB himself. Tennessee's move to dump Mularkey and hire first-time head coach Mike Vrabel would indicate that it feels the same. But a coaching change doesn't solve all of the problems involving Mariota and the Titans' offense.
Inside the Titans organization, there isn't much doubt that Mariota, 24, can still be an elite QB and the right man to lead the Titans to a Super Bowl. But entering Year 4, it's up to Mariota to prove them right.
'He's going to be a beast'
Mariota's trajectory was headed toward top-10 NFL QB to kick off the 2017 season before the No. 2 overall pick in the 2015 draft hit his biggest wall yet. The Titans achieved their most success as a team since 2003, but Mariota rarely appeared comfortable. He was visibly frustrated toward the end of the season, and he often struggled on the field.
He threw for a career-low 13 touchdowns and a career-high 15 interceptions. Mariota's 79.3 passer rating was 27th in the NFL, below that of Jacoby Brissett and Blake Bortles.
"Marcus is a really good football player. I think if you just look at the statistics, it doesn't quite say that," Robinson said. "I think Marcus made a lot of really good plays for us this year."
Mariota did make a ton of eye-popping plays, such as the TD throw to himself that launched an 18-point comeback victory in the playoffs against the Chiefs or the stiff-arm delivered to Jaguars safety Barry Church in Week 17 to essentially clinch a playoff berth or the beautiful, 37-yard, drop-in-the-bucket pass to Delanie Walker in Week 12 despite triple coverage from the Indianapolis Colts.
"I don't give two f—s what people think about Marcus," left tackle Taylor Lewan said. "I've seen what he can do. I've seen how hard he works. I'm with that guy 110 percent."
Late in the season, the typically understated Mariota began to express more emotion and body language after big plays. It was another example of Mariota's unspoken leadership that gave his team a jolt.
"When you got a quarterback that got swag like that, it's everything. He's going to bounce back and wake up. And when he wakes up, he's going to be a beast," Pro Bowl defensive lineman Jurrell Casey said. "Just waiting for him to let that explode constantly."
Inconsistency was the story of the season, capped off by a comeback road playoff victory over the Chiefs followed by what Mariota called an "embarrassing" loss to the New England Patriots in the divisional round.
It has been well-documented that the previous staff could have done more to cater the scheme to Mariota. Casey said he wants to see Mariota run more of the scheme he ran in college at Oregon. Multiple player sources say the 2017 offense was too predictable and limited Mariota's playmaking ability.
All of this could be true. But how the Titans address the other issues that held back the offense will determine whether this team continues to ascend. Mularkey and former offensive coordinator Terry Robiskie aren't around to be anybody's punching bag anymore.
Receiver routes didn't help
Walker still gets mesmerized by Mariota's serene demeanor on and off the field. But it was some of the late-season fire he saw from his QB that took his respect for Mariota to another level.
Walker couldn't stop smiling when he saw Mariota selflessly make a great lead block for Derrick Henry on a third-and-10 rushing conversion to clinch the Titans' playoff win over the Chiefs. It was a play that quarterbacks don't usually make. It was just another example of why Walker and the rest of the Titans are unwavering in their confidence of how good Mariota can be.
Several Titans players have said that passion lifts everyone's game to another level, and they hope they'll see more of it to start the 2018 season.
One NFL defensive assistant who is familiar with Mariota said he is still sometimes too nice to mistake-prone players. That source thought it wasn't natural for Mariota to acknowledge and attempt to correct his teammates' mistakes.
Multiple sources told ESPN that they felt poor route design, precision and splits made windows far more difficult for Mariota to throw into throughout the season. A lack of overall speed on offense didn't help either.
Former NFL QB and ESPN NFL analyst Matt Hasselback agreed with the receiver issues, citing multiple instances of poor route running and drops by rookie receivers Corey Davis and Taywan Taylor, along with veteran Rishard Matthews.
"You're not running those routes for Tom Brady. No way. He'll get in your face, or he'll make sure your coach gets in your face," Hasselback said. "To play QB with the level of anticipation you play with, you need the guys around you to help you out."
But it's not all on Mariota's supporting cast. On film, it's common to see Mariota become impatient in the pocket even when pressure is not near. His footwork regressed throughout the season, and he often threw primarily with his arm, not bringing his lower body with him.
Mariota has an admitted habit of not pushing off his back foot on some throws. He also has a tendency to be inconsistent with his dropbacks, often drifting left or right of the center without rhyme or reason. He has worked to break it over his three NFL seasons, but there were at least five interceptions this season that could be directly attributed to his falling back into those habits and delivering inaccurate throws.
"He's going to bounce back and wake up. And when he wakes up, he's going to be a beast. … Just waiting for him to let that explode constantly."

Jurrell Casey on Mariota
On a macro level, there might not be five other NFL quarterbacks who can match Mariota's athleticism and overall talent. He became the fifth quarterback in NFL history with at least 9,000 passing yards (9,476) and 900 rushing yards (913) in his first three seasons.
There is optimism within the Titans organization that Mariota's throwing and pocket-feel issues are fixable.
New Titans offensive coordinator Matt LaFleur and quarterbacks coach Pat O'Hara are expected to spend significant time with Mariota this offseason, reworking some of his throwing mechanics and instilling the consistent discipline that can elevate his game as a passer.
"We're going to be extremely detailed with his fundamentals and his footwork because that leads to more consistent quarterback play," LaFleur said. "There are going to be some different techniques that we are going to implement with him."
Balance between unleashing, keeping him healthy
This will be Mariota's third NFL head coach as he enters his all-important fourth season. Robinson said he has no concerns about the instability. A procedural move to exercise Mariota's fifth-year option is coming this spring, but the more important decision on a long-term contract might take more time to figure out.
The Titans haven't had a QB as good as Mariota since Steve McNair, so it's unlikely they'll let him leave. But how Mariota performs in 2018, under the highly touted LaFleur, will give the Titans a grasp on whether he'll ever reach his tantalizing potential.
One key question remains, even with a new coaching staff: How do you balance unleashing Mariota with keeping him healthy?
One coach who was on the Titans' 2017 staff told ESPN that there was an edict to dial back some of Mariota's running last season in order to protect him from himself. That coach also felt that Mariota's running restrictions, particularly in the first three months of the season, significantly limited the offense.
Mariota missed just one game in 2017, but he battled an assortment of hamstring, shoulder, knee and ankle injuries that limited him for much of the season. There were several games last season in which the coaching staff didn't know until Friday if he'd be able to play. He also suffered multiple MCL sprains and a fractured fibula in his first two NFL seasons.
"The first thing we're going to be is very concise [with] how we can protect the QB. That is the foundation," LaFleur said. "He's such a competitor. You can see it on the tape where he's fighting for extra yards, where I'd rather him preserve himself and get down."
Most of Mariota's major injuries occurred while he was in the pocket, but his 2017 injuries typically happened while he was attempting to run. It's also noteworthy that this was the first NFL season Mariota has finished, and he'll have an entire offseason to focus on improving his game rather than rehabbing.
"It's hard for guys that are good runners. If you want to be consistent over the long haul, it's easier to win from the pocket. He has shown the ability to be a difference-maker," said Hasselback, who noted that he could tell Mariota was hurting late last season. "I would say what is the defensive coordinator on the other team afraid of? He's afraid of you throwing on time and getting the ball out quickly.
"But then, when they have that perfect coverage, I don't want my defender in space with Mariota. And this is sort of a [Brett] Favre thing, but I don't want you to inspire the entire sideline and stadium by your body language. Mariota's teammates love him. That's more than half the battle."
LaFleur's plan is to tailor his scheme around Mariota and what makes the young quarterback comfortable. Mariota has succeeded when throwing off play-action, running an up-tempo offense and having run-pass option plays. Mariota is a better passer than many realize, but consistency is the key.
It's likely not a coincidence that those were some of the areas in which LaFleur and the Los Angeles Rams excelled during the 2017 season. Vrabel said there will be more spread scheme, easy throws and pocket movement in the Titans' offense next season. They want to make it more about the team, rather than put it all on Mariota.
"If there's something we stumble upon from a college system drawing back on Marcus' background and some of these other guys' background, then we'll implement that stuff," said LaFleur, who has gotten the most out of Jared Goff and Matt Ryan.
"If you can develop some confidence with these guys, the sky is the limit."
Las Vegas Raiders activate offensive linemen Kolton Miller, Denzelle Good, Rodney Hudson, Gabe Jackson off COVID-19 list
HENDERSON, Nev. — The Las Vegas Raiders on Saturday activated four starting offensive linemen who had close contact with right tackle Trent Brown earlier this week.
Left tackle Kolton Miller, left guard Denzelle Good, center Rodney Hudson and right guard Gabe Jackson came off the COVID-19 list Saturday but must still test negative for the virus on Sunday morning in order to play Sunday against the Tampa Bay Buccaneers.
None of the four players have tested positive since going on the COVID-19 list this week as "high risk" close contacts to right tackle Trent Brown, who did test positive on Wednesday morning.
The four players were with Brown at practice on Monday. According to league protocol, as high risk contacts, they had to test negative for five consecutive days, plus the last day of contact.
Safety Johnathan Abram had contact with Brown on Tuesday, so there is not enough time for him to finish the protocol and play against Tampa Bay.
Brown was not wearing his tracking device, as mandated by NFL protocol, on Monday, so practice film had to be scoured to see who Brown had been close to that day.
Raiders coach Jon Gruden said Friday that Brown, who remains on the COVID-19 list, was feeling better.
With Miller, Good, Hudson and Jackson in self-isolation and joining the Raiders virtually this week to prepare, Las Vegas practiced with an offensive line of Brandon Parker, John Simpson, Andre James, Patrick Omameh and Sam Young. Left guard Richie Incognito remains on injured reserve.
San Francisco 49ers place running back Raheem Mostert on injured reserve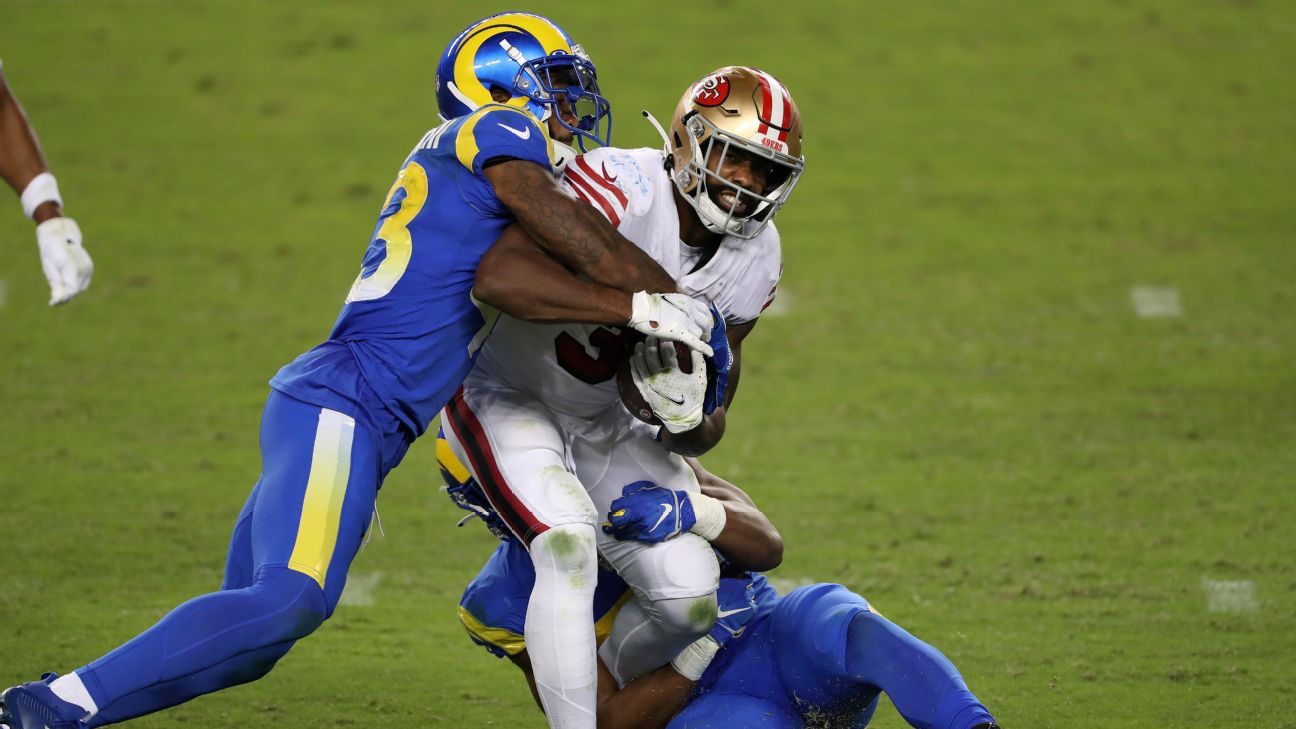 SANTA CLARA, Calif. — The San Francisco 49ers officially placed running back Raheem Mostert on injured reserve Saturday, a move that had been expected all week.
Mostert suffered a high ankle sprain in last Sunday night's win against the Los Angeles Rams. On Monday, coach Kyle Shanahan said Mostert was expected to miss some time but the Niners waited until they made decisions on some other roster movement before making the move official.
Now that he's on injured reserve, Mostert must miss the next three games before he's eligible to return, though he could be out longer. In addition to placing Mostert on IR, the 49ers also activated safeties Jared Mayden and Johnathan Cyprien from the practice squad for Sunday's game against the New England Patriots.
That means San Francisco has an open spot on the roster heading into next week, a spot that will likely be filled by linebacker Jordan Willis. A league source told ESPN's Rich Cimini that the Niners and New York Jets agreed on a trade sending Willis to the Bay Area earlier this week. Willis must pass COVID-19 protocols before the deal can be made official. The earliest that can happen is Monday, according to league guidelines.
Without Mostert, the 49ers are expected to lean on a running back group consisting of Jerick McKinnon, JaMycal Hasty and, potentially, Jeff Wilson Jr. against New England. Wilson is listed as questionable with a calf injury but he practiced all week and the fact that the Niners didn't activate another running back on Saturday would indicate he will be available on Sunday.
"Jeff got more as the week went," coach Kyle Shanahan said Friday. "Today, he got a little bit more than he had the last two days, but again, it was walkthrough. So, it was nice to have him out there for about 10 plays yesterday. I'm hoping this flight will treat him right and he'll give us the green light on Sunday."
The 49ers could be getting more depth at running back next week, as Tevin Coleman continues to make progress from the knee injury that landed him on injured reserve on Sept. 23. Coleman has been working on a side field in practice this week and is nearing a return, though next week might be considered a bit ambitious.
"Tevin, outside chance [to return] next week," Shanahan said. "I'm hoping that he can come back, but it's definitely not a guarantee. We'll probably find out a little bit more later in the week next week. If not that, hopefully the week after."
Mayden and Cyprien will provide safety depth Sunday after the Niners ruled out starters Jaquiski Tartt (groin) and Jimmie Ward (quad) on Friday afternoon. Marcell Harris and Tarvarius Moore are the team's only other healthy safeties.
New York Giants aware of video showing Daniel Jones, Saquon Barkley without masks
The New York Giants say they are aware of a video that shows starting quarterback Daniel Jones and injured running back Saquon Barkley maskless and not practicing social distancing while out at a bar.
The video was posted on Instagram on Friday, but has since been taken down.
Jones and Barkley could face discipline from the Giants, the NFL or both for their actions.
Earlier this season, the NFL fined 10 Las Vegas Raiders players, including tight end Darren Waller and quarterback Derek Carr, for breaking coronavirus protocols at a public charity event hosted by Waller's foundation.
The Giants lost to the Philadelphia Eagles on Thursday night and do not play again until Nov. 2 on Monday Night Football against the Tampa Bay Buccaneers.