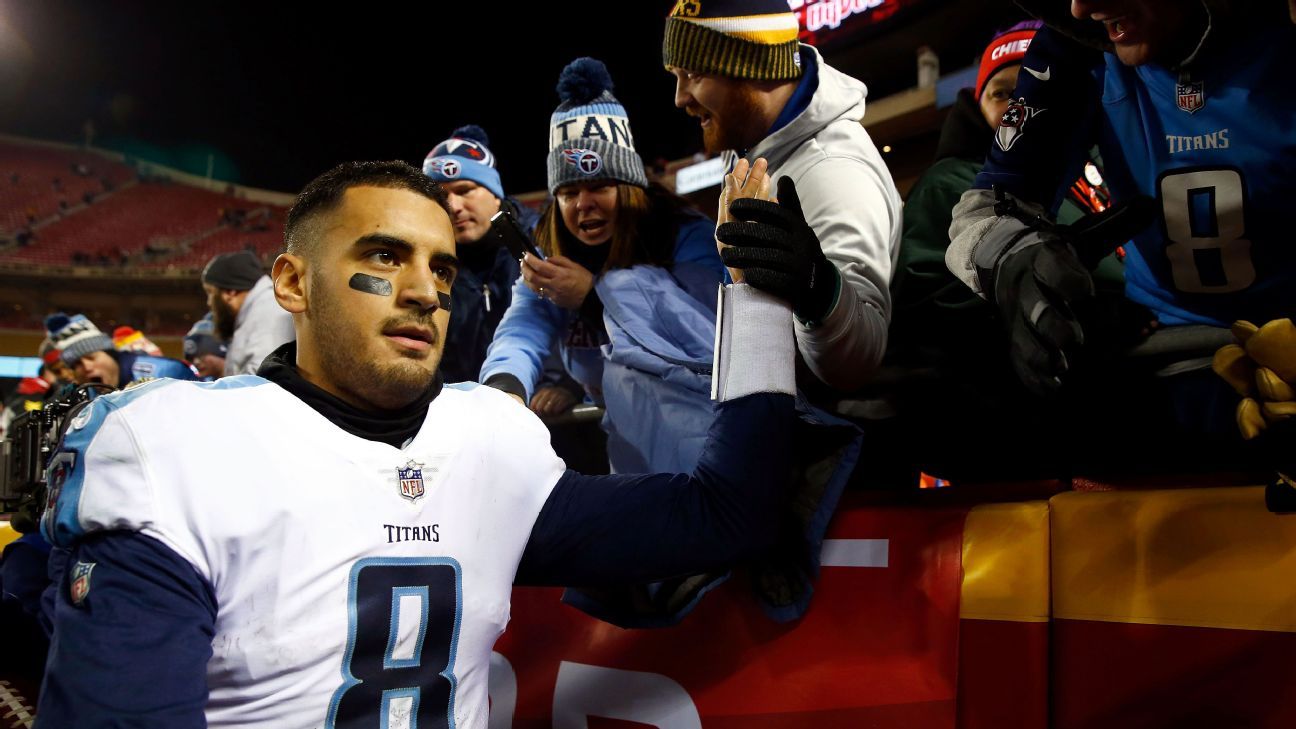 NASHVILLE, Tenn. — Even with new coaches and heightened expectations, the Tennessee Titans still revolve around quarterback Marcus Mariota.
Maximizing Mariota has been the Titans' top goal this offseason, and an inability to do so in 2017 played a role in the firing of former head coach Mike Mularkey last month.
"Marcus is a very football-smart player, tough guy, team is very important to him. I think he has a very high ceiling," Titans general manager Jon Robinson said. "He's done a lot of good things for us. We can put him in a position to be even better."
Multiple league sources believe that the Titans' offensive coaching staff was a bigger issue in Mariota's Year 3 struggles than the QB himself. Tennessee's move to dump Mularkey and hire first-time head coach Mike Vrabel would indicate that it feels the same. But a coaching change doesn't solve all of the problems involving Mariota and the Titans' offense.
Inside the Titans organization, there isn't much doubt that Mariota, 24, can still be an elite QB and the right man to lead the Titans to a Super Bowl. But entering Year 4, it's up to Mariota to prove them right.
'He's going to be a beast'
Mariota's trajectory was headed toward top-10 NFL QB to kick off the 2017 season before the No. 2 overall pick in the 2015 draft hit his biggest wall yet. The Titans achieved their most success as a team since 2003, but Mariota rarely appeared comfortable. He was visibly frustrated toward the end of the season, and he often struggled on the field.
He threw for a career-low 13 touchdowns and a career-high 15 interceptions. Mariota's 79.3 passer rating was 27th in the NFL, below that of Jacoby Brissett and Blake Bortles.
"Marcus is a really good football player. I think if you just look at the statistics, it doesn't quite say that," Robinson said. "I think Marcus made a lot of really good plays for us this year."
Mariota did make a ton of eye-popping plays, such as the TD throw to himself that launched an 18-point comeback victory in the playoffs against the Chiefs or the stiff-arm delivered to Jaguars safety Barry Church in Week 17 to essentially clinch a playoff berth or the beautiful, 37-yard, drop-in-the-bucket pass to Delanie Walker in Week 12 despite triple coverage from the Indianapolis Colts.
"I don't give two f—s what people think about Marcus," left tackle Taylor Lewan said. "I've seen what he can do. I've seen how hard he works. I'm with that guy 110 percent."
Late in the season, the typically understated Mariota began to express more emotion and body language after big plays. It was another example of Mariota's unspoken leadership that gave his team a jolt.
"When you got a quarterback that got swag like that, it's everything. He's going to bounce back and wake up. And when he wakes up, he's going to be a beast," Pro Bowl defensive lineman Jurrell Casey said. "Just waiting for him to let that explode constantly."
Inconsistency was the story of the season, capped off by a comeback road playoff victory over the Chiefs followed by what Mariota called an "embarrassing" loss to the New England Patriots in the divisional round.
It has been well-documented that the previous staff could have done more to cater the scheme to Mariota. Casey said he wants to see Mariota run more of the scheme he ran in college at Oregon. Multiple player sources say the 2017 offense was too predictable and limited Mariota's playmaking ability.
All of this could be true. But how the Titans address the other issues that held back the offense will determine whether this team continues to ascend. Mularkey and former offensive coordinator Terry Robiskie aren't around to be anybody's punching bag anymore.
Receiver routes didn't help
Walker still gets mesmerized by Mariota's serene demeanor on and off the field. But it was some of the late-season fire he saw from his QB that took his respect for Mariota to another level.
Walker couldn't stop smiling when he saw Mariota selflessly make a great lead block for Derrick Henry on a third-and-10 rushing conversion to clinch the Titans' playoff win over the Chiefs. It was a play that quarterbacks don't usually make. It was just another example of why Walker and the rest of the Titans are unwavering in their confidence of how good Mariota can be.
Several Titans players have said that passion lifts everyone's game to another level, and they hope they'll see more of it to start the 2018 season.
One NFL defensive assistant who is familiar with Mariota said he is still sometimes too nice to mistake-prone players. That source thought it wasn't natural for Mariota to acknowledge and attempt to correct his teammates' mistakes.
Multiple sources told ESPN that they felt poor route design, precision and splits made windows far more difficult for Mariota to throw into throughout the season. A lack of overall speed on offense didn't help either.
Former NFL QB and ESPN NFL analyst Matt Hasselback agreed with the receiver issues, citing multiple instances of poor route running and drops by rookie receivers Corey Davis and Taywan Taylor, along with veteran Rishard Matthews.
"You're not running those routes for Tom Brady. No way. He'll get in your face, or he'll make sure your coach gets in your face," Hasselback said. "To play QB with the level of anticipation you play with, you need the guys around you to help you out."
But it's not all on Mariota's supporting cast. On film, it's common to see Mariota become impatient in the pocket even when pressure is not near. His footwork regressed throughout the season, and he often threw primarily with his arm, not bringing his lower body with him.
Mariota has an admitted habit of not pushing off his back foot on some throws. He also has a tendency to be inconsistent with his dropbacks, often drifting left or right of the center without rhyme or reason. He has worked to break it over his three NFL seasons, but there were at least five interceptions this season that could be directly attributed to his falling back into those habits and delivering inaccurate throws.
"He's going to bounce back and wake up. And when he wakes up, he's going to be a beast. … Just waiting for him to let that explode constantly."

Jurrell Casey on Mariota
On a macro level, there might not be five other NFL quarterbacks who can match Mariota's athleticism and overall talent. He became the fifth quarterback in NFL history with at least 9,000 passing yards (9,476) and 900 rushing yards (913) in his first three seasons.
There is optimism within the Titans organization that Mariota's throwing and pocket-feel issues are fixable.
New Titans offensive coordinator Matt LaFleur and quarterbacks coach Pat O'Hara are expected to spend significant time with Mariota this offseason, reworking some of his throwing mechanics and instilling the consistent discipline that can elevate his game as a passer.
"We're going to be extremely detailed with his fundamentals and his footwork because that leads to more consistent quarterback play," LaFleur said. "There are going to be some different techniques that we are going to implement with him."
Balance between unleashing, keeping him healthy
This will be Mariota's third NFL head coach as he enters his all-important fourth season. Robinson said he has no concerns about the instability. A procedural move to exercise Mariota's fifth-year option is coming this spring, but the more important decision on a long-term contract might take more time to figure out.
The Titans haven't had a QB as good as Mariota since Steve McNair, so it's unlikely they'll let him leave. But how Mariota performs in 2018, under the highly touted LaFleur, will give the Titans a grasp on whether he'll ever reach his tantalizing potential.
One key question remains, even with a new coaching staff: How do you balance unleashing Mariota with keeping him healthy?
One coach who was on the Titans' 2017 staff told ESPN that there was an edict to dial back some of Mariota's running last season in order to protect him from himself. That coach also felt that Mariota's running restrictions, particularly in the first three months of the season, significantly limited the offense.
Mariota missed just one game in 2017, but he battled an assortment of hamstring, shoulder, knee and ankle injuries that limited him for much of the season. There were several games last season in which the coaching staff didn't know until Friday if he'd be able to play. He also suffered multiple MCL sprains and a fractured fibula in his first two NFL seasons.
"The first thing we're going to be is very concise [with] how we can protect the QB. That is the foundation," LaFleur said. "He's such a competitor. You can see it on the tape where he's fighting for extra yards, where I'd rather him preserve himself and get down."
Most of Mariota's major injuries occurred while he was in the pocket, but his 2017 injuries typically happened while he was attempting to run. It's also noteworthy that this was the first NFL season Mariota has finished, and he'll have an entire offseason to focus on improving his game rather than rehabbing.
"It's hard for guys that are good runners. If you want to be consistent over the long haul, it's easier to win from the pocket. He has shown the ability to be a difference-maker," said Hasselback, who noted that he could tell Mariota was hurting late last season. "I would say what is the defensive coordinator on the other team afraid of? He's afraid of you throwing on time and getting the ball out quickly.
"But then, when they have that perfect coverage, I don't want my defender in space with Mariota. And this is sort of a [Brett] Favre thing, but I don't want you to inspire the entire sideline and stadium by your body language. Mariota's teammates love him. That's more than half the battle."
LaFleur's plan is to tailor his scheme around Mariota and what makes the young quarterback comfortable. Mariota has succeeded when throwing off play-action, running an up-tempo offense and having run-pass option plays. Mariota is a better passer than many realize, but consistency is the key.
It's likely not a coincidence that those were some of the areas in which LaFleur and the Los Angeles Rams excelled during the 2017 season. Vrabel said there will be more spread scheme, easy throws and pocket movement in the Titans' offense next season. They want to make it more about the team, rather than put it all on Mariota.
"If there's something we stumble upon from a college system drawing back on Marcus' background and some of these other guys' background, then we'll implement that stuff," said LaFleur, who has gotten the most out of Jared Goff and Matt Ryan.
"If you can develop some confidence with these guys, the sky is the limit."
Seattle Seahawks talk to Richard Sherman, but no reunion imminent as DB mulls future
SEATTLE – Seattle Seahawks coach Pete Carroll confirmed that he's been in communication with Richard Sherman, but said a reunion with the former All-Pro cornerback isn't currently in the works.
"That's not one of our thoughts right now that we're going out and getting another guy at that spot, but we're going to keep looking," Carroll said Saturday, after the Seahawks took Oklahoma CB Tre Brown with one of their three draft picks. "We're not going to stop looking and we're going to compete. So in that sense, I leave everything open and that's just one of them."
The 33-year-old Sherman is a free agent after spending the past three seasons with the San Francisco 49ers. In an interview with ESPN's Stephen A. Smith on Friday, he said a return to San Francisco isn't out of the question and listed the Seahawks, New Orleans Saints and Las Vegas Raiders as other teams with which he's had communication.
"I've got to wait through this draft process," he told Smith. "Obviously, the first round, a lot of teams got corners, some teams didn't get the corners they wanted and I think once this draft process completes my phone will ring a little more with people who expected to get a guy and didn't get the guy they wanted. I'm not as in control as I was. At 33, it's just like, it doesn't matter what you put on tape."
Sherman suggested that his age is the reason he's unsigned, saying: "It doesn't matter accolades you have, what you put on tape, the numbers — it's just age sometimes. So I've just got to continue to stay in shape, continue to stay ready … I'm being patient and doing everything I can."
Sherman made four Pro Bowls and was named a First Team All-Pro in three of his seven seasons with Seattle, rising from a fifth-round pick in 2011 to become a key member of the defense that led the Seahawks to their lone Super Bowl championship and a near repeat the next year.
He suffered a torn Achilles in 2017 and was released that offseason with one year left on his contract. The 49ers then signed him to a three-year deal that just expired. Sherman made his fifth career Pro Bowl in 2019 but missed 11 games last year with a calf injury.
"I've talked to Sherm quite a few times here over the offseason," Carroll said. "So we have stayed in contact and he's out there. I know he's thinking about it. He's looking for an opportunity. I saw where he said there's three or four teams he's considering or whatever. So we'll see what happens. But he's been a great player and he's still got some ball left in him, I'm sure. But at this point we're going to clear through this day, figure out what happens with the rooks coming up and we'll see where it sits later on."
The Seahawks took Brown in the fourth round, addressing what was widely considered one of their top needs heading into the draft and perhaps their most pressing one after taking wide receiver D'Wayne Eskridge in the second round. The Seahawks signed Sherman's former 49ers teammate Ahkello Witherspoon after losing Shaquill Griffin in free agency. Their cornerback group includes another ex-49er in D.J. Reed as well as Tre Flowers, Damarious Randall and Pierre Desir, among others.
Carroll and general manager John Schneider both characterized their relationship with Sherman as strong and his departure from Seattle as not being as acrimonious as observers believed it to be. Sherman and Carroll occasionally talk about matters related and unrelated to football, according to the coach, and exchanged good-natured ribbing when their teams met in recent seasons.
"We have stayed in touch for a long time," Carroll said, "and I don't think that should surprise you because just think about all of the guys that have left here that had done so much for this program and our area and all of that. Whether they're still playing or they're not playing, we've maintained I think really significant relationships and Sherm's one of them."
Schneider said Sherman is "always going to be a Seahawk" and that he has the organization's support.
"It wasn't as bad as everybody thought it was when he left," Schneider said. "I was literally talking to him probably 10 minutes before he went in and agreed with the San Francisco 49ers and talking in a very positive manner. It's been good."
Sherman told ESPN's Smith in February that he wants to play two more seasons.
"I want to get on a competitive team," he told Smith. "I think I still have a lot to give to the game. I think I still have a lot that I want to accomplish and I think I can go out there and help a defense come together like it should and reach their potential, reach the heights that the defenses that I've played on have reached."
Packers coach Matt LaFleur says he 'can't fathom' Aaron Rodgers not in Green Bay, has urged Jordan Love to block out noise
GREEN BAY, Wis. — Three days after the depths of Aaron Rodgers' disgruntlement with his team came to light, his coach the past two seasons still "can't fathom" the idea that the reigning NFL MVP would consider not returning to the Green Bay Packers.
Like team president Mark Murphy and general manager Brian Gutekunst have said in the days since ESPN's Adam Schefter reported the news on Thursday, Matt LaFleur was emphatic in his desire for Rodgers to return.
But the issue isn't whether the Packers want Rodgers back, but rather that Rodgers doesn't want to return.
"Yeah, I know, and I can't even take my brain to that spot right now," LaFleur said Saturday following the conclusion of the NFL draft. "So I just want to do everything in my power to ensure that doesn't happen."
Later he added: "I can't fathom (him) not being in Green Bay. That's where my mind's at. I don't only love the player, but I love the person. I love working with him on a daily basis, I think we all do — from the players in that locker room to the coaching staff. Again, I don't even want to let my mind go there."
LaFleur would not disclose details of his recent conversations with Rodgers.
"I'll always remain hopeful and optimistic and certainly we'll always welcome him back with open arms," LaFleur said. "He knows exactly how not only myself, but our staff and our players feel about him. Like I said before, I just can't imagine him not being in a Green Bay Packer uniform."
At this point, Jordan Love is the only quarterback in the Packers' virtual offseason program. It's unknown whether Rodgers will attend the voluntary sessions when they turn to in-person work later this month, but he has typically been a regular participant in offseason programs and even has an offseason workout bonus ($500,000) tied to it.
The Packers did not draft a quarterback this weekend. Gutekunst said they discussed several veteran options before the draft and likely will sign at least one undrafted rookie quarterback, but he insisted that the Rodgers situation has not been or will not be the impetus for that.
Love was the third-string quarterback last season as a rookie, and the plan was for him to be Rodgers' top backup this season. In the meantime, LaFleur has tried to insulate Love from the distractions.
"I've talked to Jordan and I told him, you know, there's a lot of noise out there," LaFleur said. "You can't focus on that. You've got to focus on yourself and, I know you guys think it's cliché, but he's got to be the best version of him and he's got to do everything in his power to make sure he knows the expectations, the standards which we've developed at that position. I know he's working hard."
Meanwhile, Gutekunst, in perhaps an attempt to smooth things over with Rodgers, said he would be open to taking his input on personnel moves. Gutekunst acknowledged on Thursday that he erred by not telling Rodgers that he was trading up to take Love in last year's draft.
"Quite frankly, I think over the past three years that I've been doing this, I've always welcomed that input," Gutekunst said. "I think he has such an experience in this league that that input would always be something vitally important to me, if he's willing to give it. That's not new. That's not unique."
Earlier Saturday, Yahoo Sports reported that Rodgers "remains adamant that he won't return to the team under the current stewardship of general manager Brian Gutekunst," according to a source in Rodgers' camp.
"You know, Aaron hasn't said anything like that to me, and certainly hasn't said anything publicly," Gutekunst said in response to that report. "So, I think it's a little unfair to put that on him. But listen, you certainly don't like to hear those things, but at the same time it's kind of part of the gig in the National Football League. But no, nothing's been communicated directly to me."
LaFleur and Gutekunst both spoke Saturday at the conclusion of the draft. Earlier in the day, Murphy, in his monthly column on the Packers' website, said the team is still attempting to work out the issues between Rodgers and management.
"This is an issue that we have been working on for several months," Murphy wrote. "Brian Gutekunst, Matt LaFleur and I have flown out on a number of occasions to meet with Aaron. We are very much aware of Aaron's concerns and have been working with him (and his agent Dave Dunn) to resolve them. We remain committed to Aaron in 2021 and beyond."
SEC sees record 65 players selected in 2021 NFL draft, topping conference's 2019 mark
NFL teams selected a record 65 players from SEC schools during the 2021 NFL draft, continuing the conference's dominance over the three-day event.
The previous mark also was set by the SEC, with 64 in 2019. In fact, the four highest totals of drafted players from one conference belong to the SEC; it had 63 in both 2020 and 2013.
This year's SEC haul included six of the first 10 picks and 12 of the 32 players selected in the first round. They included Florida tight end Kyle Pitts at No. 4 (Atlanta Falcons); LSU wide receiver Ja'Marr Chase at No. 5 (Cincinnati Bengals); and Alabama wideout Jaylen Waddle at No. 6 (Miami Dolphins). Another Alabama WR, DeVonta Smith, went at No. 10 to the Philadelphia Eagles.
With 10 picks in 2021, Alabama has had 51 players selected over the past five drafts. That ties USC (1973-77) for the most NFL draft picks over any five-year span in the common draft era (since 1967), according to Elias Sports Bureau research.
The next-closest conference in this year's draft was the ACC, with 51 players drafted, including the No. 1 overall pick, quarterback Trevor Lawrence (Jacksonville Jaguars). The Big 10 had 44 draftees, the Pac-12 had 28 and the Big 12 had 22.