As the scouting combine draws near, DeShone Kizer finds himself in a situation familiar to several recent Cleveland Browns quarterbacks.
It's life in what has annually turned into "Browns Season" — that time of Browns excitement between the Super Bowl and training camp.
This is the time of year when the next great discovery dominates the discussion, when the players who will be on the team in the future are far more important than the players already on the team.
The best thing Kizer can do? Ignore it — every bit of it.
Because during Browns Season, talk of the draft and free agency dominates. Which means the quarterback who started 15 games last season is forgotten.
In some ways, it's understandable. The Browns did finish last season winless. But it's probably not wise to dismiss Kizer's chances of keeping the starting job in 2018.
He earned that chance.
Kizer endured a miserable rookie season, and one of the things he said after the last game was that he would be remembered as the quarterback of an 0-16 team.
Technically, he was correct. But there were many contributors to the record.
Kizer experienced what many before him had endured: the Cleveland Browns quarterback meat grinder. No team grinds them up and spits them out faster.
Kizer had his issues, and to his credit he'll admit to them. A completion percentage of 53.6 is not adequate for an NFL starting quarterback, and 22 interceptions is too many.
Kizer never hid from those statistics; he kept saying the right things and doing his best to improve. But his climb uphill was as steep as Mount Everest. The Browns were a team, according to their own coach, that needed to be perfect to win, and nobody could disagree with that take.
There was an overall lack of talent, a team teardown of great magnitude, no real threats at receiver. It added up to a season in which whatever could go wrong did go wrong. It was so bad that GM Sashi Brown was fired for doing everything he said he would do: tear down the team, go young, build with cap room and draft picks, and point to the 2018 and 2019 seasons as the turnaround.
Kizer had to survive a rookie season in the midst of this hurricane.
But as he starts to prepare for his second season, he has some advantages.
First, Kizer has played. He's gone through the rookie struggles. Boy, has he ever. He knows now what he didn't know when he walked into the building as an eager rookie. That is a benefit. It can't get worse, can it?
Second, Kizer got better late in the season. There were mistakes, but in his last game, Kizer played his best game. He had the Browns on the doorstep of their first win but was done in by a dropped pass at the 10-yard line in the final minutes. The overall effort and heart were more than impressive and gave Kizer something to build on.
Third, Kizer still has the size, arm strength and skills that prompted the Browns to draft him in the second round. He was thrown to every wolf in North America, but he lasted the season. Had he not been benched a game for throwing interceptions, he'd have been the first quarterback since Tim Couch in 2001 to start all 16 games for the Browns in the post-expansion/post-1999 era. That's an achievement.
Finally, Kizer's attitude was excellent. He showed up early and stayed late. He never stopped working, never stopped trying to be better. He was accountable, didn't complain and stayed true to the team. Talent eventually shows; attitude can't be faked. Kizer has a good one.
He will have to deal with the reality of the Browns adding two quarterbacks, one via the draft and one via free agency. But Hue Jackson has been steadfast in saying the Browns will play the best guy. Kizer will be given the chance to show he is the best guy, and his chances should not be dismissed. Players often make great strides between their rookie year and second season.
Kizer has the chance to work on his game in the offseason, and he'll start with the edge of a year's experience with the team.
He deserves the chance to go out and win the job.
One of the oldest adages in sports is that competition either breaks or brings out the best in players. How Kizer comes out of this Browns Season is up to him.
If he betters himself and earns the starting spot for the 2018 opener, the Browns will be just fine.
Former Tennessee Titans star Eddie George named Tennessee State Tigers coach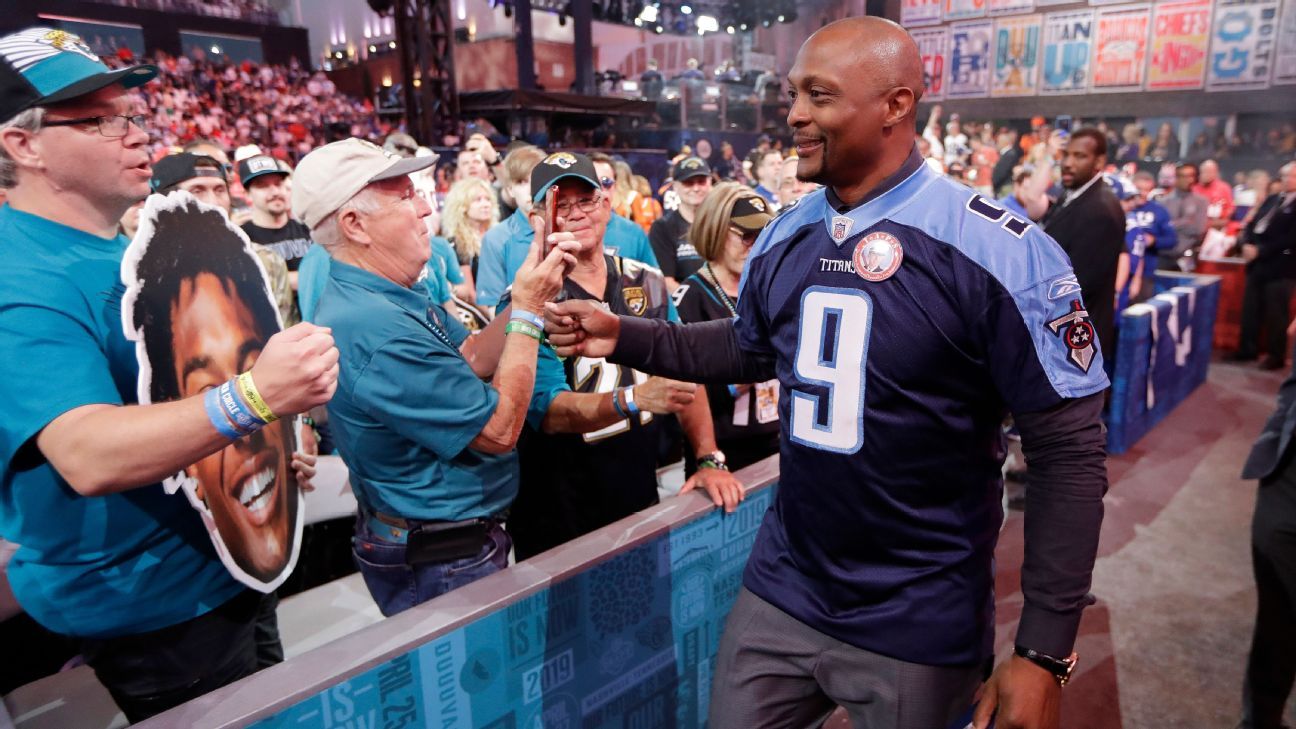 NASHVILLE, Tenn. — Tennessee State is naming Eddie George its new head football coach, sources told ESPN's Adam Rittenberg.
George starred at running back for the Tennessee Titans from 1996 to 2003, and the Tigers hope he will bring a much-needed spark to the program. The school is taking a path similar to the one taken by Jackson State, which hired NFL Hall of Famer Deion Sanders to take over its program in September. Jackson State is 4-3 in Sanders' first season as its coach.
Like Sanders, George doesn't have extensive coaching experience. Since retiring from the NFL in 2004, George has stayed connected to Nashville while also becoming an actor, with performances on Broadway and in film.
George replaces Ron Reed, who had been with the Tigers since 2010 and compiled a 60-69 record.
George has been a mentor for various Titans players, especially Derrick Henry, who credits a heart-to-heart conversation with George as a contributing factor to his breakout season in 2018. The Tigers hope having a big name like George will help recruiting and bring more attention to the university. The coaching staff already includes former NFL cornerback Dominique Rodgers-Cromartie.
Prior to his time in Tennessee, George was a star at Ohio State, winning the 1995 Heisman Trophy. His No. 27 is retired by both the Buckeyes and the Titans.
Stadium first reported the news of George's hiring at Tennessee State.
New York Jets deal their way into franchise-changing game of '21' – New York Jets Blog
FLORHAM PARK, N.J. — A look at what's happening around the New York Jets:
1. Card shark: Joe Douglas wants to build through the draft. Every general manager says that. When was the last time you heard a GM say, "I don't care about draft picks. I want to spend a ton of my owner's money on free agents so we can be in salary-cap hell"?
In Douglas' case, it's not lip service.
Because of the Sam Darnold and Jamal Adams trades, he's sitting on a war chest of draft picks. The Jets have 21 picks in 2021 and 2022; the last time they made that many selections in back-to-back drafts was 1997 and 1998, Bill Parcells' first two years in charge.
Those 21 choices include seven in Rounds 1 and 2. If the Jets use all those picks, it would be the most in the first two rounds over a two-year period in franchise history. The best comparison is 2000-01, when they made six picks — including four first-rounders in the watershed 2000 draft.
From a leaguewide perspective, this sort of thing doesn't happen often. In 2018 and 2019, the Indianapolis Colts made eight picks in the first and second rounds — thanks to the Jets, ironically.
The Cleveland Browns also hit the eight mark in 2017 and 2018. Prior to them, you have to go back to the New England Patriots (2010-11) to find a team that reached seven.
All three teams wound up drafting generational-type players — guard Quenton Nelson (Colts), defensive end Myles Garrett (Browns) and tight end Rob Gronkowski (Patriots).
Douglas has no excuses. Whether you liked the trades or not, he set himself up to re-stock the Jets roster with talent. It also affords him tremendous flexibility. If a high-profile player hits the trading block, which is happening with greater frequency, the Jets will have the draft capital to make a deal. Prepare for rumors galore over the next 12 months.
"Ultimately, with the premium picks — your first-, second-, third-round picks — those are the picks you're looking to become starters on your team," Douglas said. " … We do have a lot of assets as we sit here now, but we have to make the most of this opportunity."
2. Turning three into eight: Douglas knew this was going to be a tough job, which explains why he insisted on a six-year contract. After the Darnold trade, he hinted it's tougher than he imagined.
"When I walked in this building in June of 2019," he said, "I never thought we'd be sitting here and talking about … trading Leonard [Williams], trading Jamal. I know Darron Lee was traded before I even took this job. Now, Sam."
Think about it: Douglas already has traded three former first-round picks, all of whom were drafted by his predecessor. Not just any former first-round picks, but the No. 6 (Williams, 2015), No. 6 (Adams, 2017) and No. 3 (Darnold, 2018) overall picks in their respective drafts. They were 25, 24 and 23 years old, respectively, at the time of the trades.
Mind boggling.
To different degrees, economics played a role in all three decisions. Douglas opted for draft capital instead of investing big money on extensions. He parlayed those three players into eight picks. Using the trade value chart as a guide, and projecting 2022 draft position based on 2020 records, the point total is 2,551. A typical draft for a middle-of-the-pack team is 1,700 points.
So Douglas traded Williams, Adams and Darnold for what amounts to a full draft, and then some.
3. From Darnold's inner circle: Darnold has yet to comment on his trade to the Carolina Panthers. His camp, no doubt frustrated by months of pre-trade uncertainty, has been quiet the entire offseason … until now.
Jaime Ortiz, who has remained close with Darnold after coaching him at San Clemente (California) High, said in a text message to ESPN:
"[The trade] is a good move for both the Jets' franchise and for Sam personally. Both get a clean break and a fresh start. I just hope, with all of the draft picks, the Jets can finally surround a young QB such as [Zach] Wilson or [Justin] Fields with the talent needed to be successful in the NFL."
It's not hard to read between the lines.
4. Draft trivia: Can you name the last quarterback drafted by the Jets to make the Pro Bowl? Answer below.
5. Bonus money: Linebacker Tarell Basham, who signed recently with the Dallas Cowboys, scored the Jets' biggest performance-based bonus for 2020 — $446,879. The other top bonuses went to linebackers Harvey Langi ($375,561) and Neville Hewitt ($337,838), tight end Chris Herndon ($337,623) and cornerback Bless Austin ($337,018). The biggest head-scratcher? Linebacker Patrick Onwuasor got $2,052, and all he did was play eight snaps on special teams.
Performance-based pay is a collectively bargained benefit that compensates all players, including rookies, based upon their playing time and salary levels. It has no affect on the salary cap. The league released the figures this week.
6. Dueling oh-fers: In the market for a veteran quarterback, the Jets hosted Brian Hoyer on a free-agent visit. If they sign him, it would be a marriage of two dubious streaks.
Hoyer, predominantly a backup throughout his 12-year career, has lost 17 straight starts, dating to 2016. The Jets have dropped 15 straight with their backup quarterback in a starting role, also dating to 2016.
From an intangibles standpoint, Hoyer would be a terrific mentor for Wilson, the presumptive pick by the Jets at No. 2 overall in the 2021 NFL draft (April 29-May 1 in Cleveland, on ESPN and ESPN the App), but the QB2 job for this team should be capable of winning games. Alex Smith, Teddy Bridgewater and Gardner Minshew II would be better options than Hoyer.
7. No Joshing: A week ago in this space, former Jets quarterback Josh McCown said his hope was Darnold would get a chance to redeem himself under the new coaching staff. We know that's not going to happen. At the same time, McCown proclaimed himself a Wilson fan.
"I don't think it's a bad pick," McCown said. "I think he has a higher ceiling and a better upside than Trevor Lawrence, personally. I like him a little better."
8. What happened against Vegas ..: When the Jets lost to the Las Vegas Raiders on Gregg Williams' infamous "Cover 0 blitz," dropping them to 0-12, a lot of pro-tank fans were ready to immortalize Williams for keeping them ahead in the Lawrence sweepstakes. As it turned out, the outcome had no bearing on draft position. But it sure made for interesting conversation in the moment.
9. Trivia answer: It was Ken O'Brien. A first-round pick in 1983, famously ahead of Dan Marino, O'Brien was selected to the Pro Bowl once (1985). He's one of the underrated players in Jets history. He's second on the franchise's all-time passing list, behind Joe Namath. Boomer Esiason (1993), Vinny Testaverde (1998) and Brett Favre (2008) each made the Pro Bowl, but they weren't drafted by the Jets.
10. The last word: "His development was not correct by the Jets. He didn't have the best supporting cast around him and the best coaching to get him to his full potential." — former Jets and current Panthers wide receiver Robby Anderson on Darnold (via NFL Network).
As Patriots' Bill Belichick turns 69, Marv Levy says there's no reason to stop now – New England Patriots Blog
FOXBOROUGH, Mass. — Quick-hit thoughts/notes around the New England Patriots and NFL:
1. Belichick at 69: Coach Bill Belichick will celebrate his 69th birthday on April 16, which highlights his place among a group of the oldest to serve as a head coach in the NFL.
Romeo Crennel (73) became the oldest to do so last season, and is followed by George Halas (72), Marv Levy (72), Tom Coughlin (69) and Dick Vermeil (69). In the current coaching ranks, only Seattle Seahawks' Pete Carroll (turning 70 in September) is older than Belichick.
Belichick famously once said he wouldn't be coaching into his 70s like Levy, but two years ago in a radio interview, backed off that declaration. Levy understands why.
"Age is only an approximate thing. You're involved and you're going at it hard, and you love it, that's it," the longtime Bills coach, now 95, said in a phone interview with ESPN. "You just coach as long as you love it. I finally retired because the great core of our team had gotten old, and they were all retiring. And I had it finally. I felt I needed some time away."
That decision, in 1997, wasn't an easy one for Levy. He said then-Bills owner Ralph Wilson tried to talk him out of it, giving him a week to mull it over.
Levy had no regrets, as it allowed him to write multiple books and travel, but later acknowledged wondering if he made the right decision.
"Maybe a year or two later, to tell you the truth. I said, 'Wow, maybe I did it too soon' when I was back rested up. I probably could have done another 3-4 years, easy," he said.
As for how many more for Belichick — who previously said he enjoyed the book, "Younger Next Year: A Guide to Living Like 50 Until You're 80 and Beyond" by Chris Crowley and Henry Lodge — the all-time win charts might provide a helpful guide.
He has 311 victories (regular season and playoffs combined), third all-time behind Don Shula (347) and Halas (324).
If the Patriots average nine-to-10 wins per season, that puts Belichick within striking distance of Shula in about four years, or when he'll be 72.
2. Carroll counts by fives: Carroll was insightful with Patriots reporters last September on his coaching longevity, saying he was inspired by author David Brooks, the longtime New York Times reporter/op-ed columnist, to take a five-year mindset. So essentially, Carroll said he feels great and each year resets the clock to another five. "Why are you looking year to year?" he asked.
3. Winovich's weight: Third-year outside linebacker Chase Winovich shared behind-the-scenes insight with Patriots season-ticket members last week on his offseason goal to gain weight. Winovich said a meeting with former Patriots outside linebacker Rob Ninkovich inspired him to do so. Listed on the team's roster at 6-foot-3 and 250 pounds, Winovich relayed that he has hired a personal chef to help him reach his goal. Of Ninkovich, who advised a weight of 260 to help him set the edge, Winovich said: "I looked him in the eyes and said, 'I'm going to get my weight right.' That dude's words get me fired up."
4. Deion backs Cam: Count Super Bowl XXXIX Most Valuable Player Deion Branch among those who believe the Cam Newton of 2021 will be markedly improved from the 2020 version. "Given the offseason [he'll have], I think we'll see a better Cam," Branch said at the Patriots' season-ticket member draft preview. "Everybody is always talking about the 2015 [MVP] Cam Newton, but I'd like to go back to just the 2018 [version] — 67.9% passing, 24 TDs, 13 interceptions. If they can get that type of performance, I think this will be a great year."
5. Corner market: Top cornerbacks Stephon Gilmore and J.C. Jackson (restricted free-agent tender) have contracts that expire after the 2022 season, so the position is a "sneaky" need for the Patriots. It's a good year to try to fill it in the 2021 NFL draft (April 29-May 1 in Cleveland, on ESPN and ESPN the App), with South Carolina's Jaycee Horn (son of former NFL receiver Joe Horn) one notable first-round consideration. "This is a year where you can find corners throughout the entire draft. I wouldn't be shocked, right now, if 40 corners were drafted," ESPN draft analyst Mel Kiper Jr., said.
6. Draft nugget: If quarterbacks Trevor Lawrence, Zach Wilson, Mac Jones, Justin Fields and Trey Lance are selected within the top 10, as some project, it would be a first. Five quarterbacks have never been drafted in any 10-pick span in the common draft era (since 1967), according to ESPN's Stats & Information. The shortest span in which five quarterbacks were selected was in 1992, when five were drafted between picks 220 and 230 — a group that included eventual Super Bowl-winner Brad Johnson.
7. Two tight ends a "must": Michael Lombardi and Scott Pioli, both of whom have been top personnel men under Belichick, have relayed in their current media gigs how each offseason is spent determining the team's "musts, needs and wants." Tight end was obviously a "must" for the 2021 Patriots — as evidenced by the contracts for Jonnu Smith (4 years, $50 million, with $31.25 million guaranteed) and Hunter Henry (3 years, $37.5 million, with $25 million guaranteed). Here is a telling stat as to why: The Patriots ran 3% of their snaps last season with two or more tight ends on the field, easily a league low, followed by the Bills (12%) and Steelers/Bengals (17%). Two-tight-end packages have long been a staple under Belichick, with the Patriots having scored a league-high 271 touchdowns since 2010 with two on the field, followed by the Minnesota Vikings (217) and Philadelphia Eagles (208). Simply, it was a "must" to re-introduce this to the attack.
8. Asiasi as No. 3 TE: While the signings of Smith and Henry could be viewed as a show of little support for 2020 third-round pick Devin Asiasi — the tight end from UCLA — an alternative thought is it could actually be the best thing for him; reducing pressure and expectations in a No. 3 role that could grow into more over time. Because the Patriots love the flexibility to run two-tight-end packages, they're more likely to keep at least three tight ends on the 53-man roster for insurance. That's even more important considering Henry's injury history.
9. Martin's $591: The NFL Management Council finalized its performance-based-pay payments, which is a collectively bargained fund that provides additional compensation for players based upon their playing time and salary levels. So the lower-salaried players who have the highest total of playing time receive the greatest reward, with guard Mike Onwenu's $554,792 leading the way for the Patriots. The lowest figure was center Marcus Martin's $591. That was a result of Martin being activated for the regular-season finale in his Patriots debut and playing one snap on the field goal protection unit. Hey, every snap counts.
10. Did You Know: Since Belichick became coach in 2000, the Patriots have had 22 players return for a second stint with the team to play in at least one game after playing in at least one contest for another team. That ties the Pittsburgh Steelers and Tampa Bay Buccaneers for third-most over that span, with the Seahawks (26) and Steelers (24) leading the way. Offensive tackle Trent Brown and outside linebacker Kyle Van Noy will up the Patriots' total to 24 in Week 1.