A movement to change the name of the public street where the Boston Red Sox play their home games is now in the hands of the city.
The Red Sox submitted a petition to the Boston Public Improvement Commission, requesting that Yawkey Way be returned to its original Jersey Street name as a symbol of inclusion, the team announced Wednesday. The filing of the paperwork comes six months after Red Sox owner John Henry told the Boston Herald that he is "haunted" by the legacy of former owner Tom Yawkey.
The portion of Jersey Street that houses Fenway Park was renamed in honor of Yawkey in 1977. During Yawkey's ownership, the Red Sox were the last team in Major League Baseball to integrate the roster, waiting until Pumpsie Green made the team in 1959, 12 years after Jackie Robinson's debut.
"Restoring the Jersey Street name is intended to reinforce that Fenway Park is inclusive and welcoming to all," the team said Wednesday in a statement.
According to the Red Sox, they have the cooperation of all Yawkey Way abutters. The D'Angelo family owns a souvenir store on Yawkey Way, and Samuels & Associates also has property on the street.
Boston Mayor Martin J. Walsh has said he is in favor of the name change.
In a statement, the Yawkey Foundation said it intends to protest the name change, which it described as a "drastic action."
"We urge the commission to consider all the facts concerning Tom Yawkey's ownership of the Red Sox and the sweep of his life," the foundation said. "We are confident that if it does so, it will reject Henry's petition."
The Red Sox noted that the renaming initiative isn't a reflection of the positive work that done by the Yawkey Foundation.
"It is important to separate the unfortunate and undeniable history of the Red Sox with regards to race and integration from the incredible charitable work the Yawkey Foundation has accomplished in this millennium and over the last 16 years," the Red Sox said in its statement.
"The positive impact they have had, and continue to have, in hospitals, on education programs, and with underserved communities throughout Boston and New England, is admirable and enduring. We have the utmost respect for their mission, leadership, and the institutions they support."
New York Yankees fans finally get their chance, jeer Houston Astros with boos, 'cheater' chants
NEW YORK — On May the Fourth, New York Yankees fans channeled their inner Palpatine and directed their anger toward the Houston Astros the moment they stepped on the field.
"One bang fastball!" one fan screamed at Astros second baseman Jose Altuve, taking batting practice.
"You don't deserve your accolades!" another yelled at Astros third baseman Alex Bregman.
Tuesday marked the first day the crowd at Yankee Stadium had the opportunity to express their anger at the Astros for their sign-stealing scheme, which included banging on trash cans during the 2017 and 2018 seasons.
Forget the fact that the scandal broke nearly a year ago, that both AJ Hinch and Alex Cora are back from their suspensions for their role in the scandal and that only five players remain from the 2017 World Series champions. Yankee fans did not forget and wanted to make sure their displeasure was heard.
"As soon as the schedule came out, we bought these tickets, so this is like a revenge tour because they weren't here last year, and when they did play, they didn't get the reception that they are getting now," Yankee fan John Guerin said. "I was booing them at home last year. I was in my living room."
David Taub of Brooklyn arrived at the stadium wearing a costume of Oscar the Grouch with a tank top reading "Trashtros," but he was told he could not wear the outfit into the stadium due to a new policy.
"It was about $90 and I ordered it, and it was three weeks in back order, so I made sure to order it early," Taub said. "I had this game penciled in for a long time, since the schedule came out. I have been waiting to go to this game for over a year and a half, waiting for the Astros to come. I circled this game as soon as I knew fans were allowed."
Throughout the evening, chants broke out across Yankee Stadium regardless of whether the Astros were hitting at the plate. When Bregman hit a first-inning home run, the Yankee Stadium crowd immediately broke out into "cheater" chants. Throughout the evening, fans met shortstop Carlos Correa, Bregman and Altuve with the most consistent, loudest jeers.
"It's mainly Altuve, Correa and Bregman," Jack Genesi said. "They are the main guys who played well and under the statistics, they played much better at home than away and they are the players that won them their 2017 World Series. Most of the team has changed, but those guys are still there."
Cincinnati Reds' Amir Garrett gets 7-game suspension for 'inciting' incident with Cubs
Cincinnati Reds reliever Amir Garrett has been suspended seven games and fined an undisclosed amount of money for "inciting" a benches-clearing incident with the Chicago Cubs on Saturday afternoon, Major League Baseball announced Tuesday.
Garrett is appealing his suspension and will be eligible to continue playing until the process is completed. Cubs shortstop Javier Baez, who had to be restrained on the field when the benches cleared, was also fined an undisclosed amount of money for his actions in the incident.
Garrett, 29, pounded his chest, screamed and took several steps in the direction of Cubs first baseman Anthony Rizzo after striking him out in the top of the eighth inning.
The Cubs took issue with the taunting and, led by Baez, confronted Garrett on the field. No punches were thrown and order was restored, but MLB is cracking down on these kinds of inciting incidents, especially as it violates COVID-19 restrictions.
"I'm not going to let him or anyone disrespect my teammates or my team," Baez said after the game, which the Cubs won 3-2. "He's not doing it to pump up his teammates. He's doing it to disrespect us."
Reds manager said afterward that he thought the Cubs "misinterpreted" Garrett's actions.
"I really don't know what happened with their team," Bell said. "This is an emotional game, and Amir has been struggling. I know Amir was talking to himself. He was emotional. I think they misinterpreted it. That's what I saw. It is very difficult to stay good in this game. I know we try our best to not be concerned with how the other team reacts."
Cubs manager David Ross lamented the fact that catcher Willson Contreras was fined after his actions led to benches clearing last month in a game against the Milwaukee Brewers. Contreras was upset after getting hit by a pitch in multiple games with the Brewers.
Ross said that if Contreras could be fined, then Garrett should be equally punished. He got his wish.
Pete Alonso, New York Mets unhappy after coaching staff shakeup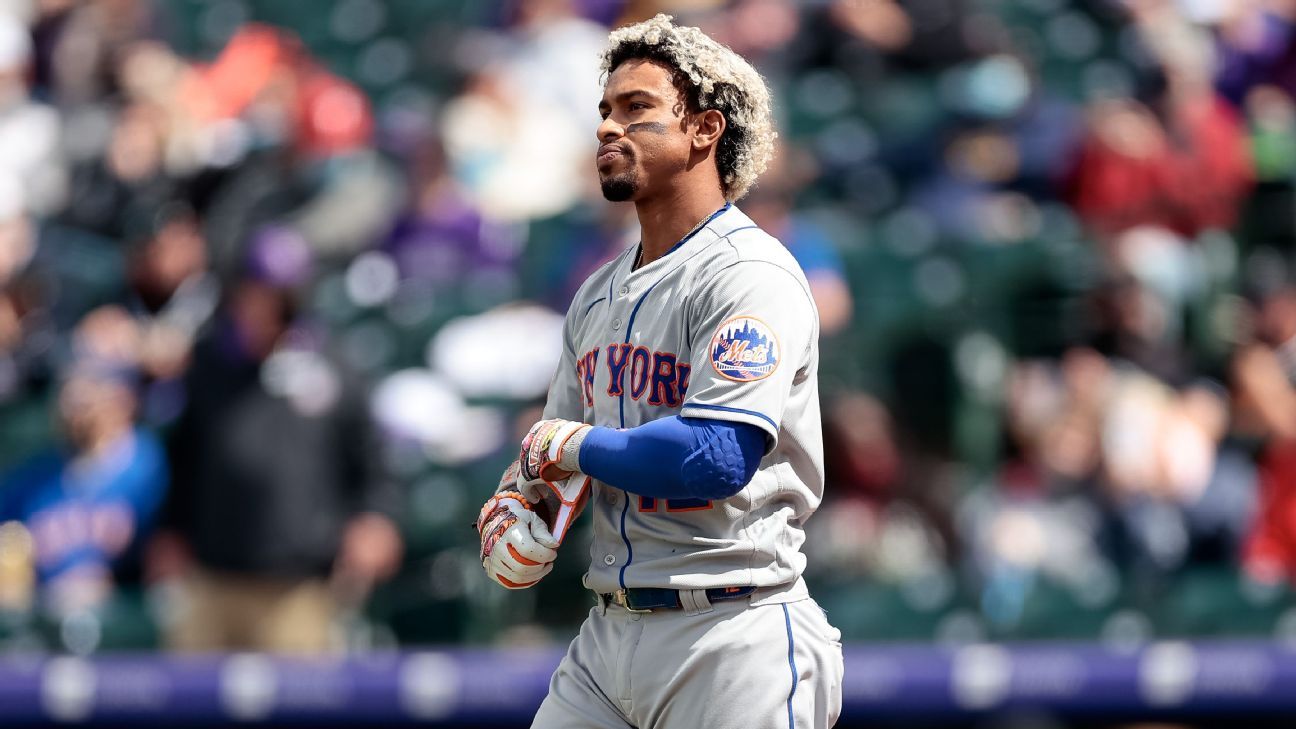 NEW YORK — Pete Alonso and Francisco Lindor learned from phone messages that the New York Mets had fired hitting coach Chili Davis and assistant Tom Slater, a move that left players unhappy.
New York made the announcement late Monday night, two days after Alonso started to publicly mention the positive assistance of a new batting instructor – someone who, apparently, is fictional.
"I found out on Twitter while I was eating my postgame meal," Alonso said, explaining he then talked to acting general manager Zack Scott and gave Davis and Slater hugs. "And then I cried at my locker a little bit."
The slugging first baseman referred to the departed coaches as "Uncle Chili and Uncle Slate, I mean, they're like family to us."
"It really caught us all off guard," Alonso said. "It's confusing for me, and, listen, I respect everybody who made that decision. But to me, it just doesn't make sense right now."
"But I know that the guys coming up, guys coming in have great minds, they're great people. And I know that people who were in charge in the office know that they want to win, everybody wants to win. But I guess from a results standpoint, from let's say 2, 2½ years, the results have been there and so to me it still doesn't make sense," he said.
Scott was hired by team president Sandy Alderson after new owner Steven Cohen bought the Mets last fall.
Manager Luis Rojas said the coaching changes were an "organization decision … that's the best way I can share it right now."
He said he was not concerned a manager change could be coming.
"Those are types of things that I do not think about just because in my field, it's just very disrespectful to the group here to be worrying about that before worrying about the team," Rojas said.
The sudden moves, uncommon for this early in a season, were announced after a 6-5 loss at St. Louis.
"It broke my heart. I was sad," Lindor said. "It hurt me a little bit."
While the Mets began Tuesday ranked ninth among the 30 teams with .240 batting average, they are last in runs with 76 and home runs with 18. Their .209 batting average with runners in scoring position is 29th and they are dead last with a .143 average with two outs and runners in scoring position.
After Saturday night's 5-4 win at Philadelphia, Alonso made a curious reference to the contributions of a new coach.
"We just made a nice new hire, Donnie," Alonso said then. "He's a nice — he's a great hitting-slash-approach coach. Donnie's been great helping the team. I think Luis forget to mention Donnie. Donnie really helped us today, too."
Asked to explain further, Alonso said: "He's a new hire. He's our like mental-slash-approach coach. I feel like we had a really cool collective-like team approach today, and Donnie helped us out, for sure."
Pushed for Donnie's name, Alonso said: "I got to ask that, I got to ask Chili — oh, Stevenson, I think that's it."
Following Alonso to the interview chair, Michael Conforto smiled when asked about Donnie.
"Donnie's a new guy. He made an appearance today at our hitters meeting. He's all about the approach," Conforto said. "He's a hitting-approach guy. He's a guy that just gets the boys fired up and ready to go."
Alonso brought up the mystery man again after Sunday night's 8-7 victory.
"He had some guys in the cage and we were just focusing on ripping heaters," Alonso said. "And that's what we did today. We were focused on ripping the fastball around the yard and ripping the heater today was the main focus. We put a lot of runs on the board and we were really locked in. He had some really good words of advice and, yeah, I mean it's awesome."
Asked Tuesday about whether his references to a different hitting coach didn't help Davis' situation, Alonso replied: "I'm not going to talk about that."
Scott also refused to address the mysterious coach, Mr. Stevenson.
"You'd have to ask the players about Donnie," he said Monday night.
Cohen did chime in on the players' imaginary helper. "I love Donnie," he tweeted. "A major resource to the team and pretty cheap too."
Davis didn't blame Alonso's and Conforto's comments for his departure.
"The players were having fun and I know they didn't mean any harm," Davis was quoted as saying by the New York Post. "It was a fun time for them, but it probably didn't help. People were just trying to loosen up as a group and it worked that night. They went out and put some runs on the board. I am all for them enjoying the game."
Mets staff held a meeting with players on Tuesday that didn't appear to change any perceptions.
"It's an explanation that still doesn't make sense to me right now," Alonso said.
Lindor, a four-time All-Star, began Tuesday with a .163 average, 151st among 155 qualified batters. He learned of the firings from a text while walking to the team bus.
"Maybe if I would have been hitting a little bit more, maybe he had a job. I don't know," Lindor said.
Alonso said teams should not overly rely on analytics, calling himself an "old-school type player."
"As times keep going on, the game stays the same. I mean, the game has been the same since the Civil War," he said. "When it's game time, when it's my turn to hit in the box, it's not Luis, it's not Chili, it's not the analytic department that's in the box hitting. It's Pete Alonso. It's me. And that's the same thing with every single one of those guys in the clubhouse.
"You got 13 hitters and all those guys, as soon as they step in the box, you might as well take the computer and break the screen, because any time you think about all those numbers in the computer, if you're in there in that box and thinking, oh, it's a 2-0 count, he's 45% changeup, he's 30% fastball and it's a certain percent slider, you're out, you're a walking out, you're an out in a helmet," he said.