BRADENTON, Fla. — For veteran free-agent infielder Chris Johnson, the warning signs started months ago, when not only was he without a team, but the phone calls just weren't coming in.
"After you get past New Year's and haven't heard anything — not even a little interest — obviously you start to worry in the offseason. You're like, 'Man, is this it? Am I done? Am I not gonna be able to play anymore?'" Johnson said. "[When] you don't hear anything, and people start talking about '20 days until pitchers and catchers [report]' and things like that, then obviously you start to panic a little bit."
Johnson, 33, isn't alone. Nearly one week since Grapefruit and Cactus league play began, almost a third of the offseason's free agents in November are still without teams, which is why many of them are taking part in the Major League Baseball Players Association camp at IMG Academy in Bradenton, Florida.
It's the union's first spring training camp since the players' strike in 1995. Former Houston Astros manager Bo Porter is leading the workouts.
Former Astros manager Bo Porter on coaching at the MLBPA free agent camp: "The thought process was, if we're gonna do it, let's do it the way spring training is supposed to be run."
"I'm just asking for an opportunity, really. I'm not asking for a million bucks," said Johnson, who spent last season on a minor league deal with the Baltimore Orioles. "I'm asking to play for the bare minimum and just have an opportunity to continue my career. And I'm hearing a lot of the same stuff here."
A lot of theories have been tossed around as to why so many talented veteran free agents remain unsigned, including pitchers Jake Arrieta, Lance Lynn and Alex Cobb, first baseman Lucas Duda, third baseman Mike Moustakas and outfielders Jon Jay and Carlos Gonzalez. One theory many in Bradenton suggested is that there's now too much of a reliance on metrics, versus intangibles like leadership.
"With the value of free agency and players that have major league experience — it's something that you can't quantify," Porter said. "So when you look at bringing in veteran guys that have played the game at a high level and the guys that we have here — these guys' careers aren't over with. It's just a matter of finding the right fit and getting them into camp and getting them an opportunity to continue to prove their value to the game."
MLBPA union representative Tony Clark believes that to be true with catcher Jarrod Saltalamacchia, 32, who won a World Series with the Boston Red Sox in 2013 and is at the camp. Clark also acknowledged that having up to one-third of teams in full-on "rebuild mode" has also transformed the way the league is doing business.
"We have teams openly suggesting that they're not as interested in winning today's ballgame and they're not as interested in being the last team standing. I did not anticipate being in that world," Clark said. "So if that is the world we are going to be in, then there are going to need to be some conversations moving forward."
Players at the camp all wear black MLBPA jerseys. Their schedules are structured the same as a big league camp, starting with drills and fundamentals at 7:30 a.m.
The original intent wasn't to play any games, but the numbers of unsigned players continued to be high and the talent has been competitive enough to play some exhibition games, which are open to scouts, agents and the media. They're not sure how long the camp will run, but the hope is that all these players will be gone and signed with teams soon.
Dave Gallagher spent nine years in the big leagues, playing outfield for eight different teams. He is a coach at the MLBPA camp and has raved about the players' professionalism and attitude despite unfavorable circumstances — but he worries about what will happen when there's no light at the end of the tunnel.
"The one thing I see, and I can see it from talking to these guys, is that they start to lose hope," Gallagher said. "And it's a little bit humiliating. I'm sure some of them don't understand it. To be honest with you, I don't understand it."
Ryan Zimmerman seals deal with Washington Nationals, says this might not be last year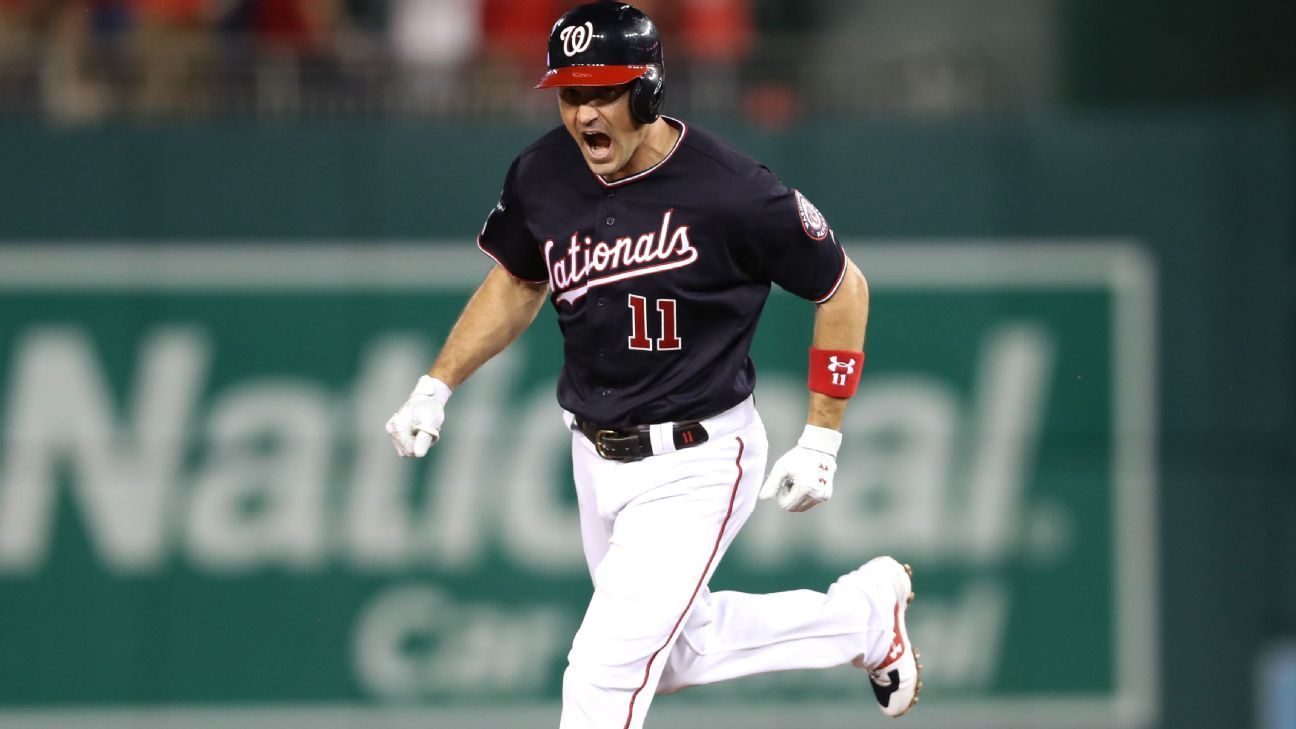 WASHINGTON — Now that he's set to play for the Washington Nationals this season, Ryan Zimmerman might stick around a little longer, too.
Zimmerman and the Nationals made it official Saturday, announcing his $1 million, one-year contract. The deal came after the Nats' longest-tenured player opted out of the coronavirus-shortened 2020 season.
"If I can settle into this role and do well this year, by no means does this have to be my last year," the 36-year-old Zimmerman said on a video call with reporters. "At least that's the way I'm looking at it."
Zimmerman is a two-time All-Star and bats right-handed. His playing time likely will diminish after Washington traded for switch-hitting first baseman Josh Bell from Pittsburgh last month.
It's still uncertain whether the National League will employ the designated hitter this year. It was used as part of the new rules added for the virus-abbreviated season.
Zimmerman, however, wasn't looking for a new opportunity in another city.
"Playing anywhere else would be really weird. Wouldn't really be worth it," he said.
Zimmerman has played 15 seasons in the majors, all for the Nationals. They took him with their first pick in the 2005 draft soon after moving from Montreal to Washington.
Zimmerman boosted the franchise to its World Series championship in 2019. He didn't play last year, choosing to sit out because of concerns about his family's health during the pandemic. His mother has multiple sclerosis; he and his wife had their third child last year.
"Me coming back this year was in no means for like a victory lap sort of thing," he said. "This is about coming back because I still think I can play the game at a high level, and I still think I can help the team win."
The Nationals went 26-34 last season, tied with the Mets for last in the NL East.
Zimmerman batted .257 with six homers and 27 RBIs in 171 at-bats in 2019. He is a career .279 hitter with 270 home runs and 1,015 RBIs.
Zimmerman said he was pretty certain he'd return to the diamond.
"I don't think it was ever 100%, but I don't think it was under, like, 95%," he said. "Once I was hanging out at home and watching the games and kind of getting into life without baseball, I think that number shot up to pretty close to 100% very quickly on my end."
Zimmerman thanked general manager Mike Rizzo and the organization for the chance to play again.
"I didn't know if they were going to offer me a major league deal, or if they were going to want me to come down on a minor league deal," he said. "I'm 36 years old, and I haven't played baseball in a year. So I think that shows, obviously, the respect that [Rizzo] and the team have for me. I can't tell you how much I appreciate that."
Zimmerman gave up a $2 million salary last season, but received a $2 million buyout for the declined option at the end of his previous contract.
In addition to his $1 million base salary this year, Zimmerman can earn $250,000 for games: $50,000 each for 50, 65, 80, 95 and 100. He also can make $250,000 for plate appearances: $50,000 apiece for 200, 250, 300, 350 and 400.
He also gets a one-day use of Nationals Park for charity, as a provision in his contract.
Zimmerman's deal includes $500,000 if he's league MVP or $200,000 if he finishes second through fifth in voting. He would get $100,000 for making the All-Star team and another $100,000 if he's the top vote-getter. Zimmerman would earn $250,000 for World Series MVP, $150,000 for League Championship Series MVP, $100,000 for Gold Glove, $100,000 for Silver Slugger, $100,000 for the Hank Aaron Award and $100,000 if he is Baseball America or The Sporting News player of the year.
Garrett Richards, Boston Red Sox reach 1-year, $10 million deal, sources say
Starting pitcher Garrett Richards and the Boston Red Sox have agreed to a one-year, $10 million deal, sources told ESPN's Jeff Passan on Saturday.
The deal is pending a physical.
Richards' biggest success during the pandemic-shortened season was staying healthy. The veteran right-hander made 10 starts for the San Diego Padres in 2020, going 2-2 with a 4.03 ERA, 46 strikeouts and 17 walks. He was moved to the bullpen late in the season and during the playoffs.
The 32-year-old veteran fared much better against right-handed hitters (.589 OPS) than left-handers, who had an .853 OPS against him during the season.
Richards has had a long history of arm injuries. He had Tommy John surgery to repair his damaged ulnar collateral ligament after making 16 starts for the Los Angeles Angels in 2018, and he signed with the Padres after that season with the knowledge that he'd be rehabbing for most of the first year of his two-year, $15 million deal. He did get back on the mound for San Diego late in the 2019 season, posting an 8.31 ERA in 8 2/3 innings over three starts.
Another ACL injury, for which he had stem-cell and platelet-rich plasma treatment, limited Richards to just six starts in 2016, and he made only six starts in '17 because of biceps irritation.
He also tore his left patellar tendon in 2014 while covering first base at Fenway Park, prematurely ending an upstart season
Richards, who was a member of the Angels for his first eight seasons, has a 47-41 career record with a 3.62 ERA and 702 strikeouts and 291 walks.
Houston Astros trade Cionel Perez to Cincinnati Reds for Luke Berryhill
HOUSTON — The Astros traded left-hander Cionel Perez to the Cincinnati Reds for minor league catcher Luke Berryhill on Saturday.
The 24-year-old Perez pitched seven games in relief last season, going 0-0 with a 2.84 ERA.
In parts of three seasons for the Astros, he is 1-1 with a 5.74 ERA in 20 games, pitching 26 2/3 innings, striking out 27 and walking 15.
The 22-year-old Berryhill hit .240 in eight games in 2019 for Greeneville at the rookie level. He didn't play in any games last year because of the minor league shutdown caused by the coronavirus pandemic.