Where Panthers sale stands: Who's interested and what's next – Carolina Panthers Blog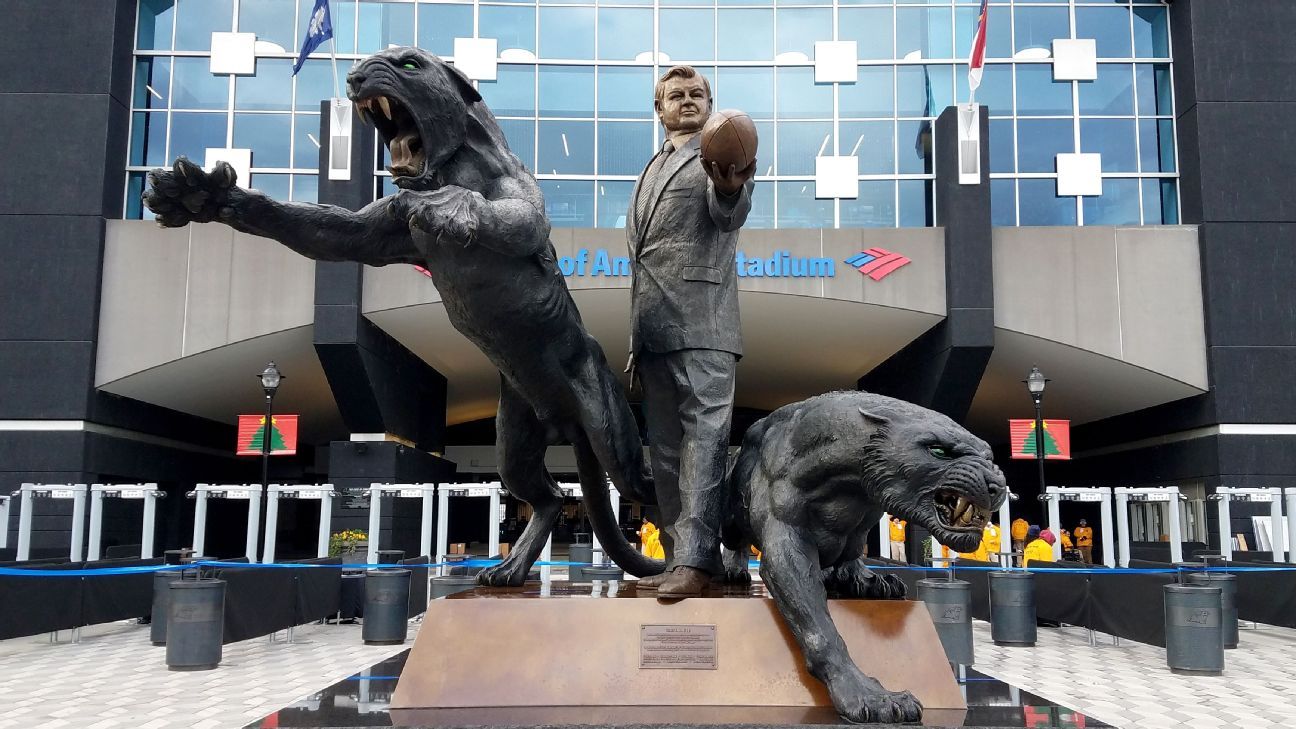 CHARLOTTE, N.C. — The next owner of the Carolina Panthers will set the market for other NFL teams that might go up for sale in the next five years. The next owner likely will not live in Charlotte, even though the team probably will remain here for years because this is where the league wants it. The next owner might even not be among the half-dozen reported potential bidders.
These are things we know.
What we don't know is who will be the next owner of the organization that founder Jerry Richardson put up for sale after the 2017 season amidst an NFL investigation into allegations of workplace misconduct ranging from sexual harassment to the use of a racial slur toward a former team scout.
We don't know when the purchase will be completed, though nothing appears imminent. The bidding process, which league sources say hasn't officially begun, could take months. Sources tell ESPN that the bidding likely will begin in March and could conclude by the May 21-23 spring meeting in Atlanta.
Richardson can accept or reject any bid, and the process could take several rounds of counter-bids before both sides reach an agreeable price.
Then three-quarters of the 32 owners must approve the sale, and that occurs after approval by the league's finance committee.
The spring meetings might be an optimistic timeline for approval.
The Buffalo Bills, the last NFL team sold, went on the market following the March 25, 2014, death of owner Ralph Wilson. The sale, for an NFL-record $1.4 billion, didn't get approval from the finance committee until September and wasn't finalized by owners until Oct. 8.
In other words, this is a lengthy process just like the sale of any corporation.
The Panthers have been valued at $2.3 billion, according to Forbes. They could be sold for that or more. They also could be sold for less — maybe considerably less.
It all depends on how many legitimate bidders there are to drive up the price. As it is now, there are only two real bidders: David Tepper and Ben Navarro.
Among the potential bidders reported so far, Tepper, the Pittsburgh Steelers' minority owner, appears to be the most solid in terms of having the capital to put up the required 30 percent of the selling price. If the team were to sell for $2.3 billion, that means $690 million up front.
Tepper, the founder of the global hedge fund firm Appaloosa Management, has a net worth of $11 billion, according to Forbes. He currently owns 5 percent of the Steelers. He caused an estimated $120 million tax loss for the state of New Jersey when he moved from there to Florida in 2016.
NFL executives have wondered if Tepper will open the floodgates or be a disciplined investor if he wins. The Panthers spent $198 million on the team in 2017, the second-most (the Lions spent $204 million) in the league, according to numbers released Monday by the NFLPA.
Because there appears to be a lack of other solid bidders, Tepper is the front-runner — at least for now.
Navarro, the founder of Charleston, South Carolina-based Sherman Financial Group LLC, was reported first by the Charlotte Observer as a potential Panthers bidder. He has a net worth of $3 billion, but sources tell ESPN that his assets are liquid enough to satisfy the 30 percent outlay.
Navarro could be a solid candidate from a financial standpoint, but he is not ideal from a sector standpoint. Sherman Financial Group and its affiliated companies buy delinquent consumer debt, mostly from credit card bills, in hopes of collecting what is owed and taking a cut.
While it's a tremendous business that Navarro has built to more than $2 billion in annual revenue, sources tell ESPN that the litigious nature of the debt collection industry has NFL owners concerned about having an NFL owner's name affiliated with such a business.
In 2014, Sherman had to pay $175,000 after New York Attorney General Eric Schneiderman charged the company with unlawful debt collection.
Given all the negative public relations the league has suffered — from safety and health issues to ownership battles and much more — it becomes harder to see Navarro winning. But he and Tepper are the major players known now.
Insiders are aware that multiple NFL teams likely will hit the market in the next five years, which could keep the Panthers' price below $2.3 billion.
The Tennessee Titans were asking for $500 million for a third of the team last year, according to league sources. They pulled back when they received an offer for only $300 million. That means the market, at least privately, valued the Titans at $900 million instead of the $1.5 billion they hoped. Nonetheless, expect the Titans to be back on the market soon.
The declining health of owners in New Orleans and Denver could lead those teams to be put for sale in the next five years, which means the marketplace could see the Panthers go for lower than expected because there's an expectation that other opportunities will be out there, including a gem in the Broncos.
While many have fixated on the Forbes number of $2.3 billion, no team in the past five transactions has traded for more than five times revenue. With Forbes putting the Panthers team revenue at $380 million, a five-times revenue evaluation has the team selling for $1.9 billion.
Some of the potential bidders for the Panthers have already taken themselves out of the equation. That is the case for Lorenzo and Frank Fertitta, the brothers who owned 80 percent of the Ultimate Fighting Championship before it was sold for $4 billion a year and a half ago.
They expressed initial interest in buying the Panthers, but sources told ESPN they now are out. The brothers engaged Rain Capital to explore the financials of the deal but knew that with their ownership of Red Rock Resorts Inc. — Frank is the chairman and CEO of the casino and entertainment company; Lorenzo is a board member — approval would be tough.
Although the league one day might accept owners who own gambling interests, that time does not appear to be now.
It doesn't make sense for the Fertittas to liquidate their investment. That said, expect the Fertittas to be bidders for NFL teams in the next five years and, one day, owners.
There also are bit players who are interested in the Panthers but don't have the financial wherewithal without a majority owner.
Several high-profile NASCAR drivers, including seven-time champion Jimmie Johnson, Kyle Busch, Dale Earnhardt Jr. and Jeff Gordon, reportedly have expressed interest in being minority owners with a group headed by Felix Sabates, who does not have the capital to be the primary investor.
The same goes for two-time NBA MVP Stephen Curry, a Charlotte native, who has expressed interest along with rap star Sean "P. Diddy" Combs in becoming a minority owner.
Speedway Motorsports founder Bruton Smith and his son, SMI president and COO Marcus Smith, have said in the past that they were interested in purchasing the team and have done initial research into what it would take. They don't appear to have the capital to be the majority owner.
The NFL allows up to 25 owners as long as one person puts down 30 percent. Richardson owns 48 percent of the Panthers.
Often in the sale of an NFL franchise, the names of potential owners don't become known until the bids are in or the sale is close to complete. That means there could be other potential bidders out there.
The Panthers have hired Steve Greenberg of New York investment bank Allen & Co. to help with the process. The banking and legal team have worked to sell the Los Angeles Clippers, Washington Wizards, St. Louis Cardinals, Brooklyn Nets and other big-name sports franchises in recent years.
That we also know. But there's still a lot more unknown than known.
New Orleans Saints' Michael Thomas ruled out vs. Green Bay Packers with ankle injury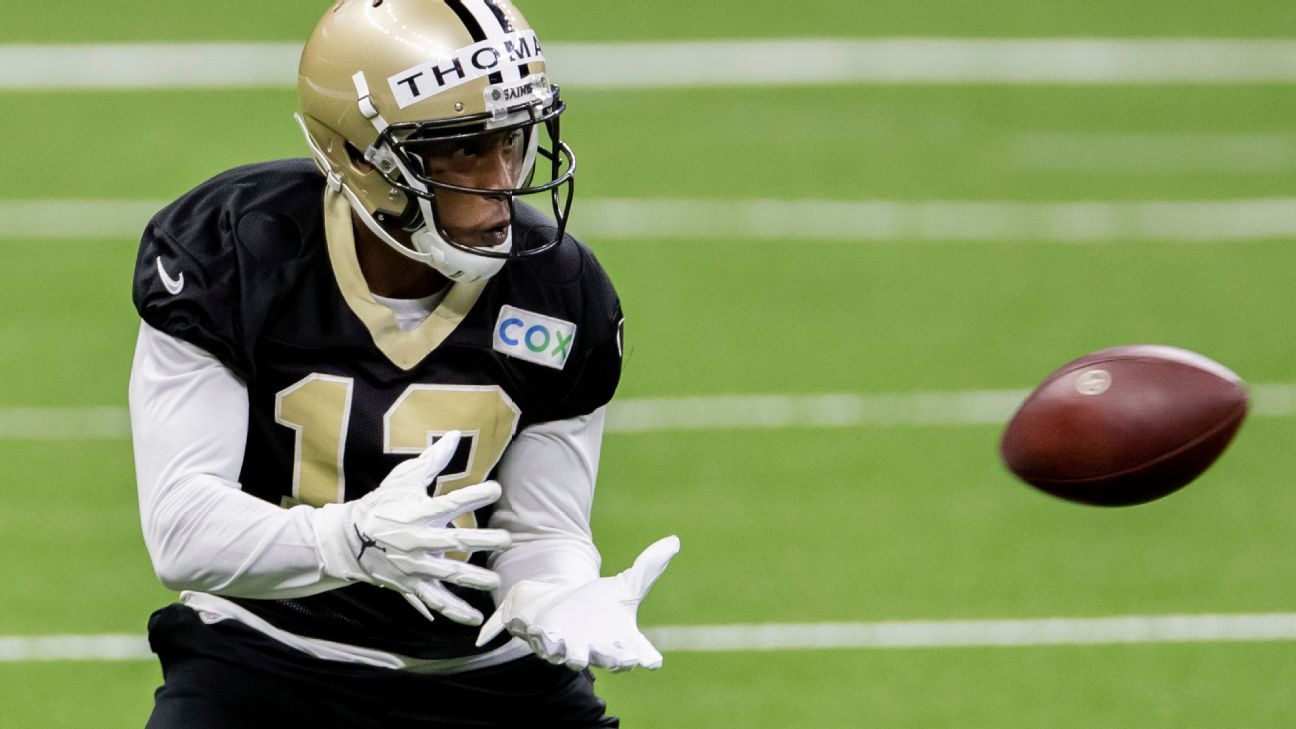 METAIRIE, La. — New Orleans Saints receiver Michael Thomas won't play in Sunday night's game against the Green Bay Packers after he was ruled out for the second straight week with his high ankle sprain.
Thomas has not practiced since he suffered the ankle injury during the final minutes of New Orleans' Week 1 victory over the Tampa Bay Buccaneers. However, the team chose not to place him on injured reserve — which would have required him to miss at least three games. So there is still hope that he could potentially return as soon as next week.
The Saints' offense struggled without Thomas in Monday night's 34-24 loss to the Las Vegas Raiders, which led to scrutiny over Drew Brees' lack of downfield passes.
Brees completed 26 of 38 passes for 312 yards with one touchdown and one interception. Third-year receiver Tre'Quan Smith caught five passes for 86 yards, but newly signed veteran receiver Emmanuel Sanders had just once catch for 18 yards.
"Obviously with the loss of Mike Thomas last week, we're having to fit some guys in new roles, get some guys some significant playing time, maybe in different situations that they haven't been in before," Brees said earlier this week. "I think there definitely is that element of just getting everybody on the same page, everybody in sync. And man, I'm confident with the guys that we have, with the system that we have and everything that we're gonna be able to get back on track."
Thomas is obviously vital to New Orleans' offense. He won the NFL's Offensive Player of the Year award last season after setting the NFL record with 149 catches in a season.
Thomas isn't the only star receiver who might be missing from Sunday night's marquee matchup, however. Packers receiver Davante Adams is listed as doubtful after missing practice all week with a hamstring injury.
Detroit Lions' Kenny Golladay (hamstring) hopes to make debut vs. Arizona Cardinals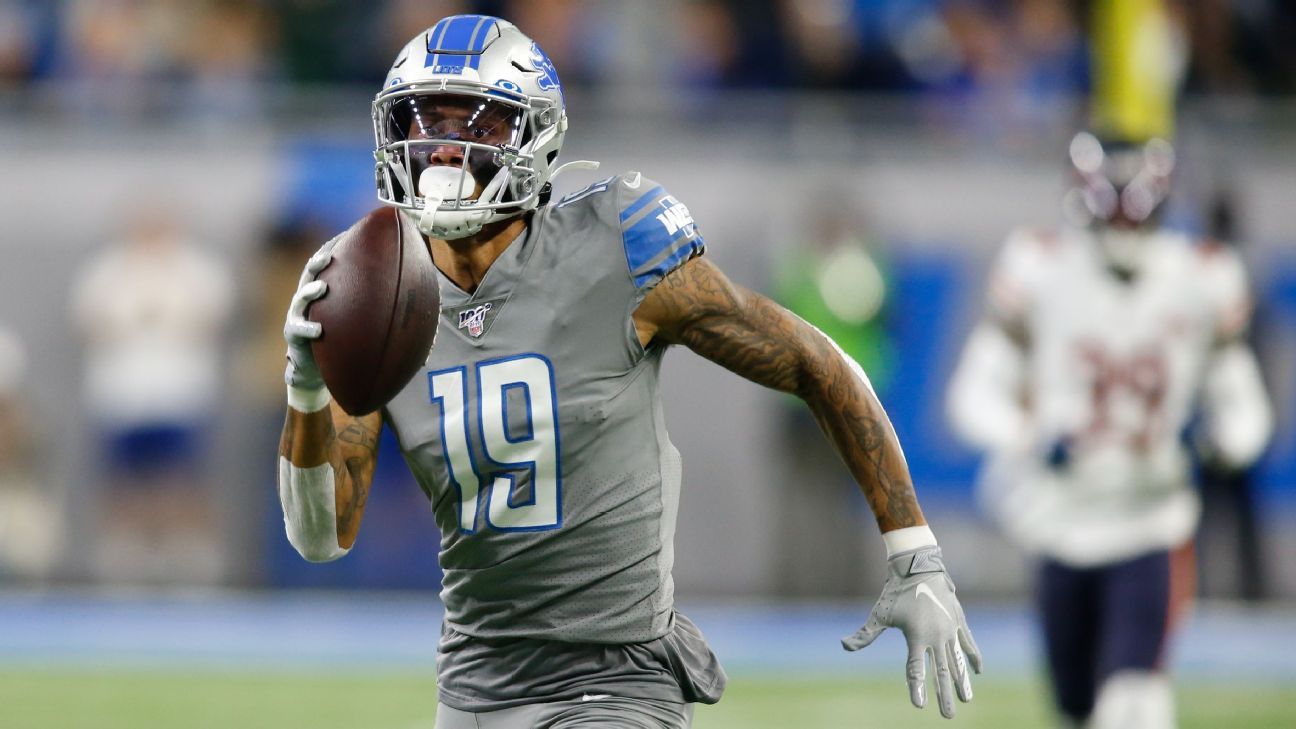 The Detroit Lions seem to be closer to getting back their top wide receiver.
Kenny Golladay said he hopes to make his season debut against the Arizona Cardinals on Sunday after missing the first two games with a hamstring injury. "God-willing, I'm going to try everything in my power to be out there with the guys," Golladay said.
The Pro Bowl wide receiver practiced on a limited basis Wednesday, Thursday and Friday and said while he doesn't feel 100 percent — he wouldn't put a percentage on how healthy he is — he's going to do everything he can and show enough to play against Arizona.
In three career games, Golladay has three touchdowns against Arizona.
Golladay, 26, said the injury has been frustrating, but that unlike his rookie year when he also had a hamstring injury, he listened to his body more this time around. He also said he understood his body more and wanted to make sure there wouldn't be any setbacks. So he listened to his trainers and didn't push anything.
"Me missing a couple of games to try and be back hopefully for Week 3," Golladay said. "That's better than me missing six games."
Detroit is getting healthier. In addition to Golladay, right tackle Halapoulivaati Vaitai (foot) is questionable but practiced all week. Cornerback Desmond Trufant (hamstring) is doubtful, safety C.J. Moore (calf) is questionable and tight end Hunter Bryant (hamstring) is out.
Tennessee Titans LB Vic Beasley finally set for season debut
NASHVILLE, Tenn. — Outside linebacker Vic Beasley will make his debut for the Tennessee Titans on Sunday when they travel to Minnesota to face the Vikings.
Beasley has been dealing with a knee injury that limited him in practice for most of the previous two weeks. After working on a separate field with head coach Mike Vrabel, Beasley has been a full participant at practice since Thursday of last week.
The sixth-year linebacker signed a one-year, $9.5 million deal with the Titans in March and took part in virtual meetings with the team during the offseason. But Beasley reported to camp 10 days late, an unexcused absence that resulted in a $500,000 fine.
"There was a little disagreement here and there, but those things are behind us. I have moved on and let bygones be bygones," Beasley said Friday. "That's something that we'll keep confidential between me and the other party. What's understood is understood. We came to an agreement, settled our differences and are both understanding of the situation. It's all smiles on both ends, and we are happy to work together."
Once Beasley got to camp he was placed on the non-football injury list. The Titans listed Beasley on the practice report with a knee injury. Beasley complimented the Titans' training staff, calling it "amazing" and saying "they have been nothing but good" for him.
As a member of the Atlanta Falcons, Beasley led the NFL with 15.5 sacks in 2015. He finished with 8.5 sacks for the Falcons last season. A questionable work ethic and passion for the game reportedly led to Beasley becoming a free agent. But he feels he's in the right place with the Titans.
"I'm excited getting to work with Vrabes, a guy who has the defensive perspective and actually played the same position that I did. That can only benefit me," Beasley said. "I love the game. I wouldn't waste nobody's time if I didn't love the game. I'm not going to give nobody half-hearted effort."
Now that he is on the field, the Titans hope to get a boost in their pass rush that can help them reach the ultimate goal. Said Beasley, "Here, we are all on the same mission — that's to win the Super Bowl."
Wide receiver A.J. Brown was ruled out for Sunday's game with a knee injury, while rookie running back Darrynton Evans is set to make his NFL debut.