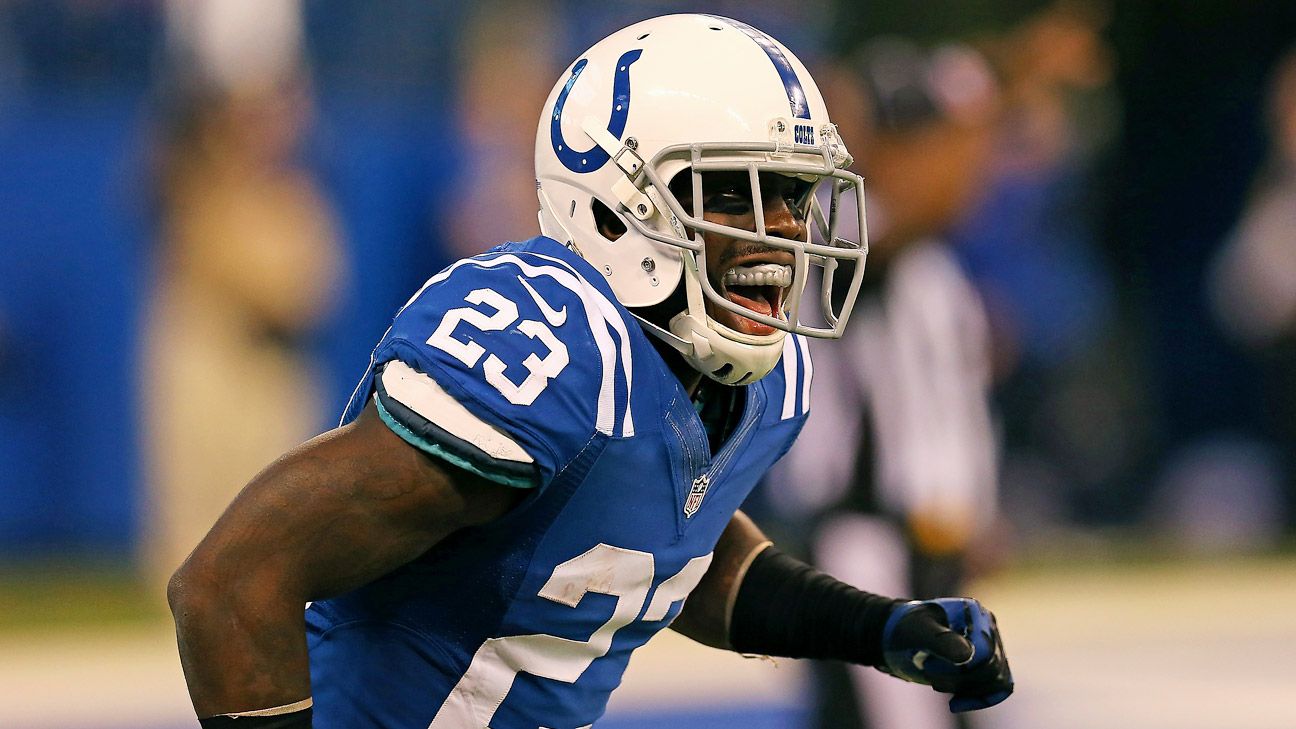 The Buffalo Bills agreed Monday to a one-year deal with free-agent cornerback Vontae Davis, a source confirmed to ESPN NFL Insider Adam Schefter.
Davis announced his decision in a tweet Monday evening after visiting several teams over the past two weeks.
— Vontae Davis (@vontaedavis) February 27, 2018
Davis was medically cleared earlier this month following core injury surgery that was performed late last season.
The Bills' signing of Davis means they will not be expected to re-sign starting cornerback E.J. Gaines when he becomes an unrestricted free agent March 14.
Davis, 29, was released by the Indianapolis Colts on Nov. 9 after he sought additional medical opinions and opted to have season-ending surgery. The Colts made an announcement that Davis would not make the trip with the team on the Saturday before Indianapolis' Week 9 game against the Houston Texans, saying the decision wasn't related to an injury.
Before he was released, Davis said he felt disrespected when the Colts left him behind. He said he hadn't played well in 2017 because he was still dealing with the groin injury he suffered against Pittsburgh in the third preseason game, which caused him to miss the first three weeks of the regular season.
In 120 career games spanning nine seasons with the Colts and Miami Dolphins, Davis, a two-time Pro Bowl selection, has made 112 starts with 395 tackles, 22 interceptions and 106 passes defensed.
ESPN's Mike Wells contributed to this report.
Buffalo Bills beat Baltimore Ravens, advance to first AFC Championship Game since 1993 season
Sparked by cornerback Taron Johnson's record-tying 101-yard interception return for a touchdown in the third quarter, the Buffalo Bills defeated the visiting Baltimore Ravens 17-3 on Saturday night to advance to the AFC Championship Game for the first time since the 1993 season.
The second-seeded Bills will face the winner of Sunday's game between the Cleveland Browns and Kansas City Chiefs (CBS, 3:05 p.m. ET).
If the defending Super Bowl champion Chiefs win, the Bills will travel to Arrowhead Stadium for the game next Sunday at 6:40 p.m. ET.
If the Browns win, the AFC Championship Game will be played in Orchard Park, New York, next Sunday at 6:40 p.m. ET.
The last time the Bills played in the AFC Championship Game was Jan. 23. 1994. They beat the visiting Chiefs in that game to earn their fourth straight trip to the Super Bowl (a game they would lose for the fourth straight year).
The Bills' return to prominence under fourth-year head coach Sean McDermott has had Western New York buzzing, with Saturday night's game played before approximately 6,700 fans at Bills Stadium that sounded more like 67,000 on NBC's television broadcast. The stadium had been closed throughout the regular season due to COVID-19, but state and local officials put together a plan for the postseason that allowed attendees who registered a negative COVID-19 test to attend.
Johnson's 101-yard interception return of Ravens quarterback Lamar Jackson – which tied the NFL's record set by Green Bay's George Teague in 1993 — helped break things open on a windy Saturday night.
Just as it appeared the Ravens were driving for a potential tying touchdown on a march that lasted more than eight minutes, Jackson didn't seem to see Johnson cut underneath on third-and-goal from the 9-yard line.
Johnson, a third-year cornerback from Weber State, raced untouched 101 yards, with NFL Next Gen Stats clocking him with a max speed of 20.39 miles-per-hour on the play. Not even the speedy Jackson, who was clocked with a max speed of 20.66, could catch him.
On the Ravens' next drive, Jackson was knocked out of the game after taking a hit and having his head bang against the turf. The Ravens announced he was in the concussion protocol, and the Bills closed things out against backup Tyler Huntley.
It was much tighter in the first half.
The Bills' pass-first plan- when the teams went to halftime tied at 3 after normally reliable Ravens kicker Justin Tucker missed two field goals – was an outside-the-box approach.
Buffalo didn't call a rushing play in the first quarter. According to Elias, the Bills are the only team in the last 60 postseasons to have no rushing plays in the first quarter of a playoff game.
Buffalo ended the half with three total rushes — one on a scramble by quarterback Josh Allen on a designed pass play, and another coming with Allen's kneel-down on the final play.
The three rushes tied for the fewest in the first half of a playoff game over the last 70 seasons, joining the Green Bay Packers (2016 NFC Championship Game), St. Louis Rams (1999 divisional round) and Houston Oilers (1990 wild card round).
The Bills notably turned to the run on their opening drive of the second half, which produced the game's first touchdown — a 4-yard catch-and-run by receiver Stefon Diggs, who became the first Bills player with a receiving touchdown in consecutive playoff games since Pro Football Hall of Famer Thurman Thomas (1995-96).
Baltimore Ravens QB Lamar Jackson suffers concussion in loss to Buffalo Bills
Baltimore Ravens quarterback Lamar Jackson was ruled out for the fourth quarter after suffering a concussion in Saturday's AFC divisional playoff game at the Buffalo Bills.
The Ravens went on to lose 17-3.
On the final play of the third quarter, Jackson's head snapped back and hit the turf in the end zone of Bills Stadium after throwing the ball away and taking a hit from Bills defensive end Trent Murphy. Jackson immediately grabbed his helmet with both hands after hitting the ground. He then threw his hands up in frustration as he headed to the locker room with a trainer.
Jackson was flagged for intentional grounding on the play.
Undrafted rookie Tyler Huntley replaced him with the Ravens trailing 17-3. The Ravens' other quarterbacks — Robert Griffin III and Trace McSorley — are on injured reserve.
Jackson's injury came two plays after he threw just the second pick-six of his career. After driving down to the Buffalo 9-yard line, Jackson stared down tight end Mark Andrews and was picked off in the red zone for the first time in his career.
Taron Johnson outran Jackson and returned the interception 101 yards for the score. Instead of potentially tying the game, the Ravens fell behind by two touchdowns.
Jackson finished 14-of-24 for 162 yards passing and managed just 34 yards rushing on nine carries. It was his third-fewest rushing yards since taking over as Baltimore's starter in the middle of the 2018 season.
Los Angeles Rams star Aaron Donald hampered, emotional in loss to Green Bay Packers
Los Angeles Rams defensive tackle Aaron Donald stood on the sideline at Lambeau Field and was unable to hold back tears as the clock wound down to a 32-18 loss to the Green Bay Packers in a divisional-round playoff.
Rams coach Sean McVay and defensive line coach Eric Henderson tried to console Donald, who played Saturday only a week removed from suffering a significant rib injury in a wild-card playoff win.
"I love Aaron Donald, it means a lot to him," McVay said after the game, "and it's unfortunate that he wasn't at full strength today."
Before Saturday's game, Donald said he felt good, strong, and would be ready to play. But the two-time NFL Defensive Player of the Year was clearly limited against Aaron Rodgers and the Packers.
Wearing protective padding on his ribs, Donald played only 55% of the snaps, down from his season average of 85%, though McVay said he was not on a snap count.
"Aaron is able to sub himself," McVay said. "The plan going in was seeing how he feels, he's kind of always got the ability to tell us how he's feeling."
Donald was doubled-teamed on 15 of his 21 pass rushes and failed to record a pass rush win — beating a block within 2.5 seconds — for only the second time since 2017, according to ESPN metrics powered by NFL Next Gen Stats. He recorded one pressure against Rodgers, however the Packers' quarterback completed a 33-yard pass to tight end Robert Tonyan on the play.
Rams defensive lineman Michael Brockers expressed disappointment for Donald after the game.
"Hard for a guy like that to work as hard as he does to put in everything that he does," Brockers said, later adding, "[I] just got to talk to him, let him know, 'Man, that's not on you, that's not on you — there's no reason you have to feel that way, [that] you feel like you failed or anything like that. You gave us everything you had and you're the reason why we're here.'"
Donald finished the regular season ranked No. 2 in the NFL with 13.5 sacks and added two more in the 30-20 wild-card win over the Seattle Seahawks.
The Rams' defense finished the regular season ranked No. 1 in the NFL in efficiency, yards allowed per game (281.9) and points allowed per game (18.5).
However, Rodgers and the Packers piled up 484 total yards of offense and kept the Rams' defense on the field, dominating the time of possession, 36:12 to 23:48.
Prior to Saturday, the Rams had not let an opponent this season score on its first three drives, but the Packers scored on five straight to open the game, including a 14-play, 84-yard touchdown drive that was prolonged when Donald — in apparent frustration — picked up a penalty for unnecessary roughness when he grabbed offensive lineman Elgton Jenkin's facemask.
Donald was not made available to reporters after the game.