Vontae Davis agrees to one-year deal with Buffalo Bills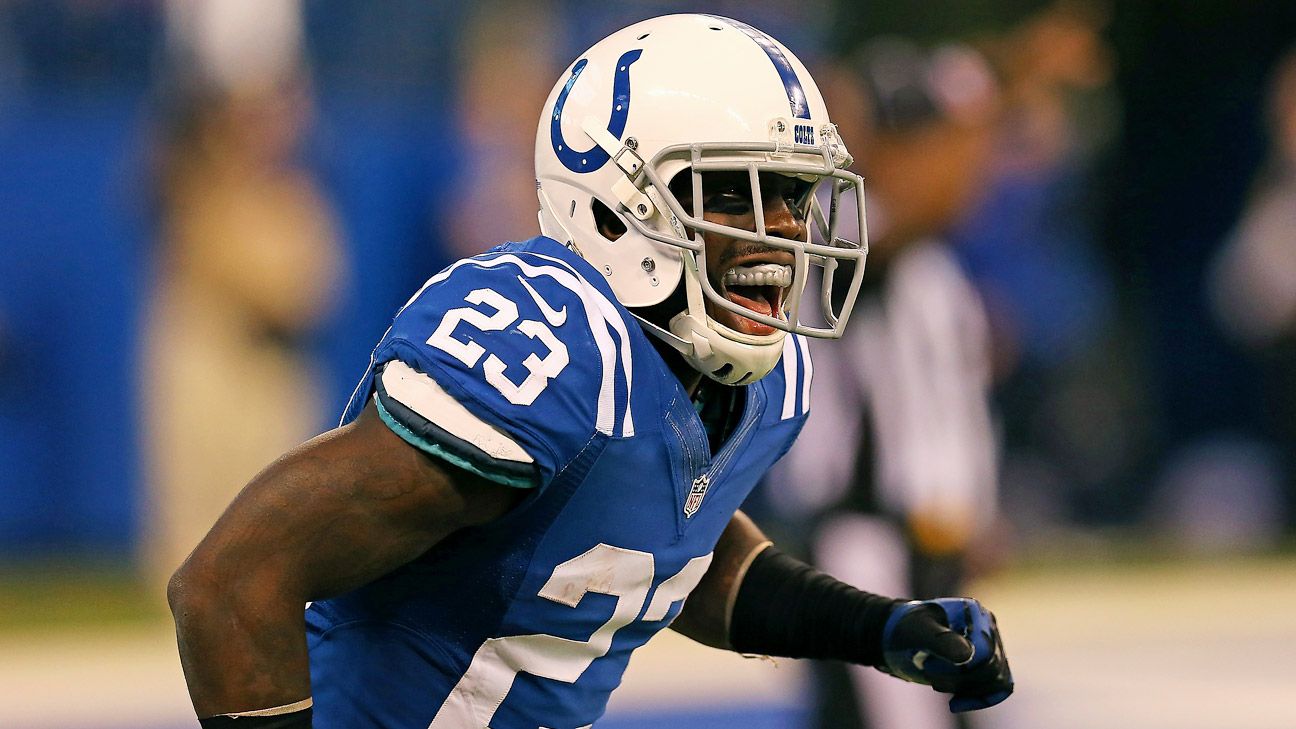 The Buffalo Bills agreed Monday to a one-year deal with free-agent cornerback Vontae Davis, a source confirmed to ESPN NFL Insider Adam Schefter.
Davis announced his decision in a tweet Monday evening after visiting several teams over the past two weeks.
— Vontae Davis (@vontaedavis) February 27, 2018
Davis was medically cleared earlier this month following core injury surgery that was performed late last season.
The Bills' signing of Davis means they will not be expected to re-sign starting cornerback E.J. Gaines when he becomes an unrestricted free agent March 14.
Davis, 29, was released by the Indianapolis Colts on Nov. 9 after he sought additional medical opinions and opted to have season-ending surgery. The Colts made an announcement that Davis would not make the trip with the team on the Saturday before Indianapolis' Week 9 game against the Houston Texans, saying the decision wasn't related to an injury.
Before he was released, Davis said he felt disrespected when the Colts left him behind. He said he hadn't played well in 2017 because he was still dealing with the groin injury he suffered against Pittsburgh in the third preseason game, which caused him to miss the first three weeks of the regular season.
In 120 career games spanning nine seasons with the Colts and Miami Dolphins, Davis, a two-time Pro Bowl selection, has made 112 starts with 395 tackles, 22 interceptions and 106 passes defensed.
ESPN's Mike Wells contributed to this report.
New York Giants activate WR Sterling Shepard for Eagles game
New York Giants wide receiver Sterling Shepard has been activated from injured reserve and is expected to play Thursday night against the Eagles.
Shepard has been sidelined since suffering a toe injury in Week 2.
Shepard, 27, has battled injuries each of the past two seasons, missing 10 of the Giants' 22 games over that stretch. The former second-round draft pick has eight catches for 76 yards this season.
The Giants also elevated wide receiver Alex Bachman and linebacker Trent Harris from their practice squad Thursday.
Baltimore Ravens to take a look at WR Dez Bryant
The Baltimore Ravens are planning to bring in wide receiver Dez Bryant for evaluation, and if he's a fit they would sign him to their practice squad, sources confirmed to ESPN's Ed Werder on Thursday.
The move to the practice squad would give Bryant a chance to get in game shape, sources said, adding that the team thinks he can help as a physical presence.
The Ravens have been courting the 31-year-old Bryant for years. He worked out for the team in August but left without a deal.
Bryant is attempting to become the second Pro Bowl wide receiver to miss two full seasons and then return to the NFL since the 1970 merger, according to the Elias Sports Bureau (Josh Gordon was the first). Bryant hasn't played in a game since December 2017.
The Ravens attempted to sign Bryant in April 2018. However, he turned down a multiyear offer from the team then because he wanted a one-year deal and a chance to prove himself, in hopes of getting a bigger long-term deal in 2019, according to Werder.
Bryant signed a one-year, $1.25 million deal with the New Orleans Saints in November 2018. But he tore an Achilles tendon during his first practice with the Saints and has been out of the NFL since.
Bryant's 531 career receptions would be the most by any wide receiver before missing two full seasons and then returning to the NFL, according to Elias.
The NFL Network first reported the Ravens' latest interest in Bryant.
Information from ESPN's Jamison Hensley was used in this report.
Cowboys coach Mike McCarthy keeps focus on beating NFC East rivals
FRISCO, Texas — Winning division games is always important. It's even more important when the four teams have combined for five wins through six weeks like the NFC East.
The Dallas Cowboys are atop the division with a 2-4 mark. Their next two games are against 1-5 Washington on Sunday and then the 1-4-1 Philadelphia Eagles.
"Win the division games, you win the division," Mike McCarthy said Thursday. "Clearly that's the way our division is set up where everybody is as far as their season and the number of wins and losses. This is probably going to come down to the division games like it normally is. On a yearly basis, the production of wins, how it leads to a playoff berth, you need to really be north of four division wins. If you look at the fourth division win, it kicks you into a lot higher percentage as far as your probability of making the playoffs. Obviously if you win five or six of your division games, your probability is even higher.
"So I think from a focus standpoint it's obvious, and this year as far as where all the teams are, all four teams after six games, it's right in front of us."
The Cowboys are 1-0 in the NFC East, having beaten the 1-5 New York Giants in Week 5. Since 2016, the Cowboys have an 18-6 mark in the division, and since 2017, they have finished 5-1 in the division each year, making the playoffs in 2018 but missing the postseason in 2017 and 2019.
The division's .229 combined winning percentage is the second worst for any division through Week 6 since the 1970 AFL-NFL merger, and ESPN's Football Power Index predicts there is a 28% chance the NFC East winner will have six or fewer wins.
The NFC East is the only division with three new head coaches: McCarthy, Joe Judge (Giants) and Ron Rivera (Washington).
"Honestly nothing surprises me in this league anymore, and this is an unusual year," McCarthy said. "I think it just really is a confirmation that you just need to focus on your own football team, continue to clean your own house, which we obviously had some cleaning to do this week, and just keep things in perspective. As long as the goal is in front of you, it's a good situation to be in. When you're playing from behind or you're playing uphill, obviously it's more of a challenge.
"Those aren't statistics I spend a lot of time on. I think it's about winning one game each week, and frankly this is a big game for us."