TAMPA, Fla. — After three years as an NFL starter, Tampa Bay Buccaneers quarterback Jameis Winston is still hard to figure out. He has produced dazzling highlights coupled with maddening turnovers, finding open receivers long after plays have broken down, yet coughing up the ball when he should have taken sacks.
What does that mean for the development of the Bucs' 24-year-old franchise quarterback?
'He needs to stop forcing things'
Winston broke Dan Marino's NFL record for most touchdown passes thrown before a player's 24th birthday with his 69th this past season. But he's thrown the second-most interceptions (44) since 2015, when he entered the league, and has turned the ball over 59 times in 45 games. His 15 lost fumbles are also the most of any player during that span. While his turnovers dropped from 24 in 2016 to 18 in 2017, the rate of those turnovers per snap actually went up, from 2.28 percent to 2.38.
"Turnovers are the No. 1 thing that gets you beat, so [I am] very concerned," said the Bucs' Dirk Koetter, who's been with Winston all three seasons, the past two as head coach. "Jameis knows that. He knows. Jameis is streaky with his turnovers. He can go three or four games and not turn the ball over and then we had a game [against the Saints] where he turned it over three times."
An NFC defensive assistant whose team faced Winston this season echoed those sentiments. The scouting report on him said Winston was "inconsistent" when it came to "decision-making and poise."
Turnovers also were an issue for Winston — the No. 1 pick in the 2015 draft — at Florida State, where he threw 28 interceptions and lost two fumbles in 27 games. But the difference was that the Noles had nearly a plus-24-point margin in those games, with a turnover edge of plus-11. It's a different story in the NFL.
"It's rare that you can overturn a negative turnover ratio," Koetter said. "It's definitely something that has to be corrected, and that is one of the top things that would help us not be 3-7 in one-score games because they are hard to overcome when you don't win the turnover [battle]."
The Bucs' points margin since Winston entered the league is minus-137, with a turnover margin of minus-4. Even one fumble can lose games, as was the case in Week 13, when Packers defensive end Dean Lowry returned a Winston fumble 62 yards for a touchdown.
"I like him and his skill set. I just think he needs to settle down and stop trying to force things and do so much," said one scout whose team faced the Bucs in 2017. "I know it's his competitive nature, but he just needs to stop forcing throws and taking bad throws. … He'll present the defense with multiple opportunities to create turnovers."
Shoulder injury played role in 2017 struggles
Some of Winston's mistakes can be attributed to the shoulder injury that plagued him most of the season and forced him to miss three games. He struggled particularly with the deep ball, completing just 16 of 53 (30.2 percent) passes of 20 or more air yards, which was 23rd in the NFL.
"It's definitely something that can affect your velocity, accuracy, your mechanics, your ability to push it down the field," New Orleans Saints quarterback Drew Brees said. "I don't know Jameis' exact injury from this season, I just know what I've experienced in the past with different things. It depends what the injury is, but certainly those things can be affected."
Lack of deep-ball accuracy can hurt an offense predicated on making explosive plays downfield, particularly a roster with no true possession receivers. It also nullified any sort of competitive edge the Bucs had in signing speedster DeSean Jackson to a $35 million contract in the offseason. Jackson, who was getting separation on his routes but not catching many passes, had just 668 yards, the lowest total in his 10-year career for a season in which he played at least 11 games.
Then there were reports of a growing rift between Winston and Koetter, stemming from Winston feeling that his coach didn't have his back during the injury and frustration over Koetter's lack of creativity in his playcalling. Publicly, Winston denied that a rift existed, and Koetter called their relationship "extremely consistent." Sources close to the situation suggest the two need to work on their communication.
The 2017 season was the first time Winston had missed a game, at any level, due to injury. Sources say he hurt his throwing shoulder in a Week 3 loss to the Vikings, but he didn't show up on the injury report until Week 7. It was a new experience for him, but Winston needed to communicate to the coaching staff how he was feeling. If he didn't feel that his deep ball was there, he needed to let them know. As a third-year quarterback, he had more of a say in the game plan. Yet young, highly competitive players don't usually advocate for themselves, and it's up to the coaching staff to recognize when they're limited by injuries.
Koetter did Winston no favors by having him attempt 82 passes — second most in the league — in the two weeks following the hit by Chandler Jones in a Week 6 loss to the Cardinals that worsened his shoulder issues. And 22 of those attempts were for 15 or more air yards. Plenty of games have been won by throwing underneath and moving the ball incrementally down the field. If Winston is to improve, he and Koetter have to develop a more open dialogue.
Good and bad of being a fiery player
Winston is a passionate player and a fiery leader, which the Bucs lacked with previous young quarterbacks in Josh Freeman and Mike Glennon. He might have unconventional motivational tactics, like his widely mocked pregame speech about "eating W's," but teammates appreciate his passion and feed off of it. Backup safety Keith Tandy likened Winston to an uncle, saying, "When he looks you in the eyes, you feel it in your soul and you want to go out and make a play for him."
Even Saints coach Sean Payton can see it from the outside.
"I think there's a tremendous amount of confidence amongst his teammates," Payton said. "You can see that on film, you can see that when you watch the TV copy. You can see his leadership in the huddle, out of the huddle, at the line of scrimmage, and I think guys feel like at any time, they can get the football and make a play."
But Winston's passion also can be destructive.
He was fined $12,154 in Week 9 for an incident involving Saints cornerback Marshon Lattimore that resulted in a suspension for wide receiver Mike Evans. In the final minutes of the Week 16 loss to the Carolina Panthers, Winston was so irate over a lost fumble that he attempted to charge after an official, knocking over Bucs director of football operations Shelton Quarles, who was trying to restrain Winston. Then there was the 2016 head-butting incident with Justin Durant of the Cowboys.
"We've had conversations with him [about that], but I'll keep [the details of] that in-house," Bucs general manager Jason Licht told ESPN. "But he's the ultimate competitor. He wants to win as much as anybody in this town. He had acknowledged what he's done and what he needs to do moving forward. He gets it. He's a professional. We're moving forward."
"He's the ultimate competitor. He wants to win as much as anybody in this town. He had acknowledged what he's done and what he needs to do moving forward. He gets it. He's a professional. We're moving forward."

Bucs GM Jason Licht
Winston has shown he's not afraid to hold teammates accountable, approaching defensive tackle Chris Baker with multiple teammates who didn't appreciate Baker's smiling demeanor after a penalty cost them a victory over the Panthers on Dec. 24. Winston's outburst at the end of the game likely contributed to the yelling that ensued in the locker room among Baker, Winston and several teammates.
As a 24-year-old entering his fourth season and a soon-to-be father, Winston needs to learn to help defuse those situations, not escalate them, or he'll wind up with more costly penalties, fines and maybe even a suspension. That's an area where veteran backup Ryan Fitzpatrick can assist, if he returns. Winston has praised Fitzpatrick for his calm, steadiness and consistency.
Part of being a leader and the face of a franchise also means making good decisions off the field. There were a lot of question marks surrounding Winston after he was accused of sexual assault and was cited for shoplifting at Florida State. But once he got to Tampa, there were no issues until November 2017, when a female Uber driver publicly accused Winston of grabbing her crotch.
Winston, who was riding with former college teammate Ronald Darby — who was also with him the night the alleged assault took place at Florida State — and another passenger that night in Arizona, said he believes the driver was mistaken. No charges were filed stemming from the March 2016 incident, but the NFL is investigating. Winston's availability could be affected by the outcome.
"There's nothing we can do about the investigation," Licht said. "The league is going to do its due diligence in investigating it and we'll deal with that when they come to a decision. But we'll be prepared. I promise you, we'll be prepared regardless of whatever decision is made."
'We've got the right guy'
Once healthy, Winston produced one of the best performances of his career on Dec. 18 against the Atlanta Falcons, throwing for three touchdowns and no interceptions, completing 77.1 percent of his passes and posting a 130.5 passer rating. Even more impressive was that Jackson, tight end O.J. Howard and right guard J.R. Sweezy all left the game with injuries. It was truly the first time in Winston's NFL career that he carried a team on his back.
That was all part of a strong finish to the 2017 season once Winston returned Dec. 3 from the shoulder injury. From Week 13 to Week 17, Winston led the NFL with 1,584 yards passing, tied for third with nine touchdown passes and was 11th in Total QBR with 57.2 after ranking 25th in Weeks 1-12.
That's something to build on going into 2018.
If Winston can stay healthy, he can rebound playing a last-place schedule that includes the Cincinnati Bengals, Cleveland Browns, New York Giants and Washington Redskins. But he and the Bucs certainly have their work cut out for them in an NFC South featuring three 2017 playoff teams.
"We've got the right guy," Licht said. "He's got the right mindset. The combination of toughness, intelligence, work ethic … all those things never cease to amaze me, to be honest with you."
Report — Former NFL player Phillip Adams kills 5 in South Carolina, then himself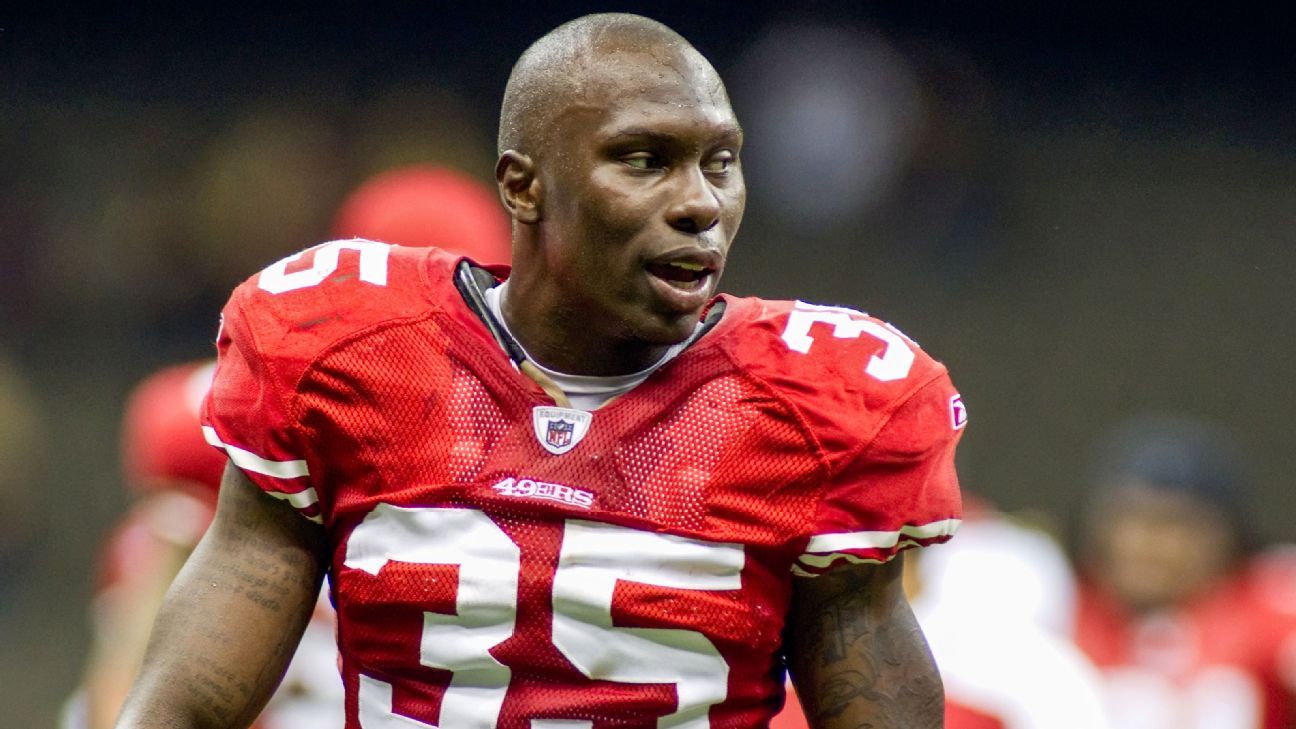 COLUMBIA, S.C. — The gunman who killed five people including a prominent doctor in South Carolina was former NFL pro Phillip Adams, who killed himself early Thursday, according to a source who was briefed on the investigation.
The source, who spoke on condition of anonymity because he wasn't authorized to speak publicly, said Adams' parents live near the doctor's home in Rock Hill, and that he had been treated by the doctor. The source said Phillips killed himself after midnight with a .45 caliber weapon.
The York County Sheriff's Office said they had searched for hours before finding the suspect in a nearby home.
The York County coroner's office said Dr. Robert Lesslie, 70, and his wife, Barbara Lesslie, 69, were pronounced dead at the scene along with grandchildren Adah Lesslie, 9, and Noah Lesslie, 5.
A man who had been working at the home, James Lewis, 38, from Gaston, was found shot to death outside, and a sixth person was hospitalized with "serious gunshot wounds," York County Sheriff's Office's spokesperson Trent Faris said.
Faris said deputies were called around 4:45 p.m. Wednesday to the Lesslies' home in the Rock Hill area, and spent hours searching for the suspect before finding him in a nearby home.
"We have found the person we believe is responsible and we are with him at this time and that's all I can say about the suspect," Faris said.
The investigation is ongoing, he said.
Dolphins' 2021 NFL draft options at RB: Najee Harris at No. 18 or wait? – Miami Dolphins Blog
MIAMI — Since the moment Alabama running back Najee Harris leaped over a Notre Dame defender en route to a 53-yard run during January's Rose Bowl, Miami Dolphins fans have been dreaming of the 6-foot-2, 232-pound playmaker wearing aqua on Sundays.
There has been plenty of debate about the Dolphins' No. 6 pick in the 2021 NFL draft, which is expected to be a pass-catcher with LSU's Ja'Marr Chase, Alabama's DeVonta Smith and Florida's Kyle Pitts as Miami's most likely options.
But let's focus on running backs, which could be a target for the Dolphins' other top picks at No. 18 as well as two second-round picks (Nos. 36 and 50).
The Dolphins are interested in drafting a feature running back, sources told ESPN, with added intrigue in bigger, complete backs.
Harris, who is listed by ESPN draft analysts Mel Kiper Jr., Todd McShay and Matt Miller as this draft's top-rated running back, was connected to Miami when he was a late add to the Dolphins' Senior Bowl roster. Harris seems likely to be available at No. 18, but much less likely to be there at No. 36. The dilemma is whether the Dolphins should take the plunge at No. 18, or see if there is better value in drafting a more premium position such as pass-rusher with Georgia's Azeez Ojulari, Miami's Jaelan Phillips and Michigan's Kwity Paye among the top options.
We start by taking a deeper look at the draft's top options. ESPN asked nine football analysts who their top-three prospects are in order, and the panel includes Kiper, McShay, Miller, three NFL scouts or personnel executives, a NFL running back and Running Back Academy draft prep coaches Jerry Seymour Jr. and Torri Harmon.
All nine listed the same three names, but in different orders — Harris, Clemson's Travis Etienne, and North Carolina's Javonte Williams. Beyond that, there was little consensus on order (see chart for full breakdown).
The results illustrate it is a pick-your-flavor type of running back class, so is Harris, Etienne or Williams worth the Dolphins' mid-first round pick?
"I don't think any of these backs are worth a first-round pick," said the AFC scout, who listed Etienne as the top-rated running back. He had higher grades on Wisconsin's Jonathan Taylor and LSU's Clyde Edwards-Helaire last year than the 2021 class.
Our ESPN draft analysts all selected Harris as the top running back, with Kiper noting, "he's a complete running back. He's good at everything — run, catch, block and he doesn't fumble."
Miller said Harris' "ability to run with power is exceptional at 230 pounds, but the agility, ability to create laterally and make people miss inside the tackle box stands out more." Miller also mentioned Williams "runs more violently than any back in this class."
Etienne received the highest vote total among our panel, and those who favored him pointed to his superior speed and explosiveness. The NFC personnel executive worried how Harris' lack of long runs would translate to the modern NFL, and noted Etienne could be effective in an Alvin Kamara-type of role.
Miami has done its homework. Dolphins co-offensive coordinator Eric Studesville led Etienne through drills at Clemson's pro day. Etienne said he would love to be coached by Studesville. Dolphins general manager Chris Grier and Studesville watched Williams at North Carolina's pro day. The Dolphins' staff spent a week with Harris at the Senior Bowl.
If Miami misses out on one of the top three rushers, a couple of our evaluators mentioned North Carolina's Michael Carter and Ohio State's Trey Sermon as leading the next tier of running back prospects. Both have limitations, though Sermon is the better fit when paired in a two-headed backfield with promising receiving back Myles Gaskin. Sermon is likely a third- or fourth-round pick.
The Dolphins did significant evaluation last year with the idea of potentially selecting a feature back, sources said, but with Taylor, Ohio State's J.K. Dobbins (Ravens) and Florida State's Cam Akers (Rams) on the board, they drafted developmental cornerback Noah Igbinoghene at No. 30 and right tackle Robert Hunt at No. 39. All three backs went in Round 2.
Taylor went No. 41 to the Indianapolis Colts, then finished third in the NFL in rushing with 1,169 yards and 11 touchdowns. Akers and Dobbins went No. 52 and No. 55, respectively, and both had successful rookie seasons. Igbinoghene struggled significantly as a backup outside cornerback and did not play much after September.
It's too early to give a final evaluation, but the decision to bypass Taylor appears like an early mistake. The Dolphins cannot afford to make the same mistake again.
Last season Miami attempted to build up its backfield piecemeal by signing Jordan Howard to what amounted to a five-game, five-million deal and trading a fifth-round pick for Matt Breida. Both moves failed, though Gaskin, a 2019 seventh-round pick, had a surprisingly strong season (584 yards and three touchdowns).
Conclusion
The Dolphins should use one of their four top-50 picks on Harris, Williams or Etienne to help second-year quarterback Tua Tagovailoa and complete the offense. Harris might be a bit of a reach at No. 18, but he's worth the chance if the Dolphins love the player.
In our poll, there wasn't a huge gap separating the players, so I'd opine that depending on how the draft board falls there might be better talent and positional value at No. 18 for the Dolphins to draft rather than use it on Harris there. Miami selecting Williams at No. 36 seems more like the ideal solution. Though if Miami is eyeing Williams or any running back early in Round 2, it needs to possibly trade ahead of the running back-needy New York Jets (No. 34) and Atlanta Falcons (No. 35).
Carolina Panthers, A.J. Bouye agree to contract
CHARLOTTE, N.C. — The Carolina Panthers on Wednesday agreed to a deal with free-agent cornerback A.J. Bouye as they attempt to improve their secondary heading into this month's NFL draft.
Bouye, a Pro Bowler in 2017, will be suspended for the first two games of the 2021 season as part of a six-game ban he received last year for violations of the league's policy on performance-enhancing substances.
He will be allowed to participate in offseason and preseason practices, according to the league.
Carolina signed 10-year veteran corner Rashaan Melvin to a one-year deal earlier in free agency.
Bouye, 29, was released by Denver in February after appearing in only seven games due to injuries and the suspension. He was traded to the Broncos from Jacksonville in March 2020, after being a big part of the Jaguars' run to the AFC Championship Game in the 2017 season.
Bouye entered the NFL in 2013 with Houston as an undrafted free agent. He played well enough that he received a five-year, $67.5 million deal with Jacksonville in 2017.
He had six interceptions that season in 16 starts. He has only two picks since, and had none for Denver last year. In 69 career starts, he has 14 interceptions overall.
Bouye likely will be penciled in as the starter in Carolina opposite Donte Jackson, who is in the last year of his rookie deal.
The former Central Florida standout will compete with Melvin, likely on the right side.
The addition of Bouye lessens the urgency to use the No. 8 pick of the draft on a corner. The team eliminated the necessity to draft a quarterback on Monday after trading with the New York Jets for Sam Darnold, but general manager Scott Fitterer said that doesn't totally precluded using the eighth pick on that position.
"What we wanted to do going into this draft through free agency, through this trade with Sam, was to just get rid of all the needs we have," Fitterer said Monday. "We wanted to get to a place where the roster was in a good spot, and we could take the best player at No. 8."