Three years in, Jameis Winston remains enigma for Tampa Bay Buccaneers – Tampa Bay Buccaneers Blog
TAMPA, Fla. — After three years as an NFL starter, Tampa Bay Buccaneers quarterback Jameis Winston is still hard to figure out. He has produced dazzling highlights coupled with maddening turnovers, finding open receivers long after plays have broken down, yet coughing up the ball when he should have taken sacks.
What does that mean for the development of the Bucs' 24-year-old franchise quarterback?
'He needs to stop forcing things'
Winston broke Dan Marino's NFL record for most touchdown passes thrown before a player's 24th birthday with his 69th this past season. But he's thrown the second-most interceptions (44) since 2015, when he entered the league, and has turned the ball over 59 times in 45 games. His 15 lost fumbles are also the most of any player during that span. While his turnovers dropped from 24 in 2016 to 18 in 2017, the rate of those turnovers per snap actually went up, from 2.28 percent to 2.38.
"Turnovers are the No. 1 thing that gets you beat, so [I am] very concerned," said the Bucs' Dirk Koetter, who's been with Winston all three seasons, the past two as head coach. "Jameis knows that. He knows. Jameis is streaky with his turnovers. He can go three or four games and not turn the ball over and then we had a game [against the Saints] where he turned it over three times."
An NFC defensive assistant whose team faced Winston this season echoed those sentiments. The scouting report on him said Winston was "inconsistent" when it came to "decision-making and poise."
Turnovers also were an issue for Winston — the No. 1 pick in the 2015 draft — at Florida State, where he threw 28 interceptions and lost two fumbles in 27 games. But the difference was that the Noles had nearly a plus-24-point margin in those games, with a turnover edge of plus-11. It's a different story in the NFL.
"It's rare that you can overturn a negative turnover ratio," Koetter said. "It's definitely something that has to be corrected, and that is one of the top things that would help us not be 3-7 in one-score games because they are hard to overcome when you don't win the turnover [battle]."
The Bucs' points margin since Winston entered the league is minus-137, with a turnover margin of minus-4. Even one fumble can lose games, as was the case in Week 13, when Packers defensive end Dean Lowry returned a Winston fumble 62 yards for a touchdown.
"I like him and his skill set. I just think he needs to settle down and stop trying to force things and do so much," said one scout whose team faced the Bucs in 2017. "I know it's his competitive nature, but he just needs to stop forcing throws and taking bad throws. … He'll present the defense with multiple opportunities to create turnovers."
Shoulder injury played role in 2017 struggles
Some of Winston's mistakes can be attributed to the shoulder injury that plagued him most of the season and forced him to miss three games. He struggled particularly with the deep ball, completing just 16 of 53 (30.2 percent) passes of 20 or more air yards, which was 23rd in the NFL.
"It's definitely something that can affect your velocity, accuracy, your mechanics, your ability to push it down the field," New Orleans Saints quarterback Drew Brees said. "I don't know Jameis' exact injury from this season, I just know what I've experienced in the past with different things. It depends what the injury is, but certainly those things can be affected."
Lack of deep-ball accuracy can hurt an offense predicated on making explosive plays downfield, particularly a roster with no true possession receivers. It also nullified any sort of competitive edge the Bucs had in signing speedster DeSean Jackson to a $35 million contract in the offseason. Jackson, who was getting separation on his routes but not catching many passes, had just 668 yards, the lowest total in his 10-year career for a season in which he played at least 11 games.
Then there were reports of a growing rift between Winston and Koetter, stemming from Winston feeling that his coach didn't have his back during the injury and frustration over Koetter's lack of creativity in his playcalling. Publicly, Winston denied that a rift existed, and Koetter called their relationship "extremely consistent." Sources close to the situation suggest the two need to work on their communication.
The 2017 season was the first time Winston had missed a game, at any level, due to injury. Sources say he hurt his throwing shoulder in a Week 3 loss to the Vikings, but he didn't show up on the injury report until Week 7. It was a new experience for him, but Winston needed to communicate to the coaching staff how he was feeling. If he didn't feel that his deep ball was there, he needed to let them know. As a third-year quarterback, he had more of a say in the game plan. Yet young, highly competitive players don't usually advocate for themselves, and it's up to the coaching staff to recognize when they're limited by injuries.
Koetter did Winston no favors by having him attempt 82 passes — second most in the league — in the two weeks following the hit by Chandler Jones in a Week 6 loss to the Cardinals that worsened his shoulder issues. And 22 of those attempts were for 15 or more air yards. Plenty of games have been won by throwing underneath and moving the ball incrementally down the field. If Winston is to improve, he and Koetter have to develop a more open dialogue.
Good and bad of being a fiery player
Winston is a passionate player and a fiery leader, which the Bucs lacked with previous young quarterbacks in Josh Freeman and Mike Glennon. He might have unconventional motivational tactics, like his widely mocked pregame speech about "eating W's," but teammates appreciate his passion and feed off of it. Backup safety Keith Tandy likened Winston to an uncle, saying, "When he looks you in the eyes, you feel it in your soul and you want to go out and make a play for him."
Even Saints coach Sean Payton can see it from the outside.
"I think there's a tremendous amount of confidence amongst his teammates," Payton said. "You can see that on film, you can see that when you watch the TV copy. You can see his leadership in the huddle, out of the huddle, at the line of scrimmage, and I think guys feel like at any time, they can get the football and make a play."
But Winston's passion also can be destructive.
He was fined $12,154 in Week 9 for an incident involving Saints cornerback Marshon Lattimore that resulted in a suspension for wide receiver Mike Evans. In the final minutes of the Week 16 loss to the Carolina Panthers, Winston was so irate over a lost fumble that he attempted to charge after an official, knocking over Bucs director of football operations Shelton Quarles, who was trying to restrain Winston. Then there was the 2016 head-butting incident with Justin Durant of the Cowboys.
"We've had conversations with him [about that], but I'll keep [the details of] that in-house," Bucs general manager Jason Licht told ESPN. "But he's the ultimate competitor. He wants to win as much as anybody in this town. He had acknowledged what he's done and what he needs to do moving forward. He gets it. He's a professional. We're moving forward."
"He's the ultimate competitor. He wants to win as much as anybody in this town. He had acknowledged what he's done and what he needs to do moving forward. He gets it. He's a professional. We're moving forward."

Bucs GM Jason Licht
Winston has shown he's not afraid to hold teammates accountable, approaching defensive tackle Chris Baker with multiple teammates who didn't appreciate Baker's smiling demeanor after a penalty cost them a victory over the Panthers on Dec. 24. Winston's outburst at the end of the game likely contributed to the yelling that ensued in the locker room among Baker, Winston and several teammates.
As a 24-year-old entering his fourth season and a soon-to-be father, Winston needs to learn to help defuse those situations, not escalate them, or he'll wind up with more costly penalties, fines and maybe even a suspension. That's an area where veteran backup Ryan Fitzpatrick can assist, if he returns. Winston has praised Fitzpatrick for his calm, steadiness and consistency.
Part of being a leader and the face of a franchise also means making good decisions off the field. There were a lot of question marks surrounding Winston after he was accused of sexual assault and was cited for shoplifting at Florida State. But once he got to Tampa, there were no issues until November 2017, when a female Uber driver publicly accused Winston of grabbing her crotch.
Winston, who was riding with former college teammate Ronald Darby — who was also with him the night the alleged assault took place at Florida State — and another passenger that night in Arizona, said he believes the driver was mistaken. No charges were filed stemming from the March 2016 incident, but the NFL is investigating. Winston's availability could be affected by the outcome.
"There's nothing we can do about the investigation," Licht said. "The league is going to do its due diligence in investigating it and we'll deal with that when they come to a decision. But we'll be prepared. I promise you, we'll be prepared regardless of whatever decision is made."
'We've got the right guy'
Once healthy, Winston produced one of the best performances of his career on Dec. 18 against the Atlanta Falcons, throwing for three touchdowns and no interceptions, completing 77.1 percent of his passes and posting a 130.5 passer rating. Even more impressive was that Jackson, tight end O.J. Howard and right guard J.R. Sweezy all left the game with injuries. It was truly the first time in Winston's NFL career that he carried a team on his back.
That was all part of a strong finish to the 2017 season once Winston returned Dec. 3 from the shoulder injury. From Week 13 to Week 17, Winston led the NFL with 1,584 yards passing, tied for third with nine touchdown passes and was 11th in Total QBR with 57.2 after ranking 25th in Weeks 1-12.
That's something to build on going into 2018.
If Winston can stay healthy, he can rebound playing a last-place schedule that includes the Cincinnati Bengals, Cleveland Browns, New York Giants and Washington Redskins. But he and the Bucs certainly have their work cut out for them in an NFC South featuring three 2017 playoff teams.
"We've got the right guy," Licht said. "He's got the right mindset. The combination of toughness, intelligence, work ethic … all those things never cease to amaze me, to be honest with you."
Rams DPOY candidate Aaron Donald to welcome Tua Tagavailoa to NFL – Los Angeles Rams Blog
THOUSAND OAKS, Calif. — Aaron Donald knocked over Dallas Cowboys linemen as if they were bowling pins. He sprinted past the Buffalo Bills' line to take down quarterback Josh Allen twice. Then Donald ruined Alex Smith's return to football when he sacked the Washington quarterback three times after taking down Kyle Allen once.
"Aaron Donald is a freak," Rams coach Sean McVay said.
That might be an understatement about the Los Angeles Rams defensive tackle, who continues to wreak havoc in his seventh season and is making a case to win a third NFL Defensive Player of the Year award.
• Steelers vs. Ravens: Defense still dominates
• Surprises, disappointments in NFC North
• Eagles vs. Cowboys: NFC East outlook
• Brady defying Father Time, expectations
• Patriots historically bad during skid
"It's kind of outrageous," outside linebacker Leonard Floyd said of Donald's on-field exploits, particularly his four-sack performance against Washington. "I don't think anybody can top that."
Next up for the 5-2 Rams and Donald? The 3-3 Miami Dolphins and rookie quarterback Tua Tagovailoa, who will make his first career start Sunday.
"You go about it just like every other week," Donald said of facing the rookie quarterback. "They are starting him for a reason, so we're going to go into the game with the mindset that we've just got to go out there and do our job, just like every other week."
That should stoke some fear in Tagovailoa, who will be protected by an offensive line that has the third-worst pass block win rate in the league at 47.5%.
But Donald says getting into the backfield is the only way to make the rookie feel intimidated.
"The only way you can do that is putting pressure on them, getting to him, hitting him, not letting him be comfortable back there," said Donald, who has 5½ sacks in five career games against rookie starting quarterbacks. "So, if we do that up front, not just because he's a rookie quarterback, that's with any quarterback, you get to him."
Donald is tied for the NFL lead, along with Cleveland Browns defensive end Myles Garrett, with 26 pressures. He ranks second behind Garrett with eight sacks (Garrett has nine).
Last Monday in a 24-10 win over the Chicago Bears, Donald had a season-high seven pressures against quarterback Nick Foles, assisting in a 20-pressure effort by the Rams, which is tied for their most in a game over the past two seasons.
But first-year defensive coordinator Brandon Staley points to Donald's other contributions — those that don't show up on the individual stat sheet — as some of his most important.
"He does so much to help us win in the run game, in the pass game, the way we can move him around," Staley said. "He's not a guy that just lines up in one spot, he can line up all over the formation. The thing about a guy like him that I think is unique is he has all the individual production, but then you have to factor in the production that he creates for other players, too."
The Rams' defense ranks among the best in the league through seven games, giving up an average of 313 yards (ranks sixth) and 17.7 points (second) per game. They have 24 sacks (tied for third) and a pass rush win rate of 47.6% (sixth).
Floyd joined the Rams over the offseason on a one-year, $10 million contract after the Bears released him before his fifth year due to a lack of production.
In seven starts, Floyd has four sacks and 19 pressures, putting him on pace for a career-best season, in part because of the attention Donald attracts.
"It's been great playing with him," Floyd said. "He's a force on the inside and he's been making it easier for us on the outside."
Donald said he wasn't worried about winning Defensive Player of the Year: "The only thing I didn't accomplish, I feel like, is a Super Bowl, so that's my only thing, is trying to do everything I can to help this team to win and get back to the Super Bowl and this time win it."
But when asked if he would like to join the elite company of Lawrence Taylor and J.J. Watt as only the third player to earn the honor three times, Donald grinned and then chuckled uncomfortably.
"I'm just going week to week," Donald said. "And I'm just going to play ball and try to win games."
How Dolphins can keep Aaron Donald from wrecking Tua Tagovailoa's debut – Miami Dolphins Blog
DAVIE, Fla. — Imagine having two-time Defensive Player of the Year Aaron Donald being the first challenge of your NFL career. Welcome to the league, Tua Tagovailoa.
When the Miami Dolphins host the Los Angeles Rams on Sunday (1 p.m. ET, Fox), the defensive tackle will be out to turn Tagovailoa's feel-good story into a nightmare.
The Dolphins' top priority this week is to protect their first-round pick and allow his teammates to carry some of the mounting pressure that is building given the circumstances of his promotion (Ryan Fitzpatrick goes to the bench) and the strong play of fellow 2020 first-round quarterbacks Joe Burrow (Cincinnati Bengals) and Justin Herbert (Los Angeles Chargers).
Tagovailoa is making his first start since suffering a hip injury on Nov. 16, 2019, while at Alabama. The Dolphins have a plan to keep him upright, but if stopping Donald from wrecking a game was so easy, every team would do it.
Through conversations with Dolphins players and coaches, combined with statistics and analysis, ESPN has identified three areas Miami should focus on to protect Tagovailoa.
Identify 99
Dolphins offensive coordinator Chan Gailey said one of the most important elements of facing Donald is identifying him before the snap on every play. Expect Tagovailoa, center Ted Karras or both to point out where Donald is on any given play so they can send double- teams his way or audible plays away from him.
"Is he lining up on the left or the right? Is he lining up on the tackle or on the guard," Gailey said. "You want to know where he is, and you want to scheme some things to help out whoever's got him."
• Game picks from our NFL experts »
• PickCenter » | ESPN Chalk »
More NFL coverage »
Added Karras: "Obviously, [Donald is] the premier player of the NFL on defense, and the plan is we've got to have sound fundamentals and technique and give our best effort, and obviously preparing in the week is a big part of that. … We're going to have to perform our best when it counts the most."
The problem is Donald had a season-high nine pass-rush wins on Monday against the Chicago Bears, including five against double teams. It's the second time this season he has had five pass-rush wins versus double-teams, more than the rest of the NFL combined.
Donald is tied with Cleveland's Myles Garrett for the most pressures (26) in the NFL this season, recording a season-high seven pressures Monday. He's doing this despite being doubled on 68% of his pass-rush snaps, the fifth-highest rate in the league.
So the Dolphins will double him often, and it might help in neutralizing him, but that alone has rarely stopped him. Plus, it will create opportunities for the Rams' other talented defensive linemen such as Leonard Floyd and Michael Brockers.
One Mississippi, two Mississippi
The Dolphins' offensive line is much improved from 2019 when it was arguably the worst group in football, but that doesn't mean the problem has been fully solved. Fitzpatrick did well to help cover some deficiencies by getting the ball out quickly — he averaged 2.41 seconds time to throw, good for third-fastest in the NFL.
Legendary pass rushers, including Jared Allen and Bruce Smith, analyze what makes Rams defensive tackle Aaron Donald such a disruptive force.
Tagovailoa was one of college football's best decision-makers, and he often excelled when forced into quick decisions, so he should transition better than most rookies. But NFL speed is different than in college, and it's hard to get a feel for that through practices and watching film. How long it takes Tagovailoa to understand that speed difference will be important, and he'll want to be as close to Fitzpatrick's time to throw as possible.
"In practice, Tua's done a good job of that, but we'll see how it shows up in the game," Dolphins coach Brian Flores said.
The Dolphins rank 30th (48%) in pass block win rate, an ESPN metric using NFL Next Gen Stats. Tagovailoa, a left-hander, has two rookie offensive linemen — right guard Solomon Kindley and right tackle Robert Hunt — protecting his blind side. Both have shown promise, but they are learning, and this offensive line is not a finished product. Expect the Rams and other defenses to send extra pressure, blitzes and exotic looks in hopes of confusing the rookie.
"We'll all have to do our jobs and set at the same level, and kind of keep what we've been doing and don't freak out when [Donald is] over you," left tackle Jesse Davis said. "I think we've done a really good job of passing stuff off and talking, and that's what will have to be heightened this game. It will be a fun matchup."
One way Miami can combat extra pressure is to keep a tight end or running back in pass protection. Another is for Tagovailoa to get the ball out quickly to the first or second read on a progression. It's well-documented Tagovailoa loves throwing the slant route, or a quick pass, so that's a good start.
The Rams have the NFL's second-ranked scoring defense (17.7 points per game) and allow the fewest yards per quarterback dropback (5.5), but their pass defense isn't just about getting pressure. Cornerback Jalen Ramsey leads a strong secondary ready to take advantage of tendencies.
Cause conflict
Some of what makes Tagovailoa's debut exciting is the unknown of what new possibilities he can bring to the offense, and the most obvious one is how Tagovailoa will use his athleticism as a weapon.
He was one of college football's best quarterbacks using run-pass options (RPOs), and the expectation is the Dolphins will use more of that when the packages are fully established. When they do, it figures to open up the Dolphins' playmakers for one-on-one opportunities while keeping defenses off-balance.
"It puts you in conflict. They're reading basically the run [defender], and if the run [defender] plays run, they throw a pass. So if the run player plays a pass, they run it," Flores said. "We really haven't done much of that this season, so I think it's — a couple days of practice, it's hard to put something in like that."
Per ESPN Stats & Information research, Tagovailoa's 90.8 QBR on RPO plays from 2018 to 2019 at Alabama was third in the nation over that span among quarterbacks with at least 50 such attempts.
If the Dolphins have a few RPOs prepped and ready, this would be the perfect week to unleash them. Screens and play-action throws are other options the Dolphins can use to create conflict for the Rams. As Tagovailoa and Gailey grow more comfortable together, RPOs are likely to be a notable part of the offense in the future.
It's Tua Time in Miami, and nothing is more important than protecting the franchise QB. It starts Sunday.
New York Giants RB Saquon Barkley finally has surgery on torn ACL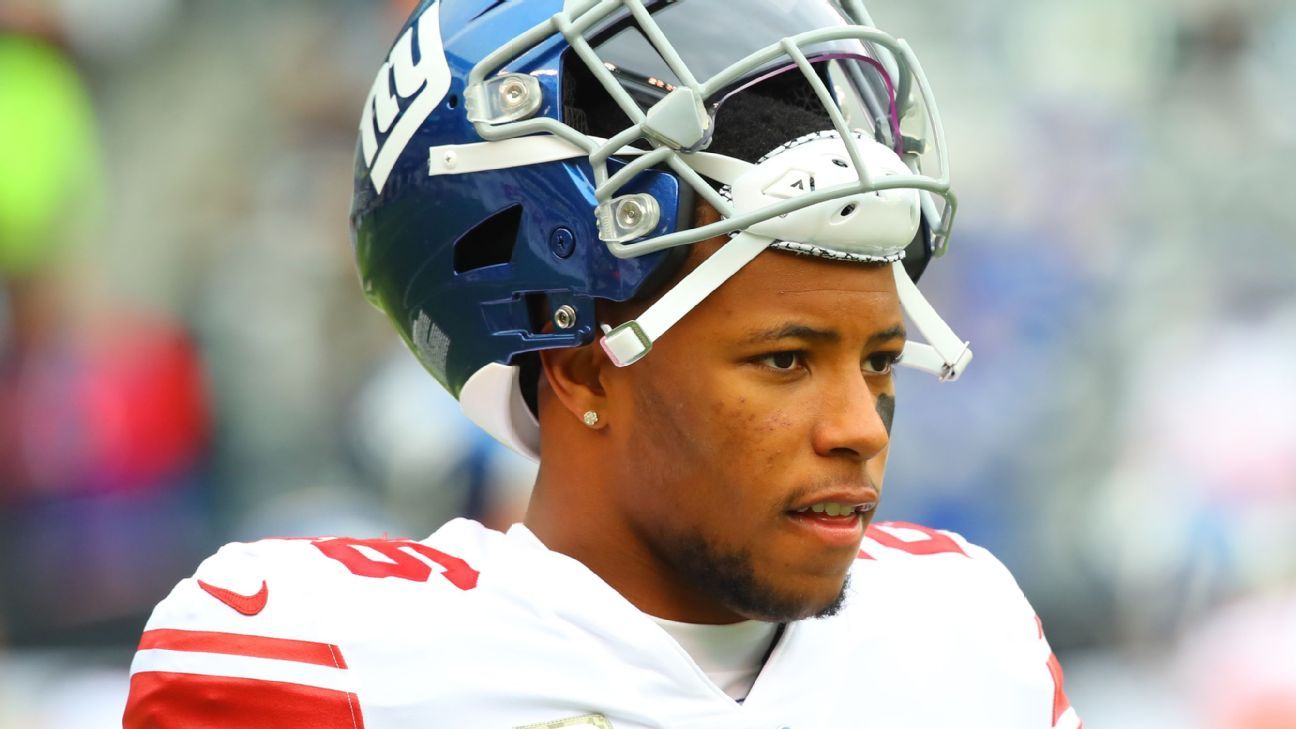 New York Giants running back Saquon Barkley underwent surgery Friday in Los Angeles to repair the torn anterior cruciate ligament in his right knee.
"Surgery was a success," Barkley's mother, Tonya Johnson, wrote in an Instagram post that included a picture of her son in a hospital bed.
Barkley is expected to make a full recovery and, with almost 11 months to get back to full strength, be ready for the start of next season. The surgery took place 40 days after the injury occurred in a Week 2 loss to the Chicago Bears.
The procedure Friday was expected to reconstruct the ACL and repair the meniscus in the right knee. Barkley also injured his MCL, but that was not believed to need surgical repair.
Looks as if "surgery was a success"for Saquon Barkley. #Giants

Via Saquon's mom on IG pic.twitter.com/b5sDwyN3Z4

— Jordan Raanan (@JordanRaanan) October 31, 2020
Barkley and the Giants were waiting for the swelling to come down before having the surgery. This isn't uncommon when there is also some sort of MCL damage. It also provided Barkley an opportunity to strengthen the knee before the operation.
Still, Barkley had to work around Dr. Neal ElAttrache's busy schedule. ElAttrache, the surgeon and team physician for the Los Angeles Dodgers and Los Angeles Rams, was in the World Series bubble up until earlier this week.
The Dodgers clinched the Series on Wednesday night.
Barkley was hurt on Sept. 20 in Chicago. He was running toward the sideline when Bears safety Eddie Jackson made the tackle. Barkley grabbed at the knee as he was headed to the ground.
Barkley was helped off the field and later carted to the locker room. He had four rushes for 28 yards before exiting. His season ended with 19 rushes for 34 yards and no touchdowns.
It was the second straight injury-ravaged season for the No. 2 overall pick in the 2018 NFL Draft. Barkley played 13 games and just barely topped 1,000 yards rushing last year as he dealt with a pesky high ankle sprain after winning Offensive Rookie of the Year in 2018.
Barkley remained around the team the past month despite being placed on injured reserve. He was present in meetings and even travelled with the team to road games in Los Angeles and Philadelphia.
Coach Joe Judge credited his leadership as a reason. Barkley was voted one of the team's offensive captains earlier this year. A teammate told ESPN that Barkley was still being himself and "inspiring" despite the injury stripping him of the ability to contribute on the field.
Barkley did make news last week when he was among a group of Giants and their friends that were seen on videotape in public without their masks and properly social distancing. Barkley was riding a bicycle in the Instagram videos that were since deleted, at one point dancing while popping a wheelie.
Judge said the situation would be handled internally.
"I'm not going to comment on anything specific on that. Saquon is out in LA readying for surgery," Judge said earlier this week. "Actually, riding a stationary bike has been part of his rehab prepping for surgery. In terms of Saquon and where he's at, I know he's getting ready for the surgery right now. Obviously, our thoughts and prayers are with him."