The most unappreciated baseball trait? Strength
The joining of Giancarlo Stanton and Aaron Judge places arguably the two biggest, strongest players in major league history on the same team. It is a story so compelling, the New York Yankees will open the gates to spring training games three hours earlier so fans can watch these two, and others, take batting practice, which, on certain days, will be more entertaining than the game. Exit velocity, launch angles and home run distances will be even more celebrated in 2018, especially in the Bronx.
Baseball strength always has been one of the great, hidden components of the game, at least to some. The strength of the players, especially in their hands, wrists and forearms, goes largely unappreciated: I've never met a position player who wasn't really strong in those areas, even dinky, little middle infielders. Indeed, after Michael Jordan's one year in baseball in 1994, one of his many observations about the game was that virtually every player on his Double-A team was stronger than him from the tips of their fingers to their elbow.
"I noticed how really strong baseball players are when I joined the general population after retirement," said John Baker, who caught in the big leagues from 2008 to 2014. "I started practicing jujitsu. From day one, when I grabbed the lapel, I could grab it longer and harder than anyone else. That comes from thousands and thousands of violent swings with a baseball bat. Swinging a bat makes your hands strong. Baseball players are so strong."
The lineage of strength in modern baseball history can be traced to where most in baseball is first traced — to Babe Ruth, who played at 6-foot-2, 225 pounds in his prime in the 1920s, and hit home runs that even today would be considered tape-measure blasts. He soon was followed by Jimmie Foxx, whose nickname was "The Beast." He gave way to others, including Mickey Mantle, who once hit a ball that reportedly traveled 565 feet at Washington's Griffith Stadium. Former Reds first baseman Ted Kluszewski wore cutoff sleeves to show off his muscular arms. Former White Sox outfielder Dave Nicholson's hands were so strong, he turned off all the showers after a loss, and no teammate was strong enough to turn them back on.
"No one hit the ball harder than Jimmie Foxx," Ted Williams once told me. "Until I saw Frank Howard."
Howard was listed at 6-7, 255 pounds but was actually closer to 300 pounds with the Senators in the mid-1960s.
"Frank Howard came to the plate [in a spring training game in 1959], he was the biggest person I had ever seen in my life," Hall of Fame third baseman Ron Santo said years ago. "He hit a one-hopper that hit me in the stomach and knocked me out. When I woke up in the hospital, there he was again, standing over me. I said to myself, 'Am I in heaven? Who is the giant?' "
The stories about Howard sound Ruthian and apocryphal, but this one is also true: Former Senators catcher Jim French loved chiding Howard, who, one night, had had enough, so he dangled his teammate by the ankles off a hotel balcony that was several stories high. And this one is true, too: Ted Uhlaender, a former center fielder for the Indians and Twins, said Howard hit a line drive over his head, he turned to see where the ball would land, and when he turned, the ball hit him in the chest after ricocheting off the center-field fence.
Howard's legend gave way in the mid-1980s to Bo Jackson, who, more than once, snapped a bat over his knee in frustration, and similarly, snapped a bat over the top of his helmet.
"Bo was a big bow hunter," said catcher Mike Macfarlane, a former teammate. "He kept his bows in his locker. He would show us how to shoot, but for him, it was like plucking a harp. He just used two fingers to cock it. I stood on top of the bow and, using both hands, tried to cock it, and I couldn't do it. And neither could anyone else on our team. I'm sure our front office wasn't happy about this, we were all afraid of tearing a rotator cuff trying to cock a bow. Bo needed two fingers. Damnedest thing I've ever seen."
More Bo: "When he signed, they sent him to Memphis [Triple-A] where I was," Macfarlane said. "He hit a ball foul in the game, and broke his bat. It wasn't broken in half, but it was clearly cracked. Typical Bo, he said, 'Ah, Ah, Ah, Ah, screw it.' He didn't get a new bat, and hit the next pitch over the center-field fence. It was right then that we said, 'OK, you are a freak.' "
Many followed Bo Jackson. The Brewers' Rob Deer, who hit 230 major league home runs but had trouble making contact, "once just picked me up, put me under his arm, and carried me around," said former teammate Tom O'Malley, who was 6 feet, 180 pounds. "It was like I was a little kid."
In the 1990 World Series, the Reds' Glenn Braggs, whose physique was that of a body builder, broke a bat without hitting the ball: In the follow-through of a swing-and-miss, his bat snapped in half when it collided with his shoulder blade.
I had never seen that.
"Oh, I did that a dozen times this season," he told me after the game.
I once saw Cal Ripken put a ball on a batting tee at home plate, and, using a fungo, hit a ball over the left-center-field fence, a blast of at least 380 feet. Ripken had incredible hand strength.
"I could lift more weight than him," former teammate Brady Anderson said, "but once he got you in a bear hug, and he wrapped you up, there was no way to get free."
Prince Fielder, 6 feet, 275 pounds, became the game's strongest man, perhaps carrying the mantle from Mantle to Bo Jackson and others. "I really believe he could enter the World's Strongest Man competition — you know, carrying logs on his back — and he would hold his own," former teammate Ryan Braun said.
Phil Coke, a former teammate with the Tigers, said of Fielder, "He showed us a video of him wrestling a professional sumo wrestler. It was unbelievable. Prince just chucked the guy across the room."
The players today are especially big and strong. The Mariners' Nelson Cruz "will hit the longest home run in baseball history one day," Orioles manager Buck Showalter said a decade ago. Cruz hit a ball so hard in spring training many years ago, then-Rockies left fielder Ryan Spilborghs said, "If I'd caught it, the momentum of the ball would have carried me through the left-field fence, leaving only an outline of my body like you see in the cartoons."
And there there's the Dodgers' Yasiel Puig, who once, on a checked swing, missed the ball, and the bat snapped in two in his hands. "That was unbelievable," former pitcher Orel Hershiser said. "I've only see that one other time in my life — by Bo Jackson."
And now we have Judge and Stanton together.
Judge is, according to the Elias Sports Bureau, the biggest position player — 6-foot-7, 282 pounds — ever to play major league baseball. Last year, he routinely hit balls to places no one had ever gone before.
"I took BP for eight years at [the new] Yankee Stadium, and I never hit a ball to center field where he hits them all the time," said Mark Teixeira, who hit 409 career homers. Ken Singleton, who has played or has broadcast major league games since 1969, said Judge "hits the ball harder than any player I've ever seen in my life."
Stanton is 6-foot-6, 245 pounds. When he was with the Marlins, Baker said, "He had this tiny waist. And he had this incredible leg strength. He had a 40-inch vertical jump. That was the highest in the organization. He could hit a ball farther and harder than anyone, and jumped higher than anyone."
When Stanton took batting practice in spring training as a 19-year-old, Hall of Famer Andre Dawson — an incredibly strong man — was watching. After one round of BP, Dawson said, "That's the hardest I have ever seen anyone hit a baseball."
Baker was there that day.
"He hit a home run in an exhibition game that went over the Cardinals' clubhouse in right-center field," Baker said. "It was ridiculous. No one had ever seen a ball hit that far. It was like Harry Potter's wizardly, worldly power. When Stanton got to second base, he stopped running, he looked at the umpire and asked, 'Was that a ground-rule double?' He didn't think he gotten all of it. The umpire looked at him with open palms, as if to say, 'What are you doing?' then told him to keep running. When he got back to the dugout, he had no idea what had happened. I said to him, 'Dude, that ball went 200 feet over the fence!' "
So strong. Get used to that this year with the Yankees.
Washington Nationals decline 2021 options for Adam Eaton, Anibal Sanchez, Howie Kendrick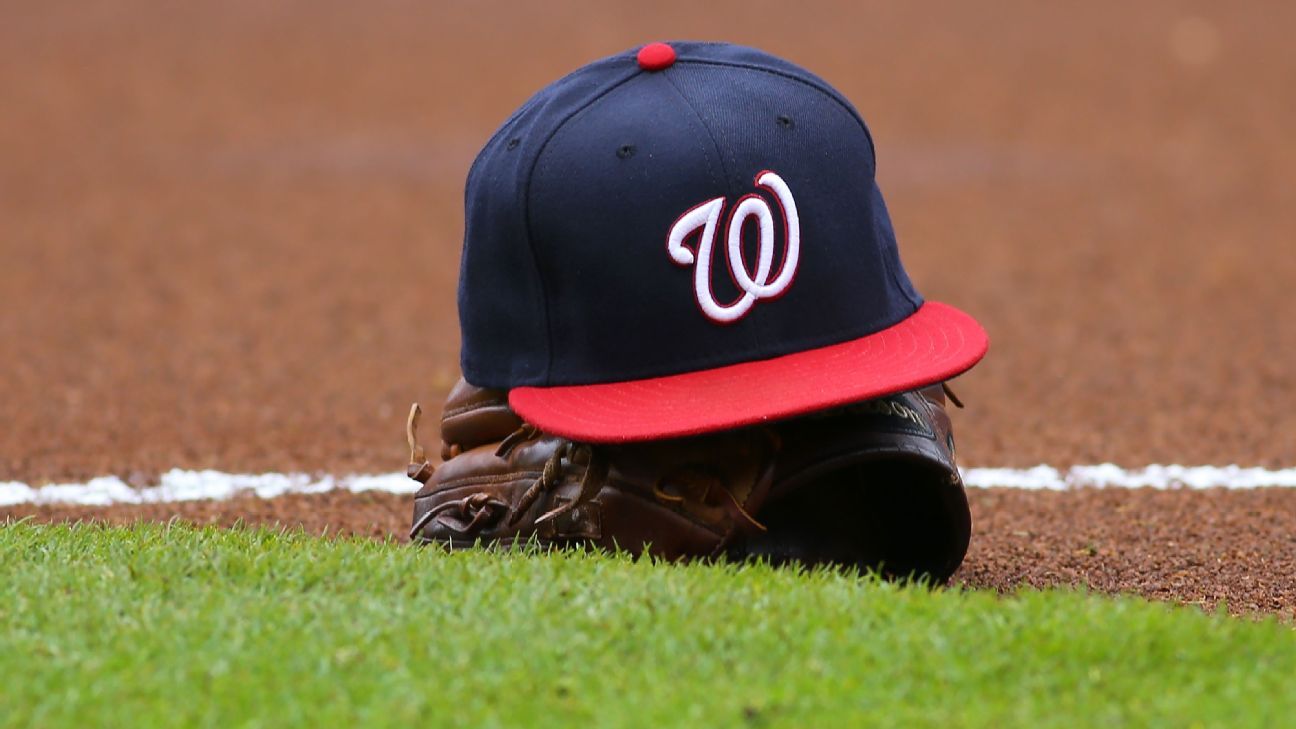 The Washington Nationals on Wednesday declined their club options for the 2021 season on outfielder Adam Eaton and right-hander Anibal Sanchez.
Washington also declined their portion of mutual options on infielder Howie Kendrick and Eric Thames.
Eaton's option was worth $10.5 million, and the Nationals will pay him a $1.5 million buyout. Sanchez's option was worth $12 million and he will receive a $2 million buyout. Kendrick will receive a $2.25 million buyout after his $6.5 million mutual option was declined, while Thames will receive $1 million following the declining of his $4 million mutual option.
Eaton, 31, struggled at the plate this season, hitting just .226 with four home runs and 17 RBIs. He hit .320 in the 2019 World Series for the Nats, hitting two homers with six RBIs in helping Washington win its first title. Overall, in four seasons for Washington he hit .279 with 26 homers and 112 RBIs after being acquired in a 2016 trade that sent now-White Sox ace Lucas Giolito to Chicago. The White Sox also acquired right-handers Reynaldo Lopez and Dane Dunning in the deal.
Sanchez, 36, went 4-5 with a 6.62 ERA in 11 starts for Washington last season. In two seasons with the Nationals he was 15-13 with a 4.52 ERA in 41 starts. He was 1-1 in three starts in the 2019 postseason during Washington's run to a championship.
Kendrick, 37, hit .275 with two home runs and 14 RBIs last season. In four seasons with Washington, he hit .316 with 30 home runs and 113 RBIs. He hit .280 with a home run and three RBIs during the World Series in 2019.
Thames, 33, hit .203 with three home runs and 12 RBIs for Washington in 2020, his first season with the club.
All four players are now free agents.
Justin Turner disregarded coronavirus protocols
Major League Baseball on Wednesday said it is beginning an investigation into the actions of Los Angeles Dodgers infielder Justin Turner, who was pulled from Game 6 of the World Series after testing positive for COVID-19 but still took the field after the game to celebrate the title with his teammates.
In a statement, the league was critical of the veteran third baseman, saying he put everyone around him at risk despite MLB security telling him not to return to the field.
"…Following the Dodgers' victory, it is clear that Turner chose to disregard the agreed-upon joint protocols and the instructions he was given regarding the safety and protection of others," it said. "While a desire to celebrate is understandable, Turner's decision to leave isolation and enter the field was wrong and put everyone he came in contact with at risk. When MLB Security raised the matter of being on the field with Turner, he emphatically refused to comply."
Turner tested positive and was pulled from the team's World Series-clinching 3-1 win in Game 6 against the Tampa Bay Rays on Tuesday night in Arlington, Texas.
MLB commissioner Rob Manfred confirmed the positive test after the game, telling Fox: "It's a bittersweet night for us."
Turner was 0-for-3 with two strikeouts before coming out of the game to start the eighth inning. The team did not give a reason for his exit when he left.
"Thanks to everyone reaching out!" Turner tweeted after the game. "I feel great, no symptoms at all. Just experienced every emotion you can possibly imagine. Can't believe I couldn't be out there to celebrate with my guys! So proud of this team & unbelievably happy for the City of LA #WorldSeriesChamps."
MLB's statement Wednesday said that further testing is being implemented.
"Last night, nasal swabs were conducted on the Dodgers' traveling party," the league said. "Both the Rays and Dodgers were tested again today and their travel back to their home cities will be determined after being approved by the appropriate authorities."
Election 2020 – Inside the political donation history of wealthy sports owners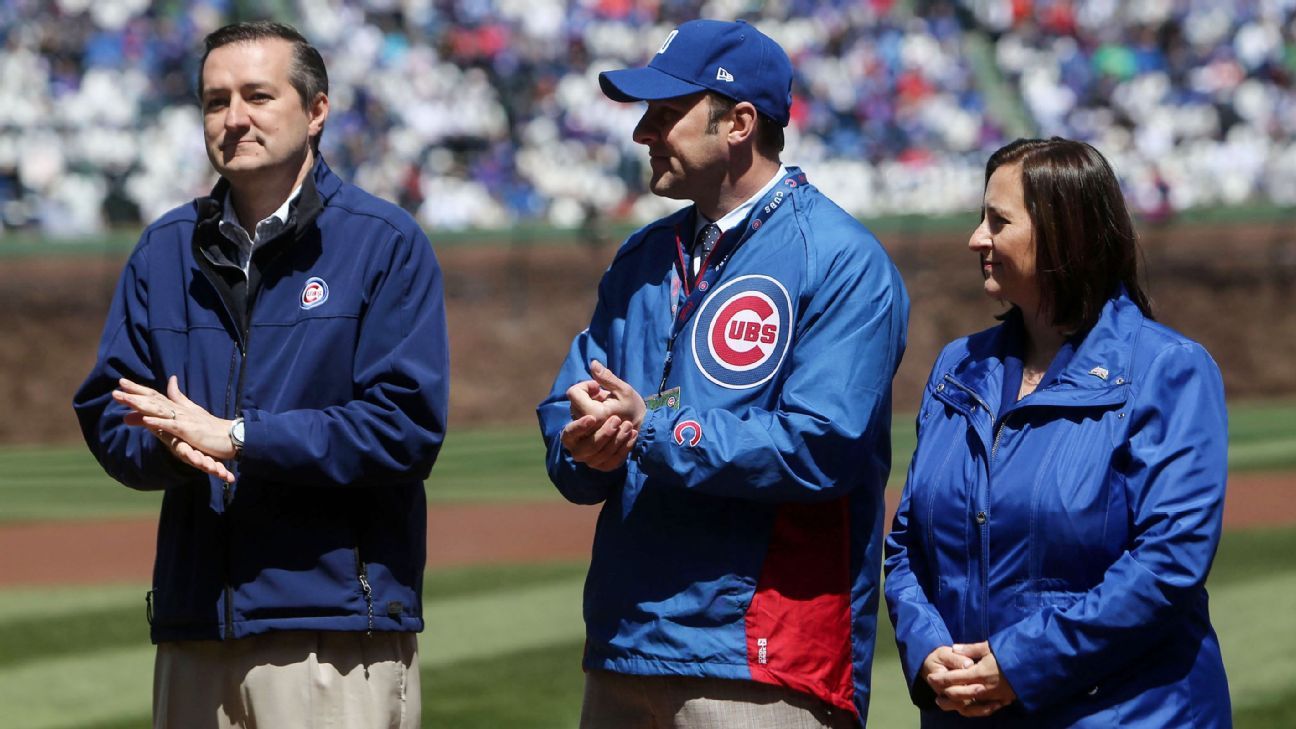 Editor's note: This is the first in a series of six pieces that shows how professional sports owners in America contribute to political campaigns, why they spend millions in the space and what that financial power means as athletes across sports continue to embrace activism of their own.
American professional sports owners have contributed nearly $47 million in federal elections since 2015, according to research by ESPN in partnership with FiveThirtyEight, including $10 million to Republican causes and $1.9 million to Democratic causes so far in the 2020 election cycle.
That strong Republican lean is consistent with owners' spending in the 2018 and 2016 federal elections as well. A deep search in the Federal Election Commission database of campaign finances for principal owners, controlling owners, co-owners and commissioners from the NBA, NFL, NHL, WNBA, MLB and NASCAR reveals that this deep-pocketed group has sent $34.2 million (72.9%) to Republican campaigns or super PACs purely supporting Republican causes, compared to $10.1 million (21.5%) to Democrats over the past three elections. Less than 6% of contributions went to bipartisan or unaffiliated recipients.
The research includes more than 160 owners and commissioners spanning 125 teams, though no list of this kind can be completely comprehensive. Only current owners in each league and only their contributions while they have been involved with their franchises were included. Spouses and relatives were not considered unless they also play a controlling role in the ownership group. If a contribution appeared to be from an owner but could not be confirmed, it was not included. And, as is the case with many millionaires and billionaires, owners have a number of ways to hide their political spending.
Some of the biggest takeaways from the data are below. And in the coming days, the series will delve into:
---
Overall contributions
Contemporary sports ownership has become an exclusive club with entry fees that reach into eight- and nine-figure territory. The rarefied Americans who can afford those fees tend to skew older, whiter and more male. As political donors, these owners skew toward the GOP.
Of the 160 owners and commissioners in ESPN's database, 74 contributed a majority of their publicly searchable funds to Republican campaigns, with 48 donating a majority to Democrats and the rest sending most of their money to causes that aren't fully aligned with either party.
But while that overall summary is interesting, a more pronounced signal begins to emerge when we look more closely at this group's larger political donations. There are 40 owners who have donated at least $100,000 to Republican causes over the six-year period, compared to 23 owners topping $100,000 to Democrats, helping lead to these splits: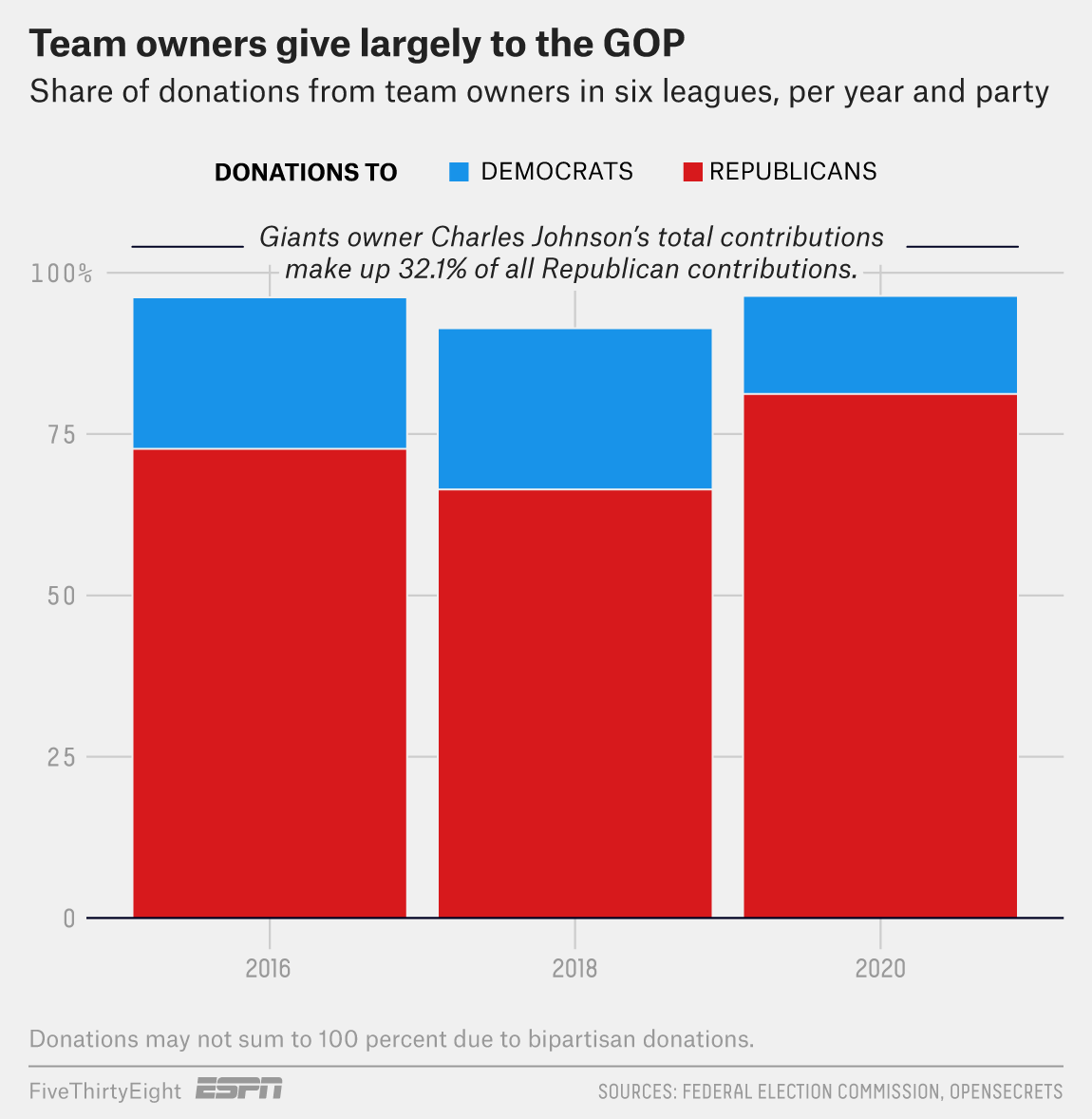 In total, here is the election-cycle contribution breakdown for owners and commissioners for these leagues:
2016: $12,940,514 Republican | $4,065,093 Democrat

2018: $11,282,570 Republican | $4,174,212 Democrat

2020: $10,022,931 Republican | $1,874,333 Democrat
It's important to note that not all data for the 2020 election cycle is publicly available at our time of publishing. Some of the biggest super PACs had filed only individual contributor data to the FEC as of June 30, meaning their most recent contributions aren't included in our totals.
Drilling down deeper into the data, we can see that federal contributions in each league lean red, except for in the WNBA: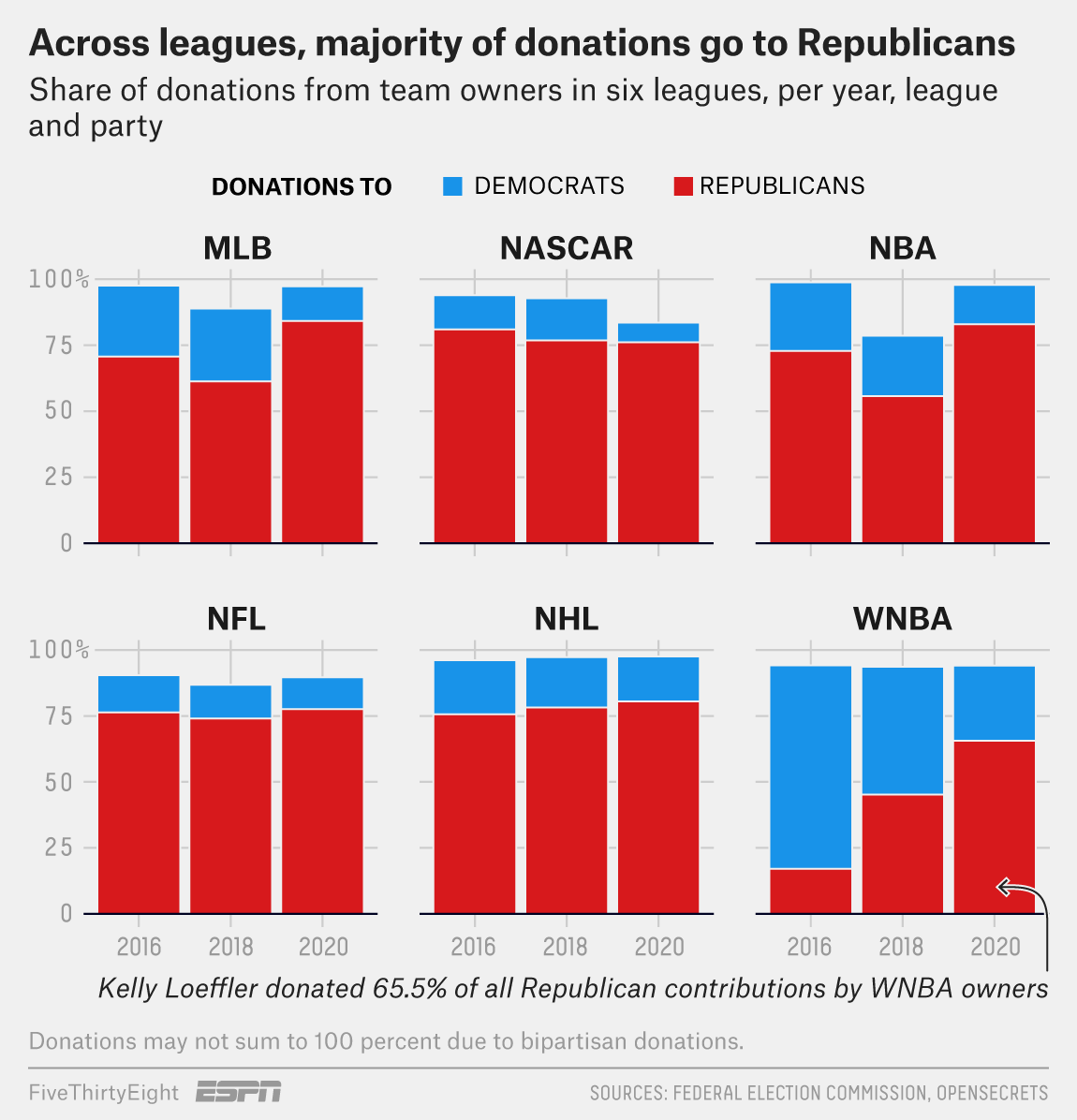 Overall, 51.7% of all contributions by WNBA owners went to Democrats, with 42.3% going to Republicans. And of the $1.3 million contributed by WNBA owners to Republicans, 65.5% came from Atlanta Dream co-owner and Sen. Kelly Loeffler (R-Ga.).
Expanding to all the leagues in our research, here are their totals to each party over the six-year period:
MLB: $15,181,761 Republican | $5,184,604 Democrat

NBA: $8,372,300 Republican | $2,641,487 Democrat

NHL: $7,087,116 Republican | $1,726,733 Democrat

NFL: $5,032,470 Republican | $873,500 Democrat

WNBA: $1,338,459 Republican | $1,634,153 Democrat

NASCAR: $576,110 Republican | $93,983 Democrat
Owners' conservative lean extends into the current presidential cycle as well. Americans have donated similar amounts to both Joe Biden and President Donald Trump, but owners are giving more to Trump, according to the database.
Thirteen owners have contributed directly to Trump's campaign or Trump super PACs in the 2020 election cycle, with contributions adding up to $1,746,423. That list of owners includes:
Bill Foley (Vegas Golden Knights), Bill Hornbuckle (Las Vegas Aces), Charles Johnson (San Francisco Giants), Dan Devos (Orlando Magic), Jack Roush (NASCAR), James Dolan (New York Knicks and New York Rangers), Kelly Loeffler (Atlanta Dream), Mike Brown (Cincinnati Bengals), Peter Karmanos (Carolina Hurricanes), Robert Plummer (Los Angeles Dodgers), Roger Penske (Team Penske) Tilman Fertitta (Houston Rockets) and Todd Ricketts (Chicago Cubs)
By contrast, 20 owners have contributed directly to Biden or Biden's super PACs, though at smaller totals, with overall contributions equaling $405,745. The Biden contributors include:
Arthur Blank (Atlanta Falcons), Arthur J. Rooney II (Pittsburgh Steelers), Billie Jean King (Dodgers), David Blitzer (Philadelphia 76ers and New Jersey Devils), David Bonderman (Seattle Kraken), Herbert Fritch (Nashville Predators), Herbert Simon (Indiana Pacers and Fever), Ilana Kloss (Dodgers), James Dinan (Milwaukee Bucks), Jeff Dickerson (Spire Motorsports), Jim Pohlad (Minnesota Twins), John Rogers (Chicago Sky), Laura Ricketts (Cubs), Marc Lasry (Bucks), Mary Kelly (Denver Broncos), Michael Alter (Sky), Peter Guber (Golden State Warriors and Dodgers), Tom Werner (Boston Red Sox), Zygi Wilf (Minnesota Vikings) and Hornbuckle
— Kirk Goldsberry
---
The big-money donors
A relatively small group of donors makes up a huge chunk of the overall donation data. Forty owners account for more than $40 million — more than 85% of all contributions. And looking specifically at these big spenders, it's clear where their allegiances lie: 77.7% of that $40 million went to Republican causes or candidates, with 18.8% going to Democrats.
This is where the political spending power among American professional sports ownership is concentrated. Here's that full list:
Bill Foley (Knights), Charles Johnson (Giants), Dan DeVos (Magic), Dan Gilbert (Cavaliers), Dan Snyder (Washington), David Tepper (Panthers), David Bonderman (Kraken), E. Stanley and Ann Kroenke (Nuggets/Rams/Avalanche), Edward Glazer (Buccaneers), Fred Wilpon (Mets), Herbert Simon (Pacers/Fever), James Dinan (Bucks), James Dolan (Knicks/Rangers), Janice McNair (Texans), Jeremy and Jerry Jacobs (Bruins), Jerry Jones (Cowboys), Jerry Reinsdorf (Bulls/White Sox), Jim Pohlad (Twins), Jimmy and Susan Haslam (Browns), Jody and Paul Allen (Blazers/Seahawks), Josh Harris (76ers/Devils), Kelly Loeffler (Dream), Ken Kendrick (Diamondbacks), Laura Ricketts (Cubs), Magic Johnson (Dodgers/Sparks), Micky Arison (Heat), Peter Angelos (Orioles), Peter Karmanos (Hurricanes), Philip Anschutz (Kings), Ray Davis (Rangers), Robert Castellini (Reds), Roger Penske (Team Penske), Ron Burkle (Penguins), Stephen Ross (Dolphins), Steve Tisch (Giants), Ted Leonsis (Wizards) and Tilman Fertitta (Rockets)
And when we isolate just the big-ticket donations topping $100,000 from this group, a familiar picture emerges. More than 63% of the $47 million in the database of nearly 3,000 contributions comes from over 100 donations split among these 40 owners — and 79% of that money went to Republican causes.
No matter how you slice it, the big takeaway is clear: The biggest political spenders in pro sports prefer red to blue. — Goldsberry
---
Owner-level data
This table reflects the total contributions for each owner and commissioner in our database over the past three election cycles, grouped by political party. Note that some family members appear together and that only contributions while owners have been involved with the team are included. You can find more of the data here.