The most intriguing thing at every Cactus League camp
PHOENIX — The stars are out in Arizona this spring. Mike Trout and Shohei Ohtani rode in a golf cart together at Angels camp. Clayton Kershaw retired three Seattle Mariners on 11 pitches in his Cactus League debut. Evan Longoria and Andrew McCutchen are settling in with a veteran group in San Francisco, and Christian Yelich and Lorenzo Cain are determined to help the Milwaukee Brewers hang with Chicago and St. Louis at the top of the National League Central.
For the general managers who build rosters and the managers who try to make the pieces fit, spring training is a time of discovery and enlightenment. Which young player is ready to make some noise, and which veteran arrived in camp looking especially motivated? Is there an intriguing position battle that needs to be sorted out over the coming weeks? A lot of questions will be resolved at camps between now and Opening Day on March 29.
ESPN.com asked executives and managers for the 15 Cactus League clubs, "What player or facet of the team has caught your eye in the early stages of camp?" Here are their responses:
San Francisco Giants: Bruce Bochy's batting order
"I think if you asked everybody in our room, as far as the coaches and the front office, they would give you a different lineup," Bochy said.
Denard Span, who logged 66 percent of the Giants' leadoff at-bats in 2017, is now a Tampa Bay Ray, so the Giants have to find someone to fill that void. One possibility: McCutchen, who has logged a .277/.357/.469 slash line in 1,060 career plate appearances in the No. 1 spot. Austin Jackson is another candidate to lead off when the Giants are facing a lefty.
Buster Posey and Longoria have both bounced around between the No. 3 and 4 spots in the order, and McCutchen has spent the bulk of his career in the three hole, so the middle of the order will require some maneuvering. Bochy likes the thought of going left-right, so he'll try to find a way to strategically use Joe Panik, Brandon Belt and Brandon Crawford between his righty bats.
"I'm open-minded," Bochy said. "I know I've been around a while, and a lot of people think we're old-school. But we have our analytics [people], and I'm looking forward to getting their help. At the same time, I can't get away from using my gut and my staff's feelings. That's all part of it."
Arizona Diamondbacks: Three shortstops, one starting spot
Nick Ahmed, Chris Owings and Ketel Marte are competing for the starting shortstop job in Arizona, where manager Torey Lovullo and his staff are focusing on things that don't appear in a box score
"I don't necessarily evaluate it by results," Lovullo said. "We know spring training can be misleading. So we'll watch swing planes and breaks on defense and how the ball is coming off the bat. That's the game within the game — the part we all love."
Ahmed is the lockdown defender of the group, while Owings hit a career-high 12 homers in 97 games last season. Marte, acquired from Seattle in the Jean Segura trade, showed improved plate discipline in 2017 and had a wild-card game to remember. He went 3-for-5 with two triples against Colorado and showed energy and some tantalizing glimpses of his ceiling.
"I think competition brings out the best in people," Lovullo said. "That's what I lock down on. It's a time for me to get to know body language and what makes someone tick. I pay attention to the little things that show me they're comfortable in winning those innings."
Cleveland Indians: Minor league first baseman Bobby Bradley's buffed look
Bradley, Cleveland's third-round pick in the 2014 draft, has shown impressive power with 87 homers in 411 minor league games. The Indians had been pushing Bradley to lose weight, so they were ecstatic when he attended two offseason strength and conditioning sessions and dropped about 30 pounds. Bradley is on track to begin this season as the starting first baseman for Triple-A Columbus.
"He's a pretty big prospect for us," manager Terry Francona said. "He just wasn't blessed with the greatest body. He walked into our one-on-one meetings, and I think I set the record for expletives because I was so proud of him. He looked so good, and then to listen to him talk about what he did and how he did it, that made my whole day.
"You watch the box scores [this spring]. He'll get some at-bats — maybe more than he would have."
Cincinnati Reds: Bryan Price's four-man outfield
The Reds plan to implement a four-man outfield time-share arrangement with Billy Hamilton, Scott Schebler, Adam Duvall and Jesse Winker logging a relatively equal number of the at-bats. Hamilton is the resident defensive whiz and stolen base threat. Schebler and Duvall bring the power, and Winker's exceptional plate discipline is reflected in his .398 OBP in more than 2,400 professional plate appearances.
"Are they going to complement each other in the way that we need them to — righty-lefty, defense and offense?" general manager Dick Williams said. "It's going to be an interest thing to watch unfold.
"I think we have enough at-bats to go around as long as everybody buys into the program — and you would think they should buy into the program because it's going to put them in more of a position to succeed. The only at-bats they're losing are the ones that should be the least productive. That's easy to put on paper. In practice, it's not so easy to implement."
Texas Rangers: A determined Jurickson Profar
Profar rated as one of MLB's top prospects in 2012-2013, but his star has gradually faded due to injuries and underperformance. After breaking camp as Texas' starting left fielder last year, he played his way to Triple-A Round Rock with a 5-for-37 (.135) start. With the exception of cameo appearances in June and July, that was the extent of his exposure in Arlington.
Profar showed improved plate discipline with 43 walks, only 33 strikeouts and a .383 OBP in Round Rock, and he worked on his speed, agility and strength in the offseason. He's out of minor league options, and the Rangers would like him to seize a utility job and provide a security blanket for the Adrian Beltre–Elvis Andrus–Rougned Odor infield contingent.
"He just turned 25," Rangers assistant GM Josh Boyd said. "In the industry, we follow guys from such a young age, it seems as if he's been around forever. The reality is he's still young. He's still the same guy who was once considered one of the top prospects in baseball. The way he's come into camp is really encouraging."
Los Angeles Dodgers: Settling on an outfield mix
"We have as much outfield depth as anyone in baseball, and there are only so many at-bats to go around," manager Dave Roberts said. "So it's going to be fun to see how that plays itself out."
Chris Taylor is a given in center field after logging an .850 OPS last season, but he won't have the luxury of sneaking up on people this time around. Yasiel Puig, who hit 28 homers and slugged .487, is a fixture in right. Left field is the mystery position. Andrew Toles is working his way back from a torn anterior cruciate ligament in his right knee, and Joc Pederson would like to bottle the magic from October, when he salvaged a rough year with three home runs and a .944 slugging percentage in the World Series. Pederson has a .184/.278/.321 career slash line vs. lefties, so he's strictly a platoon guy at this stage of his career.
The Dodgers are also keeping an eye on prospect Alex Verdugo, who slashed .314/.389/.436 in Triple-A and is pushing to expedite his timetable at age 21.
Matt Kemp lost a reported 40 pounds over the winter and showed up in a positive frame of mind. But how upbeat will he be if it's mid-April and he's stuck on the bench? The Dodgers owe Kemp $43 million over the next two years and made every attempt to move him after acquiring him from Atlanta in mid-December. He's still around, and now it's up to Roberts and the coaching staff to make the arrangement work. "Fun" isn't the word that immediately springs to mind.
Seattle Mariners: Is Kyle Seager due for a rebound?
After finishing 12th in American League MVP balloting in 2016, Seager fell off across the board last year. He hit .253 with one homer in 90 plate appearances in April and arrived in camp intent on getting off to a better start. He made some tweaks to his swing and showed up in Arizona with a noticeable sense of purpose.
"He's typically a slow starter," manager Scott Servais said. "I talked to him and said, 'We're not talking about that anymore. We're getting rid of the mental side of that thing.' He's a really good player, and he had a little bit of a down year, and he's anxious to get back out there."
Seager won the award for most creative Players' Weekend moniker last season when he referred to himself as "Corey's brother" on the back of his jersey. He's not quite as light-hearted about Seattle's recent lack of postseason exposure. The Mariners haven't been to the playoffs since 2001, and they'll need big seasons from Felix Hernandez, Robinson Cano, Nelson Cruz and Seager if they want to be a factor in the AL West.
"His brother has been playing in the postseason, and he hasn't," Servais said. "He wants to get a taste of that."
Chicago Cubs: Will a thinner Kyle Schwarber be a better Kyle Schwarber?
After hitting .211 with 150 strikeouts (albeit with 30 homers), Schwarber embarked upon a mission to remake his body in the offseason. The guy who stole four bases in his first 200 MLB games looked awfully spry with two steals in Chicago's 12-10 Cactus League victory over San Francisco on Sunday.
Schwarber's goal was to add quickness and agility without sacrificing power. Cubs manager Joe Maddon loves what he has seen early in camp.
"When you watch him run, it's almost like, 'Who is that?"' Maddon said. "You don't even know who it is. He looks fabulous, and you want to believe all that hard work is going to be rewarded.
"I saw him during the winter time. He came to my event in Tampa, and he was a celebrity bartender, and he looked good then. Right now, it's unbelievable. He's moving great, and he's so motivated. Oh my god, he's so motivated."
Los Angeles Angels: Will they stick with six?
The six-man rotation is ideal for Shohei Ohtani, who pitched once a week in Japan and can use the extra time between starts to contribute to the cause as a DH. But how will the new arrangement fly with Garrett Richards, Tyler Skaggs, Matt Shoemaker, Andrew Heaney and whichever pitcher emerges from the Nick Tropeano/J.C. Ramirez/Parker Bridwell trio to claim the sixth spot?
The Angels' starters have piled up their share of injuries and disabled list days, so the new arrangement is theoretically a way to lighten the load. But they'll have to worry about keeping six starters healthy instead of five. If the experiment is successful, they could be ahead of the curve.
"I don't think anybody's ever had a lot of experience with a six-man rotation, so there's not a whole lot of feedback," manager Mike Scioscia said. "I don't think we're really sure how it's going to work, so we have to be flexible. But it just makes too much sense right now not to try it. Not only for Shohei, but the grouping of our projected rotation. We're going to try it, and we have a lot of confidence it's going to work."
Milwaukee Brewers: The dominos from Christian Yelich and Lorenzo Cain
Last year, the Brewers spent a lot of time talking about their young outfield talent. Now that Cain and Yelich have arrived, Ryan Braun will be spending a lot more time at first base, and manager Craig Counsell will have to find a way to divvy up the available at-bats at first and in the outfield.
Here's how the math shakes out: The Brewers have about 2,800 available plate appearances at four spots, and Yelich, Cain, Braun, Eric Thames and Domingo Santana will share them roughly equally. "If you split it evenly with five guys, that's 560 apiece," Counsell said. "With injuries and everything, we'll find a way. Some guys will get 500, and some will get 600, but it will work out."
The most pressing questions: How will Yelich adapt if asked to play right field, where he has yet to log an inning in the big leagues? What do the Brewers do with Brett Phillips and Keon Broxton? Both players have minor league options left. But Phillips posted a .799 OPS in 37 games last season, and Broxton hit 20 home runs in Milwaukee, and until recently they both had reason to believe their time had come.
Chicago White Sox: How quickly can the kids progress?
Manager Rick Renteria talks about the maturity he has seen from shortstop Tim Anderson and second baseman Yoan Moncada this spring. And general manager Rick Hahn roams the grounds at Camelback Ranch and sees boundless potential when Eloy Jimenez, Luis Robert and Micker Adolfo take batting practice in the same group and Michael Kopech, Dylan Cease and Alec Hansen throw off the bullpen mounds in unison.
But it's all about 2019 and beyond for the White Sox, who won 67 games last year and are taking a disciplined and methodical approach to building a contender. "We know two things, as we stand here today," Hahn said. "Reasonably and objectively, we have guys who, if they hit their ceilings, could be players on a championship club at every position. Unfortunately, we also know that's not going to happen. Not everyone is going to hit their ceiling. The baseball gods have cruel things in mind for us, whether it's injury or underperformance or whatever else. So they're not all going to wind up being exactly who you hoped they would be.
"This is an important year for us from a player development standpoint to see who's going to continue on that path to being potentially a dude, and we may have to go outside the organization and augment some holes over the next couple of years. Right now there's that excitement. Nobody has failed or gotten injured yet, so it's a fun camp to walk around and see [what we have]."
San Diego Padres: What to do with all those outfielders?
Eric Hosmer's arrival via an eight-year, $144 million contract forces Wil Myers to the outfield, which adds to an already crowded picture. Manuel Margot will log the bulk of the at-bats in center, and that leaves Jose Pirela, Hunter Renfroe, Alex Dickerson, Franchy Cordero and Travis Jankowski scrambling for at-bats.
Renfroe set a franchise rookie record with 26 home runs last year, but he also struck out 140 times in 445 at-bats and logged a .284 OBP. Dickerson recorded an .810 OPS vs. righties in 2016 before missing all of last season with a back injury. Franchy Cordero was MVP of the Dominican Winter League. Pirela has big raw power and can play both outfield and second base. Jankowski is a terrific defender capable of playing all three outfield spots.
"There is cutthroat competition for opportunity and a chance for us to maybe platoon a little bit," manager Andy Green said. "All of those guys have done some things that would make you want them out there. There's going to be real competition, and I think we'll be better for it."
Kansas City Royals: Can Adalberto Mondesi take the next step?
Mondesi, who previously went by "Raul," announced early in camp that he wants to be referred to by his middle name to distinguish himself from family members. His father and brother both go by Raul.
Will the name change help him reclaim the promise he showed in 2015, when he became the youngest player to appear in a World Series game since Andruw Jones of the 1996 Braves?
Mondesi has a .181/.226/.271 slash line in in 209 plate appearances with Kansas City. He incurred a 50-game suspension for a banned substance last season, and he has been hindered by back problems, an undisciplined approach at the plate and questions about his maturity and work ethic. But he's only 22, so time is still on his side. "He's a dynamic player," Royals assistant GM J.J. Picollo said.
The Royals have Alcides Escobar at shortstop and Whit Merrifield at second, but Mondesi has an opportunity to make an impression in camp and prompt the Royals to shift Merrifield to the outfield or a super-utility role.
Colorado Rockies: Can the pitching hold up?
The Rockies made a splash when they spent $106 million to upgrade the bullpen with free agents Wade Davis, Bryan Shaw and Jake McGee. But general manager Jeff Bridich talks constantly about the team's "pitching culture" and a collaborative effort that has been years in the making.
The Rockies have gone from last in the NL in ERA in 2015 (5.04) to 13th in 2016 (4.91) to ninth last season (4.51). But the new-look pen isn't going to matter much if Jon Gray, Chad Bettis and a young rotation can't get the ball to Davis, Shaw and McGee with leads to protect. The Rockies continue to monitor the growth curve of starters German Marquez, Kyle Freeland, Jeff Hoffman and Antonio Senzatela and reliever Carlos Estevez, all of whom are 25 or younger.
"A lot of the splashy stuff, as it relates to our bullpen, is all well and good," Bridich said. "But I think if you look at the potential of that group of young pitchers — the starters and some of the young guys we have in the bullpen — that's one of the more exciting parts of our team."
Oakland Athletics: Can A.J. Puk make the mullet fashionable again?
When asked what's caught his eye early in camp, A's GM David Forst laughed and mentioned Puk's flowing red locks.
"It's a lot like 'Bull Durham,"' Forst said. "When you win 20 in the show, you can wear your hair however you want and people think you're creative."
Puk, the No. 6 pick in the 2013 draft out of the University of Florida, is No. 13 on Keith Law's list of MLB's top 100 prospects. Now that Matt Chapman and Matt Olson have graduated to the majors, the A's are cultivating a young wave of middle infield talent and pitchers with ability, stuff and checkered injury histories in the minors. It's going to be hard for Puk to slip under the radar. He's a lanky, 6-foot-7 lefty, and when A's manager Bob Melvin was asked for a historical comparable early in camp, he aimed high.
"The obvious guy is the guy I managed in Arizona," Melvin told reporters. "You hate to put that kind of expectations or comp on a guy, but there are some similarities, maybe a little different arm angle. But the hair, the whole bit and the height and the velocity — Randy Johnson. It's just a tough comp to put on a guy."
How Dodgers phenom Gavin Lux wants to make a difference in Kenosha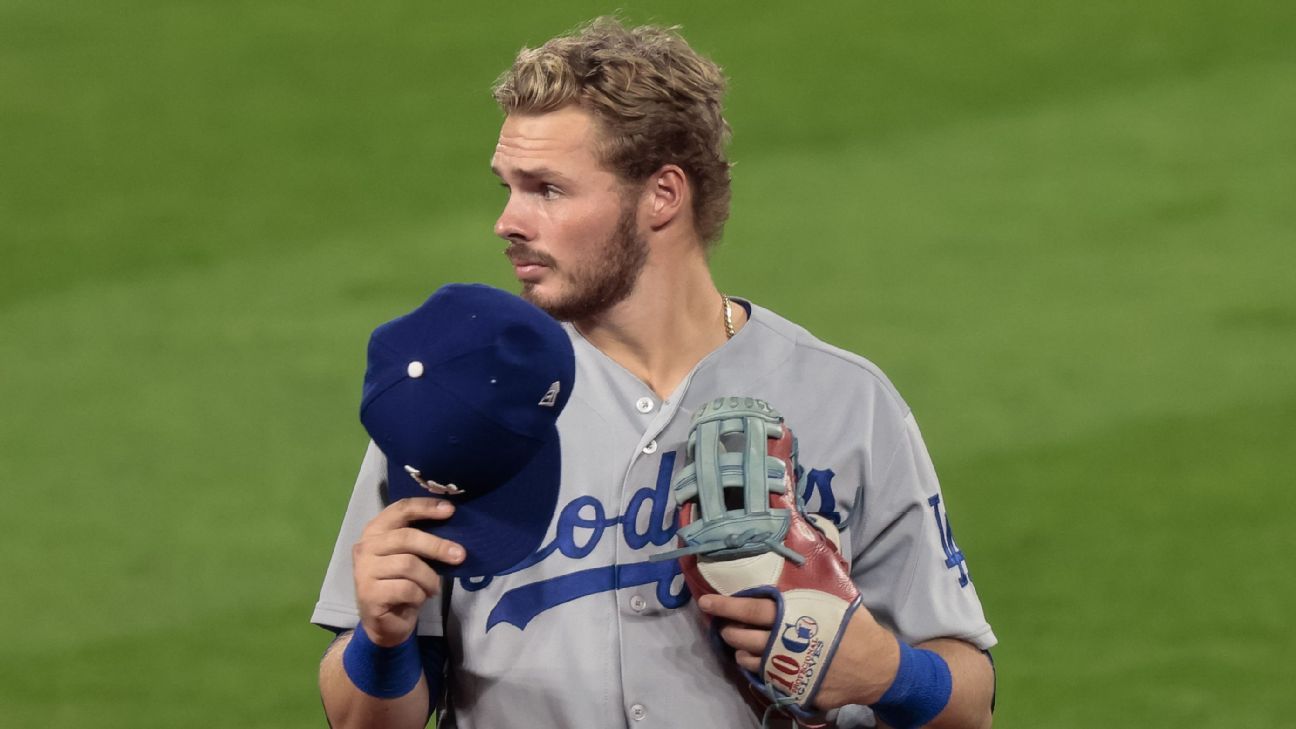 Gavin Lux is only 22 years old, still technically navigating through his rookie season. He's trying to figure out his swing, trying to learn the pitching in Major League Baseball, trying to live up to the lofty expectations of being a highly rated prospect and trying to carve out a role on a Los Angeles Dodgers team that stands among the most talented in recent memory.
Lately, though, Lux has found himself consumed by his hometown of Kenosha, Wisconsin, a lakeside community of around 100,000 people that has become embroiled in the racial tension that has risen across the nation over the last four months.
Jacob Blake, a 29-year-old Black man, was shot seven times in the back by a white police officer with his three children in the car on Aug. 23, sparking several nights of protests that escalated into violence and led to the shooting death of two demonstrators.
Lux has spent a lot of these past few weeks thinking about his family and friends back home, particularly his brother-in-law, a cousin of Pro Bowl running back Melvin Gordon, and his nephew, both of whom are Black.
It helped spur him into action.
"I can't look at my nephew in the eye and say, 'Hey man, I didn't fight for you,'" Lux said. "Naw, I can't do that."
Lux has been in touch with business owners and community leaders to gather intel on the best ways to help. The details are still hazy, but he has vowed to be proactive. He wants to set up a fundraiser for the businesses that have been impacted, and he wants to get back into the community as soon as the Dodgers' postseason run is over. The hope is to put together some sort of charitable event, perhaps a softball game or a 3-on-3 basketball tournament, to raise money and help bring the community back together.
"I feel like anybody can just write a check," Lux said, "but this is where I grew up."
Gordon is also from Kenosha. So is Minnesota Vikings cornerback Trae Waynes and social media influencer Tristan Jass. Lux is hoping to recruit all three in an effort to slowly pick up the pieces. Before a recent game against the Colorado Rockies, Lux spoke to ESPN about the dynamics of his hometown and the challenges it faces. (This conversation was edited for brevity and clarity.)
How quickly did you realize you needed to do something?
Lux: It took a couple of days just to sit and talk to some family members and some friends and some other people in the community that were affected. I was like, "Man, there's gotta be something I could do to use my platform to be able to help."
What were you hearing from your friends and family members about what it was like over there during that time?
Lux: It was a crazy time. A lot of different people were affected, businesswise, a lot of families were affected. They just said a lot of the city was struggling and that it was definitely just a completely different vibe from what it usually was. The community, for me, feels like it's a tight-knit community. It's not a super small city, but everybody kind of knows everybody, it feels like. Just to see everybody go through it a little bit, it kind of hurt me.
You've spent the vast majority of your life immersed in being a baseball player, and so much of your mindset has been set on what it's going to take to get to the major leagues and stay there. Had you gotten to a point where you thought far enough ahead about how you would ultimately use your platform, or did this event trigger that for the first time?
Lux: It's always in the back of my mind, but for it to hit so close to home, it caused a trigger where I was like, "Man, I do have a little bit of a platform, I can help. How can I help? What is the best way to help?" Those were kind of the thoughts that went through my head. Having it happen in my hometown definitely triggered it. But you see guys on our team like [Justin Turner] and [Clayton Kershaw] doing so many good things in the community, Mookie [Betts]. Pretty much everybody on our team is doing something good. Just being around those guys and seeing what they're doing — it rubs off on me where it makes you want to help people and do good. That's how it happens, you know?
How would you describe what it was like to grow up in Kenosha?
Lux: Everyone supports each other, and it really does feel like a tight-knit community. It's right next to the water, you're always going to the beach in the summer, stuff like that. I love the city. People might have the wrong [impression] about it, but it's a really good city. And to grow up there, I feel lucky.
This can be difficult to pick up on while you're still growing up, but did you ever consider it to be a racially divided city?
Lux: No, I don't think so. Honestly I don't. I don't know if what happened triggered that. But I honestly don't think it is. I really don't. You see these protests and you see people doing these gatherings and stuff like that, and there's people from all different walks of life. To say it's racially divided — I don't think it's accurate at all.
What was Aug. 26 like for you? Your hometown NBA team [the Milwaukee Bucks] decides to boycott a playoff game, and then later that night you're in the clubhouse in San Francisco where your teammates ultimately decide not to play against the Giants.
Lux: I support our whole team, obviously. I support equality and all that. For me it was emotional. Kenosha was affected, obviously. And if you have conversations with your teammates and other African-American people, you really understand what is going on. People just have to have these conversations to understand what is going on. To hear from some of my teammates and other people — I'm all in. I support the hell out of whatever we're gonna do here.
Mookie has been very proactive in the fight against social injustice, and Kershaw has gone out of his way to educate himself on the topic. What have you learned about the Black Lives Matter movement while sharing a clubhouse with them?
Lux: You gotta put yourself in a guy like Mookie's shoes and really understand what he's saying and his real-life experiences. Not just Mookie, either. There's a lot of other people, other family members and friends that I've talked to. You have to try to put yourself in their shoes and realize what's going on and try to get an understanding. I keep saying this, but you just have to have these conversations. They might not be the most comfortable conversations ever, but to understand, you have to have them.
What have your conversations with your brother-in-law and your nephew been like in recent weeks?
Lux: Pretty emotional, actually. These are people that I really care about and love, and hearing them get emotional about it, it really hits home. It's emotional. I want to see my nephew grow up and have the same opportunities that other people do.
MLB Sunday Spotlight – Will Twins or Cubs last longer in playoffs?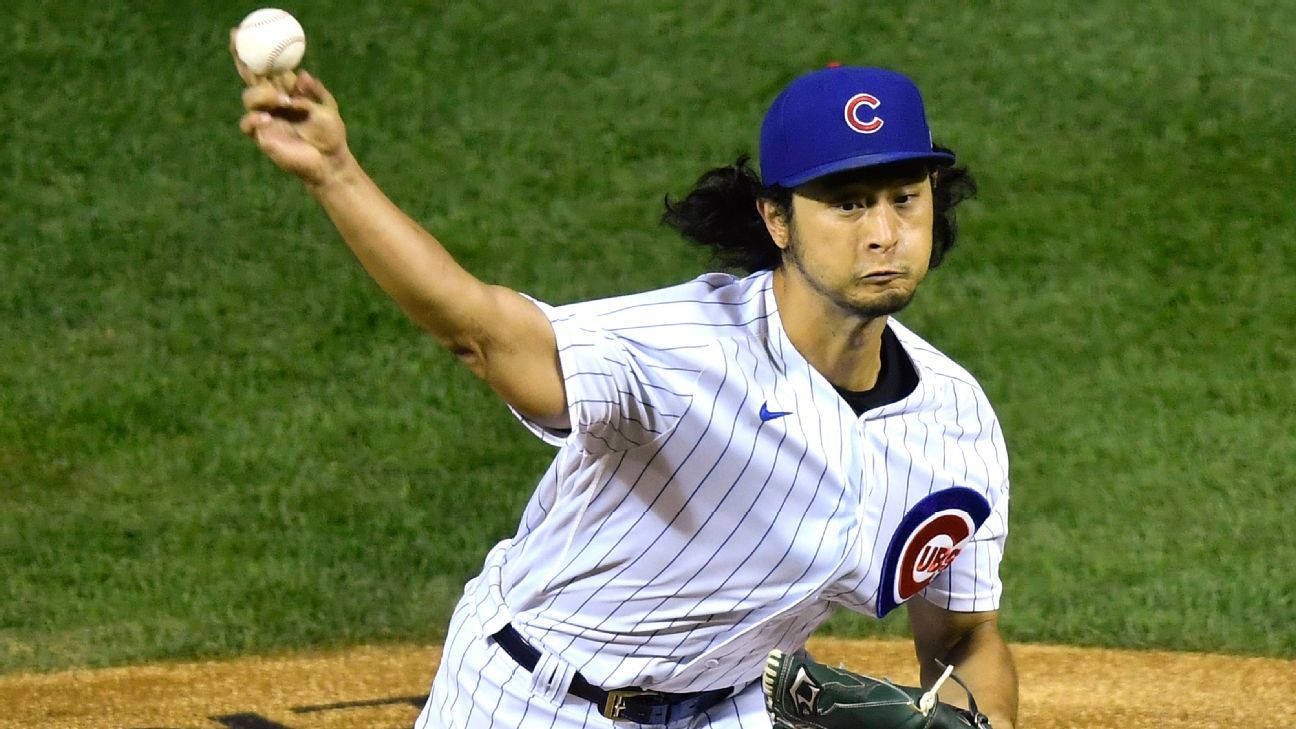 With the 2020 MLB season hitting the home stretch (already!), ESPN has a Sunday doubleheader with four teams hoping to make some noise in October. The Giants and A's get things going at 4 p.m. ET, followed by Twins-Cubs at 7 p.m. ET.
To get you ready for the twin bill, we asked national baseball reporters David Schoenfield and Jesse Rogers some key questions about the teams.
The Oakland Athletics haven't advanced in the playoffs since 2006. Will they break that slump this year?
Jesse Rogers: Not if they play the Cleveland Indians in the first round. The A's starters are good but none give you that scare the Indians can throw at you. Cleveland has its own issues, which might show up in a longer series. But shutting down an offense for two games? That should be Cleveland's specialty this postseason.
David Schoenfield: The good news is that after three straight losses in the wild-card game (2014, 2018, 2019) the A's will at least get a best-of-three opportunity this time. The strength of the team is the bullpen, which isn't the worst thing to have going for you in a short series. Manager Bob Melvin would have quick hooks for his starters and rely on his relievers. As of now, the A's would actually play the Astros in the first round and they've gone 7-3 against Houston. Those games have been extremely low scoring, with the A's averaging just 3.8 runs per game and Houston 2.5.
I'll say A's over Astros, but I'm with Jesse if they meet Cleveland, I'll go with the Indians shutting an Oakland offense that will be without Matt Chapman and has seen Marcus Semien and Matt Olson fail to replicate their 2019 production.
Rogers: Pitching. Just like the Indians, the Cubs have been fueled by the top end of their rotation as well as an improving bullpen. There isn't a need to look deeper than Yu Darvish (Whose return to dominance I profiled here), Kyle Hendricks and 'no-hit' Alec Mills as a good part of the reason the Cubs are in first place despite some down years by their stars.
Schoenfield: The Cubs haven't hit — but nobody has in the NL Central. Are they using balls left over from 2014 in that division or something? Entering the weekend, the Cubs actually rank 17th in the majors in wOBA, which isn't great, but is still the best in the division. Ian Happ, Jason Heyward and Jason Kipnis have helped to make the offense respectable and the pitching/defense entered the weekend allowing the second fewest runs per game in the NL, behind only the Dodgers.
Which of the two teams — the Twins or the Cubs — will last longer in the playoffs?
Schoenfield: Well, it looks like the Twins are pretty much locked in to face the Yankees in the first round, it's just a matter of where that series will be played. The Twins, of course, are riding a seemingly impossible streak of 16 consecutive postseason defeats going back to the 2004 Division Series. Thirteen of those losses have come against the Yankees. You can't really say the Yankees are in their heads because these have been different groups of Minnesota players, but it's fair to venture that the Twins would probably rather face anybody else in the first round. When they met last season, the Twins' rotation was on fumes because of injuries and they're in better shape this year with Kenta Maeda having a terrific season. In fact, dare I suggest the Twins do this: Skip Maeda in Game 1 and use Randy Dobnak or a bullpen game against Gerrit Cole and then go Maeda in Game 2 and Jose Berrios in Game 3?
(So my answer is the Cubs will last longer.)
Rogers: Neither. They'll both go out after the first round.
Schoenfield: Ahh, Jesse, you underrated the Cubs. The bottom of the NL is terrible. They're going to play the Giants or Marlins or Reds or Phillies; I'll take the Cubs over any of those teams, although Darvish's postseason history is, umm, a pause for concern.
Yankees tie franchise record with 12th straight win vs. Red Sox
BOSTON — The New York Yankees–Boston Red Sox rivalry is considered one of the greatest in all sports.
But in the past two years, it has certainly turned into a one-sided affair.
The Yankees pummeled the Red Sox 8-0 on Saturday night for their 12th consecutive victory over their AL East rivals, tying a franchise record. The Yankees have won 12 straight games vs. Boston and 17 of the last 18 games between the clubs since July 28, 2019.
"It's probably a little bit fluky, a little aberration," said manager Aaron Boone when addressing the franchise's record-tying streak. "Obviously, [the Red Sox] haven't quite been the same team this year with some of the guys they've lost and some of the guys in their pitching staff that they've lost due to injury.
"And this year I know we've played them at some times when we've been playing really well. We've stolen a couple wins from them, like late last night. Last year, we caught them at a good time at the end of the year. Look, it's always fun beating those guys. We obviously respect who they are and all the great games we've had to play against them, but … enjoy it while it lasts."
The Yankees' current win streak against Boston is their longest since winning 12 straight from Aug. 16, 1952 to April 23, 1953. It's only the third time in franchise history that the Yankees have won 12 straight games against the Red Sox (also May 27-Aug 23, 1936).
J.A. Happ, who worked eight scoreless innings to earn his second win of the season, said the Yankees were mindful of the winning streak and hoped to set a new record on Sunday when they play their last game of the season at Fenway Park.
"I know we have a good team and we're playing well," Happ said. "We are aware of that number [12 straight], excited to get out there tomorrow and try to take the nod [set the record] there. We recognized it tonight that we could tie it."
"We're focused on trying to put ourselves in a really good position for the playoffs, and winning [Sunday] would set the record — and that's going to be really cool thing if we do," added outfielder Clint Frazier, who went 3-for-4 with a home run and three RBIs.
The Yankees have now won a season-high 10 straight games, matching their longest winning streak since June 2012. During their current streak, the Bronx Bombers have hit 29 home runs and have outscored opponents 85-25.
At 31-21, the Yankees clinched their 28th consecutive winning record since 1993, the second-longest stretch in MLB history behind only their own streak of 39 straight winning seasons from 1926-64. The Yankees' "magic number" to clinch a postseason berth currently stands at one.