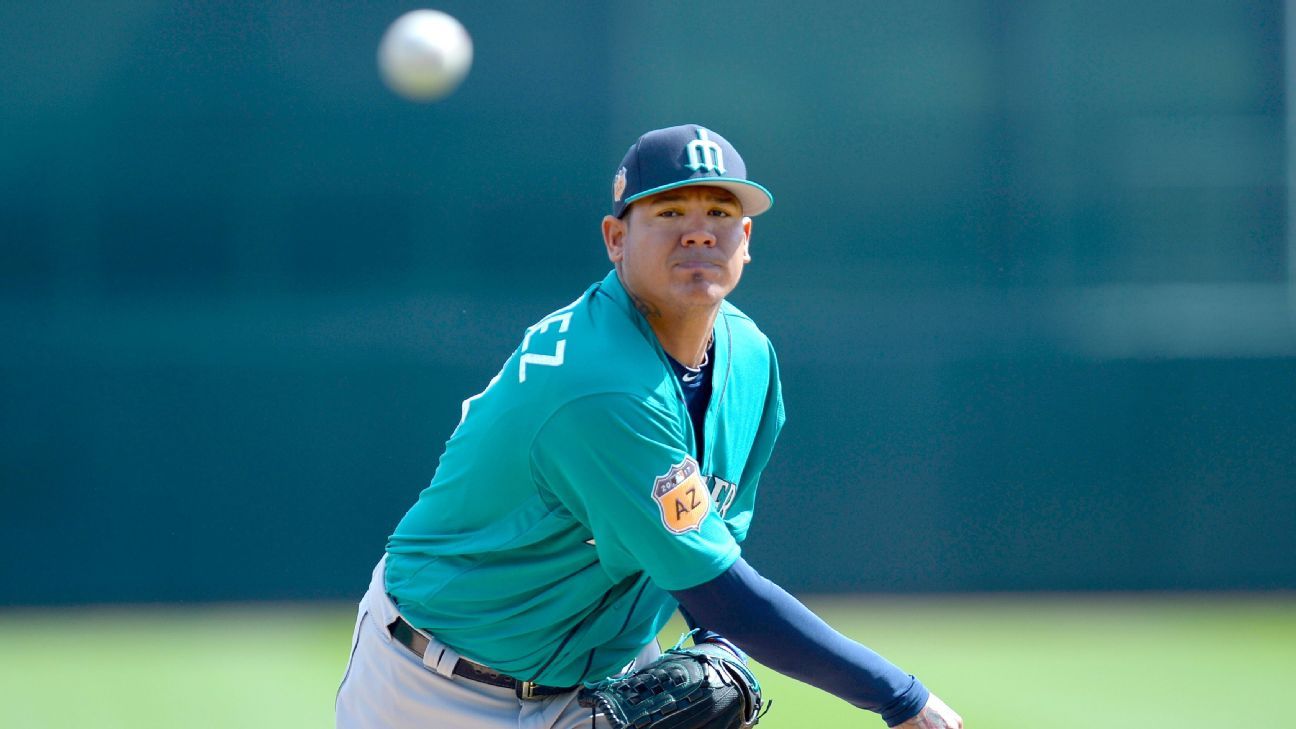 MESA, Ariz. — Seattle Mariners pitcher Felix Hernandez left Monday's spring game against the Chicago Cubs in the top of the second inning after being struck by a line drive.
Hernandez, 31, immediately grabbed his right forearm after getting hit by the line drive off the bat of Cubs catcher Victor Caratini. Trainers came out to attend to Hernandez, and he was taken to the Mariners' facility for X-rays, which came back negative. He will be reevaluated Tuesday and is listed as day-to-day.
Hernandez missed considerable time last season with shoulder issues and struggled to a 4.12 ERA while compiling just 118 innings.
Last May, a line drive off the bat of Caratini struck Cardinals pitcher Daniel Poncedeleon in the head during a Triple-A game. Poncedeleon required emergency surgery to alleviate pressure on his brain, followed by a couple of weeks in intensive care in Des Moines, Iowa, and then three months of inactivity at home in Florida.
Poncedeleon returned to the mound Sunday, pitching two innings of three-hit, one-run ball for the Cardinals against the Houston Astros.
Fernando Tatis Jr. leaves San Diego Padres game with undisclosed injury
SAN DIEGO — Padres star shortstop Fernando Tatis Jr. hurt himself taking a hard swing Monday night and immediately left the game against the San Francisco Giants.
Tatis struck out swinging against Anthony DeSclafani and winced in pain as he fell to the ground. He cradled his left arm while he got up, and two athletic trainers helped hold his left arm against his body as he left the field.
The 22-year-old Tatis left a game late in spring training with left shoulder discomfort but was back two days later. Manager Jayce Tingler said then that Tatis had been dealing with left shoulder discomfort since his minor league days. Tatis later said he'd had it since rookie ball.
Tatis committed five errors through the first four games.
He signed the longest contract in big league history on Feb. 22, a 14-year, $340 million deal.
Black Keys drummer Patrick Carney fills in at Cleveland Indians' home opener
CLEVELAND — Patrick Carney wasn't nervous before his first live drumming gig in more than a year, just honored.
A lifelong Indians fan and one half of The Black Keys, the Grammy Award-winning rock duo from Akron, Ohio, Carney filled in Monday at Cleveland's home opener for drummer John Adams, who is recovering from heart surgery.
Adams missed his first home opener since 1973, ending a run that has featured him sitting high in the left-field bleachers and pounding a steady beat whenever the Indians are hitting.
Carney was thrilled to be able to sit in for Adams.
"I'm stoked to be here for John," Carney told The Associated Press about two hours before the Indians hosted the Kansas City Royals at Progressive Field. "It's the best seat in the house and I wish John could be here, obviously. When I heard he wasn't healthy enough to make it, I thought it was good way to pay some respect to him and show him some love."
Before he could begin banging away, Carney was bestowed drumming duties by Adams during a video presentation in the first inning.
Carney's appearance didn't spark the Indians, who managed just three hits and were shut out 3-0 by the Royals.
Carney said he attended his first Indians game in Cleveland when he was "5 or 6" and that one of his close friends who accompanied him to that game decades ago was attending the opener.
Like so many musical acts, The Black Keys haven't been on a stage since just before the COVID-19 pandemic shut down normal life.
"This is my first show since last January," Carney said. "Crazy. This is gonna be fun."
Carney said he's looking forward to concerts resuming and that he and bandmate Dan Auerbach could have an announcement next week on their upcoming plans.
Coors Field expected to host 2021 MLB All-Star Game, sources say
Coors Field in Denver is expected to host this year's All-Star Game, sources told ESPN's Buster Olney on Monday.
MLB opted to move the game out of Atlanta due to voting laws passed in Georgia last month.
It will mark the second time the homer-friendly home of the Colorado Rockies will host the Midsummer Classic. The American League beat the National League 13-8 at Coors in 1998.
This year's All-Star Game originally was scheduled for July 13 at Truist Park, home of the Braves. However, on April 2, MLB announced that it decided to move the game out of Atlanta due to a new Georgia law that has civil rights groups concerned about its potential to restrict voting access for people of color.
Commissioner Rob Manfred said in a statement at the time that he discussed the potential move with individual major leaguers and the Players Alliance, an organization of Black players formed after the death of George Floyd last year, before ultimately deciding to make the call "as the best way to demonstrate our values as a sport."
Georgia Gov. Brian Kemp signed into law last month a sweeping, Republican-sponsored bill that includes new restrictions on voting by mail and greater legislative control over how elections are run. The bill, which also prohibits volunteers from distributing food and water to voters waiting in line, was finalized on March 25 roughly 15 miles from Truist Park.
The new voting law came in the wake of the first Democratic victories in presidential and Senate elections in Georgia in a generation, which triggered repeated unproven assertions by former President Donald Trump that the state's election was fraudulent. Supporters of the new law have said it merely ensures election integrity and stamps out potential fraud, while critics have described it as a voter suppression tactic that would make it more difficult for minorities, particularly people of color, to vote, citing how it reduces ballot access in urban communities that lean Democrat.
Information from the Associated Press was used in this report.