Seattle Mariners pitcher Felix Hernandez left Monday's spring game against the Chicago Cubs after being struck by a line drive on his pitching arm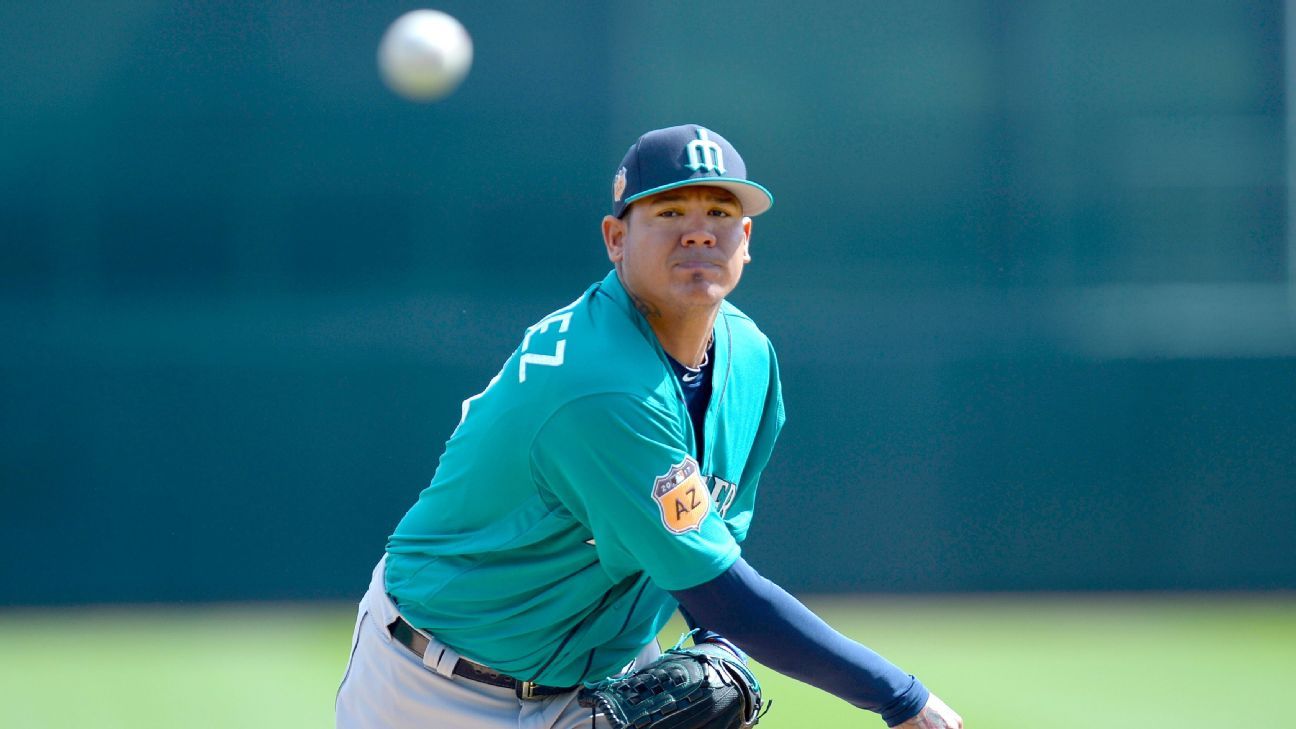 MESA, Ariz. — Seattle Mariners pitcher Felix Hernandez left Monday's spring game against the Chicago Cubs in the top of the second inning after being struck by a line drive.
Hernandez, 31, immediately grabbed his right forearm after getting hit by the line drive off the bat of Cubs catcher Victor Caratini. Trainers came out to attend to Hernandez, and he was taken to the Mariners' facility for X-rays, which came back negative. He will be reevaluated Tuesday and is listed as day-to-day.
Hernandez missed considerable time last season with shoulder issues and struggled to a 4.12 ERA while compiling just 118 innings.
Last May, a line drive off the bat of Caratini struck Cardinals pitcher Daniel Poncedeleon in the head during a Triple-A game. Poncedeleon required emergency surgery to alleviate pressure on his brain, followed by a couple of weeks in intensive care in Des Moines, Iowa, and then three months of inactivity at home in Florida.
Poncedeleon returned to the mound Sunday, pitching two innings of three-hit, one-run ball for the Cardinals against the Houston Astros.
Follow live: Bellinger, Dodgers seek 2-0 series lead
Los Angeles Dodgers' Game 1 win of World Series draws record-low viewers
ARLINGTON, Texas — The Los Angeles Dodgers' victory over the Tampa Bay Rays in Game 1 drew a record-low audience of television viewers for a World Series game.
Los Angeles' 8-3 win received a 5.1 rating and was seen by an average of 9,195,000 viewers on Fox from 8:06 p.m. to 11:41 p.m. EDT on Tuesday night, Nielsen Media Research said Wednesday.
The previous low had been set the only other time the Rays were in the World Series, when their 5-4 loss to Philadelphia in Game 3 in 2008 was viewed by an average of 9,836,000 that Oct. 25, a Saturday night.
Until now, the low for a Game 1 had been San Francisco's 7-1 win over Kansas City on Oct. 21, 2012, viewed by an average of 12,191,000 on a Tuesday night.
Washington's 5-4 victory over Houston in last year's opener was seen by an average of 12,283,000 on Oct. 22, also a Tuesday night.
Still, Fox won the prime-time evening with its best performance on a Tuesday night since Game 6 of last year's World Series.
The rating is the percentage of television households tuned in to a broadcast.
Tampa Bay Rays add two lefty hitters to lineup for Game 2
ARLINGTON, Texas — Austin Meadows is leading off as the designated hitter for Tampa Bay and first baseman Ji-Man Choi is in the cleanup spot for the Rays in Game 2 of the World Series against the Los Angeles Dodgers.
With rookie right-hander Tony Gonsolin on the mound for the Dodgers on Wednesday night, the left-handed hitters Meadows and Choi were in the lineup after not starting the series opener against lefty Clayton Kershaw. The Rays had five left-handers in the batting order.
Left-hander Blake Snell, the 2018 AL Cy Young Award winner, is starting for the Rays after right-hander Tyler Tyler Glasnow opened Game 1.
Kike Hernandez, who entered Tuesday's 8-3 Dodgers win as a pinch-hitter after Glasnow was out of the game, is getting the Game 2 start at second base. Chris Taylor moves to left field, with AJ Pollock the DH and Will Smith the catcher after being the DH in Game 1.