Sam Darnold of USC Trojans will not throw at NFL scouting combine
USC's Sam Darnold, one of four quarterback prospects widely expected to be drafted in the first round, will not throw at this week's NFL scouting combine, a source told ESPN's Adam Schefter on Tuesday.
Darnold, who threw for 4,143 yards on 63.1 percent passing with 26 touchdowns and 13 interceptions as a sophomore last season, instead will focus on athletic testing and interviews at the combine, the source said.
Darnold, 20, will throw at USC's pro day on March 21, the source said.
The last time the top quarterbacks did not throw at the scouting combine was 2014, when Johnny Manziel and Teddy Bridgewater didn't participate in throwing drills.
The other top quarterbacks in this year's draft class — Josh Allen, Baker Mayfield and Josh Rosen — all plan to throw at the combine, the NFL Network has reported.
Raheem Mostert's 80-yard TD helps Niners to fast start
For the second week in a row, San Francisco 49ers running back Raheem Mostert offered some early-game fireworks, going 80 yards for a touchdown against the New York Jets.
Last week, Mostert had a 76-yard catch-and-run for a touchdown on the Niners' second offensive series against the Arizona Cardinals. On Sunday, Mostert didn't wait nearly as long, as he burst off the right side of the offensive line on a simple toss play and raced 80 yards for the touchdown and a 7-0 lead just 17 seconds into the game.
According to ESPN Stats & Information, Mostert is the first player on any team with multiple 75-yard scrimmage touchdowns in his team's first two games since Frank Gore in 2009.
On the first play of the game…

Raheem Mostert goes 80 yards to the house! @RMos_8Ball #FTTB

📺: #SFvsNYJ on FOX
📱: NFL app // Yahoo Sports app: https://t.co/gdttfTQjuY pic.twitter.com/52zz7AMBMf

— NFL (@NFL) September 20, 2020
In the process, Mostert reached a max speed of 23.09 miles per hour, according to NFL Next Gen Stats. That is the fastest speed by a ball carrier on a play from scrimmage over the past five seasons, topping the mark Mostert set last week when he hit 22.75 miles per hour on his touchdown catch.
On Friday, Mostert told ESPN he actually slowed down on the long touchdown catch, but he had his sights set on breaking that record.
"I'm gonna try to [beat that speed] at least but I'm not gonna be strenuous about it because I know my speed," Mostert said. "And I know my abilities, so I'm not gonna put too much, you know, stuff on me. I just go out there and just play man."
Mostert has now scored a touchdown in eight consecutive games, the most by a 49er since Terrell Owens did it in 1998.
Follow live: Brady, Bucs look to get on track vs. Panthers
Kansas City Chiefs coach Andy Reid to wear face shield again in Week 2, try out defogging product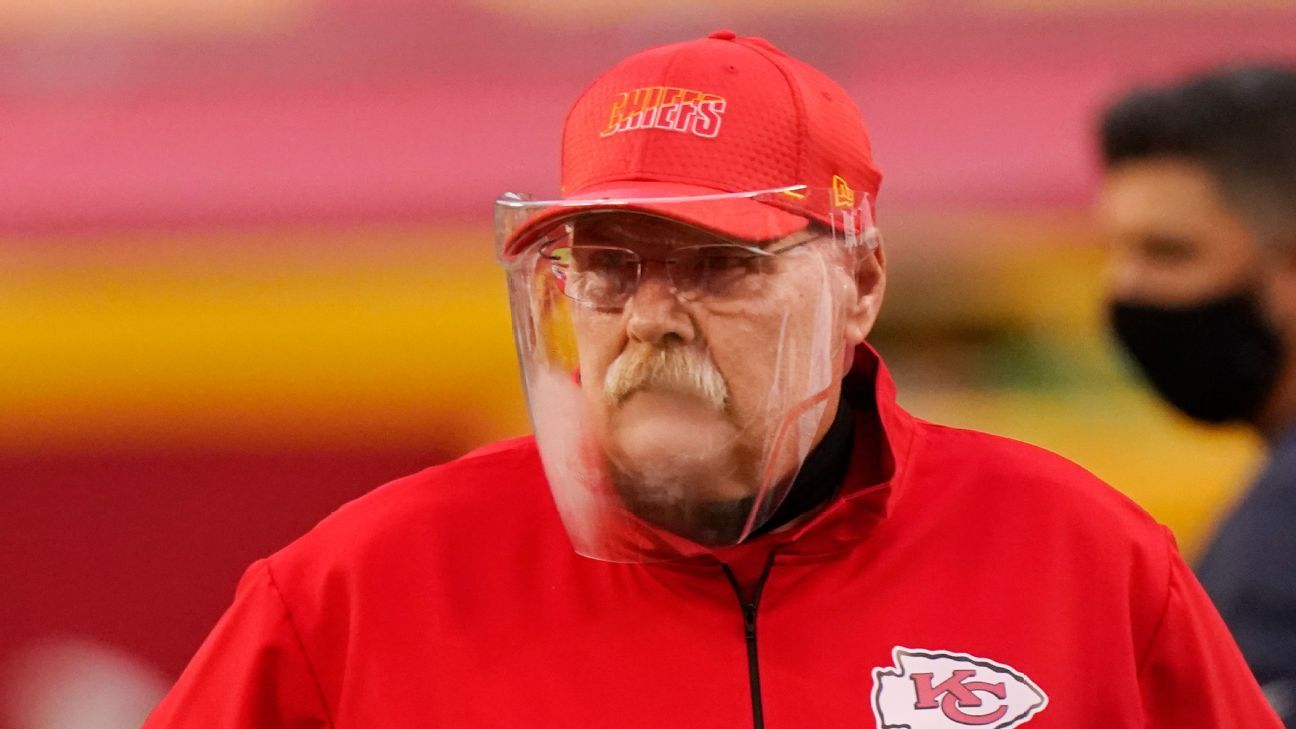 Chiefs coach Andy Reid on Sunday will wear the same face shield he wore for Kansas City's regular-season opener.
But Chiefs equipment manager Allen Wright has secured and deployed a product that hockey players use to defog their masks, Reid said over the weekend.
Reid is expecting better visibility results in Sunday's game against the Chargers than he got in the Sept. 10 opener against the Texans, when his shield fogged up throughout the game and became a memorable image from Week 1.
Rams coach Sean McVay, who was seen last Sunday night not always wearing his mask, texted Saturday night to ESPN that he might keep his normal mask this week in Los Angeles' game against the Eagles or use a gaiter, adding that "I'll be better."
McVay acknowledged this past week that he was one of the reasons the NFL sent out a memo warning coaches that they needed to be more diligent about wearing masks or potentially face discipline.
"I figured that memo was directed at me," McVay said this past Monday. "I've got to do a better job about that. So moving forward there will be a conscious effort to do that."
The NFL's sharply worded message was composed by executive vice president of football operations Troy Vincent, who wrote that Week 1 was "tremendous" but noted that "we must remain vigilant and disciplined in following the processes and protocols put in place by not only the league, union and clubs, but also by state and local governments."