Russell Wilson joins heavy hitters in first batting practice with the New York Yankees
TAMPA, Fla. — Russell Wilson's childhood visions became a reality Monday as he reported to the New York Yankees' spring training facility and donned the pinstripes for the first time.
The Super Bowl-winning Seattle Seahawks quarterback will be spending the next five days with the Yankees after a trade last week that sent him from the Texas Rangers to New York.
Perhaps the highlight of Wilson's arrival came when Yankees batting practice Group 2 took center stage. Wilson joined Yankees sluggers Giancarlo Stanton, Aaron Judge, Gary Sanchez and Greg Bird for a few rounds of live hitting. Unofficially, Stanton paced the group with 15 total home runs, while Judge had 10 and Bird had eight. Wilson got on the home run leaderboard, too, eclipsing Sanchez by one with six long balls.
Although he took some soft toss over the weekend, Wilson, with his 31-ounce Louisville Slugger that had his name printed on it, said this was his first batting practice session in a while.
"This is what I've known my whole life," Wilson said. "Now, I couldn't just step on a basketball court. I wouldn't be good at basketball, but baseball, it's like riding a bike once you get back out there for me. It's not an easy sport, though. It's very, very difficult."
Difficult or not, Wilson is enjoying being back around baseball.
"It's definitely one of the coolest things I've ever done," Wilson said about putting on a Yankees jersey for the first time, with a nod to Babe Ruth. "I tried to get No. 3, but I think somebody had it already.
"Ever since I was a young kid I always dreamed to be a Yankee. I always watched them. My favorite player was Derek Jeter growing up, watching him, his professionalism and how he played."
Wilson's late father, Harrison Wilson III, was a lifelong Yankees fan. Before he died in 2010 of complications related to diabetes, the elder Wilson hoped his multisport son might one day play for his favorite team.
"I always told my dad I'd be a New York Yankee, and now I'm here," Wilson said.
Although Wilson is officially on the Yankees' spring training roster, he won't be playing in any games. Manager Aaron Boone has stressed that Wilson's primary duty is simply to enjoy himself.
Before stepping into the cage, Wilson fielded ground balls at second base. In addition to making routine throws to first, he also worked on his double-play pivots with shortstop Didi Gregorius. Wilson told Gregorius it was his first time taking ground balls in a year and a half.
"I told him it does not look like it," Gregorius said. "He did not look rusty at all."
Despite the circus-like atmosphere that Wilson's arrival at Steinbrenner Field has created, he told reporters in a news conference that his appearance here was sincere.
"Some people always, for me, get confused on 'is this just a stunt' or whatever. They don't know me. If you really know me, baseball's been part of my blood," Wilson said. "It's been a part of who I am and where I've come from and what I've done. When you see me make plays on the football field, a lot of that's a direct correlation to baseball."
Although he wants his players to pick Wilson's brain about leadership, Boone has kept his charges to Wilson simple.
"I don't want him to feel like he's got to address this or do that. I want him to kind of come in and just kind of be himself, and get to know us and enjoy himself. A lot of our guys will benefit from him being in camp. It's exciting to see how excited he is about being here."
Yankees such as Oregon-born Seahawks fan Brandon Drury are ready to see how this week unfolds.
"The guy's a winner," Drury said. "Whether it's baseball or off-the-field stuff. Even mental stuff … I know he's really smart and he studies the game and he cares."
Wilson, who played college baseball at NC State, was drafted in the fourth round of the 2010 MLB draft by the Colorado Rockies. The Rangers acquired him from Colorado in 2013. Wilson spent parts of two seasons playing Class A ball in the Rockies organization before he was selected in the third round of the 2012 NFL draft by Seattle.
"I'm going to immerse myself in everything that they're doing," Wilson said of the Yankees. "I want to learn as much as I can and also compete as much as I can."
ESPN's Jenna Laine and Jon Scher contributed to this report.
Corey Kluber becomes free agent after Texas Rangers pass on $18M option
ARLINGTON, Texas — The Texas Rangers on Friday declined the $18 million contract option on right-hander Corey Kluber, who lasted just one inning in his only start before a shoulder injury ended his season.
Kluber gets a $1 million buyout, and the club has said it is interested in re-signing Kluber to a less expensive deal.
The Rangers acquired the two-time Cy Young Award winner from Cleveland last offseason in exchange for hard-throwing reliever Emmanuel Clase, who was suspended 80 games after testing positive for a banned performance-enhancing substance.
Kluber threw 18 pitches in his only inning for the Rangers, leaving with shoulder tightness in a 5-2 loss to Colorado in the third game of the season. The 34-year-old was diagnosed with a small tear in his shoulder muscle the next day.
It was Kluber's first appearance with a team other than Cleveland, and his first start in almost 15 months after his right forearm was broken by a line drive in what ended up being his final start for the Indians on May 1, 2019. Kluber was close to returning later that season when an oblique injury sidelined him again.
Kluber's five-year run as an Opening Day starter ended this past season. He was 98-58 with a 3.16 ERA for the Indians and pitched at least 200 innings five straight seasons before breaking his forearm.
The Rangers planned to have Lance Lynn, Mike Minor and Kluber as their top three starters this past season. Lynn is all that remains for now. Texas hung on to its best pitcher despite being out of contention at the trading deadline in the pandemic-shortened season. Minor was traded to Oakland for two minor leaguers.
Texas also assigned right-hander Luke Farrell to the minor leagues, and right-handed reliever Ian Gibaut was sent to Minnesota on a waiver claim.
Major League Baseball cancels owners meetings, winter meetings due to COVID-19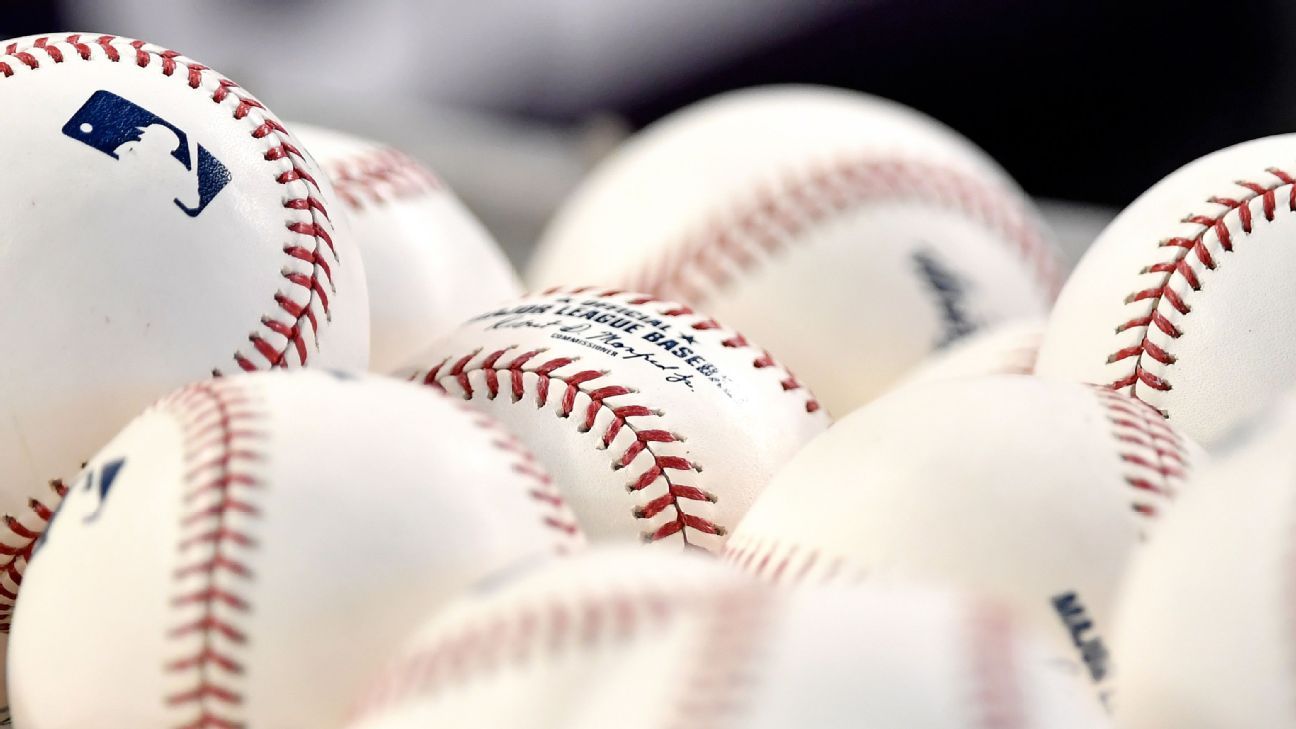 After shortening the 2020 Major League Baseball regular season, the COVID-19 pandemic is already impacting the offseason, as the league announced Friday the cancellation of both the owners meetings in November and the winter meetings in December. Instead, agendas will be conducted virtually as needed.
The cancellation of the winter meetings is a big blow to the sport because it's the annual time for organizations — both on the major league and minor league side — to come together in one place. Job fairs, trade shows and award announcements are normal winter meetings events, along with trade talks. None will take place in person in 2020.
The general managers meetings, held in early November, had already been canceled. The owners meetings were scheduled for Nov. 17-19 in Arlington, Texas, while the winter meetings were to be held Dec. 7-10 in nearby Dallas.
Baseball has not announced any changes to the schedule for spring training, but it's possible it won't start on time, according to sources familiar with the situation.
Milwaukee Brewers decline 2021 options on Jedd Gyorko, Eric Sogard, Ben Gamel
MILWAUKEE — The Brewers have declined 2021 options on infielders Jedd Gyorko and Eric Sogard as well as outfielder Ben Gamel.
Gyorko and Sogard each had $4.5 million options and now instead become eligible for free agency. Gamel remains under team control after the Brewers declined a $2.55 million option on him.
The moves come one day after the Brewers declined a $15 million option on 2011 National League MVP Ryan Braun, whose 352 career homers make him the franchise's all-time leader in that category. Braun, who is due a $4 million buyout, said during the season he was contemplating retirement.
Gyorko, 32, batted .248 with nine homers and 17 RBIs in 43 games and 117 at-bats this season. His .838 OPS was the highest of any Brewers player with at least 60 at-bats. He played mostly against left-handers but became the Brewers' primary first baseman by the end of the season.
Sogard, 34, hit .209 with one homer, 10 RBIs and a .560 OPS in 44 games. He had a .281 on-base percentage and .278 slugging percentage.
Gamel, 28, batted .237 with three homers, 10 RBIs and a .718 OPS in 40 games.