TAMPA, Fla. — Russell Wilson's childhood visions became a reality Monday as he reported to the New York Yankees' spring training facility and donned the pinstripes for the first time.
The Super Bowl-winning Seattle Seahawks quarterback will be spending the next five days with the Yankees after a trade last week that sent him from the Texas Rangers to New York.
Perhaps the highlight of Wilson's arrival came when Yankees batting practice Group 2 took center stage. Wilson joined Yankees sluggers Giancarlo Stanton, Aaron Judge, Gary Sanchez and Greg Bird for a few rounds of live hitting. Unofficially, Stanton paced the group with 15 total home runs, while Judge had 10 and Bird had eight. Wilson got on the home run leaderboard, too, eclipsing Sanchez by one with six long balls.
Although he took some soft toss over the weekend, Wilson, with his 31-ounce Louisville Slugger that had his name printed on it, said this was his first batting practice session in a while.
"This is what I've known my whole life," Wilson said. "Now, I couldn't just step on a basketball court. I wouldn't be good at basketball, but baseball, it's like riding a bike once you get back out there for me. It's not an easy sport, though. It's very, very difficult."
Difficult or not, Wilson is enjoying being back around baseball.
"It's definitely one of the coolest things I've ever done," Wilson said about putting on a Yankees jersey for the first time, with a nod to Babe Ruth. "I tried to get No. 3, but I think somebody had it already.
"Ever since I was a young kid I always dreamed to be a Yankee. I always watched them. My favorite player was Derek Jeter growing up, watching him, his professionalism and how he played."
Wilson's late father, Harrison Wilson III, was a lifelong Yankees fan. Before he died in 2010 of complications related to diabetes, the elder Wilson hoped his multisport son might one day play for his favorite team.
"I always told my dad I'd be a New York Yankee, and now I'm here," Wilson said.
Although Wilson is officially on the Yankees' spring training roster, he won't be playing in any games. Manager Aaron Boone has stressed that Wilson's primary duty is simply to enjoy himself.
Before stepping into the cage, Wilson fielded ground balls at second base. In addition to making routine throws to first, he also worked on his double-play pivots with shortstop Didi Gregorius. Wilson told Gregorius it was his first time taking ground balls in a year and a half.
"I told him it does not look like it," Gregorius said. "He did not look rusty at all."
Despite the circus-like atmosphere that Wilson's arrival at Steinbrenner Field has created, he told reporters in a news conference that his appearance here was sincere.
"Some people always, for me, get confused on 'is this just a stunt' or whatever. They don't know me. If you really know me, baseball's been part of my blood," Wilson said. "It's been a part of who I am and where I've come from and what I've done. When you see me make plays on the football field, a lot of that's a direct correlation to baseball."
Although he wants his players to pick Wilson's brain about leadership, Boone has kept his charges to Wilson simple.
"I don't want him to feel like he's got to address this or do that. I want him to kind of come in and just kind of be himself, and get to know us and enjoy himself. A lot of our guys will benefit from him being in camp. It's exciting to see how excited he is about being here."
Yankees such as Oregon-born Seahawks fan Brandon Drury are ready to see how this week unfolds.
"The guy's a winner," Drury said. "Whether it's baseball or off-the-field stuff. Even mental stuff … I know he's really smart and he studies the game and he cares."
Wilson, who played college baseball at NC State, was drafted in the fourth round of the 2010 MLB draft by the Colorado Rockies. The Rangers acquired him from Colorado in 2013. Wilson spent parts of two seasons playing Class A ball in the Rockies organization before he was selected in the third round of the 2012 NFL draft by Seattle.
"I'm going to immerse myself in everything that they're doing," Wilson said of the Yankees. "I want to learn as much as I can and also compete as much as I can."
ESPN's Jenna Laine and Jon Scher contributed to this report.
Detroit Tigers' Akil Baddoo homers on first pitch of first MLB at-bat
DETROIT — Akil Baddoo had already turned heads with his productive spring. Now he has made his presence felt at Comerica Park.
Baddoo homered in his first major league at-bat Sunday — on the very first pitch. The Detroit Tigers outfielder led off the bottom of the third inning with a drive to left field off Cleveland's Aaron Civale. The game was Baddoo's first appearance above Class A.
His teammates seemed caught up in the moment when he returned to the dugout.
"I was actually waiting for the silent treatment, but everyone was just full of energy — just so happy for me," Baddoo said. "So I loved every second of it."
Baddoo, 22, was drafted by the Minnesota Twins in 2016, and the Tigers took him with the third pick of the 2020 winter meeting draft of unprotected players. He is coming off a terrific spring training in which he hit .325 with five home runs in 21 games.
He didn't seem fazed by the pressure of appearing in a regular-season game for the first time.
"What a cool moment for him and his family," manager AJ Hinch said. "First pitch he sees in the big leagues, he goes oppo. Crowd really responded and did a nice job of welcoming him to Detroit."
Baddoo gave the bat a little flip, and his excitement was obvious as he rounded the bases. He said after the game he didn't remember what exactly was going through his mind.
"I couldn't tell you," he said. "I was just so happy that I was able to put a good swing on the ball and hit a home run."
There was speculation that his bat flip might have rubbed the Indians the wrong way. When Cleveland's Jordan Luplow homered later in the game, he pointed toward the outfield, but he said that was directed at some fans, not Baddoo.
"There were some guys chirping me with, like, Oakland Athletics gear," Luplow said. "They were chirping me. I'm an Oakland fan. I grew up going to the games, but I was talking to them and they were chirping me, so I gave them a little point after."
Cleveland ultimately won the game 9-3.
GM Mike Rizzo still 'in constant contact with MLB' as Washington Nationals hope to host opener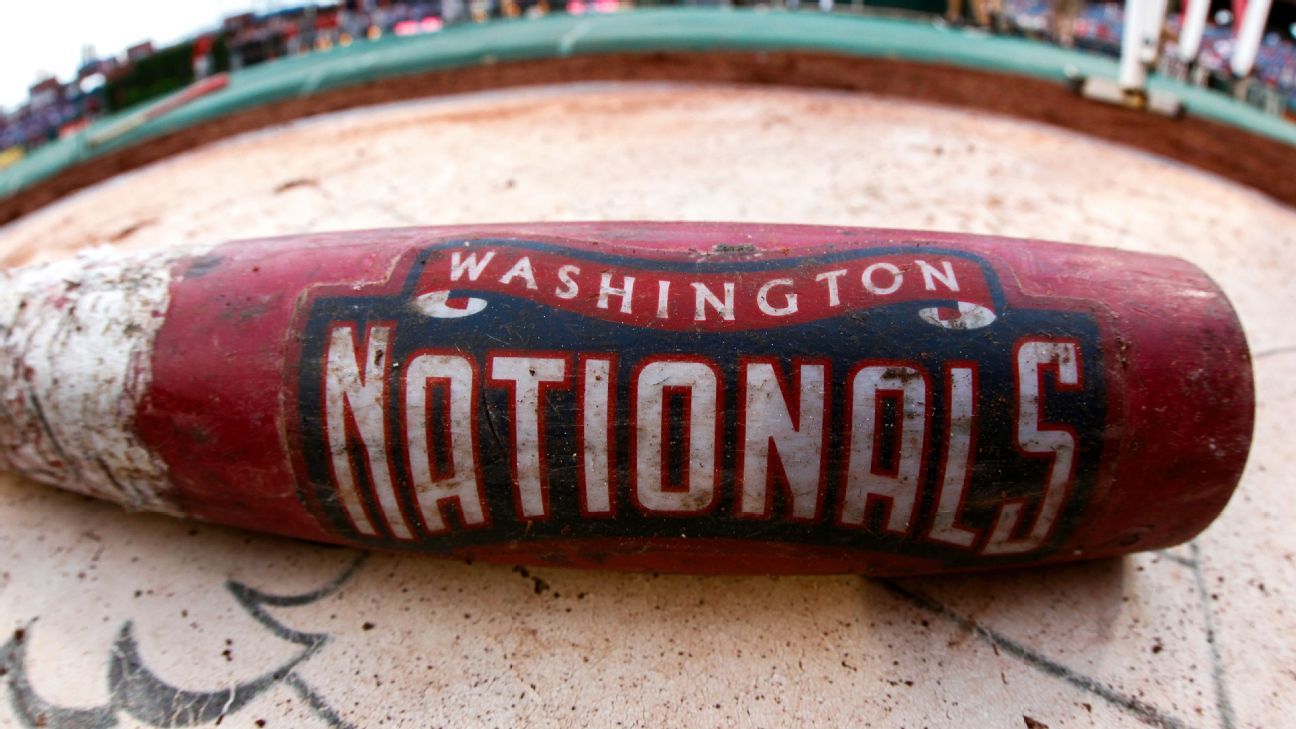 WASHINGTON — The Nationals and Atlanta Braves still were waiting as of Sunday afternoon to find out whether Major League Baseball will allow their upcoming series to proceed as scheduled while Washington deals with a coronavirus outbreak that could prevent 11 players from participating.
Four Nationals players have tested positive for COVID-19 over the past week and are isolating, while a total of another seven are now under quarantine because contact tracing determined they might have been exposed to the illness.
General manager Mike Rizzo said none of those 11 — a majority of whom, although not all, were supposed to be on the opening day roster — would be available if the three-game set with Atlanta begins Monday. Rizzo has not publicly identified any of the players involved or the two staff members who also have been placed under quarantine because of possible exposure.
Washington has yet to play a game this season; its opening three-game series against the New York Mets on Thursday, Saturday and Sunday was postponed.
"Believe me, we're in constant contact with MLB. As soon as a decision's made, they're going to let us know. They've been through this before. They know exactly what they have to do and when we when have to do this to prepare for a game on Monday," Rizzo said in a video call with reporters Sunday.
"We are preparing — and have been preparing — to play Monday," he said.
Team workouts have not been permitted since the outbreak began, something Rizzo says should happen before Washington faces an opponent, but pitchers were able go to Nationals Park one by one on Saturday and Sunday to throw bullpen sessions.
"Position players haven't worked out in a week. And pitchers haven't thrown any competitive pitch in that same period of time. It's something that we're taking very seriously here. We're thinking of creative ways under the protocol and under the guidance to get these guys as ready as possible," Rizzo said.
"It makes a lot of sense for baseball, player protection-wise, to have these guys go through their paces in a full workout before we take the field," he added.
The reigning NL East champion Braves are 0-3, coming off a season-opening sweep in which they managed to score a total of three runs at the Philadelphia Phillies.
And while Atlanta didn't know for certain, as of 24 hours before Monday's scheduled first pitch in Washington, when its next game would be, Braves catcher Travis D'Arnaud said: "I know we've got to be ready to play. It's better to be ready to play than get surprised."
Braves manager Brian Snitker said he was going to assume his club would be playing Monday until he hears otherwise.
"This is the COVID era. Everything's fluid," Snitker said. "If I get a call tomorrow at 10 o'clock (postponing the game), it's not going to surprise me. I'm not expecting it, but it could happen."
Rizzo said that all of his team's coronavirus testing has continued to come back negative, other than for the four players who are in isolation.
And he said those four are "feeling much, much better," adding that any symptoms that appeared earlier have subsided.
Now it is up to MLB to figure out when the Nationals can begin their season.
"We want to do everything we can to nip this thing in the bud right here, right now," Rizzo said. "So I think that's being taken very much into consideration when we're talking [about] the next couple of days."
Boston Red Sox swept by Baltimore Orioles for second-ever 0-3 start at Fenway Park
BOSTON — The Red Sox fell to their first 0-3 start at Fenway Park since 1948 and their second ever as Trey Mancini and Austin Hays hit two-run doubles during a seven-run third inning that carried the Baltimore Orioles to an 11-3 win Sunday.
Cedric Mullins went 5-for-5 with three doubles and a walk for the Orioles, collecting four hits in the first four innings. Maikel Franco added a first-inning, two-run double, helping Baltimore to its first three-game sweep at Fenway since Aug. 25-27, 2017.
Boston is coming off a 24-36 record that was its worst winning percentage since 1965.
The Red Sox lost their first four home games in 1948, rebounded to tie Cleveland at 96-58 after the scheduled 154-game regular season and lost a tiebreaker playoff 8-3 at Fenway.
Making just his third major league appearance, Baltimore left-hander Bruce Zimmermann (1-0) gave up three runs and four hits in six innings with five strikeouts and one walk for his first MLB victory.
J.D. Martinez had a solo homer and an RBI double for the Red Sox.
Boston starter Garrett Richards (0-1) was chased with no outs and after loading the bases in the third. He was charged with six runs and seven hits.
Richards loaded the bases with two walks and a single before Josh Taylor relieved. Freddy Galvis drew a four-pitch walk, and Hays doubled to left.
Three batters later, Mancini doubled to center. Taylor threw a run-scoring wild pitch and gave up Ryan Mountcastle's RBI single. Taylor ultimately faced eight batters, getting two outs — both strikeouts — and giving up five hits and four runs.
Boston right-hander Garrett Whitlock came in for Taylor and pitched 3 1/3 scoreless innings in his major league debut, striking out five.
NICE THOUGHT
Red Sox manager Alex Cora said before the game that Mancini should be the Comeback Player of the Year.
"He should be the Comeback Player of the Year, regardless," Cora said. "He could hit .330 or .180, and he's the Comeback Player of the Year already. I know there are other guys coming back from injury, but to comeback from that is amazing."
Mancini missed the 2020 season due to Stage 3 colon cancer, completed six months of chemotherapy and returned in spring training.
TRAINER'S ROOM
Orioles: Hays left the game after sliding into second base with right hamstring discomfort. … Manager Brandon Hyde said right-hander Shawn Armstrong could be activated from the paternity list Monday. The pitcher's wife, Sarah, gave birth to a baby boy Wednesday.
Red Sox: Cora said before the game that "everything is trending that he'll be with us" about lefty starter Eduardo Rodríguez, who started the season on the injured list with left elbow inflammation. Rodríguez pitched a simulated game Friday at the club's new Triple-A facility in Worcester, Massachusetts.
UP NEXT
Orioles: RHP Jorge Lopez is scheduled to make his first start of the season Monday at Yankee Stadium. LHP Jordan Montgomery is in line to pitch for New York.
Red Sox: RHP Nick Pivetta is slated to make his season debut against Tampa Bay on Monday at Fenway. Michael Wacha is set to make his first start with the Rays after signing a one-year, $3 million contract in December.