NFL to seek millions from Dallas Cowboys owner Jerry Jones as reimbursement for legal fees
The NFL is demanding reimbursement in excess of $2 million from Dallas Cowboys owner Jerry Jones for court costs related to star running back Ezekiel Elliott's suspension and Jones' threatened litigation over commissioner Roger Goodell's contract, sources told ESPN's Dan Graziano.
The owners are citing a rule that has been on the books for more than two decades, that says if an owner participates in bringing litigation against other owners, he must reimburse them for the legal fees.
An earlier report by The New York Times characterized the reimbursement as a fine to be levied on Jones by Goodell.
The league will order Jones to pay all fees that the compensation committee incurred while legally defending itself from the longtime Cowboys owner's threats to sue over the extension of Goodell's contract. The Cowboys never followed through on that suit. Jones will also have to compensate the NFL for all its legal fees spent defending the Elliott suspension.
The reimbursement action was generated by fellow owners, not Goodell, and has been approved by the league's finance committee, sources told Graziano.
Jones clashed with Goodell and the league on multiple issues in 2017. Jones was a vocal advocate of delaying a contract extension for Goodell and proposed on Dec. 1 to implement a six-month moratorium on finalizing the deal. Jones also threatened to sue the league if the compensation committee approved Goodell's extension, and was publicly critical of Elliott's six-game suspension.
The Cowboys did not offer a comment when contacted by ESPN.
The issues between Jones and Goodell went back to training camp. Jones asserted during training camp last summer that he did not believe Elliott would be suspended. When Goodell made his decision to suspend Elliott for six games, lead investigator Michelle Roberts was not counseled, nor was her opinion of the case taken into consideration. That played a big part in the legal back-and-forth between Elliott, the NFL Players Association and the NFL. The Cowboys offered "statements of support" through the legal system from their team attorney, Jason Cohen, who attended the hearings in Texas and New York.
Jones insisted his involvement in the Goodell negotiations was separate from the Elliott case and that he was an "ad hoc" member of the compensation committee to serve as an "ombudsman" of sorts for the owners not on the committee. However, last year when the league voted on whether to extend Goodell's contract, the vote was 32-0 in favor. Jones' apparent change of heart on the discussions came after Elliott's suspension was announced.
Jones said his issues went beyond Elliott. He was concerned about lower television ratings, the effect of the protests before and during the national anthem, and the structure of Goodell's proposed contract.
"They have a term in business called a MAC — Material Adverse Circumstances happen[ed] between the time that you shook hands and the time you did the deal," Jones said after the owners' Dec. 13 meetings in Irving, Texas. "It's a very valid change of scenery. … Anybody who says we haven't had any changes since last spring would be an exaggeration."
Jones was granted an "owners only" session during those league meetings after Goodell's extension was announced. While he could not block Goodell's deal, he said he believes he was able to win something because of changes that will be made to the NFL's way of doing business with the commissioner in the future.
Goodell and Jones were in the same room during a news conference that followed the meetings.
"Do I look like I take it personally? Jerry, do I look like I take it personally?" Goodell said, pointing to Jones. "No is the answer to that question. As I have said before, I think people disagree. People who have the ability to do that within the context of our structure is something that makes us stronger. My relationship with Jerry has been great. We don't always agree. I'm not paid to agree, and he's not paid to agree with me."
Said Jones: "I hope Roger earns every dime. That means he's doing a great job, and we're doing good."
Denver Broncos' Melvin Gordon ready to turn things around vs. old team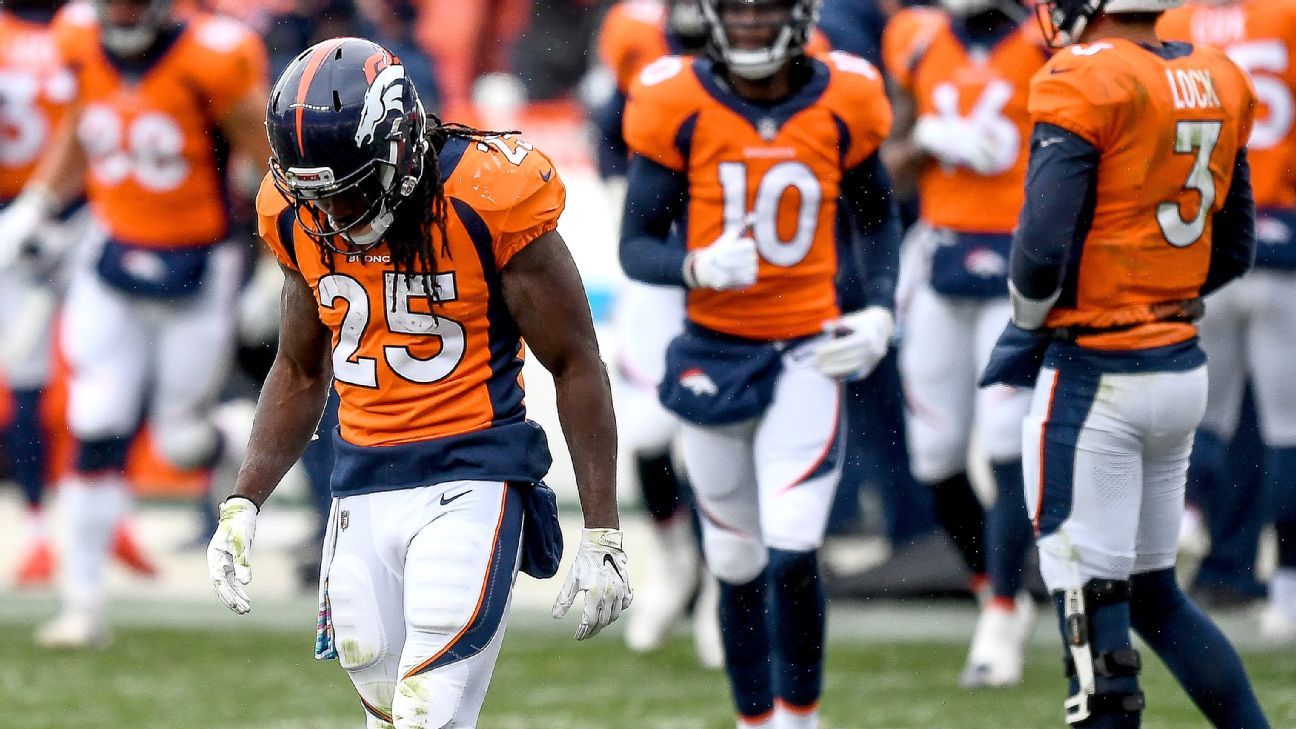 ENGLEWOOD, Colo. — Things haven't gone as Melvin Gordon had hoped so far in his first season with the Denver Broncos.
Whether it was his DUI arrest earlier this month or his fumbles on the field this past Sunday, Gordon said Wednesday that he is sorry for what he called the first off-the-field trouble in his career and promised better play is on the horizon as the Broncos face Gordon's former team, the Los Angeles Chargers, this weekend.
"I am sorry I was even in the situation," said Gordon on Wednesday, in his first public comments about the incident. "I don't want people to feel like 'oh, because Melvin didn't say anything or he didn't speak on it, he just don't care, he's not apologetic about the situation.' That's not the case at all. Obviously I try to do my best to walk a straight line and lead by example, things like that. I'm a little upset I even put myself in that situation.
"I had a hard time just dealing with it myself, like I said, never been in trouble before. … To the people of Denver and everyone, I don't want anyone to feel like I just don't care, like 'oh he got his money, he don't care.' I do (care), I do. I'm not happy I was in the situation."
Gordon, who signed a two-year, $16 million deal in the offseason, was cited for speeding — police clocked him at 71 miles per hour in a 35 mph zone — as well as DUI late Oct. 13 in downtown Denver. He likely will face league discipline — as much as a three-game suspension — possibly this season.
On the field, Gordon has seen some rocky moments as well. He fumbled twice in the Broncos' loss to the Kansas City Chiefs this past Sunday, including an errant toss toward quarterback Drew Lock on an ill-fated flea-flicker attempt in the third quarter.
The Chiefs returned that fumble to the Broncos' 14-yard line on the way to a field goal. He had also fumbled in the second quarter of the game and has lost three fumbles already, overall, in six games played. He missed the Broncos' Week 6 game against the New England Patriots with strep throat.
"It was just kind of unfortunate I put too much on it," Gordon said of the flea-flicker attempt. " … You don't go out there and try to fumble. The guy who fumbles feels the worst in the whole stadium, in the whole world at that point in time. … I'm dying to make a play, I'm trying to help this team win. I don't feel like it's an issue with me, I just get caught up sometimes just trying to make a play."
Gordon leads the Broncos in carries (82), rushing yards (349) and rushing touchdowns (four), but his 4.3 yards per carry mark is a bit deceiving. Without a 43-yard touchdown run against the winless New York Jets as the Broncos were trying to run out the clock in the closing seconds, his per carry average is 3.8 yards on his other 81 attempts.
He also has had 21 carries go for either no gain or negative yardage. With Phillip Lindsay currently in the concussion protocol, Gordon may have the bulk of the carries Sunday against the Chargers.
"Obviously I didn't have the game I wanted to have. … It's not too late, we got a lot of games left to turn things around," Gordon said. "The year is not over yet. I can still go out there and show the back I want to be, we've got a lot of games left."
Antonio Brown 'looked fantastic' during first Bucs workout
TAMPA, Fla. — Tampa Bay Buccaneers coach Bruce Arians said wide receiver Antonio Brown "looked fantastic" in his first day of work with the Bucs.
"He looks fantastic. I think we had really good conversations today, he and I," Arians said Wednesday, the first day Brown could enter the facility since incoming players are required to test six consecutive days for the coronavirus and if negative on the five previous tests, may enter on the sixth day. "He was in the meetings and everything. And he's working with Anthony Piroli and the strength staff. He looks in great shape. Yeah, ready to go next week."
Brown is in the final week of his eight-game suspension though, so he was only permitted to work out with the strength and conditioning staff and attend meetings. He was not allowed to practice with the team.
"It went real well. He and I had a good conversation this morning," Arians said. "He'll be ready to go next week and in good shape."
A big part of Brown's success in Tampa will hinge on his relationship with quarterback Tom Brady. The two spent 11 days as teammates when Brown was with the New England Patriots last year before he was cut, but became fast friends, as Brady even offered Brown the chance to stay with him in New England until he found a place to live.
Some have questioned why Brady would risk his own reputation by not only befriending Brown, but going to bat for him. Brown has twice been accused of sexual misconduct in the last year, and he's currently on felony probation for burglary with battery charges. Brady explained that it's about more than winning and has tried to have a positive impact on Brown, as well as other teammates who have run afoul with the law or gotten into trouble with the league.
"I had a lot of people support me over the years, realizing that I was far from where I needed to be and they would guide me and provide me with the help that I needed as a player to reach my potential," Brady said Wednesday. "I think that's – how you impact people, and we talk about that a lot as professional athletes – how you impact people on the field is one thing, how you impact people off the field is another. So whether that's teammates that you can impact or people in the community that you can impact, I think all those things are important.
"You just try your best every day, realizing that a lot of people weren't born with the same advantages that I've had growing up, they weren't born with the same background or support systems that I had. I think that when you recognize that and bring that to relationships, all's you can do is the best you can do. For me, I think that's something I really enjoy still about playing football, is that I probably have more perspective than just about every player in the league right now, based on my years of experience and what I've seen. I want to see other guys succeed. And I think a lot of joy in my experience comes from seeing other people be their best and seeing people succeed in ways that can set their family up. I think that's a really important aspect of football for me."
Brown will be permitted to start practicing with the Bucs right after their Monday Night Football game at the New York Giants. Getting him up to speed quickly will be imperative because Pro Bowl wide receiver Chris Godwin, who had 1,333 receiving yards last year – third-most in the league – may not be ready to play in Week 9 when the New Orleans Saints come to town. Godwin underwent surgery Tuesday after suffering the injury on a fourth-quarter touchdown catch.
"I was totally surprised by it when we got back," Arians said. "He looked fine leaving the stadium and we find out he has to have surgery. I think it's very optimistic that he'll be back in a week. But it could be possible. We don't really know how long but yeah, so that's why we have the insurance policy (Antonio Brown)."
Dallas Cowboys release Dontari Poe, Daryl Worley
FRISCO, Texas — A day after trading defensive end Everson Griffen to the Detroit Lions, the Dallas Cowboys have cut veteran defensive tackle Dontari Poe and cornerback Daryl Worley as they look for ways to jump-start a defense that has been woeful.
The Cowboys had hoped to make a trade involving Poe or Worley, but opted to move on when they were unable to do so.
Poe and Worley were not on the practice field during the portion open to the media, and coach Mike McCarthy would not get into the players' status at his daily news conference.
Poe had just nine tackles in seven starts. He signed a two-year deal worth up to $10.5 million as a free agent that included $3.5 million guaranteed. He was limited in training camp after coming back from quadriceps surgery, but he did not help stop the run.
The Cowboys are last in the league in run defense, allowing 178.3 yards a game on the ground. They have given up more than 200 rushing yards in three of the last four games.
Poe became the first Cowboy to kneel during the national anthem, but the decision to let him go was strictly about his play and not his protest, according to a source.
Worley, who signed a one-year deal worth $3 million, started four games after injuries to Anthony Brown and Chidobe Awuzie. He had 13 tackles and just one pass deflection and was beaten numerous times. With Brown back from injury and Awuzie expected to return against the Philadelphia Eagles on Sunday, Worley became expendable.
Because Poe and Worley are vested veterans, their base salaries are fully guaranteed and the Cowboys do not gain any immediate salary-cap space. They will save $4 million in cap space in 2021 for Poe.
Griffen was dealt to the Lions for a conditional sixth-round pick in 2021. Depending on how much he plays and how many times he is on the Lions' game-day roster, the Cowboys could receive a fifth-round pick.
With these moves, the Cowboys open up chances for younger players such as Randy Gregory, Bradlee Anae, Justin Hamilton and Reggie Robinson to see more action as they look to the future.
"I don't really rely on actions or transactions to really send messages," McCarthy said. "I've had the opportunity to talk to the football team every day. They know clearly how I feel as far as the process of where the team needs to get to and how we're going to do it. This business is about opportunity and making the best of your opportunity. That's really what all of the personnel decisions will come down to."
The Cowboys (2-5) are in third place in the NFC East, but still have hopes of winning the division. The Eagles are in first place with a 2-4-1 record.