NFL Insiders predict, preview 2018 offseason -Free agency, trades, signings, cuts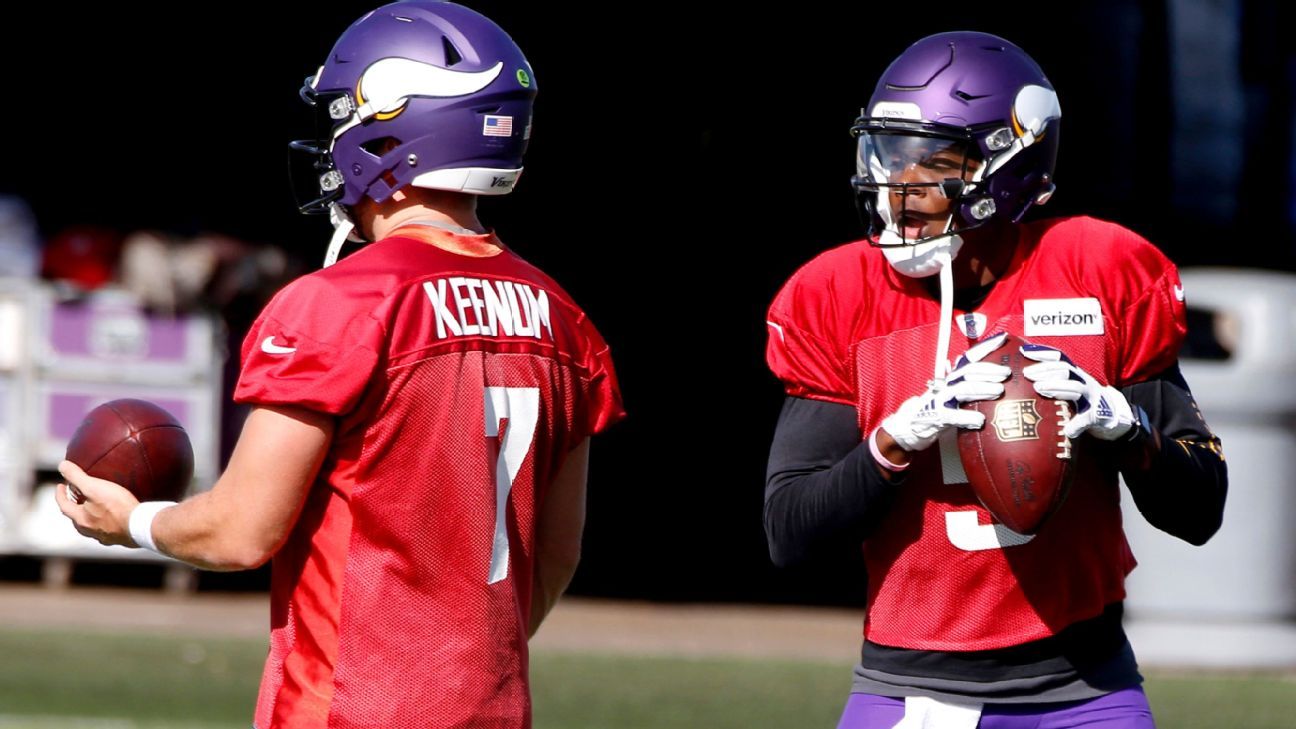 The NFL offseason is already heating up — we've had two big trades, and Blake Bortles has been taken off the quarterback market — but March 14 is when the real fun begins. That's when free agency kicks off (4 p.m. ET), and it's when the trades involving Alex Smith and Marcus Peters become official.
Over the next two weeks, our panel of ESPN NFL Insiders is taking a closer look at the upcoming free-agent market, answering questions on the biggest topics in the league.
We're starting Monday with a deeper look at the Vikings, whose top three quarterbacks from 2017 — Case Keenum, Teddy Bridgewater and Sam Bradford — are all free agents. Minnesota also might be in the Kirk Cousins sweepstakes.
Which quarterback will take the most snaps for Minnesota in 2018?
Mike Sando, senior NFL writer: Keenum. We'll have to see whether Bridgewater can make it through a full offseason, training camp and preseason and win the job. Once he does those things, he will have to do what might be the hardest thing for him to do, which is play the most snaps. So, while I think Bridgewater could be the most likely quarterback to re-sign with Minnesota, I'll lean toward Keenum as more likely to play the most snaps, at least until we have more information.
Courtney Cronin, ESPN Vikings reporter: Bridgewater. I predict the Vikings will end up getting outbid in the Cousins sweepstakes, thus leading them to re-sign two of their pending free-agent quarterbacks. Though Minnesota might franchise tag Keenum, it would make sense to use its cap space to work out deals with Keenum and Bridgewater. The Vikings typically don't have quarterback competitions in training camp, but given the unique nature of their situation, both Bridgewater and Keenum will have a chance to duke it out in camp. It might not be in the beginning of the season, but by some point in 2018, I believe Bridgewater will emerge as the starter.
Matt Bowen, NFL writer: Bridgewater. I expect the Vikings to explore the market for Cousins. But with the Jets, Broncos and possibly more teams jumping into the mix, the price tag is going to rise quickly. That's why I'm looking at a situation in which coach Mike Zimmer & Co. attempt to bring back both Bridgewater and Keenum. With Bridgewater healthy and prepped to go through the entire offseason program, the former first-round pick will edge out Keenum in a daily camp battle for the starting spot.
Kevin Seifert, national NFL writer: Keenum. Part of the Vikings' public ambivalence could be related to leverage. Declaring a quarterback your guy means you have to pay him that way. There is no doubt that Zimmer loves Bridgewater, but the Vikings know how rarely in their history they have gotten a performance like the one Keenum gave them in 2017. We have no information at the moment that would allow us to project Bridgewater as the superior quarterback.
Field Yates, NFL Insider: Cousins. The Vikings were publicly reticent throughout much of the 2017 regular season to fully and entirely commit to Keenum as the guy, which suggests to me that the team won't overextend to keep him. Cousins, meanwhile, is the rare available quarterback who can shift the winds of a franchise, helping Minnesota — armed with the financial resources to acquire him — elevate to another level.
Mina Kimes, senior writer: Bridgewater. The Vikings have enough cap space to make a run at Cousins, but I think they'll back off when his price tag reaches uncharted territory; Cousins is better than Keenum and Bridgewater, but he's not that much better. It's hard to forecast when Bridgewater will take Keenum's job (I expect the team to keep both quarterbacks), but I still think Bridgewater is Minnesota's long-term plan.
Dan Graziano, national NFL writer: Bridgewater. My projected scenario is one in which the Vikings bring back Keenum and Bridgewater, and Bridgewater eventually takes the job away from Keenum — either in a training camp competition or after Keenum struggles during the regular season. All of this, of course, assumes the Vikings don't sign Cousins. If they break the bank for a quarterback, I'd change my answer to Cousins.
Aaron Schatz, editor-in-chief of Football Outsiders: Keenum. My guess is that other teams will look at Keenum and say, "Yes, he had one fantastic year, but what is his regression going to look like in our system?" The Vikings are the one team that can look at Keenum and know they have seen evidence he can play well for them. In the same system with the same teammates, there's a better chance he can continue to play at 2017's high level.
Atlanta Falcons' Matt Ryan says win over Carolina Panthers may be 'confidence builder'
It has been a disappointing and, at times, embarrassing season so far for the Atlanta Falcons, but quarterback Matt Ryan wants to think that Thursday's victory in Carolina could be the spark for yet another second-half surge.
The Falcons held on to a fourth-quarter lead for just the second time in five games in 2020 thanks to a Todd Gurley touchdown run and an interception by Blidi Wreh-Wilson and beat the Panthers 25-17 at Bank of America Stadium.
"I hope it's the start of something," Ryan said. "I really feel like, although we're 2-6, I feel like we've been in some tight ones. We've played some good football. I think we can play some really tough football here in the second half of the season."
The Falcons did that in 2019, following a 1-7 start with a 6-1 finish that included victories in the final four games. Can they repeat that over the next two months?
It won't be easy. They have a winnable game against Denver next week, but after their bye they play New Orleans twice in a three-week span. Then there's two games against Tampa Bay and one against Kansas City, as well, in addition to games against the Las Vegas Raiders and Los Angeles Chargers. The Broncos and Chargers are the only opponents remaining with losing records.
"We've been in every game we've played this year," Ryan said. "We've had some crazy losses, just to be frank, and I really believe that we've got the caliber of team to go be in the games we're going to play the rest of the season.
"Why can't we win them all? That's the mindset that I have."
The way the Falcons beat the Panthers gives Ryan hope. They overcame a 2-for-6 performance in the red zone and the loss of leading receiver Calvin Ridley to an ankle injury. The Falcons held a 13-minute advantage in time of possession, totaled 401 yards, held the Panthers to 2-of-10 on third down and sacked quarterback Teddy Bridgewater three times.
Ryan also pitched in with a 13-yard touchdown run, the longest of his career, to become just the third quarterback in franchise history to have double-digit rushing touchdowns. He trails only Michael Vick (21) and Steve Bartkowski (11).
Thursday was just the second time this season that the Falcons won a game in which they entered the fourth quarter with a lead. They had been 1-3 in that situation, including last week's loss to Detroit on the game's final play. The Falcons led the Lions 14-13 in the fourth quarter but Todd Gurley's touchdown run left the Lions with too much time and Matthew Stafford's TD pass to T.J. Hockenson gave the Lions a 23-22 victory.
That was just the latest — and most painful — fourth-quarter flop. The Falcons blew a five-point lead in Week 2 in a 40-39 loss to Dallas and a 16-point lead in Week 3 to Chicago.
Until the victory over the Panthers, the Falcons' only hold on a fourth-quarter lead was two weeks ago against Minnesota.
"It just felt like it was going to be a different night," Ryan said. "Our defense stepped up and did a great job making plays. I'm happy for them. To come through in that type of situation, that's a confidence builder for us moving forward."
And, Ryan hopes, the start of another second-half rally.
Hit on Carolina Panthers' Teddy Bridgewater draws ejection for Atlanta Falcons' Charles Harris
CHARLOTTE, N.C. — Atlanta Falcons defensive end Charles Harris was ejected in the third quarter of Thursday night's 25-17 win over the Carolina Panthers after a vicious hit that briefly sidelined quarterback Teddy Bridgewater.
Bridgewater was scrambling on the third-and-7 play when he was tripped and went down for a 2-yard loss. Harris came in after Bridgewater was down and delivered a blow to the helmet.
Bridgewater went to the sideline tent to be checked for a possible concussion. He came out a few minutes later and began throwing on the sideline.
Bridgewater returned in the fourth quarter after clearing concussion protocol.
Former XFL star P.J. Walker took over at quarterback for three plays and the Panthers settled for a 39-yard field goal to pull within 19-17.
Bridgewater was 10-for-15 passing for 112 yards and a touchdown before the play.
Atlanta Falcons receiver Calvin Ridley ruled out vs. Carolina Panthers with ankle injury
Atlanta Falcons receiver Calvin Ridley suffered a left ankle injury during the first half of Thursday's game against the Carolina Panthers.
Ridley was hurt when he was tackled by safety Jeremy Chinn at the end of a 19-yard catch-and-run late in the first half. He limped off the field and went to the locker room. He was originally listed as questionable to return but was ruled out early in the second half.
Ridley, who had three catches for 42 yards at the time of his injury, entered the game as the Falcons' leader in receptions (40), receiving yards (615) and receiving touchdowns (six). The Falcons have relied on him heavily because Julio Jones had missed two games with a hip injury.