FRISCO, Texas — As Jason Witten gets ready for what will be a franchise-record 16th season with the Dallas Cowboys, he knows this might be the year the team drafts his successor with an early-round pick.
"They've got to find the best roster that they can do," Witten said last week at the inaugural Jason Witten College Man of the Year Award dinner. "It would be foolish to get sensitive and worry about that. You've got to be able to compete and play at a high level. I welcome that and certainly I would help that guy in any way and I think the most important thing is let's make our football team better. I know Stephen and Jerry [Jones] and Will [McClay] and coach [Jason] Garrett, they're doing everything they can to put us in position in free agency and the draft to do that. Tight end position may be one of those spots."
The Cowboys have drafted three tight ends in the second round over the past 12 years: Anthony Fasano (2006), Martellus Bennett (2008) and Gavin Escobar (2012).
Their plan with those selections was to pair the pick with Witten as part of a strong two-tight-end set that could be dominant with the run, especially with Bennett, and versatile with the pass, especially with Escobar. The latter was selected in part because the Cowboys were going to emulate what the New England Patriots did with Rob Gronkowski and Aaron Hernandez.
It never worked out. Fasano was traded after the 2007 season. Bennett caught four touchdown passes, all as a rookie, and left in free agency. Escobar, who also left as a free agent, never had more than nine catches in a season.
Witten has finished first or second on the team in receptions the past 11 seasons, including 2017 when he caught 63 passes for 560 yards and five touchdowns. In the past five seasons, he has not played fewer than 96 percent of the snaps, including 98 percent in 2017.
After managing his practice work the past few seasons, there have been whispers this offseason of cutting back on Witten's snaps in order to theoretically make him better late in games or late in the season.
To do so, the Cowboys need to have a tight end to do what Witten does in the running and passing games. James Hanna and Geoff Swaim have worked into smaller roles in the offense. The Cowboys like the potential of Blake Jarwin. Rico Gathers is a fan favorite based on two preseasons.
Can any of them handle a bigger role? Would a potential early draft pick?
Last season, Garrett, offensive coordinator Scott Linehan and quarterback Dak Prescott said Witten, who turns 36 in May, showed no signs of slowing down. Witten would not be coming back for another season if he did not think he could play at a high level and already has begun the process of getting ready for 2018.
"There's no other way. I've got to improve," Witten said. "Another year older, you know, that's another 1,000 snaps underneath that I have behind me. So I'll do it again and I think it'll be important for me to perform at a high level. It's a bottom line, right? Does the pitch count kick in? My job is to be able to perform for three hours or three and a half hours every Sunday and I've got to work my tail off to get to the point where I can do it, and that's what motivates me."
The ultimate motivation is a Super Bowl. Already the franchise leader in receptions and receiving yards and second to Tony Gonzalez among tight ends in NFL history, Witten does not need more catches or yards to build a Hall of Fame resume.
He is playing because he believes he can play a major role in winning a championship.
He said if the Cowboys draft another tight end it would not serve as "fuel," to dispel the notion he can no longer do it. He is at a different place in his career than when the Cowboys selected Fasano, Bennett and Escobar.
"I feel like if you don't have [the desire to win a title] you don't need to be playing," Witten said. "If you've got to convince yourself of that or, 'Hey, can I amp up for one more?' That's already a sign [to call it quits]. And that's never been the case with me to this point. I've never had that feeling. I'm sure I will at some point because it is demanding. It's taxing.
"But it goes hand in hand. It's both mental and physical. Maybe what you lose physically you gain mentally in your education, knowledge, how you study and see it and how quickly you see it and break it down. That's an advantage for sure being able to be smart and make quick decisions. But you are, you're fighting off Father Time and you've got to work your ass off to do it. Certainly I've tried to do that over the course of the last few years."
Vaccinated health workers will be among 22,000 fans in attendance for Super Bowl LV
The NFL will host about 22,000 fans at Super Bowl LV, according to a series of plans announced Friday morning. That total includes free tickets for 7,500 vaccinated health care workers, along with 14,500 in paid attendance.
Those numbers mean the league will fill Tampa's Raymond James Stadium to roughly a third of its normal capacity of 65,000. All fans will be subject to the NFL's regular-season stadium protocols, which include mandatory mask-wearing and social distancing through seating pods. During the regular season, the NFL hosted about 1.2 million fans in 116 games where local regulations allowed for attendance at sporting events.
The league said it developed its Super Bowl plan in conjunction with the Centers for Disease Control, the Florida Department of Health, and area hospitals and health care systems. All of the invited health care workers will have received both vaccination doses, and most will come from the Tampa and central Florida areas. The remainder will be selected and sent from local communities of every NFL team.
"These dedicated health care workers continue to put their own lives at risk to serve others, and we owe them our ongoing gratitude," commissioner Roger Goodell said in a statement. "We hope in a small way that this initiative will inspire our country and recognize these true American heroes. This is also an opportunity to promote the importance of vaccination and appropriate health practices, including wearing masks in public settings."
TE Vance McDonald retires, saving Pittsburgh Steelers $5.2M against salary cap
PITTSBURGH — After four years with the Steelers, tight end Vance McDonald announced his retirement from the NFL through the team Friday morning.
In his final season with the Steelers, McDonald had 15 catches for 99 yards. He missed two games after testing positive for COVID-19 and spent the time quarantined on his farm outside Pittsburgh.
McDonald was also the Steelers' 2020 nominee for the Walter Payton Man of the Year award for his work with Convoy of Hope, an organization that, among other things, supplied goods and PPE to families in Western Pennsylvania during the coronavirus pandemic.
"My family and I are so grateful for everything NFL football has provided us in our life — all the memories both good and the difficult, the relationships and friends we've made along the way, the life lessons the game provided both me and my loved ones," McDonald said in a statement. "It's always been our dream and mission to leverage the platform given us through the NFL to help serve and uplift others along the way, and we will continue to find ways to serve others as we begin this next chapter of our lives. I am proud to retire a Steeler."
McDonald's retirement saves the cap-strapped Steelers $5.2 million in 2021. With Eric Ebron under contract, McDonald's option was not likely to be picked up by the Steelers, who also have Zach Gentry, who finished the season on injured reserve, under contract and signed two other tight ends to reserve/futures contracts.
McDonald, 30, was selected by the San Francisco 49ers in the second round of the 2013 NFL draft and joined the Steelers through a trade in 2017.
Known for his stiff arm of Chris Conte on a 75-yard catch-and-run touchdown in 2018, McDonald retires with 181 receptions for 2,036 yards and 15 touchdowns in 101 games over an eight-year career. With the Steelers, he had 117 receptions for 1,170 yards and eight touchdowns.
"I am appreciative of Vance's contributions during the last four years of his career that he spent in Pittsburgh," coach Mike Tomlin said in a statement. "He was a class act on and off the field, leading many of our efforts in the community while also being a voice for our social justice efforts and the community work during the pandemic. I wish he and his family nothing but the best in his retirement and his continued work to be a pillar in the community."
Bucs-Packers, Bills-Chiefs picks, schedule, odds, injuries, predictions, more for AFC and NFC championships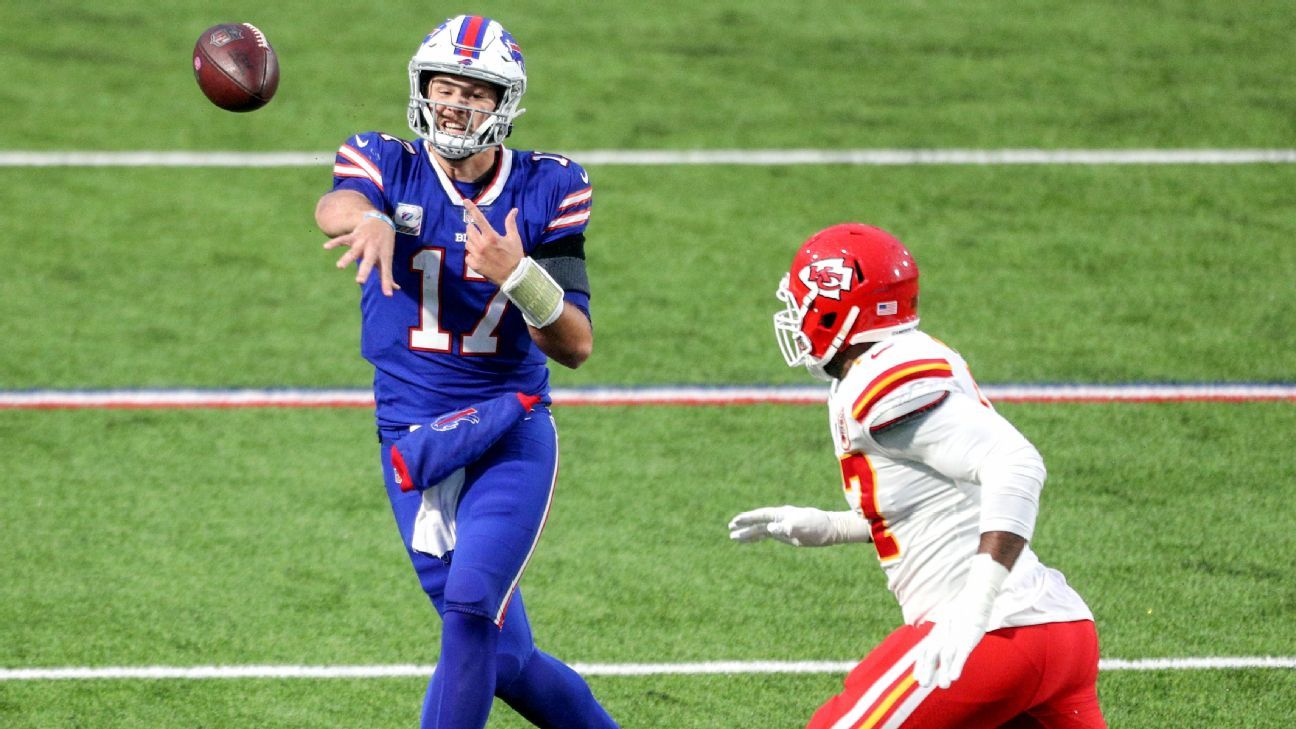 The conference championship games of the NFL playoffs have arrived, with both kicking off on Sunday. The fifth-seeded Tampa Bay Buccaneers will face the top-seeded Green Bay Packers in the NFC Championship Game, and then the No. 2-seeded Buffalo Bills will play the No. 1 Kansas City Chiefs in the AFC Championship Game. The winners advance to Super Bowl LV on Feb. 7.
We're previewing both title games. Our NFL Nation reporters bring us the keys to the games, a bold prediction for each matchup and final score picks.
Additionally, ESPN Stats & Information provides a stat to know for each game and the Football Power Index (FPI) goes inside the numbers with a matchup rating (on a scale of 1 to 100) and a game projection. ESPN Chalk's Dave Bearman hands out helpful nuggets, and NFL analyst Matt Bowen points out a key matchup to watch as well. It's all here to help get you ready for an exciting weekend of NFL playoff football.
Jump to a matchup:
TB-GB | BUF-KC



3:05 p.m. ET | Fox
Matchup rating: 96.3 | Spread: GB -3 (51.5)
What to watch for: If there has been anything to gripe about in Matt LaFleur's highly successful two-year run as the Packers' coach, perhaps it is being a step slow to adjust. When these teams met in Week 6, the Bucs played zone coverage on 61% of quarterback Aaron Rodgers' dropbacks, and Rodgers had his only multi-interception game this season. And in general, the more teams have played zone against Rodgers over the past two years, the better they have fared. LaFleur and offensive coordinator Nathaniel Hackett know what's coming in terms of coverage, and how they plan for it will dictate their level of success against a tough Tampa Bay defense. — Rob Demovsky
Bold prediction: Buccaneers quarterback Tom Brady's game-winning touchdown pass will not be thrown to wide receivers Mike Evans, Chris Godwin, Antonio Brown or Scotty Miller, tight ends Rob Gronkowski or Cameron Brate, or running backs Ronald Jones II or Leonard Fournette. Nope, it will go to wide receiver Tyler Johnson. The rookie fifth-round pick out of Minnesota had just one catch last week against the Saints, but that 15-yard spinning grab on the perimeter was masterful. The only reason we aren't talking about Johnson more is the depth chart he's buried on. He has a knack for making difficult catches in high-pressure situations, and he'll do again on Sunday. — Jenna Laine
Stat to know: The two biggest factors in Brady's performance all season have been pressure and the vertical game. In 13 wins over the course of the season (including playoffs), he averaged 1.1 sacks per game, saw pressure on 14% of his dropbacks and posted an 82 QBR. But in five losses, sacks jumped to 2.2 per game, his pressure rate climbed to 27% and his QBR nearly split in half (44). And as far as the deep ball goes, consider this: On passes thrown 20-plus yards downfield over that 18-game span, he has hit on 45% for 11 touchdowns and zero interceptions in wins, but just 21% for a single score and five picks in the losses.
Bowen's matchup key: How will Tampa Bay keep Packers wide receiver Davante Adams in check? It's going to start at the line of scrimmage in Cover 1, with Buccaneers cornerback Carlton Davis trying to use his length and physical traits to disrupt Adams' release. If he can't, Davis' lack of recovery speed versus Adams' sudden ability to separate will spell trouble for the Bucs. Read more.

What's at stake: A win for the Buccaneers would mark the first non-division champion to reach the Super Bowl since the 2010 Packers. It would also bring Brady's 10th Super Bowl appearance, spanning three decades. Rodgers, however, has played in only one Super Bowl. And after losing his past three NFC Championship Game appearances and going 1-3 over his career in this game, Rodgers is attempting to avoid becoming just the third QB to have fewer than two wins and more than three losses in conference title matchups (Ken Stabler and Donovan McNabb are both 1-4).
Injuries: Buccaneers | Packers
Betting nugget: Brady is 9-4 straight up and 6-7 against the spread in conference championship games. The under is 8-5 in those matchups, including 7-2 in his past nine. Read more.
Domonique Foxworth predicts who will have a bigger day in the NFC Championship Game between Tom Brady and Aaron Rodgers.
Laine's pick: Buccaneers 26, Packers 24
Demovsky's pick: Packers 31, Buccaneers 17
FPI prediction: GB, 53.2% (by an average of 1.1 points)
Home crowd: Last week's playoff game at Lambeau Field had an attendance of 8,456. With potentially more guests of players and coaches from both teams in the stadium this week, expected attendance is in the ballpark of 8,500-9,000. That's roughly 10-11% of the 81,441 capacity at Lambeau.
Matchup must-reads: Finally, Rodgers vs. Brady: Inside the playoff matchup 13 years in the making … 'Too much information' never enough for Packers' dominant offense … WR Brown (knee) to be game-time call for Bucs … Crowning achievement: Packers receivers prove worthy once and for all … Bucs have beaten Rodgers before, but does the formula change? … Rodgers not feeling extra pressure, says his future is 'beautiful mystery'
---

6:40 p.m. ET | CBS
Matchup rating: 92.3 | Spread: KC -3 (53.5)
What to watch for: Will Chiefs quarterback Patrick Mahomes (concussion protocol) play? That is the question on everyone's mind, with backup Chad Henne set to start if Mahomes is out. But with or without Mahomes, the Chiefs' run game will be something to keep an eye on. Kansas City rushed for a season-high 245 yards against Buffalo in Week 6, when the Bills played their safeties deep on many snaps and were determined not to let Tyreek Hill and other receivers beat them deep. They will certainly change strategies this time, but at what cost? The Chiefs got just one pass play of more than 22 yards against the Bills the last time around. Can the Bills effectively slow the Chiefs' running game while still limiting the number of big pass plays? — Adam Teicher
Bold prediction: Bills quarterback Josh Allen will surpass 350 passing yards and wide receiver Stefon Diggs will turn in his third straight game with 100 receiving yards and a touchdown. And a little bolder, the Bills will not only win but also thoroughly outpace the Chiefs in their own backyard, punching Buffalo's first ticket to the Super Bowl since the 1993 season. — Marcel Louis-Jacques
Stat to know: The Bills have dropped back to pass 73% of the time this postseason, and only one team has ever reached a conference title game passing more often — the 2015 Patriots (83%), who lost in the AFC Championship Game that season. Buffalo won last week with just 32 rushing yards — the fourth fewest ever in a playoff win, per the Elias Sports Bureau — and Allen currently leads the team on the ground with 57 yards over two postseason games. The Bills averaged 64.0 rushing yards per game this season, fewer than all but one team to ever reach the Super Bowl; the 1999 Rams averaged 41.0.
Bowen's matchup key: Watch for the Chiefs' defense to show pressure and spin late to play Cover 2 "robber," with safety Tyrann Mathieu as the middle-hole defender. This allows the Chiefs to make Allen work post-snap with late movement, but it also allows Kansas City to play zone coverage with Mathieu lying in the weeds as a middle-of-the-field presence, in position to steal an in-breaker. Read more.

What's at stake: The Chiefs are aiming to become the first repeat Super Bowl champs since the 2003-04 Patriots, ending the longest stretch in NFL history without a repeat champion. They are the 12th defending Super Bowl champion to host a conference championship, and the prior 11 teams went 10-1 (only loss was by the 1990 49ers). The Bills, meanwhile, are trying to make it back to the Super Bowl for the first time since losing four straight across the 1990-93 seasons. They haven't won a title of any kind since the 1965 AFL Championship, and their 0-4 record in Super Bowls is tied with the Vikings for most appearances without a win.
Injuries: Bills | Chiefs | Latest on Mahomes
Betting nugget: The Chiefs are 1-8 against the spread in their past nine games (8-1 outright), and they're 0-5 against the spread in their past five at home. Read more.
Louis-Jacques' pick: Bills 31, Chiefs 28
Teicher's pick: Chiefs 27, Bills 22
FPI prediction: KC, 58.3% (by an average of 2.7 points)
Damien Woody sees Josh Allen being compared to the likes of Patrick Mahomes, Aaron Rodgers and Tom Brady if he can lead the Bills to the Super Bowl.
Home crowd: The Chiefs have kept their attendance numbers at or below 22% capacity at Arrowhead Stadium (76,416 total capacity) this season, with their biggest crowd coming last week against the Browns (16,730). Expect a similar number at the AFC Championship Game.
Matchup must-reads: Bills can justify trading Mahomes pick by reaching Super Bowl … For Chiefs' Reid, 'every down is a throwing down,' even on fourth-and-1 … How serious is Davis' ankle injury? Biggest questions heading into the AFC title game … Mahomes practices in limited capacity, remains in concussion protocol