FRISCO, Texas — As Jason Witten gets ready for what will be a franchise-record 16th season with the Dallas Cowboys, he knows this might be the year the team drafts his successor with an early-round pick.
"They've got to find the best roster that they can do," Witten said last week at the inaugural Jason Witten College Man of the Year Award dinner. "It would be foolish to get sensitive and worry about that. You've got to be able to compete and play at a high level. I welcome that and certainly I would help that guy in any way and I think the most important thing is let's make our football team better. I know Stephen and Jerry [Jones] and Will [McClay] and coach [Jason] Garrett, they're doing everything they can to put us in position in free agency and the draft to do that. Tight end position may be one of those spots."
The Cowboys have drafted three tight ends in the second round over the past 12 years: Anthony Fasano (2006), Martellus Bennett (2008) and Gavin Escobar (2012).
Their plan with those selections was to pair the pick with Witten as part of a strong two-tight-end set that could be dominant with the run, especially with Bennett, and versatile with the pass, especially with Escobar. The latter was selected in part because the Cowboys were going to emulate what the New England Patriots did with Rob Gronkowski and Aaron Hernandez.
It never worked out. Fasano was traded after the 2007 season. Bennett caught four touchdown passes, all as a rookie, and left in free agency. Escobar, who also left as a free agent, never had more than nine catches in a season.
Witten has finished first or second on the team in receptions the past 11 seasons, including 2017 when he caught 63 passes for 560 yards and five touchdowns. In the past five seasons, he has not played fewer than 96 percent of the snaps, including 98 percent in 2017.
After managing his practice work the past few seasons, there have been whispers this offseason of cutting back on Witten's snaps in order to theoretically make him better late in games or late in the season.
To do so, the Cowboys need to have a tight end to do what Witten does in the running and passing games. James Hanna and Geoff Swaim have worked into smaller roles in the offense. The Cowboys like the potential of Blake Jarwin. Rico Gathers is a fan favorite based on two preseasons.
Can any of them handle a bigger role? Would a potential early draft pick?
Last season, Garrett, offensive coordinator Scott Linehan and quarterback Dak Prescott said Witten, who turns 36 in May, showed no signs of slowing down. Witten would not be coming back for another season if he did not think he could play at a high level and already has begun the process of getting ready for 2018.
"There's no other way. I've got to improve," Witten said. "Another year older, you know, that's another 1,000 snaps underneath that I have behind me. So I'll do it again and I think it'll be important for me to perform at a high level. It's a bottom line, right? Does the pitch count kick in? My job is to be able to perform for three hours or three and a half hours every Sunday and I've got to work my tail off to get to the point where I can do it, and that's what motivates me."
The ultimate motivation is a Super Bowl. Already the franchise leader in receptions and receiving yards and second to Tony Gonzalez among tight ends in NFL history, Witten does not need more catches or yards to build a Hall of Fame resume.
He is playing because he believes he can play a major role in winning a championship.
He said if the Cowboys draft another tight end it would not serve as "fuel," to dispel the notion he can no longer do it. He is at a different place in his career than when the Cowboys selected Fasano, Bennett and Escobar.
"I feel like if you don't have [the desire to win a title] you don't need to be playing," Witten said. "If you've got to convince yourself of that or, 'Hey, can I amp up for one more?' That's already a sign [to call it quits]. And that's never been the case with me to this point. I've never had that feeling. I'm sure I will at some point because it is demanding. It's taxing.
"But it goes hand in hand. It's both mental and physical. Maybe what you lose physically you gain mentally in your education, knowledge, how you study and see it and how quickly you see it and break it down. That's an advantage for sure being able to be smart and make quick decisions. But you are, you're fighting off Father Time and you've got to work your ass off to do it. Certainly I've tried to do that over the course of the last few years."
Inside the Miami Dolphins' $135M practice facility: Players' lounge, palm trees and a slide – Miami Dolphins Blog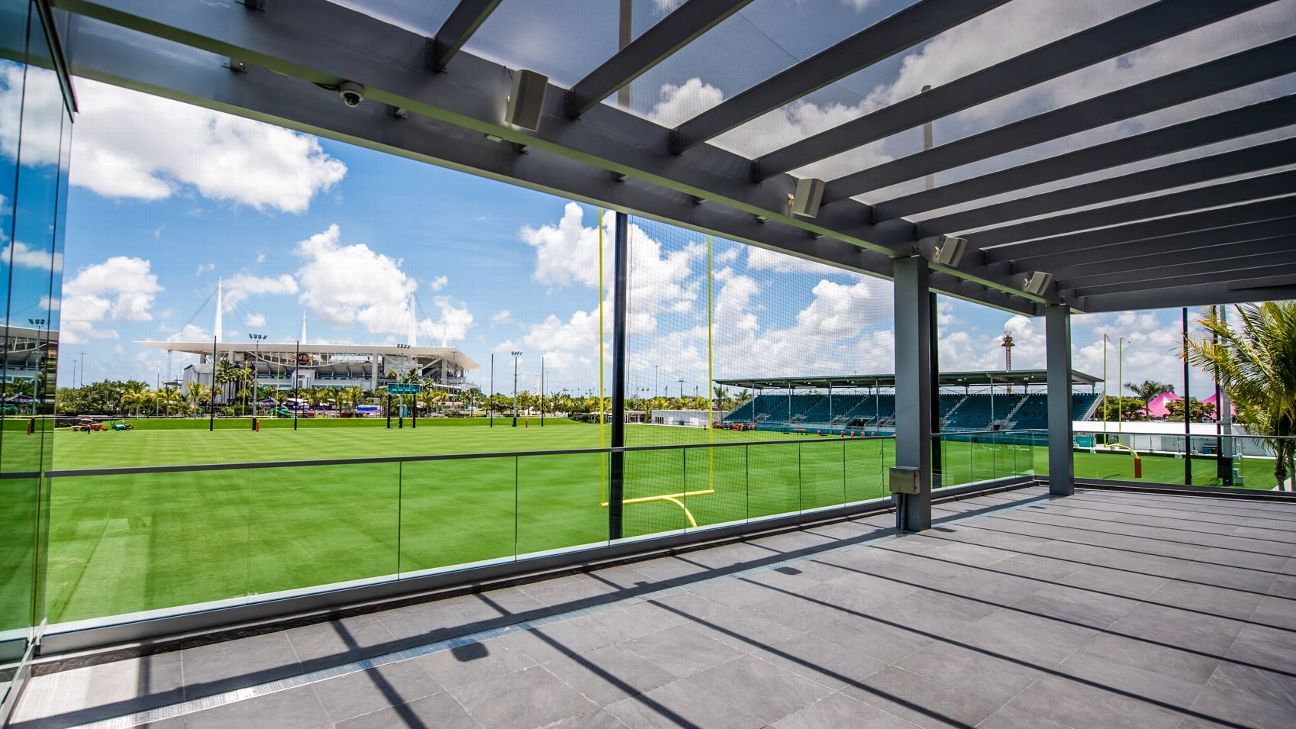 MIAMI GARDENS, Fla. — Miami Dolphins owner Stephen Ross stood at the lectern, exuding the confidence of a proud father bragging about his child who is the star quarterback. His newest baby, the Dolphins' $135 million practice facility, was officially put on display Tuesday as corporate partners, employees and media members toured what will be the team's new home.
It's a big step up from Nova Southeastern in Davie, Florida where the Dolphins have held training camp and practices since 1993. The new Baptist Health Training Complex features an indoor facility with a turf field, two outdoor natural grass fields, a player's lounge, four pools (two hydrotherapy, one lap and one hydroworks with an underwater treadmill) and a 30-foot slide among other highlights. Yes, there is a slide, but more on that later.
As Ross explained team president and CEO Tom Garfinkel's vision in bringing the Dolphins' facility to life, he couldn't help but drop a few not-so-subtle messages that he expects this big purchase to be the latest splash toward bringing a championship home to Miami.
"I know when I bought the football team, one of the things I said was, 'We want to do as much for the community as we possibly can, we want to be the best in class in the NFL and we want to win the Super Bowl,'" Ross said.
"Well, we're two-thirds of the way there, and I hope to be here when we're hoisting the Super Bowl on a very short period of time, with an emphasis on short."
With Dolphins general manager Chris Grier and coach Brian Flores seated about 10 yards away in the front row, the owner's message came through clear. Coming off a 10-6 season in which they narrowly missed the playoffs, the Dolphins should no longer be viewed as a rebuilding team. It's time to contend and this facility provides them the resources to do so.
"If you can't win with a facility like this, you're never going to win," Ross said. "We're starting something really big."
---
The indoor field
Garfinkel and Ross have had this plan in mind for several years, but construction on the 217,200-square foot facility began in August 2019 and has been finishing up over the past few days. The steel field house indoor facility is two stories tall and includes a cardio deck on the top level. Given the propensity of downpours in South Florida, utilizing the indoor aspect is an important asset for the team. Not to mention, the landscaping around the facility includes roughly 16,000 flowers and shrubs, 210 palm trees and 128 total trees.
---
High expectations
(From left to right starting with) Grier (in the hat), Flores, Ross and Garfinkel are the Dolphins' central leaders. They all have different roles and the opening of the Baptist Health Facility Complex brings the football and business sides together even more than they were before. But ultimately, winning on the field is still most important. "We got a lot of input from Chris Grier and Brian Flores — now the pressure is on them. We delivered, guys. Don't feel anything at all. I certainly believe in them," Ross said.
---
The locker room
Dolphins players report to training camp on Tuesday, and all eyes with be on quarterback Tua Tagovailoa headed into a very important Year 2. Miami will go as far as he takes it, and Tagovailoa will arrive to a fresh locker room, which rivals some of the lush ones we've seen in college football in recent years, such as LSU's $20 million renovated facility. Tagovailoa's locker is seated at the end of one row, right next to backup quarterback Jacoby Brissett's space.
---
Check out these views
The new facility has an awesome view with Hard Rock Stadium in the backdrop, and the outdoor fields seat up to 2,200 spectators in the shade. That will be come in handy for late July and August training camp practices in the Miami heat. Another 800 fans can fit on the berm at the far end zone. There are 13 training camp practices slated to open to the public with the first being July 31 — all start at 10:10 a.m. ET — and the Aug. 18-19 joint practices with the Atlanta Falcons are included.
---
Players' perks
The players' lounge is another sleek addition inside the practice facility. It features plush couches, TVs, darts and a separate barbershop area where players can get their fades every Friday before game day. Dolphins legends Dick Anderson and Nat Moore toured the facility Tuesday, and jokingly (or, were they serious?) asked if former players can slide in to use some of these perks. This Dolphins' facility is quite different than what Anderson and Moore experienced in the 1960s and 1980s when they played, respectively.
---
Just slide
Garfinkel, Ross and others in the business department toured facilities across America some years back to get ideas to fulfill the goal of building the "best facility in the NFL." Ross fell in love with a custom-built slide inside the Clemson Tigers' facility. So, what the owner wants, he gets. The Dolphins' slide adds a fun outlet to what can be a tense environment. Ross has slid down it and a handful of players have as well. "Hopefully the players will be inspired to win," Ross said. "It takes all these small details to put together a great organization that would be used to winning and winning often." And here's a pro tip for the slide: Don't wear jeans for maximum speed.
---
Marino in the house
No major Dolphins happening would be complete without Pro Football Hall of Famer Dan Marino. He was one of 15 former Dolphins players in attendance for the facility's grand opening, and in a light moment after the ribbon-cutting ceremony, Ross yelled out "he's coming back" in reference to Marino, who jabbed back, "you can't afford me."
---
From the Dolphins: Take a video tour
Welcome to the @BaptistHealthSF Training Complex. 😎 #FinsUp pic.twitter.com/brWkVykSOi

— Miami Dolphins (@MiamiDolphins) July 20, 2021
Saints' Wil Lutz talks golf, kicking and the quest for that perfect swing – New Orleans Saints Blog
NEW ORLEANS — The idea was to learn a little bit more about New Orleans Saints kicker Wil Lutz by tagging along during one of his daily rounds of golf. To explore why he is so drawn to activities that require impossible standards like perfection and a repeatable swing.
Not only did Lutz oblige, he went the extra yard to show off how he deals with pressure and adversity.
A seven handicap, Lutz got off to the best start of his life at 2 under par through eight holes before he bogeyed 9 and double-bogeyed 11. Instead of folding, he rallied back with three straight birdies and broke par for the first time.
"It never fails. You always play your best right before you have to hang 'em up for training camp," said Lutz, who was joined as usual by Saints long snapper and close friend Zach Wood.
Lutz explained he wasn't feeling much pressure since he went into the round hoping to shoot 76 or 78.
"I was playing with a little bit of house money being 2-under in the first place. So even with the double, I was still good," Lutz said. "Then I just started birdieing."
OK, so Lutz's approach to golf and football aren't exactly the same.
He's a lot more intense in his day job, where he stresses over every missed kick like it could be his last despite making the Pro Bowl in 2019 and ranking fifth in NFL history with a career field goal percentage of 86.6.
Golf is a little more therapeutic — one of many lessons Lutz has gleaned from legendary Saints kicker Morten Andersen.
"Golf, kicking and beer. Keeps you happy in the offseason," Lutz said Andersen told him. "Every day, as long as the sun is shining, this is what we do."
Lutz started playing golf after graduating from Georgia State University in 2016. Now he is consumed.
"As I've played, I've loved the mental side of it. I just like the idea of standing over a putt, knowing I have to make it," Lutz said. "Or feeling a good drive and then having to repeat it. That's just like kicking. You get a hold of a kick and you're like, 'Oh, I've gotta find a way to repeat that."
Lutz, 27, faced some rare adversity last season when he missed four of five field goals during a stretch in November and December.
Not every miss was Lutz's fault. Special teams coach Darren Rizzi pointed out that Lutz slipped on one and there was a problem with the snap-hold-kick operation on at least one other. And Lutz said he struggled to find his rhythm since the Saints went through a rare stretch where they attempted five field goals in five games.
But both acknowledged Lutz is critical of himself when things aren't perfect.
"I've always had a little bit of a pessimistic attitude toward failure," Lutz said. "So from my rookie year to this year coming up, I feel like if I miss a kick I'm gonna get cut. I'll be on the sideline and say, 'Zach, that could be the last kick. I don't know if that's a healthy mentality, but it's just kind of how I keep my edge. Like, 'I don't have a choice but to make this kick.'"
Rizzi said that type of self-imposed pressure can be good or bad for different kickers. In Lutz's case, he thinks it's part of "what makes him so good."
It was hard to blame Lutz for feeling that way when he first arrived in 2016 after being released by the Baltimore Ravens. He became the Saints' 11th kicker in 11 years under coach Sean Payton. And his job security remained tenuous for 11 weeks while he missed six field goals and an extra point — three of which were blocked — before finishing the season perfect.
"He had a lot of adversity in college, so he was used to operating under duress," said longtime former Saints punter and holder Thomas Morstead, who thinks Lutz benefited from joining a smoother operation on a NFL team. "He got battle tested early, and that paid dividends.
"And just the fact that Wil just wakes up and kicks the ball straight — that also helps with confidence. He's just that good."
Another technique Lutz leans on is the "clear the mechanism" scene from the movie "For Love of the Game," where Kevin Costner players a pitcher who tunes out the crowd.
"We watched that my senior year in college before a game, and everything just clicked," Lutz said. "I was having trouble figuring how to zone everything out because I was always a hyper person. I rewatched that scene probably a hundred times and just carried it with me."
The Saints released Morstead this offseason, and second-year punter/holder Blake Gillikin is expected to take over. Morstead, Lutz and Wood expressed confidence the transition will be smooth, with Lutz and Wood now taking their turn as the wise veterans.
As a bonus, Gillikin also enjoys golf and regularly joins Lutz and Wood.
Wood, who also picked up golf at an older age, isn't quite at the same level as Lutz. But they made a good team during Lutz's record round, while also winning their competition against two regular golfing buddies. Wood was in charge of the range finder, while Lutz had an uncanny ability to locate wayward balls in the rough.
Lutz's wife and Wood's girlfriend are also close, and they often vacation together. Both said that bond is valuable when it comes to their working relationship.
Most people don't appreciate how every NFL kick is a three-man operation that requires perfection from the snapper, the holder and the kicker — and a high level of tolerance for one another.
"He knows that I hate the laces on the outside," Lutz said. "So you're talking one-eighth of a turn is what goes from me being pissed at him or not."
How often do they get upset at one another?
"Pretty often," Wood said with a laugh, adding that Friday practices can be especially tense. "We obviously all have a really high standard. We want to be perfect. And if it's not, we get upset at each other.
"But we've learned over the years what to say and what not to say at certain times. I think that's why we work so well together."
Tremaine Edmunds' best football ahead of him as extension with Buffalo Bills nears – Buffalo Bills Blog
BUFFALO, N.Y. — When it comes to Buffalo Bills players who are due for sizeable contract extensions in the near future, much of the conversation (deservedly) surrounds quarterback Josh Allen, who stands to become one of the highest paid players in NFL history.
Swept somewhat under the rug, however, is two-time Pro Bowl linebacker Tremaine Edmunds, who as the Bills' 2018 first-round draft pick enters his fourth NFL season at 23 years old.
Buffalo picked up the fifth-year option worth $12.7 million on Edmunds' rookie contract in May, after general manager Brandon Beane suggested that if the option was picked up for Edmunds as well as Allen, it wouldn't make much sense to do so without extending both players.
"You can't really be flexible with those cap numbers, so we've got to make sure if we pick them both up, that we're going to have to get close to $35 million space in next year's cap," Beane said in April. "It's not an ideal scenario for that to pick them both up and not extend them. We just got to kind of figure out how we can make that work in our system."
Statistically, Edmunds turned in a solid 2020 season with 119 tackles, including 4 for a loss in 15 games — but something seemed off. He missed Buffalo's Week 2 win at the Miami Dolphins with a shoulder injury before returning to play in his team's remaining 14 games, but he seemed slow to react on certain plays or hesitant to initiate contact.
Both critiques can be attributed to Edmunds' lack of chemistry with A.J. Klein, who filled in for usual starting linebacker Matt Milano for six games while the latter was injured, and his shoulder keeping him from playing at 100%.
But the two-time Pro Bowler was also better than the Internet might lead one to believe. Edmunds' 4.91-second average time to tackle ranked 22nd among qualified linebackers (at least 700 snaps played), and his 0.86 second get-off ranked ninth. Translation: Despite the chemistry issues and injury woes, Edmunds was processing the game quickly.
Bills defensive coordinator Leslie Frazier commended the young linebacker for his role on the field and off it.
"Tremaine would say the same thing, that he really grew this season. He's grown in his first couple seasons here together, and I'm excited about what the future holds for his development," Frazier said. "I think more than anything, the area I saw him grow the most in was just his impact as a leader, his impact in terms of his personality coming out a little bit more on our defense and his intensity.
"Tremaine worked through a couple challenges early in the season with an injury or two, and I thought that that would be a good learning experience for him, as well. So these are all growing opportunities for our young linebacker."
• Pools, palms, more: Inside Miami's facility
• Saints' Lutz talks golf, kicking, perfect swing
• Best football ahead for Bills' Edmunds?
• How will Dak Prescott's ankle hold up?
Edmunds said he would like to be more consistent in his fourth professional season, which began by attending Buffalo's organized team activities and minicamp practices in full, alongside the recently extended Milano.
The Virginia Tech product said the offseason cohesion has put the Bills' defense ahead of where it was at this point last season. Edmunds said this year's version of the team is "on a mission" after last year's loss in the AFC Championship Game, which he also said taught them how much further they need to push to reach a Super Bowl.
They'll also need Edmunds in order to do so; fortunately for the Bills, he believes his best football is still ahead of him. Spotrac estimates Edmunds' market value at $13.5 million a year over five seasons — considering he would be 28 at the end of that deal, Buffalo could reap the benefits of Edmunds' development for the next decade or so.
"I know my mindset and I know my ability in what I could do," Edmunds said. "I'm a guy that I always want to get better. So I'm never going to think that I'm in my full potential. There's always some room to grow. And I take that approach in everything that I do, so whatever I do, my mindset is to get better."