We're still more than a month away from the start of the MLB season … so how do you approach drafting bullpen arms at this time of year?
Tristan H. Cockcroft: As would be the case with any position, the further ahead of Opening Day that we're drafting, the more heavily I'm weighing the "skills over roles" axiom when it comes to relief pitchers. It's simply a more pronounced strategy at that position compared to others, even if that seems odd because fantasy value is more role-oriented there than at any other position.
Saves are the easiest category to fill after the draft, when the least is known about who will be getting them — more saves still up for grabs means more will likely land in the free-agent pool. And the downside of drafting an ordinary (read: no ERA/WHIP/K's help) reliever who winds up in middle relief, providing you no value whatsoever, is simply too scary at this early stage.
In short, this is a time during draft season when I'm going to pass up Fernando Rodney and his inconsistency and history of poor ratio support, instead grabbing Addison Reed, who has superior skills, in the much later rounds.
It's a time when I'll take a chance on Archie Bradley, the most talented of the Arizona Diamondbacks' top three closer challengers, or even David Robertson, hoping that maybe the New York Yankees will need to shed his salary in a trade to stay under the luxury-tax threshold.
And I'll be more apt to pass on Luke Gregerson, the St. Louis Cardinals' de facto closer, and Kelvin Herrera, whose skills declined sharply in 2017.
Worst case: If I end up with no saves coming out of the draft, any saves "dart throws" I took that missed would just end up being my first cuts for the eventual winners of these spring closer battles.
Eric Karabell: In ESPN standard formats, I likely don't deal with bullpen uncertainty at all. These are shallow leagues, and saves will always be available on free agency in April, May and beyond.
I think, for example, that Los Angeles Angels manager Mike Scioscia, wily veteran that he is, will eventually settle on right-hander Blake Parker, who pitched so well in numerous roles last season — including the ninth-inning role — so I might spend a pick in the final round or two on Parker. I probably will not, though, because I do not see much upside there.
After all, don't we know by this point that nearly a third of closer roles for Opening Day — and we are still a month from that point — will change?
So I am more likely to use precious bench spots on upside options for other statistical categories in case they make their respective MLB rosters or their situation becomes more positive during spring training.
For example, top outfield prospects Ronald Acuna and Victor Robles seem like better initial investments than Parker, Miami Marlins right-hander Brad Ziegler and Texas Rangers lefty Alex Claudio. Same with Tampa Bay Rays right-hander Brent Honeywell and St. Louis Cardinals right-hander Alex Reyes.
In deeper formats where it might be tougher to secure saves during the season, then I will likely bypass the top-100 closers — I always do — and take four or five lesser relief pitchers with the hope a few perform well and secure roles.
I like Parker. I think Parker, Bradley and a few others who are off the radar, like Milwaukee Brewers right-hander Corey Knebel a year ago this time, can actually be top-10 closers if the opportunity presents itself. But still, we are talking about late draft selections here, after a deep roster of hitters and rotation depth is secured.
AJ Mass: It's all about job security when it comes to closers, whose value in category-based formats is almost completely tied to how many saves they can give a fantasy manager. So, while the ideal scenario would be to actually know the results of the many spring battles for that ninth-inning role as possible, when time is not on your side, for many teams, you'll simply have to make your best guess.
Obviously, established relievers like Kenley Jansen, Craig Kimbrel and Aroldis Chapman are very unlikely to lose their jobs and are, hence, "safe." Similarly, Wade Davis didn't get a $52 million contract to pitch in long relief. In cases like his and that of Rodney, follow the money.
For the rest of the bunch, I'd play the "follow the leader" game. If someone picks Mark Melancon, I'll grab Sam Dyson. If Jeurys Familia gets drafted, I'll pounce on AJ Ramos. For one thing, the more "lottery tickets" I draft in this fashion, the more chances I have that at least one of these closer competitors will come out on top come April. Plus, say my Carl Edwards Jr. ends up as the Cubs' go-to guy. That opens a big door for me to call the guy who put all of his eggs into Brandon Morrow's basket and name my price.
Kyle Soppe: The necessary evil of forecasting bullpen usage is nothing short of a pain — and often a game-changer. If I'm drafting today, I'm making a run at, but not reaching for, one of the six top closers.
From Jansen to Ken Giles, if value presents itself, I'll happily lock in the few "safe" saves on the board and piece together the rest, knowing that I have an edge on at least a handful of teams, given the stability. But if you decide to pass on the top options, my philosophy is pretty simple: Go for talent or résumé.
The thought with the talent angle is that, at the bare minimum, you're supporting your ratios while you wait for a role to present itself (the Bradley approach). The résumé idea is more of a short-term plan, hoping that loyal managers look in the past to determine whom they hand the ball to in the ninth (the Melancon-rebound approach).
I prefer the Bradley approach, as there is less risk involved, but it is important to understand that you are not the only manager struggling to secure saves (29 players had 15-plus saves last season, but only 10 had more than 30), and that this category is often decided during the season.
San Diego Padres acquire All-Star second baseman Adam Frazier from Pittsburgh Pirates, sources say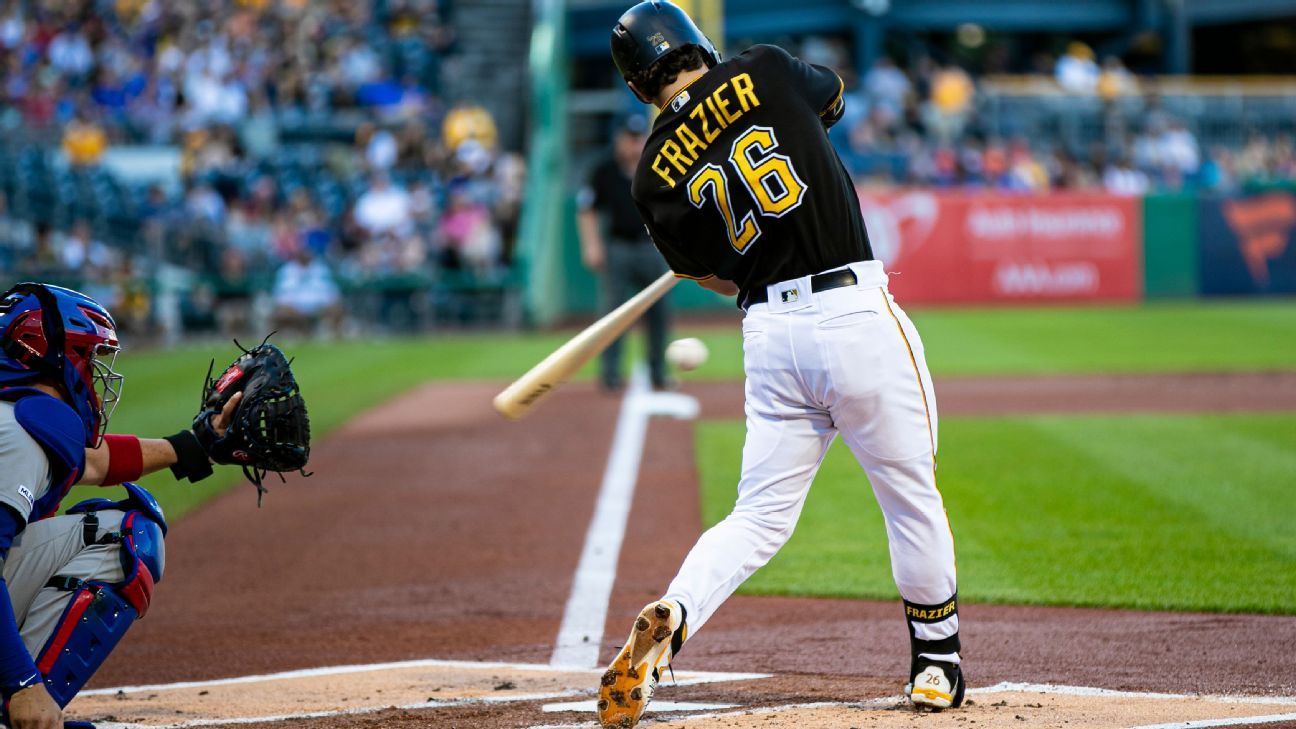 The San Diego Padres are acquiring second baseman Adam Frazier from the Pittsburgh Pirates, sources told ESPN's Jeff Passan.
Frazier, 29, who leads baseball in hits this year, is not a free agent until after the 2022 season.
In exchange, the Pirates are acquiring right-hander Michell Miliano, shortstop Tucupita Marcano and outfielder Jack Suwinski, a source told ESPN's Kiley McDaniel.
Pittsburgh is also sending approximately $1.4 million to the Padres in the deal, according to The Associated Press.
Frazier entered Sunday hitting .327 — the second-best average in Major League Baseball — with four home runs and 32 RBIs.
A 2020 Gold Glove finalist and an All-Star this season, Frazier was the Pirates' second-longest tenured player, behind right fielder Gregory Polanco.
When asked about possibly being traded a week ago, Frazier said he wasn't letting it distract him.
"It's pretty cool to be recognized like that and have teams want you," Frazier said. "It means a lot. It tells you you're playing well, but I still have to worry about playing baseball."
With his wife preparing to play for Olympic gold, Jake Reed claimed off waivers by Tampa Bay Rays
ST. PETERSBURG, Fla. — Jake Reed switched teams while his wife was with the U.S. softball team at the Tokyo Olympics.
The 28-year-old reliever was claimed off waivers by the Tampa Bay Rays from the Los Angeles Dodgers on Sunday and optioned to Triple-A Durham.
Reed, a right-hander with a submarine delivery, made his major league debut on July 6 and had a 3.38 ERA in five relief appearances and one start. He was designated for assignment on Wednesday by the Dodgers.
Janie Reed is the starting left fielder and No. 2 hitter on the U.S. team, which plays Japan for the softball gold medal on Tuesday.
Boston Red Sox end Domingo German's no-hit bid in 8th inning, storm back to beat New York Yankees
BOSTON — Domingo German was simply dominating the Boston Red Sox. Never more so than in the seventh inning, when the New York Yankees right-hander struck out stars J.D. Martinez, Rafael Devers, Xander Bogaerts and rookie Jarren Duran.
As German walked off the mound then with a no-hitter intact and a solid lead, there was no way to envision what was on deck.
Held hitless into the eighth by German and looking feeble, Alex Verdugo and the Red Sox suddenly erupted for five runs to shake Fenway Park and storm past New York 5-4 on Sunday.
The old ballpark was almost silent all afternoon, until Verdugo opened the eighth with a long double for Boston's first hit, and he raised his arms in celebration at second base.
By the time Kike Hernandez slid home headfirst on Xander Bogaerts' sacrifice fly with the go-ahead run to cap the rally, fans were fired up.
"I felt like just getting that hit out of the way had everybody just take that big deep breath, didn't have to worry about getting no-hit anymore," Verdugo said. "That inning was crazy. From going no-hit to seven innings to putting five up in the eighth, that's one of the craziest comebacks I've ever been a part of."
With their major league-leading 32nd come-from-behind victory, the Red Sox reclaimed first place in the American League East, a game ahead of the Tampa Bay Rays. It was the Red Sox's 10th win in 13 games this year against their rivals, and it erased a tough 4-3 loss on Saturday, when New York scored four times in the eighth.
What a difference a few hits made. Before those, it was pretty glum in the Boston dugout, according to Red Sox manager Alex Cora.
"Not great, to be honest with you," Cora said. "Whoever says, 'We're a hit away or a baserunner away from getting this going' … I didn't sense that. I sensed a lot of frustrated people. [German] was amazing."
The Yankees, meanwhile, absorbed another brutal loss in a season full of them. They dropped three of four in the series and fell nine games behind Boston. The Yankees now have three losses this season when they've led by four or more runs in the eighth inning or later. That ties the most such defeats in a single season in franchise history, and it's the first time they've had three such losses since 1993, according to ESPN Stats & Information research.
"Really tough one, obviously. Domingo was terrific," Yankees manager Aaron Boone said. "It's a tough one we've got to get past. Another extremely tough one."
Boston trailed 4-0 when Verdugo doubled to deep right, and German was lifted after the hit by Boone.
"You know to pitch a no-hitter is one of the hardest things to do in baseball," German said through an interpreter. "I knew I had a no-hitter going. I was executing pitches to try and be as careful as possible. Verdugo was able to connect there. I thought it was a good pitch."
Jonathan Loaisiga (7-4) relieved, and Boston broke loose with four straight hits. Hunter Renfroe had an RBI double, Christian Vazquez singled home a run and Hernandez followed with an RBI double, cutting it to 4-3.
Zack Britton relieved, and pinch hitter Kevin Plawecki's groundout plated the tying run. Hernandez hustled hard and beat right fielder Greg Allen's throw home on Bogaerts' sacrifice fly.
"It's a bad day for me. It's tough," Loaisiga said through an interpreter. "It hurts because you had the starter pitching strong. You come into the game hoping to do your job and it doesn't work out."
German was trying for the first no-hitter by an opponent at Fenway since the Detroit Tigers' Jim Bunning in 1958, when he retired fellow future Hall of Famer Ted Williams on a fly for the final out.
Mixing his well-spotted fastball in the mid-90 mph range with a changeup and curveball, the 28-year-old German struck out 10 and walked just one.
With a 3-0 lead, he began the seventh by fanning Duran. Bogaerts also struck out, swinging at a passed ball that prolonged the inning. German struck out Devers and Martinez, with all four strikeouts coming on third-strike swings.
There have been seven no-hitters in the majors this year, one short of the big league record set in 1884, the first season that overhand pitching was allowed.
There were two near misses on Saturday night: Patrick Sandoval of the Los Angeles Angels got his bid broken up with one out in the ninth at the Minnesota Twins; and Framber Valdez and the Houston Astros' bullpen took a try into the eighth.
Brandon Workman (1-2) earned the win for Boston on Sunday, and Matt Barnes got the final three outs for his 21st save.
"It was a pretty special comeback," Hernandez said.
Rougned Odor had a solo homer and an RBI single for New York. He popped up with a runner on second to end it.
Yankees infielder Gio Urshela, activated from the COVID-19 injured list before the game, had an RBI single to make it 2-0 in the fourth after Gleyber Torres doubled and advanced on a sacrifice.
Odor's bloop, run-scoring single had made it 1-0 in the third.
Boston starter Martin Perez gave up three runs over six innings, striking out six and walking two.
The Associated Press contributed to this report.