Our staff recently held its first mock draft for the 2018 season, and you can check out the entire board here.
But what did our writers learn from the mock, what surprised them, and how did they feel their teams turned out?
Eric Karabell: Each draft I've participated in so far has seen a different first round, and on this first ESPN mock of the season it felt like it was a subtle race to secure someone from the top tier of four starters. I didn't consider a pitcher at the third pick, but they didn't last long and certainly didn't make it back to me at my next pick. It's so interesting. Look, if you want Clayton Kershaw anytime after the second pick, do it. The case can be made at No. 3! I decided for this format I wanted Mookie Betts third. That's where the draft really begins.
Later in the draft I did my usual thing, seeking value, getting a decent base of innings, waiting on saves, loading up on offense and then seeking more value. Don't know why nobody seemed to want the likes of Kyle Hendricks, Nomar Mazara, Brett Gardner and Mark Melancon, but I did! It's not "reaching" for Yoan Moncada or Aaron Sanchez if you're a believer. And never worry about any site's ADP. Time will tell, I suppose.
Tristan H. Cockcroft: This mock occurred early in spring training, in a season when many free agents remained on the market well beyond the opening of camps, and those players still without teams stood out. Yes, there's great risk that Jake Arrieta, Greg Holland, Lance Lynn and Alex Cobb will end up in unfavorable situations for their fantasy value, but aren't the odds also at least good that each will wind up in roles that will give them fighting chances at repeating (or at least approaching) their 2017 value?
We'll see how this plays out in the coming weeks, but Arrieta went No. 142 overall, roughly four rounds beyond his ranking and 49 spots beneath his 2017 Player Rater finish; Holland went 185th, two rounds beyond his ranking and 123 spots beneath his Player Rater finish; Lynn went 229th, nearly five rounds beyond his ranking and 117 spots beneath his Player Rater finish; and Cobb went 228th, three rounds beyond his ranking and 92 spots beneath his Player Rater finish. I don't think these were unreasonable draft valuations, but they also probably reside on the lower end of the scale. In short, I wouldn't wait beyond those price points.
AJ Mass: What are mock drafts for? They're for trying out strategies you might not be willing to risk using if this were a "for real" league. I've never before seen what my pitching staff might be if I waited until Round 10 to take my first pitcher — and quite frankly, I'm surprised at how competitive this particular team has a chance to be.
If I had caved one round sooner, I could have had Masahiro Tanaka as the foundation of this staff, but as it stands, I have six SP with 200-K potential and every one of my hitters could end up with at least 20 HR — should things break the right way — to go along with 10 out of 15 position players who could end the season with double-digit steals.
The upshot is, while I might not wait this long to take my first pitcher in every rotisserie-based league I participate in, I'm also not going to sweat it if, 100 picks in, I haven't yet broken the seal on the position. There are a lot of arms out there to be had.
Kyle Soppe: This mock draft reinforced what I thought might be the case … you need outfielders and pitchers. The standard ESPN roster requires you to roster a boatload of each, so there is the natural urge to grab one or two of them and believe that you can fill in the holes later, but I don't think that's going to be the case this season. Contrary to AJ's take on things, the pitchers I truly feel comfortable with evaporated after the first pick of Round 8 and the outfielders I consider viable starters ran out shortly thereafter.
Those may not sound like "early" endpoints for starter-worthy talent, but considering that you need to play at least five outfielders and will want to roster at least a handful of starting pitchers, these positions are shallower than most assume. I'm honing my research over the next month on infielders: I'm going to need to hit on them after taking OFs and SPs with regularity in the first 10 rounds.
Leo Howell: I wrote up Shohei Ohtani as a "bust" in a recent article, so why would I then take him in a mock? Would I ever actually take the much-hyped rookie in a real draft?
Maybe. I wanted to test my assumptions. And all-in-all, I think I already softened my stance on the potential "Babe Ruth" for the 21st century.
After all, if my choice at starting pitcher is between him and Luis Castillo, I am willing to roll the dice on either, knowing that certainty just isn't there with these players. Castillo is just as unproven as Ohtani, and doesn't offer the obvious versatility that Ohtani does.
Sure, there are concerns about workload, but if all I wanted was security of innings, I'd have selected Jon Lester … a player I've blindly rostered several years in a row now, including last year's incredible disappointment.
As AJ said above, mocks are about testing new strategies and seeing what works and how you feel about it. And I can confidently say now that, if he falls to the right area of a draft, I'm willing to take Ohtani. Now the question becomes: How high am I willing to go for the Angels' new star? I'll need another few mocks to find out.
Vi Ripken, matriarch of famed Baltimore Orioles family, dies at 82
ABERDEEN, Md. — Vi Ripken, matriarch of the famed Orioles family that includes Hall of Fame son Cal Ripken Jr., has died. She was 82.
Family spokesman John Maroon said Sunday that she died on Friday, a day before her birthday, in Aberdeen, where a youth stadium carries the Ripken name.
Violet and Cal Ripken Sr. married in 1957, and he spent four decades in the Baltimore system as a player, minor league coach and manager. He managed the Orioles in 1987 and early 1988, when sons Cal Jr. and Billy played infield for him.
She also made headlines in 2012 after being the victim of a bizarre kidnapping. Police said she was kidnapped at gunpoint at her home in Aberdeen and driven around blindfolded by her abductor. She was found bound and unharmed about 24 hours later in her car near her home. The case was never solved.
Vi Ripken was involved for many years in local and charitable organizations in the Maryland area.
"We are deeply saddened to learn about the passing of Vi Ripken," the Baltimore Ravens said in a statement. "The Ripkens are engrained in the fabric of the greater Baltimore community, and Vi played a significant role in helping establish their family's strong legacy. We extend our heartfelt condolences to her children and grandchildren during this sorrowful time."
She is survived by sons Cal Jr., Billy and Fred and daughter Elly. Grandson Ryan Ripken, a minor leaguer in the Baltimore system, played Sunday in the Orioles' exhibition game against Pittsburgh.
Cal Sr. died in 1999.
The Associated Press contributed to this report.
Baltimore Orioles' Trey Mancini gets standing ovation, singles in return from cancer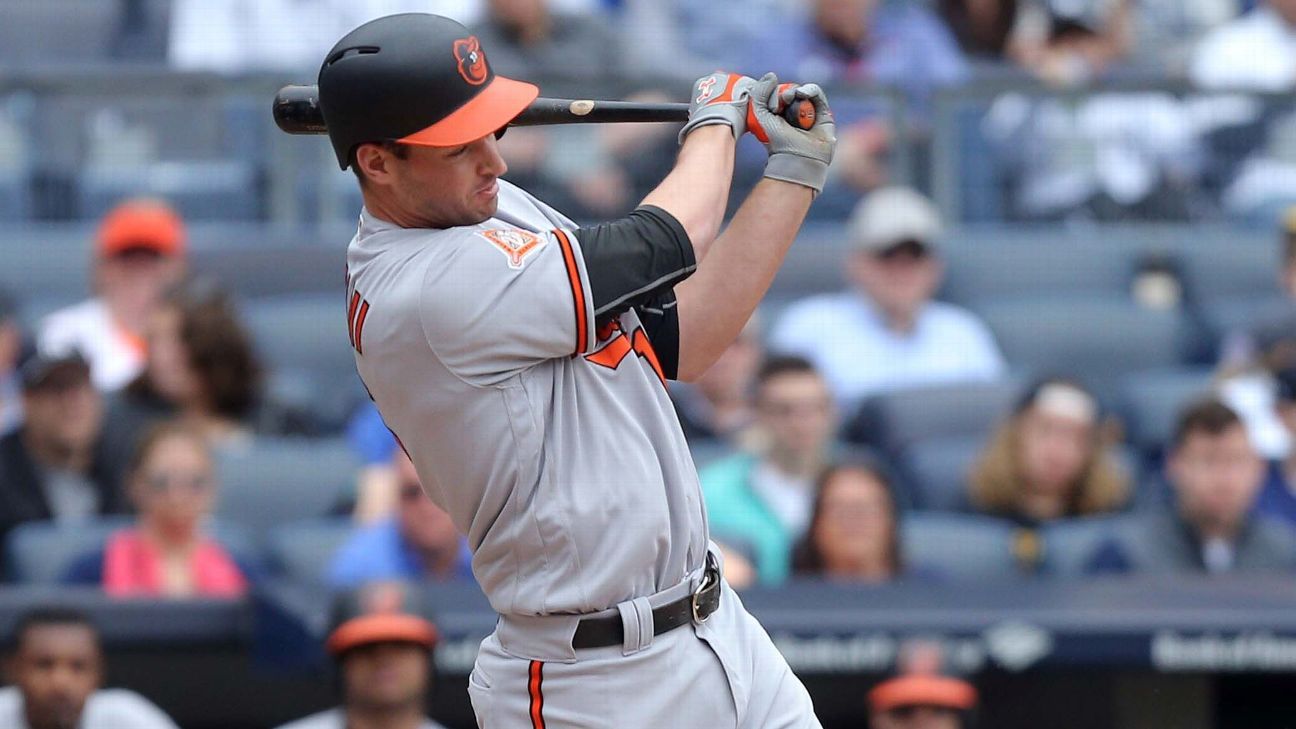 Trey Mancini received a standing ovation and applause from both dugouts Sunday during his first live at-bat after missing the 2020 season while recovering from State 3 colon cancer.
When the Baltimore Orioles first baseman came up in the first inning against the Pittsburgh Pirates, he drew a nice round of applause as he approached the batter's box and waved to the crowd. The cheers kept growing, with pitcher Chad Kuhl stepping off the mound and umpire Will Little cleaning the plate to prolong the salute.
After tipping his cap in acknowledgement of the applause, Mancini then punctuated his return with a single to center in his first spring training at-bat Sunday, against the Pittsburgh Pirates' Chad Kuhl.
"It was amazing," Mancini told reporters when asked about the ovation. "I almost teared up a little bit, I'm not going to lie, when I was up there and everybody gave me a standing ovation and I saw all the guys on the field clapping on the Pirates, clapping in the dugout, our team and all our fans.
"It meant the world to me. It was a really, really cool moment and one of the favorite moments of my baseball career. I think it was a huge day for me, personally, getting back in a game. Just another kind of milestone that I can check off here."
After producing 35 home runs and 97 RBIs for the Orioles in 2019, Mancini seemed primed for even bigger things. But after playing just five exhibitions last year, he needed to end his season to have surgery for colon cancer.
"It's almost a year to the day when I was last in a game, so it definitely felt like a moment where we came full circle a little bit," Mancini, who who turns 29 in a few weeks, said Sunday. "I thought more about everything that happened today than I have in a long time. I've mostly tried to in a lot of ways just move on and not think too much about last year. But today I ran through all the tough days that we had and really tried to appreciate and cherish today."
The Associated Press contributed to this report.
San Diego Padres OF Tommy Pham lucky to be playing again after stabbing
SAN DIEGO — Tommy Pham knows how lucky he was to be in the starting lineup for the San Diego Padres in their spring opener on Sunday, 4½ months after he was stabbed in the lower back during an altercation in the parking lot of a strip club.
It could have been much worse.
"The cut's deep. The doctor here basically told me if I wasn't so muscular, I might be dead or paralyzed," the left fielder said during a videoconference with reporters from Peoria, Arizona.
"I'm lucky. I'm lucky to even be able to play."
As he was being rushed to the hospital in an ambulance on Oct. 11, three nights after the Padres were eliminated from the playoffs, Pham was on the phone with general manager A.J. Preller and trainer Mark Rogow.
"I thought I wasn't going to be able to play," Pham recalls telling the club officials.
"When I got the CT scan, the doc was like, 'I've got great news for you. You can play.' She just said it's going to be a little bit of a recovery."
Pham said late last year that he needed 200 stitches to close the gash. A video posted online showed the lower part of his white shirt soaked in blood.
The San Diego Police Department is still investigating, and no arrests have been made.
Preller said Sunday that "obviously it's not the type of news you're expecting, ever, that type of phone call."
Preller said Pham was "just matter of fact in terms of talking about what happened. The biggest focus for us was just making sure that we were in a position to get our doctors on the case and try to make sure we were being smart to give him every possible advantage in the care he needed at that point."
Preller said the first thing that stood out "is how lucky he was, when you're talking about a stab wound really in any area, but that was as deep and extensive as it was. If it was a centimeter in either direction, maybe a different outcome. Once we got past that hurdle, with his work ethic and the way he attacks things and gets in the gym and takes care of himself, he was going to give himself every possible opportunity to come back.
"He's in great shape. Obviously he had some different injury stuff last year. I think he's ready to go."
Pham said his recovery included bedrest and then he flew to San Francisco every week for about six weeks to get injections of Regenokine to help with the inflammation.
"I worked with a few doctors on getting to where I'm at because it's only been about 4½ months and the timeline is normally a little bit longer," he said.
The injury affects him when he tries to do squats and deadlifts in the weight room.
"My norms aren't there yet. You don't really have to squat a lot or deadlift a lot to be a good baseball player," he said.
After being traded from Tampa Bay Rays to San Diego, the 32-year-old Pham was limited to 31 games during the pandemic-shortened 2020 season due to an injury to his left hand that required surgery in mid-August. He hit .211 with three home runs and 12 RBIs. He hit .375 in the playoffs.
He had another hand surgery in October.
He says he's at about 80%.
"I probably have the most to prove because I had a terrible year," said Pham, who rattled off a number of analytics that were down. "Plus, this is my free agent year as well. So I feel like I have the most to prove."
Pham said his perspective hasn't changed since the stabbing.
"I still look at everything almost the same. If anything, I probably would just spend more money and stop saving as much, because if I died I would feel like I had too much money in the bank and I didn't live enough."