Our staff recently held its first mock draft for the 2018 season, and you can check out the entire board here.
But what did our writers learn from the mock, what surprised them, and how did they feel their teams turned out?
Eric Karabell: Each draft I've participated in so far has seen a different first round, and on this first ESPN mock of the season it felt like it was a subtle race to secure someone from the top tier of four starters. I didn't consider a pitcher at the third pick, but they didn't last long and certainly didn't make it back to me at my next pick. It's so interesting. Look, if you want Clayton Kershaw anytime after the second pick, do it. The case can be made at No. 3! I decided for this format I wanted Mookie Betts third. That's where the draft really begins.
Later in the draft I did my usual thing, seeking value, getting a decent base of innings, waiting on saves, loading up on offense and then seeking more value. Don't know why nobody seemed to want the likes of Kyle Hendricks, Nomar Mazara, Brett Gardner and Mark Melancon, but I did! It's not "reaching" for Yoan Moncada or Aaron Sanchez if you're a believer. And never worry about any site's ADP. Time will tell, I suppose.
Tristan H. Cockcroft: This mock occurred early in spring training, in a season when many free agents remained on the market well beyond the opening of camps, and those players still without teams stood out. Yes, there's great risk that Jake Arrieta, Greg Holland, Lance Lynn and Alex Cobb will end up in unfavorable situations for their fantasy value, but aren't the odds also at least good that each will wind up in roles that will give them fighting chances at repeating (or at least approaching) their 2017 value?
We'll see how this plays out in the coming weeks, but Arrieta went No. 142 overall, roughly four rounds beyond his ranking and 49 spots beneath his 2017 Player Rater finish; Holland went 185th, two rounds beyond his ranking and 123 spots beneath his Player Rater finish; Lynn went 229th, nearly five rounds beyond his ranking and 117 spots beneath his Player Rater finish; and Cobb went 228th, three rounds beyond his ranking and 92 spots beneath his Player Rater finish. I don't think these were unreasonable draft valuations, but they also probably reside on the lower end of the scale. In short, I wouldn't wait beyond those price points.
AJ Mass: What are mock drafts for? They're for trying out strategies you might not be willing to risk using if this were a "for real" league. I've never before seen what my pitching staff might be if I waited until Round 10 to take my first pitcher — and quite frankly, I'm surprised at how competitive this particular team has a chance to be.
If I had caved one round sooner, I could have had Masahiro Tanaka as the foundation of this staff, but as it stands, I have six SP with 200-K potential and every one of my hitters could end up with at least 20 HR — should things break the right way — to go along with 10 out of 15 position players who could end the season with double-digit steals.
The upshot is, while I might not wait this long to take my first pitcher in every rotisserie-based league I participate in, I'm also not going to sweat it if, 100 picks in, I haven't yet broken the seal on the position. There are a lot of arms out there to be had.
Kyle Soppe: This mock draft reinforced what I thought might be the case … you need outfielders and pitchers. The standard ESPN roster requires you to roster a boatload of each, so there is the natural urge to grab one or two of them and believe that you can fill in the holes later, but I don't think that's going to be the case this season. Contrary to AJ's take on things, the pitchers I truly feel comfortable with evaporated after the first pick of Round 8 and the outfielders I consider viable starters ran out shortly thereafter.
Those may not sound like "early" endpoints for starter-worthy talent, but considering that you need to play at least five outfielders and will want to roster at least a handful of starting pitchers, these positions are shallower than most assume. I'm honing my research over the next month on infielders: I'm going to need to hit on them after taking OFs and SPs with regularity in the first 10 rounds.
Leo Howell: I wrote up Shohei Ohtani as a "bust" in a recent article, so why would I then take him in a mock? Would I ever actually take the much-hyped rookie in a real draft?
Maybe. I wanted to test my assumptions. And all-in-all, I think I already softened my stance on the potential "Babe Ruth" for the 21st century.
After all, if my choice at starting pitcher is between him and Luis Castillo, I am willing to roll the dice on either, knowing that certainty just isn't there with these players. Castillo is just as unproven as Ohtani, and doesn't offer the obvious versatility that Ohtani does.
Sure, there are concerns about workload, but if all I wanted was security of innings, I'd have selected Jon Lester … a player I've blindly rostered several years in a row now, including last year's incredible disappointment.
As AJ said above, mocks are about testing new strategies and seeing what works and how you feel about it. And I can confidently say now that, if he falls to the right area of a draft, I'm willing to take Ohtani. Now the question becomes: How high am I willing to go for the Angels' new star? I'll need another few mocks to find out.
Drew Robinson makes San Francisco Giants' Triple-A roster after losing eye in 2020 suicide attempt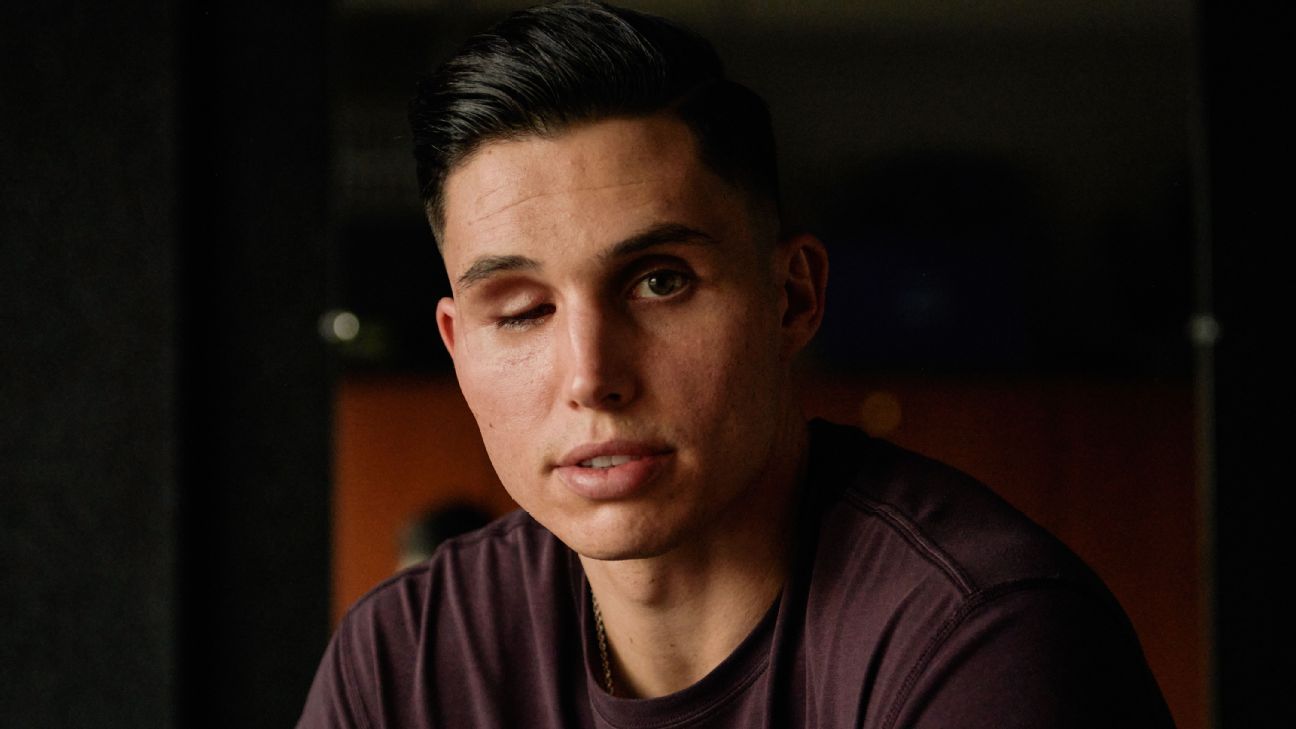 Drew Robinson, who lost his right eye in a suicide attempt last year, made the opening day roster for the San Francisco Giants' Triple-A affiliate and could play as soon as tomorrow, when the Sacramento River Cats open their season with a six-game series in his hometown of Las Vegas.
Robinson, 29, signed a minor league deal with the Giants over the winter, six months after he shot himself in the head. After a harrowing 20 hours that followed the attempt and more than a year of rehabilitation, a late-spring surge in Robinson's performance during minor league spring training convinced the Giants to place him one step from the team with the best record in the National League.
"I don't know if I'll be able to fully describe how excited I am for these next six games, but I know that this is going to be another powerful experience, and I'm so ready for it," Robinson told ESPN on Wednesday. "Our game isn't even until tomorrow, but I already had a hard time staying asleep last night because of how excited I am for these games and this experience as a whole.
"After going through most of my life not fully appreciating what was happening, I can promise that I'll be taking in every second of this season with a new understanding of how special all of this is."
Robinson's family, friends and doctors will gather at 7:05 p.m. PT Thursday at Las Vegas Ballpark, where Robinson spent much of the offseason taking live batting practice — and hit his first home run since he began his comeback attempt. His work at the stadium, just 2 miles from the house where his suicide attempt took place, convinced Robinson that his desire to play baseball again could be a reality.
He began the spring playing shortstop, a position Robinson hadn't regularly manned in nearly a decade, and struggled to adapt to its speed. When the Giants moved him to the outfield, where he played the majority of his 100 games with the Texas Rangers and St. Louis Cardinals from 2017 to 2019, Robinson's comfort returned.
Along with it came more offensive production. The concerns about the left-handed-swinging Robinson's ability to track pitches without his lead eye were palpable, but Robinson proved adept at discerning balls and strikes — and unleashing his massive power. He had rebuilt the rest of his body through a consistent workout regimen, adding nearly 20 pounds of muscle onto his 6-foot-1 frame and showing up at minor league camp a shredded 200 pounds.
Hard contact proved elusive early in spring training, but when Robinson squared balls up, they soared into the Arizona sky. He hit a pair of home runs, the latter a 450-foot shot on a high changeup. The Giants, whose support after the suicide attempt was vital in Robinson's recovery, were convinced. He wasn't just a great story. He was worthy of another shot at returning to the big leagues.
Even making it back to the minor leagues is stunning. The last player in the major leagues with one eye was Pittsburgh pitcher Whammy Douglas, who threw 47 innings in 1957. The questions about Robinson went far beyond the limitations having one eye might place on him, too.
For years, the vagaries of baseball had preyed on Robinson — the game's inherent failures, the up-and-down nature of a player who never quite got a toehold on a big league roster. His suicide attempt on April 16, 2020, surprised friends and family, who always had seen Robinson as the wisecracking, good-natured life of the party.
Four surgeries, including the removal of his eye that was damaged by a bullet, stabilized Robinson physically. Rebuilding him mentally was a far more difficult task, one that continues today through regular therapy, meditation and medication. It is the foundation that allowed Robinson to rejoin the sport that brought him joy and pain — and to apply all he has learned so that his family's fears of baseball sending him back to a dark place would be unfounded.
There were moments this spring that were frustrating, disappointing, problematic, but Robinson's perseverance won out. And now, with those closest to him there — his parents, his siblings and his best friend, Daiana Anguelova — he'll be where he belongs: playing professional baseball again.
Minor league baseball draws 103,483 for 47 games in return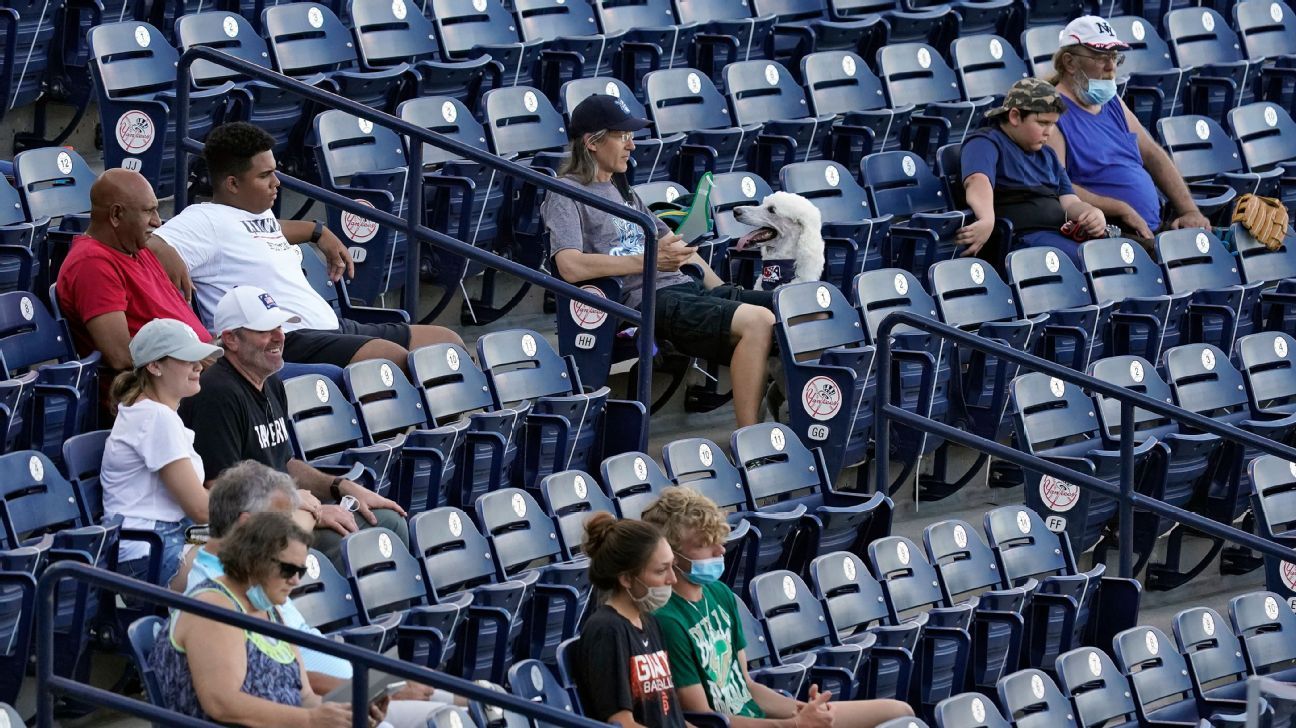 ST. PETERSBURG, Fla. — Minor league baseball drew 103,483 fans for 47 games on its opening day after missing the 2020 season because of the coronavirus pandemic.
The largest crowd Tuesday was 5,004 for the Tulsa Drillers' 4-3 loss to the Amarillo Sod Poodles in the Double-A Central.
All four Double-A South games were postponed by rain. The Triple-A West schedule does not start until Thursday.
The 176 minor league teams drew 41,504,077 in 2019, up 2.6% from 40,450,337 in 2018 and the ninth-highest total in minor league history. The 4,044 average increased 2.1% over 2018's 3,960.
Major League Baseball eliminated the separate governing body of minor league baseball and cut affiliations from 160 to 120 this season.
Toronto Blue Jays to again make temporary home in Buffalo, report says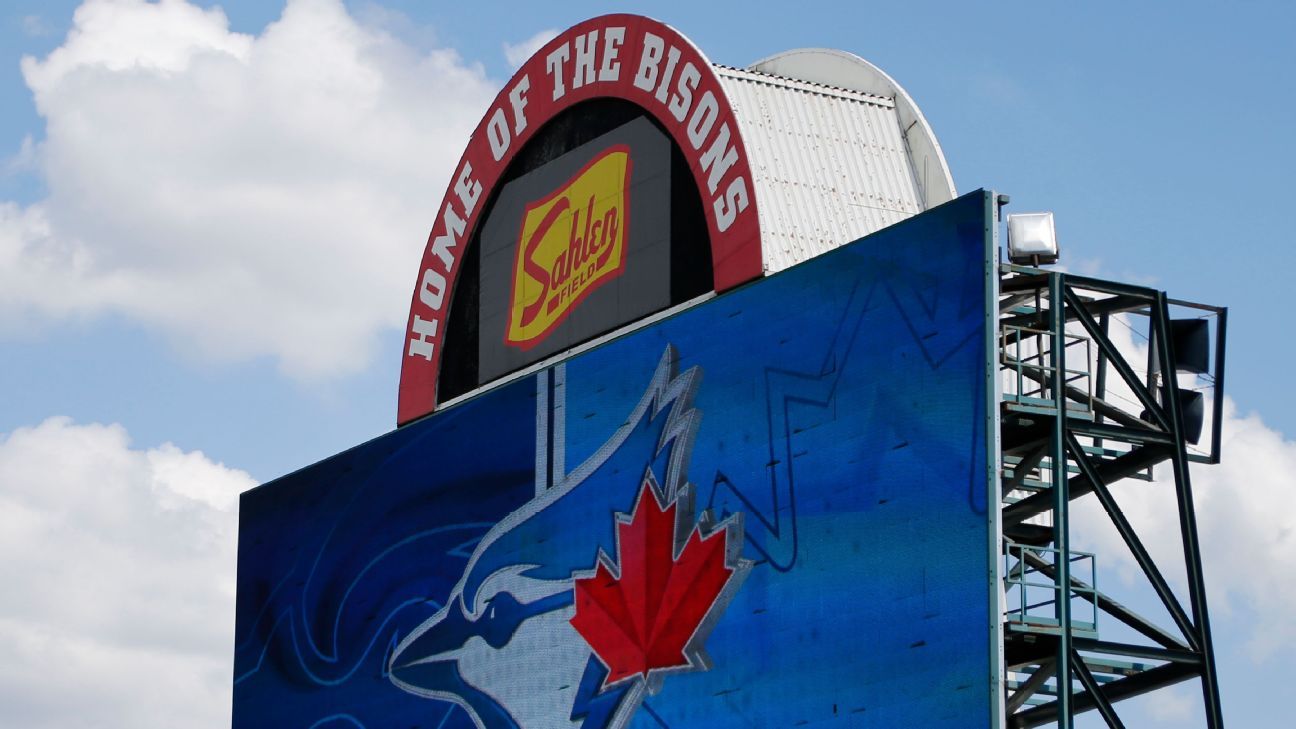 After two months in Florida, the vagabond Toronto Blue Jays are again ready to take flight in June and make their temporary home in Buffalo, New York, according to a report.
The Blue Jays will return to Sahlen Field on June 1 against the Miami Marlins, Sportsnet reported Wednesday. They played the first two months of the season at TD Ballpark — their spring training facility in Dunedin, Florida — because of Canadian government restrictions during the coronavirus pandemic.
Toronto last played at home at Rogers Centre, with its 49,000-person capacity, on Sept. 29, 2019.
The Blue Jays played home games during the shortened 2020 season at Sahlen Field — home of their Buffalo Bisons Triple-A farm team — and went 17-9. The Canadian government didn't allow the team to play at home because of the risk of spreading COVID-19 due to frequent travel required during a baseball season.
The Blue Jays, who have 10 games remaining in Dunedin, are 14-14 and are in fourth place in the AL East through Tuesday's games.
The Associated Press contributed to this report.