INDIANAPOLIS — Randy Gregory is eligible to apply for reinstatement to the NFL, but the Dallas Cowboys are not planning to have their 2015 second-round pick in the fold in 2018.
"We assume worst-case on any situations, whether it's the money or availability, especially if players are facing suspensions," executive vice president Stephen Jones said. "Obviously last year when we knew (Ezekiel Elliott) faced a possible suspension we kept extra running backs, assuming worst case. So we have to move forward, assuming that Randy is not going to be here. If he is here, obviously it's a big deal. First and foremost for him if he could get himself in a situation where he feels like he could actually play football."
Gregory has played in two of the last 32 games for the Dallas Cowboys because of multiple suspensions for violating the NFL's substance abuse program, missing the entire 2017 season.
Gregory gave something of an update via social media Monday: "It's not how you start. It's how you finish. Patience is key."
The Cowboys are not allowed to have contact with Gregory, who was the 60th overall pick in 2015. He slipped in the draft because of off-field woes. He played in 12 games as a rookie but did not record a sack. He played in the final two games of the 2016 season and had one sack.
The Cowboys do not play a role in reinstatement. That comes from Gregory and his agent. Jones said it has been difficult for the Cowboys since they have not been able to keep tabs on Gregory.
"At the same time we obviously invested in Randy and wish nothing and hope for nothing but the best for Randy," Jones said. "I know he's on a journey and I know he's trying to get his off the field situations worked out and he's certainly got a lot of skill as a football player. But first and foremost he has to get himself personally and his physical well-being off the field in a good place."
CB Casey Hayward Jr. signs with Las Vegas Raiders, rejoins DC Gus Bradley
The Las Vegas Raiders signed cornerback Casey Hayward Jr. on Tuesday, the team announced.
Terms were not disclosed.
The move reunites Hayward with Raiders defensive coordinator Gus Bradley, who was his defensive coordinator with the Los Angeles Chargers the past four seasons. The Raiders hired Bradley as their defensive coordinator in January.
The Chargers released Hayward in March, ending his five-year run with the franchise.
Hayward, 31, appeared in 14 games last season, making 13 starts. He finished with an interception and eight passes defended. He was inactive for the Nov. 29 game at Buffalo, snapping a streak of 107 consecutive games played.
During his five seasons with the Chargers, Hayward had 66 passes defensed, which led the AFC during that span. He led the NFL with seven interceptions in 2016 and was selected to the Pro Bowl in 2016 and 2017.
The Raiders hope he can regain his old form and bring a steadying influence to a young secondary. The Raiders had been projected to start players taken in the past three drafts with cornerbacks Trayvon Mullen, Damon Arnette and Amik Robertson in the slot and safeties Johnathan Abram and 2021 second-round pick Trevon Moehrig.
Arnette struggled as a rookie last season after being drafted in the first round and Hayward provides an option to start outside at cornerback if Arnette doesn't improve or moves into the slot.
Hayward spent the first four seasons of his career with the Green Bay Packers, who selected him in the second round of the 2012 draft. He has 23 interceptions, 100 passes defended and 385 tackles in nine NFL seasons.
The Associated Press contributed to this report.
Denver Broncos right tackle Ja'Wuan James suffers torn Achilles tendon, will miss 2021 season, sources say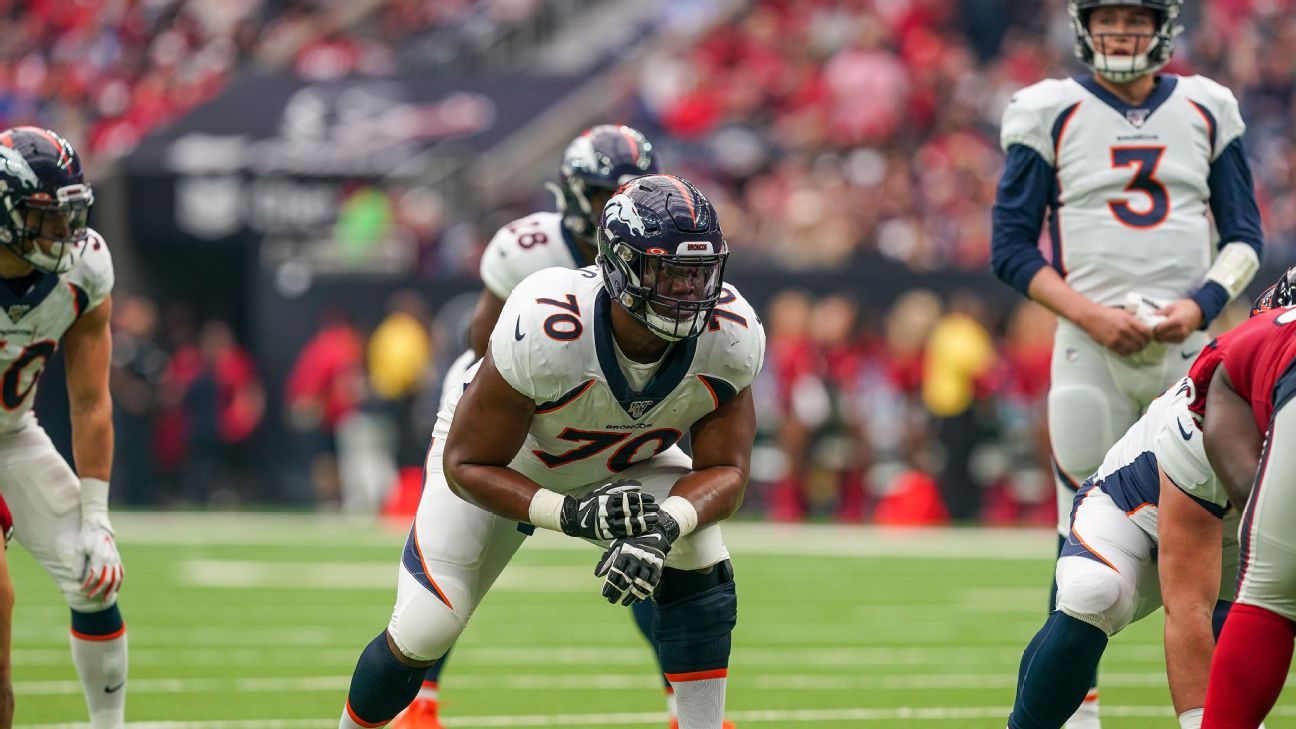 ENGLEWOOD, Colo. — Denver Broncos right tackle Ja'Wuan James' injury-crossed career took another difficult turn Tuesday.
Team sources told ESPN that James suffered a torn Achilles tendon in a workout away from the Broncos' facility. The injury is considered season-ending. and James will have surgery to repair it.
Given James' injury occurred when he was not at the team's facility it could be classified as a "non-football injury" or NFI, and the Broncos would not be obligated to pay James his $9.85 million base salary.
James has played 63 snaps for the Broncos over three games combined — all in 2019 — since he signed a four-year, $51 million deal with Denver in March of that year. James said late in the 2019 season he had suffered a torn meniscus as well as a torn MCL in separate games that season.
James opted out of the 2020 season due to health concerns with his family during the COVID-19 pandemic. In five seasons with the Miami Dolphins James battled a variety of injuries and did not start more than eight games in consecutive seasons.
He started 16 games as a rookie in 2014 before starting seven in 2015; started 16 games in 2016 before starting eight in 2017; and started 15 games in 2018 before he started the three for the Broncos in 2019.
James' injury will force the Broncos to look at the market given they had planned on James starting at right tackle this season. James had worked out at the Broncos facility on several occasions this offseason as both general manager George Paton and Vic Fangio had praised his work in recent weeks.
Days before the draft Paton was asked about James' progress and said: "He's been here, and he's been working out. He's looks great and the expectation is he starts at right tackle and he plays well."
That proclamation played, at least some, into the Broncos selecting Alabama cornerback Patrick Surtain II with the No. 9 pick of the draft as well as North Carolina running back Javonte Williams in the second round (35th overall) when some of the draft's top tackles were still on the board.
The ranks of tackles who remain unsigned in free agency had grown thin with several players over 30 with starting experience like 35-year-old Demar Dotson, who was not re-signed by the Broncos earlier this offseason and 33-year-old Marshall Newhouse.
Veteran tackle Marshall Gilbert, who opted out last season, announced his retirement just before the draft.
On their current roster the only other tackle to have started a game at right tackle for the Broncos is Calvin Anderson, who started two last season. Elijah Wilkinson, who started seven games at right tackle in 2020, signed with the Chicago Bears in free agency.
NFL draft draws 160,000 fans despite pandemic, points to 'brighter days' ahead
Given that the nation remains in a pandemic, the NFL is more than satisfied with being able to attract 160,000 fans to the draft in Cleveland last week.
While those numbers pale in comparison to what the three-day draft drew in previous years in Nashville and Philadelphia, they also reflect the necessary health and safety protocols the league observed.
"We hit 160,000 across the three days," Peter O'Reilly, the NFL's NFL executive vice president of club business and league events, said Tuesday.
"We hit some rough weather on Thursday night, but the crowd experience built. It's a testament to Browns fans and Cleveland overall. Of course the numbers are less than if we were fully beyond the pandemic, but to put it in context, it's more than in Year 1 [2015, when the draft was moved from New York] in Grant Park in Chicago.
"This was certainly a hybrid draft as we transition out the other side of the pandemic. Last year was about representing where we all were, which was literally in our basements. This was pointing to brighter days and how you can do things together outdoors in a safe way."
Just as in Chicago, Philadelphia and Nashville, the NFL used an iconic locale within the city, building a stage and fan complex along the shore of Lake Erie and next to the Browns' stadium and the Rock & Roll Hall of Fame.
The views provided on television gave this draft the feel of a big event, something Americans covet as the COVID-19 threat remains.
Indeed, many sports and other entertainment genres were watching the NFL to see how things went. There was a large presence of vaccinated fans on hand — a requirement near the stage — and mandatory mask wearing elsewhere across what O'Reilly called "the broader campus."
"We are in a very different place from last year," O'Reilly noted, "and it was one where people are so eager to be out and together. And we needed to do that while working with the CDC and local health officials to strike that right balance with fans in attendance, and do it safely. And so many of those fans … were vaccinated, and they were proud to be vaccinated and thrilled to be back out at an event like that.
"We took the striking of that balance really seriously as we rolled out our plan and executed."
The next planned major event with large crowds will be the Pro Football Hall of Fame enshrinements in early August in Canton, Ohio. Two classes will be inducted: 2021's eight selectees; five modern-day players from the 2020 group; and a 15-member centennial class from 2020. Last year's inductions were postponed because of the pandemic.
"We're working very closely with [president and CEO] David Baker and the Hall of Fame on both the enshrinements and the game, which was postponed last year and features the Dallas Cowboys and Pittsburgh Steelers," O'Reilly said. "And we are looking forward to starting in a big way and hopefully to have fans on hand at training camps."
O'Reilly and the league also are hopeful the conclusion of the draft was a harbinger. Following the announcement of the final pick, a rainbow appeared over the Cleveland skyline.