The Dallas Cowboys have agreed to a deal that would opt them out of the league's ticketing deal with Ticketmaster and instead have ticket reseller SeatGeek serve as the team's primary box office, sources told ESPN.
Representatives for the Cowboys and SeatGeek both declined comment.
The Cowboys wouldn't be the first team to opt out of the Ticketmaster deal. The Detroit Lions were, switching their primary ticketing to Veritix for the 2013 season.
In November, the Saints made the move to SeatGeek. Sources say the Lions are moving back to Ticketmaster for 2018, meaning the Cowboys and the Saints will be the only NFL teams not running their box office through Ticketmaster.
The move is consistent with the maverick that Jerry Jones has become. In 1995, Jones famously struck deals with Pepsi and American Express to sponsor the Cowboys while the league had official deals with Coca-Cola and Visa. The NFL sued Jones before eventually acquiescing. In 2002, Jones became only the owner to opt out of the NFL's licensing deal, which split revenues equally. Jones felt that the Cowboys contributed a disproportionate share and sought to be rewarded by going on his own to distribute and choose where he wanted the Cowboys gear to be sold. Sixteen years later, the Cowboys are still the only team that does that.
The deal with SeatGeek isn't an automatic business touchdown. The company is just starting to ramp up its primary business after spending much of its life as a reseller and the deal comes less than two months before the NFL schedule is released.
The Cowboys, despite having the most seats in the NFL in 100,000-seat AT&T Stadium, are handled more easily because the team sells more season tickets than any other team. That being said, fans will have to get used to a different system than they were accustomed to for the managing of their tickets.
Jones' move was long in the works and has nothing to do with Monday's news that the NFL will order Jones to pay more than $2 million in legal fees for his battle against commissioner Roger Goodell over the renewal of Goodell's contract. Jones will appeal the decision, a source confirmed to ESPN.
Interestingly, Jones is partners with LiveNation, which owns Ticketmaster, in a venture with the New York Yankees on its Legends hospitality business.
Ticket businesses have been among the most volatile businesses around. ScoreBig went out of business in 2016 and RazorGator is reportedly in jeopardy.
Sources — Philadelphia Eagles to interview Los Angeles Rams DC Brandon Staley for head coaching job
Los Angeles Rams defensive coordinator Brandon Staley, who has the Green Bay Packers waiting for him in Saturday's Divisional Playoff, also has the Philadelphia Eagles waiting for him whenever this season ends, per league sources.
The Eagles already have received permission to interview Staley at the appropriate time, which could be as early as Sunday if the Rams don't advance, per sources. Staley will join the list of head-coaching candidates the Eagles already are considering as they have spent their week conducting interviews.
The Eagles are drawn to Staley and the reputation he has built during his year as Sean McVay's defensive coordinator in Los Angeles, as well as the skills he has demonstrated in Denver under Broncos head coach Vic Fangio.
The Eagles are not the only team interested in Staley. The Houston Texans also have received permission to interview Staley, and there's a connection there.
Staley coached at John Carroll University, where new Texans general manager Nick Caserio also attended. The two have a strong relationship and perhaps Caserio's presence could help draw Staley to Houston.
But the Eagles want to talk with Staley; they have made that known. He is one of their top candidates and, depending on what happens Saturday, could have a chance to soon meet with the NFC East team looking to fill the head coaching vacancy it created last week when it fired Doug Pederson.
From drive-ins to outdoor setups, Buffalo Bills fans find ways to watch playoff games – Buffalo Bills Blog
BUFFALO, N.Y. — This has been a weird 2020 NFL season.
There aren't many other ways to put it, particularly for Buffalo Bills fans, as the coronavirus pandemic has kept them from witnessing the team's playoff run in person until last weekend. While 6,772 fans will be inside Bills Stadium to see the team's AFC divisional-round game Saturday against the Baltimore Ravens (8:15 p.m., ET, NBC), the rest will have to get creative.
The Transit Drive-In, a Buffalo-area theater, has opened its gates for viewings of Bills games in the past and plans to do so Saturday.
But even as fans find new ways to enjoy Bills games in lieu of the trademark tailgates around the stadium — including a block party in downtown Buffalo — some have opted for a more relaxed approach at home. With a state-imposed 10 p.m. curfew in effect for outdoor dining at bars and restaurants (and even concession stands in Bills Stadium), they don't have much of a choice.
Ken Obstarczyk hoped to travel with the team this season after witnessing the Bills' wins in Dallas and Pittsburgh in 2019, but those plans wilted once the realities of the 2020 season set in. He used to have season tickets with his father, also named Ken, but that has evolved into a trip to his dad's house in Williamsville, New York, and a day full of beverages and Bills football.
"We were saying that out of all the years the Bills are supposed to be a solid team and do great things, they do it in a year where no one can actually witness it," he laughed. "The Bills-iest thing to do would be to actually win the Super Bowl and have everyone not be able to celebrate."
Obstarczyk figured it was only right to spend last Saturday's game, the Bills' first home playoff game in 25 years, with the same man he has watched "so many awful games" with.
It went smoothly for the most part — until that all-too-familiar feeling crept in as Indianapolis mounted a comeback toward the end of Buffalo's 27-24 win against the Colts.
"You get to that moment where, it's a 'Buffalo moment,'" he said. "[The Colts] started crawling back, [Bills QB] Josh Allen fumbles at the end and it's like, 'is he making that mistake that everybody wants him to make?' [Buffalo] managed to pull it off, it was a great experience, and I was glad I was with my dad and able to experience that with him."
Like the Obstarczyks, Jason Hahl did the same from his home in East Aurora, New York; well, outside of his home, technically.
Hahl said he has set up an outdoor television to watch games so frequently that it now has an increasingly permanent spot in his dining room between game days — for ease of access, in lieu of bringing it all the way back to the basement.
• Divisional round: Matchups, X factors »
• Keys to victory for all eight teams »
• Experts predict upsets, more »
• Schedule, brackets, TV times »
Sometimes he'll be by himself, other times he will have a few people with him, but Hahl has watched nearly every Bills game this season via his outdoor setup. He said he doesn't care how cold it is, either, although sometimes he'll build a fire, when necessary.
However, last weekend Hahl was forced to put a canopy up, and not because of the temperature, which was just above freezing.
"It was so sunny that you actually needed a canopy to protect from the glare," he said. "We could barely see the TV, so we put a canopy up in January because it's too sunny."
If he can't be at games, spending game days outdoors feels like the next best thing. Turns out, he's not the only one in his neighborhood with the idea.
Hahl said he has heard his neighbors doing the same, especially during the Bills' past few games — although their celebrations have been a bit staggered.
"Because everybody's streaming the game through a different service, you will hear one family erupt and scream, then another," he said. "It's kind of going off like fireworks around you because of the delay between plays. It's another interesting outdoor pandemic phenomenon."
Sources — Buffalo Bills OC Brian Daboll emerges as a favorite to land Los Angeles Chargers' head coaching job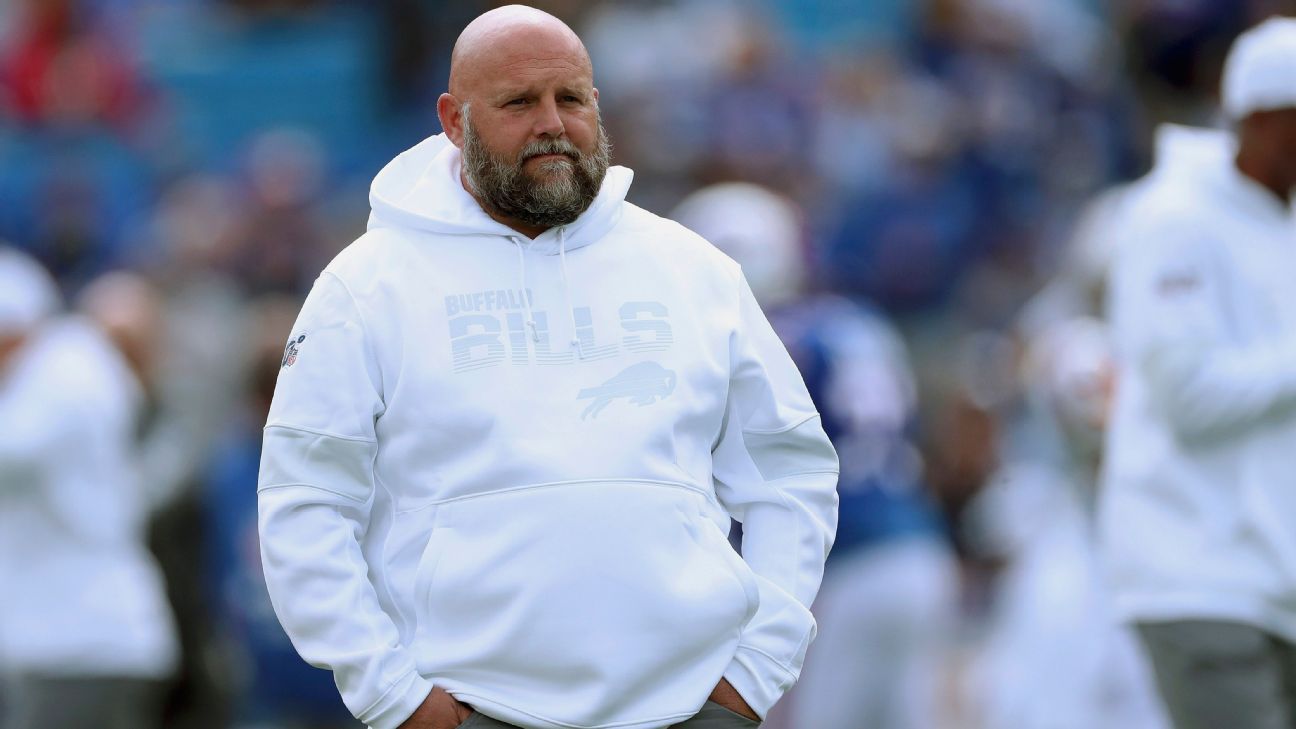 Buffalo Bills offensive coordinator Brian Daboll has emerged as a favorite to land the Los Angeles Chargers' head coaching job, per league sources.
Daboll is one of nine candidates who has interviewed for the job, and the Chargers are plotting the next steps in their process, which will be influenced by the result of Saturday night's Divisional Playoff game between the Ravens and Bills.
If the Bills lose, Daboll can meet with the Chargers whenever he wants and accept their head coaching job if offered. If the Bills win, the Chargers must wait for Daboll to be finished with the postseason before they negotiate.
Daboll would fit many of the traits that the Chargers are looking for in their next head coach. He is an offensive-minded coach, learning under some of the best coaches of all-time, and has helped elevate the game and production of Bills quarterback Josh Allen. Daboll would be expected to do the same of Los Angeles quarterback Justin Herbert.
Plus, there is a great familiarity. Daboll went to St. Francis High School in Buffalo with Chargers' general manager Tom Telesco. The two played on the same high school football team, with Daboll two grades behind Telesco. Daboll was a hard-hitting safety and Telesco was a wide receiver and cornerback.
From their time together in Buffalo, both men followed different paths. Daboll went on to learn his craft at the feet of Bill Belichick in New England and Nick Saban at Alabama before returning home to Buffalo, where he has helped the Bills' offense become one of the best in the league.
Telesco went from St. Francis to learn under former Colts' general manager Bill Polian before landing the Chargers' general manager job.
Now Daboll and Telesco could be teammates again on the opposite coast, in Los Angeles, still trying to win together.