Chicago White Sox prospect Jake Burger to miss season
GLENDALE, Ariz. — Chicago White Sox prospect Jake Burger has a torn left Achilles tendon and will likely miss the season.
The 11th overall draft pick last June, Burger fell to the ground running out a grounder to third against Oakland on Monday. The team said Tuesday he will have surgery in Chicago this week.
Words can't describe the love and support I've received from White Sox Nation, Bears Nation, friends and family! Your words make a difference! This is a minor setback setting up a major comeback! In the meantime, I'll be doing everything in my power to get back on the diamond!

— Jake Burger (@Burgatron13) February 27, 2018
Burger is considered to be the White Sox's future third baseman, though he wasn't expected to make the roster this season.
My 5-year-old couldn't go to a New York Mets game this year — so I sent him to all of them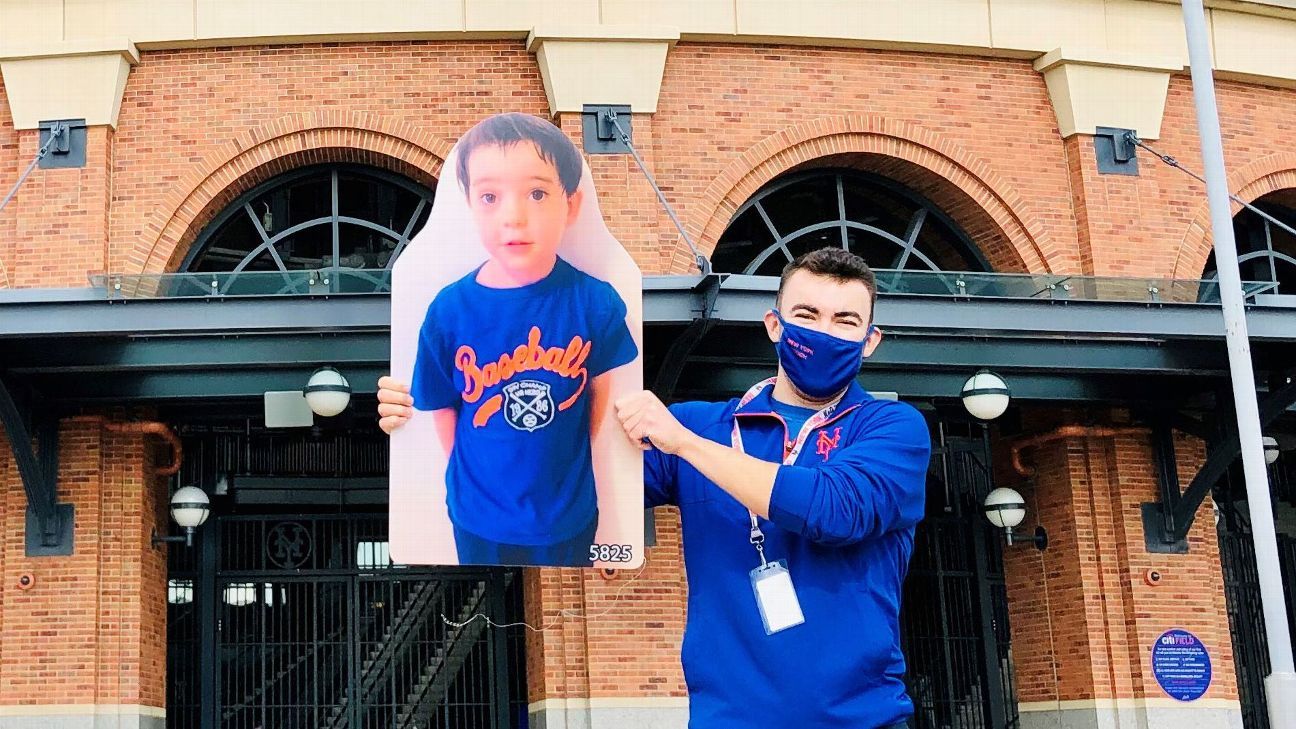 In May, my 5-year-old son and I draped his bedroom in blankets from wall to wall, crawled inside and flew our imaginary ship all over the world. Jacob chose to visit places we couldn't go because of the coronavirus, and we landed on the roof of Grandma's house in the country and on the tippy top of Big Ben in London — so our first mate, Paddington, could see his city.
The baseball season was on hold at the time, so we didn't swoop into Yankee Stadium or Citi Field, but those were two more favorite places we couldn't go together this year. Among the sacrifices and losses of this pandemic, not being able to take your son to a baseball game is nowhere near the top of the list. Still, I missed going with him, and with his baby brother, Peter. Especially because, though Jacob knows baseball has something vaguely to do with his dad's job, he's recently begun to develop a bit more of a big-kid interest in the sport, asking new, more sophisticated questions about the games as we watch on TV.
Jacob is particularly curious about how the Houston Astros used cameras to cheat. He's obsessed with cartoon villains and their evil robots and flying factories. He's got an out-of-this-world imagination and loves to cause mischief himself, most notably by spying on his mom and dad. He's terrible at it — he'll crawl all over my feet when he's under my desk "spying" on me while I work — but I play along and he loves it. We love it.
Which made the idea of seeing his face in a place he couldn't go this year, spying on the New York Mets all season long as a cardboard cutout, irresistible. When I heard about the cutouts, an idea adopted by more than half the teams across Major League Baseball this past season — and in the Mets' case, with proceeds going to the team's charity — I asked him to pose for a quick photo. I didn't tell him why. I didn't want to disappoint him if he never got to see it. Then I bought one.
Not long after, I got an email that Jacob's cutout had been installed at Citi Field. I couldn't wait to catch a glimpse of it. I wrote to the Mets asking for a location — or better yet, a photo — but initially they weren't providing that information.
So I took advantage of one small perk of my job as an ESPN MLB editor — unfettered access to hi-res game photos. In my spare time, I must have scoured hundreds of photos and videos of Mets home games looking for Jacob. I never found him.
And then, when I'd mostly settled on it being enough just to know that he was there, the Mets sent me his exact seat number and section. He was in a prime home-run spot in left field.
Later I'd catch glimpses of him in highlight videos, including Pete Alonso's Subway Series walk-off against the New York Yankees in September — but first I found this photo, taken by Mike Stobe of Getty Images:
I zoomed waaaayyyy in — and there was Jacob. With the long-awaited photo finally in hand, I did some intentionally low-fi editing and ended up with this:
I couldn't stop laughing. I sent it to Jacob's mom and grandparents and aunts and uncles and my coworkers and just about everyone else. It was also time to tell Jacob. I wasn't sure if he'd appreciate it, but I figured he'd at least have a typically unexpected way of seeing it.
I was right.
"But Dad," he said when I proudly showed him the photo, "where are you?"
---
The team was generous and green enough to not just toss thousands of cutouts in the bin, instead letting fans safely stop by and take theirs home. So the morning of Game 7 of the NLCS, we drove up to Mets fan cutout pickup day.
We waited about 45 minutes, inching along Seaver Way, wearing our masks, eventually pulling up to Station 3 in front of the Jackie Robinson Rotunda.
A Mets employee — I didn't catch his name — took our info and disappeared for a bit. He returned with Jacob's cutout and, knowing precisely what all the excited dads like me wanted, held it above his head for a photo.
Jacob loved it. We were on our way to a timed-entrance Halloween event at the Bronx Zoo and he was wearing his pirate costume. He took off his skull-and-crossbones hat and placed it on his cardboard cutout's head.
"I want to put it on the ceiling," he declared, "so I can look up and see it from my bed."
That evening, we took it home, and, at least for the time being, I rested it on top of Jacob's bookcase, right behind the T-ball trophy every kid in his league got last year but of which he's inordinately proud. He didn't get to play T-ball this year.
I read him a bedtime book and went down to watch the Los Angeles Dodgers beat the Atlanta Braves in Game 7. I thought about what he'd said when I told him I'd bought the cutout and what it meant. How he'd asked, before anything else, where his dad was.
Part of me wished I'd gotten two — or even a third, for his little brother. I didn't get to sit next to my sons at any ballgames this year.
We could have it a whole lot worse. And, if our luck holds, I'll be sitting with them next year. For real.
Next stop, MLB? Five players to watch in the KBO playoffs
The most high-profile season in Korea Baseball Organization history begins its full charge toward the Korean Series on Sunday. With the start of the KBO playoffs, the spotlight will be on many of the league's biggest stars — some of whom might be playing in the major leagues as early as next season.
The KBO playoffs are a bit different than MLB's format. The top five teams in the standings qualify, but the first-place NC Dinos get an automatic bye to the best-of-seven Korean Series — the KBO's version of the World Series — and the rest is a ladder bracket to decide who faces them. The second through fifth seeds: the KT Wiz, Doosan Bears, LG Twins and Kiwoom Heroes, respectively.
Here are five players to watch in the KBO playoffs (starting at 1 a.m. ET Sunday on ESPNews and the ESPN app) who might be making their MLB mark sooner rather than later.
Ha Seong Kim, shortstop, Kiwoom Heroes
Kim is in his sixth full season as a starter with the Heroes, the same organization that produced former major leaguers Jung Ho Kang and Byung Ho Park, and appears destined to pursue opportunities in MLB after the season. Scouts believe Kim can play shortstop every day, but could also man second or third base, and he's expected to rank in the top half of ESPN insider Kiley McDaniel's upcoming free-agent rankings.
In 137 games this season, Kim hit a career-high 30 homers with 109 RBIs while batting .308/.399/.526 with 24 doubles and 23 stolen bases.
"I would say he's the best player in KBO right now, all around," said KBO reporter Daniel Kim. "He's only 25, but he has a ton of experience. So he'll be ready for the postseason. But he hasn't had his moment yet in KBO in terms of doing like Mookie Betts in the World Series type things."
Kim has previously expressed his interest in making the jump to the major leagues, though he noted at the time that some KBO fans were questioning his ability to thrive there.
"[Byung Ho Park] told me that not many players can actually do it," Kim told Korea's JoongAng Daily last December. "He encouraged me by telling me that I should give it a try if I can get that chance, and that helped me gain confidence. Even if it's not an easy path, I'm the one going down that path, so I'm going to care less about [the negative comments] and go my own way."
Sung Bum Na, outfielder, NC Dinos
The 31-year-old Na is one of the most complete players in the KBO, hitting .318/.385/.543 over the course of his eight seasons, and hitting .330/.397/.604 with 32 homers and 108 RBIs in 124 games this season. The left-handed-hitting Na has long been the subject of speculation over a leap to the bigs.
"The players that have played with him and against him that have major league experience, they feel he could hold a roster spot at the major league level," said Daniel Kim. "He's had some hamstring issues late in the season, but the NC Dinos are going to get a big break here because as [the] first place [team], they got an automatic bid to the Korean Series."
Raul Alcantara, pitcher, Doosan Bears
The 27-year-old Alcantara has had experience in the majors with the Oakland Athletics in 2016 and 2017, posting a 7.19 ERA in 46 1/3 innings over 13 games and nine starts, but the right-hander has spent the past two seasons in the KBO, pitching for the Wiz in 2019 and the Bears in 2020.
After posting a 4.01 ERA in 27 starts in his first KBO season, Alcantara took things to another level in 2020, with a 2.78 ERA and a 1.056 WHIP in 29 starts. The signings of former KBO pitchers Josh Lindblom, by the Milwaukee Brewers, and Merrill Kelly, by the Arizona Diamondbacks, might have opened a path for Alcantara to turn his KBO success into a spot on an MLB roster.
"I know teams are looking at him right now," said Daniel Kim. "He's a name out there this offseason [to follow Lindblom and Kelly]."
Baek Ho Kang, outfielder, KT Wiz
The 21-year-old left fielder is one of the brightest young stars in the KBO. Born in Seoul, he won the KBO's Rookie of the Year award in 2018, setting a rookie record for homers with 29. He continued mashing in 2020, when he hit .324/.407/.533 with 22 home runs, 82 RBIs and 32 doubles in 124 games.
McDaniel has said he believes Kang is a potential first-round MLB draft talent.
Mel Rojas Jr., outfielder, KT Wiz
The 30-year-old Rojas — whose father pitched in the majors for 10 years — never reached The Show after the Pittsburgh Pirates drafted him in the third round in 2010. Instead, he has spent the past four seasons of his career with the Wiz, becoming one of the KBO's premier sluggers. In 2020, the outfielder nearly won the Triple Crown, hitting .349 — good for third in the KBO — while leading the league with 47 home runs and 135 RBIs.
After the playoffs, Rojas will likely need to decide whether he wants to pursue a job in MLB or accept a raise from the Wiz.
"I hear some mixed reviews and lukewarm interest, despite his gaudy numbers. He's going to get probably a huge raise, close to $2 million guaranteed, from KT Wiz," said Daniel Kim. "I don't foresee a major league organization guaranteeing him that. [But] he wants to go to the majors — he's never played at the major league level."
Jon Lester hopes to remain with Chicago Cubs after team declines $25 million option
CHICAGO — The Chicago Cubs declined the $25 million team option on pitcher Jon Lester on Friday, but sources say they are likely to announce picking up the $16.5 million option on first baseman Anthony Rizzo before a Sunday deadline.
Lester, 36, was at the end of a six-year, $155 million contract with the Cubs and still could return on a lesser deal. He's owed a $10 million buyout.
"I know there is some doubt as far as the money that's out there but I would like to think we can definitely get this thing done," Lester said on ESPN 1000 on Friday. "I think it's going to be a long offseason for everybody."
Lester is a three-time World Series winner and was considered a culture-changing addition to the Cubs when he signed with them before the 2015 season. He struggled in the middle of the 2020 campaign but pitched well down the stretch after fixing his mechanics. He has won 193 career games and has previously stated he would like to win No. 200 as a Cub. Lester was 3-3 with a 5.16 ERA in 2020.
Rizzo, 31, will be among players around the league who will have his team option picked up for 2021. The Cubs did the same with him before last season, picking up an option for the same price, $16.5 million. He has been a stalwart at first base and a leader in the clubhouse during the Cubs' competitive years over the past half-decade.
Rizzo struggled some during the shortened 2020 season, hitting .222 with 11 home runs, but over the course of his career he has been a great value for the team after signing a seven-year, $41 million extension in 2013.
The Cubs will also decline an option on infielder Daniel Descalso. He'll be owed $1 million.
Lester was asked when he was hoping to know if he'll be back with the Cubs on a smaller deal.
"Things don't happen until after Thanksgiving for a lot of guys," he said. "Hopefully sooner rather than later."