Aaron Judge of New York Yankees — Not 100 percent until opener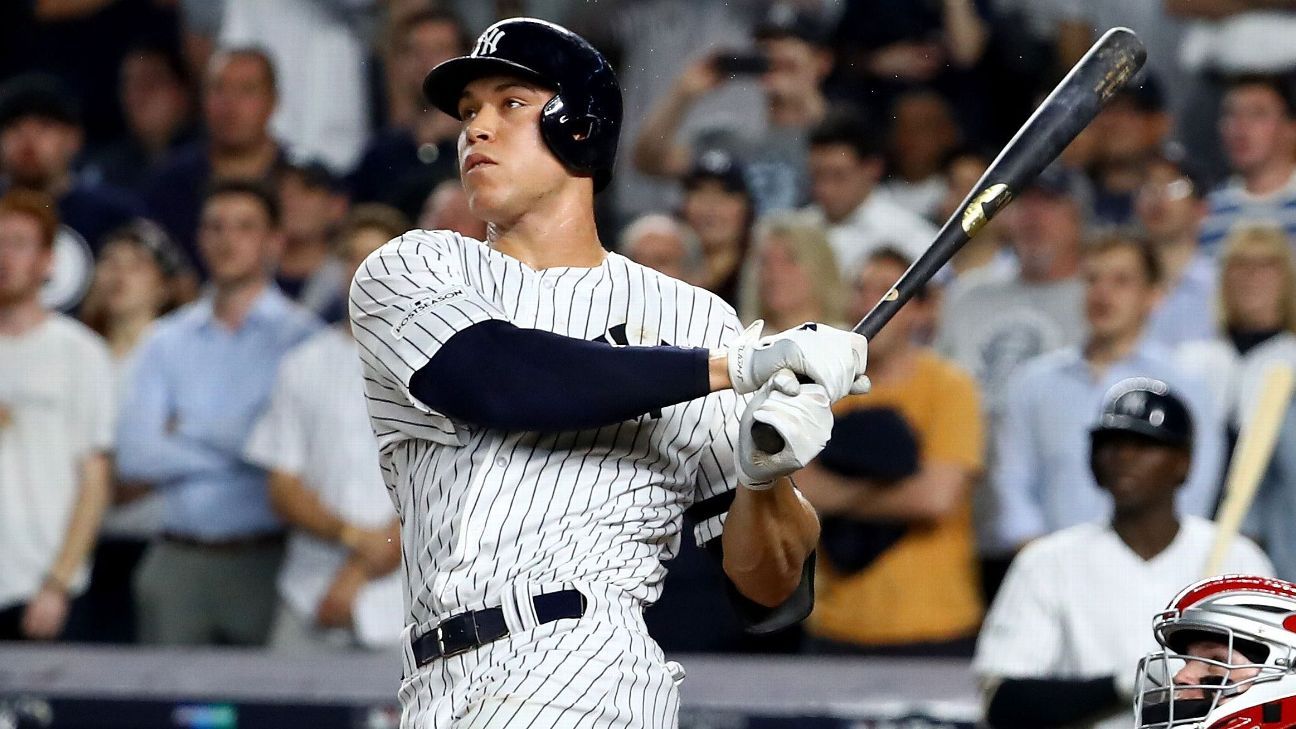 TAMPA, Fla. — Although New York Yankees outfielder Aaron Judge will be appearing in his first spring training game Wednesday, the reigning American League home run champion told ESPN on Monday night that he still isn't feeling 100 percent since his offseason shoulder surgery and that he doesn't expect to be feeling fully back until Opening Day.
"It's a work in progress until Opening Day," Judge said.
The Yankees open the regular season at Toronto on March 29.
The Yankees announced in November that the procedure Judge had in Los Angeles involved a "loose-body removal and cartilage clean-up." They also anticipated Judge's recovery time would be complete in advance of the start of spring training.
Judge said when he reported for spring training earlier this month that he was still far from having a complete recovery from the arthroscopic procedure to his left shoulder in late November. As a result, he expected to be slowly brought into full action with the team. He knew before he arrived in Tampa that he'd likely miss five or six games.
His appearance Wednesday against the Tigers will coincide with New York's sixth game of the spring. Yankees manager Aaron Boone said Judge will hit and play the field in that game.
"I got my timing down and the arm feels good, so I think Wednesday's the date and I'm looking forward to it," Judge told reporters Monday afternoon.
As for Judge's continued recovery, "it's just about trusting it and trusting how it feels, and making sure I continue to build up my strength," Judge told ESPN. "It's about making sure it's pain-free when I wake up each morning."
Even if Judge isn't currently pain-free, he hasn't appeared to show signs of discomfort during the batting practice sessions he has been part of this spring. On Monday alone, he hit a home run that cleared the batter's eye behind the center-field fence.
Unofficially, it was one of 10 home runs Judge had on the day.
Follow live: Bellinger, Dodgers seek 2-0 series lead
Los Angeles Dodgers' Game 1 win of World Series draws record-low viewers
ARLINGTON, Texas — The Los Angeles Dodgers' victory over the Tampa Bay Rays in Game 1 drew a record-low audience of television viewers for a World Series game.
Los Angeles' 8-3 win received a 5.1 rating and was seen by an average of 9,195,000 viewers on Fox from 8:06 p.m. to 11:41 p.m. EDT on Tuesday night, Nielsen Media Research said Wednesday.
The previous low had been set the only other time the Rays were in the World Series, when their 5-4 loss to Philadelphia in Game 3 in 2008 was viewed by an average of 9,836,000 that Oct. 25, a Saturday night.
Until now, the low for a Game 1 had been San Francisco's 7-1 win over Kansas City on Oct. 21, 2012, viewed by an average of 12,191,000 on a Tuesday night.
Washington's 5-4 victory over Houston in last year's opener was seen by an average of 12,283,000 on Oct. 22, also a Tuesday night.
Still, Fox won the prime-time evening with its best performance on a Tuesday night since Game 6 of last year's World Series.
The rating is the percentage of television households tuned in to a broadcast.
Tampa Bay Rays add two lefty hitters to lineup for Game 2
ARLINGTON, Texas — Austin Meadows is leading off as the designated hitter for Tampa Bay and first baseman Ji-Man Choi is in the cleanup spot for the Rays in Game 2 of the World Series against the Los Angeles Dodgers.
With rookie right-hander Tony Gonsolin on the mound for the Dodgers on Wednesday night, the left-handed hitters Meadows and Choi were in the lineup after not starting the series opener against lefty Clayton Kershaw. The Rays had five left-handers in the batting order.
Left-hander Blake Snell, the 2018 AL Cy Young Award winner, is starting for the Rays after right-hander Tyler Tyler Glasnow opened Game 1.
Kike Hernandez, who entered Tuesday's 8-3 Dodgers win as a pinch-hitter after Glasnow was out of the game, is getting the Game 2 start at second base. Chris Taylor moves to left field, with AJ Pollock the DH and Will Smith the catcher after being the DH in Game 1.