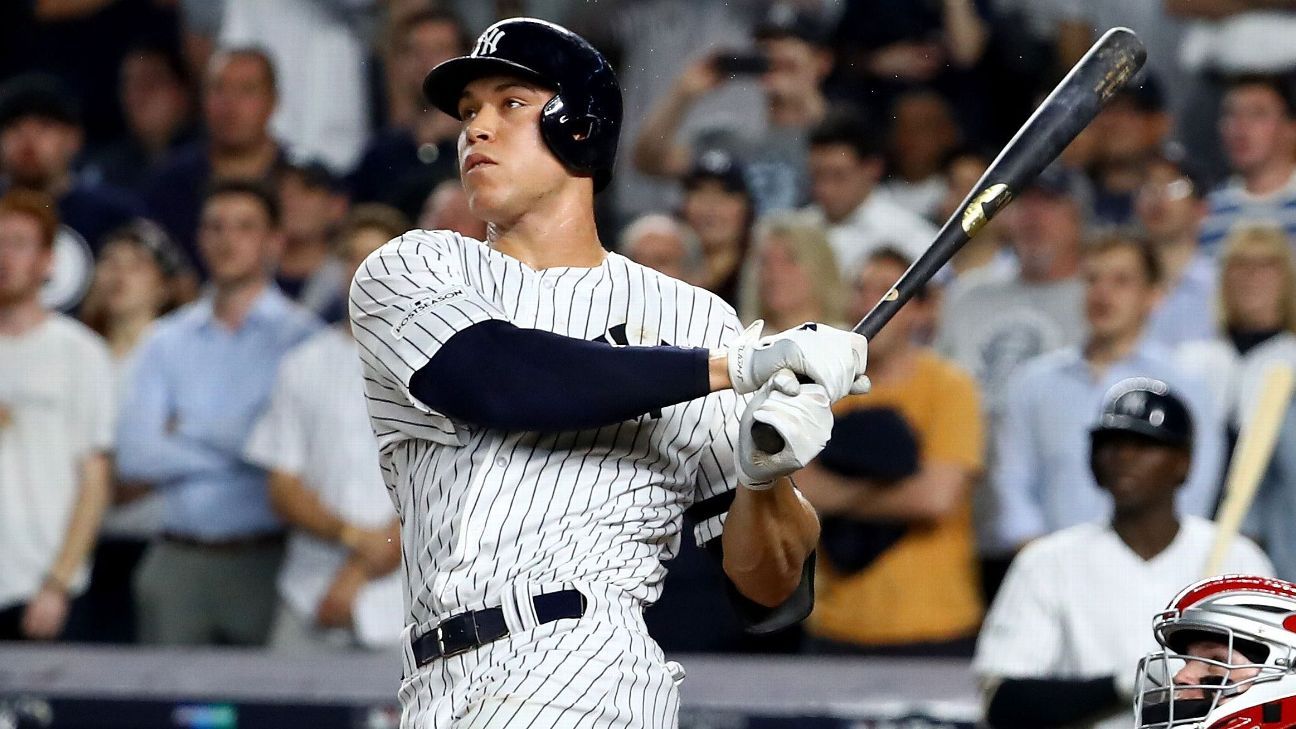 TAMPA, Fla. — Although New York Yankees outfielder Aaron Judge will be appearing in his first spring training game Wednesday, the reigning American League home run champion told ESPN on Monday night that he still isn't feeling 100 percent since his offseason shoulder surgery and that he doesn't expect to be feeling fully back until Opening Day.
"It's a work in progress until Opening Day," Judge said.
The Yankees open the regular season at Toronto on March 29.
The Yankees announced in November that the procedure Judge had in Los Angeles involved a "loose-body removal and cartilage clean-up." They also anticipated Judge's recovery time would be complete in advance of the start of spring training.
Judge said when he reported for spring training earlier this month that he was still far from having a complete recovery from the arthroscopic procedure to his left shoulder in late November. As a result, he expected to be slowly brought into full action with the team. He knew before he arrived in Tampa that he'd likely miss five or six games.
His appearance Wednesday against the Tigers will coincide with New York's sixth game of the spring. Yankees manager Aaron Boone said Judge will hit and play the field in that game.
"I got my timing down and the arm feels good, so I think Wednesday's the date and I'm looking forward to it," Judge told reporters Monday afternoon.
As for Judge's continued recovery, "it's just about trusting it and trusting how it feels, and making sure I continue to build up my strength," Judge told ESPN. "It's about making sure it's pain-free when I wake up each morning."
Even if Judge isn't currently pain-free, he hasn't appeared to show signs of discomfort during the batting practice sessions he has been part of this spring. On Monday alone, he hit a home run that cleared the batter's eye behind the center-field fence.
Unofficially, it was one of 10 home runs Judge had on the day.
YouTuber tracks friend's date at Arizona Diamondbacks game and captivates Twitter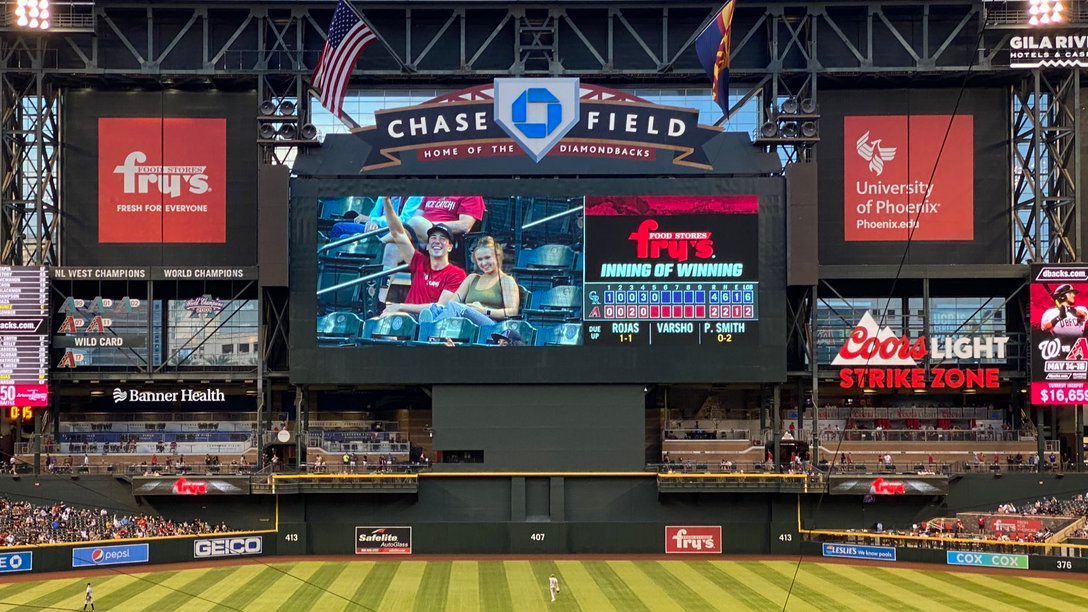 We've all been in this situation — your friend is on a date and you really want to know how it's going. But you need them to answer you!
Well, Connor Buckley, aka "BuckArmy," took matters into his own hands on Saturday — and in a very public way during the Arizona Diamondbacks game. Buckley simply wanted to see how his friend's date was going, so he tweeted at the Diamondbacks to check in on them at the game.
A search ensued.
Hey @Dbacks my roommate is on a date 6 rows above home plate. Any chance we could tell the camera man to zoom out a bit so I can see how it's going???

— BuckArmy (@BuckArmy) May 2, 2021
After some investigating, they found him!
You're welcome. pic.twitter.com/TRjmUf323z

— Arizona Diamondbacks (@Dbacks) May 2, 2021
The D-backs were kind enough to post the full back-and-forth:
A modern love story.

Thread 👇 https://t.co/T9jM2HK3p7

— Arizona Diamondbacks (@Dbacks) May 2, 2021
And the friend on the date even chimed in:
Glad my 2nd date was broadcasted to all of Twitter😂❤️ https://t.co/373QnBfQDF

— MboneHD (@MboneHD) May 2, 2021
Finally, we got to the most important question: will there be a third date??
But the question on everyone's mind: is there gonna be a third date?? https://t.co/9O4SrYMPWo pic.twitter.com/7HNPqRQzva

— Arizona Diamondbacks (@Dbacks) May 2, 2021
The D-backs tweeted they gave them a couple of game-used baseballs to remember the occasion. No pressure!
Jameson Taillon records first win in exactly two years as New York Yankees outlast Detroit Tigers
NEW YORK — Jameson Taillon earned his first win in exactly two years, Aaron Judge had three hits and three RBIs, and the New York Yankees outlasted the Detroit Tigers 6-4 on Saturday.
Gleyber Torres also drove in three runs as the Yankees won for the sixth time in seven games and improved to 13-14.
But the headliner was Taillon (1-2), who allowed one run, three hits and struck out eight over five innings. The Yankees had lost in each of his four previous starts.
Taillon's previous win came on May 1, 2019, for Pittsburgh in his last outing before having Tommy John surgery. The Pirates traded him to the Yankees before this season.
"He was player of the game for us today, for sure," Judge said of Taillon. "It was a special moment. Whenever you have a big injury like that, Tommy John, you know some players might think it's over. But for him, it's work, work, work, and I'm really impressed."
Torres concurred.
"To me, he's an inspiration," he said.
Taillon, who called the effort "a step in the right direction," retired seven straight hitters before Jeimer Candelario's two-out homer in the fourth tied it at 1. Taillon issued consecutive two-out walks in the fifth but escaped unscathed by striking out Miguel Cabrera.
"It means a lot to him. He loves being here, and I'm sure it was emotional for him," Yankees manager Aaron Boone said. "Knowing that it was two years, I'm really excited for him. Everyone has been through stuff, and Jamo has definitely been through his trials.
"It was another step forward for him."
Taillon got an unlikely assist in the fifth inning with Detroit threatening to take the lead when Niko Goodrum attempted to advance to third on JaCoby Jones' hard-hit grounder to the left side of the infield. The ball took a hard bounce, however, and struck Goodrum in the leg for the second out of the inning. Jones was credited with a hit.
"It took me a little longer than I would have liked," Taillon said of not winning a game until May. "There were times where I wasn't 100 percent sure I'd ever be in a major league uniform again, let alone pitching for a team like the Yankees."
In a big league season in which hitting is in short supply, 11 of the 18 batters in the starting lineups for the Tigers and Yankees finished the game hitting .198 or below. Detroit began the day with a majors-worst .199 team batting average, and Cabrera, a former Triple Crown winner, went 0-for-5 and fell to .125, one of the five Tigers under .200. But the Yankees, slowly coming around on offense after an inconsistent open to the season, had enough to support Taillon's effort.
"My awareness to situations today was a little better," Taillon said. "To start the year, there's been some ups and some downs, but I've learned a lot."
His manager agreed.
"He's continuing to pound the strike zone, executing at the top of the strike zone with his fastball," Boone said. "Today was another day of that, knowing that he's been through a lot to get to this point."
Spencer Turnbull (1-2) gave up four runs and five hits in five innings. The Tigers lost their fourth in a row and dropped to an MLB-worst 8-20.
Judge followed Friday night's two-homer, five-RBI performance by breaking a 1-all tie in the fifth inning with a line-drive double off Turnbull to left field that scored DJ LeMahieu.
Turnbull lost control in the sixth inning when he hit Aaron Hicks to open the frame and then walked Gary Sanchez and Clint Frazier before reliever Jose Cisnero replaced him, as the Yankees moved to within one game of the .500 mark.
"We want to definitely be way over .500," Judge said. "We just have to keep having that mindset, that every game is the first game of the year."
New York's Aroldis Chapman pitched a perfect ninth for his fifth save in as many chances.
The Associated Press contributed to this report.
MLB hopes offensive numbers perk up after historically rough April for hitters
MLB hitters hope that turning the calendar will also turn the page on an anemic April for offenses around the league.
Major league batters are hitting just .232 overall through April, down from .252 two years ago and under the record low of .237 set over the infamous 1968 season that resulted in a lower pitcher's mound.
Hits are averaging a record-low 7.63 per game after fluctuating from eight to 10 from 1937 through last year, excepting 1968's dip to a then-alarming 7.91.
Part of the blame for depressed offense can be placed at the feet of MLB itself.
Baseballs were slightly deadened this year — a change MLB said an independent lab had found would cause balls to fly 1 to 2 feet shorter when hit over 375 feet.
Another possible contributing factor is that five teams have added humidors to their stadiums, raising the total to 10 of 30 with humidity-controlled storage spaces.
Home runs have dropped from a record 1.39 per team per game in 2019 to 1.28 in 2020′s shortened season to 1.14 this year, the lowest since 2015.
"I have great concern that our sport has turned into a lack of offense and the strikeout-homer-walk Three True Outcomes is not our best entertainment product," said Detroit manager AJ Hinch, whose Tigers hit a league-worst .199 in April. "We're trending in the wrong direction. It doesn't mean we can just snap our fingers and make a rule change or do one simple thing and all of a sudden we're going to turn into a more balanced sport."
While it's a bear market for batters, pitchers are on bull runs.
Strikeouts have averaged 9.06 per team per game, on pace to set a record for the 13th consecutive full season. Strikeouts already are 1,092 ahead of hits, just three years after exceeding hits for the first time over a full season.
Data shows pitchers are throwing harder in the analytic age, where many big leaguers have had their mechanics analyzed in an effort to gain velocity, efficiency and durability.
The average four-seam-fastball velocity was 93.5 mph, according to Statcast, up from 93.4 mph last year and 92.9 mph in 2015.
"We're trending in the wrong direction. It doesn't mean we can just snap our fingers and make a rule change or do one simple thing and all of a sudden we're going to turn into a more balanced sport."

AJ Hinch, Tigers manager
While the embrace of pitching analytics and tweaks to baseballs could be behind the league's slow starts in the batter's box, some think it's too early to draw broad conclusions.
"[April is] an inconsistent weather month, which tends to depress offense a little bit. I tend to kind of hold off judgment until we get into the summer months," New York Yankees manager Aaron Boone said.
Still, this April does not compare favorably to past years.
The batting average was the lowest through April since .230 in 1968, according to the Elias Sports Bureau. The .309 on-base percentage was the lowest since .294 in 1968, and the .3894 slugging percentage was a mark not seen since 2014′s .3389, Elias said.
Regardless of the cause, hitters are hoping April's dour start turns into a May power display.
Information from The Associated Press was used in this report.