With the 2018 scouting combine kicking off this week, NFL Nation reporters take a closer look at the positions of need for all 32 teams and which players will be closely evaluated.
Click the link after each team to view the full post.
AFC East | AFC North| AFC South | AFC West
NFC East | NFC North | NFC South | NFC West
---
AFC EAST

Whether or not the Bills keep Tyrod Taylor for the final season of his contract, they are expected to be in the thick of the race for a quarterback early in the draft. Read more.
There were signs Ryan Tannehill could be on the rise when Miami extended him in 2015, but last season's knee injury cast doubt on his long-term future with the Dolphins. It would be wise for the Dolphins to explore their options in the draft to potentially upgrade from Tannehill over the long haul. Read more.
The Patriots need a strong off-the-line linebacker. On offense, there will be some intrigue as to whether the team can find "the next Jimmy Garoppolo" at quarterback, that is a high-upside developmental prospect. Read more.

Let's make it easy and list the positions that don't need to be addressed: free safety and strong safety (Marcus Maye and Jamal Adams, respectively). The Jets are open for business everywhere else, which tells you why they won only five games last season. Read more.
AFC NORTH

Baltimore has to upgrade the supporting cast for quarterback Joe Flacco and improve the NFL's No. 27 offense. The Ravens desperately need to draft a wide receiver because their top two (Mike Wallace and Jeremy Maclin) could be gone and Breshad Perriman has been a bust. Read more.
The Bengals must make their offensive line their first priority after allowing 80 sacks in two seasons. The Bengals don't have much stability at that position with center Russell Bodine potentially becoming a free agent and their two tackles remaining big question marks. Read more.
The Browns will focus on quarterbacks, obviously, but they also need to be sure about two other players they will consider drafting: running back Saquon Barkley and safety Minkah Fitzpatrick. This draft is too important to miss on any opportunity. Read more.

This process starts with inside linebacker, where the Steelers were depleted last season after a severe spinal injury to Ryan Shazier and a shoulder injury to backup Tyler Matakevich. The Steelers will have options here and should capitalize on them. Read more.
AFC SOUTH
The Texans' biggest offseason need right now is to upgrade their offensive line. The group gave up 252 total pressures, the second-most allowed by a team in any of the previous 12 seasons. Read more.

Pass-rusher or running back first? Will the Colts surprise everybody and go with an offensive lineman in the first round? That's just the start for the Colts, who also need to add depth at receiver behind T.Y. Hilton because Donte Moncrief and Kamar Aiken are headed to free agency. Read more.
Interior offensive line and tight end should be the Jaguars' top two priorities at the combine. The Jaguars finished the regular season as the NFL's top rushing team (141.4 yards per game), but their production dropped off significantly over the final six games. Read more.
The Titans' pass-rush pipeline is barren as 2016 second-round pick Kevin Dodd is looking like a bust and 32-year-old Erik Walden is a pending free agent. Depending on what happens with pending free agent Avery Williamson, inside linebacker could be a big need, too. Read more.
AFC WEST

After a 5-11 finish, it's clear the Broncos need plenty of things, but a solution at quarterback certainly leads the way. Read more.
Defense should be the focus for the Chiefs, who don't have a first-round pick after sending it to Buffalo in last year's trade for quarterback Patrick Mahomes II. Read more.
With one of the league's worst run defenses last season, the Chargers need to add more athletic bodies who can make an impact defensively in the run game. That means players who can create havoc up front and rangy athletes at the second level of the defense who can cover and tackle. Read more.
The Raiders would be hard-pressed to pass on a top cornerback prospect, even if they drafted one last year in Gareon Conley at No. 24. Read more.
NFC EAST
The Cowboys need linebacker, wide receiver, offensive line, defensive line, safety and tight end help either in major or minor ways. It is always worth remembering a draft is not just about the current year but the future. Read more.

New general manager Dave Gettleman has made it a priority to rebuild the offensive line — his "hog mollies" as he likes to say. The Giants can use guards and tackles. Maybe even a center. They won't discriminate. If you're an offensive lineman, you're in play. Read more.
The Eagles need to bolster their linebacker corps. Besides lacking depth, there are question marks around each of the 2017 starters: Middle linebacker Jordan Hicks is recovering from a ruptured Achilles and has had difficulty staying healthy, Nigel Bradham is a pending free agent, and Mychal Kendricks has requested to be traded in the past. Read more.
They need to add more playmakers to their offense, which would pair well with holdovers such as tight end Jordan Reed and third-down back Chris Thompson. Read more.
NFC NORTH
The Bears' top offensive need is at wide receiver, as the team had only one receiver crack the 50-catch mark in 2017 — Kendall Wright (59), who is an unrestricted free agent. The Bears are still holding out hope that former first-round pick Kevin White will pan out, but White has played in only five regular-season games since the Bears drafted him No. 7 overall in 2015. Read more.
The Lions are set at some positions, including receiver and quarterback. But don't be surprised if this draft ends up heavy on linemen. Read more.
When Dom Capers took over in 2009, then-GM Ted Thompson finagled his way into a pair of first-round picks and turned them into nose tackle B.J. Raji and linebacker Clay Matthews. They became cornerstones of a defense that won the Super Bowl. Mike Pettine needs that kind of talent influx as he implements his defensive system. Read more.
Aside from figuring out who the quarterback will be in 2018, the Vikings' other biggest need this offseason is to add pieces to the offensive line. The unit struggled to protect Case Keenum in the playoffs and has a number of question marks. Read more.
NFC SOUTH
The Falcons likely will prioritize the offensive and defensive lines because coach Dan Quinn always emphasizes winning the line of scrimmage first. Read more.
The easy choice is wide receiver. The Panthers traded No. 1 receiver Kelvin Benjamin to Buffalo last season and promoted Devin Funchess into that role. Funchess, who was dealing with a shoulder injury late in the season, never proved worthy of the promotion. Read more.
The biggest needs are defensive end (since last year's standout starter, Alex Okafor, is a free agent and coming back from a torn Achilles), a pass-catching tight end and an athletic outside linebacker. Read more.
Look for the Buccaneers to make upgrades on defense, with both their pass rush and their back end. Read more.
NFC WEST

The Cardinals don't have a projected starter at quarterback on the roster and might address the position in free agency, but the draft might be where Arizona finds a long-term answer. Read more.
The Rams did a fine job fixing the offense last offseason, and now it's time to focus on the defense. Cornerback stands out as their most glaring need. Read more.

Top needs are edge-rusher, cornerback and interior offensive line. The Niners also could use a game-breaker at receiver or running back, but with quarterback Jimmy Garoppolo in place, those positions aren't as pressing. Read more.
The Seahawks have varying degrees of need or potential need at as many position groups as they have areas that are currently solidified. Such is life for a team with 16 unrestricted free agents and uncertainty with several other starters. Read more.
New York Jets' Zach Wilson signs rookie deal after missing first 2 days of practice, sources say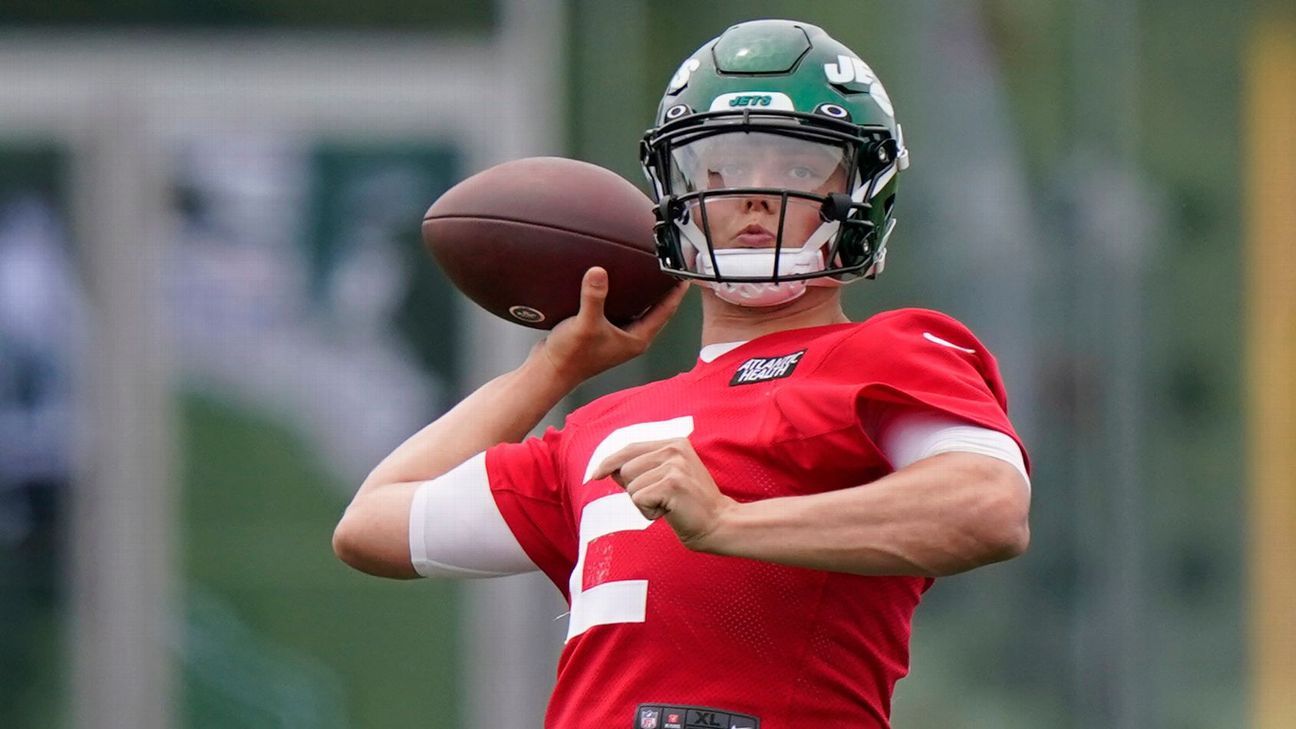 FLORHAM PARK, N.J. — It took longer than expected, but the New York Jets and quarterback Zach Wilson agreed to terms Thursday on his rookie contract, sources told ESPN.
The first-round pick and presumptive starter, who missed two days of practice as the two sides haggled over technicalities in the contract language, will sign a four-year, $35.15 million contract — a slotted deal that is fully guaranteed.
It includes a $22.9 million signing bonus and a fifth-year team option, standard for all first-round picks.
Wilson, who took a red-eye flight from Los Angeles and arrived in New Jersey on Thursday morning, was the last unsigned first-round selection from the 2021 NFL draft.
The contract includes offset language and the signing bonus will be paid within 15 days, per a source, details that imply that the sides have compromised because those were the sticking points.
At the start of camp, coach Robert Saleh said he wasn't concerned about Wilson missing camp time. "It's something he'll have to navigate through," Saleh said. "I've got a lot of faith in Zach. He's incredibly intelligent, and he's got a tremendous drive. When he does get here, I know somehow, some way he'll make up for it."
Wilson benefited from a heavy workload in the spring. With no veterans on the roster, he took all the first-team reps.
There was an increased sense of urgency to strike a deal because the Jets are counting on him to be their opening-day starter, although they haven't announced that. The only other quarterbacks on the roster are James Morgan and Mike White, neither of whom has regular-season experience. Rookie contract disputes are unusual because the deals are slotted, but teams and agents sometimes haggle over certain clauses.
The Jets include an offset in every contract that has guaranteed money, which provides financial protection if they release the player before the contract is complete. An offset allows a team to cut a player before the end of his four-year contract is completed and have the remaining money reduced by the amount of his next contract.
This isn't an unusual stance. It's believed that 30 of the 32 teams use offsets in contracts. The exceptions are the Los Angeles Rams and the Jacksonville Jaguars, with the latter having signed No. 1 pick Trevor Lawrence to a deal with no offsets.
Without an offset, a cut player collects the guarantee from his old team plus the money he receives from his new team — aka double dipping.
What complicated the Jets' negotiation was that at least two of the five quarterbacks drafted in the first round received deals without full offsets — Lawrence and Justin Fields (No. 11 by the Chicago Bears). Fields received a partial offset.
Interestingly, Cincinnati Bengals quarterback Joe Burrow, the top pick in 2020 and represented by the same agency that negotiated Wilson's contract, signed a contract that includes offset language.
Atlanta Falcons owner Arthur Blank 'disappointed' in Julio Jones trade request
FLOWERY BRANCH, Ga. — Atlanta Falcons owner Arthur Blank said he was "disappointed" star receiver Julio Jones had asked for a trade, leading to the team sending him to Tennessee in June.
Blank had earlier said Jones would be a Falcon for life. Instead, it was a 10-year relationship that ended with Blank trying to reach out to Jones, but ending up not being able to speak with him.
"I think the part that bothered me personally was the fact that he expressed that he wanted to be traded," Blank said Thursday at the first day of Atlanta's training camp. "You know, we had a 10-year relationship. I think it was a good relationship. It was certainly productive.
"He's a Hall of Fame player so I was disappointed he felt that way. For whatever reasons, I'm not sure. I was unable to speak with him myself. I tried to, but he felt the way he felt and was ready to make a change."
Blank said he learned through his years of ownership in Atlanta that you want players on the roster who want to be in the building. He believed the trade, which also sent the Titans a 2023 sixth-round pick but brought the Falcons a 2022 second-round pick and 2023 fourth-round pick, would be beneficial for both sides.
It already worked out to Atlanta's benefit financially as it created room under the salary cap for the team to sign its rookies, including No. 4 overall pick Kyle Pitts. Blank said he did not realize the team would end up trading Jones at the end of last season, either, and that "was not our original intent."
The idea of possibly trading Jones first surfaced publicly before the NFL draft. Jones then said on FS1 on May 24 that he was "outta there," meaning Atlanta. He was traded weeks later.
"We have tremendous regard for the player and the human being as well and he's given us 10 great years and that's about half of my ownership and set all kinds of records," Blank said. "But the time was right for him to move on and I think the coach did what he could and the general manager did what he could to have him try to stay but he was ready to move."
Jones had 848 catches for 12,896 yards and 63 touchdowns with the Falcons and is the NFL's all-time leader in yards per game with 95.5 — almost 10 yards better than the No. 2 receiver on the list, 2021 Hall of Fame inductee Calvin Johnson.
Baltimore Ravens CB Jimmy Smith still traumatized by February robbery
OWINGS MILLS, Md. – Baltimore Ravens cornerback Jimmy Smith said he suffers from post-traumatic stress disorder since his family was robbed at gunpoint in February.
"Going into the store and being around anyone with a mask or hood on, it really makes my heart thump to this day," Smith said after Thursday's practice. "It was terrifying situation."
Five months ago, Smith got out of his car after checking into a hotel near the Los Angeles International Airport and was surrounded by three masked men with guns. The woman in the car with Smith, who is pregnant, had a gun pointed at her stomach, Smith said.
"You feel helpless," Smith said. "Cowards running up on you with three guns. You don't know if you're going to lose your life in that moment."
Smith said he and his family were followed to two fast-food restaurants and then back to the hotel. Smith's children were in the car when the robbery occurred.
"The crazy thing is I seen it kind of coming," Smith said. "You know, when something bad happens, you get this eerie feeling. I kind of had an eerie feeling. I didn't listen to it. I hopped out of the car and just seen dudes coming at me with guns. They surrounded me. All you could think of is 'I want to live, I want to get out of here.' At that moment, jewelry didn't matter. None of that matters."
Smith said he doesn't expect the robbers to ever get arrested.
"I'm not going to I wish death upon them," Smith said. "But they'll get what's coming to them."
Smith is starting his 10th training camp with the Ravens. A first-round pick in 2012, Smith remained with Baltimore when he signed a one-year, $2.5 million extension on Jan. 1.