A few minutes past 9 a.m. Monday, J.D. Martinez shook his new boss' hand, buttoned up a neatly pressed Boston Red Sox jersey — No. 28 stitched onto the back — and mugged for the cameras.
And if it had been Nov. 26 in Boston rather than Feb. 26 in Fort Myers, the whole thing would've been completely normal.
But nothing about this offseason was normal, not even the union of a team and a slugger that seemed all along to be a perfect match. Never mind Martinez bashed 45 home runs last year — including as many in August and September (24) as any Red Sox player hit all season — or that the Sox were one of the few teams willing to confer a nine-figure contract upon a free agent. The sides still waited and waited until spring training was underway before coming together on a front-loaded five-year, $110 million agreement with three separate opt-out provisions. Then, they spent another seven days reviewing medical records and hashing out contract language before finalizing the deal.
So, as Martinez and Red Sox president Dave Dombrowski went through their grip-and-grin routine in a media dining room that had been transformed on the fly for a press conference, one question begged to be asked, the same question that even Red Sox first baseman Hanley Ramirez seemed to ask all winter whenever he and Martinez worked out together in Miami.
What the heck took so long?
"Hanley would always tease me, 'Hey, spring training report date is Feb. 15. Don't be late,'" Martinez said. "I just started laughing."
Martinez didn't get the contract he initially sought, but his deal with the Red Sox is no joke. He will make $23.75 million this year, making him the team's highest-paid position player and second-highest overall behind lefty David Price.
And although there were medical reviews last week that forced agent Scott Boras to relocate his office to Fort Myers for what he describes as "18 hours a day of doctors, language, using our database historically to answer the needs to the team, the needs of doctors," Martinez said he never feared the deal would come apart.
The sides agreed to terms last Monday, and Martinez arrived at the Red Sox's spring-training complex two days later to take a physical. As Wednesday and Thursday passed without the deal becoming official, team sources described challenging logistics of administering a physical in Fort Myers and relaying results up north for a review by doctors at Massachusetts General Hospital. On Thursday, Martinez even flew to Boston to be seen in person.
As the situation dragged into the weekend, it became clear Red Sox doctors had concerns about the Lisfranc ligament in Martinez's right foot. He sprained the ligament last year and missed the first six weeks of the season, and although he's healthy now, the team wanted protection against a long-term problem.
It was reminiscent of the last time the Red Sox signed another J.D. who was represented by Boras. In the winter of 2006-07, they held up outfielder J.D. Drew's five-year, $70 million contract for 52 days while they negotiated for protection against a future injury to his surgically repaired right shoulder.
"Dave and I have known one another a long time. We've gotten to know each other a lot better over the last five days — and that says a lot," Boras said. "These negotiations are more of a cooperative venture, as you're dealing with medical, legal. The goal is common, very mutual. We all wanted to execute an agreement that we all thought was in the best interest of both J.D. and the Red Sox."
But to fully understand the twists and turns of the road Martinez took to finally land in the middle of the Red Sox batting order, you have to go back to last autumn.
With free agency looming and his earning power at an all-time high after a career-best season, Martinez hired Boras to replace his longtime agent Bob Garber. Coldhearted? No doubt. But Boras has a track record of getting seven-year contracts for free-agent outfielders, from Matt Holliday and Jayson Werth to Shin-Soo Choo and Jacoby Ellsbury. And Martinez is entering his age-30 season, just like Holliday, Ellsbury and Choo were when Boras negotiated their deals.
Another relevant number: $27.5 million. That's the average annual value of the four-year contract Yoenis Cespedes signed with the New York Mets before last season, a record for a free-agent outfielder. If Cespedes, who has 105 homers and an .841 OPS over the past four seasons, got $27.5 million per year entering his age-31 season, it seemed Martinez could make more after hitting 128 homers with a .936 OPS over that same span.
It was no surprise, then, that the teams that reached out to Boras early in the offseason got the impression he was seeking a contract in excess of $200 million for a hitter he dubbed "The King Kong of slugging."
There was only one problem: The market for Martinez and so many other free agents — including Boras clients Eric Hosmer, Jake Arrieta and Mike Moustakas — never developed as everyone anticipated. More than 100 free agents were still looking for work when teams opened their camps two weeks ago. Boras landed Hosmer an eight-year deal with the San Diego Padres before finally securing Martinez's deal with the Sox, but Arrieta and Moustakas are still unsigned.
Agents have accused the teams of colluding, a claim Red Sox owner John Henry dismissed as "ridiculous," while players' union chief Tony Clark has decried a competitive imbalance caused by what he describes as one-third of the teams having little or no interest in winning this year.
"There's a lot of factors that have driven this offseason," Henry said, not referring specifically to Martinez's situation. "You just can't expect every offseason to be a feeding frenzy."
Industry insiders figured Martinez would get his money after Shohei Ohtani signed with the Los Angeles Angels and Giancarlo Stanton got traded to the New York Yankees. But several teams that were looking for power turned elsewhere. The St. Louis Cardinals capitalized on the Miami Marlins' Derek Jeter-mandated fire sale by trading for outfielder Marcell Ozuna. The San Francisco Giants added offense with trades for third baseman Evan Longoria and outfielder Andrew McCutchen.
The Arizona Diamondbacks wanted to re-sign Martinez, who slugged 29 homers in a 62-game binge after they traded for him last July. But they couldn't afford to keep Martinez and still have money to lock up All-Star first baseman Paul Goldschmidt after next season, not as long as ace Zack Greinke's hefty contract remains on the books.
"The offseason for J.D. was like a river with a dam. A lot of water behind it. The question is, when were the gates going to open up," Boras said. "You kept getting the calls, the interest, the dynamic — we may do this, we may do that — and so that part hadn't filtered through."
In December, Martinez drove from his Miami-area home to the winter meetings in Orlando and met for several hours with Red Sox officials, including new manager Alex Cora and special assistant Jason Varitek. Although Boras says "it was very clear there was a fit," the agent is also well-known for his patience. Rather than rushing into deals early in the offseason, he often advises clients to wait while the market builds.
But with most of the usual big spenders, namely the Yankees and Dodgers, sitting out free agency — perhaps in preparation for next year's Bryce Harper/Manny Machado/Josh Donaldson class — the action didn't pick up in January as much as it has in past years.
Dombrowski, meanwhile, read the market correctly. The Red Sox offered Martinez a five-year contract worth about $100 million, then sat back and waited. Although chairman Tom Werner said in January the team was in "active negotiations" with Martinez, Dombrowski refused to bid against himself, even claiming throughout the offseason he was content to open the season with the same lineup that produced the fewest homers in the American League last year.
But for as much as Martinez needed the Red Sox, the Red Sox needed Martinez, not only to bring the middle-of-the-order thunder they have lacked since David Ortiz retired 16 months ago but also as a counter-punch to the Yankees' pairing of Stanton and Aaron Judge. Once Boras was willing to negotiate, the Sox upped their offer slightly.
Really, though, it was the structure of the deal — in particular, the three opt-outs — that got it done. Martinez can re-enter the free-agent market after the 2019, 2020 or 2021 seasons, essentially giving him a chance to get out of the contract if he doesn't like Boston, a sports-obsessed market that isn't for everyone (ask Carl Crawford, Pablo Sandoval and Price).
Martinez didn't wind up topping Cespedes' annual salary. But by getting the Sox to pay 45 percent of the money ($50 million) this season and next, Boras can also boast of a $25 million AAV for the first two years of the contract, which beats Angels outfielder Justin Upton's $22.125 million AAV from a free-agent deal signed in 2016.
And if Martinez remains one of the most productive sluggers in baseball, he has an opportunity to go back out on the market as soon as the winter of 2019-20, one year after the Harper/Machado/Donaldson group. Martinez will be 32 then, and with three years and $60 million left on the contract, Boras would be aiming to top the deals signed by Edwin Encarnacion and Carlos Santana in the past two offseasons.
If Martinez needed to be talked into joining the Red Sox, he got positive reviews from Price and right-hander Rick Porcello, both of whom were his teammates in Detroit.
"I talked to him a couple times," Price said. "I told him we'd love to have him here."
Martinez also has history with Dombrowski, who was running the Tigers' baseball operations in 2014 when Detroit signed Martinez after he'd been released by the Houston Astros.
In the end, though, it was a matter of signing with the team that needed him most and proved it with a nine-figure offer.
"Talking to Alex [Cora] about going out there every day, it's almost like, football has Monday night. They said at Fenway that every night is like Monday Night Football," Martinez said. "I love this game, I love to play. To play in front of fans that are just as passionate and love it just as much is exciting."
Braves rip 'embarrassing call at home plate that keyed Phillies' win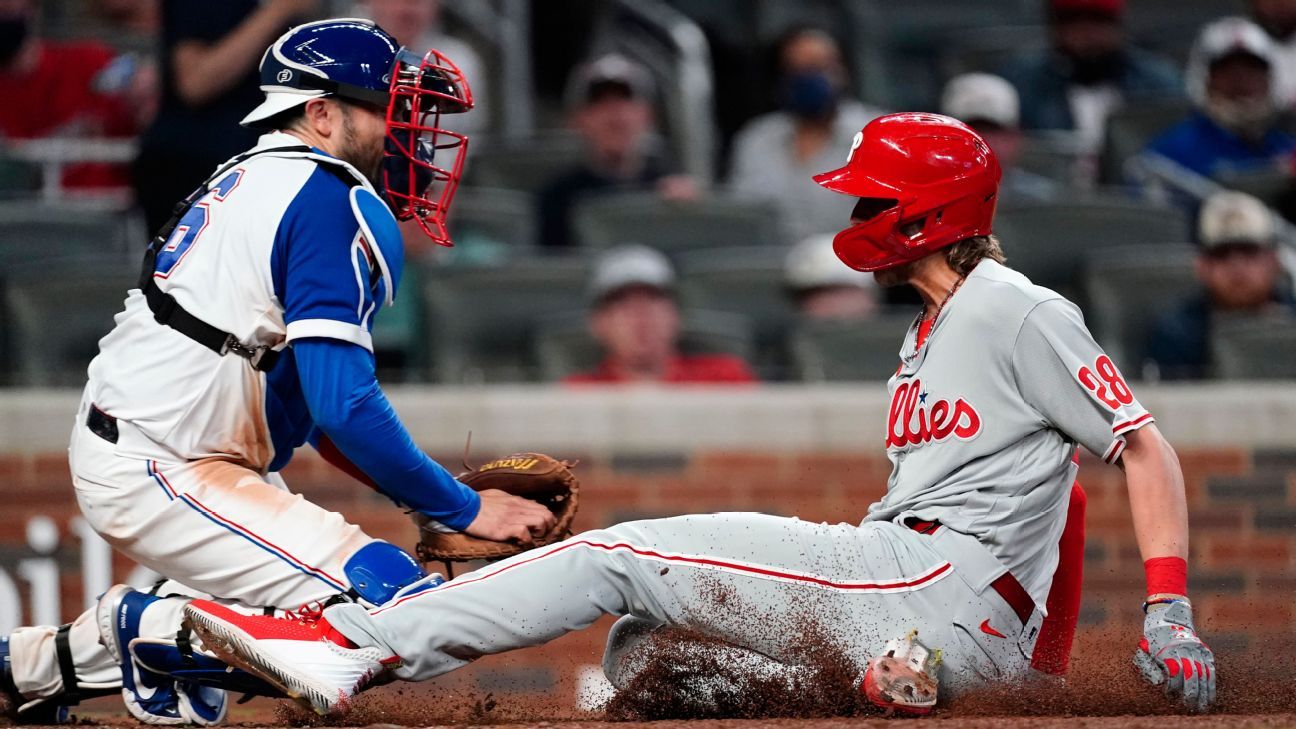 A controversial lost replay challenge by the Atlanta Braves in the ninth inning on Sunday night was the difference in the game as the Philadelphia Phillies came from behind in a wild 7-6 victory.
Phillies third baseman Alec Bohm slid home with the eventual winning run as Braves catcher Travis d'Arnaud attempted to apply the tag, moving from the third base side of the plate to the first base side where Bohm was coming in.
Home plate umpire Lance Barrett called Bohm safe though replays showed he may never have touched home plate. After a long delay for the video challenge, the ruling on the field was upheld.
"In real time it's bang, bang," Braves starter Drew Smyly said after the game. "We have five different angles on a national televised game, and it's clear that his foot didn't touch the plate. That it was on the chalk. For MLB not to overturn that, it's embarrassing. Why even have replay if you won't overturn that?"
The official ruling from MLB stated the replay official "could not definitively determine that the runner failed to touch home plate prior to the fielder applying the tag."
"Initially, I didn't know if he was safe or out but after watching the replay it looked like his foot didn't touch the bag, from any angle we saw," d'Arnaud said. "I thought he was clearly out at the plate."
The inning began with the teams tied, 6-6. After Bohm led off with a double, Jean Segura hit a ground ball to second, allowing Bohm to reach third base. Lefty Didi Gregorious then hit a shallow fly ball to left field off of Braves reliever Will Smith. Braves left fielder Marcell Ozuna camped under it then threw a two-hopper to the plate, slightly to the third base side. D'Arnaud caught the ball and then slid over towards first to tag Bohm as his left foot got to the plate.
Bohm was asked if he thought he was safe after the game. "I was called safe," he said. "That's all that matters."
Phillies manager Joe Girardi added: "We felt like we had a chance [to score on the fly ball]. It was a narrow one and it was by the skin of the big toe that we scored. It looked like his big toe kind of hit the corner of the plate when we saw all the angles."
The Braves adamantly disagreed.
"It makes me not even want [replay] anymore," d'Arnaud said. "It just slows the game down. To me, they got it wrong. I just rather not have it and get the game going."
Braves manager Brian Snitker said he didn't get a good explanation from the umpires after the call while d'Arnaud stated the replay official in New York should be the one being interviewed. After the Braves lost the challenge, the downsized crowd at Truist Park got angry, throwing garbage onto the field, prompting a scolding from Braves shortstop Dansby Swanson.
"I love our city," Swanson said. "I love our fans. They're passionate. They care. But what happened after they announced that call is the most embarrassing part of the whole night.
"The throwing of things on the field, it's disrespectful to the people who put in so much work to have the field ready for us every day. …It's an embarrassing representation of our city. The worst part of it is I don't think people realize we have families here. There are kids that are sitting in the front row and you have bottles whizzing by their heads. Endangering kids that may not be able to protect themselves is downright embarrassing and shouldn't happen again."
The controversy overshadowed another good game by Braves outfielder Ronald Acuna Jr. He had three hits, including an infield single he beat out on a routine ground ball to short in the first inning. Later, he homered to tie the game, 6-6.
In all, Acuna had nine hits in the three-game series, most for him over a 3-game span in his young career. But it won't get the headlines as the replay challenge took center stage in an early season battle between division foes.
"They said there wasn't enough evidence but there were five different angles," an incredulous Smyly declared. "It's clear. He didn't touch the plate."
Boston Red Sox slugger J.D. Martinez on a mission to leave 2020's struggles behind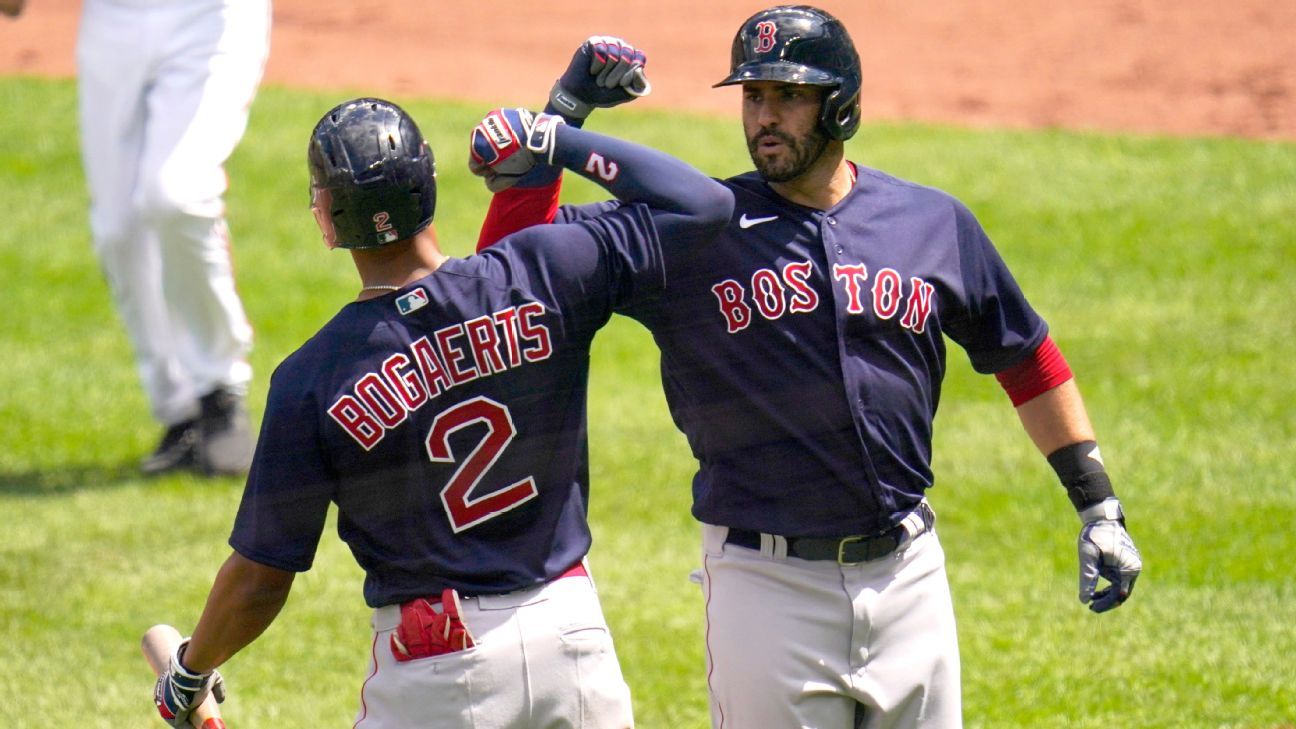 J.D. Martinez suffered through a miserable 2020 season. He hit .213. He ranked 129th out of 142 qualified hitters in weighted on-base average (wOBA). He finished with more strikeouts than hits. It was a shocking season for a hitter who ranked second in the majors in wOBA from 2017 to 2019, behind only Mike Trout.
He also made one thing clear in spring training: "I'm kind of tired of being judged on two months," he told WEEI.com's Rob Bradford late in March.
Martinez is making an early statement in 2021. He hit three home runs in Sunday's 14-9 win for the Boston Red Sox over the Baltimore Orioles and has started the season with extra-base hits in all eight games he's played — including seven doubles and five home runs. Martinez is the hottest hitter on the planet. Oh, and after Red Sox Nation and pundits were ready to bury the Red Sox after an 0-3 start in which the Orioles outscored them 18-5, Boston has won six in a row.
"He's on a mission to prove people wrong," manager Alex Cora said after Sunday's win. "It was only 60 games. He was one month away from getting his numbers right and now he's locked in and I'm glad he's swinging the bat the way he is."
Against the Orioles on Sunday, his three home runs came off three different pitchers:
• Third inning: 1-2 knuckle-curve from Jorge Lopez, 372 feet to right field (105.2 exit velo)
• Sixth inning: 1-2 curveball from Mac Sceroler, 382 feet to right-center (102.4 exit velo)
• Eighth inning: 0-2 changeup from Tyler Wells, 430 feet to center field (105.7 exit velo)
Granted, that trio of pitchers isn't exactly headed to the 2021 All-Star Game. I hadn't even heard of Sceroler and Wells until now, as Sceroler was making just his second major league appearance and Wells his fourth. Still, all three home runs came with two strikes, a good sign considering Martinez hit .171 with two strikes a year ago.
From the cool factoid department, Martinez also became the fifth player to hit three home runs in a game with three different teams:
• Martinez (Tigers, Diamondbacks, Red Sox)
• Mark Teixeira (Rangers, Braves, Yankees)
• Alex Rodriguez (Mariners, Rangers, Yankees)
• Dave Kingman (Mets, Cubs, A's)
• Johnny Mize (Cardinals, Giants, Yankees)
Martinez's eight straight games with an extra-base hit to start a season ties the major league record held by Alex Rodriguez (2007) and Sandy Alomar Jr. (1997). It's the volume of extra-base hits that is so impressive, however, as Martinez is hitting .472/.500/1.083:
Most extra-base hits in player's 1st 8 games played in a season (since at least 1906):

2021 J.D. Martinez: 12
1994 Dante Bichette: 12
2006 Chris Shelton: 11

— Sarah Langs (@SlangsOnSports) April 11, 2021
OK, the Chris Shelton reference is a reminder that not all hot starts are going to last, but Martinez has that long track record of being one of the best hitters in the game — and now he has his beloved in-game video back to study.
That was offered as one reason for Martinez's struggles in 2020, when in-game video was disallowed under the guise of pandemic protocols. He also had an ankle issue he played through that may have affected his swing. Whatever the reason, he admitted his troubles were self-inflicted.
"I think I've got a little bit of a chip on my shoulder," Martinez said when he reported to spring training in February. "I've always played with that, I've always played with that chip, having to prove people wrong my whole career. It kind of might have went away a little bit, but I think I've got it back a little bit now."
Martinez struggled most of spring training, however, leading to concerns that maybe he had just lost his swing overnight. Still, he's just 33, so it seemed a little early for that to happen. Cora pointed out Martinez finally got going late in camp, especially driving the ball to right field – like he did on Sunday. Cora sent another message to Martinez in spring training, playing him quite a bit in the outfield instead of just using him as the designated hitter. While Martinez has started just one game in the outfield so far, it was perhaps a signal from Cora to remind Martinez to stay in shape.
Still, it's hard not to ignore the psychological comfort of being able go into the dugout or clubhouse between at-bats to check the iPad. Few hitters in the game study their swing as studiously as Martinez — remember, he completely reconstructed his swing earlier in his career and was in the middle of that process when the Astros released him in spring training of 2014. Martinez signed with Detroit and has since had four 36-homer seasons, five .300 seasons and four 100-RBI seasons. And one big chip on his shoulder.
As for the Red Sox, their six-game win streak includes two extra-inning wins (12 innings over the Rays and 10 innings over the Orioles on Saturday) and they've hit a robust .332 with 53 runs those six games. Rafael Devers has homered in three straight games, Xander Bogaerts is hitting .375 and Christian Vazquez is off to a hot start. For this Red Sox lineup to click like it has in past seasons, though, it needs Martinez to thump.
What remains to be seen is how good the pitching will be. Playing six of nine games against the Orioles doesn't really tell us much. This week's series against the Twins and White Sox will be a much tougher test. Nick Pivetta, who won Sunday's game with four runs over six innings, is a key member in the rotation. For now, the Red Sox are in first place – it's early, of course, but that's a much better place to be after starting 3-9 and 6-13 in 2019 (and never really recovering) and then 6-18 in 2020.
Philadelphia Phillies reliever Archie Bradley on IL with oblique injury
Philadelphia Phillies reliever Archie Bradley was placed on the 10-day injured list with an oblique injury, the team announced Sunday.
Bradley, 28, revealed the injury to Phillies brass after giving up a run on two hits in Saturday's loss to the Atlanta Braves.
"It's not something I can pinpoint," Bradley said on Sunday afternoon. "It wasn't one particular act that I felt it on."
Bradley was a major offseason addition to the Phillies' bullpen, which had a historically bad season in 2020. He gave up runs in two of his four appearances this year before heading to the injured list.
This is Bradley's first experience with an oblique ailment, which can take considerable time to heal, depending on the severity. The righty wasn't sure on a timetable for his return.
"It's not something I felt doing baseball activities," Bradley said. "Honestly, I don't know where it came from."
The Phillies recalled lefty JoJo Romero from the alternate site to take Bradley's place on the roster. Romero was a late cut from spring training but is now needed just over a week into the season.
"He's throwing the ball pretty well," manager Joe Girardi said of Romero.