SCOTTSDALE, Ariz. — The first man to bat against San Francisco Giants ace Madison Bumgarner Sunday hit a wind-aided, opposite-field home run. Bumgarner was overpowering after that in his spring training debut against the Chicago Cubs, even if he was lacking some sharpness.
The 2014 World Series MVP got all five outs with strikeouts and allowed two earned runs on four hits in 1⅔ innings in the Cubs' 12-10 win over the Giants. He left the game with two runners on base and both scored, inflating his final line.
"Felt good physically, that's really all I'm looking for," Bumgarner said after his outing. "Every time I tried to get on game speed, I just missed. I was just a touch off of that, which is to be expected I guess, this time of year. Stuff felt fine, besides that, just command. Stuff was a little off. Getting that dialed in, that's why we're here."
Bumgarner shook off Ian Happ's solo shot on a full count and struck out the side in the first inning. In between strikeouts he gave up a Kyle Schwarber single and watched Schwarber steal two bases on him, but a called third strike on the outside corner to Efren Navarro ended the inning.
"I thought it was going to be an out coming off the bat. Guess he hit it harder than I thought," Bumgarner said of the homer. "Doesn't matter to me either way."
Catcher Buster Posey said Bumgarner might have been a little too "amped up." But the pitches looked crisp.
Bumgarner reached his pitch limit in the second inning and was removed.
"Location-wise, it wasn't what you would expect out of him, but first outing of the spring, it's going to happen," Posey said.
Bumgarner's 2017 season was interrupted by a dirt bike accident during an off day in Colorado on April 20. He suffered bruised ribs and a sprained AC joint, and missed nearly three months.
After six straight seasons with double-digit wins, more than 200 innings and 30-plus starts, Bumgarner went 4-9 in 17 starts and threw just 111 innings in 2017.
"Last year wouldn't change how I felt about doing that," Bumgarner said of getting back to his typical innings and starts counts. "I always want to do that."
Bumgarner said he'd be fine pitching three times in the first nine games of the regular season, which could be the case based on him getting a normal four days' rest in between starts. That would include the season opener in Los Angeles — for which he has already been named the Opening Day starter — then the Giants' home opener against Seattle and after that, a home game against the Dodgers on April 8.
"I don't think it's being pushed," Bumgarner said. "Whatever they think's best. There's no difference throwing on four days' rest or five days' rest, to me."
Toronto Blue Jays address bullpen issues by acquiring closer Brad Hand from Washington Nationals
The Toronto Blue Jays have acquired three-time All-Star closer Brad Hand from the Washington Nationals for minor league catcher Riley Adams, the teams announced Thursday.
Hand is 5-5 with a 3.59 ERA and 21 saves this season.
Hand signed a one-year, $10.5 million contract with the Nats this past offseason. He was coming off another solid season as the closer for the Cleveland Indians in 2020, leading the major leagues with 16 saves, but was a victim of the team's salary purge heading into 2021.
The Blue Jays have had a multitude of injuries in their bullpen, beginning with the team losing Kirby Yates to Tommy John surgery to start the season.
Also missing time has been Julian Merryweather (oblique), Tyler Chatwood (neck), Carl Edwards Jr. (oblique) and David Phelps, lost for the season after undergoing surgery on his right lat.
Adams, 25, is considered the best power hitter in Toronto's system according to Baseball America. He joins the Nationals after hitting .239 with seven homers, 17 RBIs in 35 games for Triple-A East Buffalo.
Aaron Boone says Joey Gallo will be with New York Yankees on Friday
ST. PETERSBURG, Fla. — All-Star slugger Joey Gallo's trade to the New York Yankees from the Texas Rangers was completed Thursday, giving the heavily right-handed Yankees a much-needed powerful lefty bat.
Manager Aaron Boone said he spoke with Gallo on Thursday and "welcomed him to the team."
With switch-hitting center fielder Aaron Hicks hurt, second baseman Rougned Odor and outfielder Brett Gardner have been the only left-handed hitters to see substantial playing time.
"I think we're a lot better today," Boone said before the Yankees played Tampa Bay.
Boone said that Gallo will be with the Yankees for Friday's series opener against the Marlins in Miami.
While he has played right field for Texas, Boone envisions Gallo playing a lot in left for the Yankees, who have Aaron Judge as their regular right fielder.
"We're excited to add an All-Star," Boone said.
The Rangers received right-hander Glenn Otto, second baseman Ezequiel Duran, shortstop Josh Smith and second baseman/outfielder Trevor Hauver from New York. Texas also sent pitcher Joely Rodriguez to New York.
New York's left-handed hitters have struggled this season, ranking last in the majors in average (.197), 28th in home runs (22) and OPS (.633) and 29th in hard-hit rate (33%).
A two-time All-Star, Gallo ranks sixth in the AL this season with 25 home runs, to go with 55 RBIs and a .223 average. He had struggled mightily at the plate since the All-Star break, with no home runs and a .067 average in the 10 games following, before breaking out Tuesday with a three-run shot against the Diamondbacks.
Gallo, 27, is among just eight rostered major leaguers with multiple career 40-homer seasons (2017, 2018).
Gallo is owed $2.2 million from his $6.2 million salary. He is eligible for arbitration next winter and can become a free agent after the 2022 season.
The Yankees began the day 8½ games behind Boston in the AL East and trail Tampa Bay, Oakland and Seattle in the wild-card race for two spots.
Rodriguez, 29, is 1-3 with one save and a 5.93 ERA in 31 relief appearances this season, holding left-handed batters to a .176 average. He is 2-5 with a 5.05 ERA in 81 relief appearances over four seasons with Philadelphia (2016-17) and Texas (2020-21), and he was 3-7 with a 1.85 ERA over 90 relief appearances in 2018-19 for the Chunichi Dragons of Japan's Central League.
Duran, 22, hit .290 with 15 doubles, six triples, 12 homers and 48 RBIs this season in 67 games with High-A Hudson Valley.
Hauver, 22, made his professional debut this season with Low-A Tampa, hitting .288 with 17 doubles, nine homers and 49 RBIs in 66 games.
Otto, 25, was 7-3 with a 3.33 ERA in 12 starts and one relief appearance with Double-A Somerset and Triple-A Scranton/Wilkes-Barre this season.
Smith, 23, hit .324 with 12 doubles, nine homers, 24 RBIs and 17 stolen bases in 39 games with Low-A Tampa and High-A Hudson Valley.
The Associated Press contributed to this report.
Chicago White Sox acquire 2B Cesar Hernandez from Cleveland Indians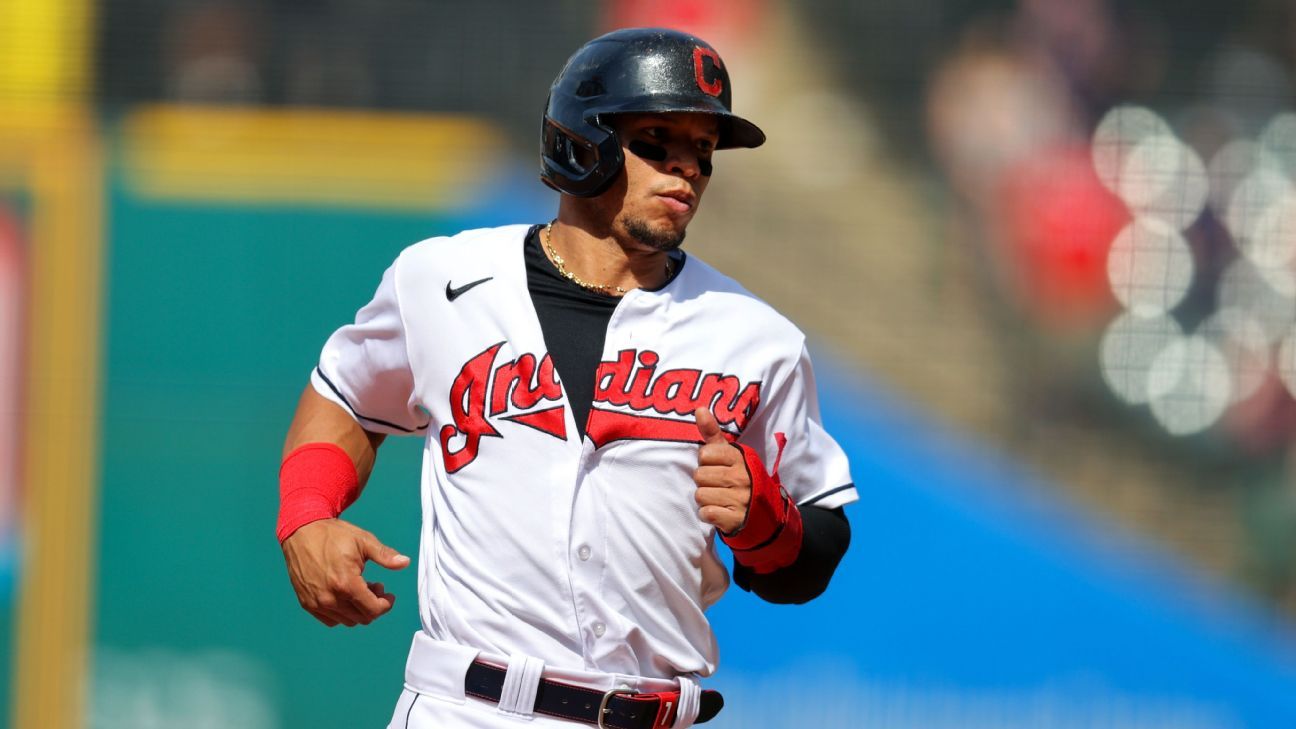 The Chicago White Sox have acquired second baseman Cesar Hernandez from the Cleveland Indians for Double-A left-hander Konnor Pilkington, the team announced.
The White Sox have been in the market for a second baseman, and they get one in Hernandez, 31, who is hitting .231/.307/.431 with 18 homers in his second year with the Indians, who trail the White Sox by 8½ games.
"César Hernández provides our club with a valuable combination of a power bat in the middle infield and Gold Glove quality defense," said Rick Hahn, White Sox senior vice president/general manager. "Adding a player like César gives [manager] Tony [La Russa] a strong and proven option at second base for the stretch run of the season and hopefully into October."
The White Sox lost Nick Madrigal for the season in June after he had surgery to repair tendon tears in his right hamstring.
The trading deadline is Friday, when Cleveland opens a three-game series in Chicago.
Hernandez hit a two-run homer in Cleveland's 7-2 win over St. Louis on Wednesday.
The Indians have several young middle infielders in their system, including Andres Gimenez, who came over from the New York Mets in the offseason trade of Francisco Lindor.
Information from The Associated Press was used in this report