PEORIA, Ariz. — Clayton Kershaw's spring debut was quick and efficient.
The Los Angeles Dodgers ace retired the Seattle Mariners' first three hitters on 11 pitches on Sunday. He then headed to the bullpen and threw another 15 or so pitches in a simulated inning.
"I felt good. It's good to get back out there," Kershaw said. "I felt better doing this one than I did in bullpens or stuff like that. With the crowd, facing a different team, it helps a little bit. Glad to get back out there. Even though it was just one inning, it felt good to get back out there."
Kershaw was pitching for the first time since a four-inning relief stint in the Dodgers' 5-1 loss to the Houston Astros in Game 7 of the World Series on Nov. 1.
The lefty, who will turn 30 during spring training, went 18-4 with a 2.31 ERA in the regular season and then 3-1 in his five postseason starts. He was the Game 1 winner in the World Series, but he blew a four-run lead and didn't make it out of the fifth inning of Game 5, which the Astros won 13-12 in 10 innings.
Even before his bullpen session on the first official day of workouts, Kershaw had already been tabbed by manager Dave Roberts to make his Dodgers-record eighth start on opening day.
"Very positive for Clayton," Roberts said. "Fastball command good; threw some strike curveballs, which was good to see. Everything he wanted out of this outing, he got."
Kershaw retired Ben Gamel on a comebacker, got Jean Segura to fly out to left and then retired Robinson Cano on a grounder.
Kershaw said pitching coach Rick Honeycutt likes to add on an inning in the bullpen after spring starts.
"It seems like a good segue into your next start," said Kershaw, who has won the National League Cy Young Award three times as well as the NL MVP Award in 2014.
The Mariners won 2-0.
Also Sunday, the Seager brothers, Corey and Kyle, faced each other for the first time in their big league careers. Corey was the Dodgers' designated hitter, while Kyle, who at 30 is seven years older, played third base for the Mariners.
"It's really cool," Corey Seager said. "It's hard to think about just because it's him. You've been around him all your life, watched him play a ton. It's still weird. You still kind of feel like a fan in the stands watching, even though you're in the dugout. It's a really cool moment."
When the lefty-hitting Corey Seager batted in the first inning, the Mariners put on a shift, opening a big hole at third.
Asked if he thought about dropping in a bunt or something past his brother, he said: "You've got to save your free knocks during the year, right, when they count. You catch them off guard when they count, not now."
Corey Seager said it has been "bad timing, I guess" that the brothers hadn't faced each other in spring training before, usually because one of them had the day off when their teams played.
This was the only time the teams will play each other this spring.
The Mariners and Dodgers last played in the regular season in April 2015. Corey Seager made his big league debut Sept. 3 that year.
The Dodgers will play at the Mariners Aug. 17-19.
Corey Seager, the 2016 NL Rookie of the Year, said the siblings' parents weren't able to come out from North Carolina for this game, but they will for the series in Seattle.
"That one's already on the schedule. They'll make it out for that one, for sure," he said. "There will be a lot of people there, actually, probably."
Kyle Seager, who made his big league debut in July 2011, said this was the second time he saw his younger brother play since Corey was 11. The other time was when the Dodgers were in the World Series this past fall.
Corey Seager said he still considers his older brother a role model.
"I still ask him for help, I still ask him about things," he said. "I don't think I really ever will stop asking him. He always will be and still is."
Chicago Cubs' Zach Davies, three relievers combine for MLB's 7th no-hitter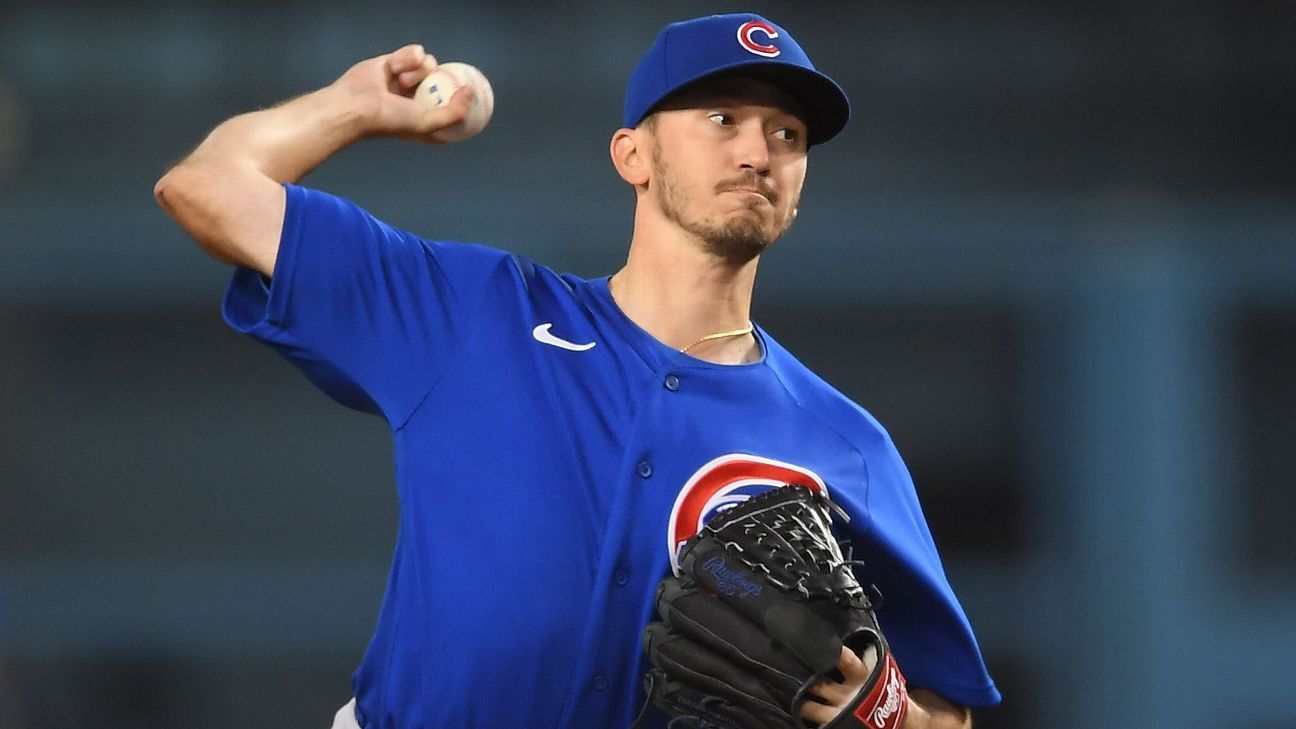 The Chicago Cubs threw their first combined no-hitter in franchise history as four pitchers shut down the Los Angeles Dodgers 4-0 on Thursday night.
It's the seventh no-hitter in baseball this season, the most ever before July 1.
Zach Davies pitched the first six innings on Thursday without giving up a hit, but he was pulled for a pinch hitter in the top of the seventh inning after 94 pitches.
Righty Ryan Tepera pitched a clean seventh inning, and lefty Andrew Chafin did the same in the eighth. After walking the leadoff hitter in the ninth, closer Craig Kimbrel finished off the 17th no-hitter in Cubs' history, striking out Cody Bellinger, Albert Pujols and pinch hitter Will Smith.
The Cubs walked eight batters, the most walks in a no-hitter since the Diamondbacks' Edwin Jackson walked eight in a 149-pitch no-hitter against the Rays in 2010.
Davies went into the game with a 4.66 ERA and 1.49 WHIP. He walked five batters in the first four innings but stranded them all. He set the Dodgers down in order over his final two innings.
Javier Baez and Willson Contreras provided the offense for the visitors, as they both took Dodgers starter Walker Buehler deep. The Cubs handed him his first loss since Sept. 21, 2019.
It's the sixth time in the past 50 years a defending World Series champion has been no-hit. It's the first time the Dodgers were no-hit since the Cubs did it to them in 2015 with Jake Arrieta on the mound. He starts against them on Friday.
Tampa Bay Rays' Kevin Kiermaier ends combined no-hit bid after Boston Red Sox pull Nick Pivetta
ST. PETERSBURG, Fla. — Kevin Kiermaier broke up a combined no-hit bid by the Boston Red Sox with a one-out double in the eighth inning and Manuel Margot scored on a wild pitch in the ninth to give the Tampa Bay Rays a 1-0 victory Thursday night.
Margot got Tampa Bay's second hit, a two-out single in the ninth off Matt Barnes (3-2). He stole second and went to third on a throwing error by catcher Christian Vazquez.
Joey Wendle was intentionally walked, and Margot dashed home on Barnes' wild pitch with Francisco Mejía batting.
Kiermaier lined his opposite-field double to left off Darwinzon Hernandez, the third Red Sox pitcher. The Gold Glove center fielder also threw out a runner at the plate in the seventh.
"It was a tied ballgame," Kiermaier said. "We were just trying to stay the course and try and get something going."
Boston starter Nick Pivetta was pulled with a runner on second and two outs in the seventh after throwing 100 pitches. His career high is 116.
"To be honest with you, it was the right call. It made the most sense," said Pivetta, who wanted to stay in the game. "We're all about winning."
Pivetta finished with eight strikeouts, two walks and one hit batter. He joined Babe Ruth, on May 20, 1916, against the St. Louis Browns, as the only Red Sox pitchers to be removed with a no-hitter after six or more innings.
"It was amazing," Boston manager Alex Cora said. "He was into it."
Boston was trying to throw the seventh no-hitter in the majors this season. That would have matched 1990, 1991, 2012 and 2015 for the most since 1900, one shy of the record eight in 1884 — the first season overhand pitching was allowed.
Despite a tough loss that dropped the Red Sox a half-game behind first-place Tampa Bay in the AL East, Cora saw a lot of positives.
"A lot of people, they didn't believe in this team before the season," he said. "I think the way we played against these guys tonight shows how good we are. We have a lot of work to do, we know that. We belong in the conversation, we really do."
"It's going to be a fun summer in Boston," Cora added.
Tampa Bay starter Michael Wacha, who took a no-hitter into the fifth, allowed one hit and two walks in five innings. He had seven strikeouts.
The Associated Press contributed to this report.
Follow Live: Cubs' Zach Davies working on no-hitter in Los Angeles