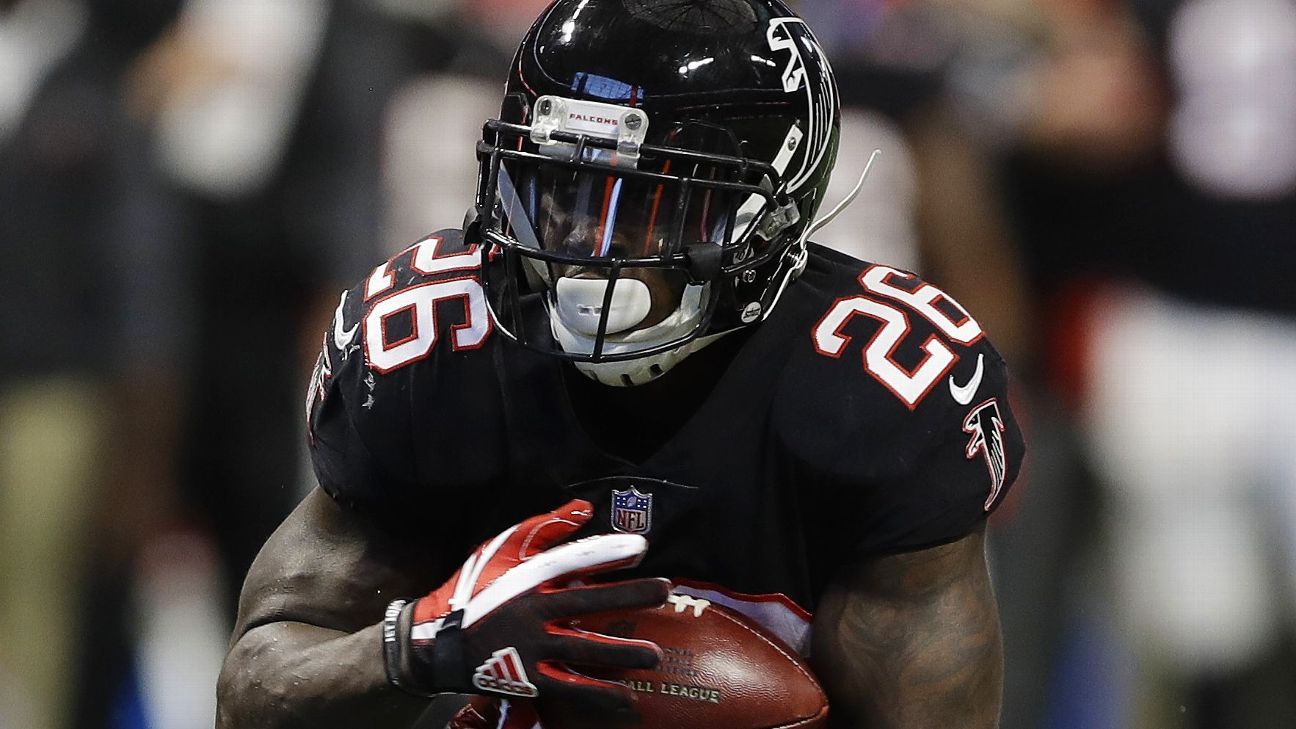 Atlanta Falcons general manager Thomas Dimitroff said the team has no plans to trade backup running back Tevin Coleman despite signing starter Devonta Freeman to a lucrative deal back in August.
Dimitroff, speaking to Rick Kamla and John Michaels of 92.9 The Game radio in Atlanta, was asked if trading Coleman with one year left on his contract could be an option heading into the 2018 season.
"We are not considering trading Tevin Coleman, period," Dimitroff told Kamla. "He's an important part of this organization. And our focus is on this upcoming year, and trade is not in our thought process."
Coleman, a 2015 third-round draft pick from Indiana, is entering the final year of his rookie deal and due to make $791,268 with a cap number of $977,959. The Falcons gave the former fourth-round pick Freeman a five-year, $41.25 million extension that included more than $22 million guaranteed.
During the team's season-ending news conference, Dimitroff said the Falcons could "realistically" sign Coleman to extension and maintain the two-headed running back attack with Freeman. But Coleman and his agent, Adisa Bakari, likely won't settle for just any deal, considering Coleman's explosive big-play ability.
One high-ranking AFC decision-maker said Coleman has great trade value.
"Great complement to a starter, and he could fill the role as a starting running back," the decision-maker said. "Great speed and athleticism. Only knock is that he hasn't been the featured runner there, but can't discount his ability to score the football."
Coleman, with just six starts through three seasons, has 14 career rushing touchdowns and six touchdown receptions. He's averaged 4.3 yards per carry, the same average as Freeman.
Freeman and Coleman have maintained a close friendship and appear to feed off each other. The wear and tear on Freeman, who has dealt with multiple concussions, is just another reason the Falcons would want to keep a player of Coleman's caliber to carry a heavier load, if necessary.
The Falcons top offseason priority is re-signing quarterback Matt Ryan to an extension as Ryan moves into the final year of his contract. Nose tackle Grady Jarrett, signed through 2018, also is line for an extension. Plus the Falcons are likely to re-sign unrestricted free agent kicker Matt Bryant and restricted free agent free safety Ricardo Allen, among others.
With or without Larry Fitzgerald, Cardinals' receiver room needs work – Arizona Cardinals Blog
TEMPE, Ariz. — With a little over a week until the start of free agency, the Arizona Cardinals still don't know if they'll be playing with or without future Hall of Fame wide receiver Larry Fitzgerald in 2021.
Since he began playing on one-year contracts in 2016, the 37-year-old Fitzgerald has never taken until March to decide his future. Cardinals general manager Steve Keim said last week he had no updates on Fitzgerald's status and was giving the 11-time Pro Bowl player the "space" he "deserves."
Fitzgerald has been a constant presence for the Cardinals since the 2004 season, but regardless of whether he returns, Arizona's wide receiver room may be in for an overhaul.
The Cardinals finished with 4,102 receiving yards last season, their most since 2016, but often it was DeAndre Hopkins or bust. Hopkins had 1,407 yards — third most in the NFL — and six touchdowns on 115 catches in his first season with the Cardinals. The next most? Christian Kirk's 621 yards on 48 catches.
• Ranking top 50 free agents »
• Biggest looming free-agent decisions »
• Top offseason needs for all 32 teams »
• See more on free agency »
"DeAndre is phenomenal talent," first-year Arizona wide receivers coach Shawn Jefferson said. "Right now, to be honest with you, he's probably the only one in the league I can compare to Calvin Johnson. [He] has the kind of skill set that Calvin had, playing above the rim, and just in those competitive situations, finding a way to come down with balls and everything like that.
"He's a generational talent, and I'm looking forward to working with him."
Among Arizona's top five receivers last season, two weren't designated wide receivers. Tight end Dan Arnold was third with 438 yards on 31 catches, and running back Chase Edmonds was fifth with 402 yards on 53 catches. For a team that plays 65% of its snaps with at least three receivers on the field — 20.3% with four receivers — more from that group is needed.
Fitzgerald, who played in 13 games last season, finished with 409 yards, his fewest in a regular season in his career. And his 7.57 yards per catch was the lowest of his career. For context, the last time he played in less than 16 games was 2014, and he had 784 yards.
Kirk also saw his production drop in Year 2 under coach Kliff Kingsbury. He went from 709 yards on 68 catches in 13 games in 2019 to 621 yards on 48 catches in 14 games — although with 10 starts — in 2020. He did set a career high with six touchdowns, which was equal to his scoring production in his first two seasons.
Two years ago, the Cardinals drafted three receivers, but only Andy Isabella and KeeSean Johnson remain, and neither contributed much to the Cardinals' offense, with 224 yards and 173 yards, respectively. The Cardinals released Hakeem Butler, the third receiver drafted in 2019, before last season.
Jefferson is in the early stages of evaluating what he's working with but had an early diagnosis of the Cardinals' receivers room: "This team has talent."
He praised both Isabella and Johnson for having the ability needed to play in the NFL. Thus far, however, the talent Jefferson sees on tape hasn't translated to production.
"My job is to come here and get the most out of both of them, and I'm sure that both those guys have a lot to add to this team," Jefferson said in February. "So I'm in the evaluation stage right now of the receiver group, early stages of it, and I'm looking forward to working with those guys."
With Hopkins accounting for 34.3% of Arizona's receiving and no one else accounting for more than 15.1%, the Cardinals didn't have a clear-cut No. 2 receiver last year. Adding one this year will be a priority, whether that's in free agency or in a draft loaded with receiving talent. In his latest mock draft, ESPN NFL draft analyst Todd McShay projected five receivers to go in the first round, where the Cardinals hold the No. 16 pick.
If he returns, Fitzgerald's impact on the passing game shouldn't affect how the Cardinals approach the offseason. In whatever role he assumes, Fitzgerald's reliability makes him a threat. He has the lowest drop percentage — 0.8% — in the last five years among receivers with at least 200 catches.
Arizona has a foundation in its receiving room with Hopkins, but it's up to Keim to put complementary pieces around him, regardless of whether Fitzgerald returns. Kirk could be one of those players. Beyond that, however, Arizona hasn't been getting much production out of the rest of its receivers.
And that could lead to an overhaul this offseason.
Tennessee Titans shipping Isaiah Wilson to Miami Dolphins
The Tennessee Titans have agreed to trade Isaiah Wilson, their first-round pick last year, to the Miami Dolphins, sources told ESPN on Monday.
The Titans will send a seventh-round pick in 2022 and Wilson to Miami for a 2021 seventh-rounder to complete the deal, sources said.
Wilson will need to pass his physical in Miami once the new league year begins next week for the trade to be officially completed. If he doesn't, he would revert back to the Titans.
Tennessee signed Wilson, the 29th overall selection in last April's draft, to a four-year, $11.6 million contract in August. His time in Tennessee didn't get off to a good start, prompting the team to move on from him less than a year later.
The right tackle out of the University of Georgia played only four snaps in his rookie season, which culminated in him being placed on the non-football injury list in December. Before that, Wilson found himself on the reserve/COVID-19 list twice last year, during training camp and in October.
He also had a couple of run-ins with the law.
The first incident came when Tennessee State police broke up an off-campus party that Wilson had attended during training camp. In their report, the police documented that Wilson went to the second-floor balcony, where he appeared to briefly consider jumping. He received a trespass warning.
The second incident occurred when Wilson was arrested and charged with a DUI in September when he lost control of his vehicle and struck a concrete wall.
Titans general manager Jon Robinson addressed Wilson's status during a virtual news conference last month, telling reporters he had not spoken to him since putting him on the NFI list and suggesting that Wilson "makes a determination on whether he wants to do what it takes to play pro football."
The Dolphins, meanwhile, are buying low on Wilson. They liked him leading up to the 2020 NFL draft and he could have been a candidate for a Day 2 pick by the team, a source told ESPN. Now the Dolphins are taking virtually a free chance to help him revive his NFL career.
Wilson played at Poly Prep Country Day School in Brooklyn, where Dolphins coach Brian Flores attended high school. Wilson also attended Georgia with Dolphins guard Solomon Kindley.
Miami now hopes those connections will help get more out of Wilson than Tennessee did.
NFL Network first reported the trade agreement Monday.
ESPN's Dianna Russini and Cameron Wolfe contributed to this report.
Washington Football Team places franchise tag on Brandon Scherff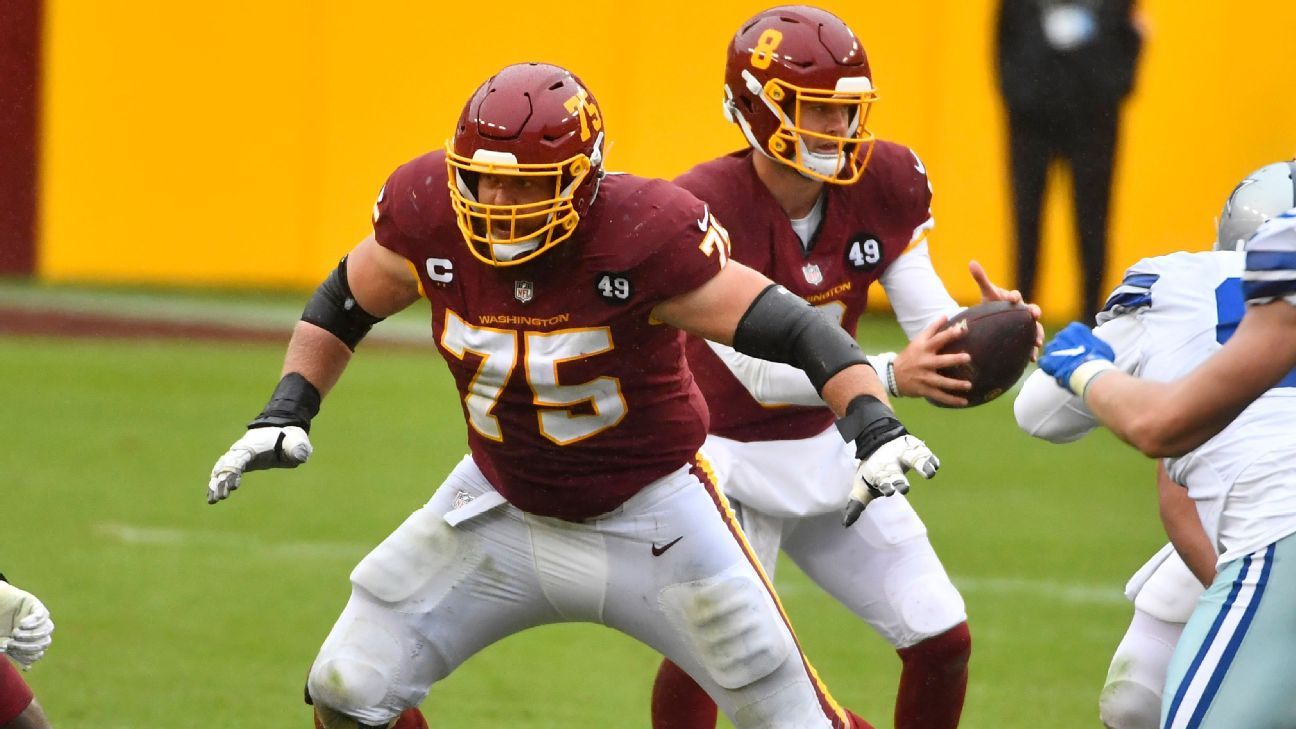 Washington has placed the franchise tag on right guard Brandon Scherff for a second consecutive year, the team announced Monday night.
Scherff will receive $18.03 million in the 2021 season — a 20% increase over last season. But Washington still hopes to sign him to a long-term deal. It has until July 15 to do so, and a source described talks so far as amicable.
Scherff, who turned 29 in December, played on the franchise tag last season, earning $15.03 million. He also became the first Washington player to be named first team All-Pro since punter Matt Turk in 1996. Scherff has made four Pro Bowls, including the past two.
Coaches liked how Scherff played inside, but also how well he blocked on the move in the screen game.
But injuries also have been an issue. Scherff hasn't played all 16 games since 2016 and has missed a combined 18 games the past four years. He ended up on injured reserve in 2017 and '18.
Washington selected Scherff with the fifth overall pick in the 2015 draft, intending to try him at right tackle first. But Washington moved him to right guard early in his first camp and started Morgan Moses at tackle, creating a strong tandem on the right side.
While at Iowa, Scherff was named the Outland Trophy winner in 2014 as the nation's best offensive lineman.