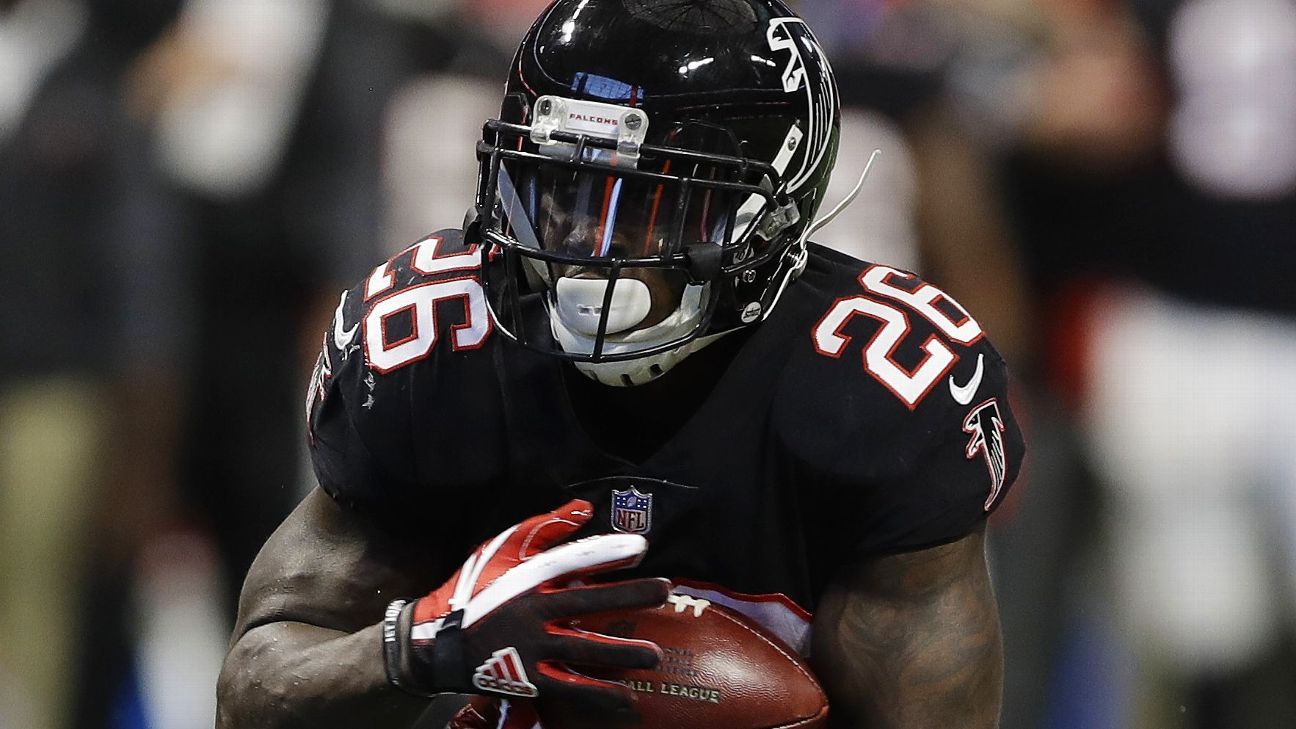 Atlanta Falcons general manager Thomas Dimitroff said the team has no plans to trade backup running back Tevin Coleman despite signing starter Devonta Freeman to a lucrative deal back in August.
Dimitroff, speaking to Rick Kamla and John Michaels of 92.9 The Game radio in Atlanta, was asked if trading Coleman with one year left on his contract could be an option heading into the 2018 season.
"We are not considering trading Tevin Coleman, period," Dimitroff told Kamla. "He's an important part of this organization. And our focus is on this upcoming year, and trade is not in our thought process."
Coleman, a 2015 third-round draft pick from Indiana, is entering the final year of his rookie deal and due to make $791,268 with a cap number of $977,959. The Falcons gave the former fourth-round pick Freeman a five-year, $41.25 million extension that included more than $22 million guaranteed.
During the team's season-ending news conference, Dimitroff said the Falcons could "realistically" sign Coleman to extension and maintain the two-headed running back attack with Freeman. But Coleman and his agent, Adisa Bakari, likely won't settle for just any deal, considering Coleman's explosive big-play ability.
One high-ranking AFC decision-maker said Coleman has great trade value.
"Great complement to a starter, and he could fill the role as a starting running back," the decision-maker said. "Great speed and athleticism. Only knock is that he hasn't been the featured runner there, but can't discount his ability to score the football."
Coleman, with just six starts through three seasons, has 14 career rushing touchdowns and six touchdown receptions. He's averaged 4.3 yards per carry, the same average as Freeman.
Freeman and Coleman have maintained a close friendship and appear to feed off each other. The wear and tear on Freeman, who has dealt with multiple concussions, is just another reason the Falcons would want to keep a player of Coleman's caliber to carry a heavier load, if necessary.
The Falcons top offseason priority is re-signing quarterback Matt Ryan to an extension as Ryan moves into the final year of his contract. Nose tackle Grady Jarrett, signed through 2018, also is line for an extension. Plus the Falcons are likely to re-sign unrestricted free agent kicker Matt Bryant and restricted free agent free safety Ricardo Allen, among others.
Gardner Minshew's mullet is no more
Mondays are heavy days historically, but this one is particularly so because Gardner Minshew II's mullet is no more.
Yeah, Minshew may have gotten a hair cut yesterday, but this is the first I'm learning about it. So the pain is as fresh as if the stylist had just swept the Jacksonville Jaguars' backup quarterback's fallen locks from the floor.
In what feels like the last remnant of a phenomenon once known as "Minshew Mania," the former pride of Duval County chopped off his power source:
At the risk of sounding rash, it seems to me Trevor Lawrence came to town and basically told his new QB2 that there wasn't enough room for both of their glorious heads of hair in that town and, well, we know who won that battle.
To be fair, I sort of knew this was going to happen as soon as Tim Tebow signed with the Jags.
Tebow, Lawrence's mane AND one of the defining mullets of our generation? That's just too much juice for one team.
Now, let us take one last look at Minshew's former masterpiece for posterity:
In the haunting words of Michelle Branch: "Goodbye to you, goodbye to everything that I knew."
Minnesota Vikings expect DE Danielle Hunter at mandatory minicamp, source says
MINNEAPOLIS — The Minnesota Vikings expect to have defensive end Danielle Hunter back in the fold this week during mandatory minicamp, a source told ESPN, after the Pro Bowl defensive end missed the team's entire voluntary offseason program.
Hunter, 26, sat out the 2020 NFL season with a herniated disk that required surgery last October. At the time of his surgery, it was reported that the defensive end was unhappy with the state of his contract and wanted a reworked deal ahead of the 2021 season.
NFL Network, which first reported that Hunter planned to attend minicamp, is reporting that the Vikings and Hunter have agreed to terms on a reworked deal that will give the defensive end $5.6 million of the $12.75 million he is set to make in 2021 as a signing bonus. Hunter now has an $18 million roster bonus due on the fifth day of the 2022 league year.
With $14.272 million in cap space, the Vikings moved up a significant amount of money to satisfy Hunter's desire for more compensation in the short term while allowing both parties the time to work out a long-term extension following the 2021 season, NFL Network reported. The Vikings will need to make a decision on Hunter's future by the fifth day of the 2022 league year.
CB Stephon Gilmore doesn't report for New England Patriots' mandatory minicamp, source says
FOXBOROUGH, Mass. — New England Patriots cornerback Stephon Gilmore, the 2019 NFL Defensive Player of the Year, did not report to mandatory minicamp that began Monday, a source confirmed.
Gilmore could be making a statement about his contract, as he is scheduled to earn a base salary of $7 million in 2021.
The Patriots had advanced $4.5 million of Gilmore's 2021 salary to him last year, leading to this year's low figure.
Gilmore, who turns 31 in September, is in the final year of the five-year, $65 million pact he signed with the Patriots as an unrestricted free agent in 2017. The deal included $40 million in injury guarantees and $31 million fully guaranteed at signing.
At the time, a contract with those guarantees and an average of $13 million per season was viewed as a strong deal. The cornerback market has since exploded, with Jalen Ramsey of the Los Angeles Rams topping it with a contract averaging $20 million per season.
Acknowledging they didn't have specifics of the situation, teammates noted Gilmore's absence in the locker room Monday, as well as on the practice field.
"I support my brother. I wish he was here, but I support him all the same," veteran safety Adrian Phillips said. "What he has going, whenever he gets back here, he'll let you know how it went."
Longtime captain Matthew Slater added: "That's a situation I don't want to get too far into, because it's frankly none of my business. Obviously you support all your teammates, whether they are here or not."
Head coach Bill Belichick deflected questions on Gilmore earlier Monday and wouldn't reveal whether he has given him (or any player) an excused absence. Players who don't report for mandatory minicamp can be fined up to $93,085 — which breaks down to $15,515 for the first missed day, $31,030 for the second missed day and $46,540 for the third missed day.
Gilmore partially tore his quad in a Week 15 loss last season, landing on injured reserve.
The Boston Globe first reported Gilmore's absence.