A football league shines in Mexico under soccer field lights – OneNacion Blog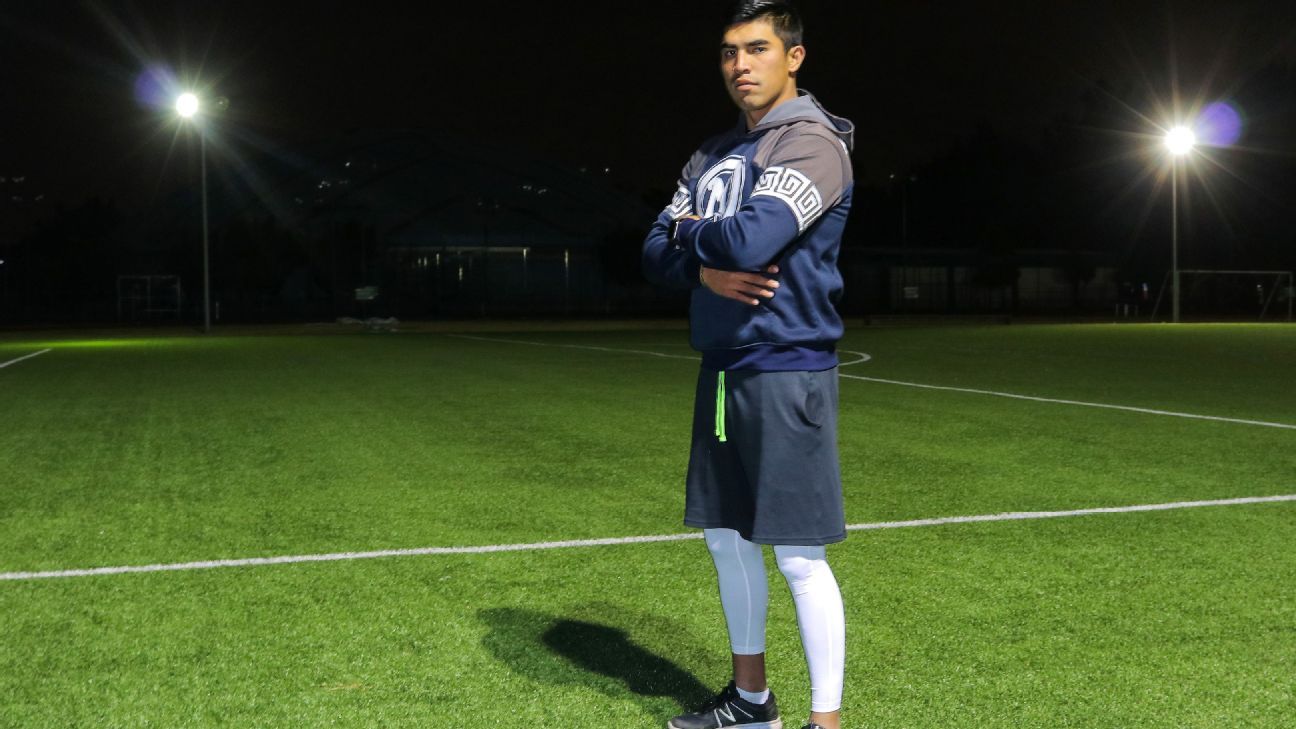 MEXICO CITY — The back-to-back champions of Mexico's budding six-team pro football league still train on a rented soccer field, where a kicker launches footballs over phantom uprights while players are careful not to run over corner-kick flags. And the goalposts? That's where touchdowns are called.
It's football in a fútbol environment.
On a chilly winter evening beneath pale lighting, the CDMX (Mexico City) Mayas are running no-contact drills, in helmets but without pads as preparation for the seven-game 2018 regular season, which kicked off last Saturday.
"If people give us a chance and watch us perform, I know they'll be hooked," said 26-year-old Omar Cojolum, running back for the Mayas and the league's leading rusher in 2017. "We play with passion. For me, football is life."
The Liga de Futbol Americano Profesional (LFA) is still looking to gain a foothold with fans in its third season of play, lining up television partners and streaming games on the league website and Facebook page, along with an Under Armour deal to dress the squads. Yet venues are modest, as the six teams — four from Mexico City and the surrounding area — play in stadiums that hold fewer than 10,000 fans. Sellouts are rare.
Last season, in an attempt to gain notoriety, the league signed former Bengals WR Chad "Ochocinco" Johnson to a one-game cameo with the Monterrey Fundidores.
Though Johnson's incursion in the LFA was little more than a publicity stunt, the league mostly features domestic players looking to chase gridiron dreams beyond college football. A select few, however, have NFL experience. Mauricio "Tyson" López, the Mayas' star defensive lineman, was signed by the Philadelphia Eagles for the 2007 preseason, and by the Oakland Raiders in 2009. Tackle Ramiro Pruneda, also of the Mayas, was on the practice squad for the San Francisco 49ers, Kansas City Chiefs and the Eagles from 2007 to 2008. In addition, both López and Pruneda lend their expertise as NFL analysts for ESPN Mexico.
Cojolum hails from Naucalpán, a city just 13 miles outside of Mexico City. He grew up in an impoverished neighborhood with his mother, María Guadalupe and two older brothers, Marco Antonio and Ramón Olaf, the latter requiring special attention because of a disability. As a child, Cojolum found solace in football after initially resisting the game.
"[Marco] dragged me with him at first and I just didn't want to go. After a while, it grew on me," he said.
Starting at just 4 years old, Cojolum excelled at the game through grade school, eventually gaining a scholarship to the nearby Universidad del Valle de México (UVM). Though the commute to the college was barely a handful of miles, he said it felt like a whole new world.
"Where I'm from, it would've been easier for me to take the path with crime and drugs maybe, but I've always loved sports," he said after finishing practice one day. "I didn't want to poison my body and mind with that."
With his college team, the Linces (Lynx), Cojolum shined as a running back, all the while pursuing a degree and holding down a job in support of his family.
"Then, I found out I was going to have a son," he said.
Cojolum's part-time job turned into a full-time gig. Unable to keep playing, his scholarship was withdrawn. At age 20, Cojolum briefly dropped out of school to provide for his mother, brother and new son.
"The amount of hardship he's been through has shaped him as a man," said Alma Martínez who along with her husband, Jesús Omana, owns the Mayas. Martinez developed a close bond with Cojolum since their association with the Mayas first began a year ago.
"He never wavered from his dream, and he was so good you just knew he would find a way to come back eventually," Martinez said.
Cojolum settled in with a work schedule allowing him to return to school, and his scholarship in 2011.
"Then I broke my leg," he recalled.
Sidelined for another six months, he redshirted and played his last season in 2015, just in time to be considered eligible for the nascent pro football league, as it held its draft for the inaugural season in 2016. Cojolum was the Mayas' first pick.
Reminiscent of the NFL model, players in Mexico's two main college leagues, the 22-team ONEFA and the 12-team CONADEIP have been drafted by the LFA since its creation to provide a pipeline from the amateur game to the next level.
"I think it's fair to say players reach a physical peak in this sport from age 23 to about 30," said Oscar Perez, president of the LFA. "We didn't have a pro league in Mexico that enabled players to take advantage. Omar is a perfect example of this, and we're happy to have him."
Perez has high hopes for his league, and the LFA is in full expansion mode in the coming seasons. Of the six teams in the 2018 season, four are from Mexico City area –the Mayas, Condors and Méxicas are from CDMX and the Raptors are from Edomex, or the state of Mexico surrounding the capital city. Two teams in the north, Dinos from Saltillo and the Monterrey Fundidores, round out the league. The Mayas didn't fare very well in their season debut, as the Raptors blanked them in the opener.
"There are still difficulties there, logistically speaking, economically speaking. But we're hopeful the league will expand greatly," he said.
"It was an absolute coup for us to get Omar," said César Zúñiga, the Mayas' technical director, a position he described as a sort of cross between general manager and director of player personnel. "He reminds me of [former Rams RB] Eric Dickerson, the way he runs with such power and purpose."
In the league's first championship game in April 2016, Cojolum scored two touchdowns, including a 71-yard scamper in the Mayas' 29-13 win over the Mexico City Raptors. The performance enamored Omana, then just a fan, into buying the franchise.
"Both of my sons play youth football, so we went to all the games that first season as a way to bond as a family," Omana said. "I loved what I saw, so I contacted the league about buying the team, and they offered me a different one. I didn't want it. If it's not Mayas, then don't bother."
Finally, with the 2017 season underway, Omana was granted the chance to buy into the LFA with his dream franchise.
Although they are close now, the relationship between the Omanas and Cojolum got off to a rocky start. Just a few days after securing ownership of the team, the couple were unable to procure a flight for the team for an away game in Monterrey. Martinez was then stuck on a 13-hour bus ride with a cranky group of players, the chorus of groans led by the star running back.
"Every time we'd hit a bump or slow down because of traffic, Omar would complain," Martinez said.
Soon, she felt, there would be a mutiny on her hands.
"I stood up, walked towards him and told him to stop being a diva," she recalled.
Finger to his face, Martinez challenged Omar to show the new owners what he was capable of doing as a leader on the field.
It wasn't the only time Cojolum would get in trouble on a team trip. Cojolum posted a video of a Mayas official addressing the team during a bus ride to an away game, a violation of the league's policy. He served a one-game suspension at the start of this season.
"It's a little strange to think that now I refer to Alma and Jesus as 'Mom and Dad,' " Cojolum said.
After the Mayas won the second of their back-to-back titles in 2017, Cojolum sprinted to Alma and Jesus to embrace them.
"It was a special moment, I feel like I owe them so much," he said. Cojolum crowned his sophomore season winning the league's award for best running back.
Aiming to become the first dynasty in the fledgling league's history, the Mayas are hoping to end their upcoming season on a different fútbol pitch. The Estadio Azul, home of Liga MX's Cruz Azul and the place where the NFL held its first exhibition game south of the border in 1978, will host the LFA's championship game next April.
"It's exciting to think about what it would be like to play in front of a crowd like that," Cojolum said. "It's a long way away, but I can picture myself celebrating another title with my family."
Seattle Seahawks RB Chris Carson week-to-week with foot sprain
RENTON, Wash — Seattle Seahawks running back Chris Carson is considered week-to-week after an MRI confirmed a mid-foot sprain, coach Pete Carroll said Monday.
Carson suffered the injury in the first half of Sunday night's 37-34 overtime loss at the Arizona Cardinals and did not return to the game.
"There's something there that we could see," Carroll said of Carson's MRI. "It's just week-to-week, so we'll see what happens. We don't know. He was real determined to say, 'I can go with it,' but we won't know until the end of the week, for sure."
That's just the start of the injuries the Seahawks (5-1) are dealing with in a suddenly banged-up backfield.
Veteran Carlos Hyde and rookie fourth-round pick DeeJay Dallas were their only available tailbacks by the end of Sunday night's game, after Carson and Travis Homer went down hurt. But Carroll is unsure of Hyde's status for this week due to tightness in his hamstring. The coach said Homer has a knee bruise and not an injury, adding, "So that's something he has a chance to recover from."
The Seahawks have no other tailbacks on their active roster or practice squad. Rashaad Penny, their 2018 first-round pick, is still on the physically unable to perform list as he works his way back from a knee injury. Carroll said Penny is "getting close" to practicing, but the coach didn't give the impression Penny would begin doing so this week.
It's a potentially problematic situation for the Seahawks given how COVID-19 protocols make it difficult for teams to adjust to injuries on the fly. Players must go through several days of testing before they're allowed to enter an NFL facility. That will make it impossible for the Seahawks to sign a free agent in time to reinforce their backfield for this week's home game against the San Francisco 49ers (4-3), unless that running back had already started or completed his testing.
The Seahawks are hoping to have All-Pro strong safety Jamal Adams back this week, but Carroll said it isn't clear whether he'll be ready to practice by Wednesday. Adams has missed the past three games with a groin injury. Seattle had its bye during that span.
"I talked to him on Saturday before we left, and his workouts are going great and all that," Carroll said of Adams. "He really wants to get back, but he's going to have to show it that he's capable of doing all the stuff that we need him to do football-wise. Because he's so close to being back, I think this will carry into late in the week and we'll see how it works out. But I can't tell you conclusively right now."
Carroll expects defensive end Rasheem Green (neck) to practice this week with the hope of playing next week. He has been on injured reserve, as has wide receiver Phillip Dorsett. Carroll said Dorsett is running at 90 percent capacity but isn't sure if Dorsett will practice this week.
Cornerback Shaquill Griffin is also dealing with a nagging hamstring injury in addition to the concussion he suffered against Arizona, Carroll said.
The 2,875 yards Seattle's defense has allowed this season are the most through six games in NFL history, according to the Elias Sports Bureau.
Struggling New York Jets QB Sam Darnold gets pep talk from Adam Gase
Coming off one of the worst statistical games of his career, New York Jets quarterback Sam Darnold received a pep talk and a vote of confidence from coach Adam Gase.
"I just keep thinking, 'He's 23, none of this can be easy,'" Gase said Monday, adding that he spoke with Darnold on Sunday night. "He's a guy that did so much good in college and won a lot of football games. Things haven't always gone as smoothly as everybody always hopes when they get to the NFL."
The Jets haven't won any games this season, as Darnold — expected to make a big jump in the second year under Gase — has shown signs of regression. The slump has fueled questions about Darnold's future, with speculation the Jets might draft Clemson star Trevor Lawrence if they land the top pick.
In Sunday's 18-10 loss to the Buffalo Bills, Darnold passed for only 120 yards with two interceptions for a 31.1 passer rating, the second-lowest of his career. It was a horrible offensive performance by the Jets (0-7), who managed only four yards in the second half — the team's fewest yards in a half in 40 years.
Gase absolved Darnold of any blame, putting it squarely on the offensive line, which allowed six sacks. Gase said "it was collapsing quick on him" and he "didn't have a lot of time to throw the ball." When he did, the throws were tight-window attempts.
In five starts, Darnold has twice as many interceptions (six) as touchdown passes (three). His numbers have declined from last season in all the major statistical categories.
Gase, hired to develop Darnold, insisted his pupil isn't going backward.
"If you look at it statistically, we're not good anywhere statistically," he said. "What I see in practice a lot of times, I see things that were better than last year. When we get to games, we just have to figure out a way to protect him and let him get in rhythm. I saw some really good things the first half [Sunday]. Then it started getting really muddy in the second half."
Darnold said he remains upbeat, although he admitted his interception at the end of the first half was "a terrible mistake, something I truly feel won't happen again." He called it a "dumb decision," a pass into heavy coverage.
He was under duress throughout the game, as the Bills cranked up their safety blitzes in the second half. Offensive coordinator Dowell Loggains, calling plays for the first time, had no answers.
The rebuilt offensive line was supposed to be improved this season, but it has allowed 24 sacks.
"I think everyone is frustrated. I don't think it's unique to Sam," guard Greg Van Roten said. "We need to put him in a position to be successful. If we, as an offensive line, are playing like we did [Sunday], we're not giving him a chance to show what he can do.
"And that's not fair to him. That's not fair to the team."
Cowboys DC Mike Nolan feels heat after hot sauce mishap during conference call
FRISCO, Texas — When the Dallas Cowboys practice Wednesday, defensive coordinator Mike Nolan might be on the injury report. The reason? Tabasco.
Nolan had to step away from his weekly conference call with reporters Monday because he got some hot sauce in his eye in the middle of answering a question about the effectiveness of pass rusher DeMarcus Lawrence.
"He's been active every week as far as, I think, disrupting the quarterback. He's escaped several times to do that," Nolan said. "Obviously, the frustration for him as well is — look, it's when he misses them. Whoop, excuse me. I've got something in my eye. Just had some Tabasco on my finger and it went in my eye, that wasn't good. Ugh. Terrible, geez. I'm sorry."
It's been that kind of season for Nolan.
The Cowboys are on pace to allow 555 points this season. They have given up 243 points so far, which is more than they have given up overall in 11 seasons in franchise history, not counting the strike season in 1982, and equal to what they allowed in 1992.
Nolan was able to clean out his eye and return to the news conference.
"My eye feels a lot better," Nolan said. "But it was burning."