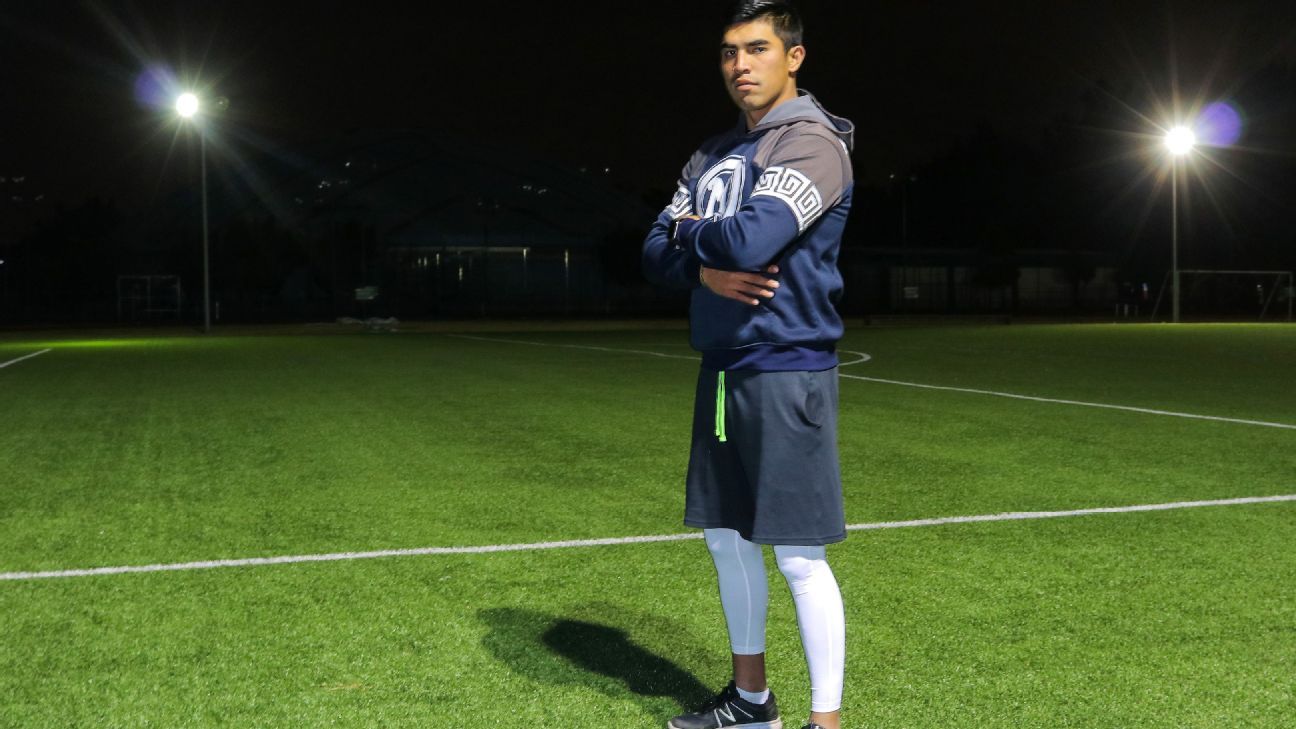 MEXICO CITY — The back-to-back champions of Mexico's budding six-team pro football league still train on a rented soccer field, where a kicker launches footballs over phantom uprights while players are careful not to run over corner-kick flags. And the goalposts? That's where touchdowns are called.
It's football in a fútbol environment.
On a chilly winter evening beneath pale lighting, the CDMX (Mexico City) Mayas are running no-contact drills, in helmets but without pads as preparation for the seven-game 2018 regular season, which kicked off last Saturday.
"If people give us a chance and watch us perform, I know they'll be hooked," said 26-year-old Omar Cojolum, running back for the Mayas and the league's leading rusher in 2017. "We play with passion. For me, football is life."
The Liga de Futbol Americano Profesional (LFA) is still looking to gain a foothold with fans in its third season of play, lining up television partners and streaming games on the league website and Facebook page, along with an Under Armour deal to dress the squads. Yet venues are modest, as the six teams — four from Mexico City and the surrounding area — play in stadiums that hold fewer than 10,000 fans. Sellouts are rare.
Last season, in an attempt to gain notoriety, the league signed former Bengals WR Chad "Ochocinco" Johnson to a one-game cameo with the Monterrey Fundidores.
Though Johnson's incursion in the LFA was little more than a publicity stunt, the league mostly features domestic players looking to chase gridiron dreams beyond college football. A select few, however, have NFL experience. Mauricio "Tyson" López, the Mayas' star defensive lineman, was signed by the Philadelphia Eagles for the 2007 preseason, and by the Oakland Raiders in 2009. Tackle Ramiro Pruneda, also of the Mayas, was on the practice squad for the San Francisco 49ers, Kansas City Chiefs and the Eagles from 2007 to 2008. In addition, both López and Pruneda lend their expertise as NFL analysts for ESPN Mexico.
Cojolum hails from Naucalpán, a city just 13 miles outside of Mexico City. He grew up in an impoverished neighborhood with his mother, María Guadalupe and two older brothers, Marco Antonio and Ramón Olaf, the latter requiring special attention because of a disability. As a child, Cojolum found solace in football after initially resisting the game.
"[Marco] dragged me with him at first and I just didn't want to go. After a while, it grew on me," he said.
Starting at just 4 years old, Cojolum excelled at the game through grade school, eventually gaining a scholarship to the nearby Universidad del Valle de México (UVM). Though the commute to the college was barely a handful of miles, he said it felt like a whole new world.
"Where I'm from, it would've been easier for me to take the path with crime and drugs maybe, but I've always loved sports," he said after finishing practice one day. "I didn't want to poison my body and mind with that."
With his college team, the Linces (Lynx), Cojolum shined as a running back, all the while pursuing a degree and holding down a job in support of his family.
"Then, I found out I was going to have a son," he said.
Cojolum's part-time job turned into a full-time gig. Unable to keep playing, his scholarship was withdrawn. At age 20, Cojolum briefly dropped out of school to provide for his mother, brother and new son.
"The amount of hardship he's been through has shaped him as a man," said Alma Martínez who along with her husband, Jesús Omana, owns the Mayas. Martinez developed a close bond with Cojolum since their association with the Mayas first began a year ago.
"He never wavered from his dream, and he was so good you just knew he would find a way to come back eventually," Martinez said.
Cojolum settled in with a work schedule allowing him to return to school, and his scholarship in 2011.
"Then I broke my leg," he recalled.
Sidelined for another six months, he redshirted and played his last season in 2015, just in time to be considered eligible for the nascent pro football league, as it held its draft for the inaugural season in 2016. Cojolum was the Mayas' first pick.
Reminiscent of the NFL model, players in Mexico's two main college leagues, the 22-team ONEFA and the 12-team CONADEIP have been drafted by the LFA since its creation to provide a pipeline from the amateur game to the next level.
"I think it's fair to say players reach a physical peak in this sport from age 23 to about 30," said Oscar Perez, president of the LFA. "We didn't have a pro league in Mexico that enabled players to take advantage. Omar is a perfect example of this, and we're happy to have him."
Perez has high hopes for his league, and the LFA is in full expansion mode in the coming seasons. Of the six teams in the 2018 season, four are from Mexico City area –the Mayas, Condors and Méxicas are from CDMX and the Raptors are from Edomex, or the state of Mexico surrounding the capital city. Two teams in the north, Dinos from Saltillo and the Monterrey Fundidores, round out the league. The Mayas didn't fare very well in their season debut, as the Raptors blanked them in the opener.
"There are still difficulties there, logistically speaking, economically speaking. But we're hopeful the league will expand greatly," he said.
"It was an absolute coup for us to get Omar," said César Zúñiga, the Mayas' technical director, a position he described as a sort of cross between general manager and director of player personnel. "He reminds me of [former Rams RB] Eric Dickerson, the way he runs with such power and purpose."
In the league's first championship game in April 2016, Cojolum scored two touchdowns, including a 71-yard scamper in the Mayas' 29-13 win over the Mexico City Raptors. The performance enamored Omana, then just a fan, into buying the franchise.
"Both of my sons play youth football, so we went to all the games that first season as a way to bond as a family," Omana said. "I loved what I saw, so I contacted the league about buying the team, and they offered me a different one. I didn't want it. If it's not Mayas, then don't bother."
Finally, with the 2017 season underway, Omana was granted the chance to buy into the LFA with his dream franchise.
Although they are close now, the relationship between the Omanas and Cojolum got off to a rocky start. Just a few days after securing ownership of the team, the couple were unable to procure a flight for the team for an away game in Monterrey. Martinez was then stuck on a 13-hour bus ride with a cranky group of players, the chorus of groans led by the star running back.
"Every time we'd hit a bump or slow down because of traffic, Omar would complain," Martinez said.
Soon, she felt, there would be a mutiny on her hands.
"I stood up, walked towards him and told him to stop being a diva," she recalled.
Finger to his face, Martinez challenged Omar to show the new owners what he was capable of doing as a leader on the field.
It wasn't the only time Cojolum would get in trouble on a team trip. Cojolum posted a video of a Mayas official addressing the team during a bus ride to an away game, a violation of the league's policy. He served a one-game suspension at the start of this season.
"It's a little strange to think that now I refer to Alma and Jesus as 'Mom and Dad,' " Cojolum said.
After the Mayas won the second of their back-to-back titles in 2017, Cojolum sprinted to Alma and Jesus to embrace them.
"It was a special moment, I feel like I owe them so much," he said. Cojolum crowned his sophomore season winning the league's award for best running back.
Aiming to become the first dynasty in the fledgling league's history, the Mayas are hoping to end their upcoming season on a different fútbol pitch. The Estadio Azul, home of Liga MX's Cruz Azul and the place where the NFL held its first exhibition game south of the border in 1978, will host the LFA's championship game next April.
"It's exciting to think about what it would be like to play in front of a crowd like that," Cojolum said. "It's a long way away, but I can picture myself celebrating another title with my family."
Houston Texans CEO Cal McNair wants Deshaun Watson part of hiring process for coach
HOUSTON — A week after Houston Texans chairman and CEO Cal McNair said he hadn't heard back from quarterback Deshaun Watson since hiring general manager Nick Caserio, McNair said he has now "connected over texts" with Watson.
"It's no secret he's disappointed in the communication during the hiring process," McNair said, according to an interview with the Houston Chronicle and Fox 26 Houston.
On the day the Texans announced the hiring of Caserio, ESPN's Adam Schefter reported Watson was not happy with the process because, according to league sources, "Watson offered input on potential general manager candidates, but the Texans neither considered nor consulted with those endorsed by their franchise quarterback."
Now, McNair says the Texans "want [Watson] in the loop and part of the process" as Houston searches for its next head coach. Watson found out on social media, not from the team, that the Texans had hired Caserio, multiple sources told Schefter.
In the interview, McNair also said he will not fire Jack Easterby, the Texans' executive vice president of football operations. Earlier in the week, former Texans wide receiver Andre Johnson tweeted that he stood by Watson and criticized Easterby.
"The Texans organization is known for wasting players careers," Johnson tweeted. "Since Jack Easterby has walk into the building nothing good has happened in/for the organization and for some reason someone can't seem to see what's going on. Pathetic!!!"
McNair initially said Easterby would not be involved in the process of hiring the Texans' next general manager, but he said in Caserio's introductory news conference that he did ask for Easterby's feedback "on Nick as a leader" during the decision process.
"Jack and I have had a really special relationship," Caserio said. "It goes back a number of years. … I have a tremendous amount of respect and admiration for him. Any personnel decisions that will be made we'll make as a group, but ultimately that's a responsibility that Cal has instilled in me, is to handle the personnel side of the football operations. So that's the expectation moving forward."
Schefter also reported that after the Texans traded wide receiver DeAndre Hopkins, Watson's anger level was "a 2. … This time, it's a 10."
On Friday, Watson tweeted, "I was on 2 then I took it to 10." Less than 30 minutes later, Watson tweeted, "Future – Mo Reala vibes!" That song contains the lyrics, "I was on 2 then I took it to 10."
"Change is hard and we're going through change and I accept everything hasn't gone perfectly," McNair said in the interview. "It's just hard and we're working through it. If players, media and fans are upset, that's on me and I'll apologize for my actions or communications that have created mistrust and I accept those team's and fan's frustrations."
Seattle Seahawks WR Josh Gordon suspended indefinitely again
SEATTLE — Seahawks wide receiver Josh Gordon has been suspended indefinitely again after the NFL rescinded his conditional reinstatement.
An NFL spokesperson told ESPN that the decision stems from Gordon violating the terms of his conditional reinstatement under the league's substance-abuse policy. No other details were provided from the league.
ESPN's Jeremy Fowler reported last month that Gordon, 29, had another setback in his recovery from substance abuse as he was nearing his return to the field after a yearlong suspension. A source told Fowler at the time that Gordon was grappling with the reality that he might never be allowed to play in the NFL again as indications throughout the process of his reinstatement from that suspension were that this was probably his final strike.
The league suspended Gordon indefinitely in December of 2019 for violations of its policies on substances of abuse and performance-enhancing substances. That was Gordon's sixth suspension since the 2013 season and his fifth for some form of substance abuse, according to ESPN Stats & Information research.
Gordon was conditionally reinstated by the NFL last month and was set to practice with the Seahawks in Week 16. Coach Pete Carroll said he had a chance to play that Sunday against the Los Angeles Rams. But a day before what would have been Gordon's first official practice in a year, the NFL placed him on the commissioner's exempt list after deeming that he had not satisfied the terms of his conditional reinstatement.
Gordon's tweet Friday — "wasn't this old news" — suggests his indefinite return to the reserve/suspended by commissioner list stems from last month's events.
Gordon was allowed back at Seahawks headquarters on Dec. 9 after completing his COVID-19 testing. He tweeted that day that he was "excited as hell to be back amongst the family like this."
When Gordon's comeback bid was halted, Carroll said he was not allowed to comment on any specifics of the receiver's situation, including the nature of his setback.
"We're not able to comment about any of it, really, other than to say that he's still coming in, working out with our trainers, and getting his work done conditioning-wise," Carroll said at the time. "We'll revisit it again next week. Certainly disappointed not to have him for his sake and for a lot of things, but we'll stay with it and we'll see what happens next week."
Asked how Gordon was handling the situation, Carroll said: "Very frustrated that he's not out here. Frustrated by it."
Gordon signed a one-year deal with the Seahawks before last season. He would become a free agent if he is reinstated by the NFL again.
Gordon's attorney, Adam Kenner, confirmed to ESPN in June that Gordon's 2019 suspension was the result of a setback he experienced after the death of his brother that fall. Gordon posted on social media on Nov. 11, 2019, the day he made his Seahawks debut, about losing his older brother.
Chicago Bears DE Mario Edwards Jr. suspended for first 2 games of 2021 season
CHICAGO — Bears defensive end Mario Edwards Jr. has been suspended without pay for the first two games of the 2021 regular season for violating the NFL's policy on performance-enhancing substances, the league announced Friday.
Edwards Jr. is no longer under contract with the Bears and will be a free agent in March. He will have to serve the suspension whenever he signs with a team but will be eligible to participate in preseason games and practices.
Edwards Jr. had a career-high four sacks while a member of the Bears in 2020.
The NFL is also investigating a legal issue involving Edwards Jr. that stemmed from an incident last year at a hotel in Charlotte, North Carolina.
Edwards Jr., 26, was issued a criminal summons on a charge of misdemeanor assault on a female, according to a spokesperson for the Mecklenburg County District Attorney's Office in North Carolina in December.
A court date has not yet been set, but the summons arose from a situation at the Hilton Charlotte City Center hotel on Oct. 17, the night before the Bears played the Carolina Panthers.
Police documents said officers responded to reports of a woman hitting a man with her hand and scratching his forehead. Edwards and a woman both had bruises and scratches and both were listed as victims in the police report.
North Carolina court documents, obtained by TMZ, said the woman in question accused Edwards of hitting her in the eye and dragging her out of his hotel room after she began recording him during an argument. The woman stated that she was pregnant at the time of the attack and required hospitalization.
Peter Schaffer, Edwards' agent, denied that his client was involved in any wrongdoing.