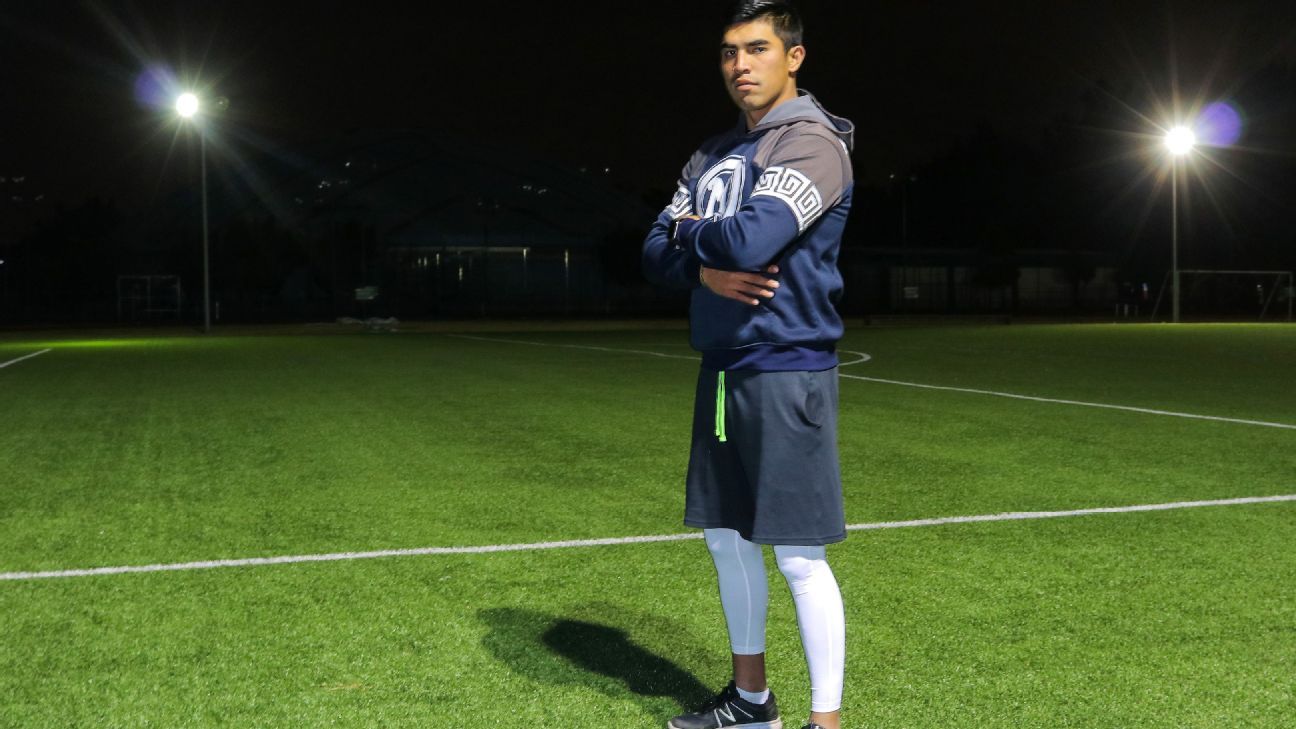 MEXICO CITY — The back-to-back champions of Mexico's budding six-team pro football league still train on a rented soccer field, where a kicker launches footballs over phantom uprights while players are careful not to run over corner-kick flags. And the goalposts? That's where touchdowns are called.
It's football in a fútbol environment.
On a chilly winter evening beneath pale lighting, the CDMX (Mexico City) Mayas are running no-contact drills, in helmets but without pads as preparation for the seven-game 2018 regular season, which kicked off last Saturday.
"If people give us a chance and watch us perform, I know they'll be hooked," said 26-year-old Omar Cojolum, running back for the Mayas and the league's leading rusher in 2017. "We play with passion. For me, football is life."
The Liga de Futbol Americano Profesional (LFA) is still looking to gain a foothold with fans in its third season of play, lining up television partners and streaming games on the league website and Facebook page, along with an Under Armour deal to dress the squads. Yet venues are modest, as the six teams — four from Mexico City and the surrounding area — play in stadiums that hold fewer than 10,000 fans. Sellouts are rare.
Last season, in an attempt to gain notoriety, the league signed former Bengals WR Chad "Ochocinco" Johnson to a one-game cameo with the Monterrey Fundidores.
Though Johnson's incursion in the LFA was little more than a publicity stunt, the league mostly features domestic players looking to chase gridiron dreams beyond college football. A select few, however, have NFL experience. Mauricio "Tyson" López, the Mayas' star defensive lineman, was signed by the Philadelphia Eagles for the 2007 preseason, and by the Oakland Raiders in 2009. Tackle Ramiro Pruneda, also of the Mayas, was on the practice squad for the San Francisco 49ers, Kansas City Chiefs and the Eagles from 2007 to 2008. In addition, both López and Pruneda lend their expertise as NFL analysts for ESPN Mexico.
Cojolum hails from Naucalpán, a city just 13 miles outside of Mexico City. He grew up in an impoverished neighborhood with his mother, María Guadalupe and two older brothers, Marco Antonio and Ramón Olaf, the latter requiring special attention because of a disability. As a child, Cojolum found solace in football after initially resisting the game.
"[Marco] dragged me with him at first and I just didn't want to go. After a while, it grew on me," he said.
Starting at just 4 years old, Cojolum excelled at the game through grade school, eventually gaining a scholarship to the nearby Universidad del Valle de México (UVM). Though the commute to the college was barely a handful of miles, he said it felt like a whole new world.
"Where I'm from, it would've been easier for me to take the path with crime and drugs maybe, but I've always loved sports," he said after finishing practice one day. "I didn't want to poison my body and mind with that."
With his college team, the Linces (Lynx), Cojolum shined as a running back, all the while pursuing a degree and holding down a job in support of his family.
"Then, I found out I was going to have a son," he said.
Cojolum's part-time job turned into a full-time gig. Unable to keep playing, his scholarship was withdrawn. At age 20, Cojolum briefly dropped out of school to provide for his mother, brother and new son.
"The amount of hardship he's been through has shaped him as a man," said Alma Martínez who along with her husband, Jesús Omana, owns the Mayas. Martinez developed a close bond with Cojolum since their association with the Mayas first began a year ago.
"He never wavered from his dream, and he was so good you just knew he would find a way to come back eventually," Martinez said.
Cojolum settled in with a work schedule allowing him to return to school, and his scholarship in 2011.
"Then I broke my leg," he recalled.
Sidelined for another six months, he redshirted and played his last season in 2015, just in time to be considered eligible for the nascent pro football league, as it held its draft for the inaugural season in 2016. Cojolum was the Mayas' first pick.
Reminiscent of the NFL model, players in Mexico's two main college leagues, the 22-team ONEFA and the 12-team CONADEIP have been drafted by the LFA since its creation to provide a pipeline from the amateur game to the next level.
"I think it's fair to say players reach a physical peak in this sport from age 23 to about 30," said Oscar Perez, president of the LFA. "We didn't have a pro league in Mexico that enabled players to take advantage. Omar is a perfect example of this, and we're happy to have him."
Perez has high hopes for his league, and the LFA is in full expansion mode in the coming seasons. Of the six teams in the 2018 season, four are from Mexico City area –the Mayas, Condors and Méxicas are from CDMX and the Raptors are from Edomex, or the state of Mexico surrounding the capital city. Two teams in the north, Dinos from Saltillo and the Monterrey Fundidores, round out the league. The Mayas didn't fare very well in their season debut, as the Raptors blanked them in the opener.
"There are still difficulties there, logistically speaking, economically speaking. But we're hopeful the league will expand greatly," he said.
"It was an absolute coup for us to get Omar," said César Zúñiga, the Mayas' technical director, a position he described as a sort of cross between general manager and director of player personnel. "He reminds me of [former Rams RB] Eric Dickerson, the way he runs with such power and purpose."
In the league's first championship game in April 2016, Cojolum scored two touchdowns, including a 71-yard scamper in the Mayas' 29-13 win over the Mexico City Raptors. The performance enamored Omana, then just a fan, into buying the franchise.
"Both of my sons play youth football, so we went to all the games that first season as a way to bond as a family," Omana said. "I loved what I saw, so I contacted the league about buying the team, and they offered me a different one. I didn't want it. If it's not Mayas, then don't bother."
Finally, with the 2017 season underway, Omana was granted the chance to buy into the LFA with his dream franchise.
Although they are close now, the relationship between the Omanas and Cojolum got off to a rocky start. Just a few days after securing ownership of the team, the couple were unable to procure a flight for the team for an away game in Monterrey. Martinez was then stuck on a 13-hour bus ride with a cranky group of players, the chorus of groans led by the star running back.
"Every time we'd hit a bump or slow down because of traffic, Omar would complain," Martinez said.
Soon, she felt, there would be a mutiny on her hands.
"I stood up, walked towards him and told him to stop being a diva," she recalled.
Finger to his face, Martinez challenged Omar to show the new owners what he was capable of doing as a leader on the field.
It wasn't the only time Cojolum would get in trouble on a team trip. Cojolum posted a video of a Mayas official addressing the team during a bus ride to an away game, a violation of the league's policy. He served a one-game suspension at the start of this season.
"It's a little strange to think that now I refer to Alma and Jesus as 'Mom and Dad,' " Cojolum said.
After the Mayas won the second of their back-to-back titles in 2017, Cojolum sprinted to Alma and Jesus to embrace them.
"It was a special moment, I feel like I owe them so much," he said. Cojolum crowned his sophomore season winning the league's award for best running back.
Aiming to become the first dynasty in the fledgling league's history, the Mayas are hoping to end their upcoming season on a different fútbol pitch. The Estadio Azul, home of Liga MX's Cruz Azul and the place where the NFL held its first exhibition game south of the border in 1978, will host the LFA's championship game next April.
"It's exciting to think about what it would be like to play in front of a crowd like that," Cojolum said. "It's a long way away, but I can picture myself celebrating another title with my family."
New Orleans Saints sign rookie free agent defensive tackle Lorenzo Neal Jr., son of former All-Pro fullback
METAIRIE, La. — As an All-Pro fullback, Lorenzo Neal made a career out of paving the way for some of the NFL's great runners for 16 years. Now it's Neal's son who is following in his footsteps.
Purdue defensive tackle Lorenzo Neal Jr. signed Sunday as an undrafted rookie free agent with the New Orleans Saints – the same team that drafted his dad in 1993.
Neal Jr. was signed after being invited to try out during the Saints' rookie minicamp over the weekend. The team also signed linebacker Quentin Poling and offensive lineman Kyle Murphy after tryouts.
Starting my career at the same place as my pops ⚜️⚜️ https://t.co/OXkRQu96k5

— Lorenzo Neal (@loneal_9) May 17, 2021
Neal Jr. (6-foot-3, 325 pounds) was an honorable mention All-Big Ten selection by the coaches in both 2018 and 2020. But his career was waylaid by a torn ACL that sidelined him for the entire 2019 season. He finished his career with 73 tackles, four sacks and four forced fumbles in 38 games.
Neal Sr. began his career as a tailback with the Saints but was converted to fullback after an ankle injury his rookie year. He spent four seasons in New Orleans before playing for the New York Jets, Tampa Bay Buccaneers, Tennessee Titans, Cincinnati Bengals, San Diego Chargers and Baltimore Ravens.
Neal was a member of the 2000s all-decade team, a two-time first-team All-Pro selection and a four-time Pro Bowler. He had an 11-year streak of blocking for 1,000-yard rushers, including five with future Hall of Famer LaDainian Tomlinson in San Diego.
Neal Sr. also had a big impact on Drew Brees as a supportive teammate early in Brees' career with the Chargers.
Ex-Austin Peay Governors DB Juantarius Bryant falls victim of Atlanta Falcons tryout hoax
Juantarius Bryant thought he was heading to Georgia this weekend to try out for the Atlanta Falcons during the team's rookie minicamp. When he arrived in Flowery Branch, though, he learned he had been the victim of a hoax instead.
Bryant, a defensive back from Austin Peay, was never actually contacted by the Falcons but instead by someone texting him from an Atlanta area code pretending to be defensive coordinator Dean Pees. So when Bryant arrived at the team's facility Wednesday to get ready for his chance to try and accomplish an NFL dream, he was instead turned away.
"I do not know or understand why this has happened," Bryant wrote in a Twitter message. "But I do know that everything happens for a reason. Yes, this was heart breaking for me, but just another stepping stone that I am not afraid to admit or overcome.
"At the end of the day, this will not make or break me. I will still continue to fight for my dreams because I know it's what I really want."
It's been a rough few days, but I felt the need to clear the air and get this off my chest. Honestly ready to move on from the situation. pic.twitter.com/yUJELOstZW

— Juantarius Bryant (@TheyLoveMyHair_) May 15, 2021
Bryant declined to do a full interview with ESPN when reached Sunday and said he posted something about it publicly on Twitter to let people who have supported him know what was going on because he believed he had a legitimate invite to Falcons camp over the weekend.
"I am ready to move on from the situation and respectfully I do not feel like talking about it over and over again," Bryant said in an email to ESPN. "Yes, whoever did this to me is very wrong, but I'm moving on from the situation and I forgive them for whatever reason they chose to do it.
"I honestly would not like the person who pulled this stunt on me to be publicly humiliated. I wouldn't wish that on my worst enemy."
Bryant, who is from Nashville, initially began his career as a walk-on at Austin Peay and became a first-team All-Ohio Valley Conference defensive back by his senior season in 2019 after making 107 tackles (2.5 for loss). In his career, he played in 43 games for Austin Peay with 242 tackles (8.5 for loss), eight passes defended, three forced fumbles and an interception.
The Falcons declined to comment about the situation to ESPN, but Bryant's agent, Corey Alexander, tweeted that he has been in touch with the Falcons about what happened. A message left with Alexander seeking further comment was not immediately returned.
Juan has handled this situation with class. I hate the situation and have talked with representatives at the Atlanta Falcons. All parties involved are frustrated but @TheyLoveMyHair_ will get his opportunity soon. https://t.co/dCDSkx4B8C

— Coach Alexander (@coreyralexander) May 16, 2021
COVID-19 protocols limited the number of tryout players a team could have at its rookie minicamps the past two weeks. Atlanta had five players try out for the team this weekend — the maximum the team could have — and signed defensive lineman Olive Sagapolu, who was in training camp with the Detroit Lions last year, on Sunday.
Carolina in his mind? New York Jets rookie Zach Wilson catches a tough break – New York Jets Blog
FLORHAM PARK, N.J. — A look at what's happening around the New York Jets:
1. Wilson vs. Darnold: Zach Wilson's NFL debut will be off-Broadway in location only. In terms of theater, his Week 1 road showdown against predecessor Sam Darnold is worth a neon marquee.
While Jets-Carolina Panthers is being billed as Darnold's revenge game, the potential impact on Wilson can't be dismissed. Already facing huge expectations as the No. 2 pick and perceived franchise savior, the 21-year-old rookie and presumptive starter will be under magnified pressure in what amounts to a statement game.
Is that a fair way to look at it? No, but that's how it will play. The NFL schedule-makers, always lusting for drama, did the Jets no favors by staging Wilson versus Darnold. This is no soft opening, that's for sure.
Wilson hasn't commented yet on the matchup, but someone who knows him well believes he will be unfazed by the magnitude of it.
"He looks forward to opportunities like this," said former NFL quarterback John Beck, Wilson's longtime personal coach. "Because people kind of snubbed him young, meaning he wasn't heavily recruited [in high school], he could see these as opportunities to prove something.
"He's not one of those people who had everybody telling him how good he was. In situations like this, those [players] probably think, 'Oh, gosh, I may fail and, if I fail, what does that mean?' I think Zach views that as the opposite.
What you need to know about the New York Jets:
• Jets' free-agent signings »
• Free-agency coverage » | More NFL »
• Analysis for every Jets draft pick »
• Kiper's draft grades for every team»
• McShay's favorite pick for all 32 teams »
• Jets' 2021 schedule » | All games »
"To him, it's not him versus Sam Darnold. In Zach's mind, it's him taking the stage at his first regular-season game. To him, that's what this stage is about. Because of that, he wants to play really well in that situation. I think that type of challenge excites him."
Last month's Darnold trade wasn't a clear-cut decision for Jets general manager Joe Douglas, who admitted he considered the possibility of pairing Darnold and Wilson. Despite his struggles in New York, Darnold remains popular within the organization and the fan base. In that sense, it's probably a good thing the opener is on the road. If the day goes sideways, Wilson won't have to worry about fan backlash.
2. Two for the show: As expected, Wilson will wear No. 2. There's certainly not much Jets history associated with that number. The most recognizable player to wear No. 2 was place-kicker Nick Folk, a member of the team from 2010 to 2016. In terms of New York sports history, the all-time No. 2 is a no-brainer — former Yankees star Derek Jeter.
3. Sorry, wrong number: First-round pick Alijah Vera-Tucker will wear No. 75, which raises a question: Why is that number still in circulation? The Jets should retire that number because it belonged to the late great Winston Hill, who was recently inducted into the Pro Football Hall of Fame.
Other ex-Jets in the Hall of Fame — quarterback Joe Namath (12), wide receiver Don Maynard (13) and running back Curtis Martin (28) — had their numbers retired by the team. Even defensive lineman Joe Klecko (73), not a member of the HOF (even though he should be), had his number retired. Why should Hill, who wore No. 75 with distinction for 14 seasons, be different? By the same token, offensive lineman Kevin Mawae (68), inducted in 2019, also should be afforded that honor. No current player has No. 68.
Vera-Tucker wore No. 75 at USC, so his preference is understandable. Chuma Edoga, another former USC lineman, wore it for the Jets the past two years. No one should wear it again now that Hill has been posthumously honored in Canton.
The Jets, aware of the Hill situation, haven't ruled out adjustments in the future.
We wanted him. We got him 😏@ALIJAHVT | #TakeFlight pic.twitter.com/DzMUR2xRvZ

— New York Jets (@nyjets) April 30, 2021
4. Inside the schedule: Every team's schedule is filled with quirks and trends. Let's take a closer look at the Jets' slate:
Positives: They have 13 games at 1 p.m. ET, a franchise record. That's not great for national exposure, but it makes the coaches happy. Prime-time games cut into the following week's preparation. … The Jets and Chicago Bears are the only teams without back-to-back road games. … They face only one 2020 playoff team (Tennessee Titans) in their first seven games. … Starting in Week 10, they have six home games in a span of eight weeks, their first such stretch since 1976. … They could benefit from an unbalanced schedule. Due to the 17-game schedule and a London game, the Jets have nine home games, seven true road games and one international game. The Miami Dolphins have the same situation.

Negatives: The bye is Week 6, the earliest it can be. (Three other teams have the early bye.) For the Jets, it comes after their trip to London. That means they have to close the season with 12 straight games, which will be taxing. … Their rest differential is minus-2 days. That's not ideal, but it's better than the New England Patriots (-15) and Dolphins (-6). (Note: The Jets had a plus-8 differential last season, which did them no good.) … They're away from home in four of the first six games, which could be a factor now that stadiums are expected to be at full capacity again. … Five of the Jets' final 10 games are against 2020 playoff teams.
5. Did you know? The Jets play the Patriots in Weeks 2 and 7. If Wilson starts against Mac Jones, who will supplant Cam Newton at some point, it will mark the first time in the history of the Jets-Patriots rivalry that two rookie quarterbacks started. That covers 121 regular-season games. Tom Brady started 36 of them, none as a rookie, which explains a lot.
6. No opt-outs: Before the 2021 NFL draft, Douglas was on the fence when asked how he would evaluate prospects who opted out for 2020. On one hand, he said it would be a "challenge" to grade players based on 2019 tape. But he made sure to note he respected the wishes of those who decided not to play, ostensibly for COVID-19 concerns. (Wink, wink.)
As it turned out, no fewer than 19 teams drafted at least one player who opted out for the entire college season — but not the Jets. Wide receiver Elijah Moore opted out for the final two games at Ole Miss, but he still had eight highly productive games on tape in 2020. Douglas picked players who played, and I don't think that was a coincidence. He's all about minimizing risk, and he recognized opt-outs carried more risk than other players.
7. Super sleeper: For obvious reasons, the Jets' third-day defensive draft picks didn't get much exposure, but one name to watch is fifth-round pick Jamien Sherwood, the safety/linebacker hybrid. He was a tackling star at Auburn, but his pro evaluation dropped with a disappointing 40-yard dash (4.74 seconds) at his pro day. The Jets see him as an ideal fit as a weakside linebacker in their 4-3 front — a wide-open position — and there's some thought he could emerge as the starter. He played safety with a linebacker mentality.
8. Looking for gems: The Jets were aggressive in signing undrafted free agents, doling out relatively large guarantees for coveted players. Oregon State cornerback Isaiah Dunn got $185,000 and Ole Miss tight end Kenny Yeboah received $180,000, according to ESPN Stats & Information. Those were two of the league's biggest guarantees.
9. Whatever happened to…: Most of the members of the Jets' previous coaching staff landed jobs in the pro and college ranks. Of the coordinators and position coaches on Adam Gase's staff, only Gregg Williams (defensive coordinator), Joe Vitt (outside linebackers) and Jim Bob Cooter (running backs) are out of coaching. Vitt, Gase's father-in-law, could retire. Gase, too, is not coaching; he has two years left on his contract.
10. The last word: "He's a fantastic guy. I think he's the leader of men that the Jets need. I think he's going to be one of the biggest parts of the rebuild phase." — center Connor McGovern on coach Robert Saleh, via inforum.com in Fargo, North Dakota (his hometown).