Veteran infielder Will Middlebrooks, who signed a minor league contract with the Philadelphia Phillies last month, suffered a broken left leg during Saturday's spring training game, manager Gabe Kapler told reporters.
Playing third base, Middlebrooks was injured in the eighth inning when he drifted back while attempting to catch a pop fly. Left fielder Andrew Pullin was coming in on the ball, and Middlebrooks' ankle appeared to get caught underneath Pullin.
Middlebrooks was attended to by trainers before leaving the field on a cart.
Kapler said Sunday that Middlebrooks has a broken fibula and his ankle still needs further evaluation. No timetable has been given on Middlebrooks' recovery.
Middlebrooks, 29, has played just 32 games in the majors the past two seasons, hitting .211 in 38 at-bats with the Texas Rangers in 2017. For his career, he is a .228 hitter with 43 homers and 155 RBIs.
Corey Kluber takes step in rehab, throws light mound session for New York Yankees
Corey Kluber's return to the New York Yankees rotation was questionable after being sidelined in late May due to a shoulder strain, but the two-time AL Cy Young Award winner said Friday he is "very confident" he can return this season.
"[I am confident] because of the way I've felt throwing, the way I bounce back, the calendar, things like that," Kluber said before the Yankees' 6-2 loss to the Boston Red Sox at Fenway Park. "The way I look at it is that I'm not really trying to think I'm up against a timeline because I think the natural process of the rehab will allow for that."
Yankees manager Aaron Boone said Kluber threw 25 pitches Friday in his first mound session since being placed on the 60-day injured list, calling it "a good step for Corey."
In his first outing following his first career no-hitter in May, Kluber was pulled after throwing three innings against the Toronto Blue Jays. An MRI showed a subscapularis strain of his right shoulder, which led to his current stint on the injured list.
Kluber's shoulder strain required full rest for at least four weeks, followed by at least four weeks of rehabilitation. And though he will be eligible to come off the IL on July 25, Kluber avoided offering a specific timeline for his return.
Kluber described his throws on Friday as "easy fastballs," adding that it was "nothing like I would do in a regular bullpen session."
"I have to sit back and wait for the process to unfold," he said. "I've just found it's easier for me to take it day by day and not get ahead of myself, not look too far in advance. I think that's probably the best way … It's about paying attention to the way you recover and the way you bounce back when there is a new step along the way."
The 35-year-old Kluber had worked his way back from injury to earn his place as the No. 2 starter in New York behind Gerrit Cole. Kluber went 4-2 with a 2.86 ERA and 50 strikeouts before the injury.
Also Friday, catcher Gary Sanchez was taken out of the game in Boston with what the team described as "mid-back spasms."
With Cole's personal catcher, Kyle Higashioka, still on the COVID-19 IL, Sanchez caught Cole for a second straight start. The Yankees ace threw five innings and was tagged with his fifth loss of the season after allowing three runs on six hits, including Rafael Devers' first of two home runs. The Cole-Sánchez battery held the Red Sox to one run in six innings in the Yankees' rain-shortened victory at Yankee Stadium last Saturday.
"We'll see how he responds overnight," Boone said about Sánchez's availability for the rest of the series. "He's in there getting treatment now, and we'll see where we're at tomorrow. It's just something that locked up on him and hopefully it's a short-term thing."
Boston Red Sox lefty Eduardo Rodriguez exits with migraine symptoms
BOSTON — Losing starter Eduardo Rodriguez once again to injury was not in the Boston Red Sox's plans. The club is hoping for the best after Rodriguez had to be taken out in the second inning of Friday night's game against the New York Yankees with what was later described by the Red Sox as "migraine symptoms."
Rodriguez had a solid first inning, retiring the three Yankees he faced on 11 pitches. In the second frame, Rodriguez issued a lead-off walk to Gary Sanchez, followed by a hit by Gleyber Torres and an RBI double by Brett Gardner, which gave the Yankees an early 1-0 lead.
It was after facing Gardner that Rodriguez was approached by the Red Sox trainers and medical staff on the mound. After a short check-up, Rodriguez walked off the field under his own power, appearing dazed and covered with sweat, accompanied by the Red Sox trainers.
Right-hander Phillips Valdez took over for Rodriguez, who threw only 25 pitches.
After missing all of last season with heart complications due to myocarditis after contracting COVID-19, Rodriguez has returned to full health. Nonetheless, the 28-year-old lefty has logged a subpar 2021 season, which he has called the "hardest" of his career.
Manager Alex Cora has repeatedly praised Rodriguez and believes that he could return to his 2019 form and finish the year strong. Rodriguez came into Friday night's game with a 7-2 record and a 5.19 ERA.
"I'm glad he's healthy, I'm glad he's throwing the ball well and we'll count on him in the second part of the season," Cora said ahead of the All-Star break. "Little by little, he keeps putting his pieces together. Now, he's the guy we saw in 2019, the guy we saw in the playoffs in 2018."
In his first game since the All-Star break on Friday, July 16, Rodriguez threw 5⅔ scoreless innings and struck out eight batters in Boston's 4-0 win over the Yankees.
Hearing for restraining order requested against Trevor Bauer postponed until Aug. 2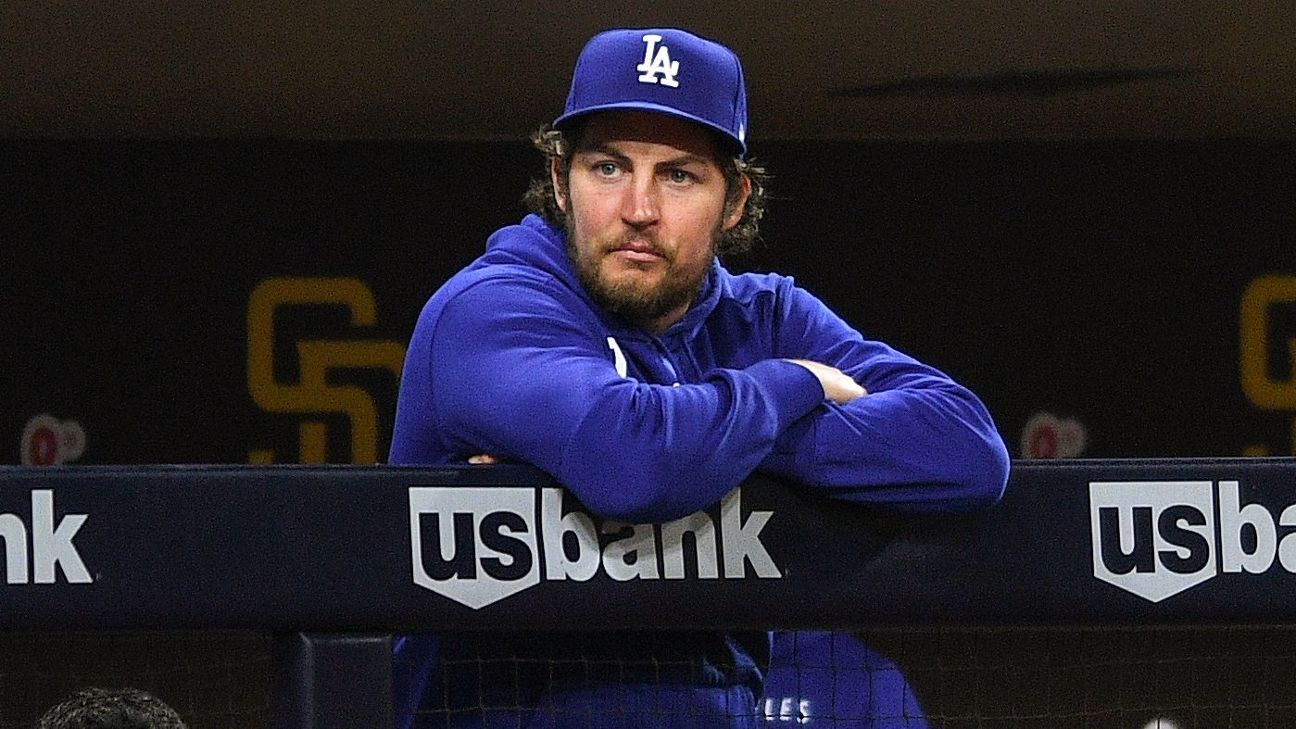 LOS ANGELES — The civil hearing for a restraining order requested against Los Angeles Dodgers pitcher Trevor Bauer has been postponed to Aug. 2 after Bauer's legal team requested more time to prepare a defense against witnesses and documents that it claimed to have received only recently.
Judge Dianna Gould-Saltman set aside Aug. 2, 3 and 19 for the hearing, which is expected to take between two and three days. The temporary restraining order against Bauer will remain in place until the hearing is complete. Bauer's administrative leave expires on Tuesday, but Major League Baseball can extend it once again with consent by the MLB Players Association.
Bauer was present for the hearing in L.A. Superior Court on Friday, wearing a burgundy suit and quietly staring straight ahead throughout the proceedings. Also present was the woman who has accused him of sexual assault. Bauer's legal team told the judge that it has advised him not to testify given the ongoing criminal investigation for alleged sexual assault. But the petitioner's side stated that he must nonetheless take the stand, even if he utilizes his Fifth Amendment rights to not answer questions, to which the judge seemingly agreed. Both sides will call witnesses.
MLB and the City of Pasadena Police Department are conducting separate investigations into Bauer, who has been accused by a woman of choking her until she lost consciousness on multiple occasions, punching her in several areas of her body and leaving her with injuries that required hospitalization over the course of two sexual encounters earlier this year, according to a domestic violence restraining order that was filed in L.A. County Superior Court in late June, copies of which were obtained by ESPN.
The restraining order was executed as a temporary ex parte, which can be attained without input from the other party. Bauer's side told the judge it plans to fight against the declaration "at great length" and previously issued a statement denying that Bauer had assaulted the woman, calling the encounters "wholly consensual."
The Dodgers have canceled Bauer's bobblehead night, which was scheduled for Aug. 19, and have removed all of his merchandise from the team and online stores, saying they "did not feel it was appropriate" given the investigations. Bauer, the 2020 National League Cy Young Award winner as a member of the Cincinnati Reds, joined the Dodgers with a record-setting three-year, $102 million contract in February.