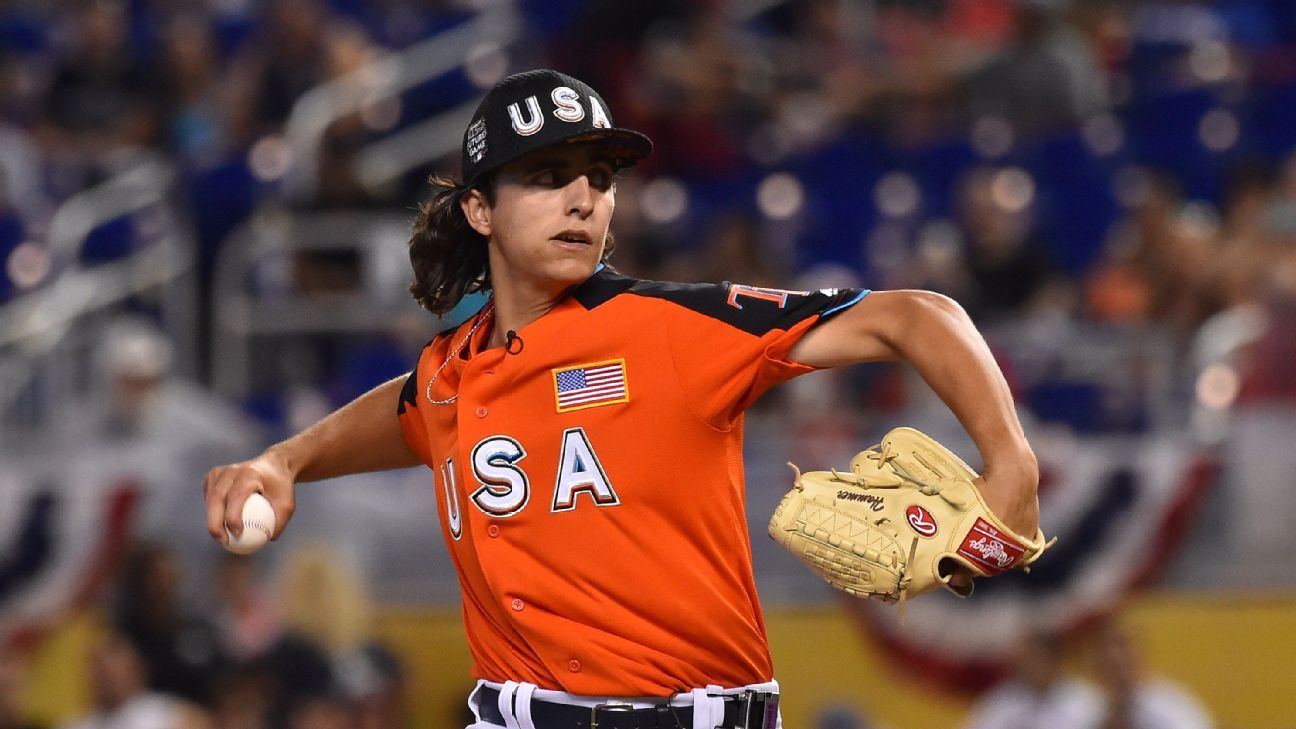 PORT CHARLOTTE, Fla. — Brent Honeywell, the top pitching prospect for the Tampa Bay Rays, has a torn ulnar collateral ligament in his right arm and will have Tommy John surgery, sidelining him for the entire season.
The 22-year-old right-hander was hurt during a live batting practice session Thursday at spring training.
He was diagnosed with a strained forearm before further tests confirmed the severity of the injury. Honeywell says he will seek a second opinion from Dr. James Andrews even though he intends to have the operation.
One of the top young prospects in baseball, Honeywell was 12-8 with a 3.64 ERA in 24 starts for Triple-A Durham last season. He also was MVP of last year's All-Star Futures Game.
He wasn't expected to make Tampa Bay's starting rotation coming out of spring training. The team, however, was confident he would be ready to contribute on the major league level this summer.
Braves further bolster outfield, acquire slugger Jorge Soler from Royals
The Atlanta Braves have bolstered their lineup by acquiring slugger Jorge Soler from Kansas City in exchange for right-hander Kasey Kalich, the team announced Friday.
The deal comes hours after the Braves added fellow outfielder Adam Duvall in a trade with the Miami Marlins for catcher Alex Jackson.
Soler, 29, is batting .201 with seven home runs and 18 RBIs. He has failed in the past two seasons to match his breakout 2019 season, when he played all 162 games and hit a Royals club-record 48 homers, but will still provide a strong right-handed power bat to the Braves' lineup.
The Braves needed to revamp their outfield as they attempt to remain in the hunt for a fourth consecutive NL East title. Atlanta suffered a severe blow to its playoff hopes when it lost Ronald Acuna Jr. to a season-ending knee injury on July 10.
In a separate trade, Atlanta also acquired pitcher Richard Rodriguez from the Pittsburgh Pirates for two minor leaguers.
St. Louis Cardinals acquire left-handers Jon Lester, J.A. Happ prior to deadline
ST. LOUIS — The St. Louis Cardinals acquired left-handers Jon Lester from the Washington Nationals and J.A. Happ and cash from the Minnesota Twins on Friday, in deals finalized in the last hour before the trade deadline.
In exchange, the Cardinals sent right-handed pitcher John Gant and a minor-leaguer to the Twins and outfielder Lane Thomas to the Nationals.
The 38-year-old Happ is in his 15th major league season, his first with the Twins after signing for $8 million this year.
Happ started strong, coming within five outs of a no-hitter on April 23 against Pittsburgh, but over his last 14 starts he has an 8.74 ERA with 109 hits and 19 homers allowed in 70 innings. For his career, Happ has a career record of 128-98 with a 4.13 ERA. The Cardinals will be his eighth major league team. He followed José Berríos out of Minnesota's rotation, after the Twins traded the right-hander to Toronto earlier on Friday.
The 28-year-old Gant is 4-6 with a 3.42 ERA in 25 appearances this season for the Cardinals, including 14 starts. Since moving to the bullpen on June 28, he has a 1.54 ERA in 11 2/3 innings with a .167 opponent batting average. He started his major league career with Atlanta in 2016.
The Cardinals also sent minor league left-handed pitcher Evan Sisk to he Twins in the deal. Sisk had a 3.31 ERA with 20 walks and 46 strikeouts in 32 2/3 innings over 26 relief appearances between Class A Peoria and Double-A Springfield.
The Twins were in St. Louis on Friday to start a three-game series.
The Associated Press contributed to this report.
Cleveland Indians acquire OF Myles Straw from Houston Astros for reliever Phil Maton
CLEVELAND — The Indians made another trade just before the deadline Friday, sending reliever Phil Maton to the AL West-leading Houston Astros for outfielder Myles Straw.
Cleveland, which dealt second baseman Cesar Hernandez and outfielder Eddie Rosario in separate trades, also sent catcher Yainer Diaz to Houston for the speedy Straw, who will fill an open outfield spot for the remainder of this season – and maybe beyond.
Maton has been used in a setup role this season, his third with the Indians. The 28-year-old right-hander was 2-0 with a 4.57 ERA in 38 appearances.
The 26-year-old Straw batted .262 with two homers and 34 RBI in 98 games for the Astros. He has also scored 44 runs and is currently tied second in the AL with 17 steals in 22 attempts.
Straw has also played well defensively, and did not commit an error over 96 games in center field.
A right-handed hitter, Straw was drafted in the 12th round by Houston in 2015.