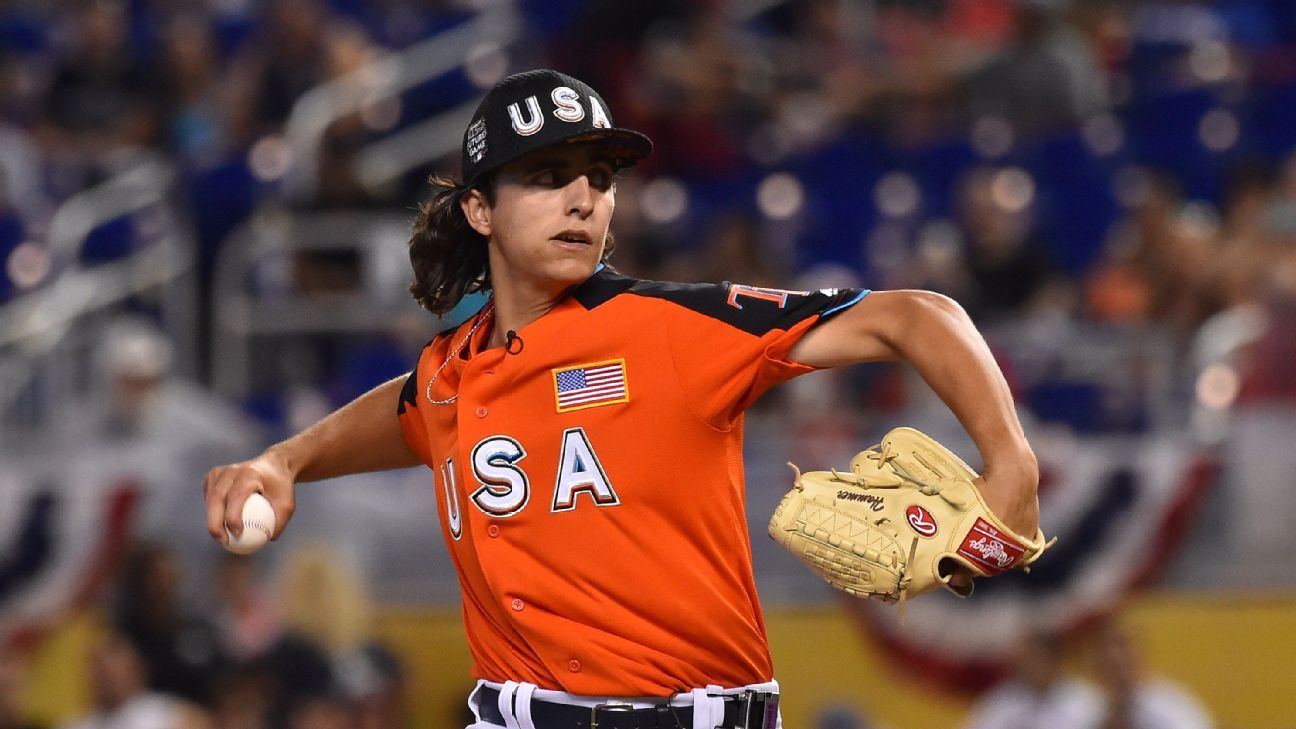 PORT CHARLOTTE, Fla. — Brent Honeywell, the top pitching prospect for the Tampa Bay Rays, has a torn ulnar collateral ligament in his right arm and will have Tommy John surgery, sidelining him for the entire season.
The 22-year-old right-hander was hurt during a live batting practice session Thursday at spring training.
He was diagnosed with a strained forearm before further tests confirmed the severity of the injury. Honeywell says he will seek a second opinion from Dr. James Andrews even though he intends to have the operation.
One of the top young prospects in baseball, Honeywell was 12-8 with a 3.64 ERA in 24 starts for Triple-A Durham last season. He also was MVP of last year's All-Star Futures Game.
He wasn't expected to make Tampa Bay's starting rotation coming out of spring training. The team, however, was confident he would be ready to contribute on the major league level this summer.
Los Angeles Dodgers' Cody Bellinger (calf) day-to-day as tests show no fractures
Los Angeles Dodgers star Cody Bellinger is day-to-day after tests on his injured calf showed no structural damage or fractures, manager Dave Roberts said after Tuesday night's 5-1 win over the Oakland Athletics.
Bellinger was unavailable Tuesday and will also miss Wednesday's game, according to Roberts, who added that he wasn't sure whether Bellinger would land on the injured list.
"There's still obviously residual soreness, so I don't know what we're going to do as far as IL, no IL," Roberts said. "I think we're in a decent spot, but even with that, I just don't know when the return will be."
Bellinger was hurt when he was spiked by A's reliever Reymin Guduan on Monday while beating out an infield single in the ninth inning.
Diamondbacks vs. Rockies – Live Game – April 6, 2021
10th
Fuentes doubled to left, Díaz scored.
6
6
10th
Walker scored on error, Cabrera safe at first on fielding error by first baseman Cron.
6
5
9th
Hilliard homered to right (455 feet).
5
5
7th
McMahon homered to right (412 feet).
5
4
7th
Vogt homered to right (385 feet), Perdomo scored.
5
3
6th
Walker homered to left (420 feet), Marte scored.
3
3
5th
Weaver singled to right center, Cabrera scored, Perdomo to third.
1
3
4th
McMahon homered to center (420 feet).
0
3
2nd
Nuñez homered to right (390 feet).
0
2
2nd
McMahon homered to right (415 feet).
0
1
Seattle Mariners' James Paxton leaves with left elbow discomfort after throwing 24 pitches
SEATTLE — Left-hander James Paxton departed the first start of his second stint with Seattle due to discomfort in his pitching elbow after throwing just 24 pitches against the White Sox on Tuesday night.
The Mariners announced the initial diagnosis on Paxton two innings after he left the game. Paxton remained in the dugout to watch after he left the mound.
Paxton grimaced after throwing a 92 mph fastball to Chicago's Andrew Vaughn with one out in the second inning. Mariners manager Scott Servais and a trainer immediately came to the mound while Paxton bent over with his hands on his knees. After some discussion, Paxton walked off and was replaced by Nick Margevicius.
Paxton, who spent the last two seasons with the New York Yankees after playing his first six years for Seattle, returned to the Mariners in February on a one-year deal worth $8.5 million.
He had surgery in February 2020 to repair a herniated disk and remove a cyst from his back. He went 1-1 with a 6.64 ERA in five starts for New York last year before being shut down with a left forearm strain.
Paxton can earn an additional $1.5 million in performance bonuses for games started: $150,000 each for six to 10 and $750,000 more over starts 11-22.