Veteran infielder Will Middlebrooks, who signed a minor-league contract with the Philadelphia Phillies last month, left Saturday's spring training game with what appeared to be an injury to his left ankle or leg.
Playing third base, Middlebrooks was injured in the eight inning when he drifted back while attempting to catch a pop fly. Left fielder Andrew Pullin was coming in on the ball and Middlebrook's ankle appeared to get caught underneath Pullin.
Middlebrooks was attended to by trainers before leaving the field on a cart. The team said he was taken to a hospital for X-rays.
Middlebrooks has played just 32 games in the majors the past two seasons, hitting .211 in 38 at-bats with the Rangers in 2017. For his career, he's a .228 hitter with 43 homers and 155 RBI.
"It was kind of one of those balls that's in-between," Pullin told reporters, according to MLB.com "I was running hard and I didn't hear him call it, and I didn't call it because I wasn't sure if I could get to it. At the last minute I slid for it. I'm not sure if he called it."
Manager Gabe Kapler told reporters it was an emotional moment and that Middlebrooks was disappointed that he had to leave the game.
"You put yourself in his position. A ton of hard work leads up to that moment," Kapler said. "[He gave] everything he [had] on that play."
Chicago White Sox manager Tony La Russa admits he didn't know extra-inning rule
Chicago White Sox manager Tony La Russa is under the microscope again.
La Russa said he didn't fully know the extra-inning rule that would have allowed him to avoid using closer Liam Hendriks as a baserunner in a 0-0 game against the Reds on Wednesday in Cincinnati.
Hendriks had double-switched into the game in the bottom of the ninth inning, taking the No. 5 spot in the batting order, which made the last out in the top of the frame. Per MLB rules, as extra innings begin, the spot in the order to make the last out in the previous inning becomes the baserunner at second base. However, if that spot is occupied by a pitcher, the team has the option to use the preceding player in the batting order as the runner. In this case, it would have been Jose Abreu.
"I didn't know that," La Russa said after the 1-0 loss. "We all thought Liam was going to be the runner. I wasn't aware Abreu could have run. I thought it was the guy that made the last out or the spot in that order."
Besides the obvious injury risk to a player who has run the bases once in his entire career, the choice to run Hendriks impacted the inning. While he was on third base with one out, Reds catcher Tucker Barnhart didn't hesitate to throw to second base to nail Leury Garcia, who was trying to steal — despite the potential winning run at third. Barnhart knew Hendriks likely wasn't going to go home on a double-steal attempt.
"[Garcia] can run," La Russa said. "We wanted to be aggressive. They threw him out."
Even in talking out the White Sox strategy, the team was concerned with Hendriks' safety. La Russa said he was hoping for an easy sacrifice fly or another way for Hendriks to score that wasn't stressful. It didn't matter after Billy Hamilton struck out to end the inning.
"We were going to try and avoid any kind of contact at home plate," La Russa said.
La Russa admitted he wasn't aware of the rule until hearing it read by a reporter in the postgame Zoom session.
"I'm guessing you know the rules better," he said. "Now I know."
The White Sox named La Russa their manager in October.
Joey Votto of Cincinnati Reds suffers broken left thumb after being hit by pitch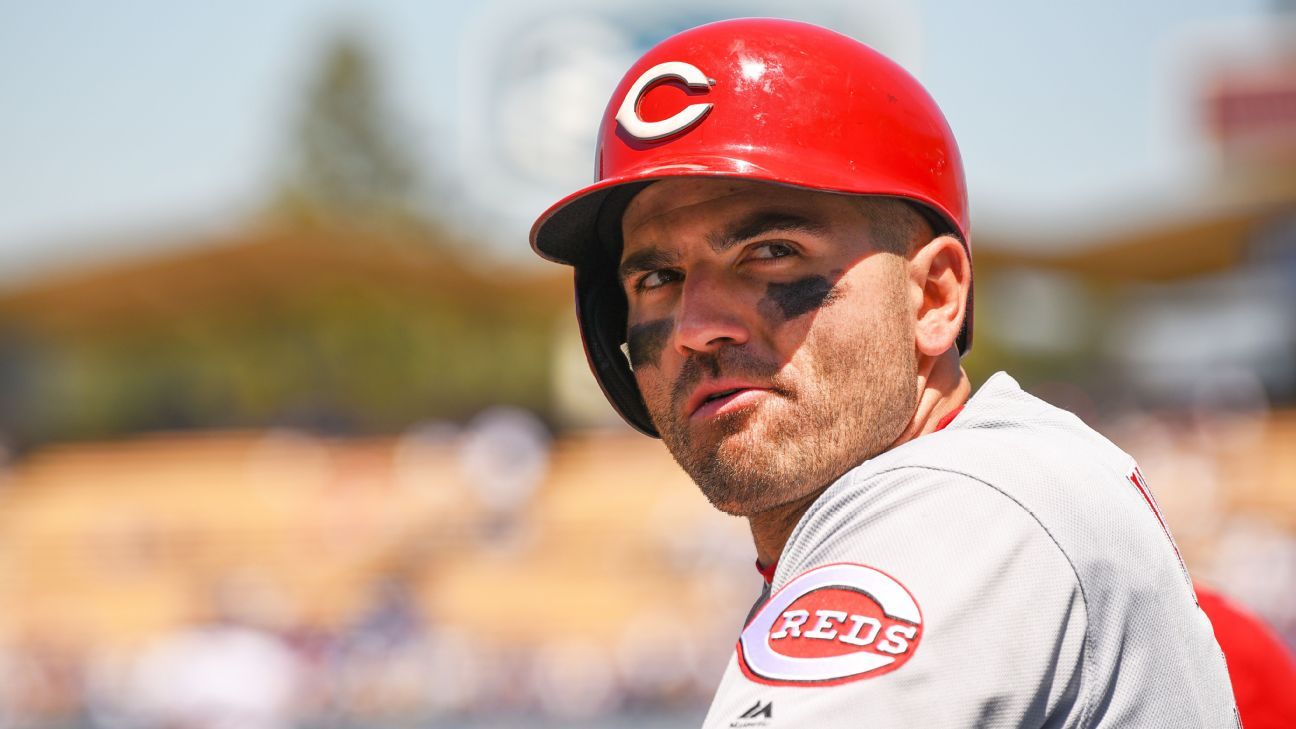 Cincinnati Reds first baseman Joey Votto suffered a broken left thumb in the team's 1-0 victory against the visiting Chicago White Sox on Wednesday.
Votto is not expected to need surgery but could miss up to a month.
Kyle Farmer is among the options at first.
"We'll figure it out," manager David Bell said.
Votto was hit by a Dallas Keuchel pitch in the fourth inning. He remained in the game, but in the sixth was replaced at first base by Farmer.
"I knew I was in pain," Votto said after the game, according to MLB.com. "I thought I was being a baby. I just wanted to stay in the game, but I didn't think I could grip the bat and I was having a hard time putting my glove on. I could run and I was moving well, and I thought, 'Just give it some time, it should shake at some point. Maybe it's just one of those [where] your thumb gets jammed in a door or something like that and it just goes away.' It broke, what are you going to do?"
Keuchel expressed regret.
"It's a joy to pitch against him," Keuchel said. "You never want that to happen. I wish him well."
Votto is hitting .226 with five home runs and 17 RBIs.
Information from The Associated Press was used in this report.
Longtime Baltimore Orioles pitching coach Ray Miller dies at 76
Longtime pitching coach Ray Miller, who served as manager of the Minnesota Twins and Baltimore Orioles during his career, died Tuesday at the age of 76, it was announced Wednesday.
"His legacy will forever be enshrined in our organization's history, having guided some of the greatest Orioles pitchers," the team said in a statement. "… We send our deepest condolences to his beloved family and his many fans throughout our great game."
Miller served three stints as a coach with the Orioles, including two seasons as manager in 1998 and 1999, when he compiled a 157-167 record. He also served as manager of the Twins during parts of the 1985 and '86 seasons, going 109-130.
The Orioles listed Jim Palmer, Mike Flanagan, Scott McGregor, Steve Stone and Mike Boddicker as just some of the pitchers Miller coached during his time with the team, which included the 1983 World Series title and the 1979 American League pennant.
He also served as pitching coach of the Pittsburgh Pirates from 1987 to 1996.
"Ray Miller was a beloved member of the Pirates organization for 10 seasons whose passion and dedicated played an instrumental role in the team's three straight postseason appearances from 1990-92," the Pirates said in a statement. "He was respected not only as a pitching coach by players in the Pirates organization, but also throughout the entire game of baseball."
He was enshrined in the Orioles Hall of Fame in 2010.