Jacksonville Jaguars reach 3-year extension with QB Blake Bortles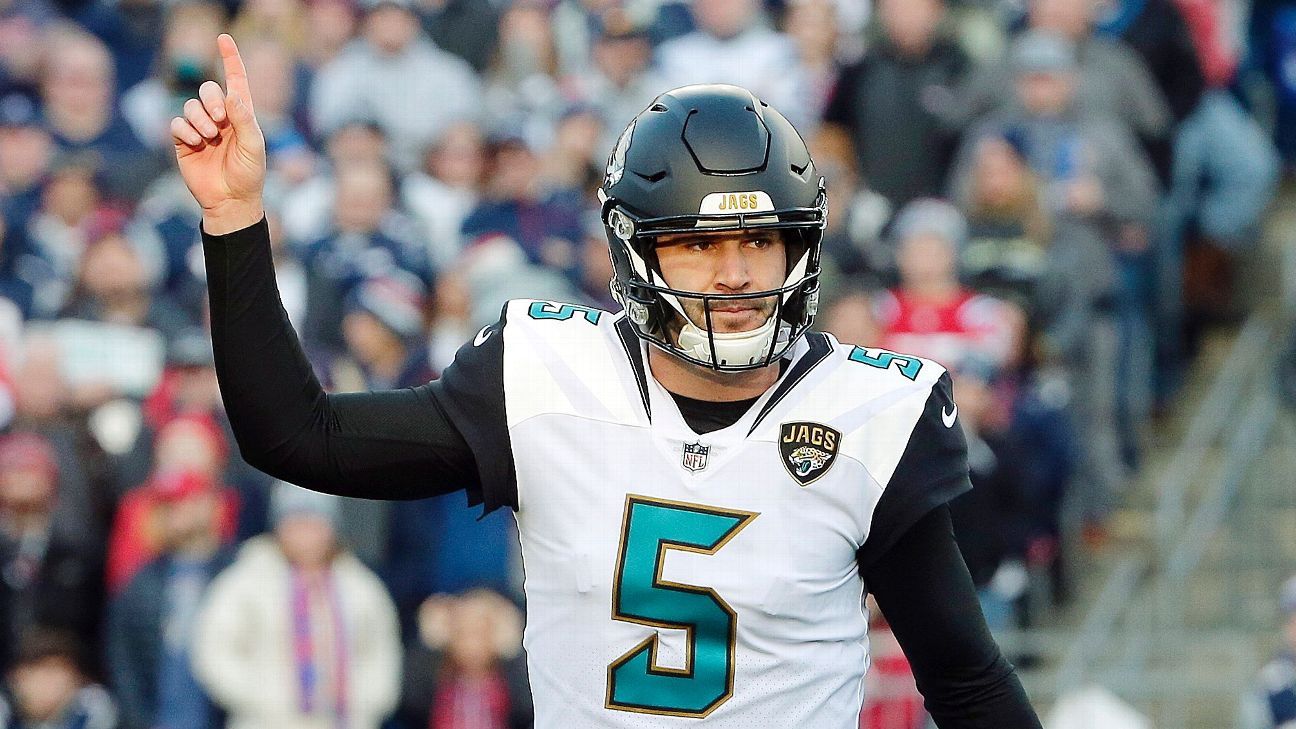 JACKSONVILLE, Fla. — The Jacksonville Jaguars have re-signed quarterback Blake Bortles to a three-year contract extension through the 2020 season, the team announced Saturday.
The deal is for $54 million and could be worth up to $66.5 million with incentives, a source told ESPN's Adam Schefter. The deal also includes $26.5 million in guaranteed money, according to the source.
Bortles was due to make $19.053 million in 2018 after the team picked up his fifth-year option last May.
"I told Ryan [Tollner], my agent, let's just get it done so I can just go play football. I really would love to just know and have confirmation that this is where I'm going to be, and now let's go work and continue to build on what we did last year and go play," Bortles said. "So, happy and relieved. Obviously extremely excited. It's a dream come true to be able to sign a second contract by the team that drafted me. That was one of my goals from the start so excited to get it all done and get rolling now."
Bortles had a rough start to the 2017 season — he had a five-interception practice in training camp and coach Doug Marrone opened up the quarterback competition during the preseason — but he rebounded and put together the best year of his career. Bortles completed 60.2 percent of his passes (the first time he surpassed the 60 percent mark) for 3,687 yards and 21 touchdowns with 13 interceptions.
"I've been around Blake for the past three seasons, only one as the head coach, but I have seen him grow considerably in all facets: the way he prepares, the way he takes care of his body, the way he leads the team, the way he holds himself and his teammates accountable," Marrone said.
"I have said it all along — I think Blake is one of the toughest people I have ever met, and I'm talking about his mental and physical toughness. He never lets the outside noise get him away from where his focus is, which is always on being a great teammate and being a great leader for our organization."
The Jaguars went 10-6 and won the AFC South — the franchise's first division title since 1999 — and made the playoffs for the first time since the 2007 season. The Jaguars beat the Buffalo Bills at home and Pittsburgh Steelers on the road to reach the AFC Championship Game against New England at Gillette Stadium.
The Jaguars held a 10-point fourth-quarter lead before the Patriots rallied for a 24-20 victory.
Bortles completed 58 percent of his passes for 598 yards and three touchdowns with no interceptions in the postseason. He also ran 17 times for 121 yards, including 88 yards in the victory over Buffalo. He led a pair of fourth-quarter touchdown drives to help the Jaguars beat the Steelers 45-42.
Bortles didn't exactly have a full complement of receivers, either. Allen Robinson suffered a torn left ACL on the third play of the season, and veterans Allen Hurns and Marqise Lee combined to miss eight games. Undrafted rookie Keelan Cole and fourth-round pick Dede Westbrook, who missed the first nine games of the season recovering from sports hernia surgery, were Bortles' main options during a late-season stretch.
"Blake's growth and development last season was a key to the success we had as a team," said Tom Coughlin, the Jaguars' executive vice president of football operations. "Blake has proven, with toughness and dependability, that he can be the leader this team needs going forward. Along with this contract come high expectations that he will continue to improve and help our team accomplish its ultimate goal."
The Jaguars drafted Bortles third overall in 2014. After a rough rookie year he seemed to have a breakout season in 2015, when he set single-season franchise records in passing yards (4,428) and passing touchdowns (35).
However, he also threw 18 interceptions that season. The former UCF standout led the NFL in turnovers from 2014 to 2016 (63), and his 51 interceptions during that span were second only to Philip Rivers' 52.
Bortles regressed in 2016, and Coughlin, who was hired in January 2017, put him on notice to cut down on turnovers. Bortles averaged 21 turnovers in each of his first three seasons but turned the ball over 16 times in 2017, including an interception that was ripped away from tight end James O'Shaughnessy.
Bortles has completed 59.1 percent of his passes for 14,928 yards and 90 touchdowns with 64 interceptions in four seasons with the Jaguars. He has run for 1,410 yards and seven touchdowns and is 21-40 as a starter.
Bortles ranks second in franchise history in touchdown passes and interceptions and third in passing yards, attempts and completions.
Falcons' Hayden Hurst shares support for Cowboys' Dak Prescott speaking on mental health
Atlanta Falcons tight end Hayden Hurst said he approached Dallas Cowboys quarterback Dak Prescott after Sunday's game to express his support in the wake of what Hurst called "disgusting" comments made by Fox Sports 1's Skip Bayless about Prescott's opening up about his mental health.
Prescott recently shared in an episode of "In Depth with Graham Bensinger" that he sought help in the offseason for anxiety and depression brought on by the death of his older brother, Jace, and the coronavirus pandemic. Jace Prescott died by suicide in April. Dak Prescott also lost his mother to colon cancer in 2013.
In response to Prescott's comments, Bayless said on his "Undisputed" show, "I don't have sympathy for [Prescott] going public with, 'I got depressed' and 'I suffered depression early in COVID to the point that I couldn't even go work out.' Look, he's the quarterback of America's team." Fox later issued a statement condemning Bayless' remarks.
Hurst, who has been open about attempting suicide and dealing with anxiety and depression, said he was appalled by Bayless' words.
"To be totally honest with you, when I saw what Skip Bayless said, it just really upset me — that Dak had the courage to come out and talk about that and how it affected his family, how it affected him — and those [Bayless] comments, I thought, were just disgusting," Hurst told ESPN on Tuesday night. "For a guy to come out and talk about that topic and use his platform to try and help and save lives, I've got nothing but respect for him because I know how hard it is going through stuff like that.
"It hit my family hard. My uncle killed himself. My cousin killed himself. And I had my own stuff with addiction and my attempted suicide. I know how much courage it takes to come out and talk about that. And for a guy like [Bayless] to blast Dak on his show, on national television, I think that's just wrong. So I wanted to go up to Dak and talk to him and tell him how much I appreciated it."
Following the Cowboys' 40-39 win over the Falcons on Sunday, video captured Hurst stopping Prescott to say, "Hey, I've got a lot of respect for what did, came out and talked about. Me and my mom have a foundation about suicide prevention. Respect the hell out of you for talking about it, man."
Prescott responded with a suggestion that they collaborate one day, to which Hurst replied, "Absolutely."
"I thought it was awesome," Hurst told ESPN. "I'm sure Dak Prescott doesn't really know who I am. But I know the courage that takes, because a lot of people don't like talking about mental health. They're afraid to talk about it. They're embarrassed. If guys like Dak Prescott can come out and talk about it, I think he's going to save a lot of lives. I think that's cool. I admire him. And I'll be a Dak Prescott fan forever. I think he's an awesome guy."
Hurst previously shared his story about attempting suicide in January 2016 when he was in college at South Carolina. He had an unsuccessful stint in minor league baseball as a pitcher due to a throwing condition known as "the yips," started using drugs and drinking heavily, then tried to slit his wrist. He survived what he called his "come to Jesus moment" and now tries to educate others about dealing with depression.
Hurst established the Hayden Hurst Foundation with his mother, Cathy, to raise awareness of mental health issues in children and adolescents by funding mental health services and programs through donations and fundraising events. The foundation will host a charity golf event Oct. 19 in Atlanta.
New York Giants adding Devonta Freeman on 1-year, $3 million deal
EAST RUTHERFORD, N.J. — The New York Giants are signing former Pro Bowl running back Devonta Freeman after losing Saquon Barkley for the season.
Freeman and the Giants agreed to a one-year deal worth up to $3 million, Freeman's agent, Drew Rosenhaus, told ESPN's Adam Schefter on Tuesday. Freeman will sign the contract Wednesday morning, practice with the Giants later Wednesday and could play as soon as Sunday.
"Devonta turned down more money from other teams because he likes the opportunity with the Giants best," Rosenhaus told Schefter.
Barkley tore the ACL in his right knee in Sunday's 17-13 loss to the Chicago Bears. Dion Lewis took every snap in his absence.
Freeman, 28, spent the first six years of his career with the Atlanta Falcons. He has two 1,000-yard rushing seasons (2015-16) and has averaged 4.2 yards per carry throughout his career.
But Freeman had 656 yards rushing and two touchdowns on 184 carries (3.6 ypc) last season. The Falcons let him walk as a free agent this offseason and instead signed Todd Gurley.
Freeman had other opportunities this offseason. He turned down a deal that could have been worth $3 million with the Seattle Seahawks and recently visited with the Philadelphia Eagles.
But the Giants currently offer Freeman the best opportunity for touches with Barkley lost for the season. They have Lewis and Wayne Gallman on the active roster. Veteran Rod Smith is on the practice squad.
"Wayne and Dion are definitely guys that will factor in," coach Joe Judge said Monday. "We'll work to their strengths, they are two different types of backs. Both of them have a degree of toughness. Wayne's got that long speed, get him ranging out and get him really moving. Dion's got that real good short area quickness and burst to get going. He does a great job of finding small seams and getting through the hole. They are both different guys, we're going to have to work with what they do well to give them an opportunity to be successful."
Now add Freeman, who visited the Giants on Tuesday, to the mix.
Barkley was placed on injured reserve earlier Tuesday. Cornerback Ryan Lewis was added to the active roster.
Raiders' Jon Gruden, Saints' Sean Payton fined $100K for violating mask protocols
Las Vegas Raiders coach Jon Gruden and New Orleans Saints coach Sean Payton have both been fined $100,000 by the NFL for not wearing masks on the sideline during Monday night's game, a source told ESPN's Adam Schefter.
The Raiders and Saints also have each been fined $250,000, the source said.
The fines are the same that the NFL levied Monday against the Denver Broncos and Vic Fangio, the Seattle Seahawks and Pete Carroll and the San Francisco 49ers and Kyle Shanahan for similar violations this past Sunday of the league's COVID-19 game-day protocols.
"I had a coach who was reminding me about it throughout the game, [running backs coach] Chad Morton was on my ass the whole night. He was reminding me the whole time," Carroll told the Seahawks' website on Tuesday. "I even changed masks at halftime to find one that worked better. Sometimes you've got to get coached up. Sometimes you have to admit that that you screwed up and have got to do better."
"We wear masks all day at practice, we wear them around the building," Carroll said. "I know it's extremely important to wear masks. Sometimes you've just got to be reminded."
Gruden, who revealed after Monday night's victory over the Saints that he had previously contracted COVID-19, said Tuesday that he did not want to get into specifics about how he dealt with the virus.
"It wasn't pleasant," he said, "and it was reported that I made up that I had the virus and it really ticked me off because I would never do something like that.
"But it's a very serious matter and, you know, obviously, I'm sensitive about it. But yeah, it was a tough ordeal, that's for sure. Just like everybody else that had it."
Payton also battled COVID-19 over the summer.
Gruden was asked after Monday night's game about being mask-less on the sideline.
"I'm doing my best," he said at the time. "I've had the virus. I'm doing my best. I'm very sensitive about it. … I'm calling plays. I just want to communicate in these situations and if I get fined, I'll have to pay the fine. But I'm very sensitive about that and I apologize."