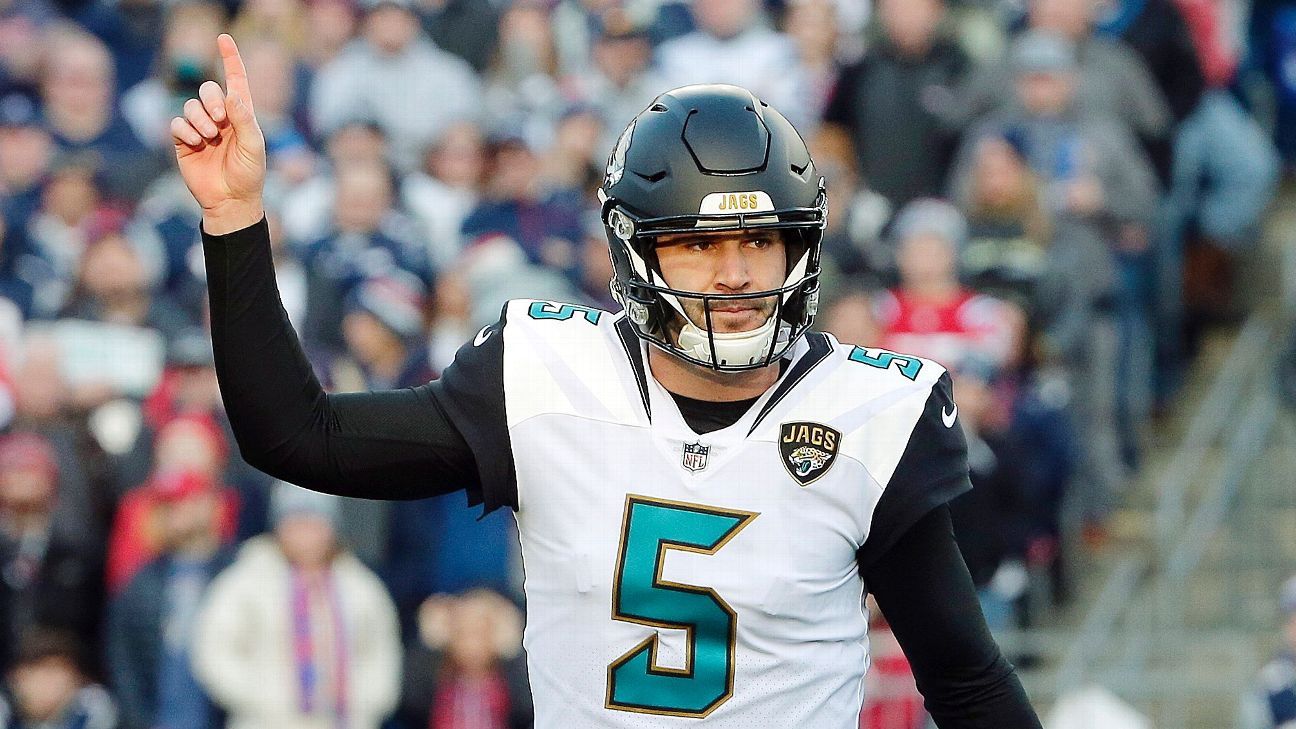 JACKSONVILLE, Fla. — The Jacksonville Jaguars have re-signed quarterback Blake Bortles to a three-year contract extension through the 2020 season, the team announced Saturday.
The deal is for $54 million and could be worth up to $66.5 million with incentives, a source told ESPN's Adam Schefter. The deal also includes $26.5 million in guaranteed money, according to the source.
Bortles was due to make $19.053 million in 2018 after the team picked up his fifth-year option last May.
"I told Ryan [Tollner], my agent, let's just get it done so I can just go play football. I really would love to just know and have confirmation that this is where I'm going to be, and now let's go work and continue to build on what we did last year and go play," Bortles said. "So, happy and relieved. Obviously extremely excited. It's a dream come true to be able to sign a second contract by the team that drafted me. That was one of my goals from the start so excited to get it all done and get rolling now."
Bortles had a rough start to the 2017 season — he had a five-interception practice in training camp and coach Doug Marrone opened up the quarterback competition during the preseason — but he rebounded and put together the best year of his career. Bortles completed 60.2 percent of his passes (the first time he surpassed the 60 percent mark) for 3,687 yards and 21 touchdowns with 13 interceptions.
"I've been around Blake for the past three seasons, only one as the head coach, but I have seen him grow considerably in all facets: the way he prepares, the way he takes care of his body, the way he leads the team, the way he holds himself and his teammates accountable," Marrone said.
"I have said it all along — I think Blake is one of the toughest people I have ever met, and I'm talking about his mental and physical toughness. He never lets the outside noise get him away from where his focus is, which is always on being a great teammate and being a great leader for our organization."
The Jaguars went 10-6 and won the AFC South — the franchise's first division title since 1999 — and made the playoffs for the first time since the 2007 season. The Jaguars beat the Buffalo Bills at home and Pittsburgh Steelers on the road to reach the AFC Championship Game against New England at Gillette Stadium.
The Jaguars held a 10-point fourth-quarter lead before the Patriots rallied for a 24-20 victory.
Bortles completed 58 percent of his passes for 598 yards and three touchdowns with no interceptions in the postseason. He also ran 17 times for 121 yards, including 88 yards in the victory over Buffalo. He led a pair of fourth-quarter touchdown drives to help the Jaguars beat the Steelers 45-42.
Bortles didn't exactly have a full complement of receivers, either. Allen Robinson suffered a torn left ACL on the third play of the season, and veterans Allen Hurns and Marqise Lee combined to miss eight games. Undrafted rookie Keelan Cole and fourth-round pick Dede Westbrook, who missed the first nine games of the season recovering from sports hernia surgery, were Bortles' main options during a late-season stretch.
"Blake's growth and development last season was a key to the success we had as a team," said Tom Coughlin, the Jaguars' executive vice president of football operations. "Blake has proven, with toughness and dependability, that he can be the leader this team needs going forward. Along with this contract come high expectations that he will continue to improve and help our team accomplish its ultimate goal."
The Jaguars drafted Bortles third overall in 2014. After a rough rookie year he seemed to have a breakout season in 2015, when he set single-season franchise records in passing yards (4,428) and passing touchdowns (35).
However, he also threw 18 interceptions that season. The former UCF standout led the NFL in turnovers from 2014 to 2016 (63), and his 51 interceptions during that span were second only to Philip Rivers' 52.
Bortles regressed in 2016, and Coughlin, who was hired in January 2017, put him on notice to cut down on turnovers. Bortles averaged 21 turnovers in each of his first three seasons but turned the ball over 16 times in 2017, including an interception that was ripped away from tight end James O'Shaughnessy.
Bortles has completed 59.1 percent of his passes for 14,928 yards and 90 touchdowns with 64 interceptions in four seasons with the Jaguars. He has run for 1,410 yards and seven touchdowns and is 21-40 as a starter.
Bortles ranks second in franchise history in touchdown passes and interceptions and third in passing yards, attempts and completions.
Kansas City Chiefs WR Sammy Watkins out, RB Clyde Edwards-Helaire questionable vs. Cleveland Browns
KANSAS CITY, Mo. — The Chiefs will play without wide receiver Sammy Watkins in Sunday's divisional round playoff game against the Cleveland Browns at Arrowhead Stadium.
Watkins has a calf injury that prevented him from practicing all week.
The Chiefs also listed their leading rusher, Clyde Edwards-Helaire, as questionable for Sunday's game because of hip and ankle injuries. Edwards-Helaire practiced Wednesday on a limited basis but did no team work Thursday or Friday.
"A couple of days ago he moved around real well, and then we just kind of backed off of him," coach Andy Reid said. "He's still doing stuff, just not with the group. We'll just see how he does."
Watkins has missed six games this season and was fifth on the Chiefs with 37 catches, 421 yards and two touchdowns. The Chiefs will most likely replace him with Demarcus Robinson, who was third on the team with 45 receptions. Mecole Hardman (41 catches) and Byron Pringle (13) also could play.
"I don't think anyone blinks on that," Reid said of playing without Watkins. "You just giddyup and go. That's not because Sammy is not a great player. That's not it. That's just one of those things, how this team is wired."
If Edwards-Helaire doesn't play, the Chiefs would replace him with Le'Veon Bell and Darrel Williams. They combined to rush for 423 yards and three touchdowns this season for the Chiefs.
Tampa Bay Buccaneers to start RB Leonard Fournette vs. New Orleans Saints
TAMPA, Fla. — Tampa Bay Buccaneers running back and New Orleans native Leonard Fournette will start against the New Orleans Saints in Sunday's NFC divisional game, coach Bruce Arians said Friday.
Regular starting running back Ronald Jones, who suffered a quad injury and missed last week's wild-card game against Washington, will be a "game-time decision," Arians said.
"Ro, got better today — he'll be a game-time decision," Arians said after Friday's practice, which was conducted indoors on the turf. "But Leonard will start the game, and we'll see how Ro is and full-speed, then he'll get his normal reps."
Even if Jones, who returned to practice on a limited basis Thursday, is able to play, Fournette, who rushed for 93 yards and tacked on 39 receiving yards last week, will still open the game.
"He's a hell of a player, and he played really, really well last week," Arians said of Fournette, who didn't find out that he'd be starting last week until just before the game. "I trusted him all year."
Fournette acknowledged the challenges of taking on a different role this season in Tampa Bay as a backup, and described it as a "humbling process," and that he "wasn't playing as much as he was used to."
But he believes this step has helped prolong his career. He feels fresher than he ever has in the past finishing out the season, and feels less pressure when surrounded by Tampa Bay's weapons, including those in his own meeting room.
"At first, I was looking at the bad, by me not getting the ball, but in the end, it's helping my career longevity," said Fournette, who was personally recruited by Tom Brady when he was released from Jacksonville. Brady sent him a text message, telling him they could use his help.
"I felt like this was the perfect decision for me," said Fournette, who turned down another opportunity to go to a team where he would have been the focal point of the offense, but instead chose Tampa Bay. "I love it here, to be honest. We have a brotherhood that's going fine right now. We working our tails off each and every day to make each other better."
Arians praised Fournette for embracing a different type of role and putting the team first.
"He's been great. As soon as he got here, we explained what the situation was: 'Your role can change at the drop of a hat,'" Arians said. "Just like it did last week. And, 'Be ready.' And he has. He's practiced hard, he's prepared and I can't say enough about him – he's a heck of a player and he's doing a good job."
Scottish accents, pranks and humor: Unflappable Kevin Stefanski perfect fit for Browns – Cleveland Browns Blog
BEREA, Ohio — During the 2017 season in Minnesota, Kevin Stefanski often would kick his starter out of the quarterback meeting room.
Stefanski, then the Vikings quarterbacks coach, was into the TV show Game of Thrones. So too were quarterbacks Sam Bradford, Taylor Heinicke and Teddy Bridgewater.
But Case Keenum was not. And so, whenever the discussion would veer from dissecting defense to dissecting the Dothraki, Keenum was ordered to leave.
"I'd literally be out of the meetings for like 20 minutes," said Keenum, now Cleveland's backup quarterback, "while they were breaking down the latest episode of Game of Thrones."
In almost every way, Stefanski defies the caricature of the old-school NFL head coach. He never played in the league and attended an Ivy League school. He despises talking about himself, yet lights up when asked about his assistants. He almost never loses his cool, underscored by a subtle tendency on the headset to defuse a game's tensest moments with his dry sense of a humor.
"Sometimes you're like, 'Did he just crack a joke?' He can work one into any situation," said tight ends coach Drew Petzing, who came to Cleveland with Stefanski from Minnesota. "But Kevin is also extremely smart, very organized, willing to understand and very calm, cool and collected. He's not going to yell or scream or give you that absolutely epic speech from 'Any Given Sunday.' That's not maybe what he's the absolute best at.
• Divisional round: Matchups, X factors »
• Keys to victory for all eight teams »
• Experts predict upsets, more »
• Schedule, brackets, TV times »
"Now does that mean he doesn't motivate guys and drive guys and push guys? No. But he understands how to do that, knowing his personality and how people view him. He's very self-aware, which is a great quality to have."
Because of those qualities, the Cleveland Browns believe they've finally have found their long-term head coach, having cycled through 11 others before him since returning to the league in 1999.
In his first year in Cleveland, the 38-year-old Stefanski has steadily guided the Browns — through an otherwise unprecedented year of chaos, which included him missing Cleveland's playoff victory in Pittsburgh last Sunday with COVID-19 — to their best season in at least 26 years.
"Kevin is unflappable," said Browns general manager Andrew Berry, also in his first season in Cleveland. "He's the same person every day, even-keeled demeanor, fantastic with people. And you need that steady hand within your organization with the inevitable ups and downs and adversity that's in any NFL season, let alone this one."
Sunday, the Browns will face top-seeded Kansas City (3:05 p.m. ET, CBS), where Cleveland will take on the defending Super Bowl champs with a chance to advance to the AFC Championship Game for the first time since 1989.
As a result, Stefanski figures to be on the short list for NFL Coach of the Year — if not, at this point, the favorite to become the first Cleveland coach since Forrest Gregg in 1976 to win it.
All the while just being himself.
"You're spot on with that one," agreed quarterback Baker Mayfield, enjoying a resurgent season under Stefanski. "People don't follow fake leaders. When you have a group of men doing this and everybody is counting on you, you can sniff out somebody who's fake extremely quickly. That's not the case here."
---
Before the coin toss of every high school game, Stefanski had the same routine as captain for St. Joseph's Prep in Philadelphia.
"In our best Scottish accents, I would look at him, and say, 'Where are you going?' And he would say, 'I'm going to pick a fight,'" recalled Eddie Turner, one of Stefanski's closest high school friends and wide receiver teammate, referring to the 1995 Mel Gibson film "Braveheart." "And then I would say, 'Well, we didn't get dressed up for nothing.'"
As a Catholic League MVP safety and quarterback, Stefanski channeled William Wallace on the field.
"He was a tremendous hitter," said his coach then, Gil Brooks, who still texts with Stefanski after almost every Browns game. "And a great leader."
When it came to football and school, Stefanski was serious and diligent, eventually getting into Penn. But he was always busting chops as a sign of affection and pulling practice jokes. Driving an oversized station wagon, the fake wood paneling included, he would not hesitate to bump his buddies' vehicles with the bumper for making fun of his car.
"He was not afraid to rise to any level of prank," Turner said. "There were times in freshman Latin class he would get the guys to sing Boyz II Men for Mr. Z (the teacher) when Mr. Z came into the room, just to lighten the mood."
That continued into college, while tending bar at Smokey Joe's — referred to as "The Pennstitution" — with roommates and Penn teammates Jake Perskie and Pat McManus. Once when Perskie and McManus were out of town, Stefanski messed up their trip by leaving them a message he'd told the owner of the bar that they were covering the vacant shifts that night.
"We start thinking, did we screw over the bar owner? What if Kevin wasn't messing with us?" Perskie recalled. "We start frantically trying to call Kevin, seeing if he was screwing with us? And of course, he was screwing with us and ignoring our panicked phone calls.
"He's a ninja when it comes to practical jokes, and he can't be got, either, because he doesn't have an internal panic button. He's ice-cold that way."
That carried over to football, as Stefanski earned a starting job at Penn as a freshman.
"The first game, he was already calling the defense," McManus said, "while the rest of us were still trying to remember the code to get into the locker room."
As Penn coach Ray Priore, then its defensive coordinator, put it, "Kevin was another coach on the field. He was almost telepathic, like he could read my mind."
Three years later, after the Quakers captured a second straight Ivy League title with a win over Cornell, Stefanski, who had worked his way back from another knee injury that year, marched his teammates straight to Smokey Joe's, where they celebrated the trophy with the owner, still wearing their pads.
"Kevin was always the same guy," McManus said. "Tore his ACL twice, but you wouldn't even know he was hurt because he never brought it up. He's always been so unflappable, never complained or whined, and when things would go wrong, he would just take control of it."
---
Everything seemed to be going immeasurably wrong for the Browns last week heading into the playoffs.
Pro Bowl guard Joel Bitonio tested positive for COVID-19, making him unavailable for the trip to Pittsburgh along with cornerback Denzel Ward, who was already on the reserve/COVID-19 list. Then Stefanski tested positive, as well. On top of that, the Browns training facility was closed for three days to allow for contact tracing. Ultimately, Cleveland was able to practice only once before traveling to Pittsburgh.
Yet true to the identity of their head coach, the Browns never panicked. The night before the game, Stefanski reinforced that ideal in a team meeting over video from his basement in Cleveland, where he would watch the game.
"He said that he had confidence in this team. That he's seen us win 11 games with his own eyes, and that he knows what this team is made of," Keenum said. "And then he said, 'I'm going to sit on my couch and watch it in the basement on my 60-inch TV. I'm going to have a pretty good view there. I'm going to see the defense tipping balls and us being there and catching them and getting turnovers.' And man, if it didn't happen early and often. Pretty awesome, it's like he spoke it into existence."
Including the Browns intercepting Ben Roethlisberger four times, Stefanski has been speaking this season into existence from the moment he got the job. At the beginning, he told his team "Embrace the Suck," which included the annoyance of daily coronavirus testing. He, with his assistants, kept them engaged during the virtual offseason while installing schemes.
And, along the way, he made sure they stayed loose and had fun, often at the expense of Keenum, whom Stefanski refers to as "Chase," for reasons Keenum doesn't understand.
Like Keenum did in 2017 playing for Stefanski for the first time, Mayfield has thrived, as well. Dating back to a dinner they had together in Austin, Texas in February, Stefanski has developed trust with Mayfield, which has manifested itself on the field. And now, even in critical moments, Stefanski knows how to keep Mayfield relaxed, sometimes quipping to him, "feel free to throw a touchdown pass here," after sending in a play.
"I think that goes back to him talking about having an open line of communication," Mayfield said. "So, there are no questions and there are no uncertainties about what we are going to be about and the foundation that he laid."
Because of that foundation, the Browns didn't just weather the storm in Pittsburgh.
They thrived in it.
"He's created a system and a culture and an identity," Keenum said. "And the fact that he's been able to do it in such a short period of time in such a crazy time as this is pretty remarkable.
"If that's not coach of the year stuff, I don't know what is."