COLLEGE PARK, Md. — Torrey Smith said Saturday he hasn't thought much about his future with the Super Bowl champion Philadelphia Eagles.
Smith was the Eagles' fourth-leading receiver in his first season with Philadelphia, catching 36 passes for 430 yards and two touchdowns. Smith's status is uncertain because the Eagles can create $5 million in cap space by releasing him.
"I'm expecting to be back, but I know how the business goes," Smith said before watching his alma mater Maryland play Michigan in basketball. "There would never be any hard feelings. How can you be mad at someone who gave you a chance to win a ring."
Smith, 29, signed a three-year, $15 million contract with the Eagles last offseason. Despite a below-average regular season, Smith produced a strong postseason with 13 receptions for 157 yards and one touchdown.
A seven-year veteran, Smith has played for the Baltimore Ravens and San Francisco before joining the Eagles. Since entering the NFL, he has totaled 57 catches of 25 yards or longer, which ranks 12th in the NFL.
He is due to make $5 million in each of the next two seasons, unless Philadelphia parts ways with him.
"I don't know how it's going to play out," Smith said. "But I'm expecting to be back, and I definitely want to be."
Green Bay Packers activate Tramon Williams, who could become first to play for two NFL teams in a postseason
The Green Bay Packers have elevated recent cornerback acquisition Tramon Williams to their active roster for Sunday's NFC Championship Game with the Tampa Bay Buccaneers.
Williams, who was acquired by the Packers and put on their practice squad after he was waived by the Baltimore Ravens on Monday, could become the first player in NFL history to play for two different teams in the same postseason.
The 37-year-old Williams had three tackles in the Ravens' 17-3 AFC divisional playoff loss to the Buffalo Bills last week.
Williams previously played for the Packers from 2007-14 and 2018-19, and he played a key role in the team's run to Super Bowl 45 with interceptions in playoff games vs. Philadelphia and Atlanta.
"It's special," Packers quarterback Aaron Rodgers said of the team's decision to sign Williams this week. "He's one of those teammates you just love playing with over the years. He's such a professional. The way he takes care of himself, he looks amazing. He looks like he could go out and play 70 plays for us. I'm not sure if he's going to or not, I hope he does, because he's still so talented. But he's one of those special guys, special personalities."
"… You think about the 2010 run — he ended a game in Philly; (he) basically gave us a huge jolt in the divisional round (against Atlanta) with his pick-6. Still one of my favorite moments in all the moments in that, is watching him pick that ball off and run down the sidelines with Nick Collins to put us up 14 going into half. So, it's fun. I wish we did this every year."
Green Bay may need some extra depth in the secondary due to the uncertain status of starting cornerback Kevin King, who didn't practice Friday because of a back injury and is listed as questionable.
The Packers also elevated defensive lineman Brian Price and cornerback KeiVarae Russell from the practice squad to the active roster for game day. In other moves, they signed punter Ryan Winslow to the practice squad and released running back Dexter Williams from the practice squad.
ESPN's Rob Demovsky and The Associated Press contributed to this report.
Kansas City Chiefs CB Bashaud Breeland clears concussion protocol
KANSAS CITY, Mo. — Chiefs starting cornerback Bashaud Breeland has cleared the concussion protocol and will be available to play in Sunday's AFC Championship Game against the Buffalo Bills.
Breeland was knocked out of last week's divisional round win over the Cleveland Browns in the second half and entered the concussion protocol. He practiced on a limited basis all week.
He started 11 games during the regular season and in the win over the Browns after missing the first four contests because of an NFL suspension for a violation of the substance abuse policy.
Breeland had two interceptions during the 2020 regular season as well as an interception in the Chiefs' Super Bowl LIV win over the San Francisco 49ers.
Miami Dolphins continue to build around Tua Tagovailoa by hiring QB coach Charlie Frye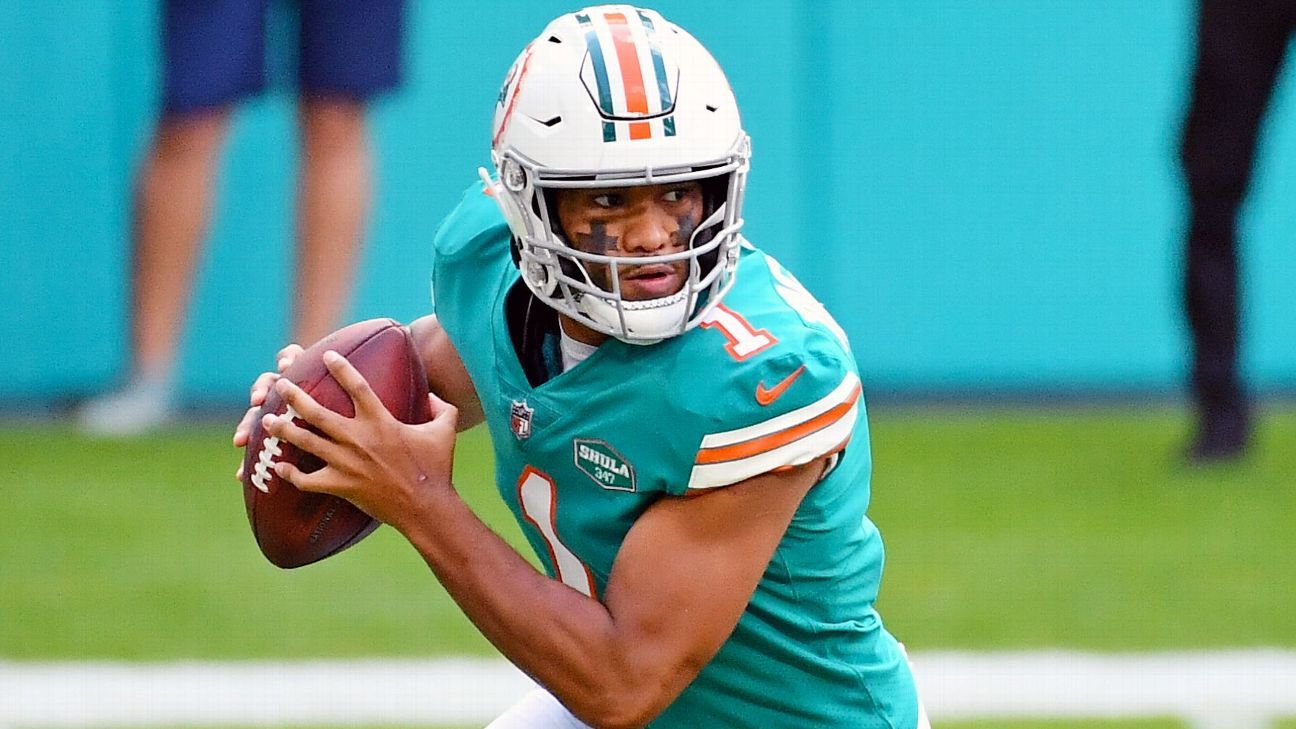 DAVIE, Fla. — The Miami Dolphins continued their offseason pursuit to build around quarterback Tua Tagovailoa as they hired Central Michigan offensive coordinator Charlie Frye as their new QB coach Saturday.
Frye was a key assistant working with Tagovailoa during the Elite 11 high school QB camp that helped the young QB burst onto the national scene. In a nod to how valuable the experience was to him, Tagovailoa later hired Elite 11 head coach Trent Dilfer as his personal coach during his NFL pre-draft process.
Frye will replace quarterbacks coach Robby Brown, who is out despite having time left on his contract. Brown becomes the third known offensive assistant to leave, joining Chan Gailey, who resigned as offensive coordinator earlier this month, and offensive line coach Steve Marshall, who also is out despite having time left on his contract.
Brown and Marshall had both been hired by the Dolphins after Gailey had vouched for them.
Tight end coach George Godsey took over quarterback coach responsibilities in the second half of the season — an early sign that the Dolphins were ready to make a change at the position.
Miami continues to build around Tagovailoa, who is coming off an uneven rookie season but has received strong public support from coach Brian Flores and general manager Chris Grier in recent weeks amid speculation and criticism.
The Frye move is another example of the team trying to put Tagovailoa in a comfortable situation entering Year 2.
Frye, 39, spent five years as a NFL quarterback, mostly notably with the Cleveland Browns. He's spent the last two seasons as Central Michigan's offensive coordinator and QB coach.
The Dolphins, who are coaching the Senior Bowl this week, have yet to officially name an offensive coordinator and may not make a hire until after they return from Mobile, Alabama.