SCOTTSDALE, Ariz. — Players throughout Major League Baseball wore caps with an "SD" logo Friday to honor the 17 victims of the recent mass shooting at Marjory Stoneman Douglas High School in Parkland, Florida.
For Colorado Rockies minor leaguer Colton Welker, the gesture hit especially close to home.
Welker, a top infield prospect in the Rockies' system, played for Stoneman Douglas' state title team in 2016 and was a fourth-round draft pick by Colorado in June of that year. Along with Chicago Cubs first baseman Anthony Rizzo and Oakland Athletics minor-league pitcher Jesus Luzardo, he's one of three alumni of the Parkland high school playing in the Cactus League this spring.
Welker, called upon to pinch-hit by Rockies manager Bud Black in the eighth inning Friday, was robbed of a hit by Arizona's Rey Fuentes in a line drive to center field. He came on to play third base and flied out to center field again in the 10th inning of the Diamondbacks' 7-6 victory.
"There were definitely a lot of emotions after the tragedy," Welker told ESPN after the game. "To come out here and get to strap it on with the big team felt good. The last time I wore this hat I was over there (in Parkland) playing baseball. That's what got me here, so it meant a lot to me.
"I tried not to make it a big deal of it today. But it was very cool to be out there with these guys and watch them work and watch what the best do every day. It's just a great experience being around them."
Welker was friends with Parkland athletic director Chris Hixon and football coach Aaron Feis, both of whom died along with 14 students and a teacher in the Feb. 14 shooting. Feis, who was killed while throwing himself in front of students to protect them, was a security guard at the school and let Welker into the building each day.
As a middle school student in Parkland, Walker rode the bus to school each day with Nikolas Cruz, the gunman who confessed to the killings.
"All my friends are still down there," Welker said. "My mom still lives down there. She says the town is quiet and it's still healing. It's going to take some time after something like that happens. But they're doing a great job regrouping and staying together and staying strong. They'll get back to school soon and get athletics going, and that will be good."
Welker, ranked as the Rockies' No. 7 prospect by ESPN's Keith Law, has hit .341 with a .496 slugging percentage in his first two minor-league stops with Grand Junction of the Pioneer League and Asheville of the South Atlantic. As he embarks upon his third professional season, his heart and mind are constantly with the people back home in Parkland.
"That's where I want to raise my kids," Welker said. "It's the greatest place on earth. They have great schools all the way from elementary through high school. It's a beautiful place to grow up. I'm beyond proud to say I'm from there.
"It's sickening to know that our name is on the map for that, and not for the other great things that we've accomplished. But (baseball) is something I can use to help people, and maybe represent the school and lift people up even more."
The Rockies were among many teams to wear the Stoneman Douglas caps on Friday, with several managers taking time to reflect on how baseball can offer a diversion.
"Anytime people are hurting, and we know the community is hurting right now, baseball can sometimes play a part with the healing process," New York Yankees manager Aaron Boone said. "And so to honor them and try and have a little bit of thoughts and prayers and our thoughts are with people who are hurting, it's something small that it was cool to be a part of."
More than 2,500 of the Stoneman Douglas caps were ordered from New Era, MLB spokesman Steven Arrocho said, with many of them expected to be signed and auctioned off to benefit those affected by the shooting.
Boston Red Sox manager Alex Cora said Friday's gesture "puts everything in perspective."
"Wearing the hats today, I think that means a lot to all of us. It puts everything in perspective," Cora said. "Something that obviously, it gets your attention. My daughter turns 15 in a few weeks, and I got an email the other day from her school talking about them having a drill. That's not normal."
Colorado Rockies minor leaguer Colton Welker gets 80-game drug suspension
NEW YORK — Highly touted Colorado Rockies minor league third baseman Colton Welker was suspended 80 games by the commissioner's office Thursday after testing positive for a performance-enhancing substance.
The 23-year-old Welker, drafted in 2016 out of Marjory Stoneman Douglas High School in Parkland, Florida, is currently on the roster for Triple-A Albuquerque. His suspension goes into immediate effect and will be without pay.
The substance he tested positive for was Dehydrochlormethyltestosterone (DHCMT), which is in violation of Major League Baseball's Joint Drug Prevention and Treatment Program.
In a statement, Welker said: "I want to make it very clear that I have never willingly nor intentionally ingested any substance to enhance my athletic performance. Given the information provided to me by the players' association and laboratory, the amount detected was so minimal that it would have no effect on enhancing my performance."
"I understand that a number of other players, like me, have tested positive for this metabolite at microscopic levels, and I intend to join them in seeking answers as to how this is happening in order to clear my name," he said.
The Rockies said in a statement the organization was "disappointed" to announce the suspension and believes that "Colton will learn from this experience."
Welker was in the running to take over at third for Nolan Arenado after the eight-time Gold Glove winner was traded to St. Louis in the offseason.
A fourth-round draft pick, Welker is a .313 career hitter at four minor league levels with 34 homers and 204 RBIs. He has played mostly third base but has some appearances at first.
This spring, Welker credited his success with a leaner look. He said he dropped about 10 pounds from the year before by cutting out carbs and mixing in more vegetables.
As a shortstop growing up, Welker helped lead Marjory Stoneman Douglas to the state title in 2016. It was a moment of immense pride for the community, which less than two years later was ravaged by the massacre of 17 students, teachers and staff at that same school. Welker routinely works out with Stoneman Douglas players in the offseason.
Jose Altuve's birthday home run answers Bronx boos, lifts Houston Astros past New York Yankees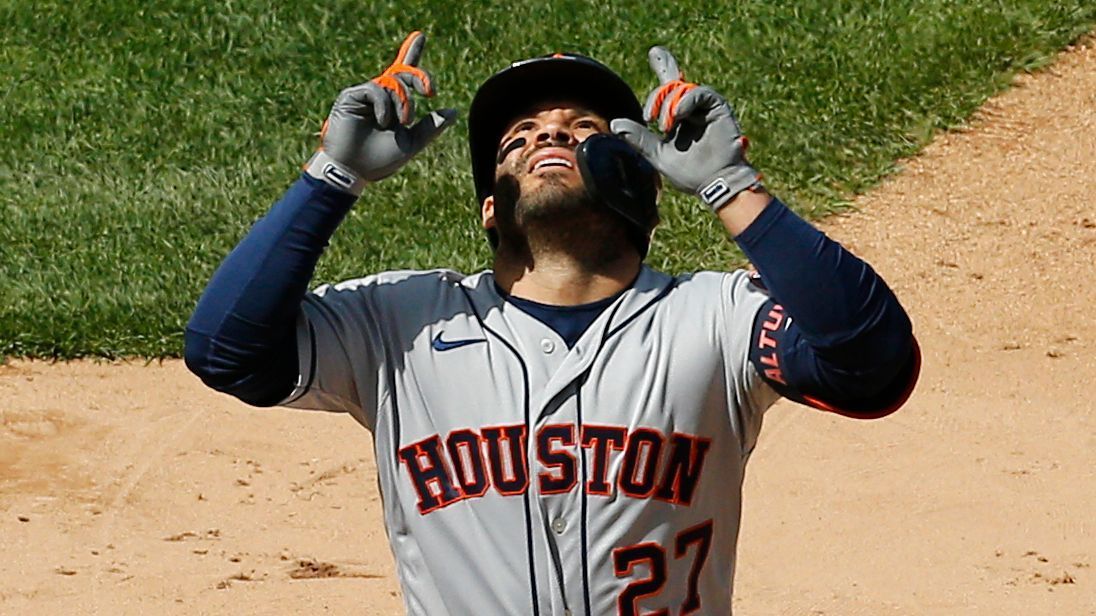 NEW YORK — Jose Altuve responded to jeering fans by marking his 31st birthday with a go-ahead, three-run homer off Chad Green in the eighth inning, and the Houston Astros beat the New York Yankees 7-4 Thursday to avoid a three-game sweep.
Gleyber Torres made an incredible, daring dash for the Yankees, scoring from first base on an infield single, but New York's five-game winning streak ended.
Yordan Alvarez hit a pair of solo homers off Gerrit Cole, who turned a 3-2 lead over to Green (0-3) starting the eighth. After Torres pulled the Yankees back within a run in the bottom half, Martin Maldonado hit a two-run homer off Justin Wilson in the ninth, ending a streak of of 75 plate appearances without an RBI.
Green started his own trouble by walking Kyle Tucker leading off. Pinch hitter Aledmys Diaz reached on a single to third baseman Gio Urshela, and Tucker took third when Urshela threw past first for an error
Maldonado struck out to bring up Altuve, booed loudly throughout the series by fans getting to express their anger directly at the Astros since their cheating scandal en route to the 2017 World Series title was exposed. He had been 1-for-11 with no RBIs in the series when he turned on a shoulder-high 96 mph 3-2 pitch and drove it over the left-field scoreboard for a 5-3 lead.
Torres' sprint came soon after that.
With the Astros shifted to the right side, shortstop Carlos Correa knocked down Aaron Hicks' grounder near second but had no play as the ball trickled a few feet onto the outfield grass.
Correa recovered quickly, but Torres saw third uncovered and kept on going. Maldonado left his catcher's spot and ran to cover third, while reliever Ryan Pressly stayed on the mound.
Correa then made a short toss to third baseman Alex Bregman, who was near second, and Torres raced home ahead of Maldonado and slid headfirst across the plate without a throw.
Andre Scrubb (1-0) pitched a perfect seventh, and Pressly got six outs for his fifth save. Houston climbed back above .500 at 16-15.
Yankees fans held critical signs and booed the Astros throughout the series, anger lingering from the sign-stealing scandal that revealed Houston stole signs with a video camera en route to the title — which include a seven-game win over the Yankees in the AL Championship Series.
Giancarlo Stanton crushed a 117.3 mph solo home run off an ad hanging above the Yankees bullpen in right-center in the third inning, and slumping Clint Frazier hit a tiebreaking, two-run homer in the fourth off Lance McCullers Jr. for a 3-1 lead.
After striking out 62 in his first six outings, Cole fanned just four in seven innings — his fewest since a rain-interrupted outing against Philadelphia last Aug. 3 in his Yankees home debut. He walked none for his fourth start in a row and he allowed five hits.
This was Cole's first time facing the Astros since leaving them after the 2019 World Series.
Alvarez's second homer of the game landed in the netting above Monument Park in center field and gave him six career multihomer games.
McCullers had pitched the final four innings of Houston's Game 7 win over the Yankees in 2017, combining with Charlie Morton on a three-hitter and memorably throwing breaking balls on his final 24 pitches. Now 1½ years removed from Tommy John surgery, McCullers gave up three run, six hits and four walks in six innings.
New York Mets pitcher Carlos Carrasco's return delayed until late May
ST. LOUIS — Carlos Carrasco was shifted to the 60-day injured list by the New York Mets on Thursday, a surprise move that pushes back his season debut until May 28 at the earliest.
The 34-year-old right-hander has been sidelined by an injured right hamstring since spring training and had been making progress. He threw a simulated game Tuesday at the Mets' spring training complex in Port St. Lucie, Florida, and the team said Wednesday that Carrasco was starting a minor league injury rehabilitation assignment this weekend.
Manager Luis Rojas did not mention Carrasco's status change when he spoke with reporters before Thursday's game against St. Louis, and the Mets sent a release later announcing the move to the 60-day IL.
Right-hander Jordan Yamamoto was optioned to Triple-A Syracuse, and the Mets selected the contract of right-hander Tommy Hunter from the Triple-A farm team.
Carrasco was acquired in January from Cleveland along with All-Star shortstop Francisco Lindor. He was put on the 10-day IL on April 1, a move retroactive to March 29.