TAMPA, Fla. — Giancarlo Stanton said it best the other day: These six weeks in spring training are about getting ready for the real entertainment — the 162 games that begin on March 29.
But spring training is entertaining as well! You should go! Take a vacation, quit your job, drop out of school, bring your dog, do whatever it takes. In particular, get down to George Steinbrenner Field. The Yankees have a new manager, a new slugger and some exciting young kids fighting for jobs. Before you start sweating those Gary Sanchez mound visits in the regular season, there is must-see action taking place in Florida as the Yankees kick off their spring schedule Friday against the Tigers.
Here's what the Bronx Bombers have going on in the Grapefruit League:
Stanton and Aaron Judge taking their first cuts
It all starts with these sultans of swat. Stanton hit 59 home runs last year with the Marlins, while Judge hit 52 as a rookie. Can they challenge the record for home runs by teammates? Roger Maris and Mickey Mantle combined for 115 home runs in 1961 with the Yankees. That might seem like a possibility, but the over/under betting line in Vegas is only 87½, suggesting it's a long shot to get to 115. Remember, the only players to hit 50-plus home runs in consecutive seasons are Babe Ruth, Ken Griffey Jr. and three players tainted by performance-enhancing-drug allegations — Mark McGwire, Sammy Sosa and Alex Rodriguez.
Take the over. Even if spring home runs don't count.
Gleyber Torres and Miguel Andujar fighting to make the Opening Day roster
We love rookies! Torres is Keith Law's No. 5 prospect and Andujar is No. 54. While the trade for Brandon Drury makes it less likely the Yankees open with both rookies in the infield — GM Brian Cashman indicated the primary intent is to play Drury at third base — it should make for some intriguing competition.
"I think they're both going to be tremendous players," manager Aaron Boone said Tuesday. "I love who they are. You can tell they enjoy being on the baseball field. You can tell they're confident in their ability, the way they move around, yet there's a humility about them."
Torres is healthy after undergoing Tommy John surgery on his non-throwing elbow last summer. While he said he feels "like a little kid with a new toy," he has also played just 55 games above Class-A and last played on June 17. There could be some rust, so some time in Triple-A wouldn't be a surprise, even aside from the issue of keeping him in the minors for service-time reasons.
"Performance matters to a degree, but it's a super small sample size … so I feel like if either one of those guys were to make our Opening Day roster, it would be clear in our eyes and probably somewhat of a consensus that there's no denying these guys belong on the club," Boone said.
The outfield defensive alignment playing out
OK, you want to watch Judge and Stanton hit, not play the field. But defense is important, too, and you can't play two right fielders. Plus, they're both good defenders, and not just in the proverbial "he moves really well for a guy that big" sense. Both ranked in the top five in the majors in defensive runs saved in 2017.
This much we know: While Stanton and Judge have both joked about playing center field — "You know, I'm primarily a center fielder," Judge cracked, referring to his college days — Boone said that's one thing we won't see. What does pain Boone is moving one of them from right field. "I struggle with the fact that we're taking any or both of them out of their comfort zone if we flirt with left field," he said.
Boone has hinted that Brett Gardner, who played 151 games last season, might sit a little more often against lefties after hitting .209/.299/.291 against them last season. When Gardner doesn't start or when Sanchez DHs, Judge or Stanton will have to play left. Best guess: Given Stanton's history of injuries, he spends more time at DH than Judge, and when he plays the field, he goes to right field with Judge playing left.
Then there's Jacoby Ellsbury, the fifth wheel in the four-man outfield/DH setup. Considering that Boone said "Aaron Hicks became a dude last year," the implication seems to be that Hicks is the starting center fielder. So come watch Aaron Hicks be a dude.
Boone beginning to fill out the lineup card
Here's the thing with spring lineups: Don't pay too much attention to them, especially early on. We know Stanton thrived in the 2-hole with the Marlins in 2017, slugging .675 in 110 games batting second. Judge's best numbers also came when he was hitting second. Boone said the plan is to have one hit second every game — we just don't know which one.
"That's one thing that's a starting point for me," Boone said. "Whether that's Giancarlo or whether that's Aaron, that remains to be seen. We'll see how it shakes out. But obviously similar skill sets, the ability to get on base with the high power. I definitely like one of them in the 2-hole, most or all the time."
Educated guess: Judge hits second, Stanton third and Sanchez cleanup. Judge had the higher on-base percentage and is the better baserunner, so if he's going to draw 100-plus walks again, hitting in front of Stanton makes sense. But there's no wrong decision here. It's also possible Boone breaks up the three righties by hitting Greg Bird or Didi Gregorius cleanup.
Dellin Betances searching for the strike zone
This Yankees bullpen is illegal in 17 states, but Betances almost has to prove himself all over again this spring. The big right-hander made his fourth straight All-Star team, but he had trouble throwing strikes, with 44 walks in 59⅔ innings. Not only was he wild, but it was the lightest workload of his career. By the end of the 2017 season, he was so low on then-manager Joe Girardi's pecking order that he pitched just one inning in the American League Championship Series. Betances admitted he entered last season in a bad frame of mind after losing his arbitration case (and hearing team president Randy Levine call him a "victim" in a scheme to get non-closers paid more than fair market value).
Still, Betances is a dominant presence and had the sixth-highest strikeout rate among relievers. For his career, he has averaged 14.4 K's per nine innings, and batters hit just .141 off him in 2017. Of course they hit only .141! A 6-foot-8 monster throwing 99 mph who didn't always know where the ball was going. So come to Steinbrenner Field to see whether Betances is earning his way into Boone's trust.
The next generation of Yankees starters climbing the mound
The rotation is pretty much set — Luis Severino, Masahiro Tanaka, Sonny Gray, CC Sabathia and Jordan Montgomery in some order — but nobody makes it through a season with five starters, so spring training will be an opportunity for some of the young starters to make an impression. Chad Green will be stretched out as a starter, but his best role remains as a multi-inning weapon, so that leaves a young wave of potential starters: Chance Adams, Luis Cessa, Domingo German, Domingo Acevedo and Justus Sheffield. That could be the Triple-A rotation — one better than, say, the Miami Marlins will run out there.
Sheffield was having none of that idea. "I want to pitch in the Bronx," he told me. Sheffield is a baseball rat, a kid who Tim Naehring, the team's VP of baseball operations, said has the "it" factor. Sheffield is a lefty with a three-pitch arsenal and fastball touching 96 in the Arizona Fall League. He pitched in Double-A last year and could be in the majors quickly when his command improves.
Boone's managerial style taking shape
As Boone has constantly stressed, spring is about getting individual players ready for the regular season. We already know he's going to be much more personable than Girardi and make a stronger connection to the players — that's why he was hired in the first place. He's going to rely on and trust his coaching staff. The real test will come when the real games start and a player is unhappy about his playing time, or when Boone uses a certain reliever instead of another and gets criticized for that decision. Until then, everybody is happy and ready to play some ball.
San Diego Padres acquire All-Star second baseman Adam Frazier from Pittsburgh Pirates, sources say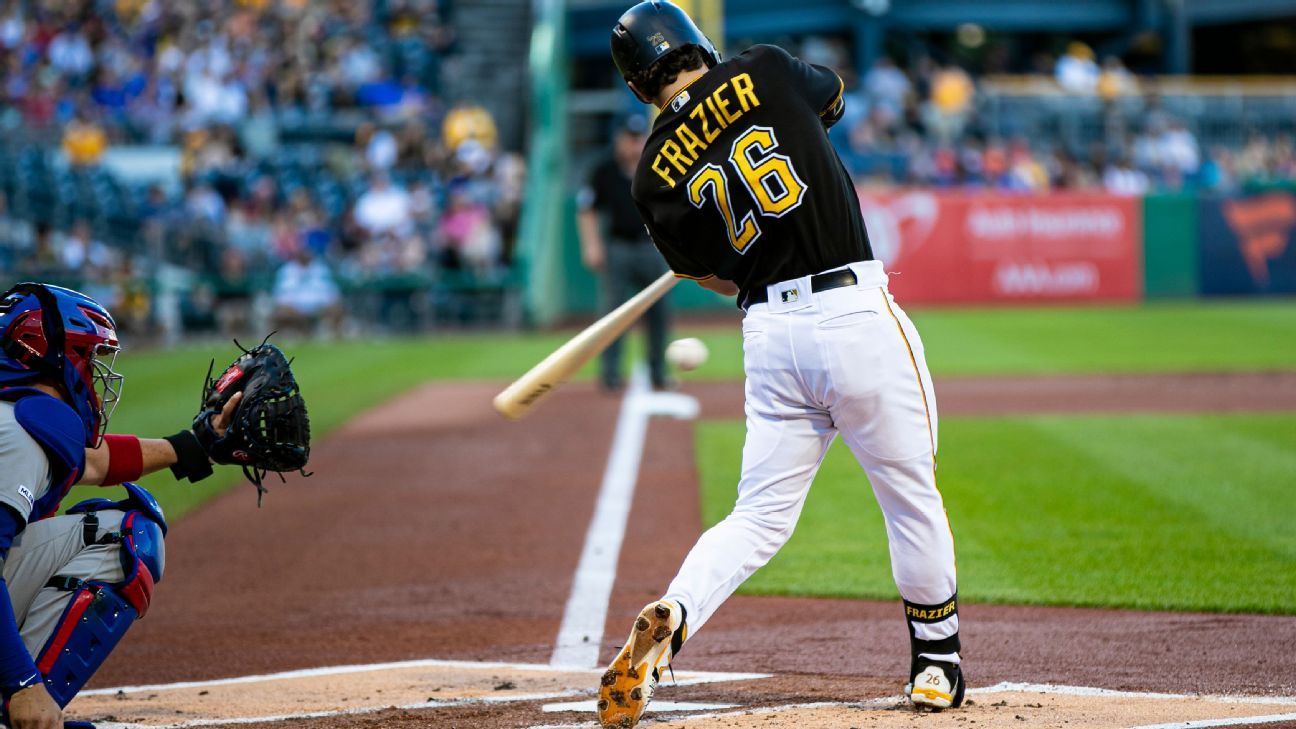 The San Diego Padres are acquiring second baseman Adam Frazier from the Pittsburgh Pirates, sources told ESPN's Jeff Passan.
Frazier, 29, who leads baseball in hits this year, is not a free agent until after the 2022 season.
In exchange, the Pirates are acquiring right-hander Michell Miliano, shortstop Tucupita Marcano and outfielder Jack Suwinski, a source told ESPN's Kiley McDaniel.
Pittsburgh is also sending approximately $1.4 million to the Padres in the deal, according to The Associated Press.
Frazier entered Sunday hitting .327 — the second-best average in Major League Baseball — with four home runs and 32 RBIs.
A 2020 Gold Glove finalist and an All-Star this season, Frazier was the Pirates' second-longest tenured player, behind right fielder Gregory Polanco.
When asked about possibly being traded a week ago, Frazier said he wasn't letting it distract him.
"It's pretty cool to be recognized like that and have teams want you," Frazier said. "It means a lot. It tells you you're playing well, but I still have to worry about playing baseball."
With his wife preparing to play for Olympic gold, Jake Reed claimed off waivers by Tampa Bay Rays
ST. PETERSBURG, Fla. — Jake Reed switched teams while his wife was with the U.S. softball team at the Tokyo Olympics.
The 28-year-old reliever was claimed off waivers by the Tampa Bay Rays from the Los Angeles Dodgers on Sunday and optioned to Triple-A Durham.
Reed, a right-hander with a submarine delivery, made his major league debut on July 6 and had a 3.38 ERA in five relief appearances and one start. He was designated for assignment on Wednesday by the Dodgers.
Janie Reed is the starting left fielder and No. 2 hitter on the U.S. team, which plays Japan for the softball gold medal on Tuesday.
Boston Red Sox end Domingo German's no-hit bid in 8th inning, storm back to beat New York Yankees
BOSTON — Domingo German was simply dominating the Boston Red Sox. Never more so than in the seventh inning, when the New York Yankees right-hander struck out stars J.D. Martinez, Rafael Devers, Xander Bogaerts and rookie Jarren Duran.
As German walked off the mound then with a no-hitter intact and a solid lead, there was no way to envision what was on deck.
Held hitless into the eighth by German and looking feeble, Alex Verdugo and the Red Sox suddenly erupted for five runs to shake Fenway Park and storm past New York 5-4 on Sunday.
The old ballpark was almost silent all afternoon, until Verdugo opened the eighth with a long double for Boston's first hit, and he raised his arms in celebration at second base.
By the time Kike Hernandez slid home headfirst on Xander Bogaerts' sacrifice fly with the go-ahead run to cap the rally, fans were fired up.
"I felt like just getting that hit out of the way had everybody just take that big deep breath, didn't have to worry about getting no-hit anymore," Verdugo said. "That inning was crazy. From going no-hit to seven innings to putting five up in the eighth, that's one of the craziest comebacks I've ever been a part of."
With their major league-leading 32nd come-from-behind victory, the Red Sox reclaimed first place in the American League East, a game ahead of the Tampa Bay Rays. It was the Red Sox's 10th win in 13 games this year against their rivals, and it erased a tough 4-3 loss on Saturday, when New York scored four times in the eighth.
What a difference a few hits made. Before those, it was pretty glum in the Boston dugout, according to Red Sox manager Alex Cora.
"Not great, to be honest with you," Cora said. "Whoever says, 'We're a hit away or a baserunner away from getting this going' … I didn't sense that. I sensed a lot of frustrated people. [German] was amazing."
The Yankees, meanwhile, absorbed another brutal loss in a season full of them. They dropped three of four in the series and fell nine games behind Boston. The Yankees now have three losses this season when they've led by four or more runs in the eighth inning or later. That ties the most such defeats in a single season in franchise history, and it's the first time they've had three such losses since 1993, according to ESPN Stats & Information research.
"Really tough one, obviously. Domingo was terrific," Yankees manager Aaron Boone said. "It's a tough one we've got to get past. Another extremely tough one."
Boston trailed 4-0 when Verdugo doubled to deep right, and German was lifted after the hit by Boone.
"You know to pitch a no-hitter is one of the hardest things to do in baseball," German said through an interpreter. "I knew I had a no-hitter going. I was executing pitches to try and be as careful as possible. Verdugo was able to connect there. I thought it was a good pitch."
Jonathan Loaisiga (7-4) relieved, and Boston broke loose with four straight hits. Hunter Renfroe had an RBI double, Christian Vazquez singled home a run and Hernandez followed with an RBI double, cutting it to 4-3.
Zack Britton relieved, and pinch hitter Kevin Plawecki's groundout plated the tying run. Hernandez hustled hard and beat right fielder Greg Allen's throw home on Bogaerts' sacrifice fly.
"It's a bad day for me. It's tough," Loaisiga said through an interpreter. "It hurts because you had the starter pitching strong. You come into the game hoping to do your job and it doesn't work out."
German was trying for the first no-hitter by an opponent at Fenway since the Detroit Tigers' Jim Bunning in 1958, when he retired fellow future Hall of Famer Ted Williams on a fly for the final out.
Mixing his well-spotted fastball in the mid-90 mph range with a changeup and curveball, the 28-year-old German struck out 10 and walked just one.
With a 3-0 lead, he began the seventh by fanning Duran. Bogaerts also struck out, swinging at a passed ball that prolonged the inning. German struck out Devers and Martinez, with all four strikeouts coming on third-strike swings.
There have been seven no-hitters in the majors this year, one short of the big league record set in 1884, the first season that overhand pitching was allowed.
There were two near misses on Saturday night: Patrick Sandoval of the Los Angeles Angels got his bid broken up with one out in the ninth at the Minnesota Twins; and Framber Valdez and the Houston Astros' bullpen took a try into the eighth.
Brandon Workman (1-2) earned the win for Boston on Sunday, and Matt Barnes got the final three outs for his 21st save.
"It was a pretty special comeback," Hernandez said.
Rougned Odor had a solo homer and an RBI single for New York. He popped up with a runner on second to end it.
Yankees infielder Gio Urshela, activated from the COVID-19 injured list before the game, had an RBI single to make it 2-0 in the fourth after Gleyber Torres doubled and advanced on a sacrifice.
Odor's bloop, run-scoring single had made it 1-0 in the third.
Boston starter Martin Perez gave up three runs over six innings, striking out six and walking two.
The Associated Press contributed to this report.