DeSean Jackson case inactive; cops think Tampa Bay Buccaneers wide receiver a victim
TAMPA, Fla. — The case involving Buccaneers wide receiver DeSean Jackson's wrecked vehicle being found abandoned with bullets and marijuana inside is currently inactive because police don't have any witnesses or evidence to place the driver behind the wheel at the time of the crash, the Tampa Police Department said Thursday.
They also believe Jackson was a victim and had no role in the incident.
Instead, police say Jackson's friend Therrian Fontenote was the one driving the vehicle at the time of the December crash, which resulted in significant damage to the vehicle and minor property damage. Jackson said he was out of town at the time the crash took place and that the vehicle was borrowed without his permission. No arrests have been made.
"We don't have enough information to definitively say who was driving when the crash took place," Tampa Police spokesperson Janelle McGregor said.
According to the police report, on Dec. 24, 2017, a blue 2016 Chevy Silverado belonging to Jackson had crashed into a tree and was found abandoned on West Shore Boulevard near International Mall in Tampa. The driver fled the vehicle on foot in an unknown direction. Police then discovered two hollow-point .38-caliber bullets and 6.3 grams of marijuana inside.
When Jackson was contacted about the accident, he attempted to report the vehicle was stolen. When pressed by police, he eventually admitted that the driver was Fontenote.
Police say the mall did not provide surveillance footage of the incident, which occurred near a parking garage. Jackson also has not followed up on the crash or facilitated in Fontenote coming forward to take responsibility, a contributing factor in the case's inactivity, despite the fact that Fontenote had a warrant for his arrest related to traffic offenses. There were no witnesses.
"If we get additional information or evidence the case moves forward," Tampa Police spokesperson Stephen Hegarty said. "At this time, it's inactive."
Antonio Brown signs one-year deal with Tampa Bay Buccaneers, source says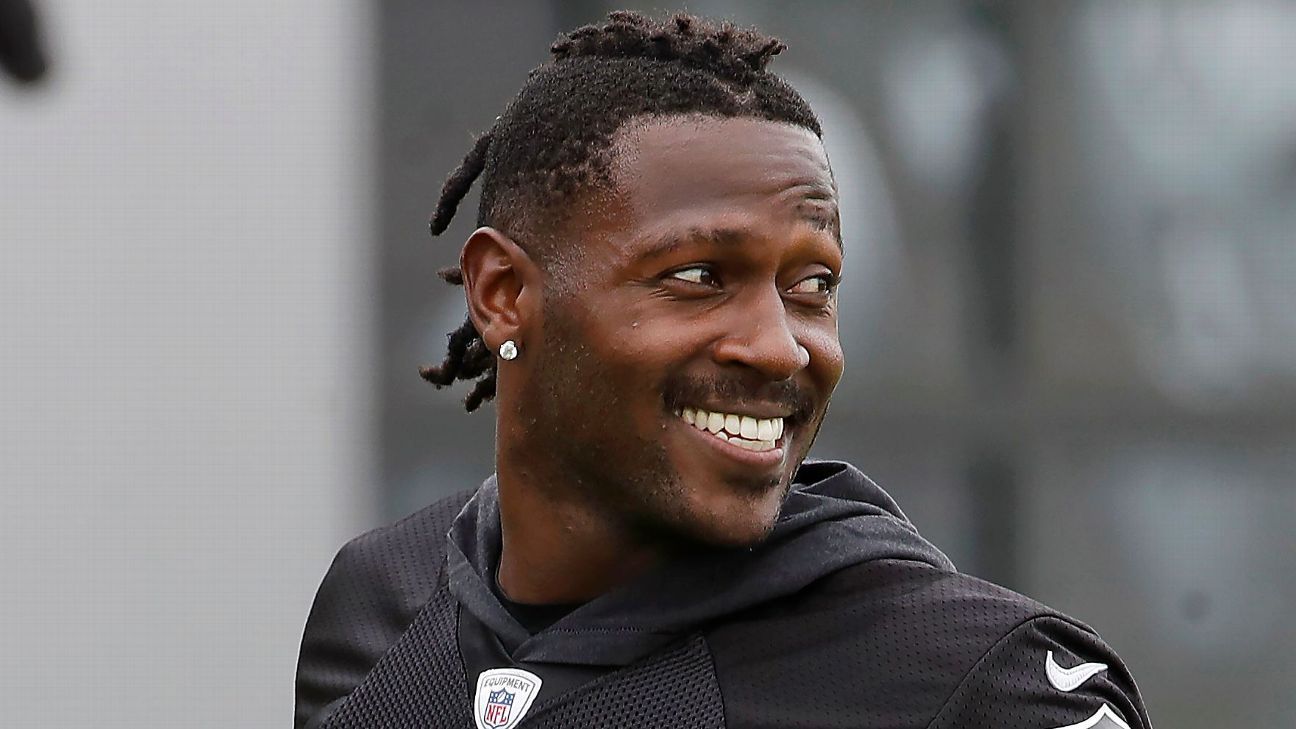 TAMPA, Fla. — Antonio Brown officially signed his contract with the Tampa Bay Buccaneers on Tuesday morning, sources told ESPN. It is a one-year deal for a base salary of $750,000 with incentives that could push the value to $2.5 million, sources told ESPN on Sunday.
He can earn $750,000 if the Buccaneers win the Super Bowl and has three $250,000 incentives for 45 receptions, 650 yards and six touchdowns during the regular season. For Brown to earn the individual incentives, the Buccaneers must make the playoffs, the source told ESPN.
Brown will not be eligible for reinstatement or be able to start practicing with the Bucs until his suspension concludes after Week 8, but the team does plan to have him participate in meetings and meet with the strength staff once he clears COVID-19 testing protocol this week.
The expectation is that Brown will make his debut in Week 9 against the New Orleans Saints.
The Bucs have emphasized Brown will be on a tight leash. He is currently in Week 7 of an eight-week suspension for violating the NFL's personal conduct policy and he is still under probation for felony burglary with battery charges for the next two years, which requires a psychological evaluation, follow-up treatment, 100 hours of community services and attending an anger management course.
Brown still faces a civil suit by his former trainer, who alleges that Brown assaulted her on three separate occasions from 2017 to 2018. A trial is set for Dec. 14-18, a source told ESPN.
On Sunday, Bucs coach Bruce Arians said that he is going to "let the court system handle it" and "if it's found out to be true, he won't be with us." If the court rules in favor of the trainer and the Bucs do cut him, he could potentially see action in five games — Tampa Bay has its bye week in Week 13.
Brown and his legal counsel face an Oct. 31 deadline for the discovery process. They must provide information from his electronic devices where the trainer is mentioned or discussed. If Brown fails to provide this, she and her attorney will ask for sanctions.
Tua Tagovailoa era begins: What to expect from Dolphins' rookie QB – Miami Dolphins Blog
Following a week of debating the Miami Dolphins' sudden change at quarterback, the Tua Tagovailoa era begins at home Sunday against the Los Angeles Rams (1 p.m. ET, Fox). Whether the timing is the best or not, Tagovailoa's first start will be one of the most anticipated moments of the NFL's Week 8 schedule.
There are many questions surrounding the Dolphins' quarterback situation, including concerns about Miami's 2020 No. 5 overall pick, veteran Ryan Fitzpatrick and how the roster change "broke his heart" and what to expect from it all going forward in 2020.
It's clear expectations are high for the rookie, and Tagovailoa's teammates are doing little to quiet the hype.
"For Tua to get the opportunity to start, that kid is incredible. I'm looking forward to going out there and playing with him on Sunday," Dolphins defensive end Shaq Lawson said. "I've seen a lot of him in practice, how athletic he is, how incredible of a player he is. You get to see it Sunday this week. It's going to be incredible. He's going to lead his team in the right way."
ESPN Daily: Listen to Cameron Wolfe explain how Tua Tagovailoa became QB1
Here are some burning questions headed into the start of Tua Time:
What should we expect from Tagovailoa?
There's a need to be realistic for a rookie making his first pro start at quarterback, especially one who has overcome a career-threatening hip injury suffered in November 2019.
Fitzpatrick was playing well for the 3-3 Dolphins, and he's very comfortable within the scheme. It should not be a surprise to see a Tagovailoa-led offense take an initial step back.
What we do know is Tagovailoa can make all the throws, including some Fitzpatrick can't. Tagovailoa's athleticism provides a new element, and he has spent the past few months soaking up everything from the 16-year veteran QB and 68-year-old offensive coordinator Chan Gailey.
"Obviously, throwing, making plays, [he's] everything you want in a quarterback," Dolphins receiver Preston Williams said. "Y'all seen his tape — that speaks for itself."
Lawson added: "He's so dangerous. He's athletic. You wouldn't think he's a rookie if you watch him in practice. He looks like he's been around a long time."
How will morale be affected by the change and Fitzpatrick's emotional response?
Coach Brian Flores has control in the Dolphins' locker room, particularly after all the ups and downs during last season's 5-11 campaign. There likely won't be an issue, because as long as Fitzpatrick fully embraces Tagovailoa as the starter, the rest of the team will follow suit. And if Tagovailoa plays well, it's a non-issue either way.
What will be worth watching is if neither happens — Fitzpatrick isn't all-in on his new role and Tagovailoa struggles out of the gate. Those issues will likely bring up second-guess whispers and test the Dolphins' chemistry. Flores said he isn't worried about any division. Tight end Mike Gesicki, who is best friends with Fitzpatrick, said he doesn't foresee an issue arising.
"Our locker room, it's tight. We all believe in one another and believe in Coach Flores and [GM] Chris Grier and [owner] Mr. [Stephen] Ross and everybody that is upstairs making decisions. We all have confidence in Tua to go out and make plays," Gesicki said. "It's not going to be like, oh, one series here, one series there and everybody is throwing in the towel. That's not how it is.
"We're all excited, and honestly, I think there's a lot of trust, a lot of belief in the players that are being put in position on the field on Sundays."
Domonique Foxworth believes the only team that makes sense trading for Ryan Fitzpatrick is the Browns, while Ryan Clark says the Dolphins are better off holding on to him.
Why did the QB change happen now?
This move was more about Tagovailoa and his long-term development than Fitzpatrick's play. It's notable Flores mentioned Grier and others were involved in the decision, which indicates this was just as much an organizational choice as a team one for this season.
The Dolphins' plan all along, it seems, was to play Tagovailoa once they deemed him ready, and they didn't need to wait for Fitzpatrick to lose the job before they did so. Tagovailoa has improved in practice, the team views him as healthy and the organization sees more value in getting him game experience now rather than riding the Fitzpatrick wave any longer.
How should Tagovailoa handle being thrown into action during the playoff hunt?
Dan Orlovsky, an ESPN analyst and 13-year NFL quarterback, offered up some advice for Tagovailoa taking over a team that's in the thick of the AFC East postseason race:
"The first thing is go in with zero expectations. You can put undue pressure on yourself — this is a 3-3 football team and you lose your first game, you don't want the thought of, 'Did I just fail my team?' He's got to have a long-term viewpoint of this as well. Two, you got to realize you just have to play your part. You have to be one of 11. This team isn't asking you to be Superman right now. It isn't asking you to carry this offense. You've got to be willing to be Steve Nash, just distribute the football and let the other guys make the plays.
"Finally, understand it is football and you're playing the same game you have your whole life. Put everything you can into your preparation, take a deep breath and go play ball. Don't overthink things. Tua's strength is his reactions, his instincts — he's been groomed for this for a long time."
Will the offense change with Tagovailoa under center?
Don't expect the Dolphins' offense to transform overnight, but one can expect Tagovailoa-specific plays to evolve as weeks go on. Gailey and quarterbacks coach Robby Brown have been working with Tagovailoa weekly to determine what he feels comfortable with and have found some plays to install that are similar to what he ran at Alabama. Along with those college plays, the Dolphins will likely employ more run-pass-option plays, quick timing routes and vertical shots, as those fall under Tagovailoa's strengths.
Is Tagovailoa physically ready to be hit, starting with Aaron Donald and the Rams?
Getting tackled is the last hurdle Tagovailoa has to clear, and it's not a pleasant thought to think of Donald being the first one to do so. If the Dolphins had any worry about Tagovailoa's health, they wouldn't feed him to the two-time NFL Defensive Player of the Year for his first start. Tagovailoa and the team believe he's 100 percent healthy.
It's worth noting Fitzpatrick has the third-fastest time to throw (2.41 seconds) of any NFL quarterback. This might be the most important stat for Tagovailoa to duplicate as the team tries to protect him behind an improving but young offensive line.
Matthew Berry says, in standard ten and twelve-team leagues, there are better QBs than Tua Tagovailoa on the waiver wire, but he would definitely pick up Tua in deeper leagues.
Can Tagovailoa lead the Dolphins to the playoffs?
Playoffs?!? The fact the Dolphins are worthy of being mentioned in the conversation is credit to how far they have come after being the NFL's laughingstock over the first half of the 2019 season. The Dolphins are in second place in the AFC East, 1½ games behind the Buffalo Bills and one game out of the final wild-card spot currently held by the Indianapolis Colts.
ESPN's Football Power Index gives the Dolphins a 28.2% chance to make the playoffs, ninth best in the AFC. So, you're saying there's a chance? Yes, if Tagovailoa plays well, the Dolphins, boosted by a solid defense, could make a playoff push with a manageable slate of games that ranks 18th among FPI's remaining strength of schedule.
The most likely scenario is circling 2021, not 2020, for the playoffs. Regardless, the Dolphins' rebuild is headed in the right direction.
Bucs' Antoine Winfield Jr. relies on Dad's FaceTime calls to help navigate NFL
TAMPA, Fla. — It will soon be a Wednesday night in Week 8 of his first NFL season, and just as he did the week before and every Wednesday and Thursday prior, Tampa Bay Buccaneers rookie safety Antoine Winfield Jr. will go to his most trusted resource as he prepares for this week's opponent, the New York Giants, on Monday Night Football: his father, Antoine Winfield Sr.
The call comes in at 6 p.m., and via FaceTime, the two discuss their plan of attack. Winfield Jr., the Buccaneers' second-round pick, sits at either his couch or the kitchen table and points his phone at his laptop. His father, who spent 14 years in the NFL with the Buffalo Bills and Minnesota Vikings, sits on his couch more than 1,000 miles away in Texas and studies the screen.
On Wednesdays, they go over first and second downs. They talk about formations, playcalls and route concepts, with the goal of helping Winfield Jr. play fast.
Winfield Sr. has been instrumental in helping his son — Pro Football Focus' highest-rated defensive rookie through Week 5 — adjust and even thrive in his first season in the league.
"I taught him everything I know," Winfield Sr. told ESPN. "He plays exactly like I do, but he's gonna be a better player than I was."
Coaching up Junior
Winfield Jr. and the Bucs have already seen these calls pay off.
Before the Bucs' Week 2 game against the Carolina Panthers, Winfield Jr. told his father, "Dad, keep in mind this formation. We have a blitz called, so I'll be coming off the edge."
So Winfield Sr. told him, "OK, of course the running back is gonna pick you up, he'll see you coming to the line of scrimmage. When you blitz, get on the edge, get on the shoulder of the running back, because the quarterback is gonna step up and he's gonna escape."
He got to the point, fell back and chased quarterback Teddy Bridgewater down, sacking him and knocking the ball loose. It was recovered by Jason Pierre-Paul, setting up a 23-yard touchdown throw to Mike Evans.
"I was so excited," Winfield Sr. said. "I [was] running around the house, yelling, jumping."
He couldn't be at the game, as no fans are allowed at Raymond James Stadium because of COVID-19, but distance didn't diminish his excitement or the magnitude of the moment.
"I lose my voice every Sunday," Winfield Sr. said. "I know this means a lot to him. He puts a lot of time in, a lot of work — I'm just ecstatic for him."
When he was able to see his son play in person, in Week 3 at the Denver Broncos, Winfield Jr. blitzed from the other side and took down Jeff Driskel for a sack and a loss of 8 yards.
"It was cool just to have him out there," Winfield Jr. said. "He told me I did a great job and to keep ballin'."
Winfield Jr. is doing what defensive coordinator Todd Bowles instructed when he named him the starter at the end of camp: "Go out and own it." His 2.0 sacks are tied for the most among safeties in the NFL this season, while his four pass breakups are tied for third most. His 242 coverage snaps are the most of any rookie this season and his 37 combined tackles (25 solo) are fifth most. And he's done it at different positions. When Sean Murphy-Bunting suffered a hamstring injury, Winfield Jr. moved to nickelback without batting an eye.
"He's a good football player, regardless of this situation or any situation. He's smart, he's heady, he makes plays and he makes you trust him," Bowles said.
"It's not a lot of times you get a rookie coming in as a free safety and making calls," defensive captain Lavonte David said. "Sometimes they're not sure of themselves, but he's very sure of himself. He's talking, he's communicating, he's making sure you get the call. … I really like that."
On Sunday, the Las Vegas Raiders had pulled within four points in the fourth quarter, before Tom Brady and Chris Godwin connected on a 4-yard strike to make it 31-20. But they needed some cushion to their lead. That's when safety Mike Edwards dove in front of Nelson Agholor on a dig route, with Winfield coming down with it for his first career interception. "It just came straight to me and I just caught the ball," Winfield said.
"It's a great feeling, getting my first interception. I feel like I should have had it last week, but it was great finally actually catching the ball. It just felt amazing."
'Football's in our DNA'
Winfield Sr. can still remember placing a football in Winfield Jr.'s hands when he was a toddler and watching him take off with it — his father gently tackling him to the ground from his knees.
"He didn't really have a choice," Winfield Sr. joked. "I mean, he's my junior, my firstborn — I put a football in his hands when he came out of the womb. I think football's in our DNA."
He also remembers his son climbing into bed with him when he studied film after practice, which progressed into more detailed instruction when he got into high school.
"He would jump in next to me [and ask], 'Dad, whatcha watching? Who you playing this week? Why are you always in the bed watching all this film?'" Winfield Sr. said.
"I said, 'Son, this is my job. 24/7, 365 days we're working. I have to get out there and perform well. That's the tip that you get as a DB. Because quarterbacks and receivers are really good. So if you're watching film, you can get a head start and recognize some things — that gives you an opportunity to make plays.'"
"I was like, 'All right. … OK, I see. That's what I'm gonna have to do when I get older and play in the NFL,'" Winfield Jr. said.
There are lessons to be learned each week, but not always X's and O's. When the Bucs lost a Thursday night game to the Chicago Bears in Week 5, father told son, "It's football. You're not going to win every one."
"He'll say, 'If you have a loss, get back and get ready to go to work,'" Winfield Jr. said. "Watch the film, correct the changes and mistakes, just learn from it. Grow from your mistakes that you made so you can just get better."
His biggest piece of advice?
"Always be prepared," Winfield Sr. said. "When you're prepared, that breeds confidence. Confidence leads to you going out there and making plays. I told him, 'Every time you step on the field, you always gonna think in your mind, "I'm the best player out here. I'm gonna make the plays I'm supposed to make. I'm gonna be in the position I'm supposed to be in." If you do that, you'll have a long, successful career.'"
Like father, like son
The similarities between father and son are endless, even if they play different positions. Both are 5-foot-9, although Winfield Jr. plays at 203 pounds while his father played at around 180 to 185.
"They're identical," said cornerbacks coach Kevin Ross, who coached Winfield Sr. in Minnesota for three seasons. "They each have a 6-inch punch. [Winfield Jr.] practices very hard, he's very smart, very instinctive. … I think he's going to have a hell of a year."
"I didn't have the size," Winfield Sr. said. "He's definitely stronger than me. He has more knowledge of the game than I did. I was the first to do it in my family. … With me helping him from an early age, and watching him through the years, elevating his game, he's a special player. As you see it on Sunday — he's out there, doesn't look like a rookie.
"He's blitzing a lot more. He's playing in the post. I wish I could have played like that. It's just the awareness."
But how?
"I would say it's natural, but it also comes with a lot of hard work," Winfield Jr. said. "If you do it in practice, you'll do it in the game, so my goal is always to stay around the ball in practice. Then it shows up during game time. You have to practice it all the time for it to actually happen."
The same could be said for their father and son film-study sessions too, which they've got down pat.
"He plays beyond his years right now," Bowles said. "He plays like a veteran, he understands the game, he plays the game the right way. He makes his plays and he understands that when his opportunity comes up, he has to make a play — and he does."
The real question will be if he can ultimately outdo his dad. With Winfield Sr.'s 20 career interceptions, he has 19 more to go.
"I'm definitely gonna try to pass him in all his stats," Winfield Jr. said. "That's my goal, to beat him in everything — tackles, picks, forced fumbles, whatever it is — I want to have a better game than him."