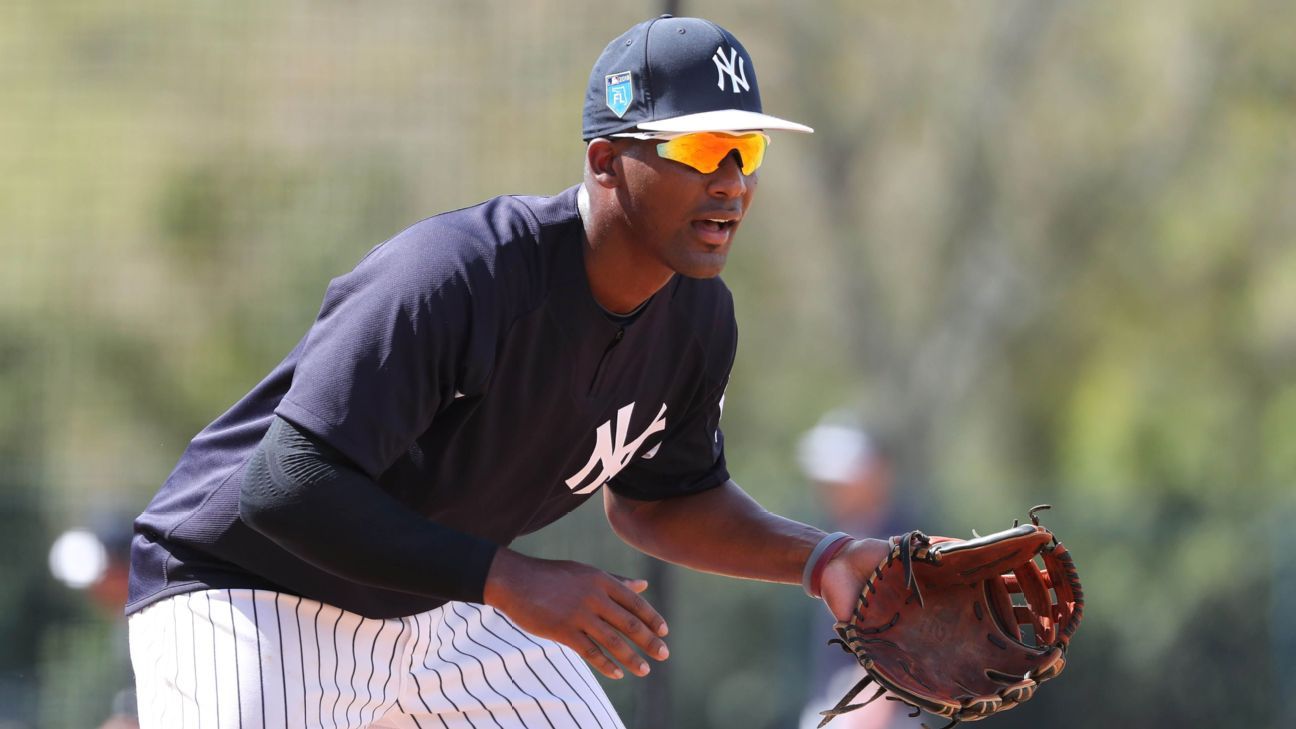 TAMPA, Fla. — Not so fast, Gleyber Torres and Miguel Andujar.
The New York Yankees, Tampa Bay Rays and Arizona Diamondbacks made an intriguing, three-team deal that means the two Yankees rookies aren't going to be handed Opening Day starting jobs at second and third base.
First, the deal:
• The Yankees get infielder Brandon Drury from the Diamondbacks
• The Diamondbacks get outfielder Steven Souza from the Rays and minor league pitcher Taylor Widener from the Yankees
• The Rays get pitcher Anthony Banda from the Diamondbacks and minor league second baseman Nick Solak from the Yankees (plus two players to be named from Arizona)
What does it mean for the Yankees' infield? General manager Brian Cashman said Wednesday that Drury was brought in with the intention of playing third base. "We like that he has experience. His best position is third base, his versatility is attractive. … Our primary interest here is third base. He's going to join the competition now and we believe there's more gas in the tank. Our pro scouts are really high on his potential. They dream on him a little bit so we're going to dream on him a little bit too." Drury hit .267/.317/.447 for Arizona in 2017 while playing mostly second base, but he has started 34 games at third in the majors and came up through the minors as a third baseman (he also started 79 games in the outfield in 2016). Cashman said the team isn't handing him the starting job ahead of Andujar, but believes his experience gives him the leg up over the rookie.
Look, there's no doubt that the Yankees love both Torres (Keith Law's No. 5 overall prospect) and Andujar (Law's No. 54 prospect). Earlier on Tuesday, manager Aaron Boone raved about both players.
"I think they're both going to be tremendous players," Boone said. "I love who they are. You can tell they enjoy being on the baseball field. You can tell they're confident in their ability, the way they move around, yet there's a humility about them."
But Torres missed the second half of last season after having Tommy John surgery on his non-throwing elbow. He's completely healthy and not limited at all in spring training, but he hasn't played since June 17 and has just 55 games above Class A. While everyone believes in his long-term impact, some time in Triple-A makes sense.
Andujar had a brief cameo in the majors last year after a breakout season of sorts in Double-A and Triple-A, adding a little more power as he filled out and added strength. He hit .315/.352/.498 with 16 home runs while striking out just 71 times in 522 plate appearances. Andujar told reporters that he spent the offseason working on his defensive consistency, especially on making throws from different angles.
The contact ability bodes well for a transition to the majors, and he hit several bombs in batting practice on Thursday. He and Drury have similar projections for 2018, via FanGraphs: a 95 wRC+ for Andujar and 91 for Drury. (Remember, Drury's numbers came in a good hitter's park in Arizona).
The Yankees' options at second and third don't end here (though this should end any speculation that the team will sign Mike Moustakas). Ronald Torreyes had a serviceable 2017 as the utility infielder, hitting .292/.314/.375. Tyler Wade struggled in his few big league at-bats after hitting .310/.382/.460 at Triple-A. Veteran Danny Espinosa also is in camp as a non-roster invite.
Of course, the trade gives the Yankees the ability to play with the service time of Torres and Andujar by starting them in the minors, though GM Brian Cashman has said that wouldn't be a factor. "It's not part of my evaluation process," he told Newsday's David Lennon a few days ago. "We're trying to win. If we feel that somebody could benefit from more time in the minors, we'll make that decision at the end of camp."
Either way, the Yankees have plenty of flexibility with their ultimate decision. Boone has said that Torres, a natural shortstop, will get action at all three infield spots, so if he tears the cover off the ball in spring, he could end up at second or third if Andujar struggles, or Andujar could end up at third and Drury at second. Or maybe Torres and Andujar will both make the team. An Opening Day roster of 13 position players could look like this:
Catchers: Gary Sanchez, Austin Romine
Infielders: Greg Bird, Gleyber Torres, Didi Gregorius, Miguel Andujar, Brandon Drury, Ronald Torreyes
Outfielders: Aaron Judge, Giancarlo Stanton, Brett Gardner, Aaron Hicks, Jacoby Ellsbury
Tyler Austin is another possibility as a backup outfielder/first baseman, and Wade is being groomed as a super-utility player who can play infield and outfield.
Asked Thursday what it would take for Torres and Andujar to make the Opening Day roster, Boone said, "I trust our eyes in what we'll see out of them. Performance matters to a degree, but it's a super small sample size … so I feel like if either one of those guys were to make our Opening Day roster, it would be clear in our eyes and probably somewhat of a consensus that there's no denying these guys belong on the club."
Now it's up to the kids to live up to their billing. For some players on the Yankees, spring training will be about winning a job.
New York Mets acquire star SS Javier Baez from Chicago Cubs for OF prospect
NEW YORK — The New York Mets acquired star shortstop Javier Baez and pitcher Trevor Williams from the Chicago Cubs on Friday for outfield prospect Pete Crow-Armstrong.
Baez, a two-time All-Star and 2020 Gold Glove winner, gives the NL East leaders an immediate fill-in for the injured Francisco Lindor at shortstop. Lindor is sidelined with a strained oblique and isn't expected back until at least mid-to-late August.
Baez, who can become a free agent after the season, is batting .248 with 22 home runs and 65 RBIs. He has a .775 OPS and 13 stolen bases in 16 tries, but also leads the National League with 131 strikeouts. He has made 18 errors in 88 games.
When Lindor returns, Baez could move to second base or third.
Williams is also a significant part of the deal for the Mets, who were eager to reinforce a thin starting rotation depleted by injuries. The right-hander is 4-2 with a 5.06 ERA in 13 games (12 starts) this season, his first with the Cubs after spending his first five years in Pittsburgh. Williams, 29, is eligible for arbitration after this season and can become a free agent following the 2022 season.
The Mets also received cash as part of the deal.
New York began the day with a 3½-game lead in the NL East over Philadelphia, and third-place Atlanta was four back. Both those teams also made moves before Friday's trade deadline in an effort to upgrade and chase down the Mets.
Armstrong, 19, a first-round draft pick out of high school last year, is sidelined with a shoulder injury. He is considered an elite defender in center field.
The move was one of several by the Cubs in the days leading up to the deadline. Chicago also traded third baseman Kris Bryant, outfielder Jake Marisnick, first baseman Anthony Rizzo and closer Craig Kimbrel.
"I want to personally thank Anthony Rizzo, Javy Báez and Kris Bryant," Cubs chairman Tom Ricketts said in a statement. "Together they played critical roles for one of the most successful runs in Chicago Cubs history. They each secured a place in the hearts of Cubs fans everywhere. While their days taking the field together as Cubs have come to an end, they gave us memories we will hold forever."
Ricketts also thanked president of baseball operations Jed Hoyer for "making the tough decisions necessary to build the next great Cubs team."
Information from The Associated Press was used in this report.
New York Mets ace Jacob deGrom out until September with right forearm inflammation
The New York Mets announced Friday that Jacob deGrom will be out until September due to additional inflammation in his right forearm.
The ace right-hander is 7-2 in 15 starts with a 1.08 ERA, but last pitched July 7 when he struck out 10 in seven innings against the Brewers. He will be shut down from throwing for two weeks, pushing the timetable for his return back to September.
Manager Luis Rojas didn't offer any other update during his pregame media session, other than to say deGrom didn't throw on Friday. DeGrom has suffered five injuries this season – shoulder soreness, right lat tightness, right side tightness, right flexor tendinitis — and had two starts pushed back and had an earlier stint on the injured list in May. When he landed on the IL with forearm tightness, he said the previous four injuries had each been caused while batting.
"When I go to release a baseball, I'm having a hard time staying through it and throwing the ball how I'm supposed to," deGrom said in mid-July when the Mets officially placed him on the IL. "The other day, I felt it from literally lobbing a baseball and then never really seemed to get any better. Just continued to stay tight even when I got on the mound. I guess the positive thing is, structurally, my elbow looks good but the frustration part is why. What is it? What did I do to cause it?"
The Mets have used 16 different starting pitchers and will use their 17th on Friday night when Carlos Carrasco makes his Mets debut. The Mets will also wear black uniform tops, a fan favorite, for the first time in nine years.
Carrasco, part of the Francisco Lindor trade in the offseason, missed the first four months with a hamstring tear. The Mets acquired Rich Hill in a trade last week with the Rays and added Javier Baez and Trevor Williams in a deadline deal with the Cubs on Friday. Williams is 4-2 with a 5.06 ERA in 13 games (12 starts) with the Cubs, and has been hit hard, allowing 10 home runs and a .833 OPS in 58.2 innings.
Without deGrom, the rotation lines up as Marcus Stroman, Carrasco, Taijuan Walker, Hill and Tylor Megill, with Williams likely heading to the bullpen for now. Megill has pitched well with a 2.04 ERA in seven starts while Walker has struggled of late, with 17 runs allowed in 9.1 innings over his past three starts.
Toronto Blue Jays acquire RHP Jose Berrios from Minnesota Twins for prospects
MINNEAPOLIS — Despite all the speculation that surrounded Jose Barrios this month, with the Minnesota Twins nowhere near contention and ready to reload for the future, the right-hander wasn't ready to accept he could be traded.
The news that he was heading to Toronto on Friday brought him and his wife to tears.
Then came the really hard part, having to break the news to their three children that he was joining the Blue Jays in a deadline-day deal that sent two highly rated minor leaguers to the Twins.
"I know that it will be hard because this year, they are bigger. They are growing up. They know more about life and also some people," Barrios said, predicting the greatest difficulty for 7-year-old daughter Valentina.
Soon-to-be-5-year-old Sebastian and 3-year-old Diego had grown fond of Minneapolis and their friends there, too.
Barrios, drafted 32nd overall by the Twins in 2012, debuted with Minnesota in 2015. Though Puerto Rico was their home, he and his wife, Jannieliz, became strongly rooted in the community. He worked hard to be able to speak English effectively. Barrios felt strongly enough about the Twins he asked the team's senior director of communications, Dustin Morse, to arrange a farewell Zoom session with reporters.
"When you've got your first team or your first time in everything, that's where I made my MLB debut, so it's going to be in my heart all my life," Barrios said from St. Louis, where he had been scheduled to start a three-game series against the Cardinals.
Instead, the playoff-chasing Blue Jays won the aggressive pursuit for the two-time All-Star, who was one of the most attractive players available on the market. They parted with infielder/outfielder Austin Martin and right-hander Simeon Woods Richardson for the 27-year-old Barrios.
Toronto began the day at 51-48, in the fifth spot chasing two AL wild-card slots with a 4 1/2-game deficit to make up. Barrios was 7-5 with a 3.48 ERA in 20 starts for the Twins this season, their unquestioned ace who has been as durable as any pitcher in the game and remains under team control through the 2022 season.
The sadness aside, the opportunity to return to a postseason race will help stem the blow a bit for Barrios.
"They are competing and trying to get that push to the playoffs. I'm so happy to be part of that, and I'm going to put myself in the best position to help that team to make that this year," he said.
Barrios has struck out 126 in 121 2/3 innings this season and held opponents to a .213 batting average. He was 55-43 with a 4.08 ERA in his career with Minnesota.
Dealing Barrios will set a struggling rotation back even further in the short term, but the Twins had leverage, with so many teams seeking high-end starting pitching. Minnesota decided to hasten the reset process for 2022 and beyond after this disappointing season on the heels of two straight AL Central titles.
"We were setting a high bar for a lot of these conversations," president of baseball operations Derek Falvey said after the deadline passed.
The 22-year-old Martin hit .281 with a .424 on-base percentage and scored 43 runs in 55 games for Double-A New Hampshire. This is his first pro season after being drafted fifth overall in 2020 out of Vanderbilt, where he helped win the College World Series in 2019. Martin was ranked this year by MLB.com as the second-best prospect in Toronto's system and the 16th-best prospect in the minor leagues. He played for the American League in the All-Star Futures Games this month at Coors Field. That AL side was managed by Twins special assistant LaTroy Hawkins.
The 20-year-old Woods Richardson was 2-4 with a 5.76 ERA in 11 starts for Double-A New Hampshire. Listed 68th overall in MLB.com's prospect rankings, Woods Richardson is now playing for the United States in the Olympics in Tokyo with fellow pitcher Joe Ryan, who was acquired by the Twins last week in a trade that sent slugger Nelson Cruz to Tampa Bay. Woods Richardson was a second-round draft pick in 2018 by the New York Mets, who dealt him to Toronto in the trade for pitcher Marcus Stroman in 2019.
The Twins also traded two other pitchers on deadline day, sending starter J.A. Happ to St. Louis and reliever Hansel Robles to Boston.
Barrios was one of the few homegrown pitchers the Twins had successfully drafted and developed over the last two decades, but they'd been unable to secure him to a long-term contract and weren't prepared to try to outbid for him on the open market if he were to reach free agency next year. So they took advantage of his hot market this summer and took another step toward restocking.
With Ryan, Woods Richardson and Drew Strotman, who was also recently acquired from the Rays for Cruz, the Twins have three more viable options for their future rotation.
One player the Twins hung onto was oft-injured center fielder Byron Buxton, whom they've also not yet been able to sign to an extension. Falvey said the Twins received plenty of interest in the multi-skilled Buxton, but not enough to warrant moving him.
"We're just going to continue to focus right now on him getting as healthy as possible, get him back on the field, and getting him playing for us," Falvey said.