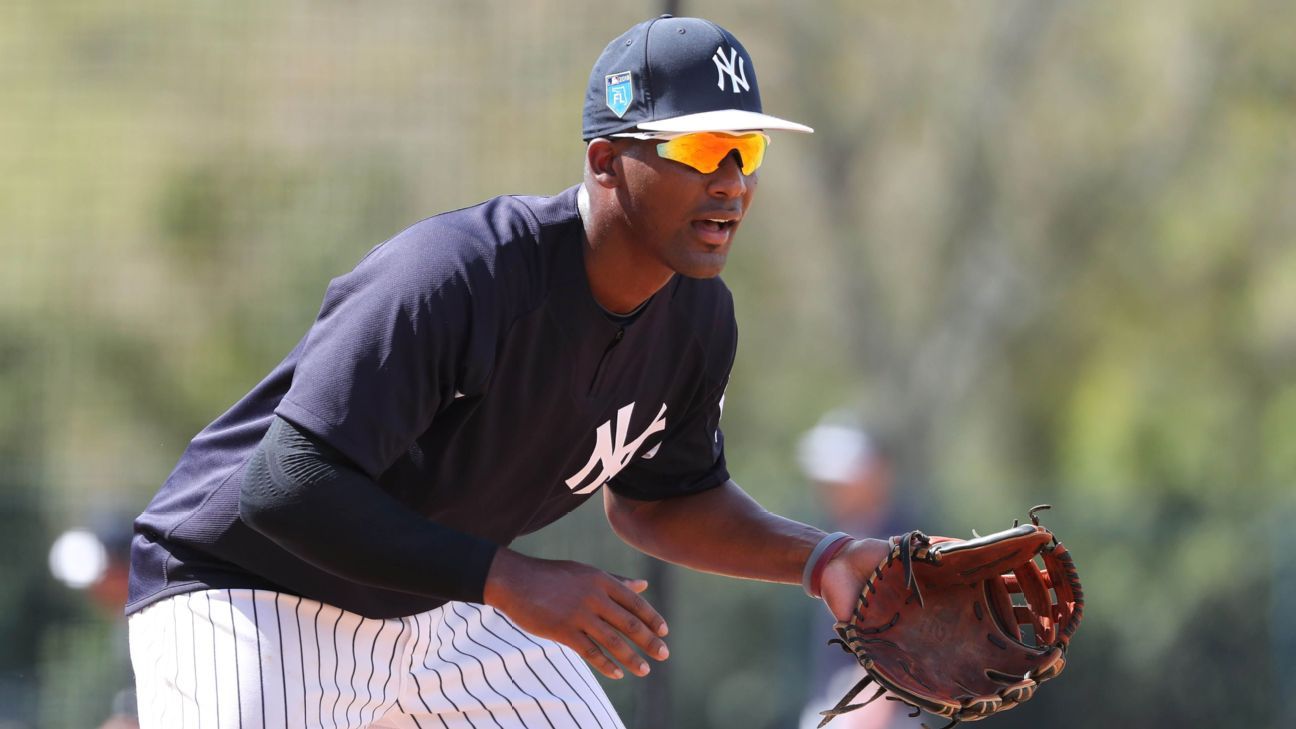 TAMPA, Fla. — Not so fast, Gleyber Torres and Miguel Andujar.
The New York Yankees, Tampa Bay Rays and Arizona Diamondbacks made an intriguing, three-team deal that means the two Yankees rookies aren't going to be handed Opening Day starting jobs at second and third base.
First, the deal:
• The Yankees get infielder Brandon Drury from the Diamondbacks
• The Diamondbacks get outfielder Steven Souza from the Rays and minor league pitcher Taylor Widener from the Yankees
• The Rays get pitcher Anthony Banda from the Diamondbacks and minor league second baseman Nick Solak from the Yankees (plus two players to be named from Arizona)
What does it mean for the Yankees' infield? General manager Brian Cashman said Wednesday that Drury was brought in with the intention of playing third base. "We like that he has experience. His best position is third base, his versatility is attractive. … Our primary interest here is third base. He's going to join the competition now and we believe there's more gas in the tank. Our pro scouts are really high on his potential. They dream on him a little bit so we're going to dream on him a little bit too." Drury hit .267/.317/.447 for Arizona in 2017 while playing mostly second base, but he has started 34 games at third in the majors and came up through the minors as a third baseman (he also started 79 games in the outfield in 2016). Cashman said the team isn't handing him the starting job ahead of Andujar, but believes his experience gives him the leg up over the rookie.
Look, there's no doubt that the Yankees love both Torres (Keith Law's No. 5 overall prospect) and Andujar (Law's No. 54 prospect). Earlier on Tuesday, manager Aaron Boone raved about both players.
"I think they're both going to be tremendous players," Boone said. "I love who they are. You can tell they enjoy being on the baseball field. You can tell they're confident in their ability, the way they move around, yet there's a humility about them."
But Torres missed the second half of last season after having Tommy John surgery on his non-throwing elbow. He's completely healthy and not limited at all in spring training, but he hasn't played since June 17 and has just 55 games above Class A. While everyone believes in his long-term impact, some time in Triple-A makes sense.
Andujar had a brief cameo in the majors last year after a breakout season of sorts in Double-A and Triple-A, adding a little more power as he filled out and added strength. He hit .315/.352/.498 with 16 home runs while striking out just 71 times in 522 plate appearances. Andujar told reporters that he spent the offseason working on his defensive consistency, especially on making throws from different angles.
The contact ability bodes well for a transition to the majors, and he hit several bombs in batting practice on Thursday. He and Drury have similar projections for 2018, via FanGraphs: a 95 wRC+ for Andujar and 91 for Drury. (Remember, Drury's numbers came in a good hitter's park in Arizona).
The Yankees' options at second and third don't end here (though this should end any speculation that the team will sign Mike Moustakas). Ronald Torreyes had a serviceable 2017 as the utility infielder, hitting .292/.314/.375. Tyler Wade struggled in his few big league at-bats after hitting .310/.382/.460 at Triple-A. Veteran Danny Espinosa also is in camp as a non-roster invite.
Of course, the trade gives the Yankees the ability to play with the service time of Torres and Andujar by starting them in the minors, though GM Brian Cashman has said that wouldn't be a factor. "It's not part of my evaluation process," he told Newsday's David Lennon a few days ago. "We're trying to win. If we feel that somebody could benefit from more time in the minors, we'll make that decision at the end of camp."
Either way, the Yankees have plenty of flexibility with their ultimate decision. Boone has said that Torres, a natural shortstop, will get action at all three infield spots, so if he tears the cover off the ball in spring, he could end up at second or third if Andujar struggles, or Andujar could end up at third and Drury at second. Or maybe Torres and Andujar will both make the team. An Opening Day roster of 13 position players could look like this:
Catchers: Gary Sanchez, Austin Romine
Infielders: Greg Bird, Gleyber Torres, Didi Gregorius, Miguel Andujar, Brandon Drury, Ronald Torreyes
Outfielders: Aaron Judge, Giancarlo Stanton, Brett Gardner, Aaron Hicks, Jacoby Ellsbury
Tyler Austin is another possibility as a backup outfielder/first baseman, and Wade is being groomed as a super-utility player who can play infield and outfield.
Asked Thursday what it would take for Torres and Andujar to make the Opening Day roster, Boone said, "I trust our eyes in what we'll see out of them. Performance matters to a degree, but it's a super small sample size … so I feel like if either one of those guys were to make our Opening Day roster, it would be clear in our eyes and probably somewhat of a consensus that there's no denying these guys belong on the club."
Now it's up to the kids to live up to their billing. For some players on the Yankees, spring training will be about winning a job.
Source — New York Yankees send P Adam Ottavino to Boston Red Sox in rare trade between rivals
The New York Yankees are trading reliever Adam Ottavino to the Boston Red Sox, a source confirmed to ESPN.
The trade is the first deal between the AL East rivals since one involving Stephen Drew and Kelly Johnson in 2014.
By moving Ottavino, the Yankees free up some cash, while the Red Sox add a late-inning arm. New York is also kicking in $850,000 in the deal, sources told ESPN's Buster Olney.
The Athletic earlier reported news of the trade.
Ottavino signed a three-year, $27 million contract with the Yankees ahead of the 2019 season.
He proved a key part of the back-end of New York's bullpen in 2019, pitching to a 1.90 ERA in 73 appearances that season. However, 2020 proved to be a challenging one for Ottavino as he had a 5.89 ERA and blew three saves in 24 appearances.
The right-hander will always hold a place in Yankees lore as he became the first player to wear No. 0 in franchise history.
Predicting 40 active future Hall of Famers and their best Cooperstown comparisons
It's Baseball Hall of Fame election week, and with nobody likely to get voted into Cooperstown when ballots are revealed Tuesday night, it seems like a perfect time to look ahead by predicting 40 active Hall of Famers.
Why 40? After all, that feels like a lot of Hall of Famers. History suggests, however, that that is about the number of players in any given season who will eventually receive a plaque in Cooperstown. Here are the tallies for each year of a decade ending in 1 (not including 2011, since many players that year are still not eligible):
2001: 27
1991: 33
1981: 34
1971: 39
1961: 34
1951: 29
1941: 54
1931: 66
1921: 45
1911: 31
1901: 28
(Note: I included players elected for their play in the Negro Leagues, using their active years as listed on Seamheads.com. For Negro Leaguers who played in MLB, such as Satchel Paige and Monte Irvin, their MLB years are included as well.)
Yes, there are only 27 Hall of Famers from 2001, for example — so far. There are still players on the ballot who were active in 2001 who might get in (Curt Schilling, Scott Rolen, Todd Helton, etc.), players who have yet to hit the ballot (Alex Rodriguez, David Ortiz, Carlos Beltran, etc.), plus the steroid guys who otherwise would already be in (Barry Bonds, Roger Clemens, Mark McGwire, Rafael Palmeiro, etc.).
Keep in mind that there are nearly double the teams (30) than existed for the first 60 years of the 20th century (16). That makes 40 Hall of Famers a reasonable estimate. A few quick notes:
A player can get elected via the baseball writers (Baseball Writers' Association of America) or a veterans committee (currently made up of 16 members including Hall of Fame players, former executives and writers). In recent years, the BBWAA has started to recognize more players who had a peak value instead of just a long career with impressive counting stats — think Larry Walker or Edgar Martinez. The veterans committee in the past few years has recognized players with longevity even if their peak value wasn't extraordinary (Harold Baines, Lee Smith, Jack Morris).

I reference Baseball-Reference WAR unless noted. As a general guide, 70 WAR or higher is a strong Hall of Fame candidate, 60 WAR is borderline and 50 WAR gets you in the discussion (relievers are in their own category). WAR is by no means the end of the debate, but the BBWAA is starting to put a heavy weight on it. There are other factors, of course: Dominant seasons (a 5-WAR, or five-win season, is an All-Star-type season, while 8 WAR is an MVP-type season), postseason play and the old "feel" factor all play a role (along with PEDs and off-the-field issues).

I did not include Robinson Cano, who won't play in 2021. His PED suspensions probably put him in the Manny Ramirez category anyway: He would have gone in, but now he won't.
OK, to the list. I've divided it into six tiers, with the players ranked within each tier.
Jump to a tier:
The locks | The Votto group | On the right path
Sky is the limit | Work to do | Next generation
Brad Hand, Washington Nationals agree to 1-year, $10.5M deal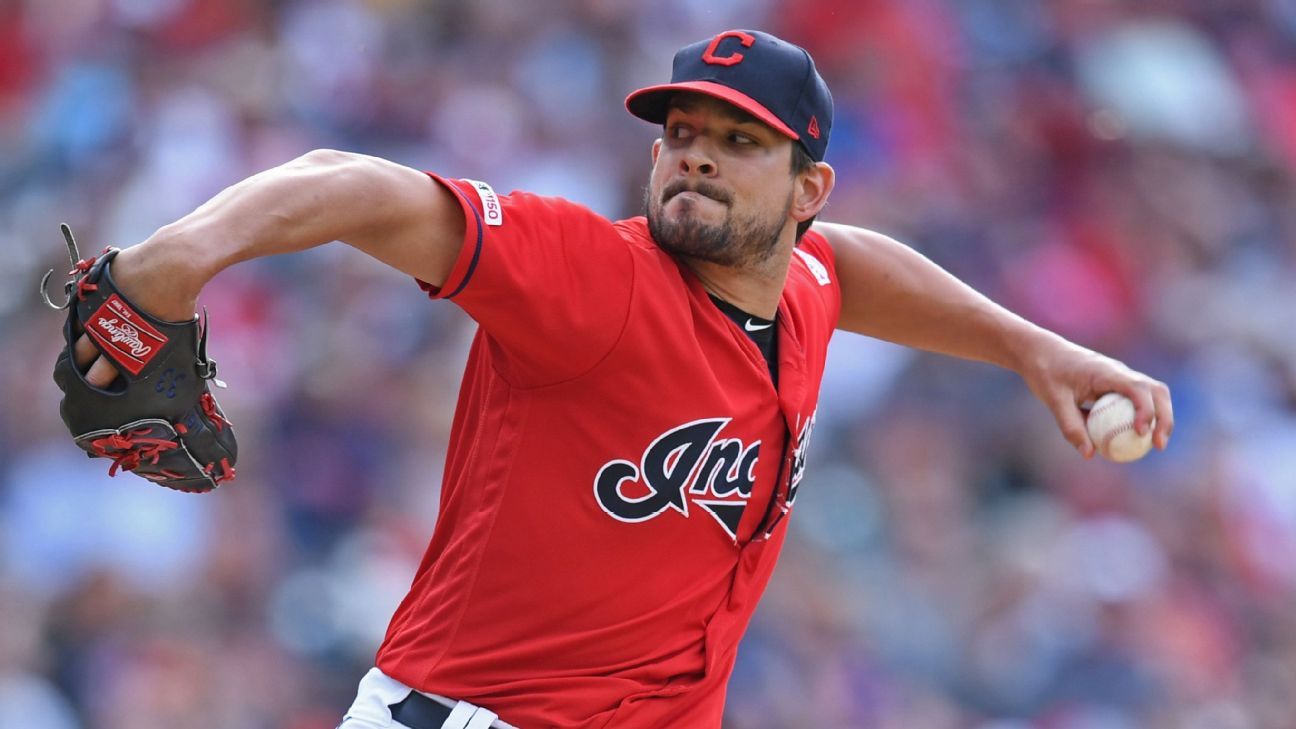 Closer Brad Hand and the Washington Nationals are in agreement on a one-year, $10.5 million contract, sources familiar with the deal told ESPN's Jeff Passan on Sunday.
Hand had another solid season as the closer for the Cleveland Indians, leading the major leagues with 16 saves, but he was a victim of the team's salary purge heading into 2021. Cleveland declined his $10 million option in exchange for a $1 million buyout.
Cleveland tried to deal the 30-year-old left-hander after the season but was unable to find a trade partner.
Hand was acquired from the San Diego Padres at the trade deadline in 2018. In two-plus seasons with Cleveland, he had 58 saves in 65 chances and a 2.78 ERA and 154 strikeouts in 107 innings over 111 games.
Hand went 2-1 with a 2.06 ERA and was 16-for-16 in save chances during the pandemic-shortened 2020 60-game season. However, his blown save against the New York Yankees led to the Indians' elimination in the American League Wild Card Series.
The Padres claimed Hand off waivers from Miami early in the 2016 season, and he developed into a two-time All-Star. Known for his slider, he has 105 saves in 128 chances, with a 3.65 ERA and 624 strikeouts in 608⅔ innings pitched.
The Associated Press contributed to this report.