MESA, Ariz. — Steve Cishek took the mound for his first live batting practice session with his new team earlier this week. As the reliever stood on the mound against the Chicago Cubs' A-list of hitters — a former MVP (Kris Bryant), a perennial candidate for the award (Anthony Rizzo), a former All-Star starter (Addison Russell) and an emerging star (Willson Contreras) — he realized exactly what he got himself into when he signed as a free agent during the winter.
"It's ridiculous," the righty said later that day. "Our lineup is stacked. I know it's only live batting practice, but game situations can't be fun facing those guys over and over and over again. It can be intimidating. … It's definitely the best team I've been a part of."
It's a notion newcomers to the Cubs' spring clubhouse have repeated upon their arrival in Mesa, just days after the front office added the final piece of a busy offseason in right-hander Yu Darvish.
The Cubs are a force once again, and now they are removed from both their championship and hangover seasons. While the normal rhetoric in the spring is to tamp down expectations, the Cubs are way past that point. Westgate Las Vegas SuperBook has Chicago at 7-1 to win its second World Series in three years, and raising that second trophy is at the forefront of this team's thoughts.
"That's one reason we all signed here, no doubt," another newcomer, pitcher Tyler Chatwood, said. "They are built to win for a while, and I'm glad to be a part of it."
From ownership on down, the Cubs like to remind everyone that they have won the most regular-season and playoff games in baseball over the past three seasons. But even for all of that success — or perhaps because of it — 2017 almost felt like a disappointment after the Cubs got off to a slow start and bowed out of the National League Championship Series in five games.
"I feel like we're all ahead of where we were last year, for sure," Bryant said. "It will be our fourth year together. The same core. It's nice to go out there with the same guys that have been with you for three, four years."
The Cubs overhauled their pitching staff but kept their position-player base intact, bringing back the same offense that ranked second in the NL in runs scored in each of the past two seasons yet still hasn't reached its potential. The Cubs were awful in situational hitting, so they brought in veteran coach Chili Davis to address that shortcoming. An improvement in that one area could translate to a monster season for a lineup stacked with former first-round picks.
"You sure do hope you figure out the game a little bit more each year and you can apply that," the 26-year-old Bryant said. "I feel that. All of us here are ready to take that next step."
It's a group just entering its prime, with plenty of big-game experience already under its belt, but the offense might not even be the biggest reason for optimism.
The addition of Darvish has people in the game thinking about 2016 all over again. The Cubs' rotation was so dominant that season that 15-game winner Jason Hammel couldn't sniff the playoffs, and this year's starting staff could be just as good. Chatwood and Darvish join holdovers Jon Lester, Kyle Hendricks and Jose Quintana to form arguably the most talented fivesome in the National League.
"I don't like to talk about other teams," Indians manager Terry Francona said recently. "But those guys [the Cubs' front office] always get what they need. That is a good five-man rotation. I would love to face them in the World Series again."
Cubs ownership isn't backing away from high expectations. They signed off on the $126 million commitment to Darvish and expect a return on the investment.
"On paper it might be the strongest rotation we've ever had," usually understated owner Tom Ricketts declared as camp opened. "We have a great team."
Ricketts stopped short of calling anything short of a World Series a failure, but he did nothing to dissuade fans from lofty aspirations.
"At this point, with this team, that's our goal," he said. "I don't blame them. They should have high expectations."
Are these Cubs a 103-win squad, as they were in 2016? Could they be even better? A lot of that will be decided by the rotation and a revamped bullpen that includes new closer Brandon Morrow. There's an added bonus in that Morrow and Darvish were both plucked from a Los Angeles Dodgers team the Cubs faced in each of the past two NLCS.
"Both Yu and Morrow were key to our success, and we wish them well," Dodgers manager Dave Roberts said. "It's going to be a good battle with those guys. Six times in the regular season and maybe another time in the postseason. Who knows?"
Although another playoff meeting with the Dodgers is still months from taking shape, the Cubs know what they have: a very talented group with new motivation — if perhaps not 108-year-drought motivation — and a renewed hunger.
"Nobody in this room is saying, 'We were division winners last year,'" veteran Ben Zobrist said. "No one really cares about that at this point. We want to be World Series champions again."
If the reaction of the newcomers is any indication, there is enough talent in the clubhouse to make it happen.
"It's easy to say because I'm here now, but it's the truth," Cishek said. "Up and down our lineup, bullpen and starting staff, it's an incredible, incredible team."
Seattle Mariners prospect Jarred Kelenic sidelined by knee strain
PEORIA, Ariz. — Seattle Mariners top prospect Jarred Kelenic will be sidelined due to a strained adductor muscle in his left knee.
Mariners general manager Jerry Dipoto said an MRI on Saturday revealed the injury. No timeline was given for the outfielder's return.
"While disappointed that Jarred will be sidelined, we are relieved that the long-term outlook is positive," Dipoto said. "We all look forward to seeing him back on the field in the near future."
Kelenic appeared to be injured during his first at-bat on Friday against the Chicago White Sox. Kelenic reached on an error, but appeared bothered after reaching first base. Kelenic remained in the game and was replaced an inning later.
The 21-year-old Kelenic, who hit Seattle's first home run of spring training earlier this week against the Cubs, has been the center of attention during spring training.
Kelenic's arrival in the majors was part of comments made by former team president and CEO Kevin Mather that indicated Seattle was considering manipulating Kelenic's service time.
Kelenic and his agent lashed out at the Mariners in comments made to USA Today following Mather's resignation last month. After homering earlier this week Kelenic said he's using those words as motivation.
"I'm a competitor," Kelenic said. "I'm a very driven person as it is. Having said that, you know, something like this comes up and I think you can look at it one of two ways: One, you can sit and pout about it, or you can use it as motivation and let it drive me even more. That's kind of where I'm at. Each and every day I'm letting this drive me."
Jake Odorizzi reaches 2-year deal with Houston Astros, source says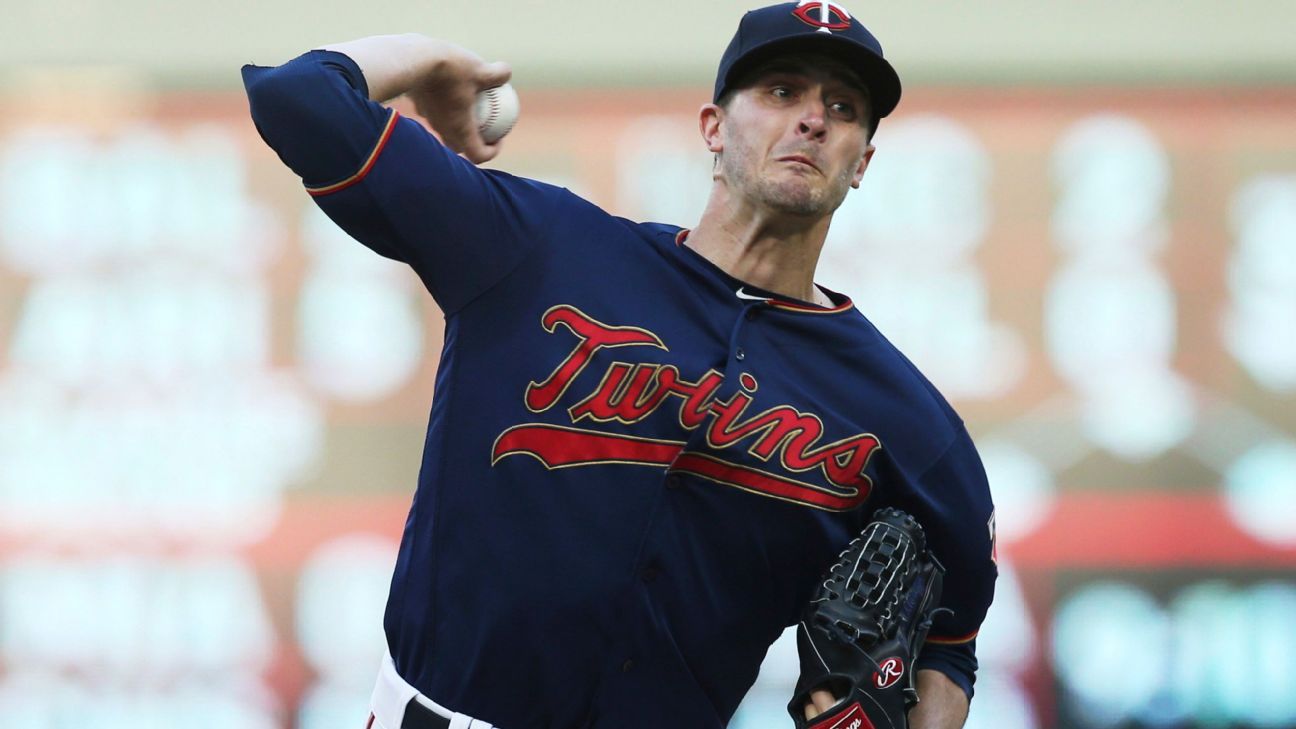 Right-hander Jake Odorizzi and the Houston Astros have agreed to a two-year deal with a player option, a source familiar with the deal told ESPN's Jeff Passan on Saturday.
The Astros had already lost starter Framber Valdez for an indefinite amount of time after the left-hander suffered a fractured left ring finger during his spring training debut on Tuesday.
Houston also is without ace Justin Verlander, who likely will miss the entire season after having Tommy John surgery on Sept. 30.
Odorizzi will join a rotation that likely includes Zack Greinke, Cristian Javier, Lance McCullers Jr. and Jose Urquidy.
After accepting a one-year, $17.8 million qualifying offer from the Minnesota Twins last offseason, Odorizzi, who turns 31 on March 27, was limited to four starts in 2020 due to bruised ribs and a blister, going 0-1 with a 6.59 ERA in 13 2/3 innings.
His lost season began with him getting drilled in the side by a line drive off the bat of Kansas City's Alex Gordon in his third start. He returned in September, only to leave after 3 2/3 innings with blister issues in what would be his final outing of the season.
Odorizzi went 15-7 with a 3.51 ERA in 30 starts in 2019 as he earned his first All-Star selection. He set career highs for wins and strikeouts (178) as the Twins racked up 101 wins and claimed their first division title since 2010.
He was drafted by the Milwaukee Brewers with the 32nd overall pick in 2008. He made his debut with the Kansas City Royals in 2012 before being dealt the next season to the Tampa Bay Rays with Mike Montgomery and Wil Myers in the seven-player trade that sent James Shields and Wade Davis to the Royals. He was traded to Minnesota before the 2018 season after logging four solid years as a starter for the Rays.
Odorizzi has gone 62-56 with a 3.92 ERA and 995 strikeouts in 1,042 1/3 major league innings.
Shohei Ohtani delivers on mound in spring debut for Los Angeles Angels
MESA, Ariz. — Shohei Ohtani featured an upper-90s fastball and a wipeout splitter in his spring pitching debut Friday, a 41-pitch outing that seemed to validate the Los Angeles Angels' hopes that he can contribute as a two-way player this season.
Ohtani, pitching two days after unleashing a 486-foot home run to straightaway center field, struck out five of the 10 Oakland Athletics batters he faced, the last three on splitters that dropped well below the strike zone.
The right-hander issued two walks, gave up three hits — two of which went for extra bases — and was removed with two outs in the second inning because the Angels had set a 40-pitch limit. But Ohtani was around the strike zone far more frequently than during his short pitching stint last summer, and he displayed a cleaner, more repeatable delivery, which Angels manager Joe Maddon said he was hoping to see.
"The big thing for him — the success is gonna be repetition of delivery and knowing where his fastball is going consistently," Maddon said postgame. "If that occurs, he's really gonna take off."
Ohtani, 26, has acted as a two-way player for only two months over the past three years, in April and May of his 2018 rookie season, before having Tommy John surgery. He spent the rest of the 2018 season and all of 2019 serving as the Angels' primary designated hitter, then struggled in his return to two-way action during the COVID-19-shortened 2020 season. Ohtani made only two rough starts before straining the flexor-pronator mass near his surgically repaired elbow, limiting him to hitting only.
After the season — he batted .190 and had a 37.80 ERA — Ohtani underwent an aggressive offseason regimen in which he got into more game-like situations as a hitter and pitcher, revamped his diet and workout regimen and sought advice from third parties, including, sources said, experts at the renowned baseball facility Driveline. Ohtani's progress showed during the workout portion of spring training and is now manifesting itself in game settings.
Ohtani, speaking through his interpreter, said he mistakenly started "cutting" some of his pitches while overthrowing with runners in scoring position, but he was pleased with his splitter as an out pitch and he believes his velocity will continue to rise as the season progresses.
Maddon has said he wants to ease some of the restrictions, such as when Ohtani's turn comes as part of a six-man rotation rather than on a certain day each week. Maddon also is open to the possibility of putting him in the lineup the day after his start, which hadn't been the case.
"The big thing was to put him in charge of his own career and not try to dictate so much to him, permit his athleticism to take over and not be so concerned about getting hurt," Maddon said of the reasoning behind more aggressive usage. "He's done this in the past, he should know himself better than we do, and we did not want to create these limitations or set guidelines that we didn't know if they would work or not."