Ranking Todd Gurley's hurdles in honor of the Olympics – Los Angeles Rams Blog
If hurdling football players in full pads were an Olympic sporting event, Todd Gurley might be going for gold in Pyeongchang right now. The Los Angeles Rams' star running back has turned heads numerous times for his ability to leap professional athletes in a single bound, especially while on his way to being named the NFL's Offensive Player of the Year in 2017.
It doesn't surprise those who know him best.
Gurley was a star hurdler at Tarboro High School in North Carolina. He was so good, so natural, that his track coach, Andrew Harding, used to think he could someday medal in the Olympics. Instead, Gurley utilized those talents on the football field. He doesn't ever plan to hurdle opponents. "It just happens," Gurley said. It's instinctive — and yes, it's also dangerous.
Asked about his hurdling while on Fox Sports 1's "Undisputed" show last month, Gurley smiled and said: "I don't know why I do it, man. … One day, it's probably going to end bad. But until then, I'm going to keep jumping. For the most part, it's more DBs. Most DBs are not going to hit a running back high, especially if they're going a hundred miles per hour fast at them. It's kind of just a reaction, and for the most part, it's been working."
Has it ever.
Below, we ranked five of Gurley's hurdles from the 2017 season and assigned them a judge's score. (Clips of the plays are linked to the "outcome" section.)
Hurdle No. 5
Situation: Second-and-11, ball at the Rams' 19-yard line with 9 minutes, 9 seconds left in the fourth quarter of Week 14, leading 35-34.
Human hurdle: Philadelphia Eagles safety Malcolm Jenkins.
Outcome: Jared Goff spins out of a sack and dumps it off to Gurley as he streaks across the field. Gurley then leaps over Jenkins as he crouches to make the tackle and picks up 5 or so extra yards for a total gain of 9. Two plays later, however, Goff coughs up a fumble for the key turnover in an eventual loss.
Score: 7.6. Gurley cleared Jenkins, but he didn't have to jump as high to do so. He also changed his landing foot midair, which caused him to slip when he hit the turf. Gurley gets extra points for having to reach across his body to make the catch moments before hurdling a defender, but this was his least-impressive leap of the season — and that's saying something.
Hurdle No. 4
Situation: First-and-10, ball at the opponent's 47-yard line with 9:23 left in the third quarter of Week 4, trailing 24-16.
Human hurdle: Dallas Cowboys safety Jeff Heath.
Outcome: Gurley darts through a hole to his left, picks up a first down, then is confronted by Heath, who barely manages to bring Gurley down on his leaping attempt. Gurley picks up about 3 extra yards with his jump and 17 total yards on the play, getting deep into Cowboys territory to eventually set up a field goal.
Score: 8.1. Gurley didn't stick the landing on this one. Heath's head got just enough of Gurley's groin to interrupt what would've been a superb hurdle. Had he not, Gurley might have gained an extra 30 yards for a touchdown. He still would've had to outrun linebacker Jaylon Smith, who was creeping up from behind and ultimately helped secure the tackle. But Heath was acting as the last line of defense.
Hurdle No. 3
Situation: Second-and-10, ball at the Rams' 32-yard line with 7:09 left in the second quarter of Week 2, trailing 13-7.
Human hurdle: Washington Redskins cornerback Kendall Fuller.
Outcome: Gurley could've been stopped at the line of scrimmage, but his leap instead turned this into an 8-yard catch and run. That play was negated, however, because of a holding call on another Redskins cornerback, Josh Norman, prompting an automatic first down that helped set up a field goal in an eventual loss.
Score: 8.9. Gurley cleanly cleared the defender, then stuck the landing so well that he was able to immediately whip around the corner to get past another defender in linebacker Mason Foster. That's huge. But the degree of difficulty wasn't as high because Fuller was coming low and at an angle.
Hurdle No. 2
Situation: First-and-10, ball at the opponent's 23-yard line with 10:41 left in the second quarter of Week 16, leading 6-3.
Human hurdle: Tennessee Titans safety Kevin Byard.
Outcome: Gurley runs a drag, makes about a 3-yard catch, runs toward the left sideline, then hurdles Byard and picks up a first down on an eventual 16-yard gain. It extended an eventual 16-play drive that absorbed more than eight minutes. New kicker Sam Ficken couldn't finish off the drive, missing a field goal. But the Rams won the game and thus clinched a division title.
Score: 9.2. There was a lot of traffic on this jump, but a closer look makes you really appreciate what Gurley did. Immediately after he regained his momentum after catching a throw that was behind him, he cleared Byard, then, as he was coming down, used his right leg to propel himself off the body of linebacker Wesley Woodyard to pick up even more yardage. All with very little room to work with.
Hurdle No. 1
Situation: First-and-10, ball at the opponent's 18-yard line with 8:53 left in the third quarter of Week 2, trailing 20-10.
Human hurdle: Redskins cornerback Bashaud Breeland.
Outcome: Gurley turned what would've been a modest 8-yard gain into an 18-yard touchdown off a screen pass. After hurdling Breeland, he burst toward the end zone and stretched out his left arm just far enough to cross the plane before Deshazor Everett could push him out of bounds.
Score: 9.9. In the annals of football hurdling, this one should stand as the model. Breeland was barely even crouching, probably because he saw what Gurley did to his poor teammate in the prior quarter of this game. But Gurley still cleared him cleanly with a jump that must have taken him about six feet off the ground. That it led directly to a touchdown because of another impossibly athletic play takes it to another level.
Notable bets – Daniel Jones, Giants cost bettors over a million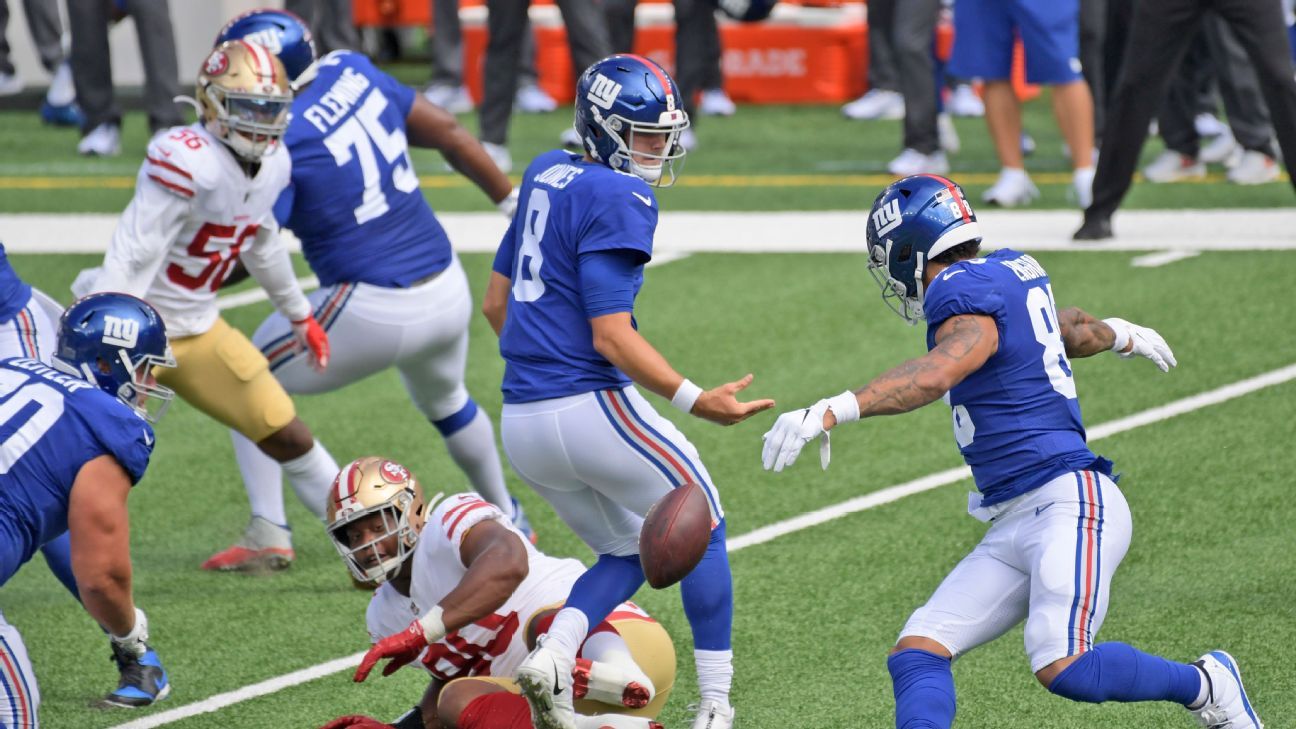 Sportsbook operator DraftKings reported taking several very big bets this week, each for hundreds of thousands of dollars.
These days, with the American sports betting market expanding around the nation, six-figure bets are much more common than they were in years past. Traditionally, though, the largest bets were on the point spread or money-line of big games. Those types of wagers attract the most betting handle, so taking a big bet on a point spread, for example, makes it easier for bookmakers to mitigate risk.
Most of the big bets reported by DraftKings this week, however, were different:
• $795,200 on the Thursday night game between the Dolphins and Jaguars to go over 41.5 points at -270. (The consensus closing total was 47.5, so the bettor had to pay the extra juice to make the bet at 41.5.)
The Dolphins kicked a 30-yard field goal with 3:49 remaining to finish off a 31-13 victory and give the bettor in New Jersey a $294,224 net win.
• $250,000 on Celtics guard Marcus Smart to score more than 12.5 points in Game 4 of the Eastern Conference finals. Smart finished with 10.
• $500,000 on the Giants +4 versus the 49ers. San Francisco won 36-9.
• $500,000 on Giants quarterback Daniel Jones to pass for more than 244.5 yards. Jones finished with 179.
"These are some of the biggest prop bets that you'll ever see," DraftKings sportsbook director Johnny Avello, a veteran Las Vegas bookmaker, said.
Not just anyone can open a betting account with DraftKings — or any U.S. sportsbook, for that matter — and fire away hundreds of thousands of dollars on random propositions. Professional bettors are regularly limited in terms of how much they can wager at all sportsbooks, and some bookmakers simply decline to accept bets from any customer they believe to be "uneconomical" to their bottom line.
But select customers who earn VIP status — often by playing big in the casino pit or by staying in high-dollar suites in Las Vegas resorts, for example — are granted extended limits as a courtesy.
"We have a lot of customers that not only bet the sides, totals and money lines, but they like to bet on the props, too, and they want to bet a substantial amount of money, so we accommodate those customers," Avello said.
While you check your account balance to see if you can put half a million dollars on Patrick Mahomes' rushing yards on Monday night, here is this week's edition of notable bets, our look at the action at sportsbooks around the country.
---
NFL notable bets
• The Ravens are consensus 3.5-point favorites over the Chiefs on Monday night. The early action indicates a public-pro divide, with the sharper bets on Baltimore, according to multiple sportsbooks.
"We know a lot of sharp guys that like Baltimore in that game. I can see why," John Murray, executive director of the Superbook, said. "Baltimore was the best team in the NFL last season and I believe they're the best team in the NFL this season, but you're talking about a one-game scenario and Patrick Mahomes is the other team's QB. Not exactly a sure thing to be laying points there."
• As of Sunday morning, 91% of the money at FanDuel was on the over (54.5) in Chiefs-Ravens.
• Sportsbook PointsBet opened with the Ravens as 2.5-point favorites and took consistent sharp and public action on Baltimore, which drove the line to -3 and eventually -3.5. "Book will be rooting for the under and a Ravens win, preferably by one or two points," PointsBet communications director Patrick Eichner said.
• Most sportsbooks said Sunday was a small winning day for the house, with the prime-time game between the underdog Packers and Saints deciding the fate for some bookmakers.
"[We] need under in late game to call [Sunday] a success," Nick Bogdanovich, director of trading for William Hill U.S., told ESPN. But the game went over, with Green Bay defeating New Orleans 37-30.
"We had a real good day Sunday," Murray said. "No complaints about our day Sunday."
• Three hours prior to kickoff, 95% of the money at DraftKings was on the Packers to beat the favored Saints straight up.
• Trailing the Falcons 26-10 midway through the fourth quarter, the Bears were 16-1 to pull off a comeback. Backup quarterback Nick Foles threw three touchdown passes in the final 6:20 of the game, leading Chicago to a stunning 30-26 win.
• A bettor at the sportsbook at the Borgata in Atlantic City, New Jersey, placed a $100,000 money-line bet on the Bears at +120.
• William Hill U.S. sportsbooks reported taking a $52,000 money-line wager on the Colts to beat the Jets at -700. It was the largest money-line bet the book took on the early kickoffs, and it won easily, as Indianapolis cruised to a 36-7 victory. The bettor won a net $7,428.
"In what is becoming a trend, the Jets continued to cost us big," Thomas Gable, sportsbook director at the Borgata, said.
• Despite taking the $500,000 bet on the Giants mentioned above, DraftKings ended up taking more money overall on the 49ers, according to Avello.
• The Buccaneers were the most popular bet at BetRivers sportsbooks, attracting 90% of point-spread bets. Tampa Bay covered as a 6-point favorite in a 28-10 win over Denver.
• The Bills, leading the Rams 28-3 in the second half, were -4,000 favorites to win at William Hill books. The Rams roared back and took a 32-28 the lead with 4:30 left to play, but the Bills responded and scored with 15 seconds remaining to prevail.
• On Friday the Borgata took a $25,000 bet on Bills quarterback Josh Allen to win the regular-season MVP at 25-1. The bet would win a net $625,000.
---
College football
• Oklahoma could be found as a -4,000 money-line favorite over Kansas State, with the Wildcats listed as around 15-1 underdogs. At William Hill sportsbooks, the Sooners were listed at -2,800 when a bettor placed a $3,590 money-line bet on Oklahoma. That bet would've won a net $141.
A representative for William Hill told ESPN that the largest pregame money-line bet on Kansas State was $100 at 13-1.
Leading Kansas State 35-14 in the third quarter on Saturday, Oklahoma's odds grew to -6,000. According to ESPN Stats & Information research, teams trailing a top-5 team by 21 points or more were 1-545 since 2004. The lone win was in 2005, when No. 10 Tennessee won 30-27 over No. 4 LSU — the Volunteers trailed 21-0 in that game.
• Iowa State was a 2.5- or 3-point favorite for much of the week leading up to its game against TCU, before closing as a consensus 4-point favorite. The Horned Frogs scored a touchdown as time expired to cut the Cyclones' lead to three, but TCU chose not to attempt the extra point. Final score: Iowa State 37, TCU 34.
• On Sunday the SuperBook took a $25,000 bet on Alabama to win the national championship at 5-1 odds. Clemson remains the favorite at 5-2, followed by Ohio State at 3-1. With the Pac-12 announcing it will hold an abbreviated season this fall, Oregon is back in the picture and is listed at 30-1.
• After upsetting LSU, Mississippi State's odds to win the national championship improved from 2,000-1 to 60-1 at the SuperBook.
• Here are some notable opening lines at Las Vegas sportsbook Circa Sports:
South Carolina at Florida (-20.5, 53.5)
Virginia at Clemson (-29, 50.5)
Oklahoma (-12, 59.5) at Iowa State
Texas A&M at Alabama (-13, 52.5)
Auburn at Georgia (-8, 38.5)
---
NBA
• Game 5 of the Western Conference finals between the Lakers and Nuggets on Saturday attracted twice as much betting handle as the Florida State-Miami game at the SuperBook.
• Here is the NBA Finals opening series price, via the Superbook: Heat +375 vs. Lakers -450
---
Odds & ends
• Legal sportsbooks are now operating in 18 states and the District of Columbia. Tennessee is poised to be No. 19 and is aiming to launch its sports betting market in November.
• Bettors staked $128.6 million with Colorado sportsbooks in August, the state's biggest month since launching its legal sports betting market in May. The sportsbooks won a net $7.3 million during the month.
Basketball attracted the most action, with $38 million, followed by baseball at $22.9 million. The fourth-most popular betting sport? Table tennis, which attracted $4.5 million, more than golf, soccer, tennis and MMA.
Philadelphia Eagles coach Doug Pederson backs QB Carson Wentz
PHILADELPHIA — The Eagles are in an early hole and the play of quarterback Carson Wentz has contributed to those struggles, but coach Doug Pederson is not considering pulling Wentz from the lineup.
"No. You don't go there. That's a knee-jerk reaction," Pederson told 94.1 WIP on Monday when asked what it would take to look at options at QB outside Wentz. "Carson's our quarterback. We're going to get it fixed. He is going to get it fixed."
Philadelphia tied the Cincinnati Bengals 23-23 on Sunday and now sits at 0-2-1. This is the first Eagles team to be winless through three games since 1999, when Pederson was the team's quarterback for over half the season.
Wentz helped force overtime with a diving touchdown late in regulation but had a shaky day overall, going 29-of-47 for 225 yards with a touchdown and two interceptions. He is tied for the most interceptions in the NFL with six through three games, is 29th in completion percentage (59.8) and is last in QB rating (63.9).
The rough start has some fans calling for second-round pick Jalen Hurts to take over. Hurts has been sprinkled into the offense over the past two weeks. He played three snaps Sunday and handled the ball twice, resulting in a first-down run and a fumble that Philadelphia recovered.
Pederson suggested benching Wentz would be giving in to the "aura" in the city right now as opposed to acting on the team's beliefs.
For his part, Pederson expressed regret for deciding to punt late in overtime on a fourth-and-12 in Cincinnati territory, assuring a tie, rather than giving his offense a chance to go and win it.
"Looking back, you probably put it in your quarterback's hands to win the game," he said.
Despite the poor start, the Eagles remain just a half-game out of first place in the bumbling NFC East — something Pederson mentioned as part of his response to the question about benching Wentz.
"We have a long season. … The whole division right now is not playing very good football," he said. "We're not that far off."
Why Patrick Mahomes makes his home in Kansas City, not New York City
KANSAS CITY, Mo. — Patrick Mahomes was just 5 years old in 2000 but still recalls the reaction of the fans at Shea Stadium when his father, Pat, with an ERA of over 5.00, would come in to pitch for the New York Mets.
It made an impression on the younger Mahomes that maybe the big city wouldn't be the best place for him if he someday played sports professionally.
"He started pitching badly, and right away when he got in the game, he started getting booed," Mahomes said. "I got to see that firsthand as a young kid."
When Mahomes signed his 10-year contract extension over the summer, it almost guaranteed he would play most — if not all — of his career in Kansas City, one of professional football's smallest markets, with a metropolitan population of 2.14 million people. After Green Bay, Kansas City is perhaps the closest thing the NFL has to an anti-New York, and it could be the home of one of the league's biggest stars through the 2031 season.
In fact, Mahomes — a regular around town — has expanded his involvement in the city with his 15 and the Mahomies Foundation, which benefits Kansas City-area children, as well as becoming a part owner of Major League Baseball's Kansas City Royals.
Mahomes signed such a long extension for football reasons, of course. In February, the Chiefs won their first Super Bowl in 50 years and appear set for a dynastic run. Mahomes loves playing for coach Andy Reid and with this group of teammates. He said he has faith that 42-year-old general manager Brett Veach will continue to build a championship team around him after all of his teammates have moved on and even if the 62-year-old Reid decides at some point in the next 12 years to retire.
But as part of the deal, he's also getting Kansas City. It's a town where he says he can still go out at times without being bothered. He's choosing Kansas City over places such as New York, Los Angeles and even Dallas, which isn't far from his hometown of Tyler, Texas. He said he's fine with that part of it, too.
"People have been generous here," Mahomes said shortly before the Chiefs started training camp. "They've been nice to me and my family, and so I'm excited to have my future here. You go to some sports cities and if you're playing badly on Sundays, it's like they hate you and your family. Then you come to Kansas City and it doesn't even matter. They care about the person you are and how you treat other people. It's cool to be in a city like this."
Mahomes could be paid as much as a half of a billion dollars over the 12 years of his contract, and that still might end up being a steal for the Chiefs. Not just because of Mahomes' talent, but because the quarterback salary market might have left his deal far behind by 2031. But Veach and the Chiefs didn't have to talk Mahomes into staying. It was something he wanted.
"He understands that there needs to be a sense of long-term thinking," Veach said. "[He said,] 'I want to win a long time here in Kansas City. There are only certain ways that this can be possible, and this is what's important to me. I know I'm going to be taken care of the rest of my life, but I want to leave behind a legacy. And Kansas City is the place I want to do it.'"
Mahomes, whose face can be seen during commercial breaks on Sunday almost as often as during Chiefs games, wouldn't be the first top NFL quarterback to play most or all of his career in a smaller city and still enjoy plenty of national attention. Brett Favre played 16 seasons in Green Bay. Peyton Manning spent much of his career in Indianapolis. Aaron Rodgers plays for the Packers. In terms of national popularity or endorsement opportunities, those players were not hurt by playing in a smaller market. It didn't harm the league, either. At Super Bowl LIV, NFL commissioner Roger Goodell was asked what he thought of Mahomes' playing in Kansas City.
"Patrick Mahomes anywhere in the NFL is good for me," Goodell said. "Not only is he an incredible player, but he is an incredible young man. Wherever he plays in the NFL, he's going to have an impact. I'm proud to have him as a Kansas City Chief. I guess there are 31 other teams that wouldn't mind having him, either."
Mahomes has been such a success during his two full seasons as an NFL starter that it's easy to conclude he could thrive playing anywhere, including New York. In 2018, his first season as a starter, he made the transition with ease. He became only the second player in NFL history to throw for 5,000 yards and 50 touchdowns, and was named the league's MVP.
Last year, his stats were more modest, but he was spectacular in the playoffs and in Super Bowl LIV, where he was named the game's MVP.
Playing in Kansas City could give Mahomes a better chance to succeed long term. Dick Vermeil, who coached the Philadelphia Eagles and later the Chiefs, recently said the fan bases of the teams are similar with regard to their passion and loyalty. The difference, he said, is that Chiefs fans are far more forgiving when the local team loses and the star players don't fare well.
Reid coached in both cities, as well. He was with the Eagles for 14 seasons and is now in his eighth season with the Chiefs.
"I know he loves it here," Reid said. "He understands the benefits of community. We saw that when he came here and how he reached out and put himself out there with the community. It's a great place for him to live. I think the fans respect him, and when he needs a little space, he can get the space, but at the same time, he can still be the quarterback of this franchise.
"He could survive anywhere. He's wired that way. But this is a good place for him. I think he'll thrive here."
Mahomes began to take over Kansas City not long after he replaced Alex Smith as the starting quarterback in 2018. He appeared in local television commercials and on cereal boxes. Before the pandemic, Mahomes could be seen around town at baseball or soccer games, NASCAR races or concerts. This summer, he got engaged to his longtime girlfriend, Brittany, in one of the suites at Arrowhead Stadium.
Mahomes further planted a flag in Kansas City over the summer by purchasing a piece of the Royals. And it's not like the Royals and owner John Sherman, who took over the team in 2019, went looking for Mahomes. It was Mahomes who contacted Sherman.
"He saw this as a way to double-down on Kansas City," Sherman said. "When we acquired the team last November, we put together a great ownership group here … all people who loved baseball and loved Kansas City. Patrick kind of met that criteria. He did it for the right reasons. I felt like it was good for Kansas City, good for the Royals and also good for him. He's got an interest in the game, and I think he also sees this also as a way to learn a little bit about the business of the game.
"He comes from a baseball background. He clearly loves the game. He chose football for his profession, but he's certainly embracing Kansas City in a big way. That means a lot to us."
Mahomes could have asked to join the ownership group of 29 other baseball teams. But he said he wasn't interested in owning a team anywhere besides Kansas City.
"One hundred percent," he said. "I'm going to be here a long time. I want to keep doing what I can to put roots down and trying to make the franchises, the Chiefs and the Royals, the best they can be. I wanted to be a part of the Royals baseball team. Being at the games, knowing the atmosphere in Kansas City, how much everybody loves the Royals and the Chiefs. I thought it was a good fit.
"I'm going to be in Kansas City for a long, long time, and I want to make sure that people know that as much as they're passionate about the Chiefs and how we play, I'm passionate about being a part of Kansas City. If that's through my foundation, trying to help the kids in Kansas City, playing game days here at Arrowhead Stadium or just being a part of things like the Royals, I want to find ways I can ingrain myself into the city that has shown me so much loyalty and passion every Sunday."