Last week I previewed the beginning of each NFC team's offseason by identifying the first five things it should do during this downtime. Now it's time for the AFC over the next few days. Here's the schedule for the week ahead:
QUICK LINKS: NFC
AFC North: Ravens | Bengals | Browns | Steelers
AFC South: Texans | Colts | Jaguars | Titans
AFC West: Broncos | Chiefs | Chargers | Raiders
AFC North
Let's hit the AFC North (in alphabetical order), where the Steelers became the first team in the division to win back-to-back titles since 2012 and the Browns finished last for the eighth consecutive campaign:
---

1. Decline Breshad Perriman's fifth-year option. If the Perriman breakout arrives in 2018, it will be a major surprise. After missing all of his rookie season with a knee injury, Perriman has caught only 43 passes for 576 yards through his first three professional campaigns. The 24-year-old, who once caught passes from Blake Bortles at UCF, is probably an underdog to make the Ravens' roster in 2018.
2. Create cap space. The Ravens have only $11.7 million in cap space to work with. They can decline the options for Brandon Carr and Austin Howard, but with Jimmy Smith injured at cornerback and two regulars from the 2017 offensive line hitting free agency, the Ravens need all the help they can get at those two spots.
As a result, Baltimore probably will need to restructure its existing deals to free up room. The Ravens won't want to touch Joe Flacco's deal — 2019 will be the first year since the Super Bowl win in which they could actually save money by moving on from Flacco — but they have several veterans who would be in line for a restructure. The Ravens will likely turn most of the base salaries due to Tony Jefferson and Brandon Williams into signing bonuses, which should free up close to $9 million in additional room.
3. Negotiate an extension for C.J. Mosley. The Ravens have let Pro Bowlers like Kelechi Osemele leave at the end of their rookie contracts in recent years, but you have to imagine that they'll lock up the cornerstone of their defense for years to come. Mosley made it to his third Pro Bowl last year, becoming one of only nine players from his draft class to pull off that feat.
The last inside linebacker to pull that off was Luke Kuechly, but Kuechly was on a different level, given that the Boston College star had a Defensive Player of the Year award and two first-team All-Pro nods in his locker when he signed his five-year, $61 million extension before his fourth season began. Mosley will be signing in advance of his fifth year, but his deal would probably max out around five years and $55 million.
4. Sign a wide receiver and tight end from the cap casualty market. The Ravens love going after free agents who don't impact the compensatory pick formula, and unlike last year's exception to the rule, I would expect Baltimore to mostly sit out the market and reap comp picks for Ryan Jensen and Brent Urban.
Players who are released by their teams don't count against the formula, so the Ravens might try to pursue an option to replace Benjamin Watson and Crockett Gillmore, both of whom are free agents. That could lead the Ravens to a player like Dwayne Allen, who is unlikely to be back in New England at his current cap hit of $5 million.
At wideout, the Ravens are essentially down to Jeremy Maclin, who might need to take a pay cut to stick around. Maclin might profile best as a slot receiver at this point of his career, but even after the Dolphins franchised Jarvis Landry, this was likely to be a very deep market for slot receivers. The Ravens should be in the market for cap casualties both inside (Randall Cobb) and outside (Dez Bryant, Demaryius Thomas) at their weakest position this offseason.
5. Draft interior offensive linemen. The Ravens are likely to lose Jensen and utility lineman James Hurst this offseason, and they're coming off a season in which their top three guard options combined to suit up twice. Alex Lewis missed the entire season with a shoulder injury and would-be replacement Nico Siragusa tore multiple ligaments in his knee, while star guard Marshal Yanda went down with a broken ankle in Week 2.
Siragusa is not a surefire bet to be ready for the opener, and while the 33-year-old Yanda was playing at a high level before the ankle injury, the Ravens have to start thinking about a future after their six-time Pro Bowler. Lewis also played tackle in college and could profile on the outside in the long term. At the very least, the Ravens will need a starting center. They realistically should think about using one of their top three picks on a guard, too.
---
1. Decline the options for Adam Jones and Cedric Ogbuehi. It's time for the Bengals to move on from the 34-year-old Jones, who has slipped during his current deal and would be holding back promising former first-round pick William Jackson III. The perennially penurious Bengals don't need cap space, but Marvin Lewis & Co. could free up $5.8 million in cap space and cash on hand by declining the option for the final year of Jones' contract.
As for Ogbuehi, the experiment to move on from Andrew Whitworth and install the 2015 first-rounder at left tackle went about as bad as anyone could have imagined. The Texas A&M product allowed eight sacks in 2017 to go with the 7.5 he allowed at right tackle in 2016, per Stats LLC. Ogbuehi doesn't commit many penalties, which I suppose is his best trait, but he's also missed 15 games over his first three seasons in the league and hasn't been effective for any stretch of time at any position. It's possible he breaks out under new offensive line coach Frank Pollack, but it would be breathtakingly obstinate for the Bengals to enter 2018 with Ogbuehi starting at left tackle and under contract for two more years.
2. Find a left tackle (or a left guard). Ogbuehi should be placed into a competition on the right side, where he'll be up against a pair of question marks. Jake Fisher was inconsistent before undergoing surgery on an irregular heartbeat in October, while new signing Bobby Hart was cut by the Giants — one of the few teams with an inferior offensive line to the Bengals — after poor play and allegations of quitting on the team in December.
The best option for the left tackle spot on the current roster might be guard Clint Boling, who moved outside for an injured Ogbuehi in the final two games of the year and looked good in a pair of upset victories for Cincinnati. You figure the Bengals would probably prefer to stick with Boling at guard given the scarcity of tackle options on the free-agent market, but unless Cincinnati uses its first-round pick on a tackle like Notre Dame's Mike McGlinchey or Texas' Connor Williams, the Bengals might start Boling at tackle and use a second- or third-round pick to grab a guard.
3. Find a center, too. The good news is that the Bengals won't be missing the guys who are leaving. Andre Smith was a stopgap on the right side in his return to Cincinnati, and Russell Bodine never developed into a starting-caliber center.
One solution would be to move Fisher to center, a spot where the Bengals gave him reps in advance of the 2016 season, but one he hasn't played at the college or professional levels. (It's telling that this seems like the best option!) While general manager Mike Brown seems to avoid free agency as if it's the plague, the Bengals could strike a blow against a division rival by making a big offer for Ravens center Ryan Jensen. More likely, though, is that the Bengals will draft a center and have him compete with Fisher.
4. Re-sign Geno Atkins, Darqueze Dennard and Carlos Dunlap. The Bengals' defense has ranked 17th in DVOA in each of the past two seasons, and while that's not exactly an exciting outcome, it qualified as the biggest strength of the team last year. If Cincinnati isn't going to play the free-agency game, Lewis has to retain his core contributors and hope that the Bengals can supplement (and eventually replace) them in the draft.
New defensive coordinator Teryl Austin certainly has talent, but with three valuable contributors entering the final year of their respective deals, the Bengals need to keep their defense together. Atkins and Dunlap are obvious candidates for extensions, as they form the core of the Cincinnati pass rush alongside breakout rookie Carl Lawson. Atkins will look to top the four-year, $50 million extension Linval Joseph signed in Minnesota last August, while Dunlap will shoot for the four-year, $58 million deal fellow Vikings lineman Everson Griffen picked up one month earlier.
Dennard is a slightly more difficult decision, and as he enters the fifth-year option of his rookie deal, Cincinnati might let its former first-round pick play things out and see if he impresses again as a slot cornerback. The Bengals are famously slow to bring their cornerbacks along, and Dennard has played only 1,409 defensive snaps in his first four seasons in the league. The Bills' impressive first-rounder Tre'Davious White, by comparison, played 1,052 defensive snaps during his rookie season last year.
The Bengals already have invested in Dre Kirkpatrick, and Jackson looked promising in his first active season after missing all of 2016. Dennard might end up maxing out as a slot cornerback. Even given that possibility, though, the Bengals are in a division with the Steelers and Antonio Brown. Dennard — or any of the Cincinnati cornerbacks – is not going to stop Brown on his own, but you can't skimp on cornerbacks when you're trying to topple a team that goes three wide as frequently as Pittsburgh. Lewis has repeatedly invested first-round picks at cornerback, but given their needs along the offensive line, the Bengals should keep Dennard around for the future and use their draft picks elsewhere.
5. Find a backup quarterback. With AJ McCarron winning his arbitration dispute and hitting free agency, the Bengals probably won't be in the market to pay their backup an eight-figure salary to wait in the wings behind Andy Dalton. The Bengals will have plenty of picks — they have every one of their own selections before the seventh round and are projected to claim the maximum of four comp picks, including selections in the third and fifth rounds of this year's draft. With Jeff Driskel looming as the only backup on the roster behind the Red Rifle, Cincinnati will likely draft a passer.
---
1. Blow away the market for Kirk Cousins. The Browns have approximately $110.7 million in cap space and all the draft picks on the planet. They're the worst team in football and have no viable option at quarterback, which isn't anything new. Pro Football Reference's adjusted net yards per attempt index (ANY/A+) measures a quarterback's performance against league average and adjusts it for era. The new Browns have had just one quarterback post an ANY/A+ greater than the average mark of 100 over a 300-attempt season, and that was Derek Anderson a decade ago.
If you were Cousins and about to become absurdly rich regardless of where you decide to head this offseason, why would you choose the Browns? Why would you pick $100 million over three years from the Browns if you could get $90 million over the same time frame from the Broncos? Why would you pick the annual organizational chaos of Jimmy Haslam in Cleveland over the stability of the Jaguars or Vikings?
No, if the Browns want to be a credible choice for Cousins, they need to make an offer that fundamentally blows away whatever anyone else in the league is thinking. Cousins is set to become the league's first $30 million-per-year quarterback. If you're the Browns and you want to give Cousins something to think about, what's stopping you from offering him $40 million per year? You want a quarterback, right? The Browns could hand Cousins a five-year, $200 million deal with a $20 million signing bonus and $30 million roster bonuses in each of the first two seasons of the contract, guaranteeing him a total of $91 million over two years. Cleveland could then offer Cousins an opt-out after Year 2 if things go horrifically south, with Cousins pocketing a $30 million option bonus if he decides to stay. The resulting deal would pay Cousins $144 million over its first three years, which would be a totally unprecedented total:
That's probably the absolute ceiling of what a Cousins offer would look like. The Browns might be the only team in the league that can make this sort of proposal without kneecapping its roster, in part because they have so many players who will be on cheap rookie contracts over the next several seasons. This deal gives Cousins the chance to leave or renegotiate after two seasons if things aren't the way he wants while also giving the former Michigan State product one more trip to free agency at 34.
Cousins could theoretically ask teams for a fully guaranteed deal, but teams would likely reduce the money available to Cousins on a fully guaranteed pact, and quarterbacks with Cousins' leverage and track record of staying healthy are better off opting for a traditional deal with a higher ceiling than the elevated floor of a fully guaranteed pact.
Should the Browns do this? At the very least, it's defensible. Hue Jackson could go after AJ McCarron and take a quarterback with the first overall pick, but why should anyone have faith in the Browns to successfully develop a passer after the past couple of seasons under Jackson? All things equal, the Browns are going to have to overpay for talent. They might as well overpay for a franchise quarterback.
This is an organization that valued a second-round pick from the Texans at somewhere between $10 million and $16 million as part of the Brock Osweiler swap. Signing Cousins frees up a far more valuable asset — the first overall selection — to be used elsewhere on the roster. If Cleveland signed Cousins, the Browns could parlay that first overall pick into Saquon Barkley, a terrifying one-two punch at defensive end with Myles Garrett and Bradley Chubb, or trade down for a massive haul from a team in love with one of the draft's quarterbacks at No. 1 overall.
2. If they don't get Cousins, pay for a bridge quarterback in advance of drafting a QB No. 1, and don't make a serious investment in McCarron. Assuming the Browns don't persuade Cousins to make his home in Cleveland, they'll be in the market for a veteran quarterback and a guy with one of their two first-round picks. The logical move has been to link the Browns to McCarron, whom Hue Jackson nearly traded for at the deadline in October.
The infamous failed attempt to acquire McCarron actually worked out well for the Browns, who almost dealt second- and third-round picks to the Bengals to acquire the former Alabama starter. An 0-8 Browns team would have been trading for McCarron under the assumption that he would have lost his arbitration dispute with the league and remained under contract through the end of the 2018 season. Instead, McCarron won his dispute, which would have meant that the Browns would have been paying for the privilege of letting McCarron prop up a meaningless season before either giving him a long-term contract, franchising the 27-year-old or allowing him to leave.
The trade value Jackson was willing to offer suggests that the Browns would be interested in making McCarron a meaningful offer to take over as their quarterback. That would be a very risky proposition. If you're a McCarron backer, you can point out that he went 2-1 as a starter with the Bengals in 2015, left Cincinnati in line to win a playoff game over the Steelers before Jeremy Hill's improbable fumble and has a 93.6 career passer rating. All of those things are true.
They're also far from a complete story. McCarron took over an offense that was humming on all cylinders during what was a career year for Andy Dalton, and given Dalton's track record in every other one of his pro seasons, it suggests that the players around Dalton — and, therefore McCarron — were driving much of Cincinnati's success. The Bengals had one of the league's best offensive lines that year, with Andrew Whitworth & Co. combining to miss only two starts in 80 regular-season games. Hill and Giovani Bernard were both healthy and effective. Tyler Eifert suited up for 13 games. A.J. Green, Marvin Jones and Mohamed Sanu were in for full seasons. That offense oozed talent.
McCarron was worse than Dalton across the board save for a modest jump in completion percentage, which was due to the fact that his average pass traveled nearly one yard shorter in the air. Dalton's yards per attempt and passer rating were well above McCarron's. McCarron's sack rate was double that of Dalton, which is in part due to inexperience, but also suggests McCarron might not be the quickest to make decisions in the pocket. Dalton's Total QBR was 72.5 that season, which was good for fourth in the league. McCarron's was 54.8, which ranked 26th.
In addition, McCarron had virtually no success moving the football in that Bengals-Steelers playoff matchup. The Bengals scored 16 points in a game where he threw an interception and fumbled three times, one of which cost Cincinnati a likely field goal opportunity. The team racked up all of two first downs in the first half, and while McCarron improved after the break, the Bengals' two touchdown drives in the game each started from the Pittsburgh 45-yard line. It's true that the Bengals were in a position to win before the Hill fumble, but the Bengals crawled back into the game only after temporarily knocking Ben Roethlisberger out.
Is McCarron worth a shot as a bridge passer? I would say yes at the right price, but it's really about the right level of emotional investment. If the Browns sign McCarron and give him a shot before turning to the first overall pick if McCarron struggles, that's totally reasonable. If they sign McCarron to a multiyear contract, commit to him as their starter and don't otherwise address the position? That would be throwing up a prayer.
3. Re-sign Josh Gordon and Jason McCourty. Gordon is an exclusive rights free agent, so the Browns will have no trouble bringing him back. They could try to offer Gordon an extension with modest money up front and heavy per-game roster bonuses, which wouldn't be the worst idea in the world with the right protections.
Outside of Joe Thomas, who has suggested the Browns should start thinking about a future without their future Hall of Fame left tackle, McCourty is Cleveland's most pressing free agent in 2019. The 30-year-old had an excellent rebound year after being dumped by the Titans, and while the Browns have him signed for one more season at less than $3 million, now would be a good time to approach McCourty with an extension designed to keep him in the building through 2019 or 2020.
The other 2019 free agent-to-be worth mentioning is Duke Johnson, who plays a valuable role as the team's receiving back and would continue to serve as a safety valve for whomever ends up playing quarterback in 2018. Johnson could stick around at a deal just north of the three-year, $12 million pact James White signed in New England.
4. Don't overpay for a running back. It's understandably tempting for the Browns to draft a quarterback with the first overall pick and hope to select Penn State's Saquon Barkley with the Texans' selection at fourth overall. I don't think anybody could fault Cleveland for doing that if Barkley is still on the board, given how explosive he looked at Penn State.
At the same time, we don't have a ton of evidence that taking running backs at the top of the draft has really been a great idea. Trent Richardson was obviously a disaster. Ezekiel Elliott certainly delivered for the Cowboys, but Dallas passed on Jalen Ramsey to take Elliott, and Ramsey is a better player at a more valuable position. The Cowboys might look back and wish they had selected Ramsey and taken a running back like Jordan Howard later in the draft.
The Jaguars are happy to have taken Leonard Fournette in 2017, but is Fournette the best back from his draft class after Year 1? Third-round pick Alvin Kamara is certainly a different sort of player, but he was far more productive than Fournette last season. Third-rounder Kareem Hunt might be the most complete back of the class so far. The Jags shouldn't regret taking Fournette, but what would have happened in 2017 if they had drafted Deshaun Watson?
Barkley could be a better prospect than any of those guys, and the Browns do need a running back with Isaiah Crowell hitting free agency. Barkley could turn out to be a transcendent superstar. It's also not difficult to imagine Cleveland getting more out of waiting to draft a running back — or signing someone like Dion Lewis in free agency — and using the fourth pick on NC State pass-rusher Bradley Chubb, Alabama defensive back Minkah Fitzpatrick or the draft's best offensive tackle.
5. Acquire a free safety and add help at cornerback. While Jabrill Peppers has the athleticism to play just about anywhere, his rookie year suggested that the Michigan product is likely best as an in-the-box safety. Unfortunately, this isn't a great market for free safeties. The best option is Lamarcus Joyner, who had his first excellent season as a pro while primarily playing free safety in 2017, but he could still return to the Rams. More likely, the Browns will have to use one of their many draft picks to find a player capable of playing center field.
---

1. Franchise Le'Veon Bell. Bell reportedly turned down a contract that would have paid him $30 million over two years and $42 million over three years last offseason. If the Steelers are willing to offer Bell an average of $14 million per season on a long-term deal, $14.5 million seems like a relative bargain on a one-year pact.
It's worth nothing that Bell was closer to good than great last year. The 26-year-old stayed healthy for the entire season and racked up his largest workload as a pro, but his efficiency suffered. Bell averaged just 4.0 yards per carry and converted 23.1 percent of his carries into first downs, both of which were his lowest marks since 2013.
Bell was still relatively efficient, but he also lacked big plays as a runner. The same guy who had eight carries of 20-plus yards on 113 attempts in 2015 had only three in 321 carries last season. Bell didn't have a single run for more than 30 yards. He did have three catches of 30 yards or more, all of which strangely came against the Bengals. Bell's patience and vision remain unquestioned, but in the past he has been able to combine that with explosive plays after making his cut upfield. Last season was probably a fluke, but if Bell can't rack up those big plays, it's tough to justify making him the only running back in the league to top an annual average salary of $10 million.
2. Clear out cap room. Franchising Bell would put the Steelers more than $7.5 million over the cap. As I mentioned back in January, the Steelers can cut safeties Mike Mitchell and J.J. Wilcox to free up $8.1 million in space, which gets Pittsburgh back into the black.
After that, the Steelers will likely renegotiate Antonio Brown's deal by converting $12.9 million of his combined base salary and roster bonus into a signing bonus, which would free up about $9.7 million in additional space. Pittsburgh probably won't have the cap space to retain utility lineman Chris Hubbard, but a Brown restructure will give the Steelers breathing room and allow them to look at an inside linebacker — possibly Lawrence Timmons, a likely cap casualty in Miami — to fill in for Ryan Shazier.
3. Pick up Bud Dupree's fifth-year option. The Steelers haven't gotten a ton out of Dupree since drafting him in the first round in 2015, in part because of injuries, but the Kentucky product made it through the final 15 games of 2017 and racked up six sacks. I would be skeptical of a Dupree breakout, given that he recorded only seven knockdowns. But the risk of picking up Dupree's option is outweighed by the possible reward of having him signed for 2019 in the case of a breakout campaign.
4. Draft an offensive lineman high. Hubbard will likely leave in free agency, and 32-year-old left guard Ramon Foster is entering the final year of his deal. With everyone else on the line signed to long-term deals, Pittsburgh should be in the market to find an interior lineman who can serve in Hubbard's role before moving into the starting lineup.
5. Find a low-cost receiving back to play behind Bell. It's tempting to hope that Bell will stay healthy for the entire 2018 season, but history tells us that four available months from the star running back are the exception, not the rule. James Conner barely featured as the backup last season and was thrown only one incomplete target all season. While Conner would be in line to handle the running half of a rotation if Bell went down, the Steelers also would need a back capable of catching passes and helping in pass protection. Someone like Lance Dunbar, Charles Sims or Shane Vereen could figure in for just over $1 million.
AFC South
Let's go through the AFC South (in alphabetical order), which sent two teams to the playoffs for the first time since 2012:
---
1. Use the savings from cutting Brian Cushing to lock up Benardrick McKinney. The Texans have more than $65 million in cap room to work with after cutting Cushing, their longtime inside linebacker. Houston drafted Zach Cunningham in the second round in 2017 to serve as Cushing's successor. Cunningham was pushed into the lineup early after Cushing was suspended for 10 games, and while he had an inconsistent rookie season, he showed enough to justify a role in the starting lineup and force Cushing aside.
The Texans freed up nearly $8 million by releasing Cushing, and much of that money could go to a fellow inside linebacker. The run-thumping McKinney is in line for an extension as he enters the final year of his deal, and while he's not enough of a threat in pass coverage to get a truly top-level inside linebacker deal, the Mississippi State product should be able to top the four-year, $38 million extension Christian Kirksey signed with the Browns last year.
2. Sign at least one offensive lineman. The Houston offensive line is a mess. Duane Brown was traded and not replaced. Xavier Su'a-Filo was a Texans punching bag and is now a free agent. Jeff Allen hasn't lived up to the free-agent deal he signed after leaving the Chiefs and wasn't good at guard before being moved to left tackle out of sheer desperation, where he committed three consecutive false starts on one fourth-quarter drive. Chris Clark and Breno Giacomini are both free agents. Derek Newton is recovering after rupturing both of his patellar tendons in 2016 and might never play again.
This is a mess. The Texans will line up Nick Martin at center and probably bring back Allen, if only because there was a time in the past when he was a competent player. I'd suggest that the Texans draft linemen, but Cleveland owns their first- and second-round picks as a result of the Deshaun Watson and Brock Osweiler trades, meaning that Houston probably won't be looking at many starting-caliber tackles in the third round.
As a result, new general manager Brian Gaine is going to have to go to the free-agent market and probably overpay to win on at least one lineman. The problem: There really aren't many good offensive linemen out there. The Texans will be linked to Nate Solder because of Bill O'Brien's Patriots connection, but O'Brien overlapped with Solder for only one year, and guys whom the Patriots allow to leave don't exactly have a great track record with their new teams. Guys like Greg Robinson and Donald Stephenson haven't looked good as starters.
The Texans probably have to get creative. They could look at Steelers utility lineman Chris Hubbard, who has been very useful at multiple positions for Pittsburgh, and pay him to be a full-time right tackle. They could compete for Justin Pugh, a college left tackle who played both guard and tackle for the Giants, and hope that he's good enough to play on the edge on a full-time basis.
They'll also be in the market for cap casualties. If the Bills want to move on from Cordy Glenn or the Eagles decide to release Jason Peters, the Texans should be one of the first teams on the phone. More marginal contributors such as Austin Howard, Ben Ijalana and Jared Veldheer also should be on Houston's radar. The Texans don't really have much of a choice but to be in the free-agent market up front.
3. Extend Jadeveon Clowney. Clowney has continued to improve during each of his seasons as a pro and delivered his most productive season in 2017, racking up 9.5 sacks and 21 quarterback knockdowns as the team's primary pass-rush weapon. More importantly, he stayed healthy, playing in 16 games for the first time. The Texans will always have concerns about Clowney's knee in the back of their mind, but there's no way they can let him leave as he enters the fifth-year option season of his rookie deal.
The former first overall pick isn't going to be cheap, because some team is going to offer him $18 million per year if he hits free agency next year. Clowney's representation probably will wait until the offseason settles and we see what Ezekiel Ansah and DeMarcus Lawrence get in long-term deals before negotiating an extension. The Texans could be looking at a five-year, $90 million extension with more than $50 million due over three years to keep Clowney around for years to come.
4. Shop Whitney Mercilus for an offensive lineman or a 2018 pick. The Texans have the luxury of three upper-echelon pass-rushers, although they are surely concerned about J.J. Watt's future given that the former Defensive Player of the Year has missed the better part of two seasons with injuries. Mercilus is a valuable third member of their pass-rush rotation, and with two years and $11.2 million remaining on his contract extension, he's a bargain relative to the going rates for pass-rushers in free agency.
The Texans also desperately need help at other positions, notably along the offensive line, and have less draft capital to work with than any other team. Mercilus still has two years left on his deal, but the Texans probably won't be signing him to an extension, given their investment in Watt and their investment to come in Clowney.
Gaine should put Mercilus out on the free market and look to see if other teams are willing to offer up a meaningful return. Look at a team like the Buccaneers, who finished dead last in sack rate in 2017 and have spent years looking for a useful pass-rusher. If they strike out in free agency, could the Texans convince the Bucs to part with the 38th pick in the draft for Mercilus and the 99th selection? Would the Bills, who finished 28th in adjusted sack rate, build a package around Glenn to add Mercilus?
The Texans don't need to trade Mercilus, and if the offers are underwhelming, the Illinois product would remain a valuable part of the defense. With the offensive line in truly disastrous shape and the team down multiple draft picks, though, they have to be creative.
5. Pick up Kevin Johnson's fifth-year option. The Texans chose not to franchise or otherwise re-sign A.J. Bouye in part because of Johnson, who was impressive as a rookie but missed 10 games in 2016 with a fractured foot (opening the door for Bouye) and four more in 2017 after spraining his MCL. The Texans were probably expecting Johnson to move into the starting lineup in 2018 for Johnathan Joseph, but Joseph, an unrestricted free agent, still might return to Houston, and Johnson didn't play well in 2017, even when healthy.
It's too early to give up on Johnson, though, and the risk of handing him a fifth-year option is outweighed by the upside of locking him in if he turns things around, as we just saw from Kyle Fuller in Chicago. The Texans should pick up the option and hope Johnson takes a leap forward in 2018.
---

1. Work on an extension with Rashaan Melvin. Melvin had been a journeyman before 2017, but the former Ravens corner had his best season by a significant margin before going down with a fractured hand. He is now a free agent, but the 28-year-old will be entering a free-agent market that's deep in cover corners.
His successful campaign was only a 10-game sample, so the Colts shouldn't pay Melvin like he's a top cornerback on a long-term deal, but it would hardly be out of the question to give Melvin a deal in line with the three-year, $30 million pact Logan Ryan signed with the Titans last season. General manager Chris Ballard could even think about franchising Melvin given a lack of other candidates for the tag, but a transition tag would make more sense.
2. Bring back Jack Mewhort. Mewhort looked like he was rounding into an above-average guard after his first two seasons in the league, but injuries have limited the Ohio State product to 15 games over the past two seasons. The Colts can't depend on him to be an every-game starter for years to come, but given how few options there are elsewhere in the market, new coach Frank Reich will want Mewhort around as he tries to protect Andrew Luck and Jacoby Brissett.
Indy should try to structure Mewhort's deal around per-game roster bonuses, but bringing back Mewhort to play alongside Anthony Castonzo and Ryan Kelly gives the Colts most of an offensive line.
3. Sign Dion Lewis. If the Colts-Patriots rivalry is really back on, as Ballard said after the Colts missed out on Josh McDaniels, going after one of New England's best players is one way for Indy to strike a blow. Lewis has been wildly efficient during his time in New England, where the Patriots were 32-4 with the 5-foot-8 Lewis in the lineup. It would be wrong to expect Lewis to enjoy similar success with the Colts, but Lewis would allow Reich to spend more time in the no-huddle he wants to run and serve as the more consistent half of a rotation with Marlon Mack.
4. And Zach Brown. The Colts' linebackers were brutally bad in coverage in 2017. Indy's 32nd-ranked pass defense by DVOA was 23rd against tight ends, 31st against running backs, 31st against short passes and 32nd against passes over the middle of the field. Sean Spence lasted only three games before being cut, while Antonio Morrison lasted all season and was often overmatched. Jon Bostic was the best inside linebacker the Colts had, but he is still really best as a run defender who doesn't have to play coverage.
Enter Brown, who would play the Sean Lee role as Indy transitions to a version of the 4-3 the Cowboys run under Rod Marinelli with new defensive coordinator Matt Eberflus in tow. As an every-down linebacker, Brown could command something in the $8 million range while providing the Colts a level of stability in the middle of the field.
5. Trade down out of the No. 3 overall pick. I mentioned this back in October, but the Colts have the rare opportunity to pick near the top of a quarterback-rich draft without needing to draft a signal-caller. Even if you think Luck is irreparably damaged — and nobody knows yet — Brissett showed enough to keep Indy from going after another quarterback.
There are plenty of impactful players the Colts could take with the third pick at positions of need, including NC State defensive end Bradley Chubb and Penn State halfback Saquon Barkley. At the same time, though, the Colts are utterly bereft of young talent from the disastrous reign of Ryan Grigson. The core of so many great teams — drafted-and-developed talent — is missing from the Colts.
The 2012 draft delivered Luck and T.Y. Hilton; that's a win. Afterward? Nobody from the 2013 draft is left on the roster. If Mewhort and Donte Moncrief leave in free agency, no one will be left from the 2014 draft. The only players left from the 2015 draft are three injury-riddled prospects: Henry Anderson, Clayton Geathers and Denzelle Good. First-rounder Phillip Dorsett never developed into more than a fifth wideout before being traded for Brissett in a swap of players about to be released. Third-rounder D'Joun Smith, the team's second selection that year, is a free agent.
It's still too early to judge 2016, but the returns there aren't great. Second-rounder T.J. Green was moved to cornerback, then back to safety, and was out of the rotation for most of the season. He found a role only after 2017 first-rounder Malik Hooker tore up his knee. Third-rounder Le'Raven Clark hasn't looked like a quality NFL tackle. Morrison was a mess. Kelly and fourth-round pick Joe Haeg have shown the most signs of life, but there's a missing core of Colts players around Luck. Guys like Bjoern Werner, Hugh Thornton and Trent Richardson (famously acquired for a first-round pick) were added to be regulars, and they're instead out of football.
The Colts aren't one player away. They're Luck and a half-dozen players away. They don't just lack depth; they lack talented contributors with upside in starting roles up and down the roster. The best thing they can do is try to exploit one of those teams that wants to go after Barkley, Chubb or one of the other quarterbacks and acquire multiple first- and second-round picks in the process. Trading down is no guarantee for success, as the Browns will tell you, but if the Colts can get a massive offer for the third selection, their roster construction suggests Ballard should take it.
---
1. Clear out some cap space. The Jags still have $25 million in cap room to work with even after their offseason spending sprees in recent years, which is what happens when you carry over tens of millions of dollars for years. Jacksonville is currently spending a league-high $171 million on its roster, tops by $16 million.
There are a couple of moves the Jags can make to free up literal cash on hand, let alone cap space. General manager Dave Caldwell handed Allen Hurns an inexplicable extension after the 2015 season, giving a player who would have made a max of less than $4 million between 2016 and 2017 a total of $16 million for the privilege of holding an option on Hurns for the ensuing three years (2018-2020) at $24.7 million. It was an absurd bet, and given that Hurns racked up more receiving yards and touchdowns in 2015 than he has during the two ensuing years, the Jags should cut Hurns and save the $7 million he is due this year.
The success of Leonard Fournette also stopped the Jags' wheel of running back contracts, which fell most recently on Chris Ivory. The former Jets standout has been a disaster in Jacksonville, racking up more fumbles (seven) than touchdowns (five). The Jags can save $7 million in cash and $4 million in cap space by cutting Ivory and going forward with T.J. Yeldon (or another, much cheaper player) as their backup behind Fournette.
2. Lock up Allen Robinson. The Jaguars were riddled with injuries at wideout in 2017, a list that started when Robinson went down with a torn ACL in the opener. Strangely, it didn't matter; Blake Bortles' best success came late in the year when he was throwing to a wideout corps led by undrafted free agent Keelan Cole and fourth-round pick Dede Westbrook.
Robinson and fellow starter Marqise Lee are free agents, while Hurns is likely to become one. Robinson will be the most expensive of the three, but he's also the one the Jaguars are most likely to regret losing. At his best, Robinson was a top-five wideout in 2015, a weapon who gave Bortles both a safe target on underneath passes and a chance at completing virtually anything Bortles chucked up downfield.
The Jags can franchise Robinson for 2018 at a price of just over $16 million, but I suspect he wouldn't get that much on the market on a one-year, prove-it deal. The Jags might be able to leverage Robinson's torn ACL into a more affordable long-term contract; I wonder if Robinson could be convinced to stay with something in the range of a four-year, $52 million pact.
3. Make a run at Kirk Cousins (and worry about Bortles later). It's fair to say that Bortles had an uneven 2017 season. It was an upgrade from 2016, certainly, although there were games in which he looked every bit as bad as he did during that ugly junior campaign. He finished with two solid performances against the Steelers and Patriots, and if you're the Jaguars, you can hope that the Bortles you saw there is the one you'll see on a regular basis in 2018.
Why settle for Bortles, though, when a far superior quarterback is available for solely money? Cousins could very well be the last missing piece of the Jaguars' Super Bowl puzzle. He has been consistently healthy as a pro. Cousins had major problems turning over the football earlier in his career, but his interception rate has dropped to just over 2 percent and stabilized there. Bortles' interception rate has dropped from 3.6 percent as a rookie to 2.5 percent in 2017, but the Jags asked far less from him in 2017 than Washington asked of Cousins.
Cousins won't come cheap, but the Jaguars have the financial flexibility to pay Cousins now before players such as Yannick Ngakoue and Jalen Ramsey are due for extensions. Outside of perhaps the Vikings, Cousins won't have a better option with which he might be able to win a Super Bowl than the Jags.
The problem is that the Jaguars picked up Bortles' fifth-year option, and after the former third overall pick had wrist surgery, he's unlikely to be able to pass a physical before his $19.1 million option becomes fully guaranteed on the first day of the new league year in March. The Jags could theoretically afford to carry Bortles as their backup if they sign Cousins, but it's more plausible that they could restructure Bortles' deal and trade him to a team in need of a quarterback option, like the Cardinals.
I wouldn't count on Eli Manning or anyone else likely to become available in this market as a significant-enough upgrade on Bortles to justify eating some or all of Bortles' deal. So what if the Jags flirt with Cousins and come up short? Frame it as a motivational tactic. One less appealing option is to do what the Jets did with Mark Sanchez after they tried to sign Peyton Manning, handing their starter a three-year, $40.8 million extension that would trigger if he played up to their standards. In the end, the Jets ended up paying Sanchez an additional $6.3 million for a year of bad football and a second season Sanchez missed with an injury he suffered playing with the backups during the preseason.
4. Draft a tight end. Stalwart Marcedes Lewis has played 170 games for the Jaguars and saw off the challenge of free-agent addition Julius Thomas a few years back, but he's not much of a receiving threat at age 33. Lewis did have a three-touchdown game against the Ravens in London, but he otherwise caught one of the 12 targets thrown to him over the first month of the season.
Jacksonville has a $3.8 million option on Lewis for 2018, and while the Jaguars might be interested in picking up that option, they do need to work on finding a long-term replacement. Lewis was taken with the 28th selection of the 2006 draft, and the Jags pick 29th in the first round this year. Mel Kiper's first mock draft has the Jaguars taking Oklahoma tight end Mark Andrews, and it wouldn't be shocking to see the Jags grab a tight end early this April.
5. Pick up Dante Fowler's fifth-year option. Fowler's career hasn't really gone as planned since the Jags took him with the third overall pick in 2015, just before a run of players (Amari Cooper, Brandon Scherff and Leonard Williams) who have each already made it to a Pro Bowl. The Florida product tore his ACL during his first day of practice with the Jaguars, costing him his entire debut season. He came back in 2016 but wasn't effective and couldn't beat out Ngakoue, a rookie third-rounder, for a starting job.
Fowler was drafted to be the Leo pass-rusher under Gus Bradley, but after Bradley was fired, defensive coordinator Todd Wash eliminated the Leo and Otto roles and simply treated them as defensive ends. Ngakoue and new signing Calais Campbell were arguably the best duo of defensive ends in football, while Fowler served as a situational pass-rusher and was quietly effective in his own right.
The 261-pound Fowler racked up eight sacks and added two more during the postseason. The sack totals probably overstate his true impact, given that his eight sacks came on just 10 quarterback knockdowns, when pass-rushers typically turn about 45 percent of their hits into sacks. Fowler did most of his work against tight ends and right tackles, who couldn't match up one-on-one in pass protection against Fowler given how much talent the Jags have elsewhere on the roster.
Fowler isn't going to take away a starting job from Campbell or Ngakoue in 2018, and as a top-five pick, his fifth-year option is likely to be close to the cost of the franchise tag for 2019. Edge rushers who can get after the quarterback also are extremely valuable, and if Fowler has another eight-sack season in 2018, he would have meaningful trade value in advance of the final year of his deal.
---
1. Pick up Marcus Mariota's fifth-year option. The 2017 season was a step backward for the former second overall selection, but the Titans are counting on new offensive coordinator Matt LaFleur to build a scheme around Mariota's strengths. While Jon Robinson and new coach Mike Vrabel will be in a bind if Mariota doesn't improve, the Titans are fully invested in their 2015 first-round pick for the foreseeable future.
2. Re-sign Josh Kline, and make a run at Avery Williamson. The professed strength of the Titans under Mike Mularkey and now-retired offensive line coach Russ Grimm was their offensive line, and while most of the investment in that line came at tackle, the Titans found a useful waiver-wire claim from the Patriots in Kline. As the Titans continue to try to build Patriots South under their head coach/general manager combo, holding on to Kline as a useful run-blocker who won't break the bank makes sense.
Williamson might be tougher. The Titans already have Wesley Woodyard signed to a meaningful free-agent deal and liked what they got out of rookie fifth-round pick Jayon Brown, who has more coverage range as a pass defender than Williamson. The 25-year-old Kentucky product is a two-down run thumper who came off of the field on third downs for Brown, as the four-year veteran took just 44 defensive snaps on third down all season.
Players with Williamson's profile have been disappointed by their free-agent markets in recent years. While Williamson made a tackle on 21.9 percent of the running plays he faced last season, which was the eighth-best rate in football, teams haven't shown a propensity to pay for that skill unless you also can hold up in coverage. It seems likely that Williamson will hit the market and then either come back to Tennessee or take a one-year deal elsewhere. If he does come back on a long-term contract, though, it would probably bring an end to Woodyard's tenure in Tennessee.
3. Cut DeMarco Murray. After a Pro Bowl season in 2016, the bottom fell out for Murray in 2017, as he posted nearly identical numbers to the disastrous season he struggled through with Chip Kelly in Philadelphia. The Titans can wipe Murray's $6.5 million off the cap without incurring any dead money. The 30-year-old won't be getting that much on the free market, which might make a pay cut amenable to both sides, but the Titans need to turn their starting job over to Derrick Henry.
4. Negotiate an extension with Taylor Lewan. With two deserved Pro Bowl appearances during his first four seasons in the league, Lewan is going to reset the tackle market with his new deal. The most lucrative extension handed to a tackle coming off of his rookie deal is still the five-year, $68 million contract Trent Williams signed with Washington before the 2015 season, which guaranteed Williams $30 million at signing and paid him more than $42 million over its first three seasons.
Lewan will likely become the first tackle in the league to top $15 million per season, and his new deal could be a five-year, $75 million pact with $45 million paid out over the first three years.
5. Draft a pass-rusher. The Titans build their pass rush around outside linebackers Derrick Morgan and Brian Orakpo, both of whom are on the wrong side of 30 and entering the final year of their respective deals. Star defensive lineman Jurrell Casey might be the most important piece of that rush, but it's Morgan and Orakpo who have been Nos. 1-2 in sacks each of the past two seasons.
Robinson isn't at the point where he should go after a top pass-rusher in the free-agent market, and to be honest, there's unlikely to be anyone worth paying top dollar after Ezekiel Ansah and DeMarcus Lawrence get franchised. Robinson drafted Kevin Dodd out of Clemson with the 33rd pick in 2016 in the hopes that one year of success and an athletic frame would be enough to mold Dodd into a viable pass-rusher, but Dodd struggled with a foot injury as a rookie and was a healthy scratch off and on during 2017.
Dodd has played just 251 snaps and racked up a lone sack over his two pro seasons, so while he could still turn things around, the Titans can't rely on him to be a starter in 2018. The Titans should consider drafting another edge rusher with the 25th pick in the draft, and indeed, Kiper has them drafting Boston College outside linebacker Harold Landry.
AFC West
Let's move on to the AFC West (in alphabetical order), where we'll see a new head coach and one new starting quarterback, with another likely on the way in the Mile High City:
---

1. Cut Aqib Talib and C.J. Anderson. The Broncos floated the idea of trading Talib earlier in the offseason, but predictably, nobody took the bait. Talib is still a useful cornerback, but he lacks trade value, with two years and $19 million remaining on his contract, including a $12 million salary-cap hit this season. Someone could theoretically still trade for him, but it's more likely the Broncos will move on from the 32-year-old and Talib signs somewhere else on a smaller deal in free agency.
Anderson is a good example of how NFL teams can stumble into bad decisions. The undrafted free agent made the Pro Bowl in 2014 and then lost his job (in part via injury) to Ronnie Hillman in 2015, before finally returning to the primary role during the postseason. The Broncos then decided to tender Anderson at the lowest restricted free-agent level to try to save a couple of million dollars, only for the Dolphins to swoop in with a heavily front-loaded offer.
John Elway then matched the offer. So the Broncos — who didn't think Anderson was worth a second-round tender just weeks earlier — paid Anderson like an upper-echelon running back and promptly got 23 games of anonymous running back play, with Anderson averaging 4.1 yards per carry.
Denver can free up $15.5 million by releasing Talib and Anderson, money it will want in its pursuit of a veteran quarterback.
2. Go after Kirk Cousins. Speaking of veteran QBs, there's every reason to think the Broncos should be both all-in for Cousins and one of the favorites to land the former Washington star. The Broncos should be able to make a strong case for Cousins, given the presence of a defense that slipped but still finished 10th in DVOA last season. While their offensive line is still struggling, the Broncos have invested heavily up front, and it wouldn't be a surprise if their pass protection looked far better with Cousins at quarterback as opposed to the combination of Paxton Lynch, Brock Osweiler and Trevor Siemian.
If Cousins wants to play in Denver, the Broncos will pay up. What would a Cousins deal look like? Assuming the 29-year-old craves the stability Washington failed to offer him, the Broncos are probably looking at a minimum of five years and possibly a six-year contract. Elway tends to avoid larger signing bonuses and prefers roster bonuses early in contracts for cap purposes, but given how massive the Cousins extension is likely to be, the Broncos might not have much of a choice.
There's no way to make a Cousins deal cheap, but here's how the Broncos could frame a six-year, $180 million deal with a $40 million signing bonus and an even $100 million payable over the first three years, all of which would be practically guaranteed:
3. Add a tight end. Virgil Green is a free agent. A.J. Derby was waived last year. Jeff Heuerman hasn't panned out. Jake Butt has returned after missing the entire 2017 season while recovering from a torn right ACL, and you figure he'll be part of the tight end rotation, but the Broncos probably want to supplement Butt with another tight end to play on early downs.
They could re-sign Green, but it's not difficult to find a useful blocking tight end in free agency. Lee Smith, formerly of the Raiders, could make sense as the team's starter in 2018 as the Broncos get to see whether Butt finally becomes their long-term solution as a pass-catching tight end.
4. Lock up Matt Paradis and Bradley Roby. While Elway's drafts have been middling at best over the past few seasons, the Broncos have one useful contributor on each side of the ball entering the final year of their respective deals. Paradis really emerged in 2016 as one of the best centers in the AFC, and as he enters restricted free agency this offseason, the Broncos won't make the same mistake they made with Anderson. Paradis likely will be tendered at a high level, and the Broncos will use that as a prelude to an extension.
Likewise, Roby seems likely to emerge after spending years as the third cornerback in Denver's dream trio alongside Talib and Chris Harris. The Ohio State product suited up for more than 68 percent of Denver's defensive snaps this past season and is ready to take over for Talib as an every-down cornerback. The Broncos already are handing Roby a raise to $8.5 million as a result of picking up his fifth-year option last offseason, so while Denver could let Roby play out his deal and work on an extension next offseason, it seems more likely they'll sign Roby to a five-year extension in the $55 million range.
5. Pick up Shane Ray's fifth-year option. The Denver pass rush was down across the board in 2017. Von Miller wasn't as productive as he had been the previous year. DeMarcus Ware retired, and while that opened up a role for Shaquil Barrett in the pass-rush rotation, Barrett mustered four sacks and 12 knockdowns despite playing 67.2 percent of the defensive snaps.
Nobody fell off more than Ray, who missed the first half of the year with a wrist injury and never seemed to get going. After racking up eight sacks and 21 knockdowns as a situational pass-rusher in 2016, Ray had just one sack and four knockdowns while playing 35.7 percent of Denver's seasonal snaps. That said, pass-rushers are too valuable to give up on, so the Broncos have to pick up Ray's fifth-year option, but this will be a critical year for the Missouri product.
---
1. Cut Tamba Hali. The Chiefs signed Hali to a questionable extension after the 2015 season, one with a structure that basically guaranteed the 34-year-old would be on the roster in 2017. By the end of 2016, the organization probably regretted the decision. Hali lost his starting job to Dee Ford during the 2016 season, then publicly fought for his release before the 2017 season; that release never came. The Chiefs placed Hali on injured reserve to start the year, then had him take only 99 defensive snaps over the second half of the season. Kansas City will save $7.7 million by moving on from its 2006 first-round pick.
2. Pick up Marcus Peters' fifth-year option. Peters got suspended for a game last season after briefly losing his mind against the Jets, including a tossing a penalty flag into the crowd. But he's one of the best cornerbacks on the planet. Andy Reid & Co. might theoretically pass on signing Peters to an extension if there are more flare-ups, but it seems extremely likely that the University of Washington product will be wearing Chiefs colors for the next several seasons.
3. Add an inside linebacker. Kansas City has already announced that it intends to move on from stalwart inside linebacker Derrick Johnson, whose contract voids at the end of the 2017 league year. Now the Chiefs need to find somebody to play alongside Reggie Ragland, whom Kansas City acquired from Buffalo before the season.
Defensive coordinator Bob Sutton should have his pick in a market that is perennially team-friendly these days. It wouldn't be a surprise to see the Chiefs wait the market out before going after a veteran like Demario Davis or Avery Williamson; they could also look at likely cap casualties, a group that should include Brian Cushing and Jerrell Freeman.
4. Find a backup quarterback. Patrick Mahomes is the starter for the foreseeable future, but the Chiefs need to find a new backup to fill in after trading away Alex Smith. Tyler Bray is an unrestricted free agent, while their previous backup — Nick Foles, who had a big game recently — is probably off the market.
If Tyrod Taylor's market fails to develop, the former Buffalo starter would be about as good as it could possibly get as a backup for Reid, given Taylor's ability to avoid turnovers and his comfort working out of the shotgun as a runner. If Taylor is out of their price range, the Chiefs could look to former deputy Chase Daniel, who has now made more than $24 million as a professional quarterback (including an even $10 million from the Chiefs) for 78 professional passes.
5. Find a punter. Dustin Colquitt is a free agent, and while the 13-year NFL veteran had a solid season in 2017, it's unclear whether he'll be back with the Chiefs for another run in 2018. Colquitt had a $4.9 million cap hit last season, which was the most of any punter in the league. If he's back in 2018, it probably won't be at that number. It wouldn't be a surprise to see the Chiefs use a late-round pick on a punter to develop under stud special-teams coach Dave Toub.
---

1. Pick up the fifth-year option on Melvin Gordon. Injuries have kept Gordon from emerging as a consistently impactful running back, but the Wisconsin product served as the focal point of the offense for a long stretch in 2016, when he was one of the few left standing. Gordon hasn't been healthy enough to justify an extension, but he's good enough to keep around into 2019.
2. Ask Travis Benjamin and Corey Liuget to take a pay cut. Benjamin, the former Browns draftee, hasn't been consistent during his time in California, having racked up 1,244 receiving yards and eight touchdowns over two seasons. He's likely the fourth wideout on the depth chart this season behind Keenan Allen, Mike Williams and Tyrell Williams, which makes his $5.8 million salary a luxury. The Chargers can save $4.5 million by releasing Benjamin, money they can better apply to weaker parts of the roster.
Liuget has never lived up to the five-year, $51.3 million deal he signed before the 2015 season, offering enough neither as a pass-rusher or as a run-defender on a unit that ranked 27th in DVOA in the latter category. He wouldn't make anything close to the three years and $26.3 million remaining on his deal on the open market, and the Chargers should be interested in getting a discount, if not moving on from their former first-round pick altogether.
3. Re-sign a group of restricted free agents. While most teams don't have any restricted free agents worth discussing, the Chargers have several worth retaining in wideout Tyrell Williams, safety Adrian Phillips and backup edge rusher Chris McCain. (Cornerback Trevor Williams also is an exclusive-rights free agent, which is a paradox.) The Chargers should be interested in bringing them all back.
Phillips could move into the starting lineup if the Chargers don't re-sign Tre Boston, who racked up five interceptions in his best season as a pro after coming over from the Panthers. The price for Boston might determine whether the Chargers should bring him back, given that they've already invested in Jahleel Addae and Casey Hayward in the secondary and have Jason Verrett signed for one more year at his fifth-year option price of $8.3 million. If the bidding for Boston tops $7 million per year, I would be hesitant to pay up for a guy whom the league didn't really value very much before last season.
4. Lock up Casey Hayward and Denzel Perryman. Speaking of Hayward, the former Packers corner is due for a huge raise after emerging as one of the best cornerbacks in all of football. Hayward's three-year, $15.3 million deal has been one of the biggest free-agent steals in recent memory for the Chargers, as Hayward has gone from being a slot cornerback with the Packers to a guy capable of competing with any receiver in football anywhere on the field.
Hayward, 28, has racked up 11 interceptions over the past two years, and with one year left on that contract, the Chargers are going to have to offer their star corner a new deal as early as this offseason. There's every reason to think the Chargers will need to give Hayward an extension in the five-year, $70 million range to stay in Los Angeles for years to come.
Perryman hasn't been quite as revelatory over the past couple of years. But the Chargers had a significantly better run defense with him on the field, and they got lost for stretches last season while their defensive signal-caller was out injured. The University of Miami product hasn't been able to stay healthy, having missed 15 games over his first three seasons, but Los Angeles has allowed 4.0 yards per carry with Perryman on the field and 4.8 yards per carry with Perryman sidelined.
5. Make a run at one of the top-tier defensive tackles. Teams are going to copy the Eagles this offseason, and as plans go, you can do worse than bombarding the opposing team with dominant defensive linemen. The good news for the Chargers is that they already have one of the best edge-rushing combinations in football with Joey Bosa and Melvin Ingram. The problem: The interior of the line hasn't been as effective.
Defensive coordinator Gus Bradley helped build a Jaguars defense that finally crested after he departed, so let's try to get the Chargers a dominant interior piece. Sheldon Richardson and Star Lotulelei are both free agents, and while they're going to help dramatically against the run, Richardson or Lotulelei might not be a third impactful pass-rusher the Chargers could thrive with alongside Bosa and Ingram.
What about Ndamukong Suh? There are rumblings that the Dolphins could cut their highly paid defensive tackle, and while Suh is coming off his least productive season as a pro, it was still good for 4.5 sacks and 12 knockdowns. If that's your worst campaign, you're doing OK. Suh never gets injured and still commands plenty of double-teams. I can see the argument for spending money elsewhere, but if Suh hits the market, he would be a massive upgrade on Liuget on the interior.
---
1. Release Sean Smith — and don't stop there. The Raiders already moved on from one starting cornerback by cutting David Amerson earlier this offseason, and they'll complete the set by dumping Smith, who was a replacement-level cornerback for most of his time in Oakland. Releasing the former Dolphins draft pick will free up $8.5 million. The Raiders will go forward with 2017 first-rounder Gareon Conley at one spot and could re-sign TJ Carrie to play across from him.
General manager Reggie McKenzie has structured most of Oakland's contracts to keep the organization flexible, and if he and new coach Jon Gruden want, the Raiders can clean house. McKenzie could release Bruce Irvin, Michael Crabtree, Marshawn Lynch and Jared Cook to create more than $27 million in additional cap room, although I don't think they should necessarily make those cuts.
One move the Raiders should make is to move on from Seth Roberts, who has managed to post the highest drop rate in football over the past three years among wideouts with 100 targets or more. Oakland just signed Roberts to an extension last August, but they can free up $2.3 million by moving on from him. More importantly, they can sign a better third wideout for Derek Carr.
2. Pick up Amari Cooper's fifth-year option. Cooper had a wildly frustrating third season in the NFL, seemingly disappearing from the offense for stretches of time before suddenly emerging with big plays. It seems easier to blame his disappearing act on deposed offensive coordinator Todd Downing, given how many other players in the offense struggled this past season. The Raiders will have cause for concern if Cooper doesn't bounce back in 2018, but they have to pick up his fifth-year option to retain negotiating leverage if they want to sign him to a long-term deal.
3. Extend Khalil Mack. Mack didn't get close to his (absurd) goal of 30 sacks, finishing with 10.5 sacks and 22 knockdowns. But 2017 was Mack's third consecutive season with double-digit sacks, making the University of Buffalo product the 22nd player to pull that off during the first four years of his NFL career.
The Raiders have Mack signed for one more year as part of his fifth-year option, but he's going to be a core player for the team long after they head to Las Vegas. As Alden Gonzalez mentioned last month, the Raiders and Rams might be in a holding pattern atop the pass-rushing market, since Mack's deal should come in the same ballpark as that of NFL Defensive Player of the Year Aaron Donald.
I mentioned last week that Donald was in line for a six-year, $120 million extension. Mack's deal might be even bigger by virtue of the fact that he's a top-10 pick, which affects the cost of his fifth-year option. Top-10 picks like Mack get paid the average of the top 10 salaries at their position, while first-rounders taken after the 10th spot, like Donald, get the average salary of the players ranked between three and 25 at their respective positions.
As a result, Donald's fifth-year salary is still a bargain at $6.9 million. Mack is not stealing money, but his $13.9 million base salary isn't much of a discount on what he would get as an annual salary as part of a new deal. Donald will probably get more new money, but the $7 million gap between the two means Mack's deal might look larger once pen hits paper.
4. Sign defensive line help. McKenzie has invested high draft picks up front, but they haven't really panned out. Mack obviously has been a success, but 2015 second-rounder Mario Edwards didn't show much in his return from injury last year, while 2016 second-rounder Jihad Ward was a healthy scratch for most of the season. While there are holes behind the defensive line at middle linebacker and possibly at safety next to Karl Joseph, the Raiders need more from their non-Mack defensive linemen to emerge as an effective defense.
The problem: This really isn't a deep free-agent crop for defensive linemen, especially if Ezekiel Ansah and DeMarcus Lawrence get franchised. The Raiders wouldn't be in for Ansah or Lawrence, but teams that might have made a huge offer for one of those two stars will instead be putting their money toward lesser players along the defensive front. Oakland could look at Adrian Clayborn, who would play as a defensive end on early downs, then shift inside to offer interior pass-rushing help on third downs. A big offer for Sheldon Richardson also wouldn't be the worst idea.
5. Take the best player available in the first round. Outside of quarterback and guard, the Raiders are not in a position to pass up a potential difference-maker at any position. While they have needs at the spots I mentioned earlier, Oakland should be willing to take the best player on the board at No. 9 or No. 10 (their pick will be determined in a coin flip with the 49ers at the combine).
Should McKenzie unite a pair of Alabama wideouts, with Amari Cooper and Calvin Ridley? Or a pair of Ohio State cornerbacks, with Conley and Denzel Ward? It's not difficult to imagine the Raiders improving with either option. Players like Notre Dame tackle Mike McGlinchey and Georgia inside linebacker Roquan Smith could fill more pressing needs, but the Raiders' roster looks far less impressive right now than it did this time last year. It will take a good draft — and a winning debut under Gruden — to turn that perception around.
Lions releasing running back Kerryon Johnson, per reports
The Detroit Lions are releasing running back Kerryon Johnson, according to multiple reports.
Detroit drafted the former Auburn standout in the second round in 2018. Johnson became expendable after the team drafted D'Andre Swift No. 35 overall in 2020, signed free agent running back Jamaal Williams in March and drafted Oregon State's Jermar Jefferson last week.
Johnson ran for 1,225 yards and eight touchdowns over three seasons. He also has 61 career receptions for 527 yards and three scores.
Last year, he had 181 yards rushing and two scores on 52 carries. and had 19 receptions for 187 yards receiving and a touchdown.
NFL Network first reported that Johnson would be waived.
The Lions also added a player in free agency, signing tight end Darren Fells on Wednesday. The move gives the team a veteran at the position it can put on the field with Pro Bowl tight end T.J. Hockenson.
The 35-year-old Fells has 123 career catches with 1,483 yards receiving and 21 touchdowns. The previous two years in Houston, he had a combined 55 catches for 653 yards and 11 touchdowns.
Fells has started 76 games — including 13 with the Lions in 2017 — and played in 102 games with Arizona, Detroit, Cleveland and the Texans. He was a rebounding standout at UC Irvine and played basketball in Argentina, Mexico, Belgium, Finland and France before playing in the NFL.
The Associated Press contributed to this report.
QB Blaine Gabbert re-signing with Tampa Bay Buccaneers on 1-year, $2.5 million deal, source says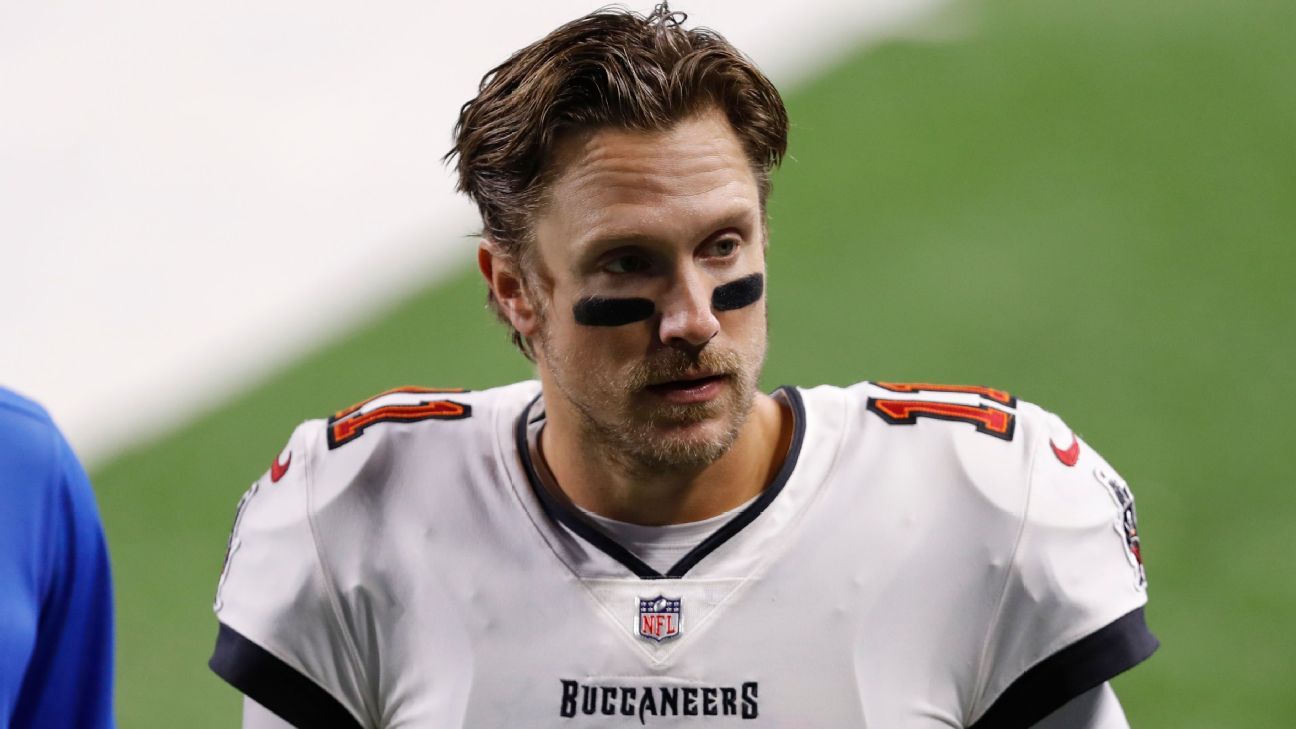 TAMPA, Fla. — Once again, Tampa Bay Buccaneers coach Bruce Arians has kept his word.
Days after saying the Bucs would work to re-sign Tom Brady's top backup, quarterback Blaine Gabbert, the team is indeed re-signing Gabbert to a one-year deal worth $2.5 million, a source told ESPN's Jeremy Fowler.
Gabbert, who has played in 60 career games with 48 starts, previously earned $1.187 million in 2020 and $1.6 million in 2019.
Last season, Gabbert, 31, completed 9 of 16 passes for 143 yards and two touchdowns with no interceptions, with all but one of those pass attempts coming in the second half against the Detroit Lions in Week 16, when Arians opted to rest Brady.
The Bucs selected quarterback Kyle Trask in the second round of the NFL draft last week, but Arians said that would not preclude them from re-signing Gabbert. The team also re-signed Ryan Griffin, who was last year's third-string backup, earlier this offseason.
Gabbert enters his third season with the Bucs, after spending 2018 with the Tennessee Titans, 2017 with Arians and the Arizona Cardinals, 2014-16 with the San Francisco 49ers and 2011-13 with the Jacksonville Jaguars.
Gabbert has had an eventful offseason. In addition to attending the Kentucky Derby with Brady and Griffin on Saturday, he married longtime sweetheart Bekah Mills in Paradise Valley, Arizona, in March.
NFL sends memo reminding clubs the league will not pay players who suffer injuries away from facilities
The NFL reminded teams Wednesday that they are not obligated to pay players who suffer an injury away from the team facility, an issue that moved this week to the center of an ongoing dispute between the NFL and NFL Players Association over in-person participation in offseason workouts.
The memo, obtained by ESPN, was prompted by several prominent players who were surprised by media reports about Denver Broncos offensive lineman Ja'Wuan James, who tore an Achilles tendon this week while working out on his own and could miss the 2021 season. NFL contracts have long classified such injuries as "non-football," because they happen away from the team environment, and they are not covered by typical injury guarantees. As a result, the Broncos could withhold James' salary for as long as he is sidelined. More than $10 million would have been guaranteed if the injury had occurred at the Broncos' facility.
The NFL has noted this contractual leverage multiple times during negotiations with the NFLPA, which has advised players to skip the voluntary portion of in-person offseason training unless they stand to lose workout bonuses.
Kansas City Chiefs quarterback Patrick Mahomes was among those who seemed unaware of the full implications of "non-football' injuries in comments this week on social media.
"According to the media coverage," the NFL wrote in its memo, "several players have expressed surprise that Mr. James' injury was not covered by his Injury Guarantee, although this point has been made frequently in our discussions with the NFLPA about the offseason program. Clubs are encouraged to remind players of the significant injury-related protection provided if they choose to work out at the club facility and the risks they undertake in choosing to train in non-NFL locations."