For a third straight year, the Washington Redskins face a decision on quarterback Kirk Cousins, one they might start answering as early as Tuesday. But unlike the first two years, it's unlikely this scenario will play out the same way.
If the Redskins want to apply the franchise tag to Cousins for a third year — as they reportedly have considered — the window opens Tuesday and runs through March 6. The new league year begins at 4 p.m. ET March 14.
Why would they tag him?
To trade him. The Redskins have no intention of bringing back Cousins after trading for Alex Smith in January, a deal that becomes official March 14. The Redskins gave up a third-round pick plus talented young corner Kendall Fuller to get Smith (who then agreed to a four-year extension). They view Cousins as a potential asset who, in theory, could land them another draft pick or two. If Cousins leaves via free agency, his deal could be worth around $30 million per year. Because of the size of the contract, even if the Redskins signed other high-priced free agents, they'd be in line for a third-round compensatory pick in 2019. Trading Cousins now could yield a pick in 2018.
Which tag would it be?
The Redskins would place the franchise tag on Cousins, and because it would be the third time, it would have to be the exclusive one. That would mean no teams could negotiate with the 29-year-old, which, of course, would make any sort of trade difficult. The only other alternative is to use a transition tag to lessen Cousins' price tag at $28.8 million. But that wouldn't make much sense. If the Redskins did that, Cousins wouldn't sign the tender and then could simply secure an offer sheet from another team, and the Redskins would lose him for no compensation (unless they matched the offer, which they wouldn't).
Will Cousins file a grievance if tagged?
Yes. Multiple sources close to the quarterback said last month he would, and another confirmed Monday that nothing has changed. Their rationale: The tag was meant as a way to keep players around, ostensibly to work out a long-term deal. The Redskins, of course, would have no intention of signing Cousins or keeping him around on the tag. New England tagged Matt Cassel in 2009, though the Patriots were able to claim it was as insurance in case Tom Brady, coming off a knee injury, wasn't ready to start the season. However, the move was clearly made so they could trade him because within a month the Patriots sent Cassel and starting linebacker Mike Vrabel to Kansas City for a second-round pick. Cassel did not file a grievance.
But Cousins is intent on hitting free agency and will be more aggressive than Cassel in trying to reach that goal.
Would he sign the tender?
That remains to be seen, but Cousins could completely disrupt Washington's plans with either decision; one source close to Cousins doubted he would sign, but nothing was definite.
If the goal is to get to free agency, Cousins shouldn't sign. Here's why: If he doesn't sign the tender, the Redskins cannot trade him. If they can't trade him, the Redskins will absorb a $34.5 million cap hit once the new league year starts. That would severely affect their ability to sign other free agents.
Therefore, if Cousins doesn't sign the tender and if Washington wants to be a player early in free agency, it will have to rescind the tag by the start of the new league year. The result: unrestricted free agency for Cousins. Smith's $17 million cap hit will go on the Redskins' books when the trade becomes official. Keep in mind that Kansas City will want Smith off its books so it can be active in free agency immediately. The Redskins can't hold off on making that trade official while trying to peddle Cousins.
If Cousins does sign the tender, the Redskins will be under major pressure to trade him as soon as possible. Cousins' side will let other teams know the first year for any deal would then be $34.5 million (the amount of the tag). There would be zero guarantee that Cousins will sign a long-term deal. In fact, there's a good chance he won't, and some teams would be told beforehand that there'd be no chance of one at any point. It would be hard for Washington to get much from another team in that situation. The risk would then be having Cousins on the Redskins' cap at a hefty cost, making for an awkward situation as well. It's doubtful that it would reach that point.
The only way it could work for Washington is if Cousins signs the tender and another team doesn't care about the parameters his side sets and still trades for him. That's a long shot.
Also, the best way to alleviate that situation? Don't sign the tender. The Redskins can tag him, but Cousins controls what happens next.
Patrick Mahomes favored over Tom Brady for Super Bowl LV MVP
Tom Brady has won more Super Bowl MVPs than any other player but he's not the favorite for the award in Super Bowl LV.
Kansas City Chiefs quarterback Patrick Mahomes is the odds-on favorite to be named MVP of this year's Super Bowl, listed at -120 at Caesars Sportsbook by William Hill. Brady is next at +190.
Mahomes won Super Bowl MVP last year when he accounted for three scores, including two touchdown passes in the fourth quarter that helped rally the Chiefs past the San Francisco 49ers for a 31-20 win in Super Bowl LIV.
Brady has been named MVP in four of his six Super Bowl wins, his last award coming in 2017 when he helped the New England Patriots overcome a 28-3 deficit to beat the Atlanta Falcons.
The quarterback of the winning team has won MVP 29 times, including in eight of the last 11 Super Bowls. But there are some intriguing playmakers on both teams. Chiefs wide receiver Tyreek Hill and tight end Travis Kelce are each 13-1. Buccaneers running back Leonard Fournette is 25-1, followed by Kansas City running back Clyde Edwards-Helaire at 30-1.
Tampa Bay wide receivers Mike Evans and Chris Godwin are each 30-1. Buccaneers linebacker Shaquil Barrett and Chiefs safety Tyrann Mathieu have the best odds of any defensive players at 40-1.
Super Bowl LV kicks off Feb. 7, at Raymond James Stadium in Tampa. The Chiefs are consensus 3-point favorites over the Buccaneers.
Buffalo Bills made jump, but Chiefs remain their 'measuring stick' in AFC – Buffalo Bills Blog
BUFFALO, N.Y. — The Buffalo Bills believe they'll be back.
What else can they say after Sunday's 38-24 loss to the Kansas City Chiefs in the AFC Championship Game?
The Bills are young; most of their core players are either signed to multiyear extensions or still on their rookie deals. Their coaching staff, while not completely clear of uncertainty with defensive coordinator Leslie Frazier and quarterbacks coach Ken Dorsey drawing interest from other teams, should remain largely intact for the fourth straight year.
Sunday, Feb. 7 at 6:30 p.m. ET (CBS)
• Early look at the Super Bowl matchup »
• Playoff schedule, bracket, scores »
• More on this season's NFL playoffs »
And now, they're experienced — even if that experience is the pain of falling short of something the franchise has never accomplished.
"It stings to get this far. Sometimes the further you go, the harder it is to lose," Bills coach Sean McDermott said. "It's a learning experience for us as an organization. We've got to obviously get back to work."
Buffalo has little to be ashamed of after winning its first AFC East title since 1995 and its first two playoff games since the turn of the century. The Bills entered the playoffs arguably the hottest team in the NFL, winning nine of their last 10 games en route to the AFC's No. 2 seed.
Quarterback Josh Allen, although he had his lowlights in Sunday's game, blossomed into the franchise quarterback general manager Brandon Beane hoped for when he traded up to draft him in 2018. Allen set single-season franchise records in every major passing category and earned his first Pro Bowl selection and possibly an MVP vote or two. Wide receiver Stefon Diggs could not have envisioned a better Buffalo debut season as he finished as the NFL's leader in receptions and receiving yards.
But the league's next great quarterback-wide receiver duo wasn't enough. The Bills aren't at Kansas City's level quite yet.
"They're the reigning Super Bowl champs for a reason and they were the better team tonight," Allen said.
Last season's playoff loss felt different. A blown 16-point lead against the Houston Texans stuck in the Bills' minds all offseason and was part of the reason for the team's offensive renaissance. It was obvious Buffalo needed reconstruction on that side of the ball, and until it happened nobody could say to any degree of certainty that the Bills would win the AFC East in 2020.
But now, barring a major trade — Houston's Deshaun Watson to the Miami Dolphins, perhaps? — the Bills should enter the 2021 season as favorites to defend their division title. They don't need major construction on either side of the ball; but that's not to say they're ready to run it back next season.
Decisions loom
The backfield duo of Devin Singletary and Zack Moss was not effective enough in 2020. Beane will need to give the pair another go next season or address the position this offseason. Cody Ford's return from a torn meniscus should help solidify the offensive line, but Beane will likely have to decide between re-signing Jon Feliciano or Daryl Williams, both of whom can become free agents soon.
Linebacker Matt Milano is Buffalo's biggest pending free agent and should be high on Beane's priority list. The Bills might consider changes in an effort to tailor their defense to stopping Kansas City, which is clearly the looming obstacle standing in the way of any AFC team's hopes of reaching the Super Bowl.
"At the end of the day, this is our measuring stick," McDermott said. "If you lose in the AFC Championship Game, that's the team we've got to beat. So, we've got to do everything with that in mind this offseason."
It got them this far — Beane traded for Diggs and drafted two wide receivers last offseason in an effort to keep up with the AFC's other high-scoring teams. Maybe that means adding even more weapons and speed on offense. Buffalo tied with the Tennessee Titans for the league's second-best offense behind Kansas City this season, but still seemed like it was on a completely different tier.
Chiefs tight end Travis Kelce and wide receiver Tyreek Hill, in particular, did whatever they wanted throughout Sunday's AFC title game, combining for 290 yards and two touchdowns on 24 catches.
"They're a great football team for a reason, they're defending champs for a reason," Bills safety Micah Hyde said. "They've got weapons all over the field. Obviously, a lot of people try to limit them, giving up explosive plays up top, so they just run the ball. We tried to stop the run, and they've got guys on the outside [Kelce) and [Hill] who can kill you.
"You saw tonight, [Kelce] was open, [Hill] was just catching these little short balls or whatever and going off. It was difficult."
Beane probably didn't sleep much Sunday night; the idea he hasn't given McDermott and his coaching staff enough to work with keeps him up at night, and the Bills certainly didn't look like they had enough against one of the NFL's best teams.
But they're close.
Stefon Diggs is on the field after the Bills' AFC championship loss to watch the Chiefs' trophy presentation.
And as Diggs stood by himself after the game, watching the Chiefs celebrate their second consecutive conference title, it's not difficult to imagine red and blue confetti surrounding an elated Bills team at this time next year.
"It's going to fuel us. I have no doubt in my mind that we will be back," Allen said. "We're still young and we're only going to get better. That's one thing I take from this. We're close. The results weren't good tonight, but I'm super proud of how our team fought all season and how we bonded together."
What does trading Matthew Stafford mean for the Lions in value and their future QB? – Detroit Lions Blog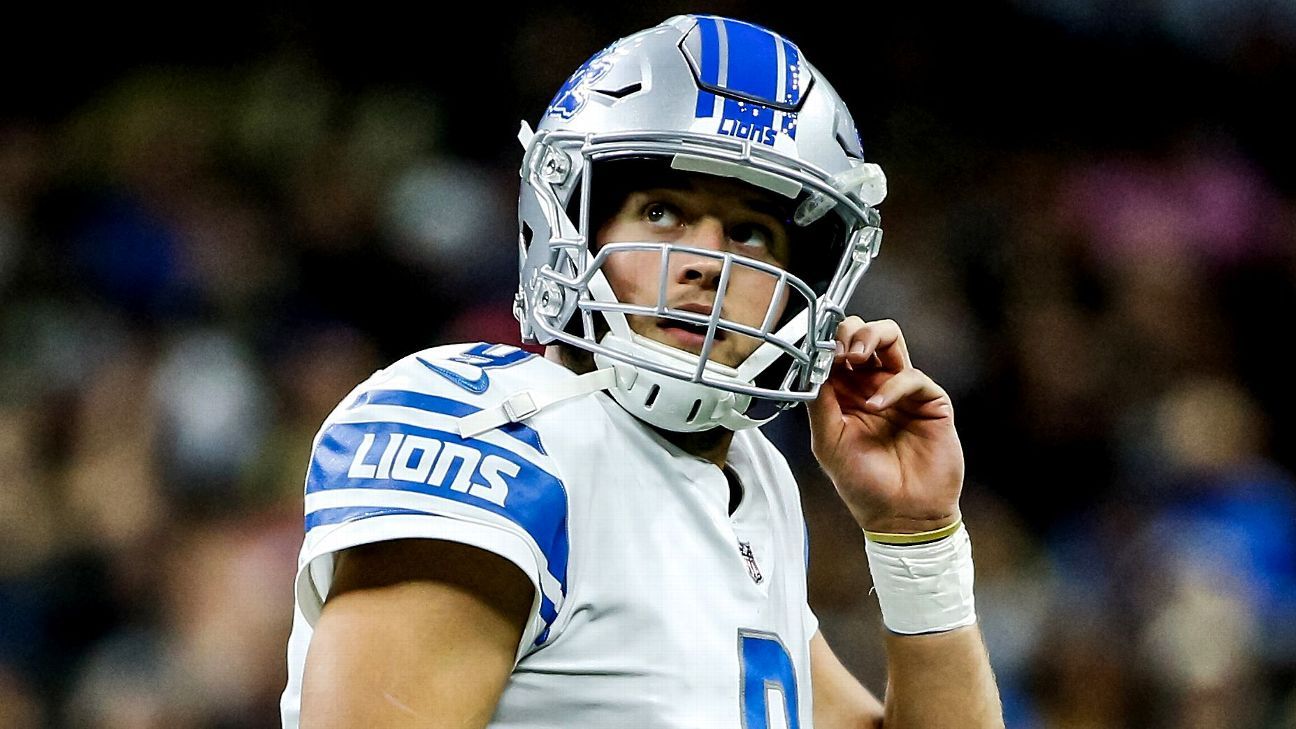 ALLEN PARK, Mich. – Inside Ford Field toward the end of last season, there was a large white mural with Matthew Stafford on it, his back turned with his left arm raised — index finger pointed in the air.
It was a striking image then, what with few fans allowed inside the stadium all season, but one had to wonder if that image would be around in 2021. Bob Quinn and Matt Patricia were gone. It was clear a new regime was coming, and after years of saying he wanted to be the quarterback of the Detroit Lions, Stafford was giving less concrete answers as last season wound down.
We all know why now: Stafford has asked to be traded, something he believes will be beneficial for both parties. And while a source familiar with the situation said Detroit wants "fair market value," it's hard to believe the Lions won't get that for a soon-to-be-33-year-old quarterback on a largely friendly contract for the next two seasons.
So barring something completely unexpected, Stafford has finished the Detroit portion of his career. As the Lions start to seek out suitors for their all-time passing leader, it is time for the franchise to figure out what it might be able to get back and who might be under center for the Lions when they start playing in 2021.
The teams/compensation
Not every team is going to reach out to inquire about Stafford. Many are set at quarterback or are in too similar of a situation to be viable: Buffalo, Baltimore, Cleveland, Cincinnati, Tennessee, Kansas City, the Los Angeles Chargers, Green Bay, Minnesota, Tampa Bay, Atlanta, Seattle and Arizona.
That still leaves half the league that either Detroit might reach out to or might come calling to the Lions. This should give Detroit an advantageous situation to create leverage with a combination of much-needed draft capital and perhaps even a player or two in exchange for Stafford.
Detroit needs the picks. New general manager Brad Holmes wants to build through the draft and has just five picks at the moment for the 2021 draft. With many holes on defense (basically every position) and now questions on offense at quarterback, running back, receiver and to an extent on the offensive line, the more chances to bring in young talent, the better.
The Lions should receive at least a first-round pick in return for Stafford unless they can somehow negotiate Stafford and their own picks into Houston's Deshaun Watson and might be able to push for multiple first-rounders or a package of multiple picks over multiple years.
• Arians' risks have Bucs in Super Bowl
• 'Dialed in' Mahomes leads Chiefs back to SB
• Watson, Stafford would fit 49ers
• Luring Watson not far-fetched for Jets
• What's next for NFL playoff losers
What that would look like would depend on where Stafford is headed. For instance, teams with major cap concerns (New Orleans, Pittsburgh and Las Vegas) might try to package players with picks to help lessen their own cap woes. And don't discount the Raiders. Vegas coach Jon Gruden has often been impressed by Stafford, and neither Derek Carr nor Marcus Mariota's contracts are too onerous. Or, perhaps the Lions take one of them back in return — both are 30 or younger and have starting experience in the league. It's a wild-card suggestion, but one would have to think Holmes is going to look everywhere for the best offer.
There are also the more likely options: Indianapolis, Washington, New England, San Francisco, Carolina, Denver and Dallas. The Cowboys are intriguing because of the uncertainty surrounding Dak Prescott , and sending Stafford back to his hometown always seemed like a potential pairing. And until Dallas actually signs Prescott, it's worth Detroit inquiring or Jerry Jones making the call.
The future
The Lions can go many different directions here. Detroit could bring in a veteran quarterback as a bridge to the future to give the Lions some flexibility between this year and next year to find a long-term solution.
Or they can take on a younger quarterback who has struggled elsewhere to see if a change of scenery can be what ignites that player, much like Ryan Tannehill's move from Miami to Tennessee.
And then there's the draft, where the Lions will have at least the No. 7 overall pick and the potential of at least one quarterback falling to them. Let's look at all three of these options.
The bridge: There are many options to consider, and with Anthony Lynn running the offense, Tyrod Taylor would be the place to start.
Taylor was Lynn's starting quarterback during his one year as offensive coordinator in Buffalo and spent the past two seasons with the Chargers, where Lynn was the head coach. He's going to know Lynn's system better than any other quarterback in the league and has experience, throwing for 9,770 yards, 54 touchdowns and 20 interceptions between his time in Baltimore, Buffalo, Cleveland and Los Angeles.
Lynn had Taylor as a bridge — albeit a short-lived one — last season before Justin Herbert took over, so this move makes a bunch of sense.
Chase Daniel already is on the roster for the Lions in 2021, has $1.5 million guaranteed for next season and a manageable cap hit of $5.3 million. Plus new Lions head coach Dan Campbell knows Daniel from their 2017 season together in New Orleans. So it's a possibility he sticks.
Cam Newton, Joe Flacco, Andy Dalton and Robert Griffin III are all also potential options in this scenario. Jimmy Garoppolo, if the 49ers traded for Stafford, could fit either here or the next category, but Detroit might not want to take on his contract in a trade.
Any of these quarterbacks likely also means drafting the long-term guy either in 2021 or 2022.
The reclamation project: This is where things could get more interesting, between potential trades and free agents.
Much like Taylor, Jameis Winston could be an intriguing option. While he would likely seem to be a possibility to re-sign in New Orleans, perhaps Campbell thought highly enough of him last season working together with the Saints that he'd bring him to Detroit to try and reclaim his career.
Winston has the talent. He completed more than 60% of his passes every year except his rookie season and had a 5,109-yard season in 2019 – during which he threw 33 touchdowns. He also threw an eye-popping 30 interceptions and his discipline and decision-making would need to show major improvement.
Jacoby Brissett showed potential in the two seasons he was a starter in Indianapolis and in both seasons he was thrust into the starting role unexpectedly. Give him an offseason where he knows he's the starter and perhaps there's something there.
The Lions are familiar with Mitchell Trubisky, who often seemed to play well against Detroit for parts of his career. For all of his faults, he still completed 67% of his passes last season, threw 16 touchdowns and just eight interceptions and got the Bears to the playoffs. In some ways, the criticism of Trubisky seems to be a victim of where he was drafted as much as what he did on the field.
Sam Darnold could end up being available with the Jets picking at No. 2. Like Trubisky and Winston, the talent has shown up in flashes and a change of scenery could be a career-saver. Darnold completed just 59.8% of his passes with 45 touchdowns and 39 interceptions in New York, but he also played with poor Jets teams in all three of his seasons.
The rookies: Get this out of the way. Barring Jacksonville doing something entirely unexpected, Trevor Lawrence is not an option.
The Lions might have to move up from No. 7 to snag BYU's Zach Wilson or Ohio State's Justin Fields, who are considered the two next-best quarterbacks in the class. Capital from trading Stafford could give Detroit enough to do that.
North Dakota State's Trey Lance — the mystery in this year's class because he played in just one game in 2020 — is an intriguing option. He never lost in college, going 17-0, and threw only one interception in 307 attempts. He has good size at 6-foot-3, 221 pounds and won't turn 21 until after the draft. In his one full season playing for the Bison he completed 66.9% of his passes for 2,786 yards, 28 touchdowns and no interceptions while rushing for 1,100 yards and 14 touchdowns.
Further down — likely in the late first or early second round, Alabama's Mac Jones and Florida's Kyle Trask could be options worth looking at.