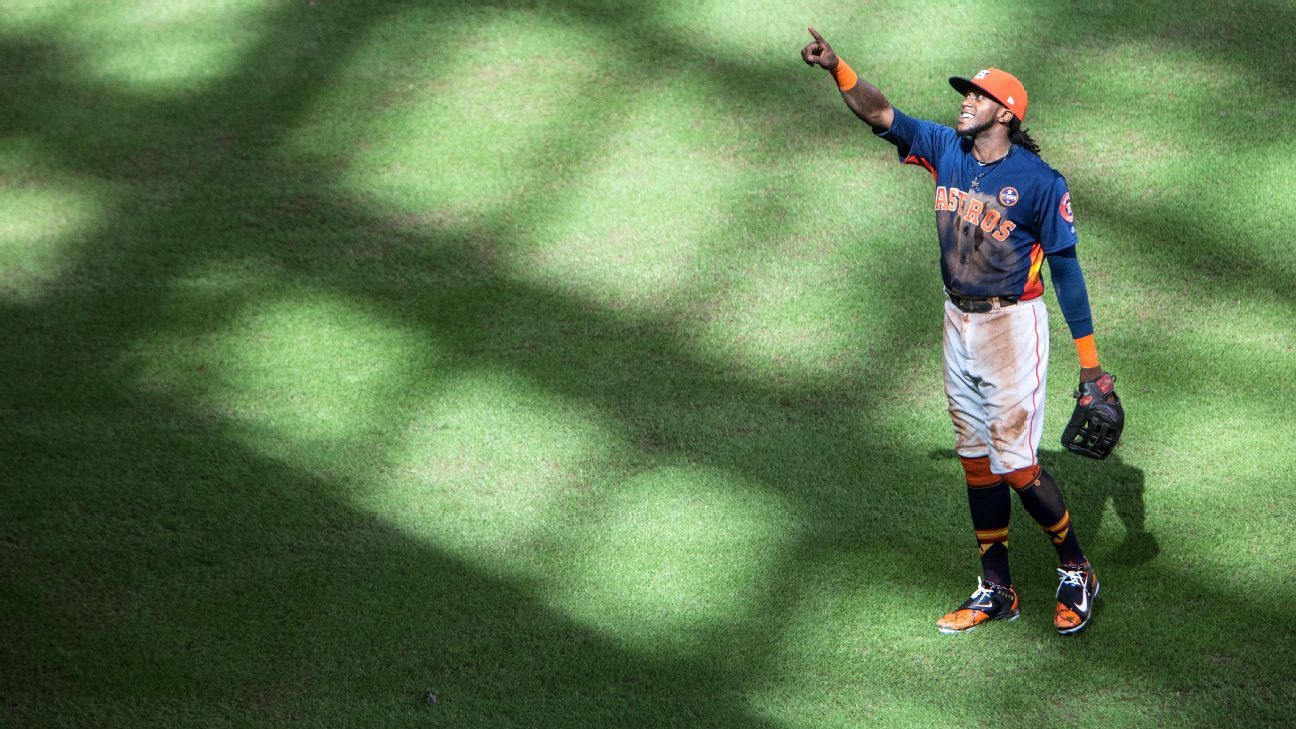 The Miami Marlins have agreed to a one-year deal with free agent outfielder Cameron Maybin, according to multiple reports.
The deal was first reported Wednesday by the South Florida Sun Sentinel. Financial terms were not known.
Maybin, 30, batted .228 with 10 home runs and 33 stolen bases in 395 plate appearances over 114 games this year for the Los Angeles Angels and Houston Astros, which acquired him on a waiver claim after the Angels' acquisition of Justin Upton in a trade made Maybin expendable.
Maybin had two hits and one stolen base in six playoff games for a .375 on-base percentage for the World Series champion Astros last fall. Houston was Maybin's sixth major-league club in less than ten years.
Atlanta Braves acquire Orlando Arcia in trade with Milwaukee Brewers, source says
The Atlanta Braves acquired versatile infielder Orlando Arcia from the Milwaukee Brewers on Tuesday, a source confirmed to ESPN.
Arcia, 26, has spent all six of his major league seasons with Milwaukee. He has one hit in 11 at-bats this season, and he had a .260 batting average in 2020 with 5 home runs and 20 RBIs.
He has mostly played as a shortstop but has also seen time at third base and in the outfield.
Overall, he has a career .244 batting average with 42 home runs, 180 RBIs and 39 stolen bases.
He had signed a one-year, $2 million deal with the Brewers in December.
Topps Co. to join special purposes acquisition company to become a publicly traded stock
In addition to its trading cards, fans will soon be able to trade company shares of Topps.
The company said Tuesday that it will become a publicly traded company this year by tying up with a blank-check company, or SPAC, a special purposes acquisition company.
Topps, for anyone who has not opened the shoebox of trading cards in the attic in a while, has greatly expanded from its Bazooka gum days and is pushing into digital sales, apps, crypto currency and even NFTs, or non-fungible tokens.
Its subject matter has expanded to, among other things, comics, professional wrestling, Formula 1 and film.
Topps Co. said Tuesday that it will merge with Mudrick Capital Acquisition Corp., which will make a $250 million investment.
Topps was bought in 2007 by former Disney CEO Michael Eisner through his firm, The Tornante Co. Eisner will hold his position at Topps as chairman of the board.
"The strong emotional connection between the Topps brand and consumers of all ages is truly foundational, and, when combined with our growing portfolio of strategic licensing partnerships, creates a profitable business model with meaningful competitive advantages," Eisner said in a prepared statement Tuesday.
Michael Brandstaedter, CEO of Topps, will lead the company.
Companies have chosen to go public through SPACs at a record-breaking pace in the last year. A SPAC is usually a group of investors who band together and look for acquisition targets. They can speed companies through the process of becoming publicly traded because the capital to do so has already been established. The initial investment of those larger investors, usually a portion, are converted to publicly traded shares available to anyone.
Unlike many companies that have gone public through a SPAC in the past year, Topps is an iconic brand and its sales are booming. The 80-year-old company had sales of $567 million last year.
The deal is expected to close this year and Topps will be listed on Nasdaq under the ticker symbol, "TOPP."
Mike Scioscia to manage U.S. in Olympic baseball qualifying
CARY, N.C. — Mike Scioscia is taking over as the third manager of USA Baseball team in this Olympic qualifying cycle and will try to get the Americans to the tournament in Japan this summer.
USA Baseball hired the former Los Angeles Angels manager on Tuesday. He will lead a team of minor leaguers into the second-chance qualifying event, the Baseball Americas Qualifier, to be played in June in Florida.
Joe Girardi quit as U.S. manager in October 2019 to pursue a major league managing job, and Scott Brosius took over. Girardi was hired by the Philadelphia Phillies.
The U.S. was three outs from qualifying for the Olympics in November 2019 at the Premier12 tournament in Tokyo when Matt Clark hit a tying home run off former St. Louis Cardinals pitcher Brandon Dickson leading off the bottom of the ninth inning, Efren Navarro had a broken-bat single against Caleb Thielbar to drive in the winning run in the 10th and Mexico beat the United States 3-2 to reach its first Olympic baseball tournament.
Scioscia, 62, led the Angels to a 1,650-1,428 record from 2000-18 and won the 2002 World Series.
The U.S. plays the Dominican Republic, Puerto Rico and Nicaragua in Group A at the Americas tournament, and the top two teams advance to the super round along with two teams from Group B, which includes Canada, Colombia, Cuba and Venezuela.
The top team from the super round joins Japan, Israel, Mexico and South Korea at the Olympic baseball tournament, to be played from July 28 to Aug. 7 in Fukushima and Yokohama.
Only players not on 26-man major league rosters and injured lists will be eligible to play in the Americas tournament.
The second- and third-place teams advance to a final qualifier in June in Taiwan, which will include Australia, China, Netherlands and Taiwan.
Baseball is returning to the Olympics after being dropped for 2012 and 2016. Cuba won the gold medal in 1992, 1996 and 2004, the United States in 2000 and South Korea in 2008.
Baseball is likely to be dropped for the 2024 Olympics in Paris and then restored again for 2028 in Los Angeles.