Houston Astros minor leaguer Forrest Whitley, one of the game's top pitching prospects, has been suspended 50 games for a violation of minor league baseball's drug program, Major League Baseball announced on Wednesday.
Whitley's suspension is without pay.
"Obviously as an organization we're going to suffer a little bit, but we're still hopeful and optimistic that Forrest can be a big part of our future," general manager Jeff Luhnow said.
Whitley, 20, was the Astros' first-round pick in 2016 (17th overall). A product of Alamo Heights High School in San Antonio, Whitley advanced from low-A ball to Double-A last season. He was a combined 5-4 with a 2.83 ERA and 143 strikeouts in 92⅓ innings with three minor league teams last season, including four appearances for Double-A Corpus Christi in which he posted a 1.84 ERA.
Luhnow wouldn't provide details on what led to the suspension, but he did say Whitley was remorseful and he believes he will learn from his mistake.
"On the pitching side I don't have any concerns, he's going to continue to develop and this is part of maturity," Luhnow said. "When you're a high school player and you get drafted and you're a top prospect there's a lot of pressure that goes along with that role. And I don't know if that had anything to do with this, but there's a maturation process going from high school and the big leagues and this is one step along the way for him."
The Astros have fended off recent trade interest in the 6-foot-7 right-hander, who is ranked eighth among the top 100 prospects this spring, according to ESPN's Keith Law.
The Associated Press contributed to this report.
Jose Altuve, Alex Bregman among Houston Astros players on IL for health and safety protocols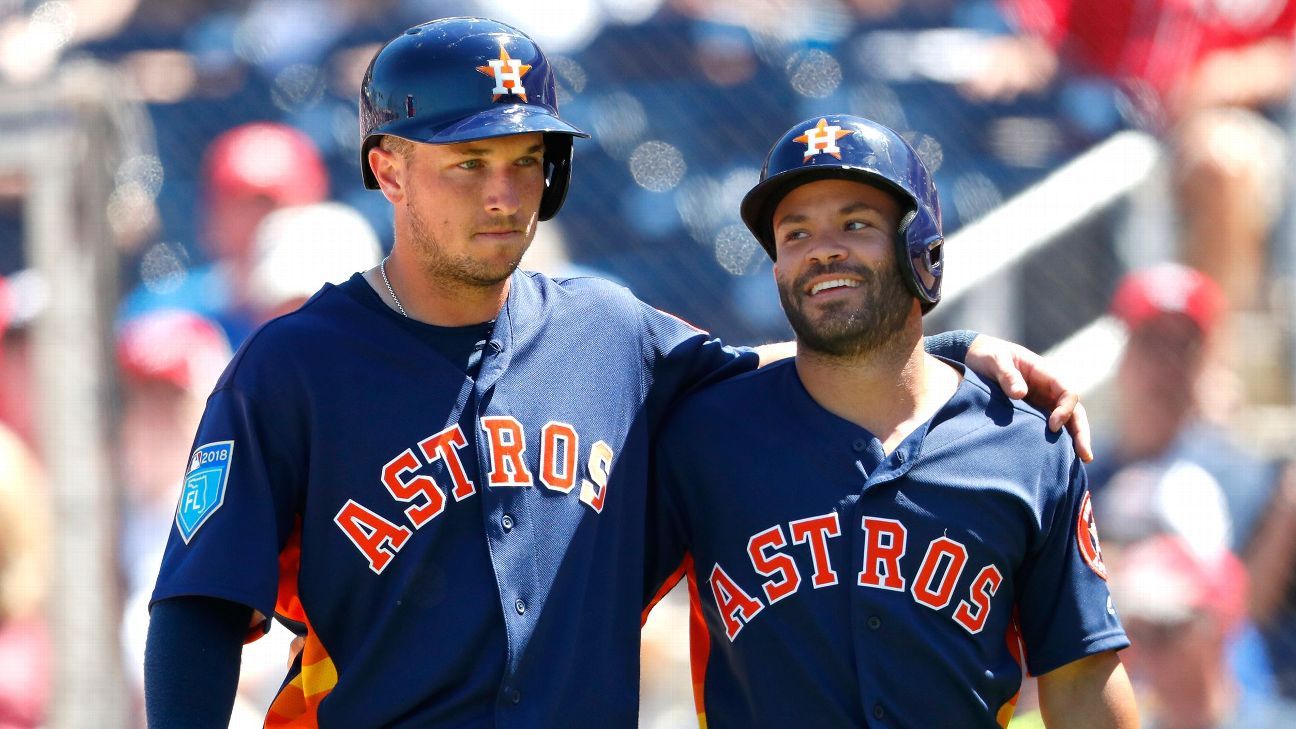 The Houston Astros have placed Yordan Alvarez, Jose Altuve, Alex Bregman, Robel Garcia and Martin Maldonado on the injured list "as a result of health and safety protocols," general manager James Click said Wednesday.
Click said the moves were not a function of the players breaking COVID-19 protocols.
"Absolutely not. The guys have been exceptionally vigilant of making sure that at the ballpark, away from the ballpark, they're following the rules," Click told reporters. "I think this is just another reflection of the situation we're in, not just in baseball but in the country."
The Astros, who are not at the 85% vaccination threshold to loosen the protocols, said they didn't know about having to make these moves until after Tuesday's game. All other players on the team will go through increased testing, and all coaches and staff have been cleared to continue working.
In corresponding moves, the Astros called up infielder Taylor Jones, catcher Garrett Stubbs, infielder Abraham Toro, infielder Alex De Goti and outfielder Ronnie Dawson from the team's alternate training site.
All five players are expected to arrive in time for Wednesday night's game against the Detroit Tigers at Minute Maid Park.
"When it rains it pours," Click said. "It's a difficult situation, but we can't let that take our focus away from winning this game."
Twins SS Andrelton Simmons, who declined vaccine, out after positive COVID-19 test
MINNEAPOLIS — Minnesota Twins shortstop Andrelton Simmons has tested positive for the coronavirus and was placed on the COVID-19 injured list Wednesday before the team's doubleheader against the Boston Red Sox.
Simmons has said he doesn't plan to take the COVID-19 vaccine, which was made available in a single-shot dosage to the team at Target Field on Thursday.
Twins president of baseball operations Derek Falvey said Simmons was experiencing "very mild" symptoms and resting at home. The positive test result was received late Tuesday, after the Twins lost 4-2 to the Red Sox.
After the initial phase of contact tracing, the Twins determined no additional players needed to be quarantined.
Simmons was replaced on the roster by infielder J.T. Riddle, who was summoned from the taxi squad. Third baseman Josh Donaldson, out since the season opener with a strained hamstring, was expected back for the second game of the doubleheader.
The Twins held a meeting to remind players and staff to heed virus protocols, even though a majority of them have gotten vaccinated. The full immunization period isn't in effect yet.
"We're not out of the woods by any means on that front," Falvey said, adding, "Now is the time to be as vigilant as possible."
Simmons tweeted last month that he would not be getting the vaccine or advocating for it for "personal reasons and past experience," on which he declined to elaborate. He confirmed Sunday that he did not participate in the teamwide vaccination. Asked if he planned to get the shot in the future, Simmons said he didn't know.
"We want to continue to educate people in the environment. This is real. This is something that can enter. We know that," Falvey said. "Sometimes no one really knows exactly how it can come at different times. We know that from looking not just across our sport, but across all sports and across the country and the world. Our view of that is constantly reminding people of why we think it's a good idea to get vaccinated. Our docs have recommended that, and so we continue to provide them as resources to players, to learn as much as they can about this."
MLB to have Atlantic League experiment with moving back mound, 'double-hook' DH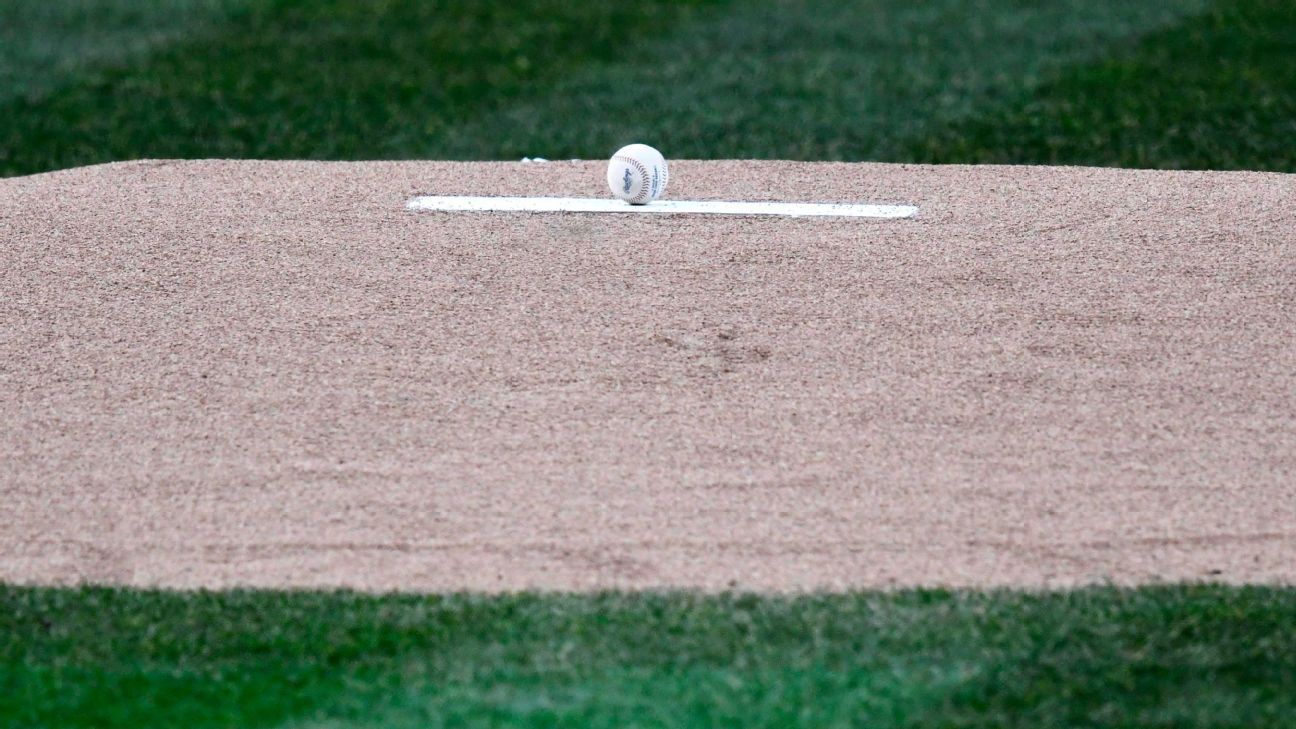 Major League Baseball has once again teamed with the independent Atlantic League to test rule changes designed to keep starting pitchers in the game longer and create more balls in play.
In the second half of Atlantic League play this summer, starting Aug. 3, the pitching rubber will be moved back 1 foot — to 61 feet, 6 inches — giving hitters more time to react to pitches, according to a release by MLB on Wednesday.
With strikeout rates increasing for 15 consecutive years, MLB determined that the additional foot would be the "minimum interval needed to evaluate a change in mound distance." The hope is less swings-and-misses and more contact — a change that is "meaningful without being disruptive," according to the release.
"We are grateful that the Atlantic League — which has been at the forefront of successful rule experiments in the past — has agreed to test a 12-inch increase in the distance between the pitching rubber and home plate during the second half of the season," MLB consultant Theo Epstein said in the statement. "We expect to learn a great deal about the impacts of such a change and whether an adjustment to this critical field dimension is worth potential future consideration at other levels of professional baseball."
In 2019, the last full season, strikeouts set a record for the 12th consecutive year at 42,823, up 33% from 32,189 in 2007. Strikeouts exceeded hits the past three seasons after never occurring before in major league history.
The mound has been at its current distance since 1893, when the National League moved the rubber back 5 feet. Strikeouts declined from 8.5% in 1892 to 5.2% in 1893, and the batting average increased from .245 in 1892 to .280.
Two years ago, MLB had announced that Atlantic League mounds would be moved back 2 feet to 62 feet, 6 inches, for the second half of that season but abandoned the experiment before it began.
The Atlantic League will also implement a "double-hook" rule, where a team will lose its designated hitter when it removes its starting pitcher. That rule will be in effect the entire season, which starts May 27. The goal is to see starters pitch longer into games, creating more value for them and increasing late-game strategy.
"Major League Baseball is being more aggressive than they've ever been in experimenting with new rules," Milwaukee Brewers manager Craig Counsell said Wednesday morning. "We have to wait and see what the effects are. I'm not sure how it's going to affect the game."
The experiments in the Atlantic League come after baseball instituted several rule changes at the minor league levels, including bigger bases, regulating the shift and forcing pitchers to disengage the rubber completely before throwing to any base.
"We have to do something to get more offense into the game," Chicago Cubs president of baseball operations Jed Hoyer said. "We need to make adjustments. The DH originally came from these adjustments. The mound being lowered [in 1969] came from these adjustments. I love baseball, but the rules aren't written on stone tablets."
The Atlantic League will continue to use the automated ball-strike computer umpire system that it started with in 2019. The ABS will be used in some low Class A Southeast League games this season.
In a change, the strike zone in the Atlantic League this year will be two-dimensional, measuring at the front of home plate, rather than three-dimensional.
"One we think will better match the human zone people are expecting," MLB executive vice president of baseball operations Morgan Sword said.
The Associated Press contributed to this report.