Carolina Panthers remove interim tag for general manager Marty Hurney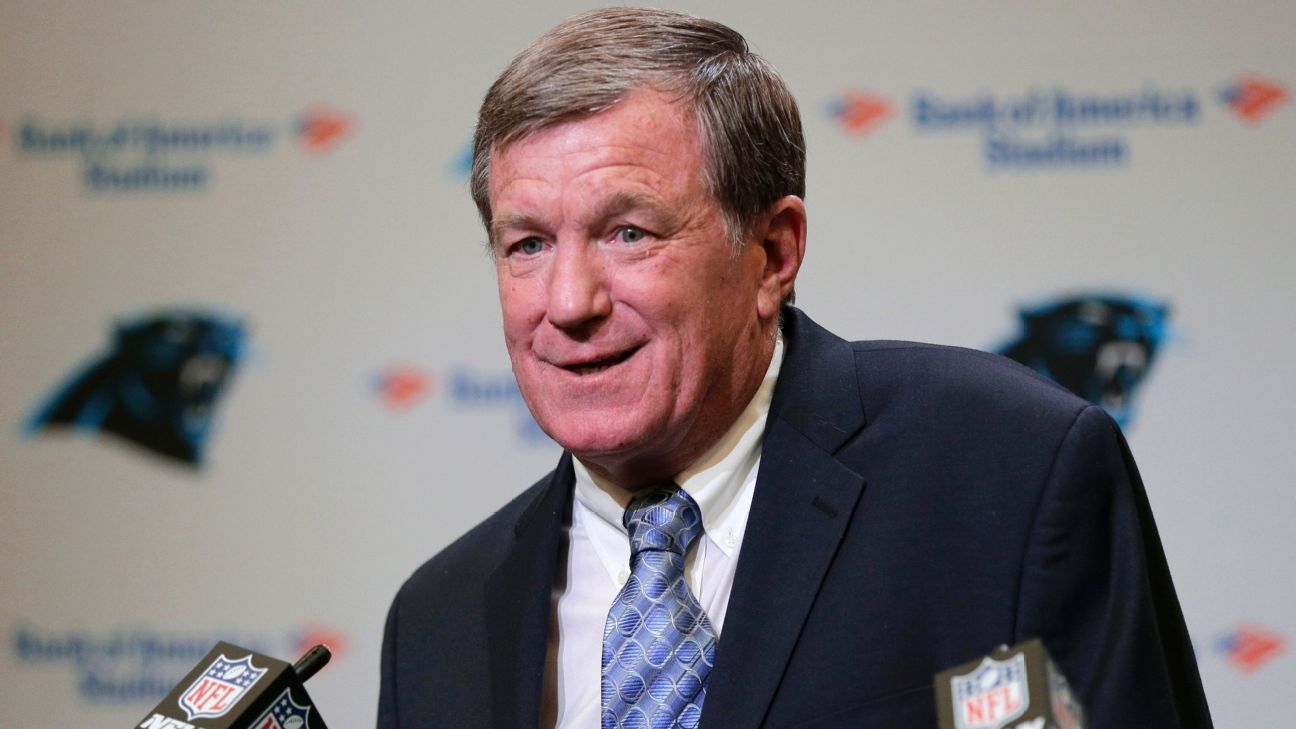 CHARLOTTE, N.C. — The Carolina Panthers on Wednesday lifted the interim tag off of Marty Hurney's title, making him the full-time general manager of the organization for the second time.
Hurney initially was with the Panthers from 1998 to 2012. He served as the general manager from 2002 through six games in the 2012 season, when he reached a mutual decision with owner Jerry Richardson to part after a 1-5 start.
He was hired as the interim general manager the week before the 2017 training camp after Richardson fired Dave Gettleman. The Panthers went 11-5.
A committee, led by chief operating officer Tina Becker, also interviewed Houston Texans assistant GM Jimmy Raye III, Buffalo assistant director of college scouting Lake Dawson (who returned for a second interview), and former Detroit Lions general manager and current San Francisco personnel executive Martin Mayhew. All three fulfilled the league rule that teams must interview at least one minority candidate when hiring a general manager or head coach.
In a statement, Becker said: "We are very fortunate to have Marty as our general manager after he did an exceptional job in the interim role this past season. Marty's guidance and vision helped build the foundation for this team, and his work this season was instrumental in returning the team to the playoffs. We believe he will continue to craft a roster that will win games and contend for a championship."
The Panthers were preparing to make this announcement several weeks ago, but put the process on hold after Hurney's ex-wife accused him of harassment when seeking a temporary restraining order in court. The order was not granted and the complaint was dropped, but the NFL still conducted a two-week investigation to assure there was no violation under the league's personal conduct policy.
Hurney was on paid administrative leave during the investigation, which revealed no violations.
Hurney returned to work Friday and has been preparing since with coach Ron Rivera and the staff for next week's NFL combine and free agency.
He was viewed as the best person to help in the transition to new ownership when the team is sold by Richardson.
Richardson put the team up for sale after the season. He made the decision to sell in December after Sports Illustrated reported he paid off at least four former employees to keep quiet alleged sexual harassment and the use of a racial slur with a former team scout.
"I have always felt a strong connection to this organization and viewed this job as one of the very best in the NFL because of the people here," Hurney said in a statement. "Mr. Richardson and Tina have been open and honest with me from the beginning, and I am thankful for the trust they have placed in me.
"I gained a lot of perspective being away and then back in an interim role last season. I feel that I am the best person to help Ron and this team moving forward. We have a really special core of players in place, and I'm extremely excited about the direction we are headed."
Hurney said when rehired in July that he learned a lot about mistakes he made the first time as a general manager. One of his biggest was making what he called emotional decisions and giving veteran players bigger contracts than they deserved.
He vowed not to do that again, saying he has to make sure the "analytical part of my brain takes over the emotional part of my brain."
Jerry Jones – Dallas Cowboys' release of Dontari Poe due to weight, performance
Dallas Cowboys owner Jerry Jones said Wednesday evening that the team's release of defensive tackle Dontari Poe was primarily because of Poe's weight and lack of production. Jones declined to say whether Poe's persistence in kneeling for the national anthem before games was a consideration.
"When you're 30 pounds overweight and you're not doing anything about what's keeping you from performing well on the field, there is no reason to get into the other stuff," Jones told ESPN.
The "other stuff" was specific to a question as to whether Poe's being the only Cowboys player to take a knee for the cause of social justice during the national anthem factored in to his release Wednesday.
"I understand your question, and I'm deliberately not going to answer it," Jones replied. "We have a platform here, but the platform on the football field has a high standard, and he [Poe] was not up to the standard. He needed to correct that, and he did not. I'm going to leave it at that."
Jones signed Poe, 30, to a two-year, $8.5 million contract as an unrestricted free agent in the offseason. Poe was guaranteed $3.5 million on the deal.
Poe played 253 snaps, more than any other interior defensive lineman for the Cowboys, but had just seven tackles, one pass-rush hurry and no sacks.
The Cowboys (2-5) also jettisoned two other defenders from a unit that has been historically bad. They traded Everson Griffen to the Detroit Lions for a conditional sixth-round draft pick in 2021. Griffen signed a one-year, $6 million contract in August as a free agent, with $3 million guaranteed.
Cornerback Daryl Worley joined Poe as a player who was released. Worley was another offseason pickup, signing a one-year, $3 million contract as an unrestricted free agent.
"You make mistakes. You move on," Jones said. "We're moving on, but by no means are we giving up."
The Cowboys owner did not disclose whether quarterback Andy Dalton has a chance to play Sunday night in an NFC East game against the Philadelphia Eagles after he absorbed a vicious hit to the head by linebacker Jon Bostic of the Washington Football Team on Sunday.
"Andy is in the [concussion] protocol, and the doctor will make that decision," Jones said.
Los Angeles Rams take title baton — Must 'be great to be relevant'
THOUSAND OAKS, Calif. — After the Los Angeles Dodgers clinched the World Series on Tuesday night, Rams quarterback Jared Goff sent text messages to outfielders Cody Bellinger and Joc Pederson to congratulate them on their title.
Bellinger's response?
"'It's your turn now,'" Goff said.
After the Lakers won a 17th NBA title earlier this month and the Dodgers won the World Series for the first time since 1988 on Tuesday, the Rams are now receiving the message that they're on the hook to hit a trifecta for L.A.
"@RamsNFL ……. you know what to do!" Lakers forward Kyle Kuzma tweeted after the Dodgers' win.
"I mean that's the first thing you hear is, all right, now it's your turn," said Goff, who has led the Rams to a 5-2 record as they prepare for a Week 8 matchup against the Miami Dolphins. "And I mean — we've talked as a team since these two teams have done it, or I shouldn't say as a team, but as a group chat within the team, these two teams have done it and now it's our turn. It's something that we'd like to do."
Rams coach Sean McVay said the Lakers' and Dodgers' championships provide a reminder about the expectations of L.A. fans.
"Just seeing that for the city and the success, I don't know that you're any more motivated to try to kind of be on par with those teams," McVay said. "But you certainly want to make sure that you continue to compete and produce at a high level because you got to be great to be relevant here in this city and I think that's awesome."
After McVay took over as coach in 2017, the Rams won back-to-back division titles, clinched an NFC championship and appeared in Super Bowl LIII, where they lost 13-3 to the New England Patriots.
But last season, the Rams finished 9-7 and were knocked out of the playoff race in Week 16, when they were defeated by the San Francisco 49ers, who went on to lose in the Super Bowl.
Goff cautioned about looking too far ahead, but expressed confidence when asked if this season's team — with standout defensive tackle Aaron Donald, cornerback Jalen Ramsey and receivers Robert Woods and Cooper Kupp — has the potential to make a Super Bowl run.
"Of course," Goff said. "We got all the pieces, we're winning games, we're playing well on offense, defense and special teams. We always believe in ourselves and we've been there once with a lot of the same people and we know how to get there. Just got to finish it off and hopefully this is the year."
Carlos Dunlap Seahawks' latest attempt to trade for a better defense – Seattle Seahawks Blog
RENTON, Wash. — One question facing the Seattle Seahawks as the NFL's Nov. 3 trade deadline approached was this: how could they address their most glaring need and acquire an impact pass-rusher with as little as they have in the way of cap space and draft capital?
Maybe the better question was this: with as vulnerable as their defense has been, how could they not?
General manager John Schneider did what he had to do on Wednesday, sending backup offensive lineman B.J. Finney and a seventh-round pick to the Cincinnati Bengals for two-time Pro Bowl selection Carlos Dunlap and the remainder of a contract that's paying him $7.8 million in base salary this season.
"Like I tell you, John's in on everything he could possibly know about and when there was an opportunity there, he jumped on it to see if we could work something out," coach Pete Carroll said Wednesday. "We're always looking. There's other guys that were out there that we've been looking at as well in all spots that are available. The names start to pop up here this time of the year, so this was one that fit exactly what we needed and really pleased to get it done. Glad to bring a guy of Carlos' stature and background to this club."
Dunlap is the latest player the Seahawks have acquired via trade to bolster their defense since they began transitioning from the Legion of Boom. Adams, Jadeveon Clowney, Quandre Diggs and Quinton Dunbar are other defenders they've traded for since the start of last season to try to bolster a defense they've had difficulty replenishing in the draft.
Clearly, they see Dunlap as a still-impactful player who didn't fit the long-term plans of Cincinnati's new regime as opposed to someone whose diminished role and production indicates a decline of a 31-year-old player. Dunlap has one sack in 263 defensive snaps this year after averaging eight over his first 10 seasons.
"There's been some issues or whatever and that's their story," Carroll said of Dunlap's departure from the Bengals. "I don't know that it has anything to do with what's going on here. I've talked to him. He's really excited about being part of our program and getting him in here. … He's been a stellar dude for a long time in that program and whatever happened happened, but it's a fresh start for him here."
Carroll confirmed that a player acquired this late in the week couldn't clear the league-mandated COVID-19 protocols in time to play Sunday, when the Seahawks host the San Francisco 49ers. That means Dunlap won't make his Seattle debut until Week 9 at Buffalo at the earliest.
If only they could have had him since Week 1.
The Seahawks' defense has looked suspect enough to derail Super Bowl aspirations, even though they're getting MVP-caliber play from Russell Wilson and have plenty of offensive firepower around him.
The Seahawks have managed only nine sacks in six games. That puts them on pace for fewer (24) than last season (28), when their lack of a pass rush was their biggest Achilles heel during an 11-5 season that ended in the divisional round. The Seahawks didn't register so much as an official quarterback hit in their overtime loss to the Arizona Cardinals this past Sunday, even with Kyler Murray dropping back to pass 49 times. They're 16th in Pass Rush Win Rate but 29th in pressure rate, according to ESPN charting.
• 49ers' YAC Bros. continues tradition
• Green impressed by Pack's Alexander
• How Broncs got good at tipping passes
• Pats ready to support slumping Cam
• Brees still runs 2-minute with ease
That's been a big reason why they've allowed the most yards (2,875) through six games in NFL history. Carroll made no secret of that reality when he was asked Monday for his assessment of defensive coordinator Ken Norton Jr. and his defensive staff.
"I'm in there too with them," Carroll said. "So I'm all part of that. I'm not separating from anything here. We have to keep working to put our players in the best positions to be aggressive and to be effective and we need to help them more in our pressure. We did not try to get after them very much [Sunday] night. That was not part of our plan going in, and when we needed it, we needed to adjust and I wish I would have got that done. Kenny and I are … working that stuff out."
Carroll's two main points were that 1) Seattle's coaches can do more scheme their way to pressure and 2) the pass-rush problem should be alleviated when certain players get back on the field.
Jamal Adams could be back as soon as this weekend. The Seahawks were taking full advantage of the All-Pro strong safety's blitzing skills before he went down with the groin injury that's kept him out since Week 3. He's still tied for the team lead in sacks … with two.
Other defensive linemen who could help are Rasheem Green and Damon Harrison, though Harrison is a run-stuffing defensive tackle as opposed to a pass-rusher. The Seahawks are hoping second-round pick Darrell Taylor can play at some point this season, though expectations for him would be limited. Green is an ascending player that's far from an established Pro Bowl-caliber pass-rusher like Dunlap.
Bruce Irvin was the closest thing Seattle had to that before he went down in Week 2 with a season-ending knee injury. That's forced the Seahawks to play Benson Mayowa more than they would like. Dunlap's addition will help keep Mayowa fresh, as both play the LEO end in Carroll's defense.
"Carlos has been a very, very consistent player for a long time," Carroll said. "He's always been fast, he's always been athletic. He still moves his feet well and gets off the rock and knows exactly how to play the spot we want to play him in. It was exciting to share that with him."