Rae Carruth apologizes for death of pregnant girlfriend, seeks custody of 18-year-old son
CHARLOTTE, N.C. — Former Carolina Panthers wide receiver Rae Carruth, who has spent the past 17 years in a North Carolina prison for conspiracy to murder his pregnant girlfriend, opened up for the first time in a handwritten letter to the victim's mother.
Carruth wrote a 15-page letter to Saundra Adams, the mother of Cherica Adams, that was sent to Charlotte television station WBTV. He also spoke at length by phone with the station about the letter, accepting responsibility for the 1999 conspiracy to murder Cherica Adams and expressing interest in gaining custody of their son.
"I'm apologizing for the loss of her daughter. I'm apologizing for the impairment of my son," Carruth told WBTV. "I feel responsible for everything that happened. And I just want her to know that truly I am sorry for everything."
Carruth is scheduled to be released from Sampson Correctional Institution in Clinton, North Carolina, on Oct. 22. He was sentenced to 18 to 24 years in 2001 after being found guilty of hiring Van Brett Watkins and Michael Kennedy to murder Adams. Watkins, who shot Adams multiple times, was sentenced to a minimum of 40 years. Kennedy, who drove the car, was released in 2011.
Adams died a month after the shooting. Her son, Chancellor Lee Adams, was born prematurely and has battled the challenges that come from cerebral palsy, which was the result of his traumatic birth after the shooting.
Saundra Adams has raised Chancellor, now 18. In past interviews with the Charlotte Observer, she has expressed that she would like to be present the day Carruth is released.
Carruth, who did not testify at his trial, said he wants custody of Chancellor when he is released.
"I should be raising my son. His mother should be raising her son," Carruth said. "Ms. Adams should not be doing this and I want that responsibility back.
"I feel like he might not ever have his mother in his life but he could still have me and I could still make a difference and I don't think that's anyone's responsibility when I'm still here."
Saundra Adams told the Observer on Monday that she would not relinquish custody of Chancellor to Carruth.
"I've forgiven Rae already, but to have any type of relationship with him, there does have to be some repentance," Adams told the newspaper. "And I think this opens the door. But I can say definitively he's not ever going to have custody of Chancellor.
"Chancellor will be raised either by me or, after I'm gone, by someone else who loves him and who knows him. He will never be raised by a stranger — someone he doesn't know and who tried to kill him."
In the letter, Carruth wrote that he has "long accepted my lot as a social pariah." He said in an introduction to the letter, which he began with "To whom it may concern," that the purpose of the letter was to challenge allegations made by Saundra Adams on the "truthfulness of the statements she's made about me."
Carruth referred to several "lies" he claimed Adams made, beginning with saying he never apologized for what happened. He noted that he apologized on several occasions in correspondence from prison.
Carruth also accused Adams of creating a false impression of his relationship with her daughter. He said outside of a physical relationship, "me and your daughter were practically strangers."
Carruth also challenged that his motive for having Cherica Adams killed was to avoid having to pay child support, noting child support never was mentioned as motive during the trial. He said the motive was more to do with Cherica being unwilling to get an abortion.
In the letter, Carruth said he wishes he could go back to 1999 and do things differently.
"If I could change anything, I'd change the whole situation," he wrote. "His mother would still be here and I wouldn't be where I'm at. So that's what I'd want to change. I want the incident to never have happened at all."
Carruth, 44, told WBTV that he has changed a lot since the Panthers selected him in the first round of the 1997 draft out of Colorado. He noted back then he was very "self-centered" and immature.
He talked about finding a relationship with God.
"I feel like I owe Chancellor," Carruth said. "I let him down as he came into this world and the only way that I can make that right, the only way I can work out my relationship with my son, is to be there for him and to be a father and a dad to him going forward."
New England Patriots QB Cam Newton admits starting job could be in jeopardy after being pulled in loss
FOXBOROUGH, Mass. — New England Patriots quarterback Cam Newton is approaching this week as if his job is in jeopardy after being pulled early in the fourth quarter of Sunday's 33-6 loss to the San Francisco 49ers.
"The first thing I said to myself coming home was, 'You keep playing games like that, bro, and it's going to be a permanent change,'" Newton said Monday morning on Boston sports radio WEEI.
"You don't need to tell me that for me to understand that. I get it loud and clear."
Coach Bill Belichick had said he took Newton out of the game, with the Patriots trailing by 27 points, to give second-year quarterback Jarrett Stidham more experience. Belichick also said he's "absolutely" sticking with Newton as his starter.
"For any type of competitor, do you feel embarrassed? Yeah," Newton said Monday during the radio interview. "I don't feel offended by what was done. I don't feel offended having this type of conversation. I'm a realist.
"I don't fear my position stability more so than controlling the locker room. Performances like yesterday jeopardizes [that]. It's like, 'Oh my God!' Players talk, and that's what's most important to me. Knowing you have your coaches' belief [is good], but my belief is that I want to have the whole facility. … It doesn't start with no miraculous play. It's a whole body of work that goes into performing on Sunday."
Newton finished 9-of-15 for 98 yards with three interceptions, and he said after the game that he felt he was pressing too much. He explained what unfolded when Belichick pulled him from the game, saying he wasn't surprised.
"I'm coachable," Newton said. "I didn't want to put up a [fight]. How bad would that have been? 'No, I'm not coming [out]!' He came and said, 'Stidham is finishing' and I agreed.
"Whatever type of way we have to motivate ourselves, I'm honest with myself. That leaves no type of miscommunication with others. When the change happened, I'm stuck on the sideline listening to plays and saying to myself, 'Listen, is this really how you want to do things?' Until you make that step to get better, then that's what it's going to be."
Asked if he'd agree that he might look nervous and scared at times on the field, Newton said: "Nervous? No. Scared? Absolutely not. Thinking? Now that's something I could probably finger-point [as an issue]. … I don't think we're a six-point offense. If anybody is a competitor, they take it personal. Which I do."
Asked whether he has experienced any COVID-19-related "fog" since his return to the team after missing a Week 4 loss to the Kansas City Chiefs, Newton said: "No. My goodness. I'm hearing a lot of 'what it could be.' It's simple. I have to play better."
Cleveland Browns WR Odell Beckham Jr. has torn ACL in left knee
BEREA, Ohio – Odell Beckham Jr.'s season is officially over.
The Cleveland Browns announced the star wide receiver suffered a torn ACL in his left knee. Beckham underwent an MRI on Monday morning, which confirmed the tear.
He was injured on the Browns' second snap Sunday while attempting to chase down a Cincinnati Bengals defender following a Baker Mayfield interception.
On Mayfield's first passing attempt against the Bengals, he tried to force a pass to Beckham down the sideline. The ball, however, was underthrown and picked off by Darius Phillips. Beckham turned around to chase the Cincinnati defensive back the other way, but crashed into Phillips and Cleveland fullback Andy Janovich, who was also trying to make the tackle.
After going 0-of-5 in the first quarter, Mayfield bounced back without Beckham to complete a franchise-record 21 consecutive passes and five touchdowns, including a game-winning, 24-yard scoring strike to rookie Donovan Peoples-Jones with 15 seconds remaining.
Afterward, Mayfield admitted to feeling guilty for the underthrow that led to Beckham's injury.
"I'm probably going to beat myself up about that one for a long time," Mayfield said. "He's a guy who fights for this team, and in doing that, he got hurt. … it sucks."
Mayfield said at halftime Beckham told him to "go be great" in the second half. Mayfield went on to become just the second quarterback in NFL history to throw three go-ahead touchdown passes in a fourth quarter in Cleveland's 37-34 win.
"That was what he left me with to open up the second half," Mayfield said of Beckham's encouragement. "That was something I continued to remember throughout the second half."
Since being traded from the New York Giants in March of 2019, Beckham's tenure with the Browns has been marred by injuries.
Beckham suffered a hip and groin injury during training camp last year, which hampered him through the season. He still finished with more than 1,000 yards receiving, but had only four touchdown catches. Beckham had surgery in January to repair that injury.
This season, he caught 23 passes for 319 yards and three touchdowns. He also rushed three times for 72 yards and another score.
Washington's Jon Bostic not expected to be suspended for hit on Dallas Cowboys' Andy Dalton, source says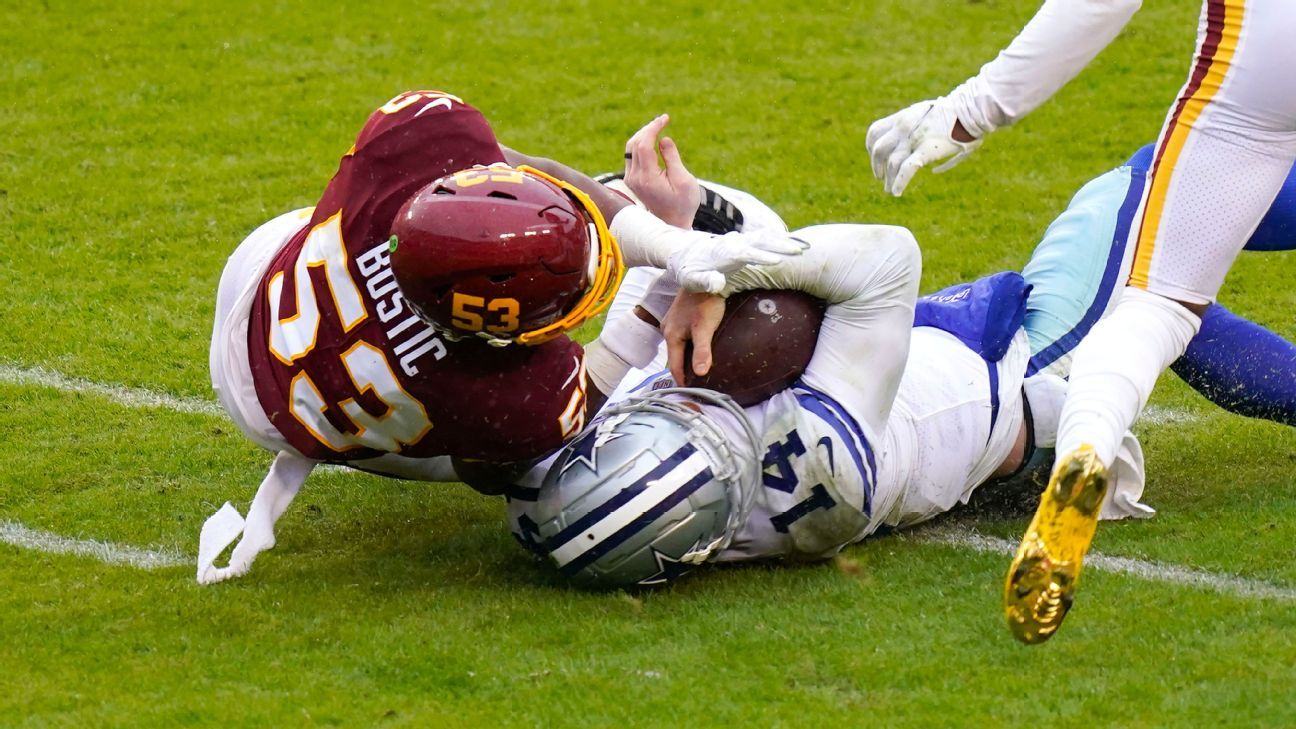 Washington Football Team linebacker Jon Bostic is not expected to be suspended for his hit on Dallas Cowboys quarterback Andy Dalton, a source told ESPN's Adam Schefter.
Dalton suffered a concussion on the hit, which resulted in Bostic's ejection from Sunday's game. Washington won 25-3.
Dalton, who was making his second start in place of the injured Dak Prescott, took a hit to the head from Bostic as he slid to the turf with 6:22 to play in the third quarter.
According to a team spokesman, Dalton was alert and doing much better than he was when he left the field following the hit. He was in "good spirits" and will be flying home with the Cowboys.
Cowboys coach Mike McCarthy said he was not pleased with the passive reaction teammates had to the Bostic hit.
"We speak all the time about playing for one another, protecting one another," McCarthy said. "It definitely was not the response you would expect."
Washington coach Ron Rivera told ProFootballTalk.com that he apologized to McCarthy for Bostic's hit.
"I went up to him and apologized to him for it," Rivera told the website. "I wanted him to know that we don't play that way, and it's unfortunate that it happened."
ESPN's Todd Archer contributed to this report.