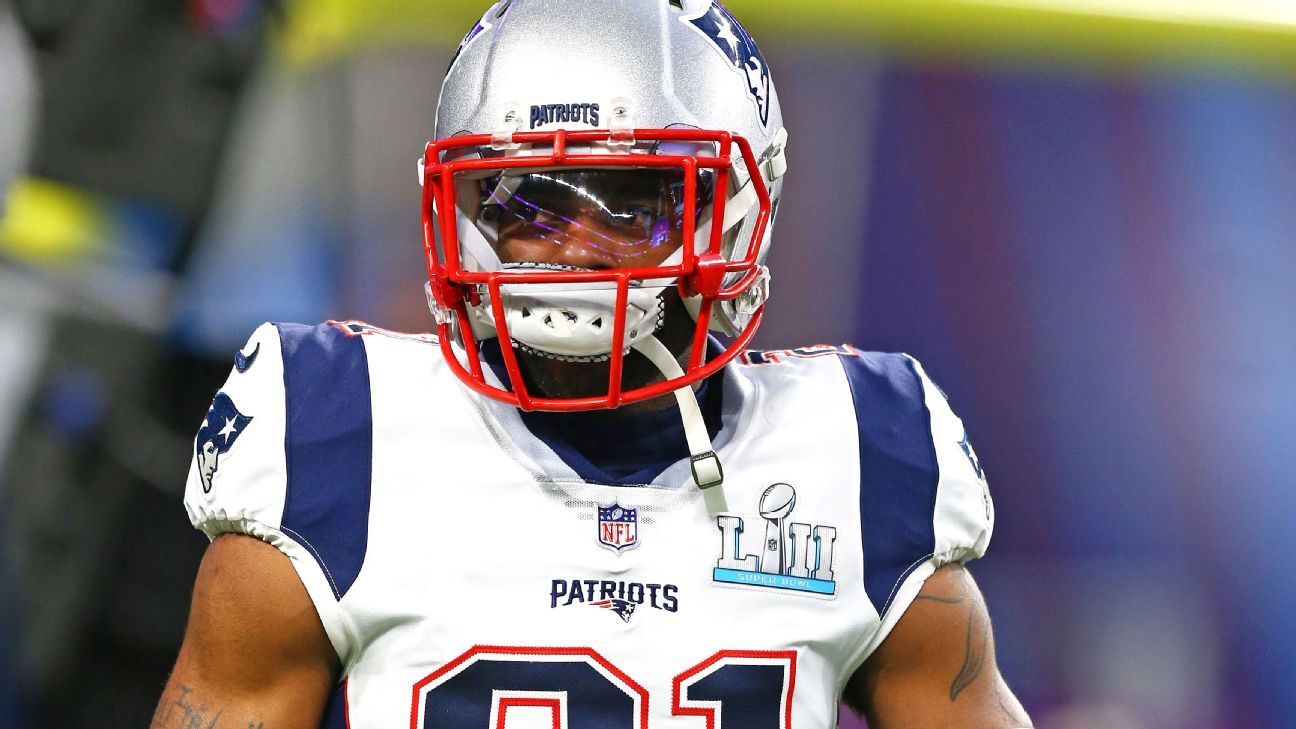 New England Patriots coach Bill Belichick shocked many by not playing cornerback Malcolm Butler on defense in Super Bowl LII, but the limited role wasn't a surprise to Butler's teammates.
"We all knew he wasn't starting all week. That wasn't a secret to the guys on the team," safety Devin McCourty told NJ Advance Media.
Butler's benching wasn't disciplinary, according to Belichick after the Super Bowl, but nonetheless sparked rumors that Butler addressed on social media. That was something McCourty felt was disappointing.
"I get why people are fishing. The guy played 98 percent of the plays [in the regular season]. I just hate that for him character-wise going into free agency; it's just not true. As far as I know, and I was there all week, not one time did anything come up," McCourty said on Saturday at a Rutgers-based fundraiser for his charity Tackle Sickle Cell.
Despite McCourty's contention, one Patriots defensive starter reiterated to ESPN's Josina Anderson on Monday that he "definitely didn't know" that Butler wasn't going to play in the Super Bowl. The starter and one teammate previously told Anderson on Feb. 5 that they weren't made aware of the Patriots' plan for Butler.
Butler's replacement in the starting lineup, Eric Rowe, had said after the Super Bowl that he didn't know he would be starting until close to kickoff. But Rowe also said at the time that it wasn't a surprise to him that he played 72 of 75 defensive snaps in the Super Bowl.
As for Butler's lack of action, Rowe said at the Super Bowl that he was surprised Butler didn't play in the game. "That wasn't the plan," he said.
The Patriots' defense struggled in the Super Bowl, particularly in their dime package (six defensive backs). The team initially played two cornerbacks and four safeties in the dime before making a halftime adjustment and playing with three corners and three safeties, but still without Butler.
Butler had been on the injury report in the week leading up to the Super Bowl with an illness, and he had been limited in one practice leading up to the game. He had arrived one day after the team to Super Bowl LII, with the team citing the illness as the reason.
New England Patriots QB Cam Newton says Mac Jones makes good first impression
FOXBOROUGH, Mass. — Cam Newton said he is still getting to know rookie Mac Jones as they compete for the New England Patriots starting quarterback job, but in sharing his first impression, he cited a phrase made famous by late ESPN SportsCenter anchor Stuart Scott.
"Cool, like the other side of the pillow," Newton said Friday. "You never know when he's really down on himself. You don't really necessarily know when he's up, either. He's real cool."
Newton, 32, said that Jones has even surprised him with his knowledge of hip-hop.
All of which had Jones, 22, laughing after practice.
"That's a nice compliment. I'd say the same about Cam," said Jones, the Patriots' first-round draft pick from the University of Alabama (15th overall). "Obviously, with any relationship and meeting someone new, you have to form the bond and trust. He's helped me and made it a lot of fun. Your first couple practices as a rookie are going to be hard, so he just tries to stay positive with me. That's just who Cam is."
A notable example of that came in Thursday's practice after Jones had finished a series that didn't produce the desired results. Newton approached him on the sideline and the two talked it over.
"Hopefully, I can learn from him and try to be like him in some ways and have fun with it," Jones said. "We're going to grow together, and we're going to help each other win games, hopefully."
At the same time, they're also in a competition for the top spot on the depth chart, with coach Bill Belichick previously saying that Newton is No. 1 while leaving open the possibility that Jones could make a charge for the job in time.
That's how Newton has approached things this year, and even before that.
"Ever since I've been here, there's been a quarterback competition," he said. "I think in essence, that's the underlying Patriot Way. Every position has a competition there, and the quarterback position is no different."
Newton said one thing that has helped him this year is that he didn't have any surgeries in the offseason, which allowed him to spend more time with his family and also on his physical and mental well-being. The result, he said, is that "you feel a little different. More confident."
Along those lines, Newton said he plans to be judicious when he takes off and runs, in hopes of protecting his 6-foot-5, 245-pound frame.
"I'm getting older. You know, you just have to move a little differently," he said. "It's not about proving certain things. We all know what I can do running the football. And if it needs to come to those things, I'm willing to risk it all.
"But yet, if it doesn't require that, then of course you have to be a little more mental. Because a nick and a bruise where I'm at, it sticks a little longer than just a day and then going about your business."
Jones has taken off to run a couple of times in practice, but he's more of a traditional pocket passer. The ball is often out of his hands quickly.
As for what he has learned about Newton, he kept his response lighthearted.
"I like his outfits, for sure," he said. "I can't pull off his swag."
NFL allowing some unvaccinated players to unmask at outdoor practices
The NFL is updating its COVID-19 protocols and no longer requiring participating unvaccinated players to wear masks during outdoor practice sessions.
In a memo to the 32 teams sent by the NFL Management Council and obtained by The Associated Press, the league said that beginning with the stretching portion of the workout through the end of practice, such players now can work unmasked. Once the practice concludes, they must put on a mask.
The same will be true for practices in a team's "bubble," the indoor practice facility.
Players who are not practicing still must wear masks if they haven't been vaccinated against the coronavirus. They also must wear face coverings for weight sessions, all outdoor meetings, and the post-practice periods even when family – which the league is terming "cohabitants" – is allowed on the field.
The league also loosened restrictions on what those cohabitants can do after practices. They now are allowed to join players and all Tier 1 and Tier 2 personnel – those who deal directly with players – on the field. Outdoor social events are permitted at the facility, with some restrictions.
For teams with fewer than 90% vaccinated players, the visitors must produce proof of vaccination that teams must verify. Children under 12 will be allowed on the field or for such social events. However, unvaccinated players, staff and children under 12 must wear masks and practice social distancing.
But for teams with more than 90% vaccinated players, there will be no requirements for proof of vaccination. The same restrictions apply to those who are not vaccinated.
Unvaccinated players will be allowed to remove their masks for outdoor media interviews provided physical distance is maintained.
Finally, the league and the NFL Players Association agreed that players experiencing side effects "or an adverse event with the onset of such (COVID-19) symptoms" within the 48 hours after being vaccinated would be treated as a football-related injury. The team physician must "reasonably determine they are causally related to receiving" the vaccine.
——
Las Vegas Raiders move RB Theo Riddick to reserve/retired list
HENDERSON, Nev. — Las Vegas Raiders running back Theo Riddick, who began training camp on the COVID-19 list, moved him to the retired list on Friday.
Riddick, who turned 30 on May 4, appeared in four games for the Raiders last season and also spent time on the team's practice squad. He was expected to be a pass-catching back out of the backfield but only caught five passes for 43 yards and ran the ball six times for 14 yards. He last played a full 16-game season in the NFL in 2017 for the Detroit Lions.
The Raiders were thin at running back to start camp with Riddick and Jalen Richard on the COVID list and Kenyan Drake on the Non-Football Injury list. But Drake returned to practice on Friday and the Raiders signed Darius Jackson and BJ Emmons the day before to join undrafted rookie Trey Ragas and Pro Bowler Josh Jacobs, who has rushed for at least 1,000 yards in each of his first two NFL seasons.