Minnesota Twins finalize deal with reclamation righty Anibal Sanchez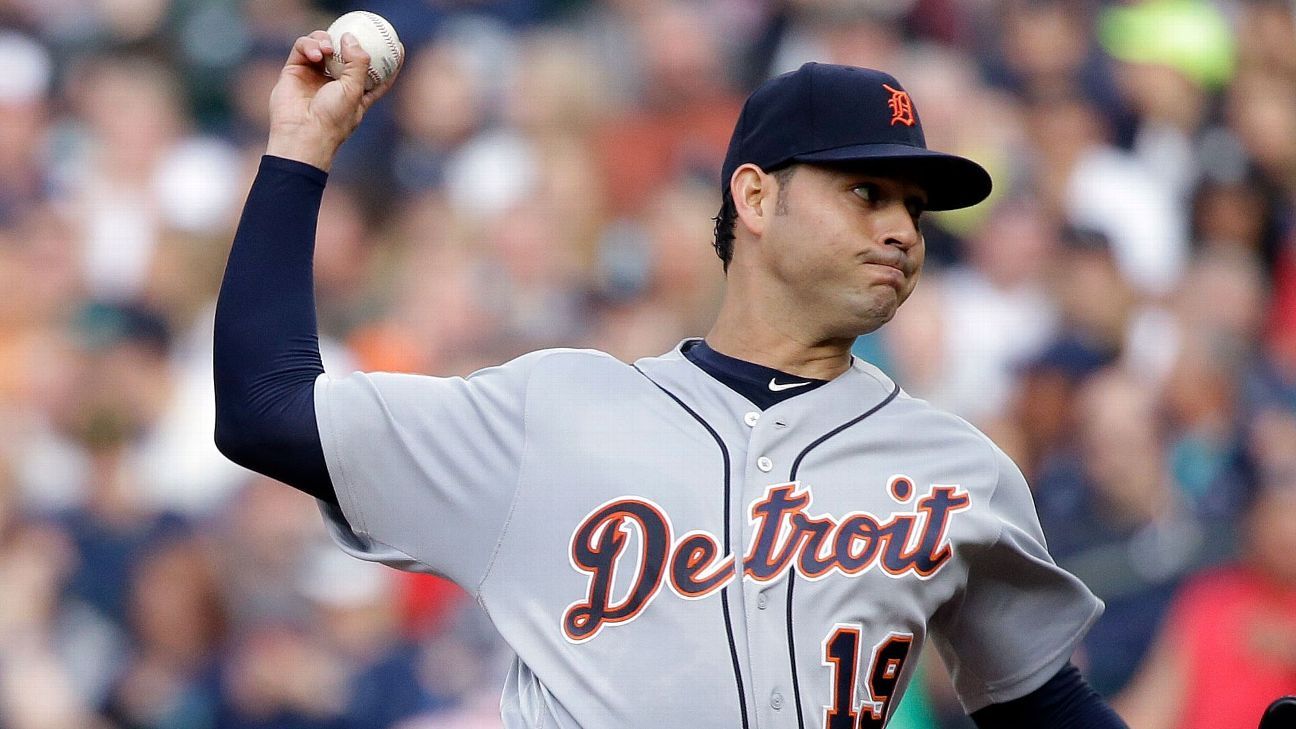 FORT MYERS, Fla. — The Minnesota Twins have finalized their low-risk contract with right-hander Anibal Sanchez, securing another experienced candidate for their rotation.
Sanchez signed the one-year, non-guaranteed deal on Tuesday before throwing his first bullpen session with the team. Sanchez agreed to terms last week for $2.5 million this season if he makes the major league roster out of spring training, with additional incentives available.
After leading the American League with a 2.57 ERA for Detroit in 2013, Sanchez struggled through the next three seasons for the Tigers while dealing with injuries and being demoted to stints in the bullpen. Sanchez, 33, had a career-worst 6.41 ERA in 2017.
Election 2020 – Inside the political donation history of wealthy sports owners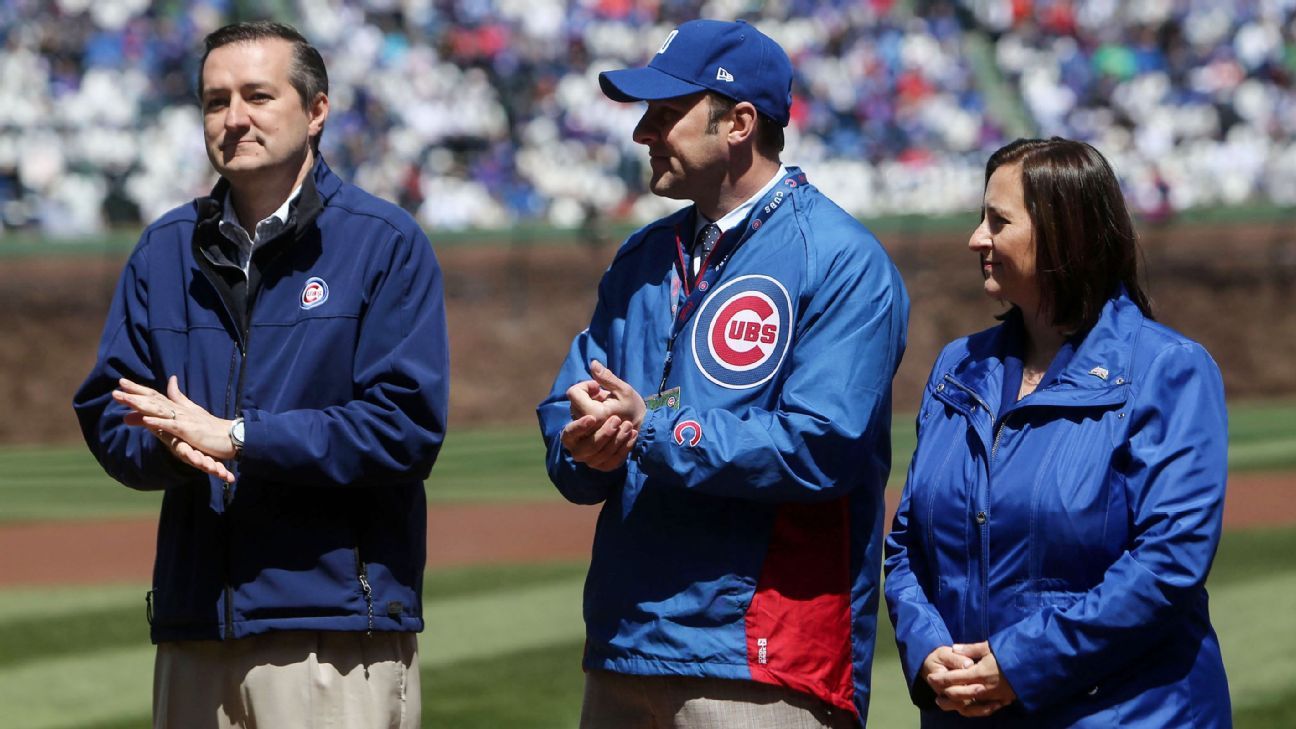 Editor's note: This is the first in a series of six pieces that shows how professional sports owners in America contribute to political campaigns, why they spend millions in the space and what that financial power means as athletes across sports continue to embrace activism of their own.
American professional sports owners have contributed nearly $47 million in federal elections since 2015, according to research by ESPN in partnership with FiveThirtyEight, including $10 million to Republican causes and $1.9 million to Democratic causes so far in the 2020 election cycle.
That strong Republican lean is consistent with owners' spending in the 2018 and 2016 federal elections as well. A deep search in the Federal Election Commission database of campaign finances for principal owners, controlling owners, co-owners and commissioners from the NBA, NFL, NHL, WNBA, MLB and NASCAR reveals that this deep-pocketed group has sent $34.2 million (72.9%) to Republican campaigns or super PACs purely supporting Republican causes, compared to $10.1 million (21.5%) to Democrats over the past three elections. Less than 6% of contributions went to bipartisan or unaffiliated recipients.
The research includes more than 160 owners and commissioners spanning 125 teams, though no list of this kind can be completely comprehensive. Only current owners in each league and only their contributions while they have been involved with their franchises were included. Spouses and relatives were not considered unless they also play a controlling role in the ownership group. If a contribution appeared to be from an owner but could not be confirmed, it was not included. And, as is the case with many millionaires and billionaires, owners have a number of ways to hide their political spending.
Some of the biggest takeaways from the data are below. And in the coming days, the series will delve into:
---
Overall contributions
Contemporary sports ownership has become an exclusive club with entry fees that reach into eight- and nine-figure territory. The rarefied Americans who can afford those fees tend to skew older, whiter and more male. As political donors, these owners skew toward the GOP.
Of the 160 owners and commissioners in ESPN's database, 74 contributed a majority of their publicly searchable funds to Republican campaigns, with 48 donating a majority to Democrats and the rest sending most of their money to causes that aren't fully aligned with either party.
But while that overall summary is interesting, a more pronounced signal begins to emerge when we look more closely at this group's larger political donations. There are 40 owners who have donated at least $100,000 to Republican causes over the six-year period, compared to 23 owners topping $100,000 to Democrats, helping lead to these splits: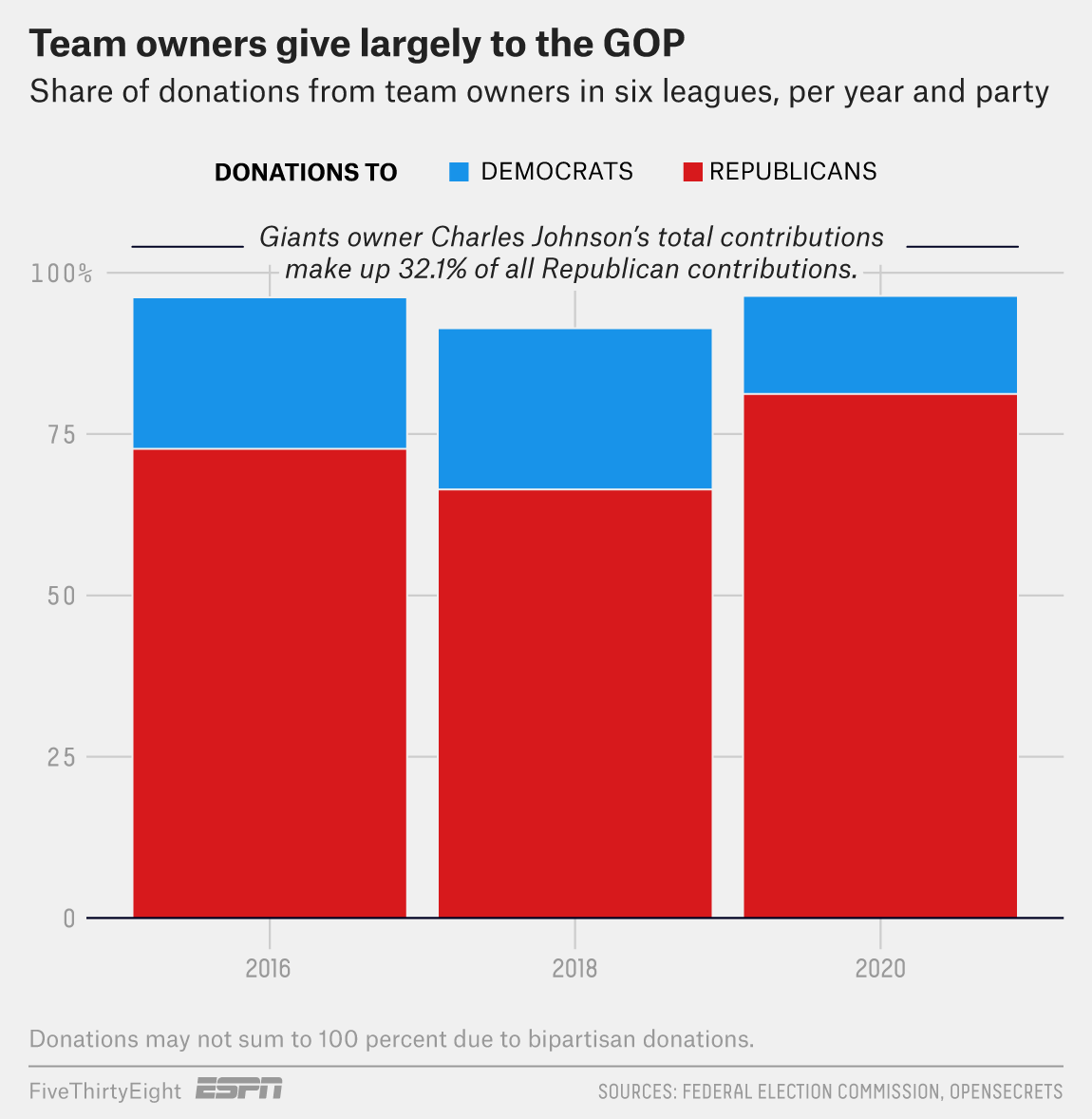 In total, here is the election-cycle contribution breakdown for owners and commissioners for these leagues:
2016: $12,940,514 Republican | $4,065,093 Democrat

2018: $11,282,570 Republican | $4,174,212 Democrat

2020: $10,022,931 Republican | $1,874,333 Democrat
It's important to note that not all data for the 2020 election cycle is publicly available at our time of publishing. Some of the biggest super PACs had filed only individual contributor data to the FEC as of June 30, meaning their most recent contributions aren't included in our totals.
Drilling down deeper into the data, we can see that federal contributions in each league lean red, except for in the WNBA: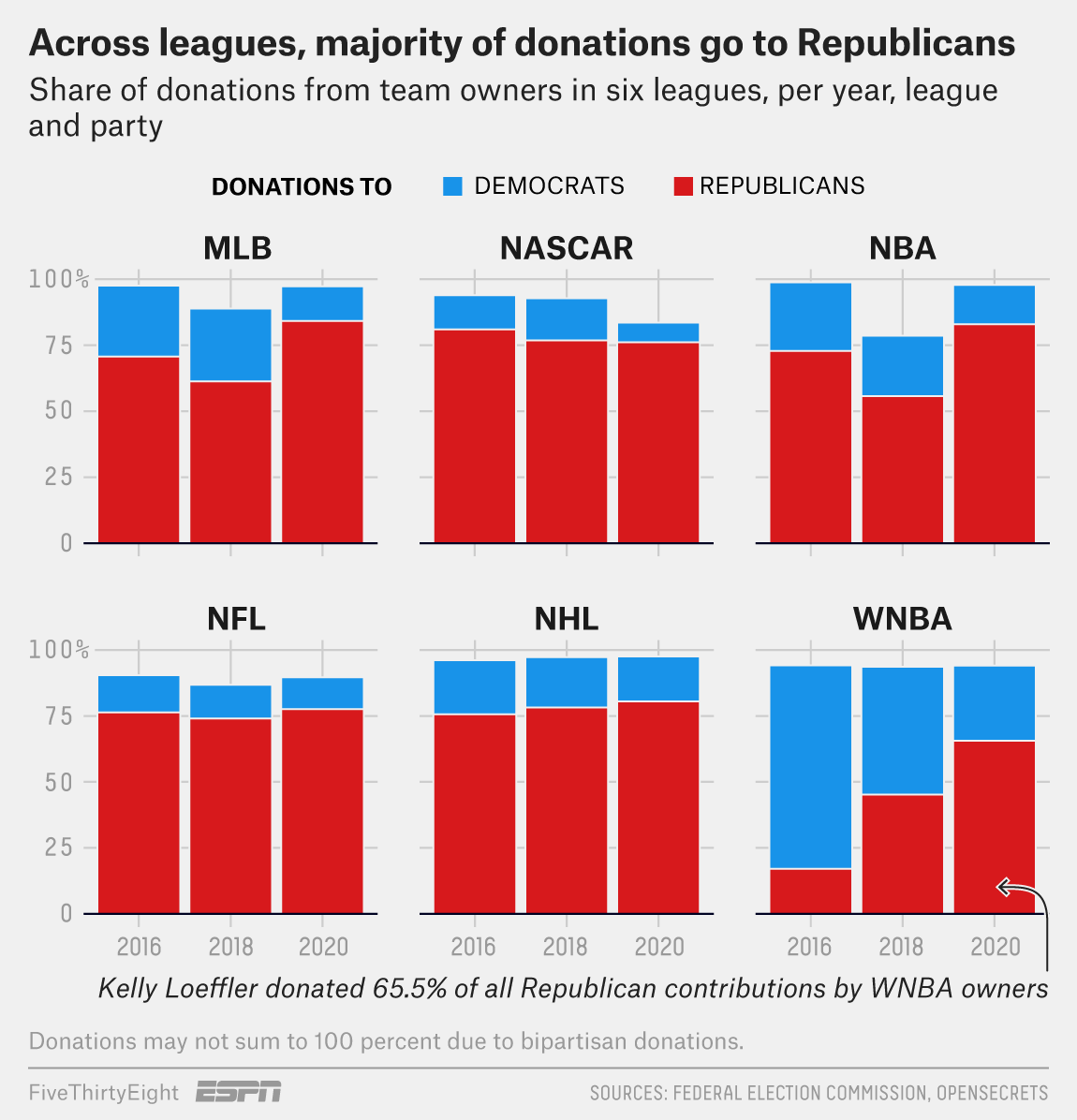 Overall, 51.7% of all contributions by WNBA owners went to Democrats, with 42.3% going to Republicans. And of the $1.3 million contributed by WNBA owners to Republicans, 65.5% came from Atlanta Dream co-owner and Sen. Kelly Loeffler (R-Ga.).
Expanding to all the leagues in our research, here are their totals to each party over the six-year period:
MLB: $15,181,761 Republican | $5,184,604 Democrat

NBA: $8,372,300 Republican | $2,641,487 Democrat

NHL: $7,087,116 Republican | $1,726,733 Democrat

NFL: $5,032,470 Republican | $873,500 Democrat

WNBA: $1,338,459 Republican | $1,634,153 Democrat

NASCAR: $576,110 Republican | $93,983 Democrat
Owners' conservative lean extends into the current presidential cycle as well. Americans have donated similar amounts to both Joe Biden and President Donald Trump, but owners are giving more to Trump, according to the database.
Thirteen owners have contributed directly to Trump's campaign or Trump super PACs in the 2020 election cycle, with contributions adding up to $1,746,423. That list of owners includes:
Bill Foley (Vegas Golden Knights), Bill Hornbuckle (Las Vegas Aces), Charles Johnson (San Francisco Giants), Dan Devos (Orlando Magic), Jack Roush (NASCAR), James Dolan (New York Knicks and New York Rangers), Kelly Loeffler (Atlanta Dream), Mike Brown (Cincinnati Bengals), Peter Karmanos (Carolina Hurricanes), Robert Plummer (Los Angeles Dodgers), Roger Penske (Team Penske) Tilman Fertitta (Houston Rockets) and Todd Ricketts (Chicago Cubs)
By contrast, 20 owners have contributed directly to Biden or Biden's super PACs, though at smaller totals, with overall contributions equaling $405,745. The Biden contributors include:
Arthur Blank (Atlanta Falcons), Arthur J. Rooney II (Pittsburgh Steelers), Billie Jean King (Dodgers), David Blitzer (Philadelphia 76ers and New Jersey Devils), David Bonderman (Seattle Kraken), Herbert Fritch (Nashville Predators), Herbert Simon (Indiana Pacers and Fever), Ilana Kloss (Dodgers), James Dinan (Milwaukee Bucks), Jeff Dickerson (Spire Motorsports), Jim Pohlad (Minnesota Twins), John Rogers (Chicago Sky), Laura Ricketts (Cubs), Marc Lasry (Bucks), Mary Kelly (Denver Broncos), Michael Alter (Sky), Peter Guber (Golden State Warriors and Dodgers), Tom Werner (Boston Red Sox), Zygi Wilf (Minnesota Vikings) and Hornbuckle
— Kirk Goldsberry
---
The big-money donors
A relatively small group of donors makes up a huge chunk of the overall donation data. Forty owners account for more than $40 million — more than 85% of all contributions. And looking specifically at these big spenders, it's clear where their allegiances lie: 77.7% of that $40 million went to Republican causes or candidates, with 18.8% going to Democrats.
This is where the political spending power among American professional sports ownership is concentrated. Here's that full list:
Bill Foley (Knights), Charles Johnson (Giants), Dan DeVos (Magic), Dan Gilbert (Cavaliers), Dan Snyder (Washington), David Tepper (Panthers), David Bonderman (Kraken), E. Stanley and Ann Kroenke (Nuggets/Rams/Avalanche), Edward Glazer (Buccaneers), Fred Wilpon (Mets), Herbert Simon (Pacers/Fever), James Dinan (Bucks), James Dolan (Knicks/Rangers), Janice McNair (Texans), Jeremy and Jerry Jacobs (Bruins), Jerry Jones (Cowboys), Jerry Reinsdorf (Bulls/White Sox), Jim Pohlad (Twins), Jimmy and Susan Haslam (Browns), Jody and Paul Allen (Blazers/Seahawks), Josh Harris (76ers/Devils), Kelly Loeffler (Dream), Ken Kendrick (Diamondbacks), Laura Ricketts (Cubs), Magic Johnson (Dodgers/Sparks), Micky Arison (Heat), Peter Angelos (Orioles), Peter Karmanos (Hurricanes), Philip Anschutz (Kings), Ray Davis (Rangers), Robert Castellini (Reds), Roger Penske (Team Penske), Ron Burkle (Penguins), Stephen Ross (Dolphins), Steve Tisch (Giants), Ted Leonsis (Wizards) and Tilman Fertitta (Rockets)
And when we isolate just the big-ticket donations topping $100,000 from this group, a familiar picture emerges. More than 63% of the $47 million in the database of nearly 3,000 contributions comes from over 100 donations split among these 40 owners — and 79% of that money went to Republican causes.
No matter how you slice it, the big takeaway is clear: The biggest political spenders in pro sports prefer red to blue. — Goldsberry
---
Owner-level data
This table reflects the total contributions for each owner and commissioner in our database over the past three election cycles, grouped by political party. Note that some family members appear together and that only contributions while owners have been involved with the team are included. You can find more of the data here.
Consecutive championships for a city in the Super Bowl era
Los Angeles is title town, for the time being.
It's not often that a sports city or metropolitan area follows up one title by also winning the next major sports championship awarded — not to mention three teams from the same city pulling it off.
With the Los Angeles Lakers defeating the Miami Heat in the NBA Finals and the Los Angeles Dodgers defeating the Tampa Bay Rays in the World Series on Tuesday night in Arlington, Texas, L.A., in 2020, joins an elite list.
Let's take a look back at the rare times it has happened during the Super Bowl era, which began in 1966.
---
2018-19 Boston Red Sox and New England Patriots
In October 2018, the Red Sox won the World Series over the Los Angeles Dodgers to claim their fourth title in 15 seasons. Boston won a club-record 108 games during the regular season before going 11-3 in the postseason, including 4-1 in the World Series. The Red Sox outscored the Dodgers 28-16 during the Series and Steve Pearce, who hit three home runs, was named MVP. David Price was the winning pitcher in Games 2 and 5 for Boston.
The Patriots followed the Red Sox's championship with another title of their own, defeating the Los Angeles Rams 13-3 in Super Bowl LIII on Feb. 3, 2019, in Atlanta. Julian Edelman was named MVP with 10 catches for 141 yards as New England won a record-tying sixth Super Bowl. Sony Michel's 2-yard run in the fourth quarter was the only touchdown in the lowest-scoring Super Bowl in history. Tom Brady threw for 262 yards and became the first player to win six Super Bowls.
---
Ben Roethlisberger's 6-yard touchdown pass to Santonio Holmes with 35 seconds left gave the Steelers a 27-23 win over the Arizona Cardinals in Super Bowl XLIII on Feb. 1, 2009, in Tampa, Florida. Holmes, who had 131 yards in nine catches, was named MVP as Pittsburgh won its sixth Super Bowl and second in four seasons. The Steelers also became the first team to win three Super Bowls in the same state. They previously won Super Bowls X and XIII in Miami.
On June 12, 2009, the Penguins kept Pittsburgh's success going with a Game 7 win over the Detroit Red Wings in the Stanley Cup Final. With the victory, Pittsburgh became the only city to win a Super Bowl and Stanley Cup consecutively. Evgeni Malkin was named MVP with two goals and six assists during the series as the Penguins avenged their loss to the Red Wings in the Stanley Cup Final the previous season.
---
2004 Boston Red Sox and New England Patriots
After 86 years of despair, the Red Sox swept the St. Louis Cardinals in the 2004 World Series for their first championship since 1918. Boston had to rally from a 3-0 deficit in the American League Championship Series against the New York Yankees just to make it to the World Series. But once there, the Red Sox left no doubt, outscoring the Cardinals 24-12 in the four games. Manny Ramirez was named MVP, driving in four runs on seven hits, including a home run.
The Patriots kept Boston's party going with a 24-21 win over the Philadelphia Eagles in Super Bowl XXXIX on Feb. 6, 2005, in Jacksonville, Florida. With 11 receptions for 133 yards, Deion Branch earned MVP honors in the Patriots' third Super Bowl win in four years. Rodney Harrison made two interceptions, including one with nine seconds left that ended any last-second comeback hopes for the Eagles.
---
The Lakers won their third straight NBA Finals in 2002 — giving head coach Phil Jackson his ninth ring — with a sweep over the Nets. Behind Kobe Bryant and Shaquille O'Neal, who averaged 36 points and 12 rebounds in the Finals and was named Finals MVP, the Lakers secured the franchise's 14th NBA championship trophy.
Four months after the Lakers capped another title run, the Angels advanced to their first World Series in franchise history. The 2002 Series was the first contested between two wild-card teams. The Angels were eight outs away from falling to the Giants in Game 6, but they rallied from a five-run, seventh-inning deficit to win and force a decisive seventh game. A three-run double to right field by Garret Anderson proved to be enough for the Angels, who won 4-1 to clinch their first World Series title.
* The Stanley Cup Final ended one day after the NBA Finals in 2002, technically not making the Lakers and Angels' titles consecutive, but we decided they were close enough that they deserved to be mentioned.
---
The Athletics swept the Giants in the World Series, but this one will go down as one of the more memorable Fall Classics in history. Prior to Game 3 on Oct. 17 in San Francisco, a 6.9 earthquake rocked the Bay Area, causing damage to Candlestick Park and knocking out power. The game was postponed and was eventually played on Oct. 27. The series concluded the following day, with the A's outscoring the Giants 32-14 in the four games.
San Francisco also got to celebrate a championship for the 1989 sports season. The 49ers made it two straight Super Bowl titles and the fourth in franchise history with a 55-10 rout of the Denver Broncos on Jan. 28, 1990. The 55 points were the most scored by a team, and the 45-point margin of victory was the largest in Super Bowl history. Joe Montana was named Super Bowl MVP for the third time after completing 22 of 29 passes for 297 yards and a then-Super Bowl record five touchdowns. The 49ers also became the first team to win consecutive Super Bowls under different head coaches, with George Seifert having taken over for Bill Walsh, who retired following the previous season's championship run.
---
1988 Los Angeles Lakers and Los Angeles Dodgers
The Lakers capped off the 1987-88 season with their 11th NBA championship, defeating the Detroit Pistons in seven games in the Finals to become the NBA's first repeat champions since the Boston Celtics in 1968-69. The title was the last for the Showtime-era Lakers, a team that had Magic Johnson, James Worthy and Kareem Abdul-Jabbar, as well as head coach Pat Riley, who famously guaranteed the repeat.
The most memorable moment from the Dodgers' win over the A's in the World Series remarkably came in Game 1. National League MVP Kirk Gibson, who could barely walk due to injuries suffered during the NLCS, drilled a pinch-hit, walk-off home run off future Hall of Fame closer Dennis Eckersley. Just four months after the Lakers' repeat, the Dodgers would go on to win the series in five games behind the arm of Orel Hershiser, who set the all-time scoreless inning streak at 59 innings during the regular season. Hershiser pitched a shutout in Game 2 and a complete game in the decisive Game 5 to take home MVP honors.
---
The Mets cruised to the postseason in 1986, earning 108 regular-season wins and capturing the NL East by a whopping 21½ games over the Philadelphia Phillies. They won the NLCS in six games over the Houston Astros, but it appeared the Mets' run would come to a disappointing end in Game 6 of the World Series versus Boston, which led the series 3-2 and took a two-run lead in the top of the 10th inning of Game 6. The Mets were down to their final out … then the improbable happened. The Mets recorded three straight singles, cutting their deficit to 5-4 with runners on the corners. A wild pitch scored the tying run and put the winning run on second base. Mookie Wilson then hit a roller to first that Bill Buckner let go under his glove, allowing Ray Knight to race home with the winning run. The Mets went on to win Game 7 at home, denying Boston its first World Series title since 1918.
The '86 Giants kept spirits high in New York, dominating the competition en route to the Super Bowl. The Giants went 14-2 in the regular season, then outscored the 49ers and Redskins by a combined 66-3 in the NFC playoffs. In Super Bowl XXI, Phil Simms led the way, going 22-for-25 passing for 268 yards and three touchdown strikes in a 39-20 victory over the Broncos. But the story for the Giants was their defense, which finished No. 2 in the NFL in points and yards allowed. Linebacker Lawrence Taylor, one of eight Giants Pro Bowlers that season, was the unanimous league MVP after recording 20.5 sacks, and Bill Parcells was named NFL Coach of the Year.
---
It was only fitting that the Pirates' theme song was "We Are Family" during the 1979 season. They had to stick together like one to capture the World Series. After sweeping the Cincinnati Reds in the NLCS, the Pirates found themselves in a 3-1 hole against the Baltimore Orioles in the Fall Classic. But the Pirates, led by NL MVP Willie Stargell, won Game 5 at home, then went to Baltimore and won the final two games. Stargell, at 39 years old, was named World Series MVP after hitting .400. He went 4-for-5 in Game 7, hitting two doubles and a two-run homer in the sixth inning that put Pittsburgh up for good.
The Steelers' dominance in the 1970s continued during the '79 season. They captured their second straight Super Bowl and fourth title in franchise history with a 31-19 win over the Los Angeles Rams on Jan. 20, 1980. Experience probably helped the Steelers prevail in the game played at the Rose Bowl in what was part of the Rams' home market in Pasadena, California. The Rams led 19-17 entering the fourth quarter, but the Steelers, led by Terry Bradshaw, scored 14 points in the fourth to pull out the win. Bradshaw was named Super Bowl MVP by completing 14 of 21 passes for 309 yards and two touchdowns, overcoming his three interceptions.
---
1970: Baltimore Orioles and Baltimore Colts
The Orioles defeated the Reds in five games to win the 1970 World Series. Both teams won more than 100 games in the regular season, something that wouldn't happen again until 2017. MVP Brooks Robinson put on a show, driving in six runs on nine hits, including two home runs to lead Baltimore past Johnny Bench and the "Big Red Machine." The 1970 World Series was the second of three straight for the Orioles but the only of those that they won.
The Colts overcame seven turnovers for a 16-13 win over the Dallas Cowboys in Super Bowl V on Jan. 17, 1971, in Miami. The game has been referred to as the "Blunder Bowl" because of all the turnovers and penalties. The teams set a Super Bowl record with a combined 11 turnovers. Cowboys linebacker Chuck Howley, who made two interceptions, was named MVP, the only time a member of the losing team has won the award. It wasn't pretty, but the Colts kept the good times rolling in Baltimore.
Los Angeles Dodgers' Mookie Betts is the viral star of the 2020 World Series
The Los Angeles Dodgers winning the 2020 World Series over the Tampa Bay Rays didn't make Mookie Betts a star.
He has already been a league MVP and batting champion. He's a four-time All-Star playing on a 12-year, $365 million contract. He has even won a championship before. But this postseason with the Dodgers, everything Betts did seemed to become an instant trend. Anytime he did something, his name was all over social media, LeBron James was there with multiple exclamation points, and his plays became viral moments celebrating the amazing.
Here are the best moments from the postseason that made Betts a viral sensation:
The catches
Betts can do it all, as further proven by this postseason. The defense burst out in Game 5 of the NLCS against the Atlanta Braves. Down 3-1 in the series and trailing 2-0 in the game, he sprinted in to take away a Dansby Swanson hit that would have led to a run. Betts then threw home and got the double play.
We're still 😧 at this catch. pic.twitter.com/fCyx1GBv8a

— Cut4 (@Cut4) October 17, 2020
Oh, but that was just the beginning. He had more ridiculous, momentum-swinging, run-saving catches that robbed more hits in Game 6.
Anyone who doesn't think this is a spectacular catch — momentum going backward, leaping high into a wall, having the body control and wherewithal to track the ball — is just wrong. Add in context — potential elimination game, a run would've scored — and it's that much better. https://t.co/lsBjy6xcZG

— Jeff Passan (@JeffPassan) October 17, 2020
And Game 7.
MOOKIE AGAIN. pic.twitter.com/SlSttMLcVj

— Los Angeles Dodgers (@Dodgers) October 19, 2020
They were all huge plays with L.A. rallying back to win the NL pennant. Betts added another acrobatic catch in the World Series.
Best social reaction
Mookie Betts is a mood https://t.co/n5zWSOWQdn

— Dodger Yard (@DodgerYard) October 17, 2020
I really appreciate that for the next decade plus any time Mookie Betts does something amazing all of baseball twitter gets to come together to clown on the Red Sox 🥰 https://t.co/5Lt6FHcTsf

— sarah (@slwein) October 17, 2020
Hitting, stealing and tacos
Betts went 7-for-26 at the plate in the World Series. He's the first person since Babe Ruth in 1921 to steal two bases in one inning of a World Series game.
Thanks to Taco Bell's "Steal A Base, Steal A Taco" promotion, Betts won America free tacos with the first steal of the inning. For his Hall of Fame credentials, he's baseball's all-time leader for stealing bases that lead to free food. He stole the first base of the 2018 World Series while playing with the Boston Red Sox.
This is the moment Mookie Betts won America free tacos.

Follow along for live updates: https://t.co/Lz5mdqRar9

— Los Angeles Times (@latimes) October 21, 2020
TACOS ON ME!!!! Tag me with your Taco photos! #OnToTheNext #LATogether

— Mookie Betts (@mookiebetts) October 21, 2020
Best social reaction
MOOKIE!!! Safe @mookiebetts

— LeBron James (@KingJames) October 21, 2020
If Mookie steals two bases, does that mean I get two tacos? 🌮🌮 pic.twitter.com/wBuLrRbXAK

— Baseball Quotes (@BaseballQuotes1) October 21, 2020
Betts also homered in Game 1.
Our account actually stands for @ Markus Lynn Betts. 😱 pic.twitter.com/zKhVLUQC8E

— MLB (@MLB) October 21, 2020
Mookie Betts, Oppo Taco. pic.twitter.com/XImoxS8jYf

— Rob Friedman (@PitchingNinja) October 21, 2020
He stole two more bases in Game 3. Though, when you've coined "oppo taco," how does it get better?
Game 6, that's how. After striking out twice against Rays starter Blake Snell, Betts came alive after Snell was lifted from the game. In the sixth, he doubled and scored the go-ahead run on savvy baserunning on an infield grounder. Betts then homered in the bottom of the eighth as the Dodgers won their first World Series in 32 years.
In the blink of an eye the @Dodgers take the lead. #WorldSeries pic.twitter.com/GxijlijsQt

— MLB (@MLB) October 28, 2020
.@mookiebetts is the baserunning king. #WorldSeries pic.twitter.com/LOGviwTbVv

— MLB (@MLB) October 28, 2020
🎶Mookie did a good thing,

he won't regret this thing at all, if you're wondering what he did,

we'll show you what he did,

he did a gooooooood thing🎶 pic.twitter.com/Tu1MXrDzaK

— Cut4 (@Cut4) October 28, 2020
Best social reaction
MOOKIE OF THE YEAR. pic.twitter.com/J7P8MPfMUo

— Los Angeles Dodgers (@Dodgers) October 28, 2020
Mookie Betts walking to the plate in the #WorldSeries like pic.twitter.com/P15e0vItyl

— The Walking Dead (@TheWalkingDead) October 28, 2020
Mookie Betts about to make baseball cool again

— Kazeem Famuyide 🍎 (@Kazeem) October 28, 2020
EVERY SINGLE CENT!!!!!! https://t.co/QIXlWiYpW9

— LeBron James (@KingJames) October 28, 2020
THE JOB IS FINISHED!!!!!  This one's for you LA – the City of Champions!  Enjoy the hell out of it, but you know these boys aren't done chasing rings!!! pic.twitter.com/rifShjVtke

— Mookie Betts (@mookiebetts) October 28, 2020