The market for J.D. Martinez appeared to comprise just one team — the Boston Red Sox, who had the means, motive and opportunity to sign the outfielder/DH whom no other team seemed to come close to in terms of offers. That may have contributed to the lengthy stalemate. I think the Red Sox blinked, giving Martinez a five-year, $110 million deal that is certainly too long (the deal includes an opt-out after two years), but does improve their offense in a way no other free agent this year could have, and directly boosts their chances of repeating as division champs.
In the short term, Martinez is exactly what the Red Sox need: a power hitter to insert into a lineup that hit the fewest homers of any American League team last year — 168, 18 home runs behind the next lowest total. The Red Sox were fifth in the AL in OBP last year, helping them to a sixth-place finish in runs scored despite the lack of home run power, but with even average home run totals they likely would have finished in the top three.
Yasiel Puig denies accusations in sexual assault lawsuit
In a statement released on his Twitter feed Tuesday, free-agent outfielder Yasiel Puig has denied claims in a lawsuit that he sexually assaulted a woman in 2018 and said that the allegations have prevented him from continuing his Major League career.
"I am speaking out now to defend my name against false and malicious allegations by a woman who claims I assaulted her in 2018," Puig wrote. "These allegations are totally false, the evidence proves they are false, and I look forward to all the facts and the truth coming out."
The woman, identified in federal court documents only as Jane Roe, sued Puig last October, saying the former Dodgers outfielder followed her into a Staples Center bathroom after a Lakers game on Oct. 31, 2018, "pinned her with one arm" to prevent her from leaving, groped her and masturbated in front of her.
The woman did not file a police report. Puig has not been charged with any crime and he has previously denied the allegations in a court filing.
In his statement Tuesday, released by his attorneys, Puig said: "The fact is that I had consensual sex with a woman I met at a Lakers game after she propositioned me. Afterward we talked about going out together, but she said she did not want her fiancé to find out."
Attorney Taylor Rayfield, who is representing the woman, said in a statement to ESPN Wednesday, "The simple fact of the matter is that our client never engaged in consensual sexual activity with Mr. Puig — not at the Staples Center Chairman's Club, and not anywhere else."
In her own statement, released through Rayfield, the woman said, "I am an out and proud lesbian and have been during my entire adult life. My female fiancée and I were enjoying a Lakers game at the Staples Center when this attack occurred." She added that the notion that she would leave her fianceé for a sexual encounter in the bathroom with someone she'd just met "is demeaning and ridiculous."
Puig said Tuesday that he and the woman "messaged each other" after their encounter and planned to get together but never did.
Puig's Los Angeles-based attorneys, Alan Jackson and Caleb Mason, also said in their statement Tuesday that text messages between Puig and the woman help to confirm Puig's account of what happened.
"On November 2, 2018, two days after their encounter, when Mr. Puig wrote to ask her when they could see each other again, she replied "I['m] working it out! I didn't forget about you."
Puig's attorneys point out that the woman sent Puig heart emoji messages and that, on November 23, 2018, several weeks after the Lakers game, she messaged Puig asking him when he would be back in town.
ESPN has reviewed text message exchanges between Puig and the woman, which became public through an exhibit filed as part of the woman's federal lawsuit.
She did send the text messages Puig's legal team referenced but only after Puig had sent her several messages in an apparent attempt to meet privately.
Rayfield said the woman only sent those messages because she was "fearful of a further attack or retribution by Puig," and in an attempt "to de-escalate his behavior by providing curt responses."
In their statement Tuesday, Puig's attorneys did not include a text message Puig sent the woman hours after the Lakers game. In that text, Puig wrote: "Private between me and me [sic] everything that happens no one has to know," according to the transcript of text messages that appears in court documents.
Last month, ESPN reported that a number of teams had factored the allegations, as well as Puig's declining play, into their decision making when considering him as a free-agent signing.
"Nobody wants the headache," one front-office source told ESPN.
Puig said Tuesday he initially remained silent about the allegations against him on the advice of his attorneys and is speaking out now because of delays in the legal system and a civil case that has unfairly tarnished his image in baseball circles.
"With a mere unsupported accusation, the sports world has turned against me without ever hearing my side," Puig said in the statement from his attorneys.
"All I ask is that I be given the chance to prove these claims false, and in the meantime, play the game that I love so much."
Jose Altuve, Alex Bregman among Houston Astros players on IL for health and safety protocols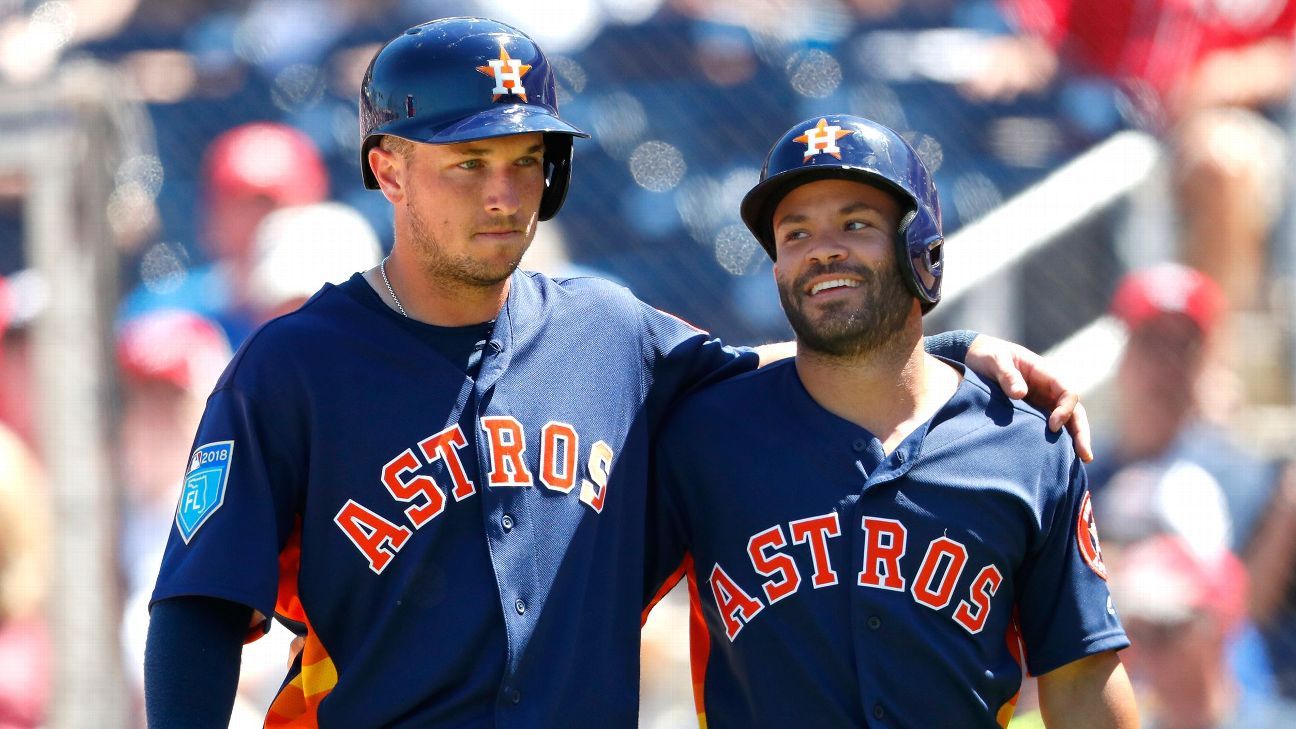 The Houston Astros have placed Yordan Alvarez, Jose Altuve, Alex Bregman, Robel Garcia and Martin Maldonado on the injured list "as a result of health and safety protocols," general manager James Click said Wednesday.
Click said the moves were not a function of the players breaking COVID-19 protocols.
"Absolutely not. The guys have been exceptionally vigilant of making sure that at the ballpark, away from the ballpark, they're following the rules," Click told reporters. "I think this is just another reflection of the situation we're in, not just in baseball but in the country."
The Astros, who are not at the 85% vaccination threshold to loosen the protocols, said they didn't know about having to make these moves until after Tuesday's game. All other players on the team will go through increased testing, and all coaches and staff have been cleared to continue working.
In corresponding moves, the Astros called up infielder Taylor Jones, catcher Garrett Stubbs, infielder Abraham Toro, infielder Alex De Goti and outfielder Ronnie Dawson from the team's alternate training site.
All five players are expected to arrive in time for Wednesday night's game against the Detroit Tigers at Minute Maid Park.
"When it rains it pours," Click said. "It's a difficult situation, but we can't let that take our focus away from winning this game."
Twins SS Andrelton Simmons, who declined vaccine, out after positive COVID-19 test
MINNEAPOLIS — Minnesota Twins shortstop Andrelton Simmons has tested positive for the coronavirus and was placed on the COVID-19 injured list Wednesday before the team's doubleheader against the Boston Red Sox.
Simmons has said he doesn't plan to take the COVID-19 vaccine, which was made available in a single-shot dosage to the team at Target Field on Thursday.
Twins president of baseball operations Derek Falvey said Simmons was experiencing "very mild" symptoms and resting at home. The positive test result was received late Tuesday, after the Twins lost 4-2 to the Red Sox.
After the initial phase of contact tracing, the Twins determined no additional players needed to be quarantined.
Simmons was replaced on the roster by infielder J.T. Riddle, who was summoned from the taxi squad. Third baseman Josh Donaldson, out since the season opener with a strained hamstring, was expected back for the second game of the doubleheader.
The Twins held a meeting to remind players and staff to heed virus protocols, even though a majority of them have gotten vaccinated. The full immunization period isn't in effect yet.
"We're not out of the woods by any means on that front," Falvey said, adding, "Now is the time to be as vigilant as possible."
Simmons tweeted last month that he would not be getting the vaccine or advocating for it for "personal reasons and past experience," on which he declined to elaborate. He confirmed Sunday that he did not participate in the teamwide vaccination. Asked if he planned to get the shot in the future, Simmons said he didn't know.
"We want to continue to educate people in the environment. This is real. This is something that can enter. We know that," Falvey said. "Sometimes no one really knows exactly how it can come at different times. We know that from looking not just across our sport, but across all sports and across the country and the world. Our view of that is constantly reminding people of why we think it's a good idea to get vaccinated. Our docs have recommended that, and so we continue to provide them as resources to players, to learn as much as they can about this."