PHILADELPHIA — A man who goes by the name of "The Professor" answers the phone and, with some grit and attitude in his voice, confirms that, yes, the demand for Philadelphia Eagles tattoos is soaring.
"It's the first time they won, brother," said the owner of Philadelphia Eddie's Tattoo. "Everybody that was a fan was getting them."
Or at least it seems that way. On the day of the parade celebrating the Eagles' first Super Bowl championship, "people were coming in six feet deep" to Eddie's. During the playoff run, the business did maybe a couple Eagles tattoos a week. But in the days surrounding the Super Bowl win over the New England Patriots, the Professor said they were cranking out at least 20 a day.
The surge occurred in parlors across the area, including at Eastern Pass Tattoo in South Philly.
"We definitely had a very large influx of Eagles tattoos after [the title win]," said Weilan, a tattoo artist at Eastern Pass. "Definitely more than doubled."
The fresh ink is all over social media. Many went the traditional route, getting tattoos of the team logo or the Lombardi Trophy with "LII" accompanying the image. Others went outside the box. There's the "Philly Special" play design; an image of center Jason Kelce in his parade-day Mummer's suit, eating pork roll and scrapple — two Philadelphia breakfast dishes; and, a personal favorite, quarterbacks Nick Foles and Carson Wentz in sweater vests doing their best "Step Brothers" impersonation.
Today in Eagles fan tattoos (📷 by @4thandJawn) pic.twitter.com/anuST0itsK

— Darren Rovell (@darrenrovell) February 13, 2018
"I think the weirdest ones I did were two '52 Champs' with the Eagles logo two days before the Super Bowl," Weilan said. "They were two dudes that grew up in Philly that flew [from Los Angeles] into Philadelphia to get tattooed by me before the Super Bowl to get that on them. I was like, 'Man, don't you guys worry about jinxing it?' And their view was if they lost the Super Bowl after doing that, it would have been the most Philly thing possible — too overconfident before the big game."
In their defense, some Eagles players were feeling equally sure of themselves. Days before the big game, running back Corey Clement, who came up with a huge 22-yard touchdown reception in Super Bowl LII, put his appointment with Dan Czar on the books.
"He hit me up before the 'Bowl and said, 'Let's plan for Wednesday after the Super Bowl.' And I was like, wow, this guy is really trying to get in because I knew how busy he would be," said Czar, a tattoo artist at AC Ink in Somer Point, New Jersey, whose work is becoming increasingly popular in the sports and entertainment world. "He hit me up and was like, 'It's time for that Super Bowl tat. Let's go.' And once he told me it was an Eagle, I was wired. It was awesome."
The only direction Clement gave Czar was that he wanted "an Eagle ripping out of my arm." Czar laid down the design from there. Clement has proudly been showing off the final product in the days since.
Clement also got "SB LII" tattooed in small lettering down the side of his neck.
The ticket into this world for Czar was Johnny Manziel. A photographer he was friendly with called Czar up in February of 2017 and said that Manziel was looking to get the Eiffel Tower on the back of his forearm, STAT.
"He gave me two days' notice: 'Hey, I need you in Miami. Johnny wants to get some work.' And this is probably the first time I did anyone of any importance as far as that realm … so I dropped everything and went right down and tattooed him maybe at 1 in the morning," Czar said. "Two months later he proposed to his wife at the Eiffel Tower, so that was pretty cool."
From there Czar's NFL clientele list grew, and eventually included Eagles cornerback Sidney Jones, who got a "W" tattooed for his college, the University of Washington, as well as a rose for his mom. That's how Clement found Czar.
So far, the recent ink he gave Clement is the only request he has had from an Eagles player for an Eagles-themed tattoo, but Czar doesn't think it will be that way for long.
People all over the city are getting them. Some members of the military got leave so they could watch the game in their home city, and made sure to get inked while they were here. Same for some Philadelphia natives now living in other parts of the country — such as Boston — who wanted something to show off when they head back. According to the Professor, there were even out-of-towners with no real connection to the city or the Eagles who got caught up in the moment and decided to walk into the shop and have some work done.
"Stuff like that, the Eagles winning and all that, that's what tattooing is based on: celebrating personal landmarks or family landmarks," he said. "That's really the basis of tattoo."
Green Bay Packers complete deal with Houston Texans for Randall Cobb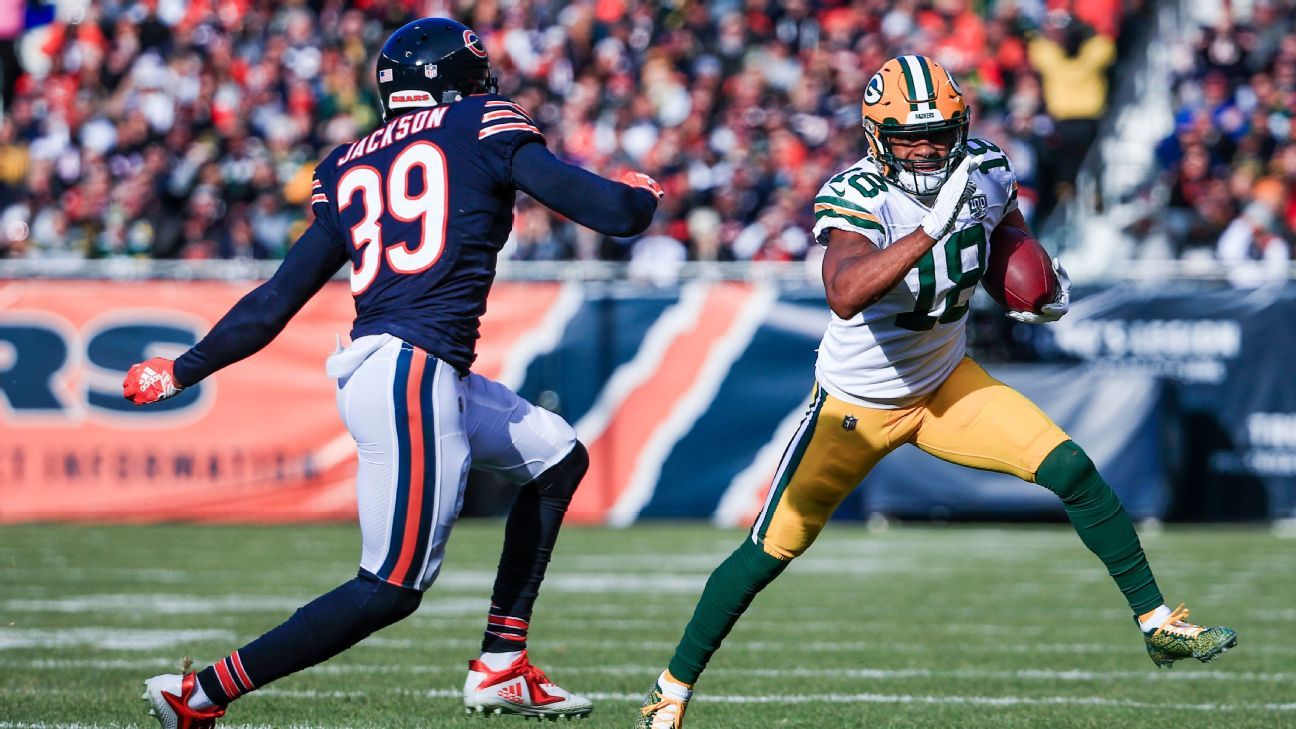 The Green Bay Packers have officially brought back Randall Cobb, with the team announcing a trade with the Houston Texans for its longtime receiver Wednesday night.
Green Bay said they sent Houston an undisclosed draft pick in return. A source told ESPN that the Packers only had to give up a sixth-round pick and got the Texans to eat $3 million of Cobb's salary; the cap hit on the Packers will be slightly under $3 million.
Cobb, who will turn 31 on Aug. 22, played his first eight seasons in Green Bay, where he was one of Aaron Rodgers' go-to receivers — especially in the slot.
Earlier Wednesday, Cobb tweeted: "I'M COMING HOME!"
I'M COMING HOME! 💚💛 pic.twitter.com/qxSwkQo89f

— Randall Cobb (@rcobb18) July 28, 2021
He left in free agency following the 2018 season and spent one year with the Dallas Cowboys. He then signed a three-year, $27 million deal with Houston, where he played 10 games last season — one more than he did during his final season in Green Bay, where he battled lingering hamstring problems. He suffered a toe injury in Week 11 last year and missed six games. He finished with 38 catches, 441 yards and three touchdowns.
Rodgers hasn't had a true slot receiver since Cobb's departure. To fill that void in their offense, the Packers drafted Amari Rodgers in the third round of this year's draft.
Apparently, Rodgers-to-Cobb had a better ring to it than Rodgers-to-Rodgers, but it's unclear if bringing back Cobb was a condition of Rodgers' return or merely a suggestion that the Packers decided to honor. When Cobb left the Packers, he did so ranked sixth in franchise history with 470 catches and 11th in both receiving yards (5,524) and touchdown catches (41). His best season came in 2014, when he caught 91 passes for 1,287 yards and 12 touchdowns. That was one of two times in his career in which he did not miss a game.
While Cobb's role is yet to be determined and could hinge largely on his ability to stay healthy, he also could help mentor Amari Rodgers. There's already a connection between the two; Rodgers' father, Tee Martin, coached Cobb in college at Kentucky.
The trade no doubt will include a contract restructure for Cobb, who was scheduled to make $8.25 million this season.
Seattle Seahawks coach Pete Carroll hopeful Jamal Adams' extension gets done 'very soon'
RENTON, Wash. – A Jamal Adams extension has been more a matter of when instead of if for the Seattle Seahawks and their Pro Bowl strong safety. That time could be soon.
"The conversations have been ongoing for some time and been very amicable," Seahawks coach Pete Carroll said Wednesday. "He's in a good place. They've worked really hard to this point. I'm very hopeful that it's going to get taken care of here soon, very soon."
Adams reported for training camp Tuesday along with the rest of the team, as expected. He didn't take part Wednesday in the team's first practice but appeared engaged while watching from the sideline, high-fiving some teammates and instructing others while wearing his jersey and a Seahawks baseball cap.
Asked if Adams not practicing was contract-related, Carroll gave an indirect answer noting that he's recovering from offseason surgeries on his shoulder and fingers.
"He wouldn't be working yet," Carroll said. "So it's OK at this time right now. He's out there for the walk-throughs and he's in the meetings and all that kind of stuff."
Another Seahawk who's seeking a new deal, left tackle Duane Brown, was also a spectator during Wednesday's practice. Carroll said it's not an injury issue and described Brown not practicing as a maintenance matter, as he did when Brown attended minicamp but didn't practice.
Carroll declined to discuss whether the Seahawks and Brown are in negotiations on an extension.
"He did the whole walk-through today," Carroll said of Brown, who turns 36 next month. "Starting up camp. Got a long haul. He looked great. He's in great shape. Hopefully we'll get a ton of work over the course of time but right now we've got extra guys at left tackle, that helps us a little bit with rotations, so he didn't work today."
Jamarco Jones filled in for Brown with the No. 1 offense Wednesday. Kyle Fuller was at center as Ethan Pocic didn't practice because of what Carroll described as a nagging hamstring injury, though he was not placed on the physically unable to perform list.
The Seahawks put rookie wide receiver D'Wayne Eskridge and running back Travis Homer (calf) on PUP to begin camp. Eskridge, chosen in the second round with Seattle's first of three draft picks, was sidelined earlier in the offseason with an injured big toe.
"We're going to hold a really good thought that we can get him back out here in a week or two," Carroll said Wednesday.
Defensive end Aldon Smith practiced Wednesday for the first time since signing a one-year deal with Seattle in April. The Seahawks excused him from minicamp because Smith didn't feel like he was ready physically.
He's scheduled to be arraigned Aug. 24 on a battery charge in Louisiana.
"He's worked really hard here throughout the summer," Carroll said. "I didn't think it was time for him back in the springtime just because we didn't know the body of work coming in, but he's in really good shape now, he's worked really hard to get here and excited to see what he looks like."
Carroll said 90 of the 91 players on Seattle's roster have received at least one shot of the COVID-19 vaccination. The lone holdout, whom Carroll did not identify, has "real personal reasons" for not getting the vaccine.
"Our guys made an extraordinary effort to take care of one another," Carroll said. "The statement they made, particularly the guys who were uncertain about what to do, they made a decision based on their team as well as themselves and they wanted to do what was best for everybody and what would be safest for everyone. It's a marvelous statement that our guys made."
New York Jets' contract dispute with Zach Wilson a bad look, makes no sense – New York Jets Blog
FLORHAM PARK, N.J. — After a promising offseason that reenergized their fan base, the New York Jets reminded everyone Wednesday not everything has changed for the better.
Rookie quarterback Zach Wilson, the new face of the franchise as the Jets' No. 2 overall draft pick this year, was nowhere to be found on the first day of training camp. The first-team offense was commanded by Mike White, a former practice squad player who has yet to take a snap in an NFL game.
If it had been an open practice, the fans would have booed the Jets, justifiably so.
Thirty-one of the 32 first-round draft picks are under contract. The only one that isn't … well, you know the answer. It was an embarrassing day for the Jets, who committed an open-field fumble.
The amount of Wilson's rookie deal is slotted based on his draft position, No. 2. All New York has to do is fill in a few blanks on the contract and cross some Ts.
The Jets and Wilson's agents are squabbling over contract language — not money, mind you. Language. The primary sticking point is the offset clause, which provides the team with financial protection in the unlikely event it cuts Wilson before his four-year, $35.2 million contract (fully guaranteed) is complete.
Coach Saleh speaks to the media on Day 1 of #JetsCamp. https://t.co/Q5QBEk6WlB

— New York Jets (@nyjets) July 28, 2021
Let's make one thing clear: A negotiation over an offset isn't unique to the Jets. Every team deals with it. In fact, 30 of 32 teams (the Los Angeles Rams and Jacksonville Jaguars ) typically include offsets in contracts that have guaranteed money, the Jets among them.
So why are the Jets the only team that hasn't struck a deal with its first-round draft pick?
Another issue is the payment schedule of the $22 million signing bonus on Wilson's deal. That, too, came up in the 2018 negotiation with quarterback Sam Darnold, and the Jets wound up paying the entire bonus within 15 days of Darnold signing. It's unclear why the Jets are trying to defer some of the money with Wilson. This isn't rocket science; it's a basic contract negotiation.
Exacerbating the problem, the Jets declined to add a veteran quarterback in the offseason, putting all their eggs in the Wilson basket. That was a bad decision on multiple levels. No disrespect to White and James Morgan, a 2020 fourth-round pick who has no pro experience, but the Jets left themselves with no fallback options.
They dealt with a similar situation when Darnold missed three practices because of a contract dispute. In that case, they had veterans Josh McCown and Teddy Bridgewater on the roster, reducing the sense of urgency.
Not this time.
They need Wilson in camp ASAP. Every rep matters. The Jets have 20 practices and three preseason games to get him ready for Sept. 12 against the Carolina Panthers. Every missed day hurts him. Every missed day hurts the receiving corps. On Wednesday, it was a dink-and-dunk fest, with White and Morgan throwing almost everything under 10 yards.
This is no way to build chemistry in a new offensive scheme.
The Jets haven't reached a crisis point, yet. Wilson could show up Thursday or Friday and this mess will be forgotten by next week. But for now, it's a bad optic. Coach Robert Saleh was asked when he "needs" Wilson in camp. He smiled and said, "Ask me again tomorrow."
Saleh did his best to put on a brave face, saying kind things about White and Morgan, but you can bet he is anxious to get his QB1 into camp. Publicly, he has to tow the company line, but no one is believing his happy talk.
That exciting offseason? It loses some luster each day of the contract dispute.
On Saturday, the fans show up to watch training camp for the first time since 2019. If Wilson isn't on the field, the fans will bring a Bronx cheer to New Jersey.