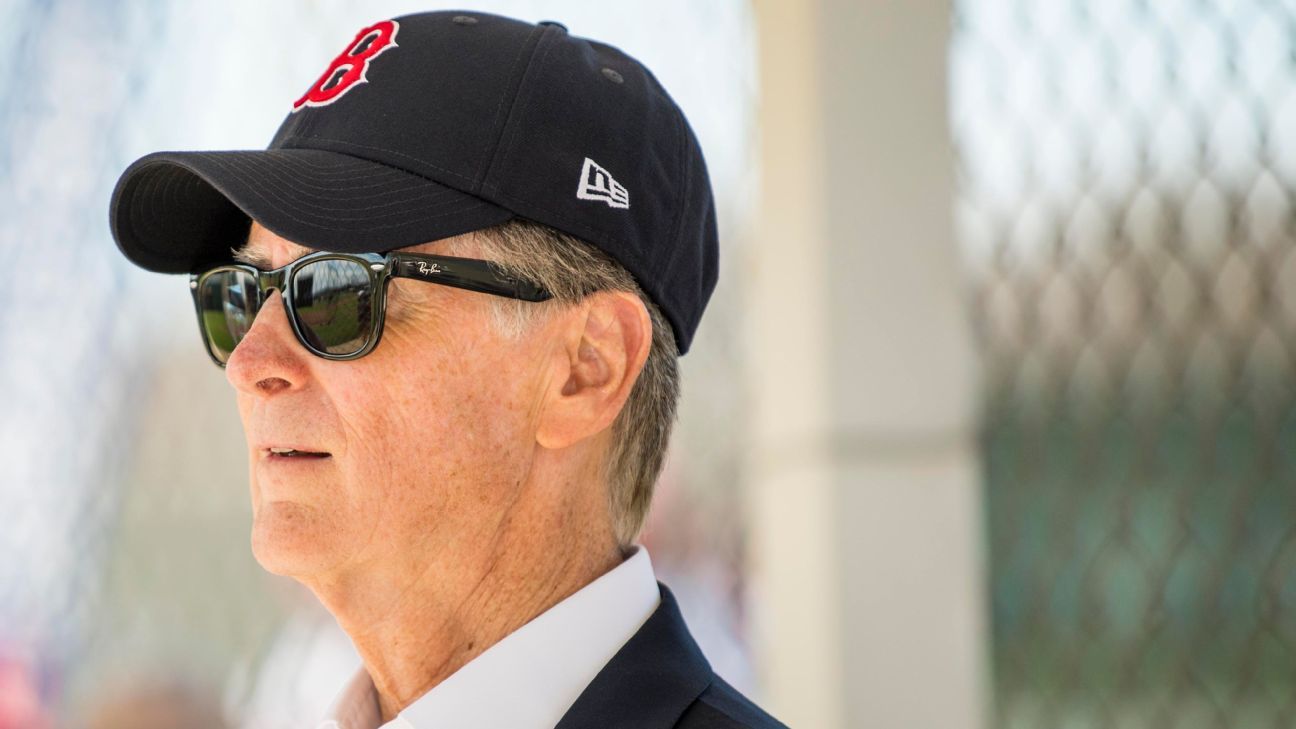 FORT MYERS, Fla. — As the Boston Red Sox stepped out into the sun Monday for their first full-squad workout of spring training, owner John Henry maintained that he's more concerned about W's and L's than the team's Q rating.
"We really don't need to be popular," Henry said. "We need to win."
But despite winning 93 games and the American League East title for a second straight season in 2017, questions were raised about the Red Sox's likability. Although attendance at Fenway Park remained almost unchanged, regional television ratings were down 15 percent on New England Sports Network, according to Nielsen Media data, while sports-talk airwaves were filled with the grievances of dissatisfied fans.
It wasn't just the paying customers, either. Last week, star right fielder Mookie Betts and shortstop Xander Bogaerts arrived in camp and admitted the team didn't have much fun last season. Betts alluded to clubhouse "tension," particularly during losing streaks, and Bogaerts referred to "head-butts" and "disagreements."
After the Red Sox were ousted in the ALDS for the second year in a row, ownership fired manager John Farrell and let go all but one member of his coaching staff (bullpen coach Dana LeVangie, whose contributions to the organization predated Farrell, was retained and promoted to pitching coach under new manager Alex Cora).
Other than that, though, the roster went nearly untouched, with the Red Sox re-signing first baseman Mitch Moreland and utility infielder Eduardo Nunez and not yet adding a player who wasn't part of last year's group. But both Henry and chairman Tom Werner insisted that, with Cora and his coaches setting a different tone, the Sox are talented enough to hold off the power-packed New York Yankees in the AL East.
"I think we have the right team," Henry said. "People don't like us apparently saying we won the division the last two years, but we had the best offense in the American League the year before last. We had significant pitching that was injured last year. I think we are very strong and people are highly underrating this team. If we have the right approach, I think we'll be very successful."
In particular, Henry highlighted what he believed was a passive approach at the plate under former hitting coach Chili Davis as the primary culprit for a 93-run drop-off in scoring from 2016 to 2017. But the Red Sox also never directly replaced retired slugger David Ortiz and witnessed injury- or performance-related drop-offs from several core players, including Betts, Bogaerts, Hanley Ramirez, Dustin Pedroia and Jackie Bradley Jr.
For months, the Sox have been viewed within the industry as the favorite to sign free-agent slugger J.D. Martinez. They made him a five-year offer reportedly worth about $100 million, but with spring training underway, Martinez is among more than 100 free agents who continue to hold out.
Henry dismissed any suggestions of collusion between the teams as "ridiculous." He believes this winter's inactivity was driven by several market forces and warned against expecting an annual "feeding frenzy" for free agents. Henry and Werner also suggested the Red Sox could wind up with the highest payroll in baseball this year, especially if they eventually land Martinez, as most insiders still expect they will.
"I really don't want to talk about free agents — J.D. Martinez or anyone else," Henry said. "We are very happy with our roster. I think we do have the highest payroll in baseball, and again, we're defending American League East champions. I think we've done what we needed to do to improve this team."
If anything, Werner said Ortiz's absence likely contributed to the diminished TV ratings or other anecdotal signs that the Red Sox's popularity might be waning. But Werner doesn't expect the Ortiz hangover to drag into this year, too, especially if the Red Sox win the division again.
"Losing David Ortiz is losing someone who is charismatic and a great leader," Werner said. "I know there have been some comments that I respect that we didn't have the most popular team, but when I look at (Andrew) Benintendi and Mookie Betts and Rafael Devers and Bogaerts and Bradley, I see energized, young, exciting players.
"I don't quite see it the way some of the fans see it. I respect their point of view, but I think we've got a fun team. And if it's healthy, I think we're going to be — we'll bring the fans back."
Fantasy baseball – Karabell's prospect watch
The Seattle Mariners made some unfortunate news in the past week, but perhaps getting lost in the shuffle is the relative clarification — and this is a positive — that the franchise intends to promote awesome outfield prospect Jarred Kelenic in April. Now, that doesn't necessarily mean Opening Day, because he needs the extra two weeks or so of minor league work to hone his swing or to better track fly balls (wink, wink). In any event, Kelenic is among the top prospects not just on the Mariners, but in the entire fantasy baseball world. Get him quickly.
MLB Stock Watch: First look at win projections, playoff odds and more

Here's how we rank baseball's 30 teams as spring training games begin.

Source link
Shin-Soo Choo to play for South Korean club on 1-year, $2.4M contract
SEOUL, South Korea — Free-agent outfielder Shin-Soo Choo has agreed to a one-year contract to play for a baseball club in his native South Korea.
Choo, who spent the last seven seasons with the Texas Rangers, signed a 2.7 billion won ($2.4 million) deal with a Korean Baseball Organization team owned by an affiliate with the Shinsegae business group, the company said in a statement.
Choo, 38, has confirmed the deal.
"I was born in Korea where I was raised and started baseball. I've always had hopes in my heart for a long time to play in Korea one day. Now I think it's time to put into action and start a new chapter of my life," Choo posted on Instagram. "I might not be able to promise how good I will be, but I promise that I will do my best."
Earlier this week, E-Mart Inc., the biggest discount store chain in South Korea, finalized deals to take over the SK Wyverns baseball team based in Incheon, just west of Seoul. The team's name is tentatively called E-Mart Electros, but it could change, company officials said.
"The Shinsegae Group has listened to the voices of Incheon baseball fans who want us to bring Choo Shin-soo," the Shinsegae Group said in a statement. "[We]'ve been paying attention to his successful career, diligence and steadiness."
The 2.7 billion won annual salary for Choo is the biggest of its kind in the KBO league. Choo plans to donate 1 billion of that to social charities, according to the group statement.
During his 16-year career, Choo batted .275 with 218 home runs, 782 RBIs and 157 steals in 1,652 appearances. He was selected as an All-Star in 2018. Before the Texas Rangers, he played for the Seattle Mariners, the Cleveland Indians and the Cincinnati Reds.